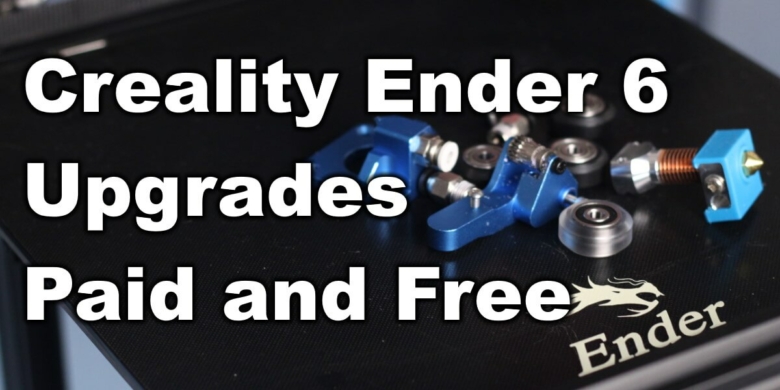 In this article, I will share some of my favorite Ender 6 upgrades and what I think about them. The Creality Ender 6 is already a great machine in its stock configuration, but it can be further improved with a few upgrades.
As always, before jumping in the 3D printer upgrades train, I recommend reading the 3D Printer Upgrades for Beginners: When and Why? article to have a better understanding about how upgrades can improve the print quality of your 3D printer.
Creality Ender 6 Paid Upgrades
Magnetic PEI spring steel sheet
While the stock Ender 6 textured print surface does a great job, you might want to install a magnetic PEI spring steel sheet. This will allow you to remove your prints right after they are finished without needing to wait for the bed to cool. Besides that, it might help with adhesion when printing PETG and ABS. I think it's one of the best Ender 6 upgrades you can do to your printer.
I previously reviewed the Energetic PEI sheet which worked well on all of my printers. The correct size for the Ender 6 is 290×290 mm but I plan to install a 300×300 mm plate I have as a spare. 5 mm on the side won't really cause any issues.
The magnetic PEI spring steel sheet can be bought from the following websites:
Banggood
Amazon
Aliexpress
Better extruder
There are better extruders out there compared to the stock dual-gear extruder which comes stock on the Ender 6. The stock one is not bad, but you can improve your print quality if you choose to install an extruder with a gear ratio, like a BMG which can be used with the stock bowden setup.
If you want to push this a bit further, then make sure you check my Direct Drive Extruder Buyer's Guide article where I covered my favorite direct drive extruders currently available.
I chose to install the BIQU H2 extruder on my Ender 6 because it's one of the lightest all-in-one extruders available right now, which provides excellent print quality even at high speeds and for me this was the best Ender 6 upgrade to date. I even wrote a BIQU H2 installation guide for Ender 6, which should make the entire process easier.
Another good option when it comes to direct drive solutions for the Ender 6 is the BMG Wind. It's compact and doesn't weigh a lot so make sure you also check that one before deciding.
The BIQU H2 Extruder can be purchased from the following websites:
Bi-Metal hotend
Print quality can also be improved by installing a bi-metal hotend. The stock hotend is not that great because it's PTFE lined which means you won't be able to print for long periods of time over 240C because the tube starts to degrade and release harmful fumes so having a better hotend is a great Ender 6 upgrade.
Over time, the PTFE tube degrades even when printing at lower temperatures, so by upgrading to a bi-metal hotend you minimize downtime and time spent.
The cheapest bi-metal hotend which is a drop-in replacement for the Ender 6 is the Mellow NF Smart. For the Ender 6, you need to get the NF Smart CR-10. There's also the Trianglelab Spiral Tower Hotend, but it doesn't offer significant improvements compared to the Smart.
You can also upgrade your stock hotend with a bi-metallic heat break, which will offer similar thermal performance improvements, and they are a bit cheaper. But make sure you grab the correct heat break for your hotend. I did this on the BIQU B1, and CNC Kitchen did something similar on his Ender and the results are interesting.
The NF Smart hotend can be purchased from the following websites:
AliExpress
Polycarbonate V-slot wheels
Another worthwhile upgrade is replacing the stock POM V-slot wheels with polycarbonate wheels. They are stiffer and they don't develop flat spots if the printer is left unused for longer periods of time. By installing these wheels, you will eliminate the "dust" which starts to come off the stock wheels.
I installed PC v-slot wheels on some of my printers and they are worth the trouble especially for a fast printer, so definitely a good Ender 6 upgrade.
The Polycarbonate V-Slot Wheels can be bought from the following websites:
Amazon
AliExpress
Banggood
All-metal PTFE couplers
On bowden setups, the PTFE couplers are the most common parts that fail. They can break and the PTFE tube is not held in place as well as when they were new. Sure, you can purchase cheap PTFE tube couplers, but if you want to save yourself from constantly replacing them, or wait for a failure, then I strongly recommend getting all-metal variants.
These couplers have better grip on the PTFE tube and since I discovered them (about a year ago) I never needed to replace them. I got mine from Mellow but Trianglelab also sells them.
The all-Metal PTFE couplers can be purchased from the following websites:
AliExpress
Better PTFE tube
If you plan to keep the stock bowden setup on your Ender 6, then I recommend getting a PTFE tube with tighter tolerances. The main reason to upgrade to a tighter tolerance tube is to have better filament control and a bit less retraction.
This is a popular upgrade, and a lot of people decide to buy the Capricorn tube (which is more expensive) thinking that it has better heat resistance, but from my experience, PTFE is still PTFE, and it will degrade just as fast.
This is why I mostly buy Trianglelab PTFE tube on any bowden printers because it's cost effective and offers tight tolerances, but nowadays there are other sellers who have similar tubes.
The Trianglelab PTFE tube can be purchased from the following websites:
Banggood
Amazon
AliExpress
RepRap firmware board
If you don't like Klipper on your Ender 6, then you can add Wi-Fi functionality and run RepRap firmware after upgrading to a RRF board like the FLY RRF E3 or the BIQU E3 RRF. These boards are cheaper alternatives to the popular DUET boards while also being easier to install.
RepRap firmware brings a lot of features to your Ender 6, some of them covered in this Ender 5 RepRap firmware upgrade guide. It won't really improve the print quality, but it will give you more functionality and an easy-to-use interface.
You can buy a RepRap board from the following stores:
Amazon
AliExpress
Banggood
Silicone bed mounts
The included bed springs are long, and they are not as stiff as I would like. On my Ender 6, I plan to do the same bed leveling mod I did with the Artillery Genius, but if you are looking for an easier solution, the silicone bed mounts are great.
After you install these silicone mounts, you won't have to adjust the bed for a long time.
You can buy silicone bed mounts from the following stores:
Amazon
AliExpress
Banggood
Ender 6 cover
One of the most attractive features of the Ender 6 is that it comes partially enclosed. Unfortunately, the top cover is not included in the package, and it needs to be purchased separately. It's a bit more expensive, but this upgrade will allow you to print higher temperature materials that require an enclosure. It also has a nice humidity and temperature sensor in the top to keep an eye on your enclosure temperature.
It's not the cheapest Ender 6 upgrade out there, but it will help you print high-temp materials. For regular PLA and PETG prints, this is not needed.
You can buy the Ender 6 cover from the following stores:
Banggood
Amazon
AliExpress
LED Lights
If you want to start doing time-lapse videos, then adding led lights to your Ender 6 might be a good idea. you can buy a roll of 24V LED light and wire it directly to the power supply, so when you start the printer, your model gets illuminated.
Adding these LEDs is an effortless process, because you can just use the double-sided tape included with the strip and attach it to the front aluminum extrusion.
You can buy LED strips from the following stores:
Amazon
AliExpress
Banggood
Linear rails
To be honest, I'm not really convinced that the Ender 6 will benefit from upgrading to linear rails because the main bottleneck when printing fast will be the printer stability. I used the Sapphire Plus which has linear rails and print speeds were similar to what I am able to push on the Ender 6.
If you still want to do this mod then you can check out this mount and order the required MGN12 rails to do it. But before you make the jump, give the PC v-slot wheels a go. They are a cheaper upgrade.
You can buy linear rails from the following stores:
Amazon
AliExpress
Banggood
BLTouch for auto bed leveling
My Ender 6 has a flat print surface, and I can't say a BLTouch is needed, considering the size of the build plate. But there are people who like having the BLTouch sensor installed because it can compensate for uneven spots on their print surface.
If you want to do it, I recommend purchasing an Original BLTouch because it's guaranteed to work well. If you want to save some money, you can also get the 3D touch clones, but some people reported occasional issues with them.
The BLTouch sensor can be bought from the following websites:
Banggood
Amazon
Aliexpress
Creality Ender 6 Free Upgrades
Klipper firmware
Installing Klipper firmware on the Ender 6 can greatly improve the print speed and print quality. While this requires a Raspberry Pi (or any kind of computer really), I think it can be listed as a free upgrade.
If you're interested in learning more about Klipper firmware, check out the Ender 6 Klipper Firmware installation guide.
Ender 6 dual fan mount
The Ender 6 is marketed as being one of the fastest 3D printers sold by Creality. Unfortunately, they did not think about the part cooling required for those speeds and we got a single 4010 radial fan. This works fine for larger prints but print quality and speed can be improved by adding an extra fan.
Part cooling is especially important for PLA where every bit of airflow will help solidify the material faster so this might be an easy to do Ender 6 upgrade without spending too much time. Other filaments don't really need more cooling compared to what you get with the stock setup.
You can use this mount for this. It's small, compact, and doesn't increase the weight significantly.
Direct drive adapter
If you want to convert your Ender 6 to direct drive, but don't want to spend more money for a different extruder, then you can use the stock one and this mount from Thingiverse. The designer used a BMG extruder for this, but the stock extruder can be used just as well.
Cable chain
I'm not a fan of cable chains, but I've seen a lot of people installing them on their printers. This makes the Ender 6 spare requirements a bit better and might also help if you plan to install the acrylic cover. The cable chain will help you route the cables a bit nicer, but you might need to do some extra work and extend some of the wires.
This cable chain from Thingiverse should be easily printed and the only cost of installing it is a bit of used filament. Just don't print it in PLA if you plan to enclose the printer.
Reverse bowden mount
A reverse bowden mount is a must have if you converted your Ender 6 to direct drive because it will allow you to route your PTFE tube cleanly while still using the stock spool mount. It's a must have Ender 6 upgrade if you convert your printer to direct drive. This is the model I chose to print for my Ender 6 and the BIQU H2 direct drive extruder. It works great!
Wrapping up
I hope this article helped you learn more about what Ender 6 upgrades you can do to your 3D printer. As always, decide for yourself if any of these changes actually help you fix an issue you have with your Ender 6. Don't start spending money on stuff just because they look cool. Or do it! Who am I do judge? Just take the time to do some research in advance.
If you have other Ender 6 upgrades which worked well for you, feel free to leave a comment below, and share your experience.
I covered other 3D printer upgrades in my Ultimate 3D Printer Upgrade Purchase Guide article, so check that out.
While the article includes affiliate links, all opinions are my own.