Buyer's Guide
Essential 3D Printing Tools for FDM and Resin 3D Printers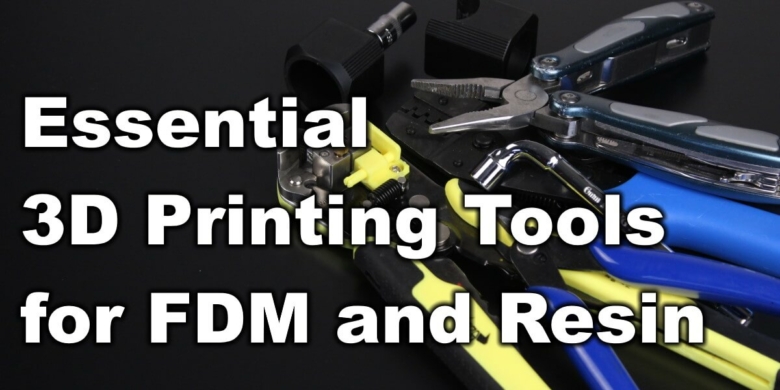 In this article, I will share a list of essential 3D printing tools suited for FDM and Resin 3D printers. Since I started printing, most of these tools were used quite often. Hopefully, you'll find some new tools in this list that can help you in your 3D printing journey.
Essential 3D Printing Tools for FDM 3D Printing
Digital Calipers
When you start your 3D printing journey, it's important to also purchase a digital caliper. This is an essential 3D printing tool because it helps a lot when calibrating your 3D printer. While the extruder calibration can be performed using a regular ruler, it's harder to accurately tune your flow rate without a digital caliper.
You don't need to spend a huge amount of money for a digital caliper. Ideally, you want to purchase one with double digits, but a single digit caliper can still work just fine.
Where to buy a digital caliper?
Filament snips
If you already purchased a 3D printer, there's a good chance you already have a filament snip. I have two dozen snips around, but there's always times when I need one and I don't have it at hand. If you're in the same situation, get a spare one because it's cheap and really helpful.
The filament snips are mostly used for cutting filament, but they can be used for other tasks like cutting wires or leftover supports.
Where to buy filament snips?
Painter's Knife
Properly tuning your fist layer height or using a magnetic PEI print surface can eliminate the need for a painter's knife. If you already have a 3D printer, then you also received a metallic scraper, but most of the times these are hard to use because they're not sharp enough.
A painter's knife is a handy tool to have in your arsenal because it allows you to have better control when trying to remove a finished print.
Where to buy a painter's knife?
Sharp head pliers
Another essential 3D printing tool is a pair of sharp head pliers. These are really handy when you need to remove supports, especially in hard-to-reach areas. They are also handy when you work on your 3D printer. For example, when moving jumpers on your 3D printer board, or when you need to remove/insert wires in their respective positions.
Besides all this, I think it's a good tool to have around, because you will find a use for a sharp head pliers soon if you're handy around the house.
Where to buy sharp head pliers?
Hex wrench kit
Hex wrenches are usually included with your 3D printer to help you with installing all the components. But most of the time, these hex wrenches are bad quality and can lead to stripping screw holes. For single use, the included hex wrenches are good enough when putting your printer together. But if you do this frequently, I recommend buying a better hex wrench kit. You'll spend a bit of money, but you'll save yourself a lot of frustration over the years.
Where to buy a hex wrenches kit?
Tweezers
Tweezers are also helpful in various 3D printing situations, and I think they need to be in the essential 3D printing tools to have. You can use tweezers for removing small filament sections that ooze from your hotend before starting a print. They are also useful if you need to change the pins position in a connector, without needing to re-crimp it. If you replace your 3D printer board, they are also useful to extract and re-position some of the jumpers.
As always, try to get a more expensive pair of tweezers because they will be more reliable, and you will save yourself from frustration. A cheap pair of tweezers will bend easily, and the tips will not be aligned properly. I use the one included in the iFixit kit.
Where to buy tweezers?
Deburring tool
A deburring tool is another essential 3D printing tool because it helps with cutting extra material from your 3D prints. I use this tool with functional 3D prints which have holes. The section which sits directly on the build plate usually has a small amount of elephant's foot and a deburring tool can help you quickly remove that.
It's a really cheap tool, so there's no reason not to get one.
Where to buy a deburring tool?
Adhesive solutions for the print surface
I am not sure if adhesive solutions can be considered a 3D printing tool, but I know for a fact that this can greatly improve your chance of a successful print. These adhesive solutions are applied to the print surface to help with adhesion and keep your model tightly glued to the print surface.
Most of the times, these adhesive solutions are used for adding an interface layer between the print and your print surface, to avoid damaging it. The best example is when printing PETG on a glass surface. PETG can bond to the glass surface making the task of removing the print quite hard.
The cheapest and most popular solution is using a glue stick and other people like to use hair spray. But I am not a huge fan of those solutions because they are hard to clean after a print. My adhesive solution of choice is the Devil Design Adhesive because it's easy to clean up and offers good adhesion. I think it's made from plain water and sugar, but I haven't tasted it :D.
Where to buy adhesive solutions?
Nice to have tools for FDM 3D Printing
90-degree square
A 90-degree square is quite helpful when assembling a kit 3D printer. This tool is used to ensure that the aluminum extrusions are set at a 90-degree angle which is important if you want good and accurate printing results. It's also an essential 3D printing tool if you build a printer kit from scratch, like a Voron or the RatRig V-Core 3 I'm currently building.
There's nothing more frustrating than spending time to assemble a printer and find out when it's done that it's not square and you need to re-do everything. Save yourself the trouble and get one. You'll thank me later.
Where to buy a 90-degree square?
PTFE tube cutter
Cutting the PTFE tube perfectly, at a 90-degree angle is crucial for printers that use a PTFE lined hotend. If you don't cut the tube perfectly, and it doesn't touch the nozzle right, a clog is iminent. This tool is nice to have, and it's included with Capricorn tubing but if you don't want to spend the money for this, check out Thingiverse for PTFE cutting jigs. You can get similar functionality with a bit of spent filament and a cutter.
Where to buy a PTFE tube cutter?
Nozzle change tool
Another nice-to-have 3D printing tool is a nozzle change tool. There are a few options out there, like this one from Mellow or this one, from Amazon. You could also change your nozzle using other tools, but if you're not careful, you can damage your hotend.
I am using the Mellow nozzle change tool to remove and install nozzles, but for final tightening I recommend printing a torque wrench. This helps you avoid overtightening the nozzle and even stripping the threads, destroying your hotend.
Where to buy a nozzle change tool?
Small torch lighter
A small torch lighter is a nice to have tool because it's helpful for a bunch of 3D printer tasks you do. For example, you can use this torch if your hotend is clogged. With this torch lighter, it's easy to add heat on the heatbreak for a few seconds and eliminate most of the plastic stuck there. I also use it on prints which have a small amount of stringing. After removing the big strings, a quick pass with a torch lighter can quickly remove the remaining strings.
Just be careful when using it, not to burn yourself.
Where to buy a small torch lighter?
Crimping tools and wire stripper
When you're moving from a beginner to a more advanced user of 3D printers, you might want to purchase some crimping tools and a wire stripper, especially if you plan to build a printer from scratch. They are essential when it comes to properly wiring everything.
They're also useful when it comes to improving the safety of your 3D printer. A lot of 3D printers out there use tinned wires which can be a fire hazard, so if you have a crimping tool and wire strippers, you can quickly fix that with some ferules. But this is a more advanced task, so ensure that you have a good understanding about how to use them. Incorrect use can cause damage to your printer and increase fire hazards.
Where to buy crimping tools and wire strippers?
Multimeter
Having a multimeter is not an essential 3D printing tool, but it's nice to have because it can help you check that your printer is properly grounded. Besides that, it can also help you to check the Vref of your stepper drivers and adjust it if needed.
Just like with the crimping tools, there are expensive professional tools that can damage your wallet, but a cheap multimeter is fine most of the times. It might not be extremely accurate, but it's good enough for the task.
Where to buy a multimeter?
Feeler gauge
If you're fed up with leveling the printer using a piece of paper, then a feeler gauge is an essential 3D printing tool to have in your arsenal. You'll mostly use the 0.2 mm one but considering how much time it saves you with leveling, there's no reason not to get one.
Where to buy a feeler gauge?
Essential 3D Printing Tools for Resin 3D Printing
Protection gear
When it comes to resin 3D printing, a face mask is an essential 3D printing tool for safety. You don't want to breathe those resin and IPA fumes when you are cleaning your models. After this whole pandemic, you probably have a bunch of face masks so please use them. If you don't, then I recommend buying K95 masks because they block a lot of smell and harmful fumes.
A pair of safety goggles are also important. If for any reason resin or IPA gets in your eyes, a trip to the hospital is ensured, so don't skip this and buy a pair of protection glasses. They are cheap enough to be worth the benefits you get because eyesight is not a thing to play around with.
Another essential resin 3D printing protection gear is rubber gloves. Any contact with uncured resin needs to be done with protection gloves, to avoid it touching your skin. Some resins are more harmful than others, and the effects can be different so it's important not to skimp on these.
Where to buy protection gear?
Washing containers
If you don't already have a wash and cure station, then I recommend purchasing a few plastic containers to use them for washing your resin 3D prints. Three containers should be good enough to get good results. First is used for a quick wash to remove most of the resin, the second is used to remove the remining resin in hard-to-reach areas and the final container should be used for the final wash.
I recommend buying plastic containers which have covers that allow you to completely seal the contents. When you're done, you just cover them up and they're ready to go next time.
Where to buy washing containers?
Nice to have tools for Resin 3D printing
Silicone mat
We all know that resin 3D printing is messy. Even with all the precautions, you will surely cause some mess and drip resin on your workbench. A silicone mat can help protect that and make the cleaning process much easier.
Wham Bam has a nice silicone mat available, but I feel that it's a bit expensive for what it is. So, you could get a silicone mat used for baking which will give you the same functionality for a fraction of the price.
Where to buy a silicone mat?
Wash and cure station
I previously talked about wash and cure stations, and I think this is an essential 3D printing tool, but I added this in the nice-to-have section because it can be an expensive addition to your resin 3D printing. If you ask me, it's totally worth it because it save you time, it usually cleans your prints better and helps you avoid a lot of mess.
If you decide to buy one, I recommend getting one of the bigger variants even though you have a small format resin 3D printer. You can use a bigger wash and cure station to wash more prints at the same time, and it won't require upgrading it in the future, if you decide to upgrade to a larger format resin 3D printer.
Where to buy a wash and cure station?
Wrapping up
I hope this list of essential 3D printing tools has been helpful. If you use other tools in your 3D printing workflow, feel free to leave a comment below. If you are interested in upgrading your 3D printer, then make sure you also check the Ultimate 3D Printer Upgrade Purchase Guide where I cover my favorite 3D printer upgrades.