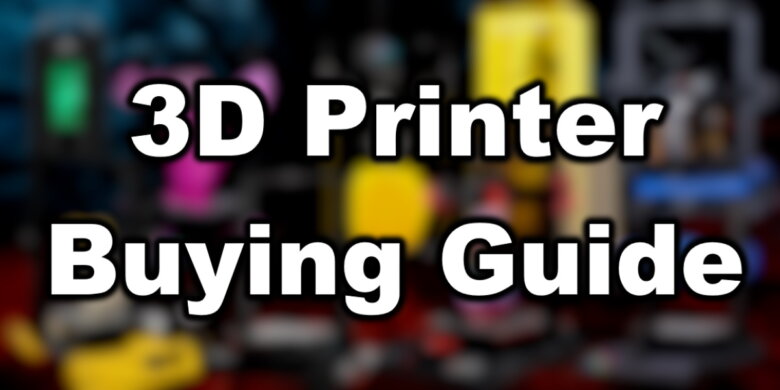 With Black Friday around the corner and the popular 11.11 sale, I think it's a good idea to have a buying guide for some of my favorite 3D printers and accessories available in the fall of 2020. Please note that not all the items listed below have been tested by me, but I am basing my thoughts on the countless reviews and feedback I've seen online from users.
At the end of this article, there's also a list with other discount codes which will be updated constantly.
Best Budget 3D Printers
FLSUN Q5
The FLSUN Q5 is on top of my list when it comes to budget 3D printers. It's a great delta machine available for around 200$. For this price point, the printer exceeded my expectations and I can easily recommend it to any beginner looking to get into 3D printing. It printed well out of the box with no need for any complicated calibration from my side and it was consistent throughout my testing.
If you are looking to learn more about the FLSUN Q5, feel free to read my review where I shared more technical details and a lot of test prints for it.
The FLSUN Q5 can be purchased from the following websites:
AliExpress
Banggood – 189$ with code f202c6
Amazon
Artillery Genius
Of course, the Artillery Genius cannot be forgotten when it comes to the features it has versus the price it's being sold. While it's a year old, it still holds it's ground as one of the best budget 3D printers to get. It has nice features like a direct drive geared extruder, AC heatbed, and dual Z axis but it's held back by the use of an 8-bit board.
But don't let that discourage you for giving the Genius a chance. Read my Artillery Genius review where I shared more information about the printer and some print samples.
You can purchase the Artillery Genius from the following websites:
AliExpress
Banggood – 259$ with code BG96308
Amazon
Fulament
Ender 3
The popular Ender 3 still holds it's crown when it comes to budget printers. Even tough it's an old machine, there are a lot of deals right now to get it for a good price. You can find for as low as ~150$ which is a hard deal to pass by.
It has an old and noisy board, but that can be easily upgraded with a SKR MINI E3 which will improve print quality and make the printer really silent.
Besides that, you can benefit from the huge community of Ender 3 users ready to help if you have issues or need help to get you started. CHEP and Tomb of 3D Printed Horrors are excellent channels where you can learn a lot about 3D printing with information specifically targeted to the Ender 3.
There are also a few bundles with the newer Ender 3 Pro which already come with a silent board and a glass built plate, but the price is a bit higher.
If you can get it cheap enough, you want to learn a lot about 3D printing and also want to spend some time and money with upgrades, then the Ender 3 is an excellent machine to start with.
You can purchase the Ender 3 from the following websites:
Best Value 3D printers
Ortur Obsidian
I think the Ortur Obsidian is the most feature packed 3D printer I tested this year. It comes with a bunch of upgrades right of the box for a low price and in my opinion it's one of the best value 3D printers available right now.
Some of the features are a direct drive BMG extruder, auto bed leveling, dual z axis, 32-bit board, and a 250x250x300 build volume for under 300$. Make sure to read my Ortur Obsidian review to learn more about it.
The Ortur Obsidian sits right between the regular format 3D printers and larger format variants available, so it can be a good compromise if you want to print a bit bigger, but you don't have enough space to accommodate a larger machine.
BIQU B1
The BIQU B1 is made by BIGTREETECH and it's a decent printer. It comes with a lot of popular BTT upgrades right from the box, like the SKR 1.4 32-bit board running TMC2225 drivers, TFT35 touchscreen and the SSS spring steel sheet.
Unfortunately, the hotend is not that great and I am looking to replace it but It's still a good enough printer which I can recommend. In the BIQU B1 Review I covered the printer's features and drawbacks, and also included some prints so you can judge for yourself if the print quality meets your expectations.
From time to time, the printer is discounted and I am sure they will have a promotion available during Black Friday / 11.11 to make more appealing.
The BIQU B1 can be purchased from the following websites:
Creality CR-6 SE
Even tought the Creality CR-6 SE is a bit more expensive compared to other machine, I think it's worth adding it to the list because it performs well and it's one of the more premium offerings from Creality. In my opinion, this is the true Ender 3 upgrade everybody was waiting for. It has some nice features like the new auto bed leveling system which uses the nozzle as a probe, a fixed bed, dual Z axis and a 32-bit board.
The early models had their quirks, where some of the motherboards short circuited and the power switch caught fire but I think those issues are fixed now. The CR-6 SE sample I reviewed did not manifest this issues and it managed to deliver consistent results with excellent print quality throughout my testing.
In my Creality CR-6 SE review I covered these issues, and I also shared some of the prints I made with the printer so make sure you check it out.
All those issues reported with the CR-6 SE should give you a bit of food for thought, but if you are looking for a well-built machine capable of good quality prints out of the box, then I recommend you don't dismiss this printer even thought it comes at a higher price tag.
You can purchase the Creality CR-6 SE from the following websites:
AliExpress
Banggood – 389$ with code 4b0b32
Amazon
Mingda D2
I haven't reviewed the Mingda D2, but I tested it's bigger brother, the Mingda D3 Pro and I was impressed. From the few reviews I've read online, the Mingda D2 performs just as well but in a more compact 3D printer. It has a few advantages over the Artillery Genius, like a better touchscreen, 32-bit board and a removable print surface. If you can find the Mingda D2 for a good price online, I don't think it will be a bad investment to make.
You can purchase the Mingda D2 from the following websites:
LOTMAXX SC-10 Shark
If you are looking to get a machine that can print in dual color, and also engrave stuff then the LOTMAXX SC-10 Shark is a good choice. This comes with a benefit of having a single multi-purpose machine that does not take a lot of room.
The "full option" version of the SC-10 Shark comes with a regular hotend which prints a single material like most FDM 3D printers, but included in the box you also get a dual color hotend and a separate extruder to make it all possible. With this addition, you will be able to print models with dual color.
In the same box, you also get the laser engraver that can be attached to the printer. This will allow you to engrave wood with the same machine without needing to buy anything else.
Chris Riley has a series of videos where he goes over the upgrades and how to do them, so make sure you check them in advance before purchasing the machine. It will give you a nice overview of what to expect.
You can purchase the LOTMAXX SC-10 Shark from the following websites:

Banggood
Artillery Hornet
Even though it's not released yet, I think the Artillery Hornet will be a good machine for the price. It's designed to be a budget printer which sits at the beginning of Artillery's line up. Right now, it's available on Banggod for ~250$ but I am sure it will be a bit cheaper when it launches.
Later Edit: I published the Artillery Hornet Review and It's a decent machine, with a few little quirks.
Best Large Format FDM 3D Printers
Sidewinder X1
The Sidewinder X1 is a really popular large format printer because it can produce good results out of the box. Of course, it had its quirks in the previous versions, but Artillery continued to fix some of those over time and the Sidewinder X1 V4 is a good machine. I reviewed mine last year, and over time I made a lot of guides for it to improve it even more.
I think the Sidewinder X1 V4 is a good machine for a beginners who can devote a bit of time to properly set it up, and the Artillery community is big enough to help you along the way. Besides that, a lot of spare parts are available so if something happens it's easy to get a replacement fast.
It's also a good machine for those of us who like to tinker with their printers. If you are looking to get the most out of your printer, then you can read the Sidewinder X1 Upgrades – Paid and Free article where I cover most of the upgrades you can add to this printer.
Before purchasing, I recommend you also check out the Mingda D3 Pro which has more upgrades out of the box, and then decide for yourself which is the best printer to get.
You can purchase the Sidewinder X1 from the following websites:
AliExpress
Banggood – 359$ with code BG52699
Amazon
Fulament
Mingda D3 Pro
The Mingda D3 Pro is a good large format 3D printer offering a lot of features for a good price. Compared to the popular Sidewinder X1, the Mingda D3 Pro has a 32-bit board with better touchscreen, larger build volume with a magnetic print surface, better Z brace with the inclusion of the metallic brackets, auto bed leveling with the 3D touch and no more ribbon cables some of you hate.
I think you should read the Mingda D3 Pro review to learn more about it, because it's worthy of your attention.
Ender 5 Plus
If you want to get a a really big large format printer, then the Ender 5 Plus should be the one to look for. With it's 350x350x400 print volume, it should be able fit any kind of project.
It also has some drawbacks but if you can get it cheap enough (I've seen it multiple times at around ~450$) then it's a great deal in my opinion. Sure, you will spend another ~100$ to upgrade the extruder, hotend,board and maybe the screen, but with these upgrades the printer will be much more reliable with excellent print quality.
You can read more about this printer and my experience with it in the Ender 5 Plus Review.
Aliexpress
Amazon
Banggood – 459$ with code BGE5PLS11
Best Budget Resin Printers
Creality LD-002H
If you are looking for a good resin 3D printer, but don't want to spend too much, I think the new Creality LD-002H is excellent for a beginner. It's basically the same printer as the Creality LD-002R I reviewed a few months ago but with a monochrome screen which will print about 2 times faster, while it lasts 4 times longer. This upgrade fixes the biggest drawback of the LD-002R while keeping a low price for the machine.
You can purchase the Creality LD-002H from the following websites:
Phrozen Sonic Mini
The Phrozen Sonic Mini was the first small resin printer made by Phrozen. It had a few issues in the past with the plastic VAT but the print quality is still great. And now, because the Sonic Mini 4K is available, the old Sonic Mini is discounted.
You can read my Phrozen Sonic Mini review to check out the print quality I got from this machine and the experience I had with it.
If you are looking to get a cheap resin printer which includes a monochrome screen without breaking the bank, then the Phrozen Sonic Mini is still a good purchase in my opinion.
You can purchase the Phrozen Sonic Mini from the following websites:
Best Print Quality Resin 3D printers
Phrozen Sonic Mini 4K
Phrozen knocked it out of the park with the Sonic Mini 4K. I think it's currently the best resin printer when it comes to resolution and the quality you can get with it.
It's not the cheapest small format resin printer but it compensates with the quality it can deliver. This is made possible by the 4K screen included which has an XY resolution of 52µm .This is excellent for small features and will guarantee that your miniatures will turn out amazing.
A few members from the 3D Print Beginner Discord server already got it and they are happy with it, so I don't have any reason not to recommend it if you're looking for the best possible quality out of a resin printer.
You can purchase the Phrozen Sonic Mini 4K from the following websites:
Best Large Format Resin 3D Printers
Anycubic Photon Mono X
The Anycubic Photon Mono X is the bigger brother of the popular Anycubic Photon. With a build volume of 192x120x245mm, it should be big enough for most of your resin printing needs. If you print a lot of small items, the large volume will allow you to increase your production and the 4K monochrome screen will help you finish those prints in a short amount of time.
With the monochrome screen, you also get more out of your printer. You should be able to print for about 2000 hours before needing to replace the screen, which adds to the value of the Photon Mono X
I haven't had the chance to review the Photon Mono X, but there are reviews available online which praise the performance of the printer. Considering the large build volume, with the 4K monochrome screen and the price, I don't think you will be disappointed by it.
You can purchase the Anycubic Photon Mono X from the following websites:
Phrozen Sonic Mighty 4K
If you can wait for a few weeks, then the Phrozen Sonic Mighty 4K is an even better deal compared to the Photon Mono X.
It comes with a build volume of 200x125x220mm and a 4K monochrome screen for less than 500$. Currently, the printer is available for pre-order and it should be delivered by the end of the year.
To make the deal even better, for only 649$, you can get the Prozen Sonic Mighty 4K Bundle which includes the printer, a cure station in the form of a Phrozen Cure Luna and a bottle of Aqua-Gray 4K resin. That's a steal!
There are no reviews available right now, but judging by the quality produced by the Prozen Sonic Mini 4K, I don't think the Mighty will disappoint.
You can purchase the Prozen Sonic Mighty 4K from the following websites:
Post-Processing Tools for Resin Printing
I strongly recommend purchasing a curing station for your resin 3D printer because it will make post processing your models much easier.
The first step after finishing a resin print is to wash the model in IPA. This step is done in order to properly clean the uncured resin from the model and prepare it for curing. Believe me when I tell you: It's a messy process! This is one of the reasons I don't do a lot of resin printing.
The second step in post processing resin prints is the curing part. If you live in a sunny part of the world, it might be cheaper to just cure the prints in the sun. But if you don't, and want a solution that works when there's no sun in the sky, then a curing station is an excellent upgrade.
Anycubic Wash and Cure
This is probably the most popular addition to a resin 3D printer, because it eliminates the mess which comes with resin printing. The Anycubic Wash and Cure station incorporates a washing station and a curing station in the same machine saving you a lot of room. It has a maximum wash volume of 115x65x165mm and a curing volume of 140x165mm.
To wash the model, you just remove it from the printer's build plate, drop it in the plastic vat and then start the machine. The agitator at the bottom will start stirring the IPA inside the container and clean your model. When you're done washing the print, you just remove the container, place it on the spinning platform and start the curing process. It doesn't get much easier than this.
I don't own one, but it's on top of my list and I strongly recommend buying one with your resin printer. Trust me, it will save you from a lot of mess and frustration.
The Anycubic Wash and Cure can be purchased from the following websites:
ELEGOO Mercury Plus
The ELEGOO Mercury Plus is similar to Anycubic's offering with the same wash and cure features in a single machine. It has a maximum wash volume of 125x85x160mm and a curing volume of 140x165mm.
It's not much different from the Anycubic Wash and Cure, but it should work better if you already have an ELEGOO machine.
If you are looking to get the Mercury Plus, you need to keep an eye on Amazon or other websites which sell it because it sells out quickly each time it's listed.
The ELEGOO Mercury Plus can be purchased from the following websites:
Ultrasonic cleaner
If you want to go a step above, you can purchase an ultrasonic cleaner. This will clean your resin models even better than the Anycubic Wash and Cure station but it comes with a higher price tag and will take more space on your work area.
Besides that, it's produces more noise during cleaning and most of them don't have a way to hermetically close the container when you're done. This can be a problem if you are using IPA because it evaporates.
Another benefit of an ultrasonic cleaner is that you can get one big enough to suit your needs (if you have a larger resin printer) and can be a cheaper purchase if you already built your own curing solution.
You can purchase an ultrasonic cleaner from the following websites:
AliExpress
Banggood
Amazon
Phrozen
Curing station
If you already have a solution for washing your prints in the form of an ultrasonic cleaner or a magnetic stirrer, then you can invest in buying a curing station for your resin prints.
I previously reviewed the Phrozen Cure V2 which is a compact curing station that works well. It uses three different wavelength UV LEDs to cure your models, but it has a high price tag and it doesn't have a washing feature. You can read more about it in my Phrozen Cure V2 – UV Resin Curing Station article.
A cheaper variant can be bought in the form of ELEGOO Mercury which is only a curing station.
DIY budget cleaning and curing solutions
If you are on a budget and want a project, then you can also build your own DIY cleaning and curing solution.
For example, you could buy a magnetic stirrer or even build one. This will help you keep the cost low and possibly size the "wash station" according to your needs.
To cure your models, you can easily purchase a roll of UV LED strip and make your own curing bucket. With this LED strip, you can make a curing solution as big as you want. Sure, it won't look as good as a store-bought version but it should do the job.
3D Printer Upgrades
I won't go into much detail here, because it's an article dedicated to 3D printers but if you already have a 3D printer and you are looking to upgrade it, them check out my Ultimate 3D Printer Upgrade Purchase Guide. In this article I go over my favorite 3D printer upgrades I used on some of my printers.
Other 3D Printer Deals / Discount Codes
FDM 3D Printer Deals
Creality Ender 3 V2 – 239$ with code BGE3V211
Creality Ender 3 Pro – 180$ with code BGE3PR17
Creality Ender 3 – 160$ with code END3165
Creality CR-10S Pro V2 – 466$ with code BG0647a0
Creality CR-10 V2 – 369$ with code BGCRV211
Creality CR-10 V3 – 399$ with code B6a98d0
Creality Ender 5 Pro – 329$ with code E5P11BLA
Creality Ender 5 DIY – 269$ with code ED511BLU
Creality Ender 6 – 539$ with code aa0262
Homers/Tevo Tarantula Pro – 170$
Easythreed X1 Mini – 79$ with code BG458cc5
TwoTrees Bluer – 175$ with code BG85411
TwoTrees Sapphire Plus – 389$ with code bgp5863
TwoTrees Bluer Plus – 379$ with code BGBP9666
Anycubic i3 Mega S – 219$ with code BGMS589
Anycubic Mega Pro – 369$ with code BGMP555
Anycubic Mexa X – 389$ with code BGMX663
Tenlog TL-D3 PRO – 429$ with code BG2b1e6a
Filament
Sunlu Filament – 10% discount with code FLHT9LAMVJ
Wrapping up
I hope this article helped you in finding a good printer for your needs. Please let me know down in the comments if you find this kind of articles useful.
Feel free to also join the 3DPrintBeginner Discord Server where you can get help with your 3D printer and also hang around with other 3D printing enthusiasts. I will make sure to update this article with extra discount codes as they become available, but you can find out more about current deals by following the good-deals channel.