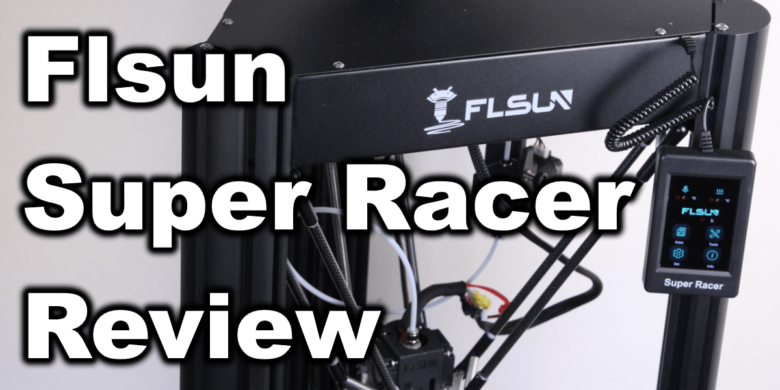 The Flsun Q5 was my first delta 3D printer, and it performed well considering the price point. But this changes today, with the new Flsun Super Racer (also known as Flsun SR). This is the newest delta offering from Flsun, boasting fast printing speeds and larger build volume.
Flsun Super Racer Shipping and Packaging
The packaging for the Flsun Super Racer is compact compared to other 3D printers, while providing good protection on all sides. Thick foam is used to keep all the parts safe during shipping. Even though my box had some shipping damage, I did not encounter any issues with the included parts.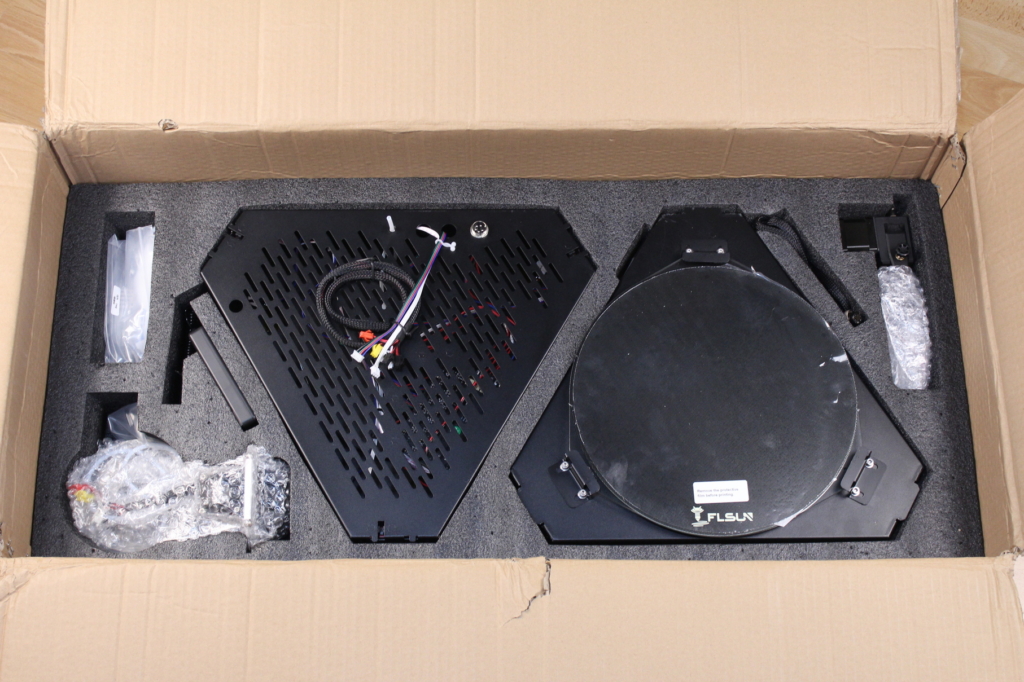 With the Flsun Super Racer, you get the following accessories:
200g spool of white PLA filament
Manual
Spool holder
Clippers
Spare hotend (nozzle, heatblock and heat break)
Spare PTFE tube
Spare thermistor
Spare heater cartridge
Needle for nozzle clogs
USB Card Reader with 2GB MicroSD Card (no name – I recommend using a better one)
Bag of screws and wires
Scraper
Hex wrenches
Zip ties
Power cable
USB Cable
Grease tube
Printed clips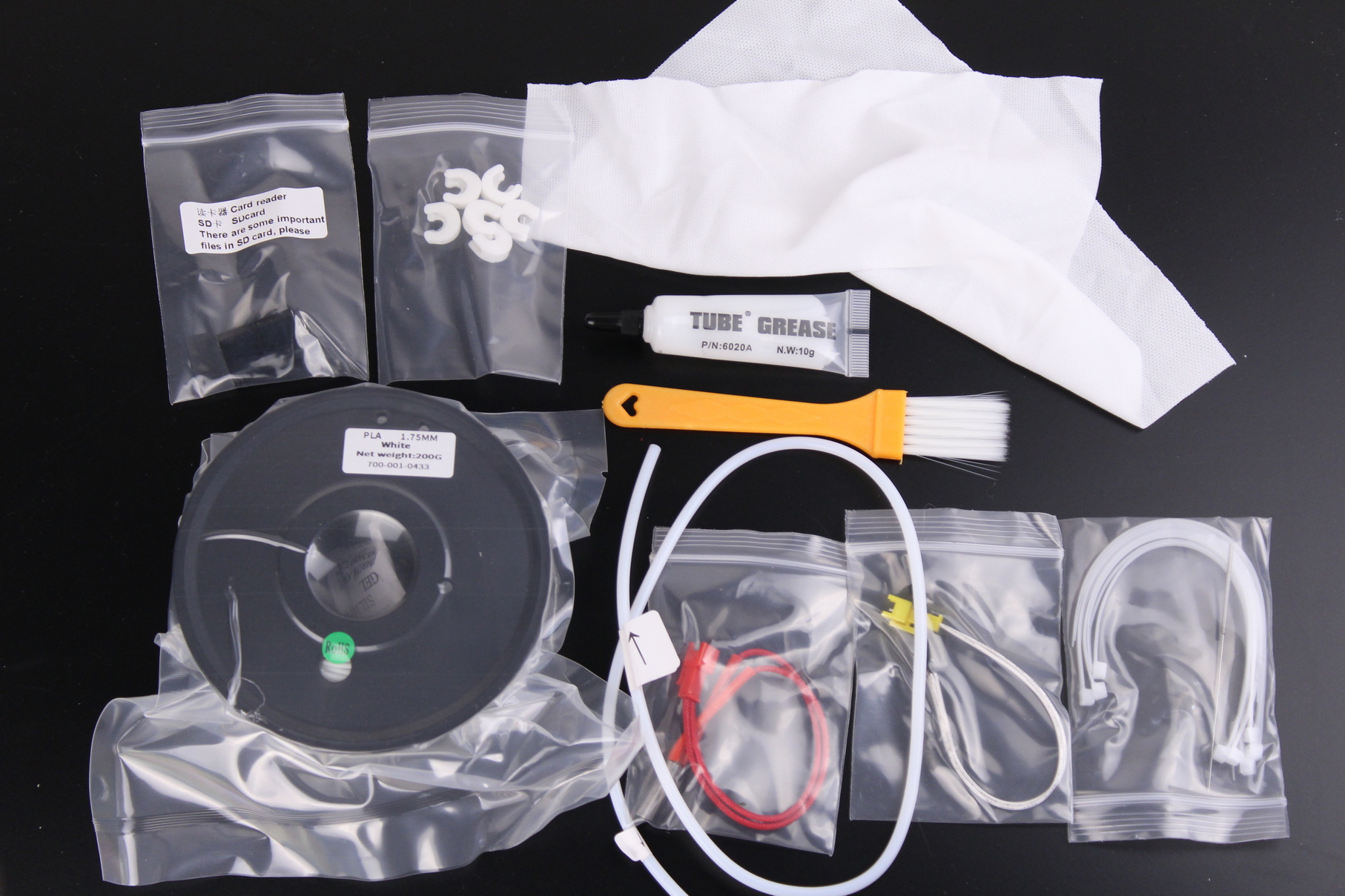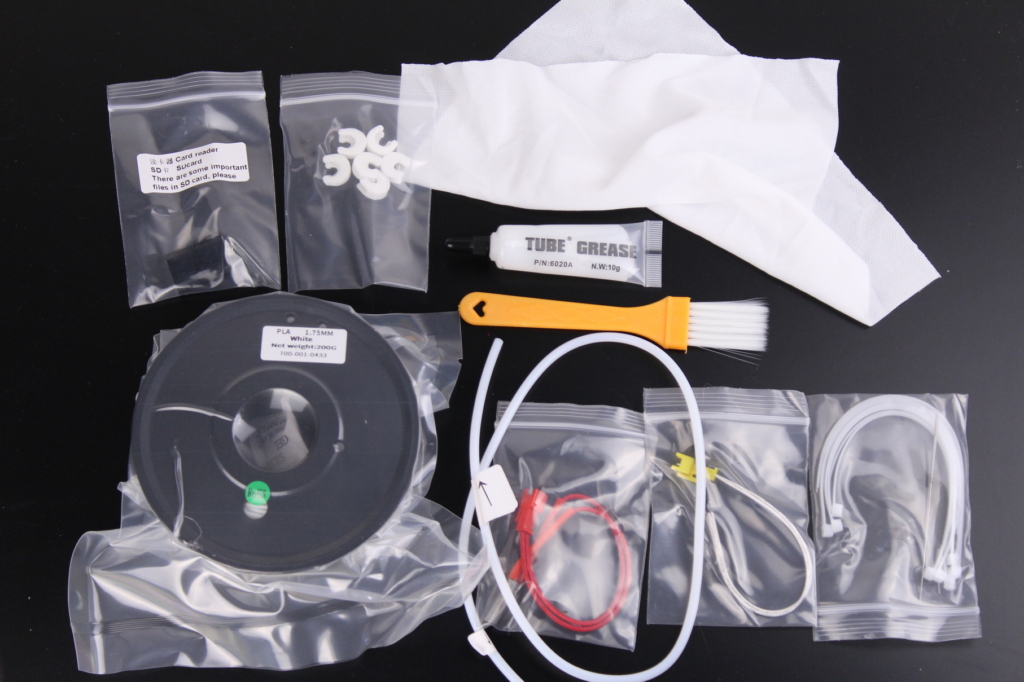 I really like the whole accessories package you get with the Flsun SR, and the inclusion of a spare hotend with heater cartridge and thermistor is a welcome addition. This way, you have a spare if something goes wrong with the printer, minimizing downtime.
Assembly of the Flsun Super Racer
Assembling the Flsun Super Racer takes around 45 minutes. The installation steps are detailed in the assembly guide, making it really easy to put together, even by a total beginner. When assembled, you only need to start the bed leveling process then start printing.
Flsun Super Racer Design
I really like the design of the Flsun Super Racer. It's built well and it looks like a lot of thought was put into this 3D printer to make it as good as possible out of the box. The tick aluminum extrusions make the printer quite stable, but the soft rubber feet give the printer a bit of a wobble. Having the bottom of the printer heavier would have helped, but I can't say it's an issue in its current form.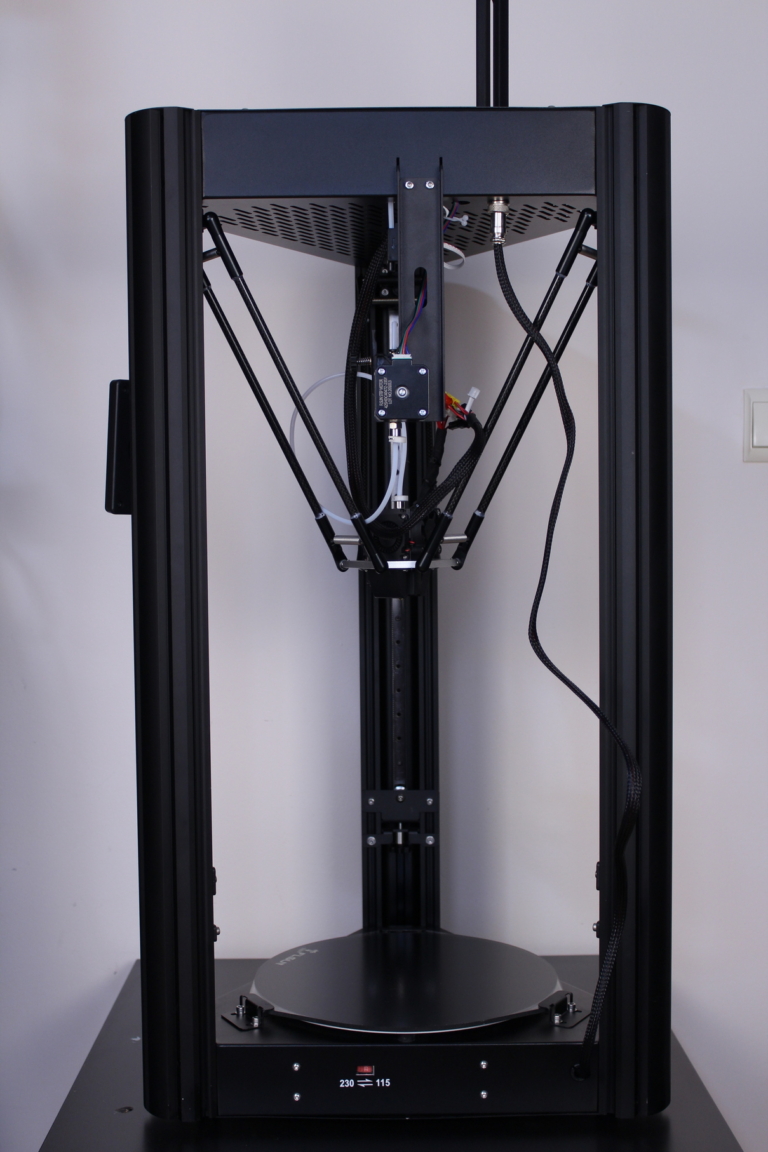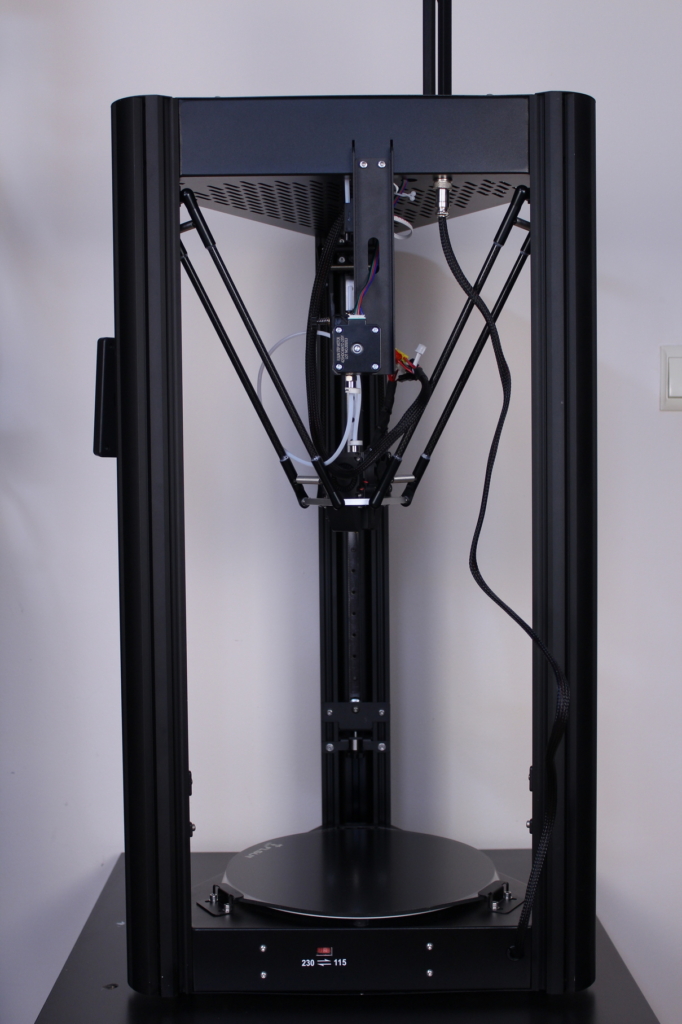 I don't really like the MicroSD card position in the back left of the printer, and I think having it somewhere in the front would help with accessibility. In the bottom front of the machine there's also a handy drawer where you can store the tools and your bed leveling sensor.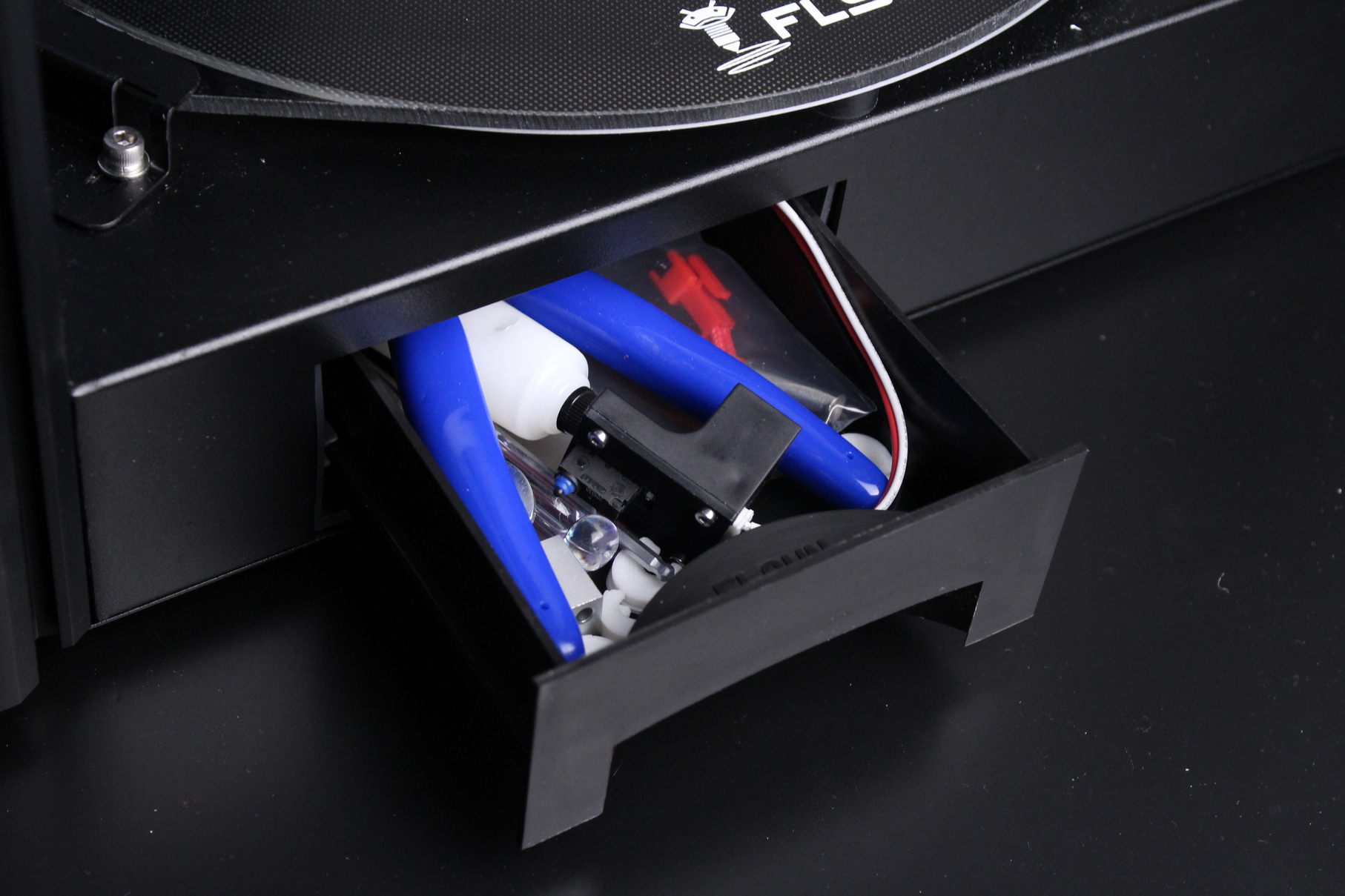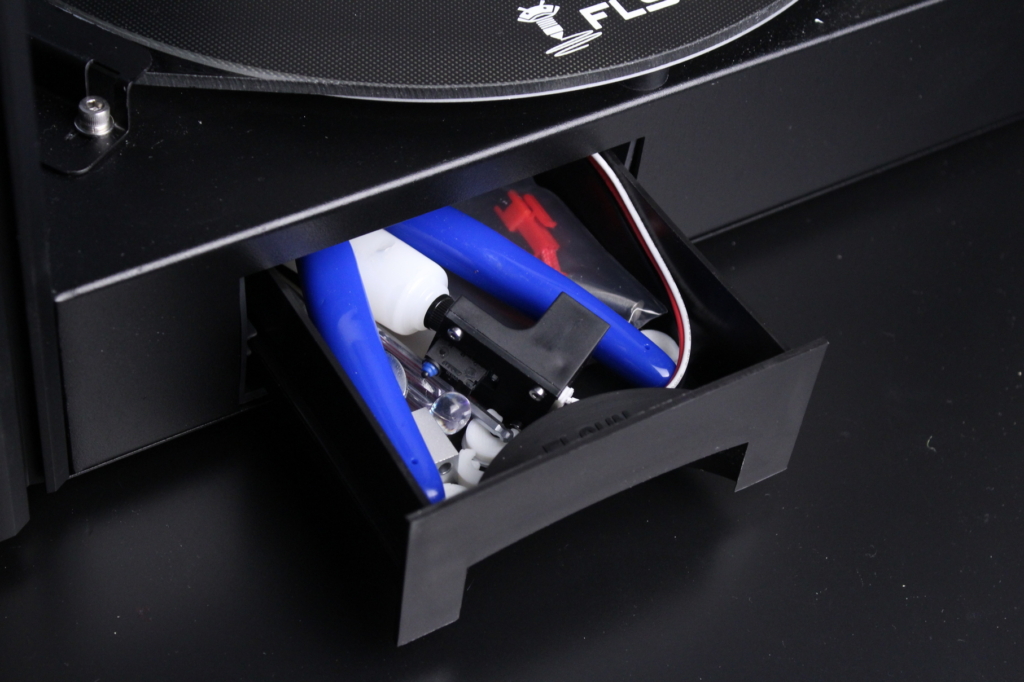 Flsun Super Racer Specs
| | |
| --- | --- |
| Brand Name | Flsun |
| Model Number | Super Racer |
| Origin | CN(Origin) |
| CE Certification | Yes |
| Consumables Diameter | 1.75mm |
| Printing Speed | 150mm/S |
| Bed Temp | 100°C |
| Slice Thickness | 0.2mm |
| Language | 8 languages |
| Maximum Printing Speed | 200mm/s |
| Interface Type | SD |
| Color Print Speed | 150-200mm/s |
| Fliament | PLA/PETG/ABS/WOOD |
| Slice Software | CURA/Repetier/Simplify 3D |
| Power Supply | 24V |
| Precision | 0.05-0.3mm |
| File Format | STL/OBJ/AMF/3DS |
| Nozzle Diameter | 0.4mm |
| Auto Leveling | Yes |
| Maximum Print Size | 260*260*330mm |
| Molding Technology | FDM |
Linear rails and 10mm belts
One of the most interesting features of the Flsun SR is the use of linear rails. This allows the printer to reach high printing speeds while maintaining accuracy. The linear rails don't produce a lot of noise during movement which is great!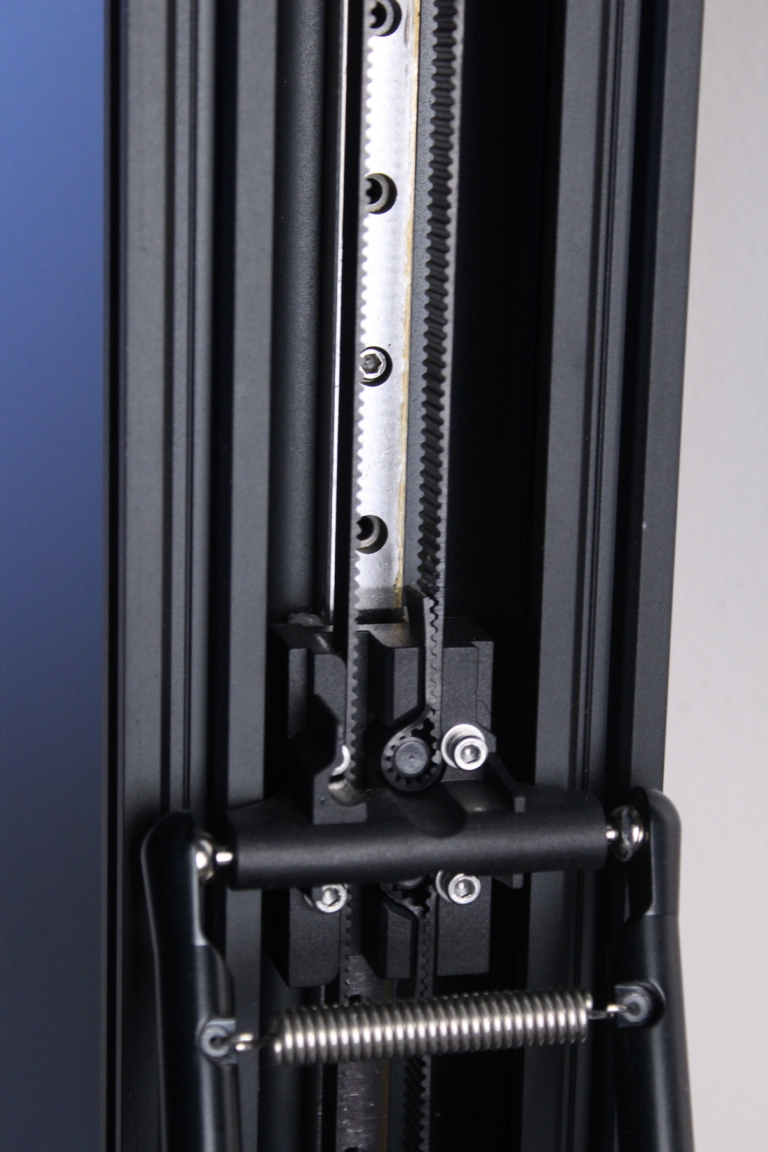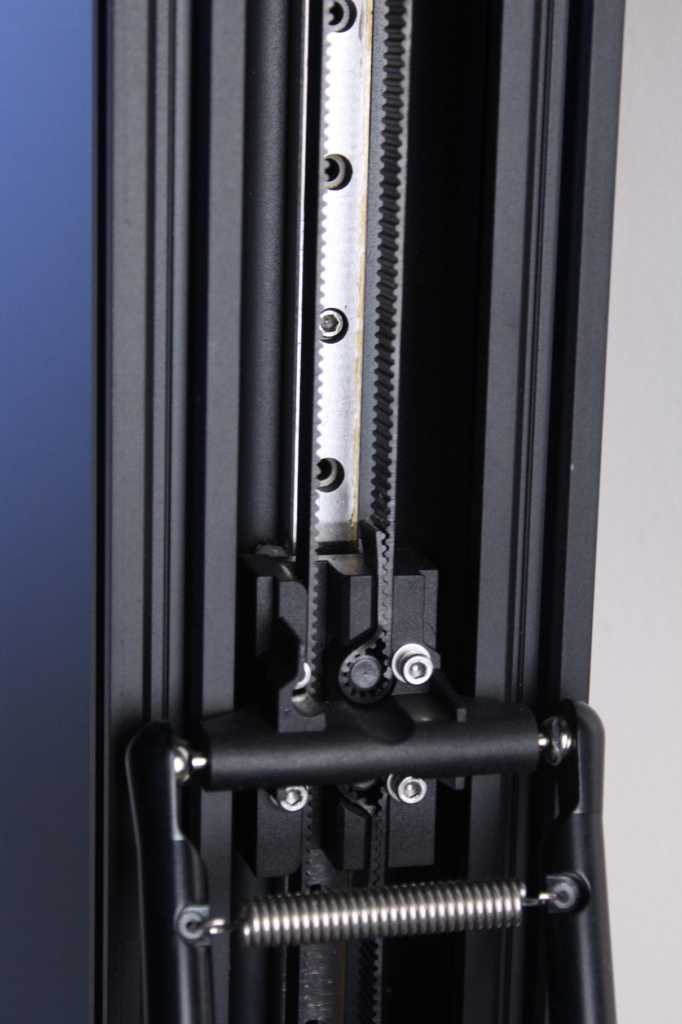 On the bottom of each linear rail there's a belt tensioning knob. If you decide to adjust it, it's extremely important to have the same belt tension on each axis, to avoid dimensional accuracy issues for your prints. These tensioning knobs are a bit hard to turn because they are recessed in the aluminum extrusion but considering that you won't really need to do this process more than once, we can somewhat ignore this minor issue.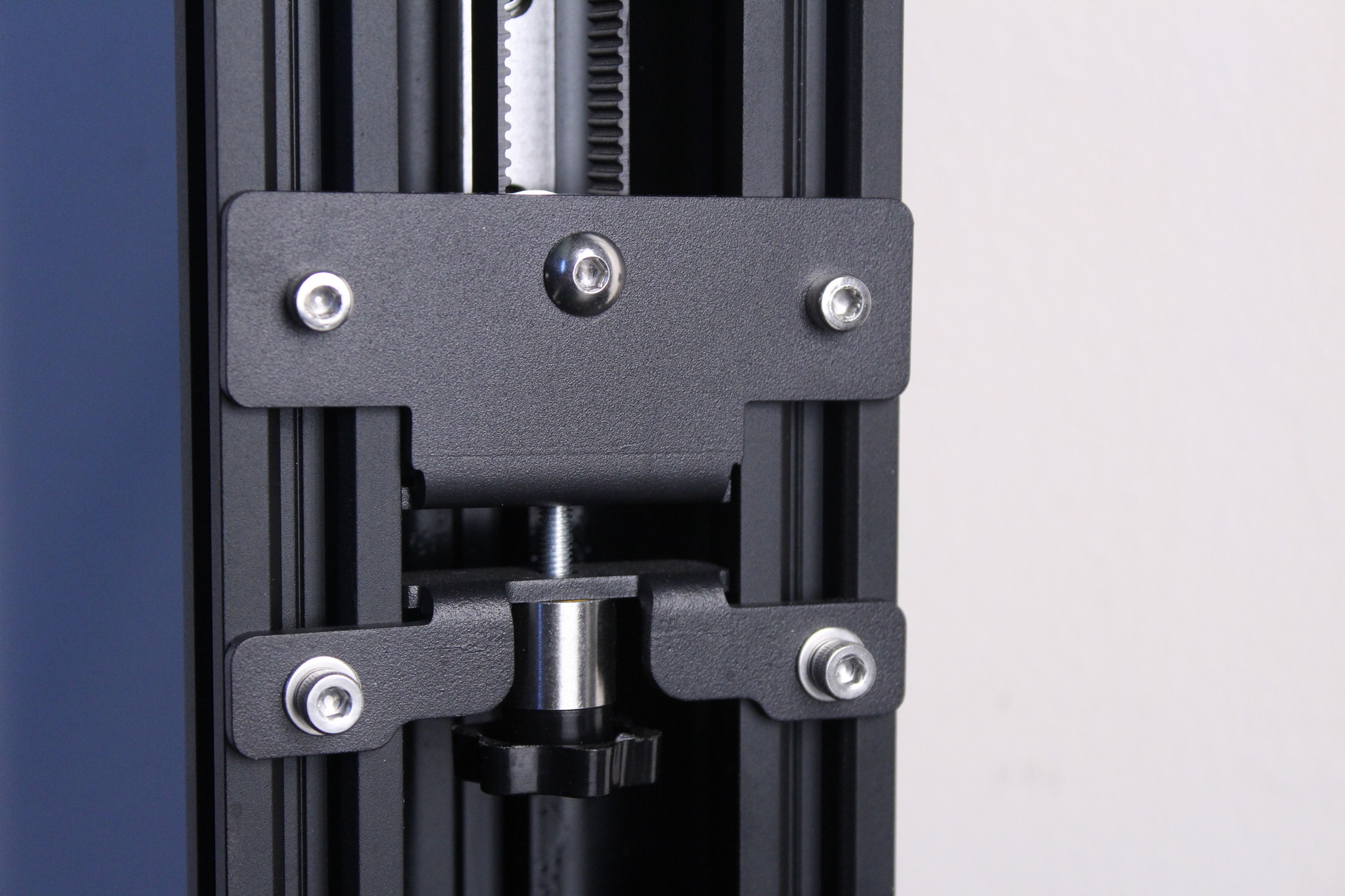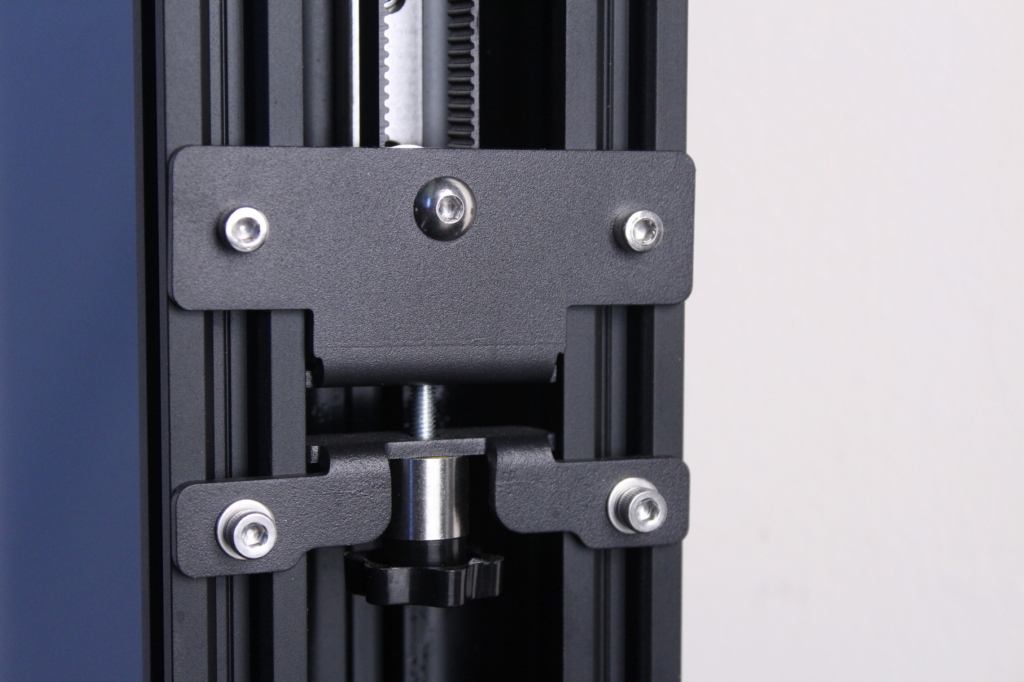 It's also worth noting that the Flsun Super Racer uses 10mm belts. They are not GATES belts like we get with the Ender 6, but they seem to be good enough. These belts will help with fast movements during printing, and I really hope more 3D printers will use wider belts in the future.
Carbon Fiber rods
Delta printers greatly benefit from light moving parts and to improve this, the Flsun SR comes with carbon fiber rods. I'm not 100% convinced these rods are made from carbon fiber, but they are light and stiff. Between each pair of carbon fiber rods, we get two springs to hold them in place.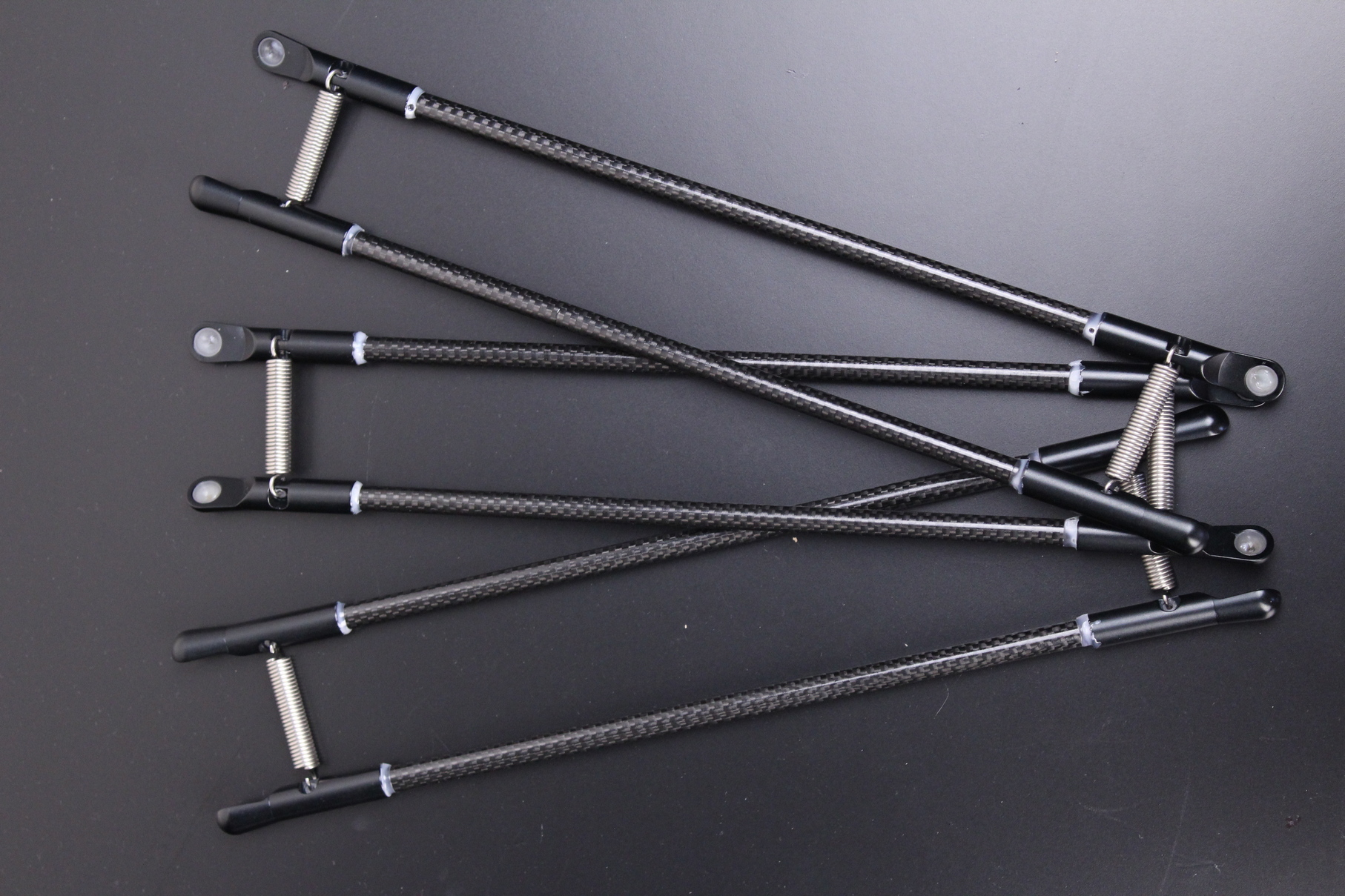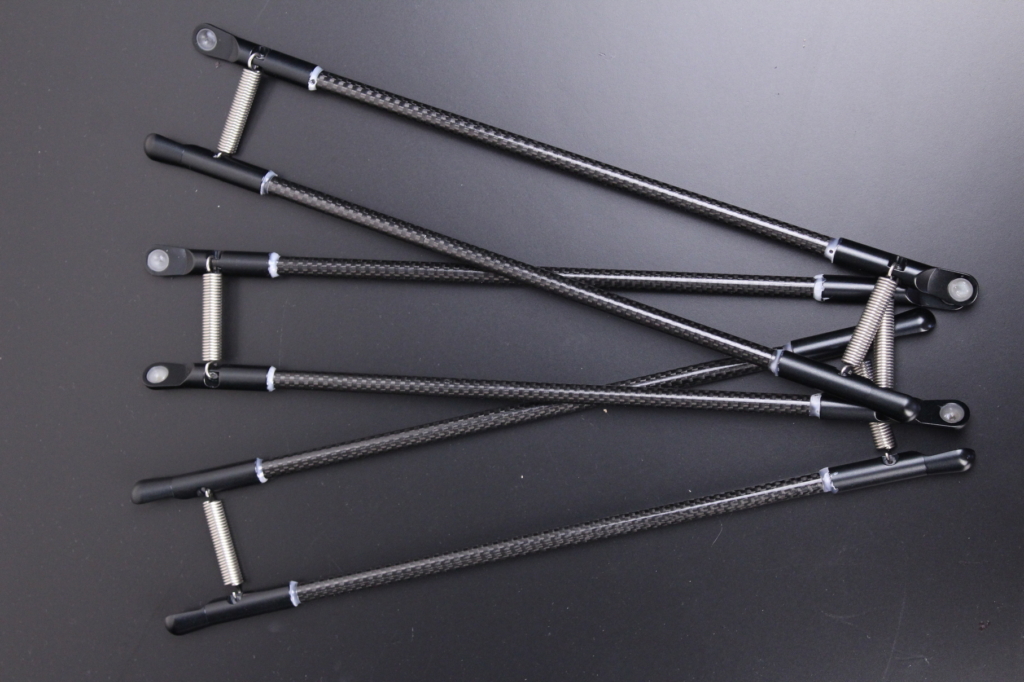 The weight of these carbon fiber rods is only 177 grams.
I'm curious to see how the plastic caps inside these fiber rods will work after a few thousand hours of printing. Even though there's grease on them to minimize wear, they will fail at some point and right now I can't see any replacements available.
Super Racer Effector
The Flsun Super Racer has an aluminum effector with a V6 hotend clone, a volcano-like heatblock and a volcano nozzle. For part cooling, we get two 4010 radial fans with plastic ducts to direct the air close to the nozzle. The whole effector assembly, including the cooling fans and hotend weight 264g.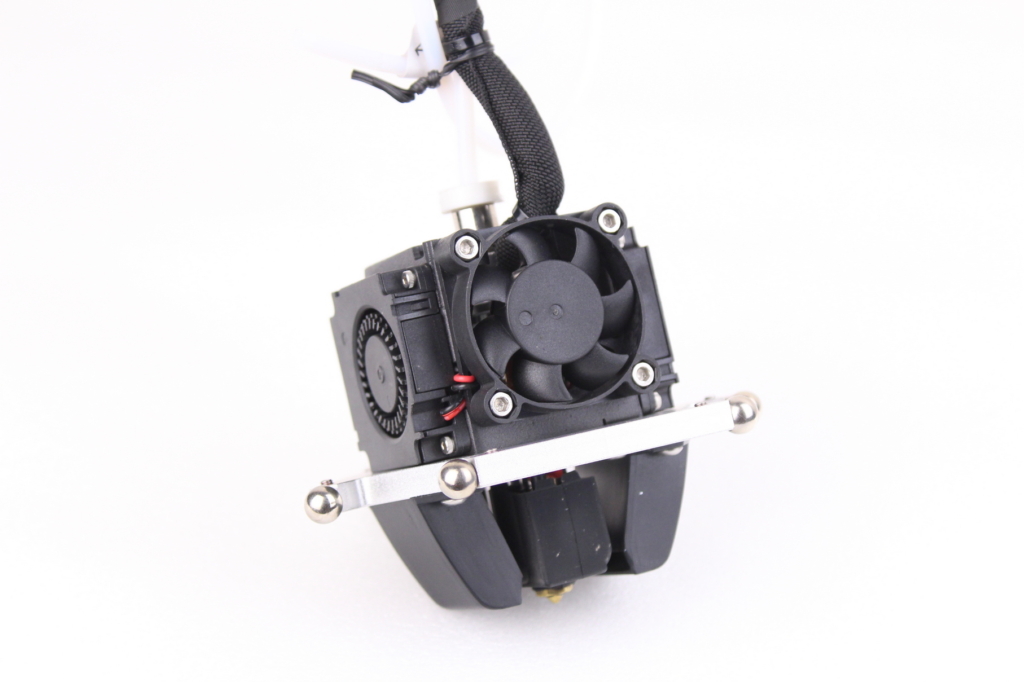 Because of the way it's mounted to the arms, removing the whole effector to service the hotend is really easy, and it takes less than 10 seconds. If you were to purchase a second effector as a spare, you could easily swap it and start printing again in less than 10 minutes.
BMG Extruder clone
Compared to the Titan clone extruder used on the Q5, the Flsun SR uses a BMG extruder clone which has a gear ration of 3:1 and dual gears which help push the filament efficiently to the nozzle. It's especially important to have a good extruder with this printer because you won't be able to print fast with a regular style single-gear extruder.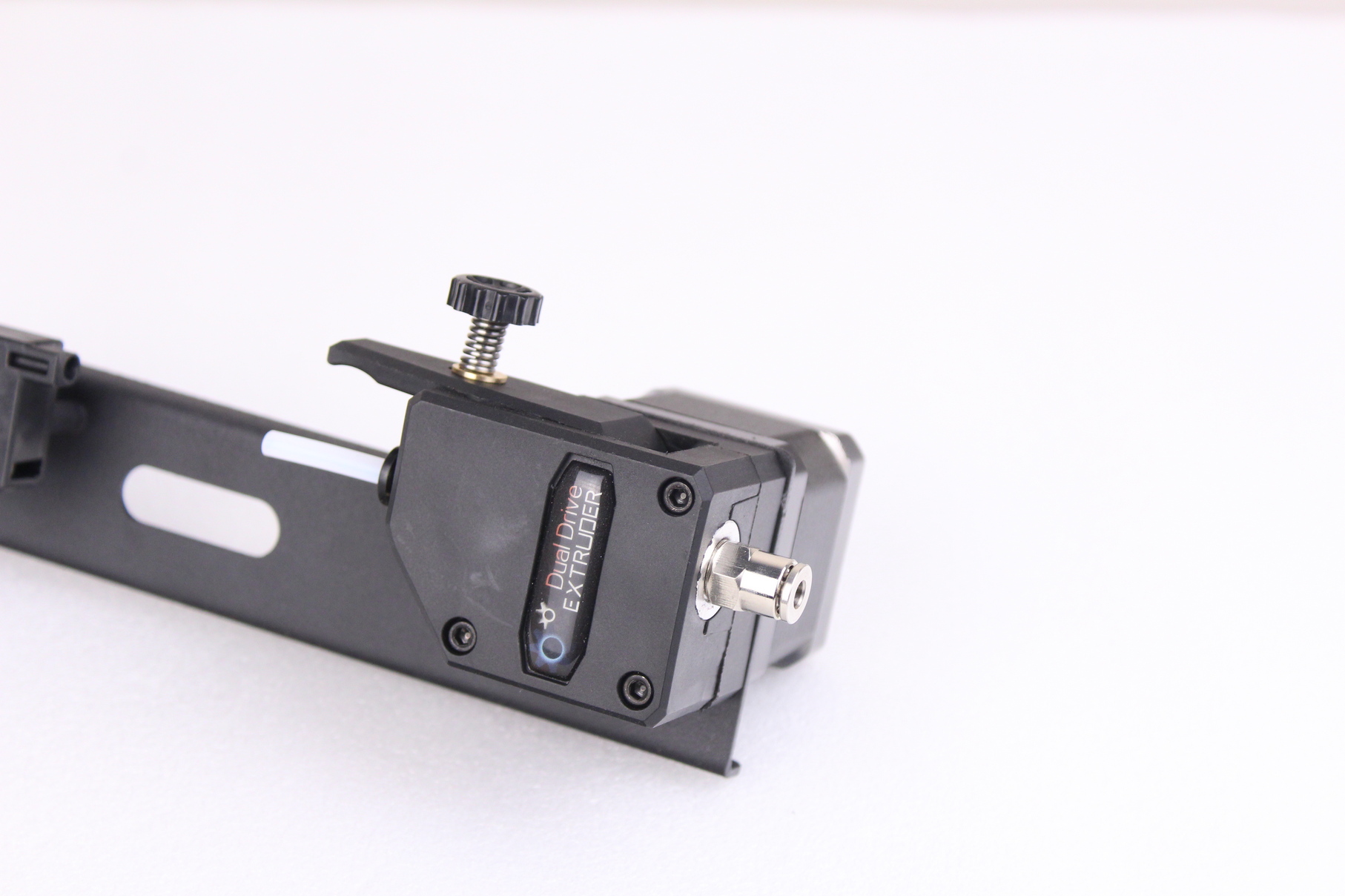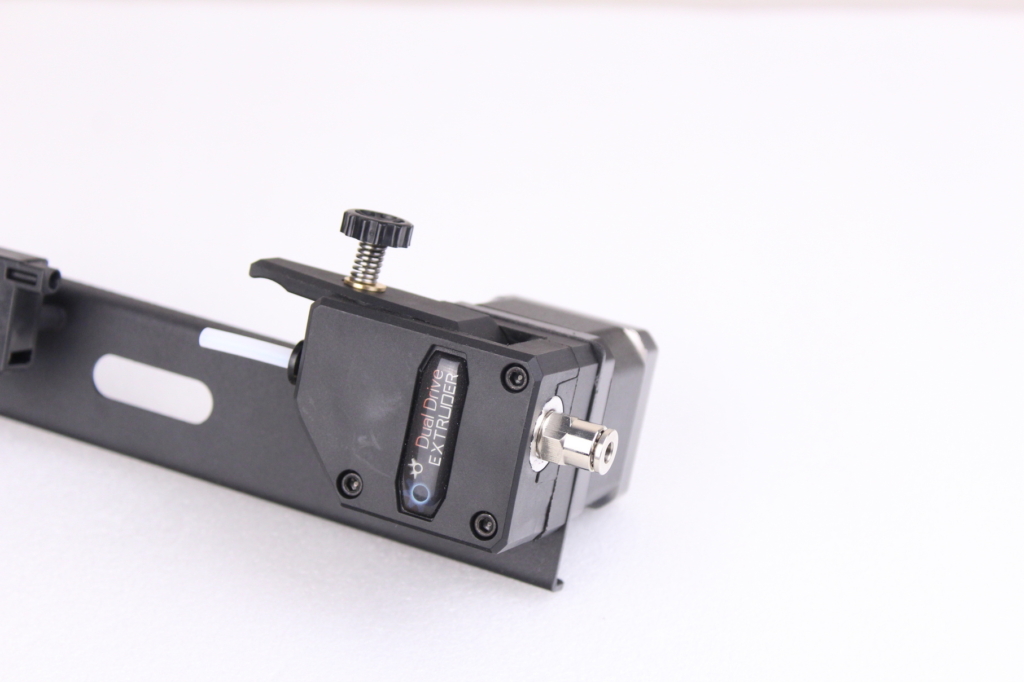 The extruder is not the highest quality, especially considering the gear quality but I've used the exact same unit on other printers with good results and it performed well on the Flsun Super Racer.
PTFE lined V6 hotend with Volcano-like heatblock
The hotend is a regular V6 clone with a volcano-like heatblock, and the PTFE tube goes right up to the nozzle. This means that your printing temperatures shouldn't be pushed over ~240C, because the PTFE tube starts to degrade and release harmful fumes. While I would have liked to see an all-metal heat break, instead of the PTFE lined one, this is not a huge issue, and an upgrade is not that expensive. For regular PLA and PETG printing, the stock one should be good enough.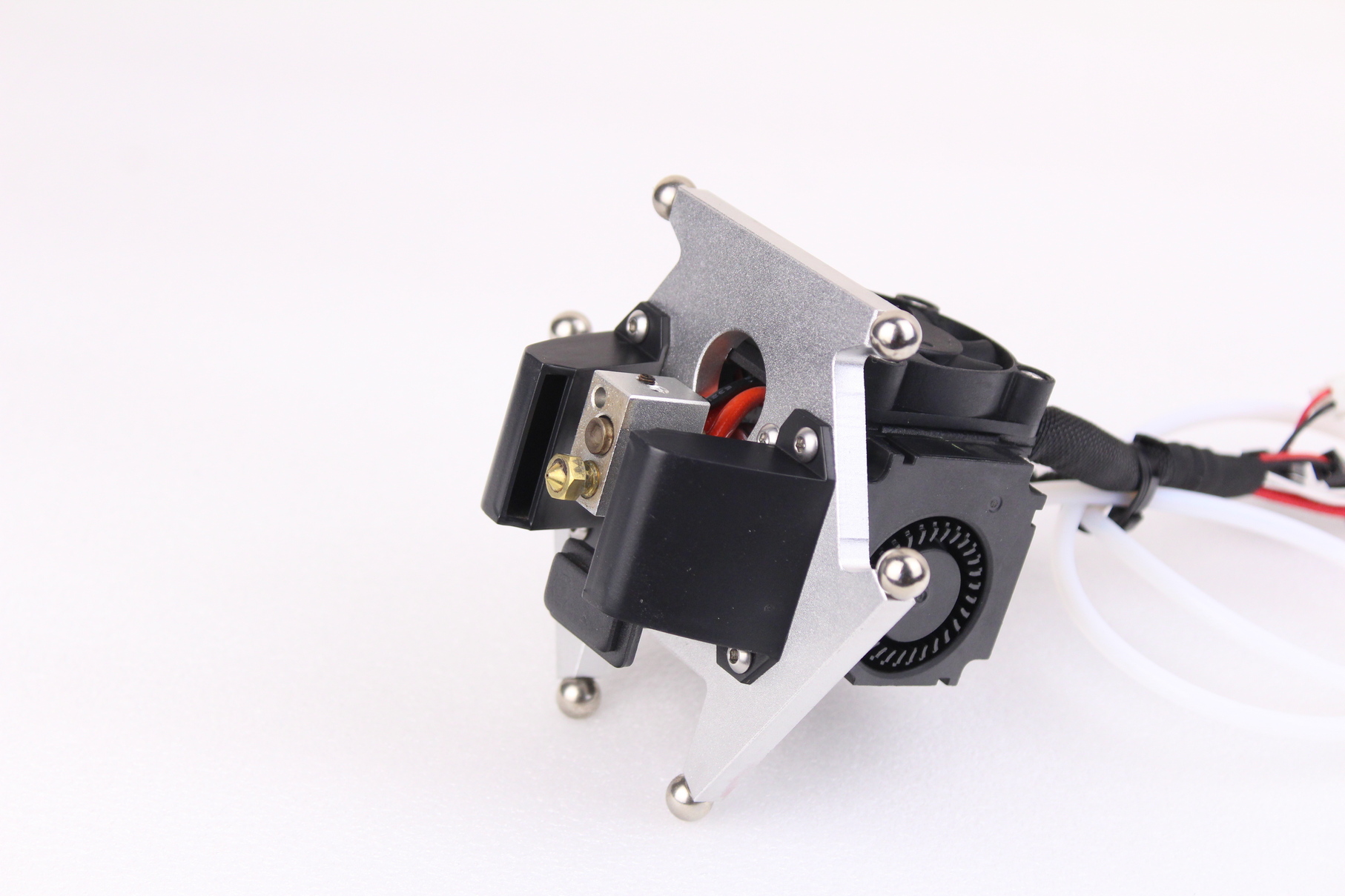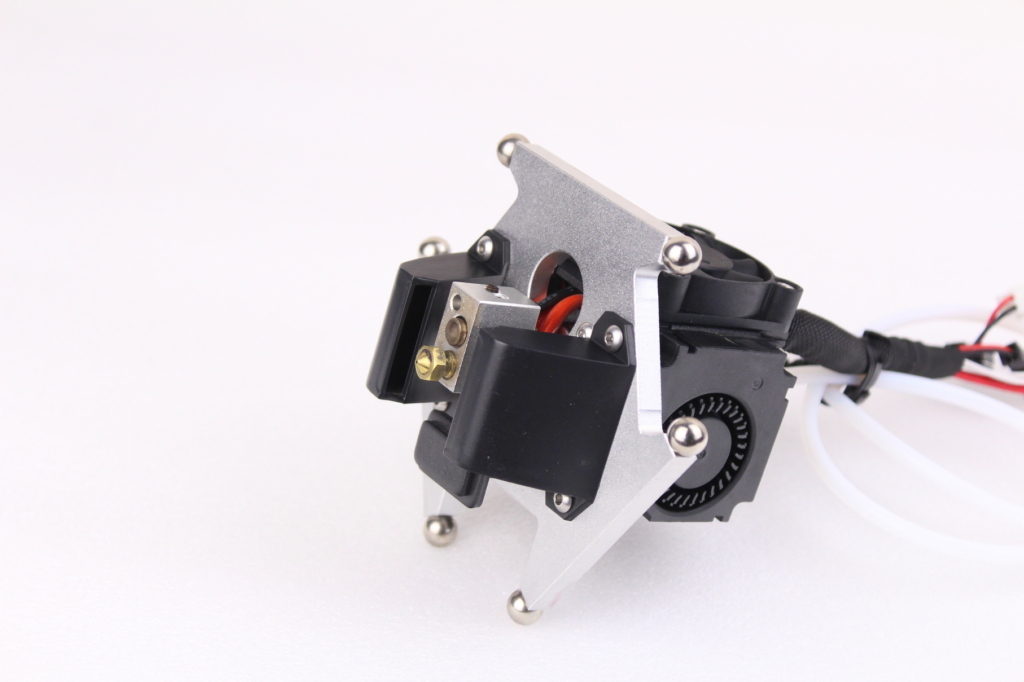 Unfortunately, the volcano-like heatblock is shorter than the original. This makes the nozzle stick out substantially and I'm almost sure this is not ideal for consistent temperatures.
In the future I will surely upgrade the hotend asembly with a bi-metal heat break and a proper Volcano nozzle to properly take advantage from the print speeds this printer is capable of.
During my first 3D Benchy I discovered that the PTFE tube was not correctly installed, and I needed to disassemble everything to clean up the clog and install the tube properly. This fixed my clogging issue and retractions performed well after that. The hotend fan start only after the hotend temperature goes over 50C.
Dual air ducts for improved cooling
Having all these features wouldn't help too much if the part cooling is not up to the task. Fortunately, with the Flsun SR we get dual part cooling fans and ducts. They do decent job on larger models, but I would have preferred to have more airflow. They quickly become a limiting factor when doing fast PLA prints because the layers don't have enough time to properly cool and this causes lower quality prints. Maybe having a pair of 5015 fans will further improve print quality with fast printing.
Removable magnetic auto-leveling sensor
Just like the Flsun Q5, the Super Racer comes with a magnetic auto bed leveling sensor which is used after installing the printer. I must say, this sensor works really well and after performing the initial calibration, there was no need to re-level again.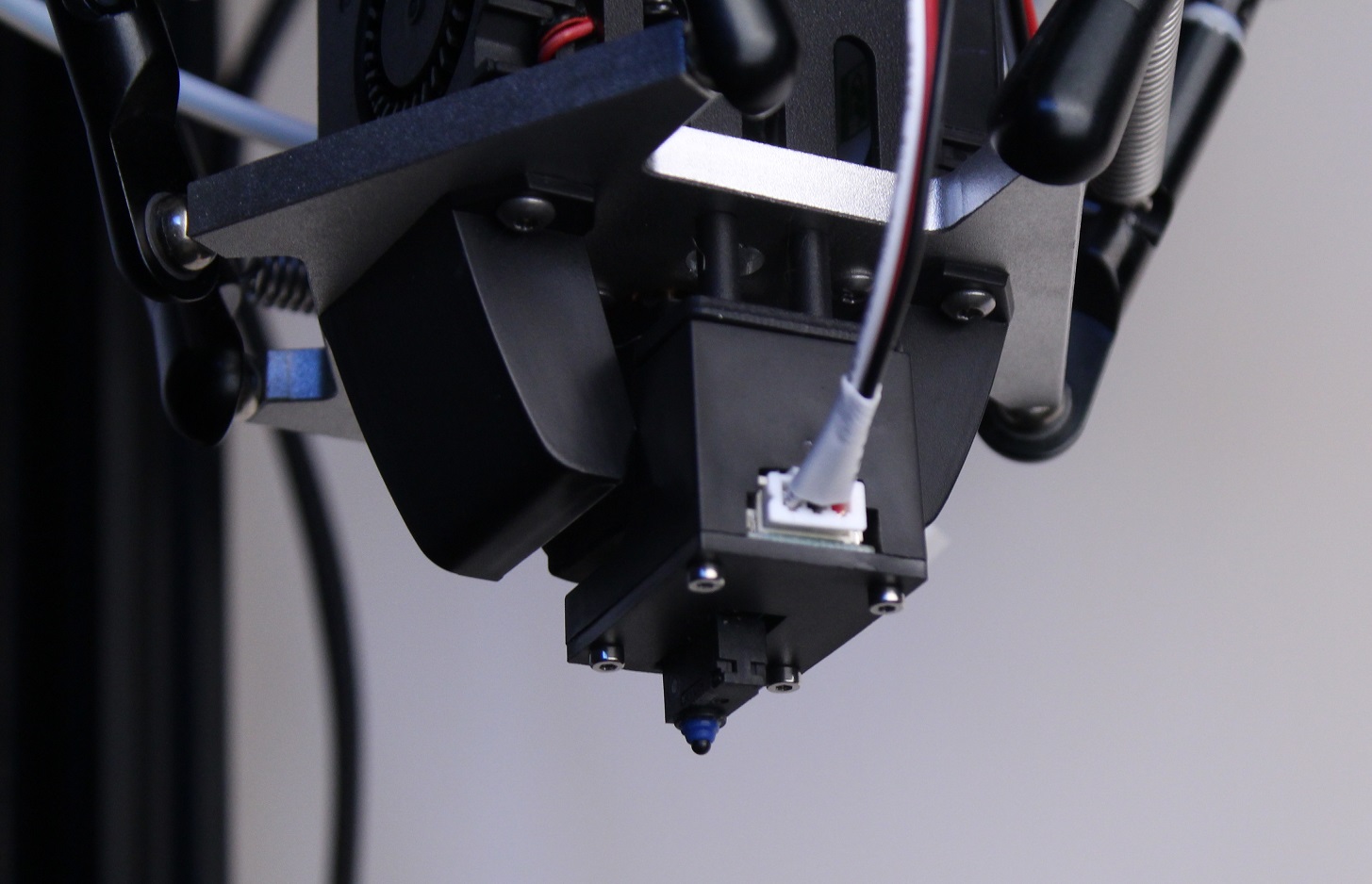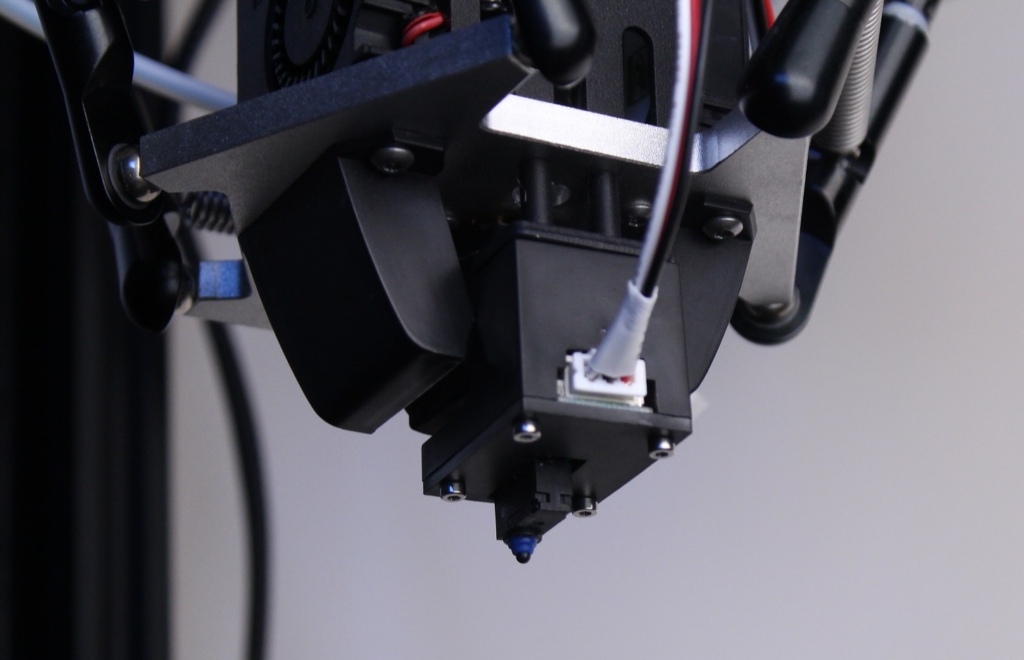 32-Bit board with silent stepper TMC2209 drivers
While the included board looks familiar, it's not a BIGTREETECH board. Instead, Flsun used a clone of the popular SKR 1.3 board.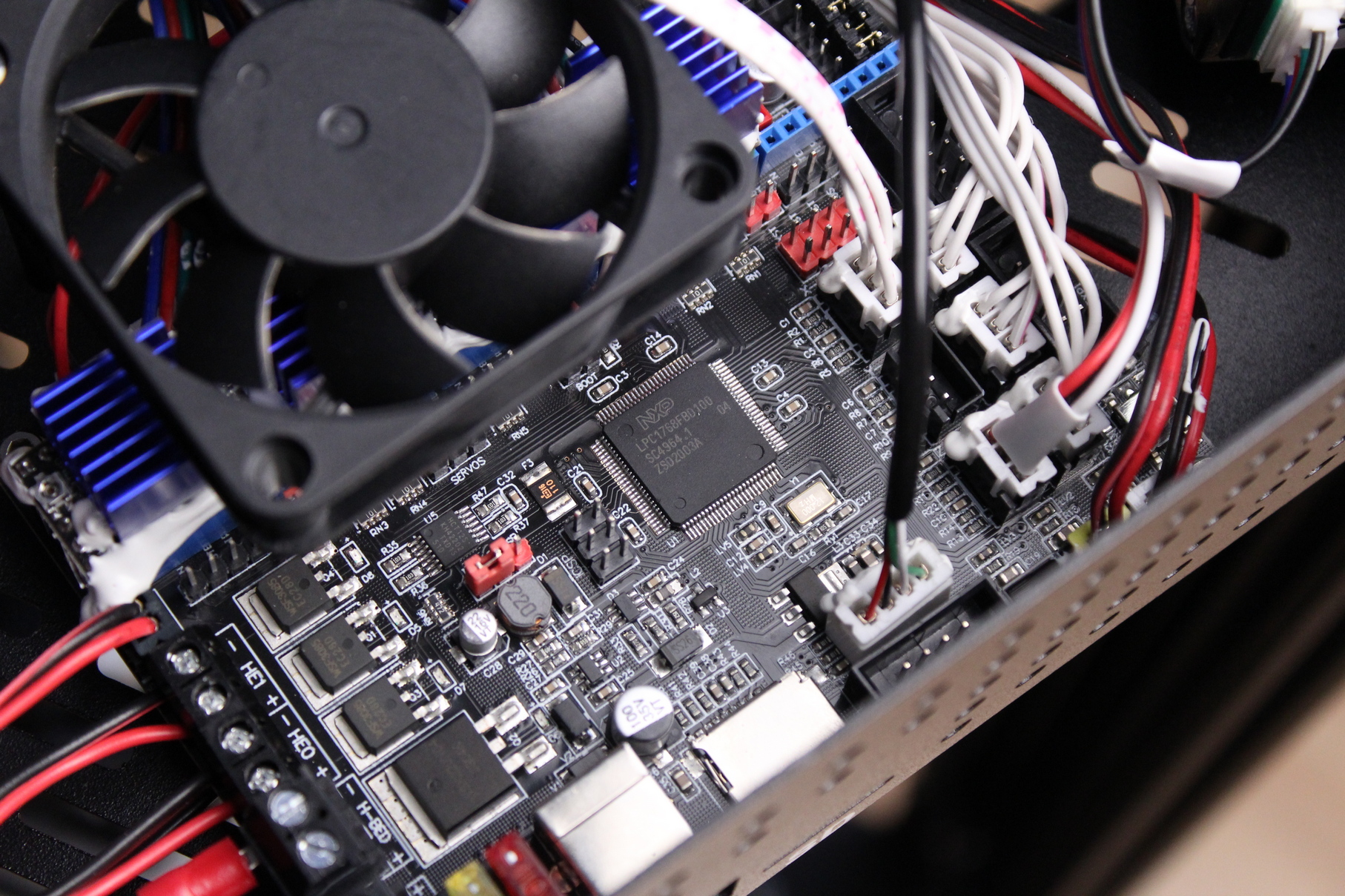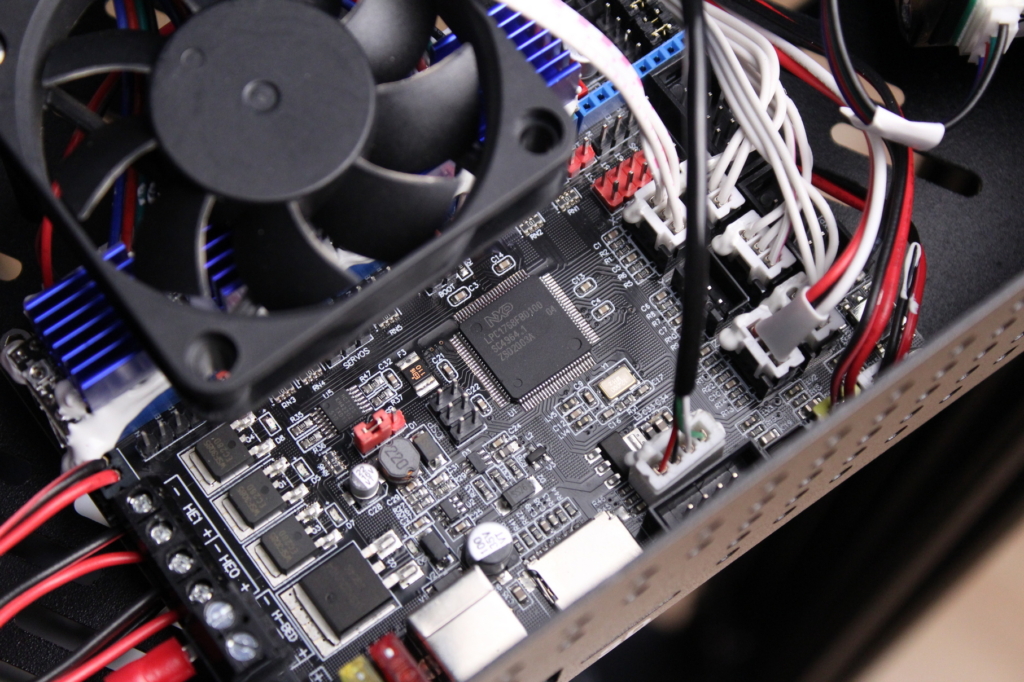 The stepper drivers have big heatsinks and to keep them cool we have a 60mm fan which provides good airflow while limiting the noise produced by it. I'm not a huge fan of the added hotglue on the side of the stepper drivers, but that's what we get.
There's not much to talk about this board. If you know about the SKR 1.3, then the clone used by Flsun should be just the same.
Glass print surface
The aluminum heated bed is covered with a textured glass print surface, similar to what we got with the Flsun Q5, and with other Creality printers. This is one of the most popular print surfaces right now, and it works well. Adhesion is great when heated, and the prints pop of easily after it cools down.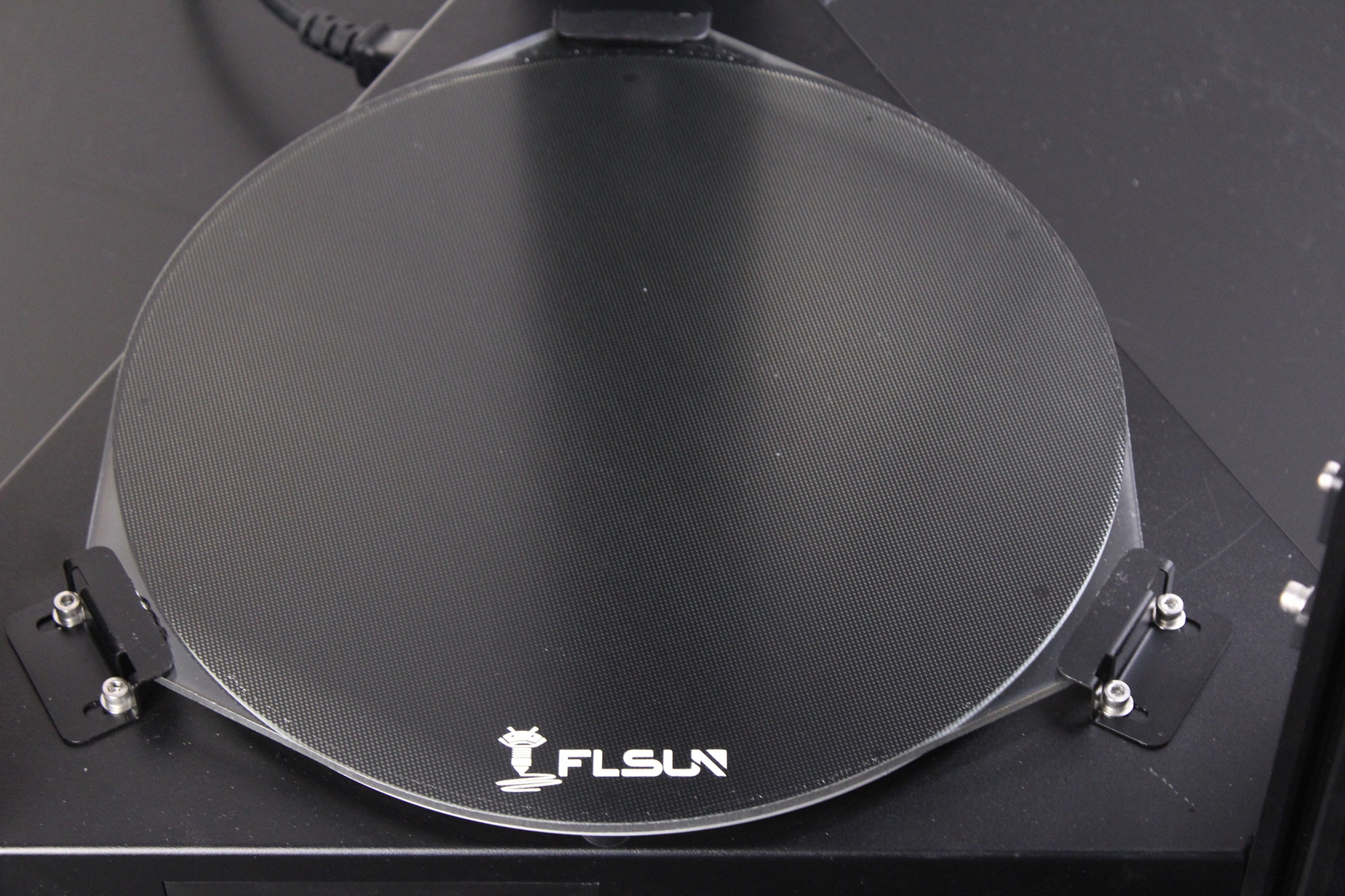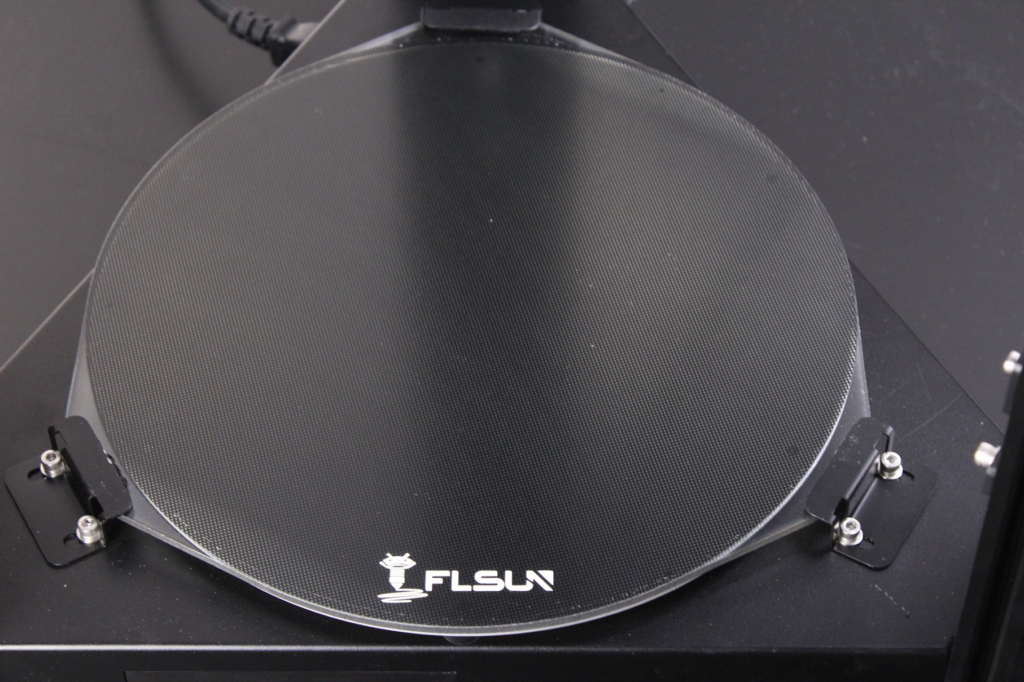 The heatbed also has some insulation underneath covering the whole radius of the aluminum bed, which is nice.
Cheng Liang 360W 24V Power Supply
Unfortunately, the power supply we get with the Flsun SR is a Cheng Liang unit. It's not terrible, but this brand is not my favorite. In the past, I had one unit which got damaged, and I needed to replace it. Either way, considering that the Flsun SR doesn't draw more than ~230W at a time, it should be good enough.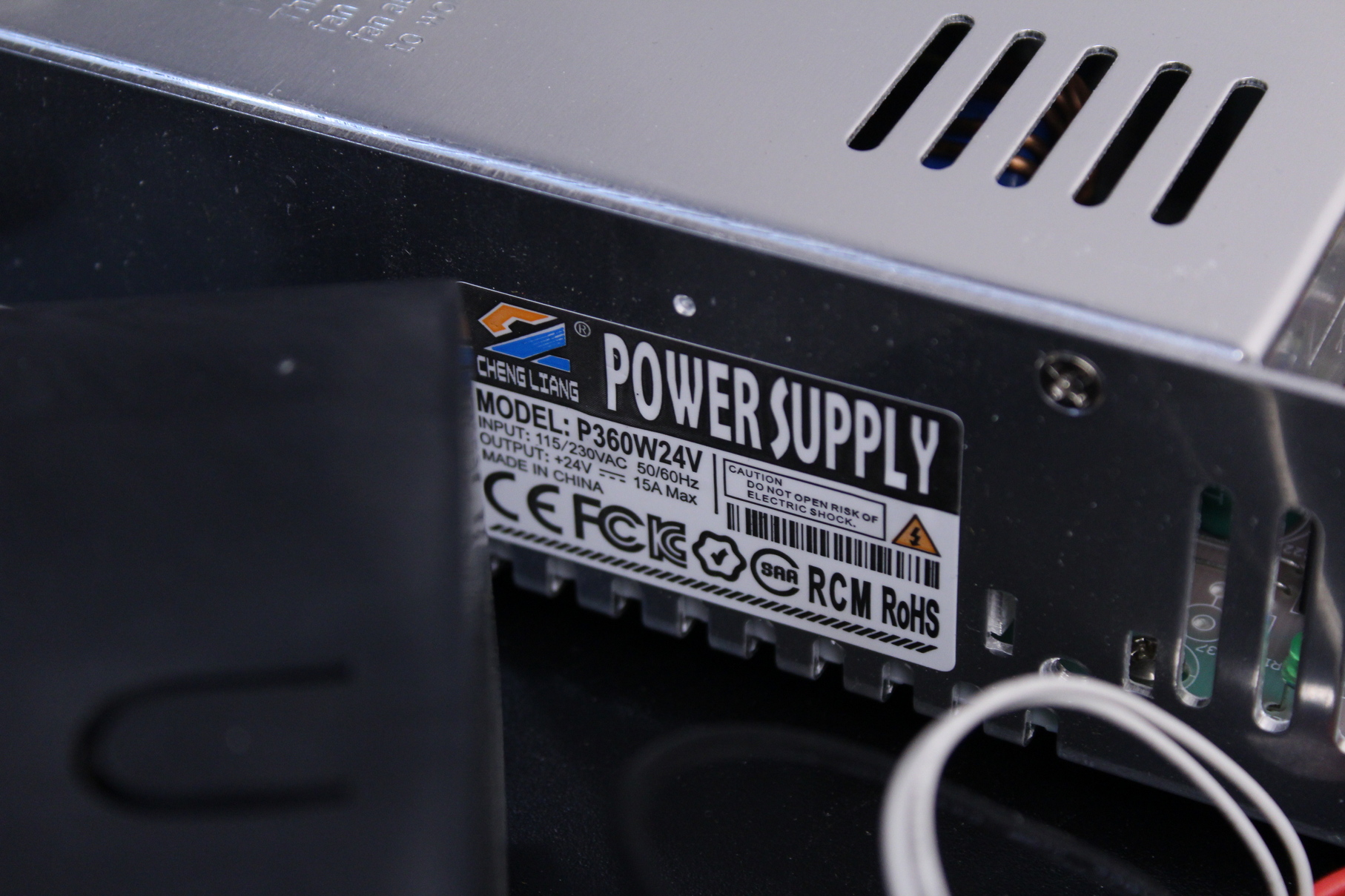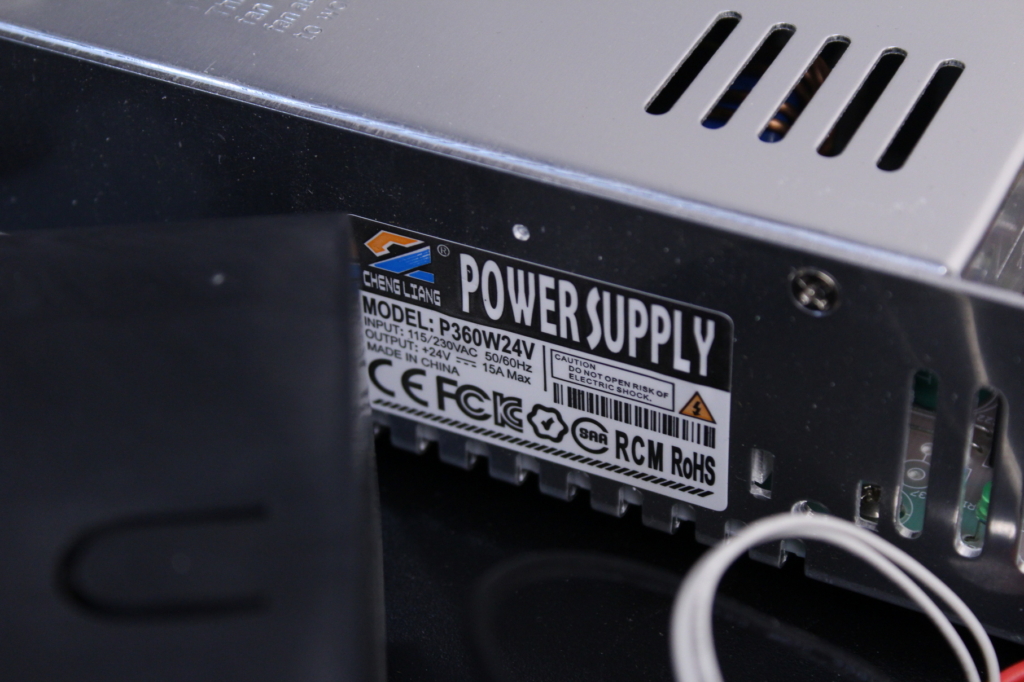 Removable 3.5-inch touchscreen
Another interesting feature of the Flsun Super Racer is the removable touch screen. When you install it, there's a nice magnetic support which attaches to the printer to keep the screen easy to reach. Most of the time I use it in place, without removing it, but I am sure other people like having the option to grab the touchscreen and use it just like a smartphone.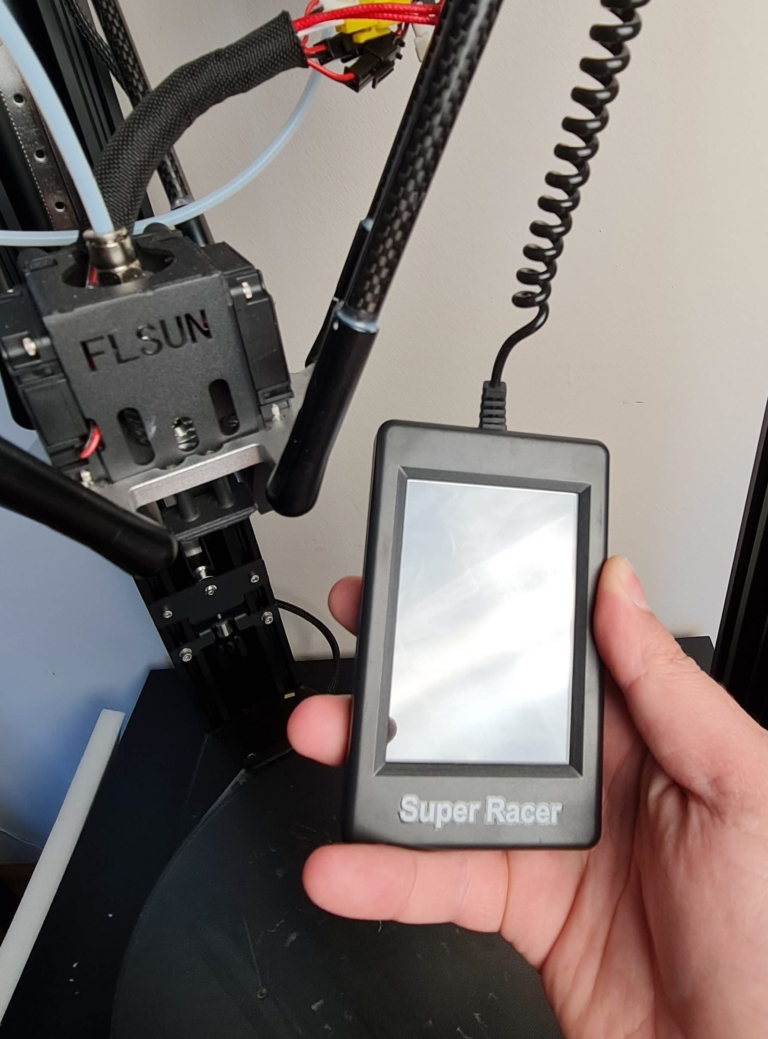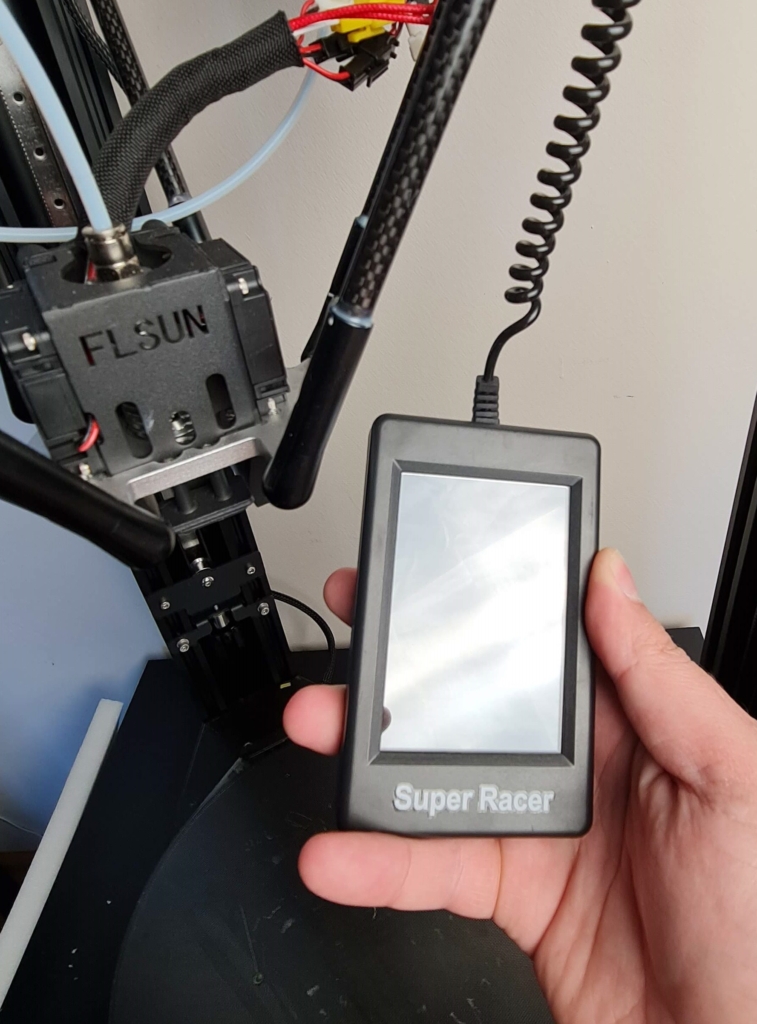 The touchscreen is nice and responsive, and it has the basic feature set to operate the printer. I also like that you can see the print speed during printing. My only concern is the cable connection on the top of the printer which might get damaged over time.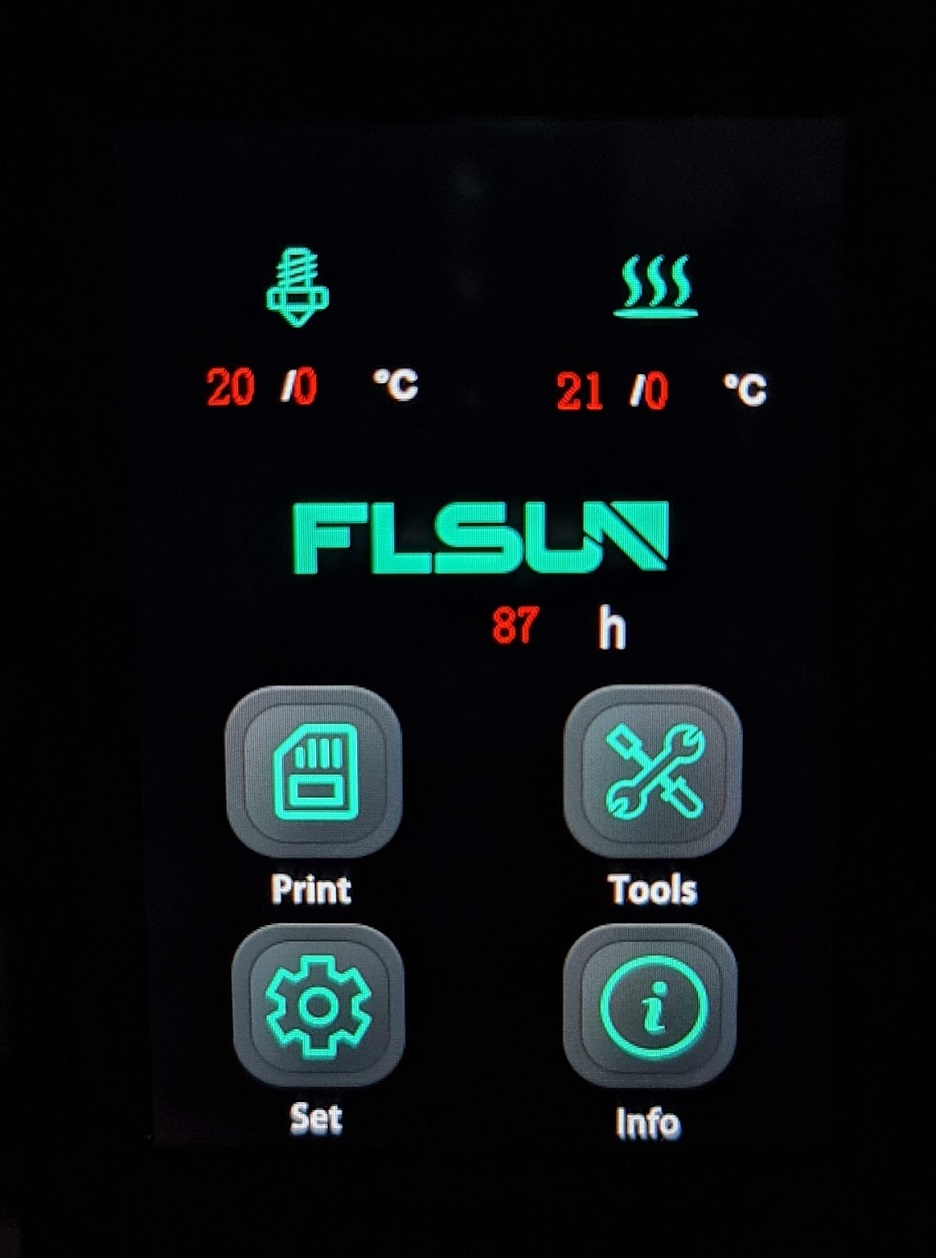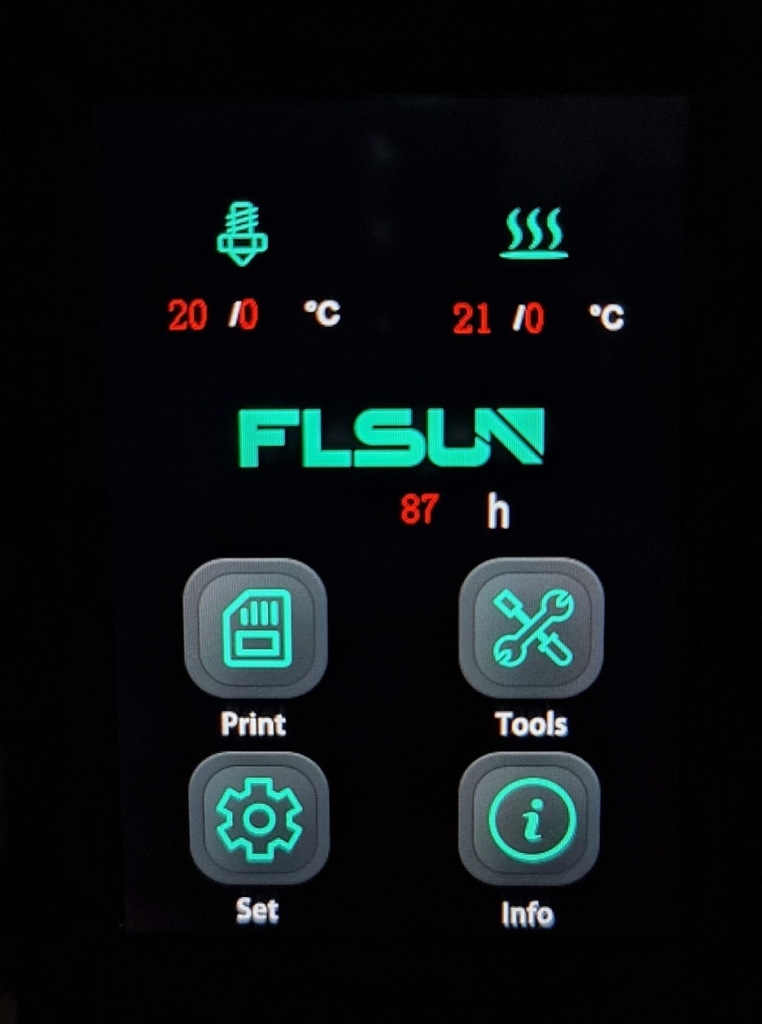 Printing experience with the Flsun Super Racer
Out of the box, the printer performs well, and the Super Racer name is somewhat true for this printer. I was able to do regular prints with increased speed compared to a regular cartesian 3D printer, or even a CoreXY. Print speeds of ~80mm/s are possible with no tinkering if the slicer profile is tuned well.
But if you are looking to go past ~80mm/s, then part cooling starts to show its weakness especially for smaller PLA prints. On PETG and ABS you can maybe push it over ~100mm/s, but then you hit the second bottleneck which is ringing. With the current Marlin firmware, ringing starts to show up with these speeds which will require acceleration and jerk tuning for good results.
Installing Klipper firmware is the right way to go with this printer. After installing Klipper, you will be able to use Input Shaper which will greatly improve the print quality and ringing at high speeds.
Please note that I am talking about "real" speeds you can achieve with the stock Super Racer. You can also crank up the speed to ~200mm/s and keep acceleration values low, but that doesn't mean that the printer is actually printing at that speed even though you see that on the touchscreen.
Heating time and power consumption
I tested the heating time for both hotend and heat bed and here are the results:
Hotend
200C in 1 minute and 35 seconds
250C in 2 minutes and 10 seconds
Heatbed
60C in 2 minutes and 30 seconds
100C in 7 minutes and 20 seconds
Power Draw
Idle power draw is around 10W. When the hotend and heatbed are heating up, the Flsun Super Racer draws around 220W. After it starts printing, the power draw stabilizes to around 60W.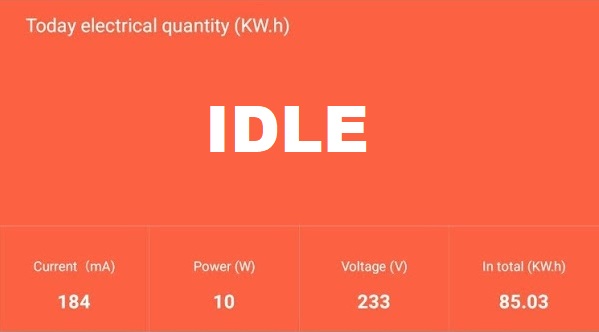 All these measurements were taken with a Blitzwolf smart power socket which indicates the power draw, and it can also be used for remotely powering on and off the printer.
Bed Temperature Uniformity
I tested the temperature uniformity for the Flsun Super Racer bed with the Flir Camera installed on the CAT S62 Pro. The bed has been set to 60C and I waited 2 minutes after reaching that temperature for the temperature to stabilize.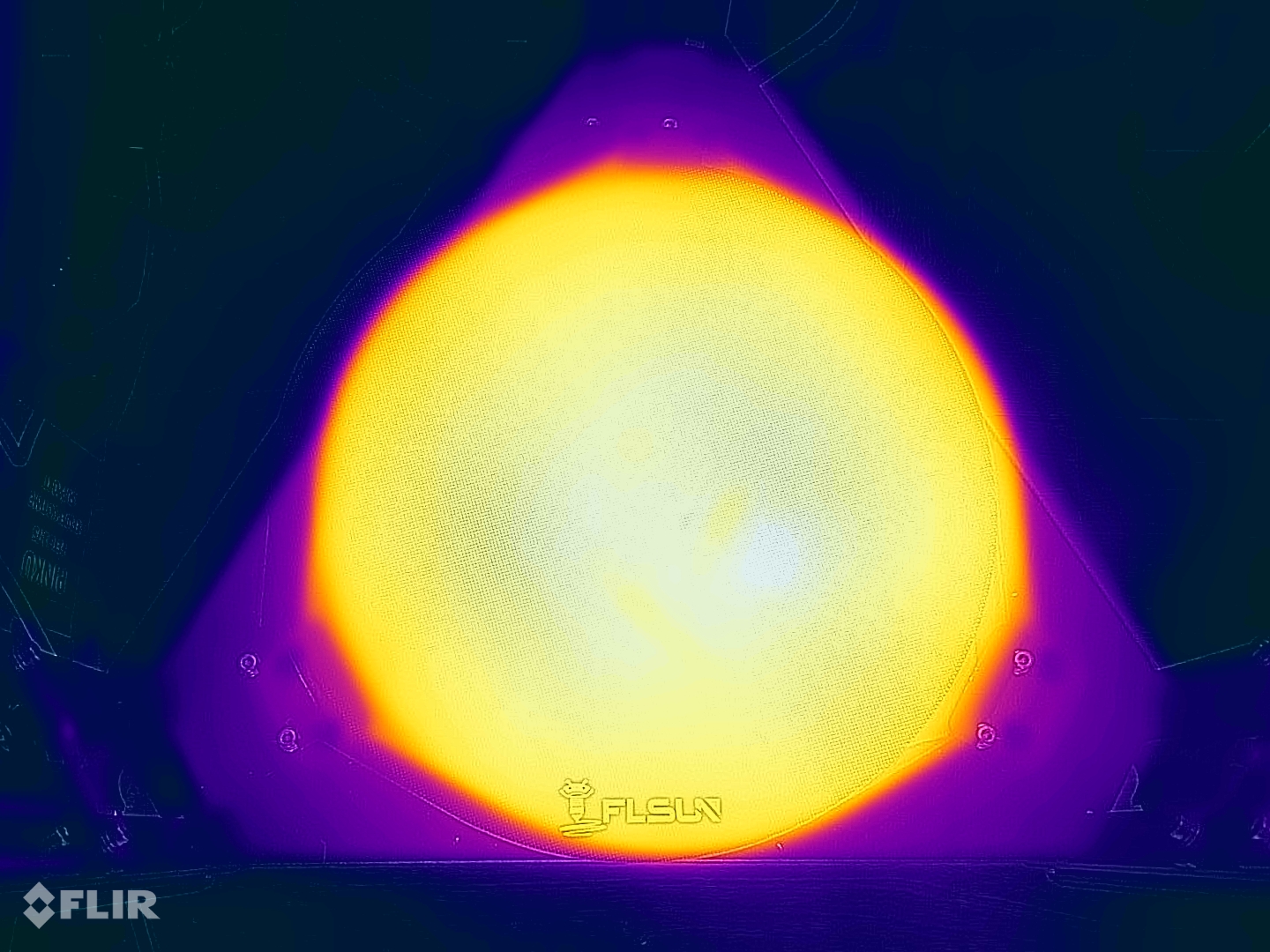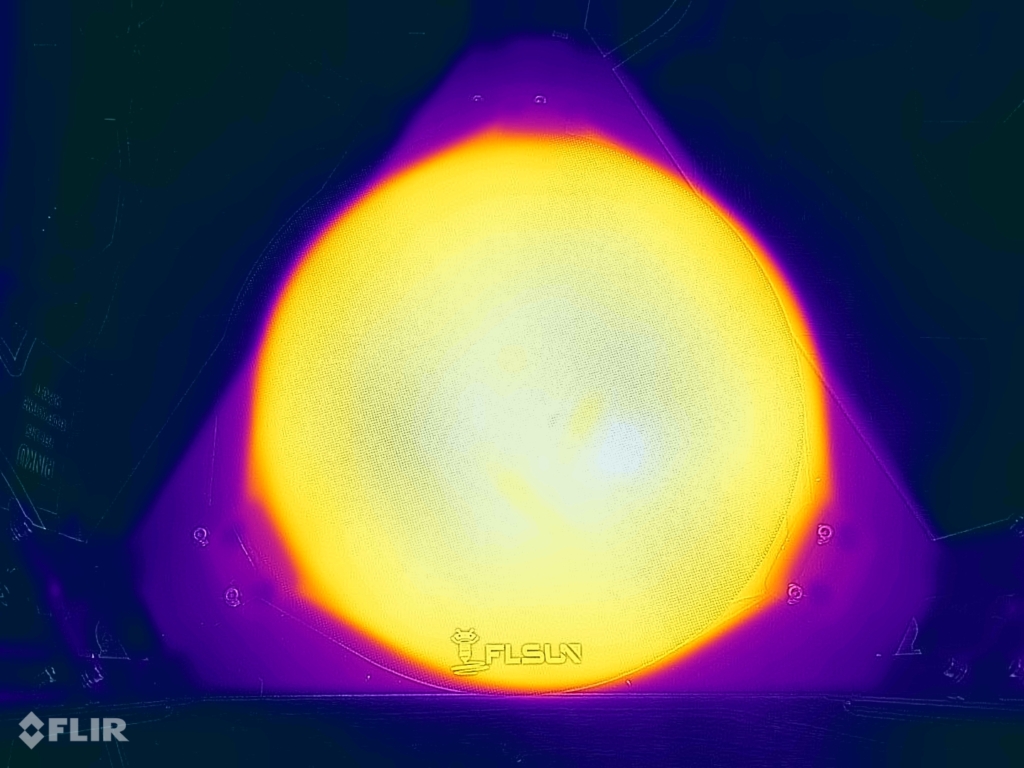 The bed temperature is a few degrees higher in the center, but the uniformity is great right up to the sides.
Flsun Super Racer Noise Levels
I'm happy to report that the fans are quieter compared to the Flsun Q5, and the printer is quiet when idle. As previously mentioned, the hotend fan only turns on after you start heating the hotend and the rest of the fans are pretty quiet.
It's also interesting to see that Flsun also chose to add some cork gaskets between the stepper motor and the frame, to minimize vibrations.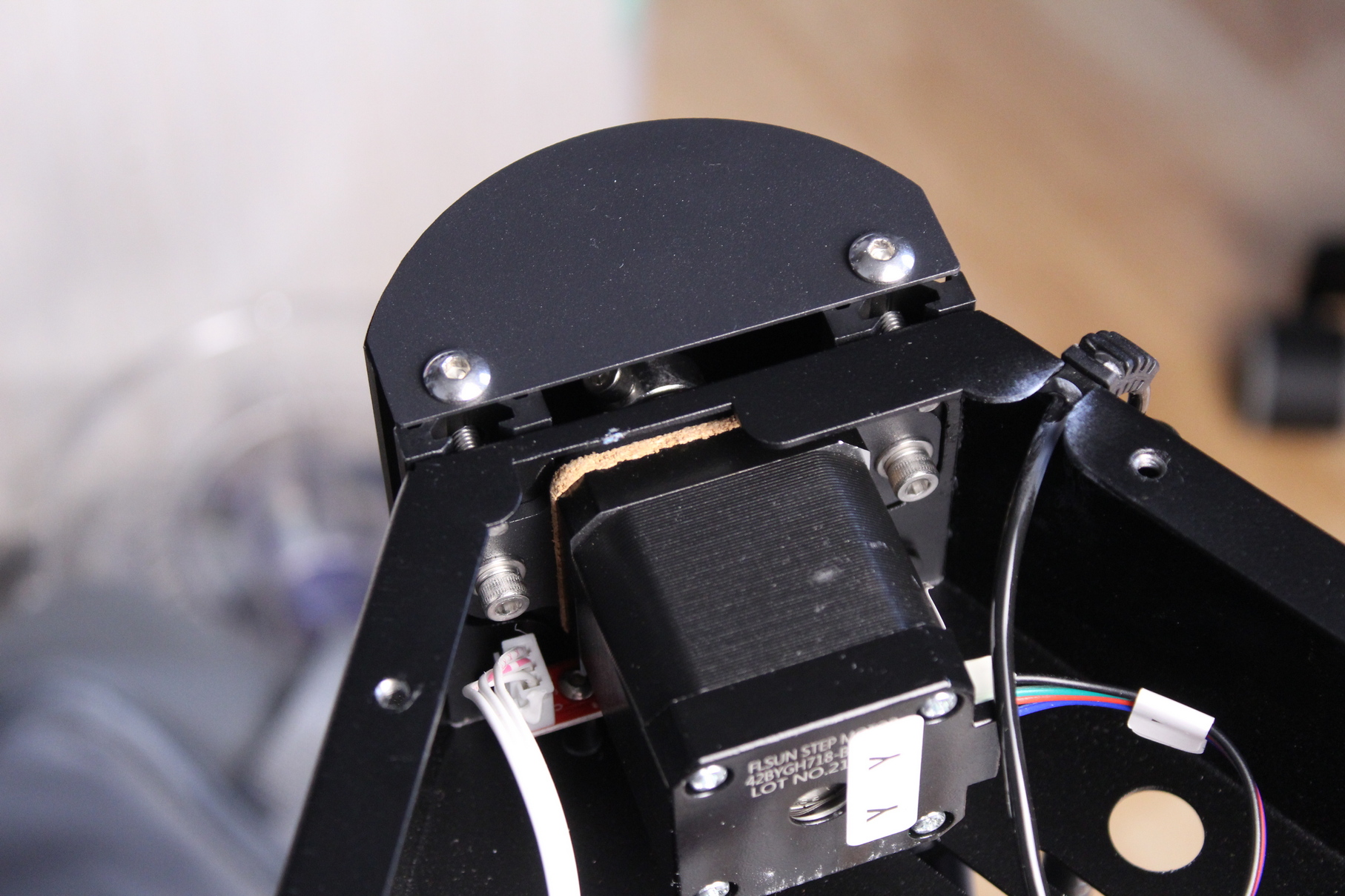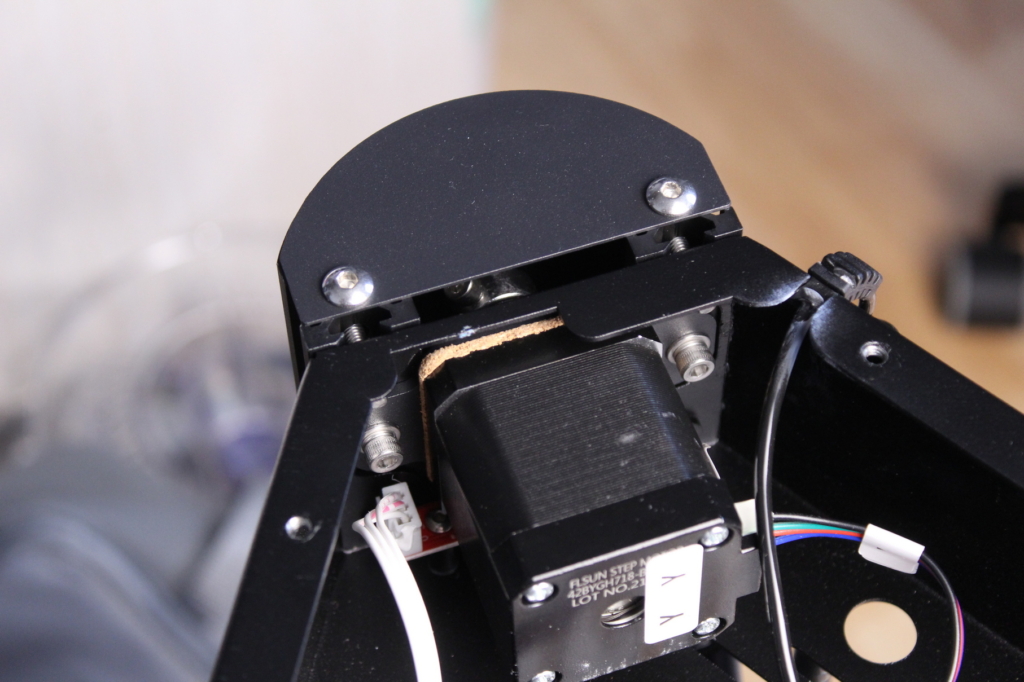 IdeaMaker profiles for Flsun Super Racer
During my time with the printer, I also tuned four IdeaMaker profiles for the Flsun Super Racer using the tools available in the 3D Printer Calibration Guide using IdeaMaker article. These profiles are tuned for the stock printer and worked well for me. Feel free to give them a go.
Flsun Super Racer IdeaMaker Profile – PLA – 3DPrintBeginner
Flsun Super Racer IdeaMaker Profile – PETG – 3DPrintBeginner
Flsun Super Racer IdeaMaker Profile – ABS – 3DPrintBeginner
Test prints on Flsun Super Racer
3D Benchy
After fixing the PTFE tube inside the hotend, I printed a 3D Benchy. For an out of the box setup, the results are really good especially considering the print speed. The layer lines are consistent, and print quality is good but for a print this size the part cooling setup starts to show its limits.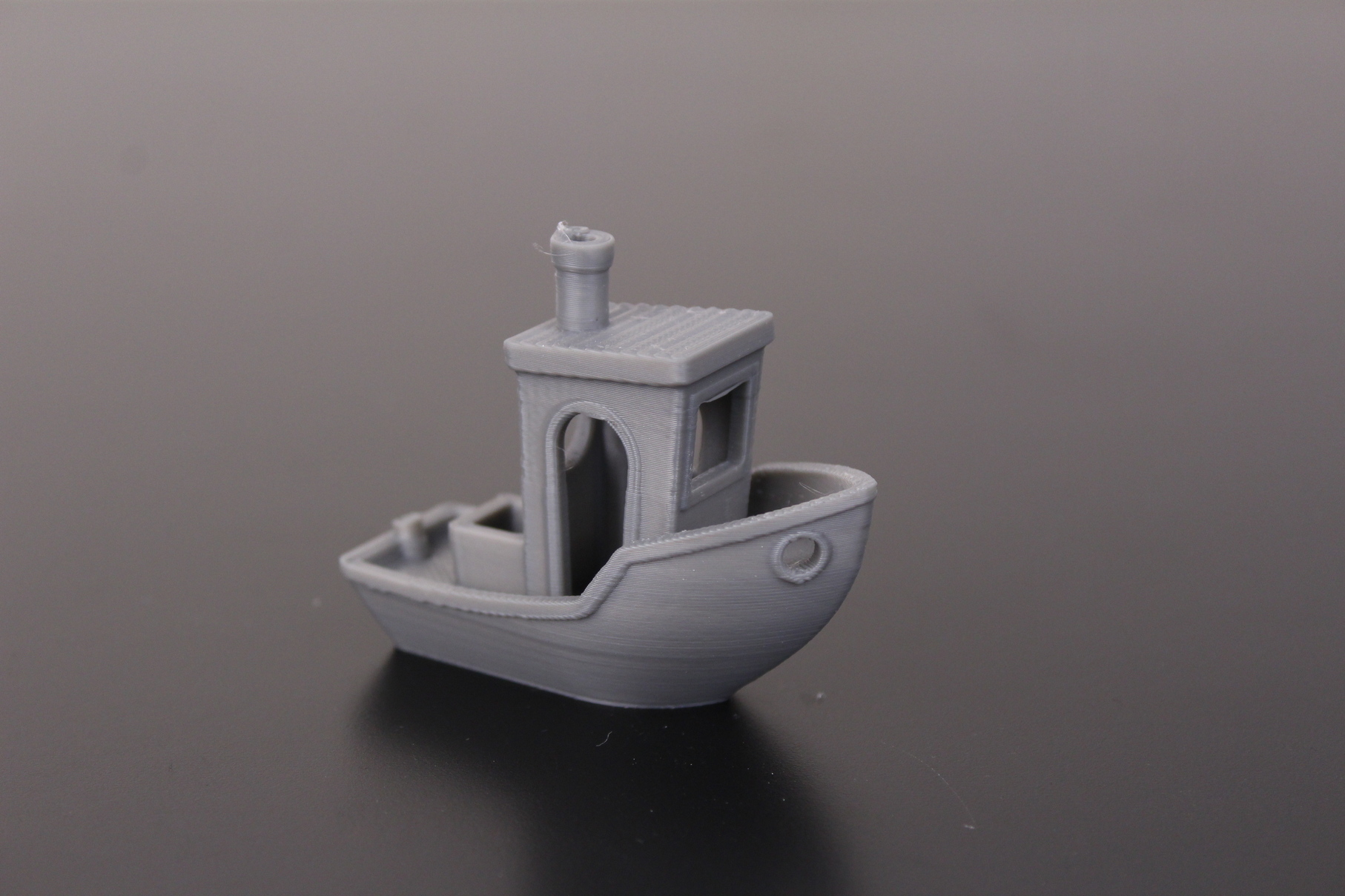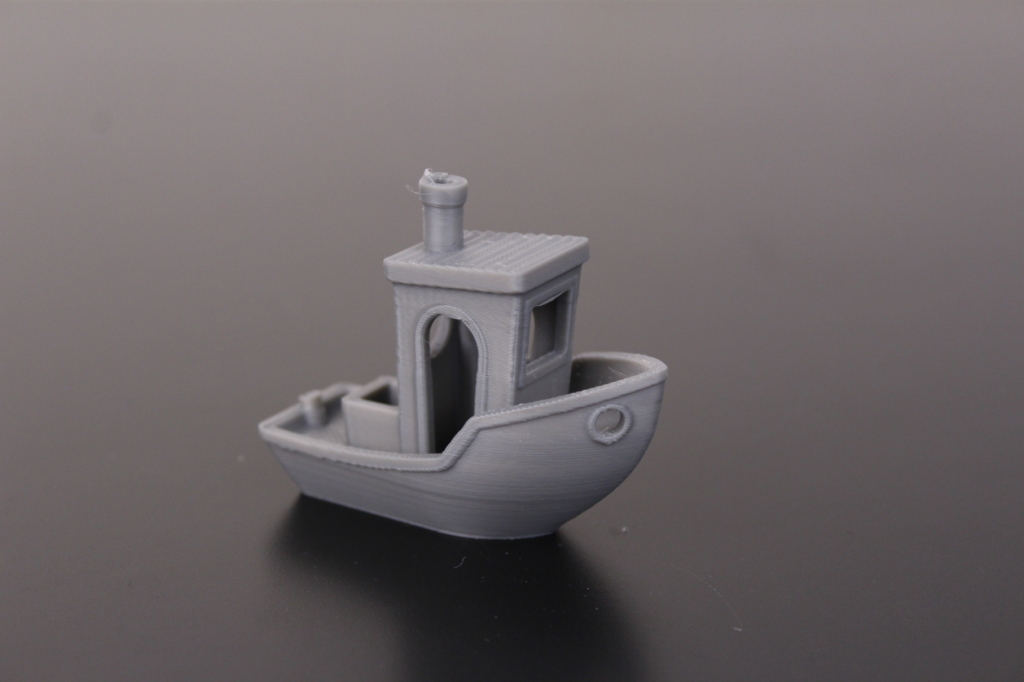 Material: Sunlu Grey PLA
Layer Height: 0.2mm
Nozzle Temperature: 210C
Bed Temperature: 60C
Print Speed: 70 mm/s
200% Calibration Cube
Delta 3D printers are not known as really accurate machines, so I printed this 200% calibration cube in PETG. I'm happy to report that the cube dimensions are really good, with 0.02mm differences compared to the model which is negligible. You could print this a bit faster, but print quality starts to degrade and ringing will show up more.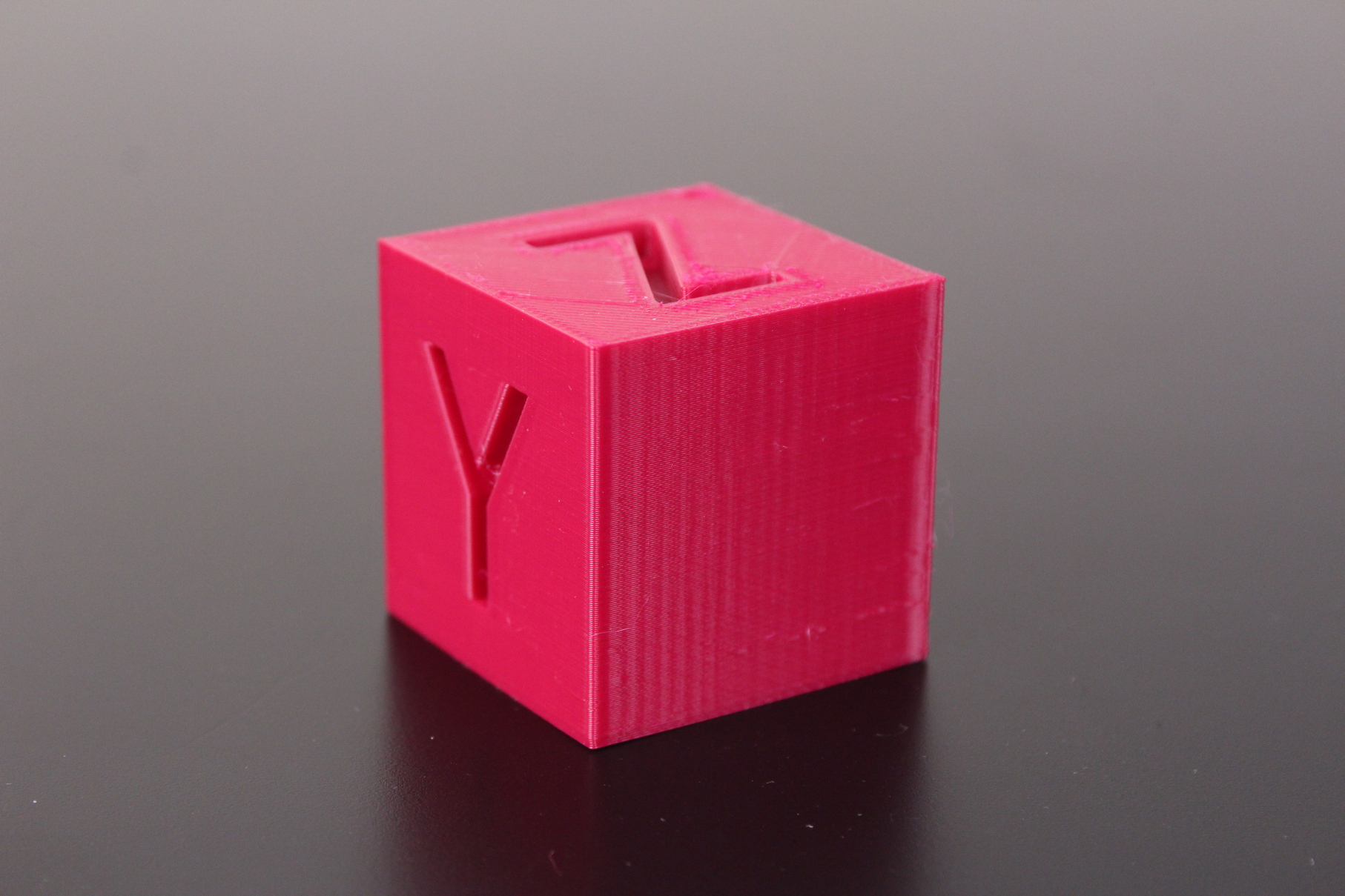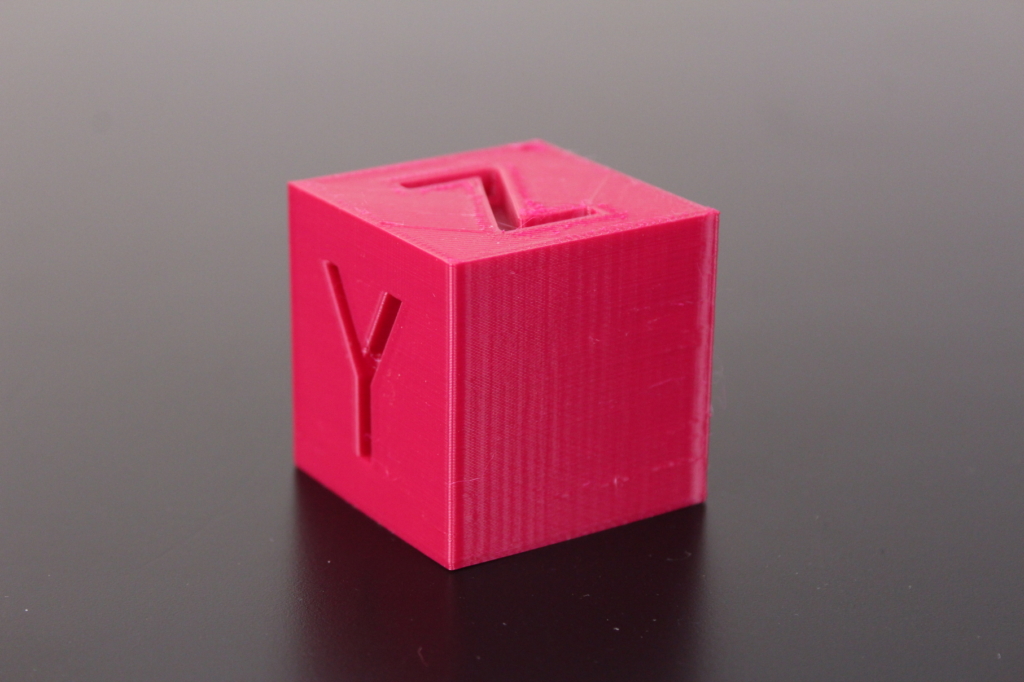 Material: Devil Design Pink PETG
Layer Height: 0.2mm
Nozzle Temperature: 235C
Bed Temperature: 65C
Print Speed: 80 mm/s
Voron Calibration Cube
I also printed the Voron calibration cube to test how accurate round holes are printed. The bearing fit perfectly so I'm happy with the results. Bridging performance is also good but the Z seam has some bulges. This is caused by the filament pressure inside the nozzle and can be further tuned with Linear Advance or with a bit of coasting.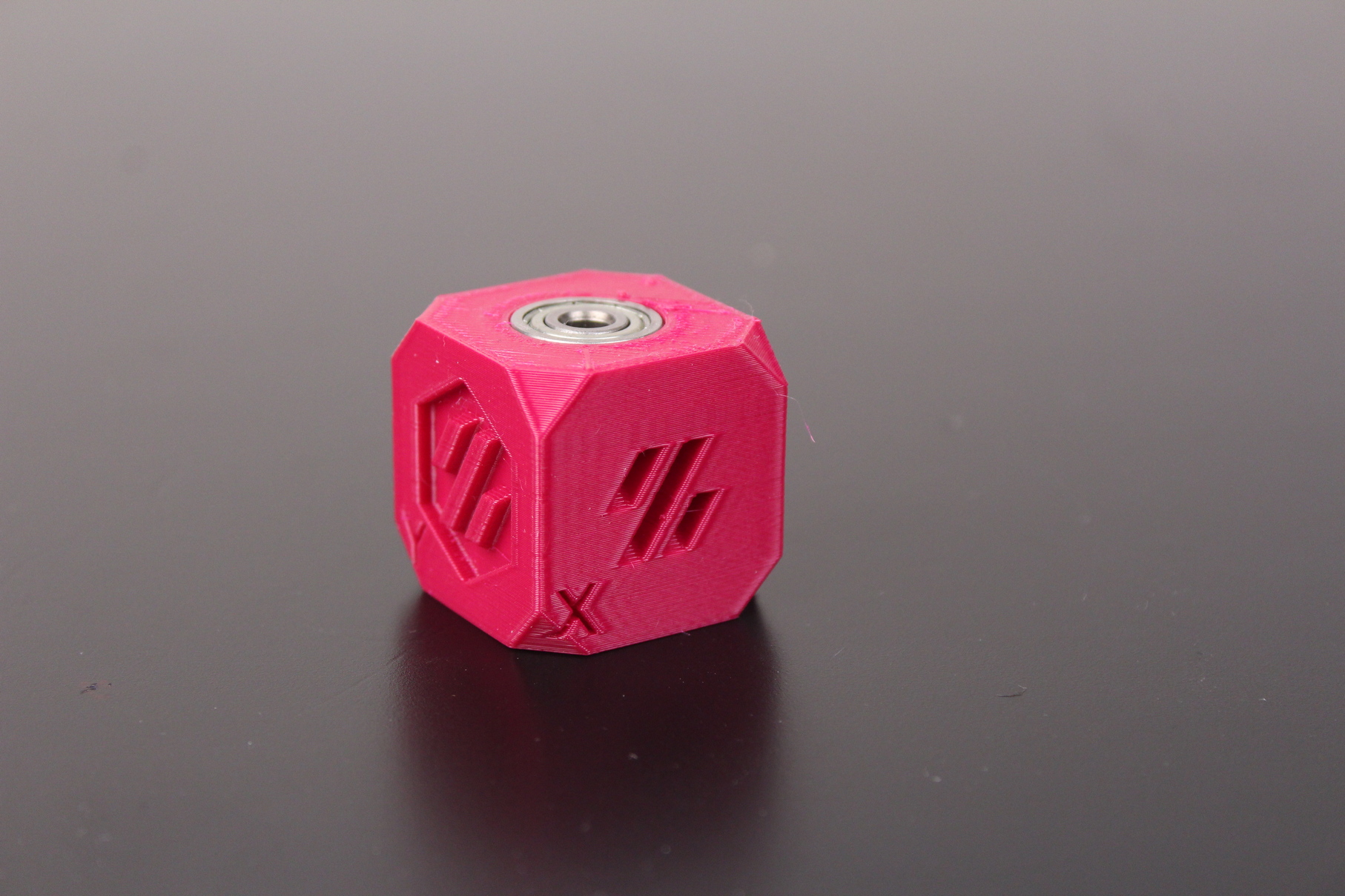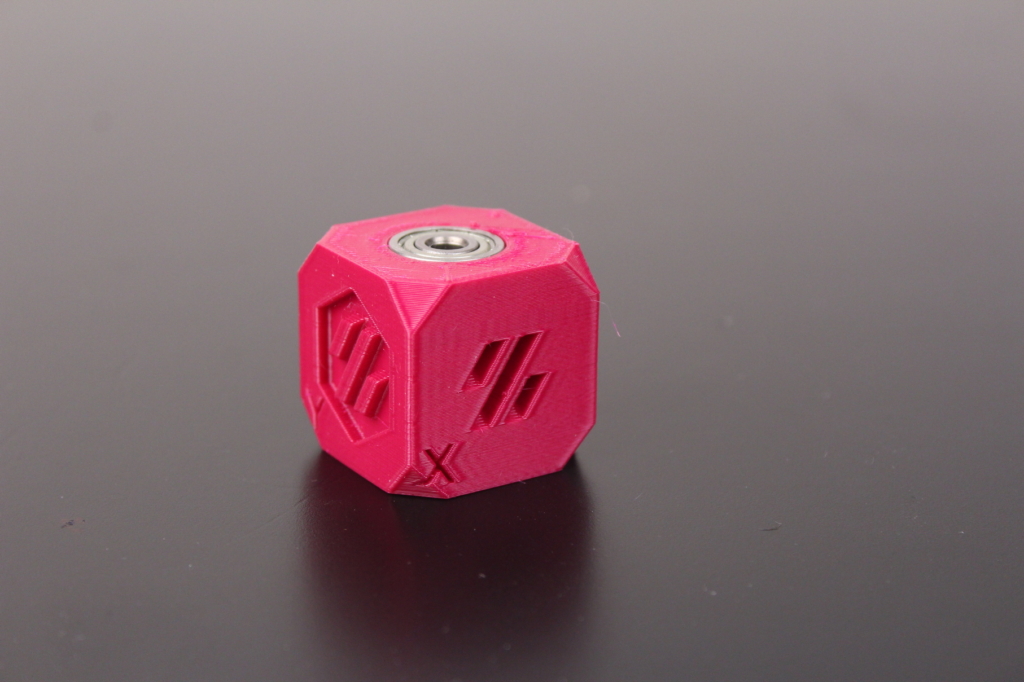 Material: Devil Design Pink PETG
Layer Height: 0.2mm
Nozzle Temperature: 235C
Bed Temperature: 65C
Print Speed: 80 mm/s
Phil-A-Ment
With the first test prints done, it's time to go a bit faster and see what the Flsun Super Racer can do. The internal and external perimeters were printed with 100mm/s and the results are nothing short of amazing. The extrusion is consistent, and the model looks great even on the steep overhangs under the gloves. Really happy with how this model turned out.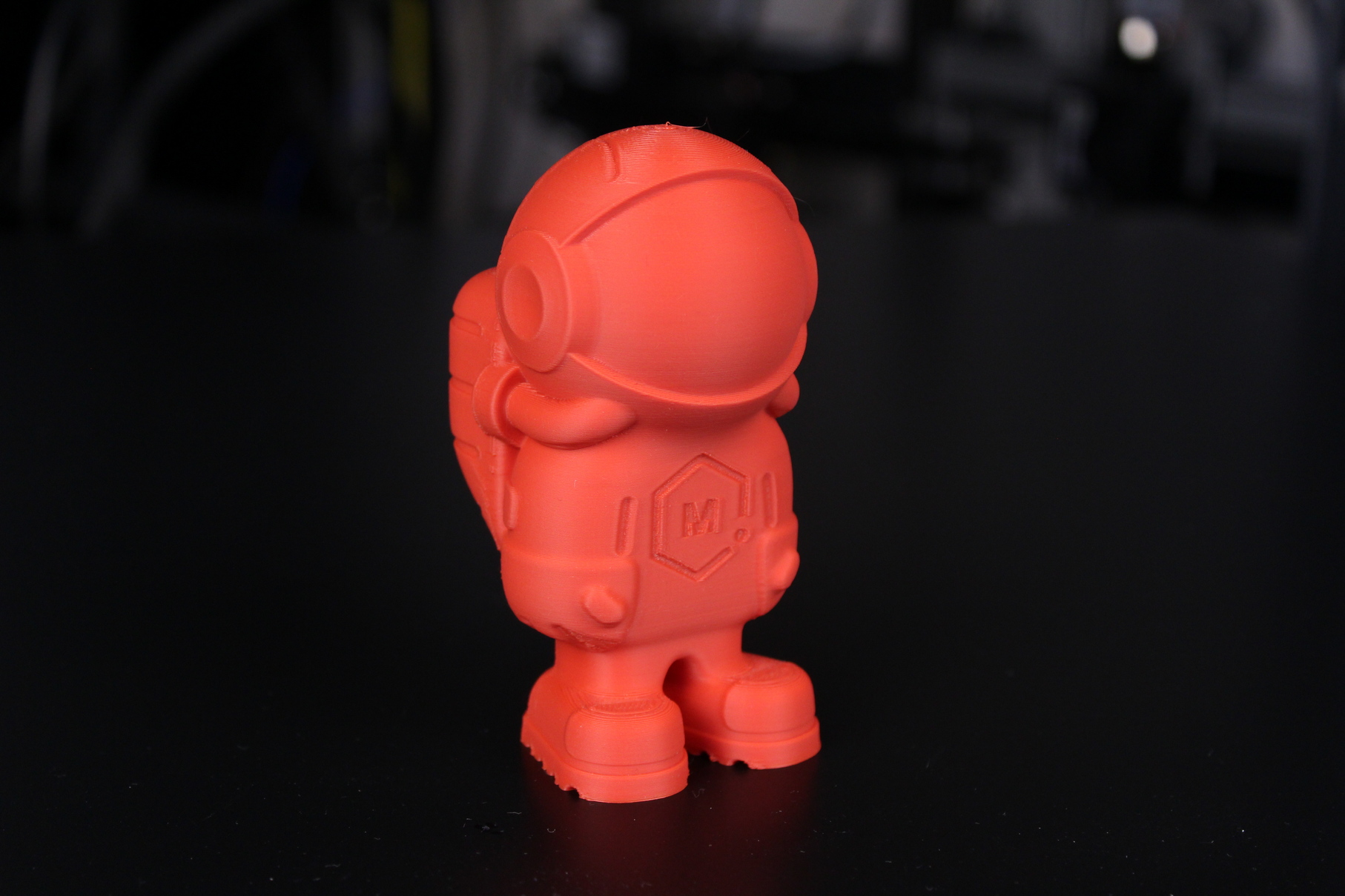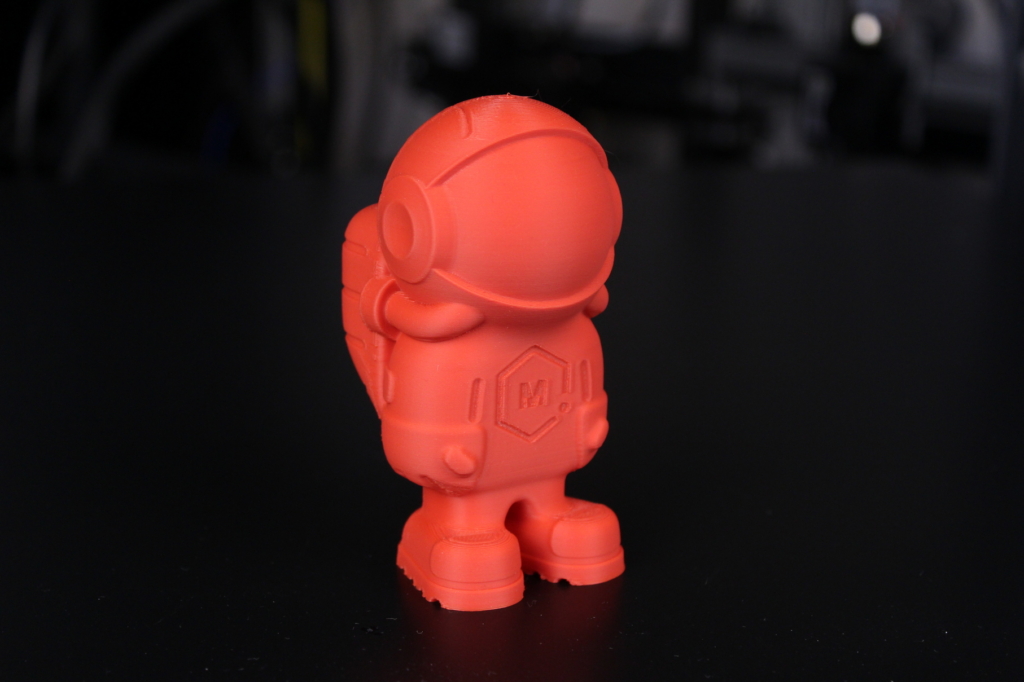 Material: Gembird Red PLA
Layer Height: 0.2mm
Nozzle Temperature: 215C
Bed Temperature: 60C
Print Speed: 100 mm/s
Fluffy the Unicorn
Here's another model printed with the same settings as Phil-A-Ment. The model is almost flawless, if we ignore the badly aligned Z seam which I forgot to align before slicing.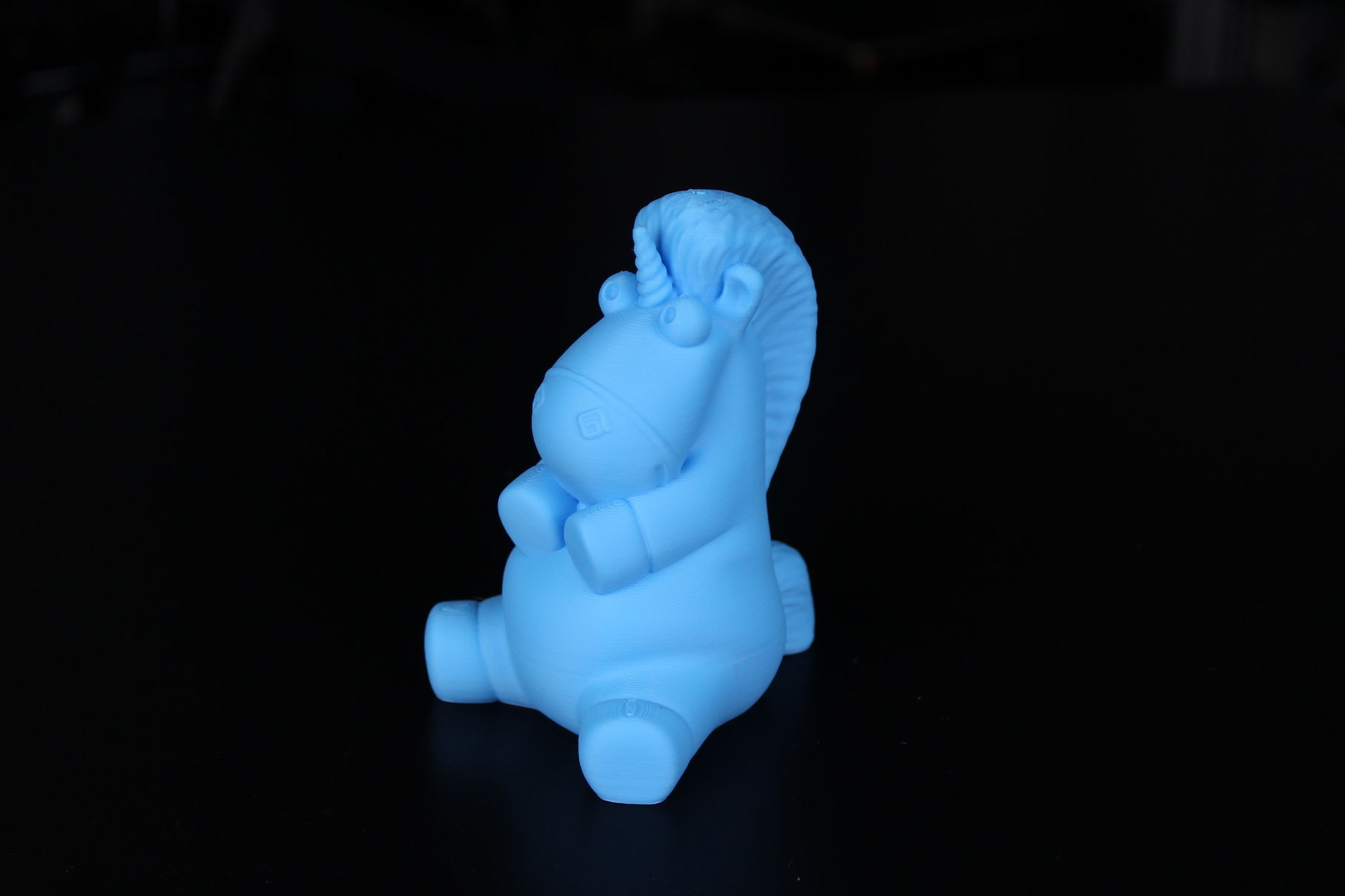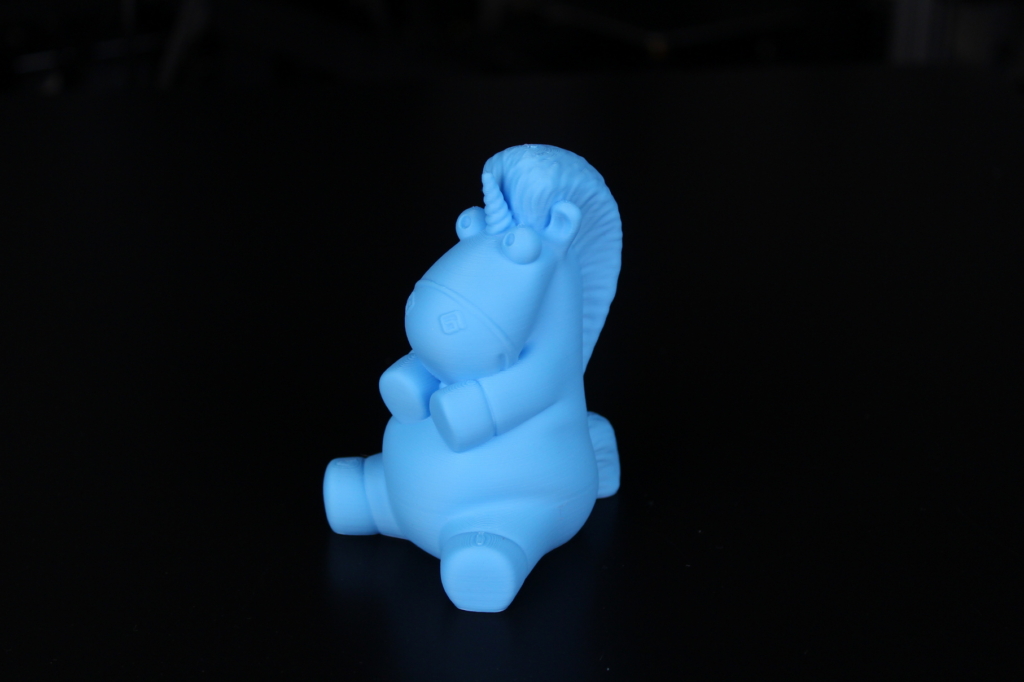 Material: Gembird Blue PLA
Layer Height: 0.2mm
Nozzle Temperature: 215C
Bed Temperature: 60C
Print Speed: 100 mm/s
Sponge Bob
I changed the filament and started another PLA print. Sponge Bob was printed with the same PLA profile as with the previous two models, but this one has some small sections where extrusion is not as consistent as I would like. But either way, considering the print speed, which was used, I'm happy with the result.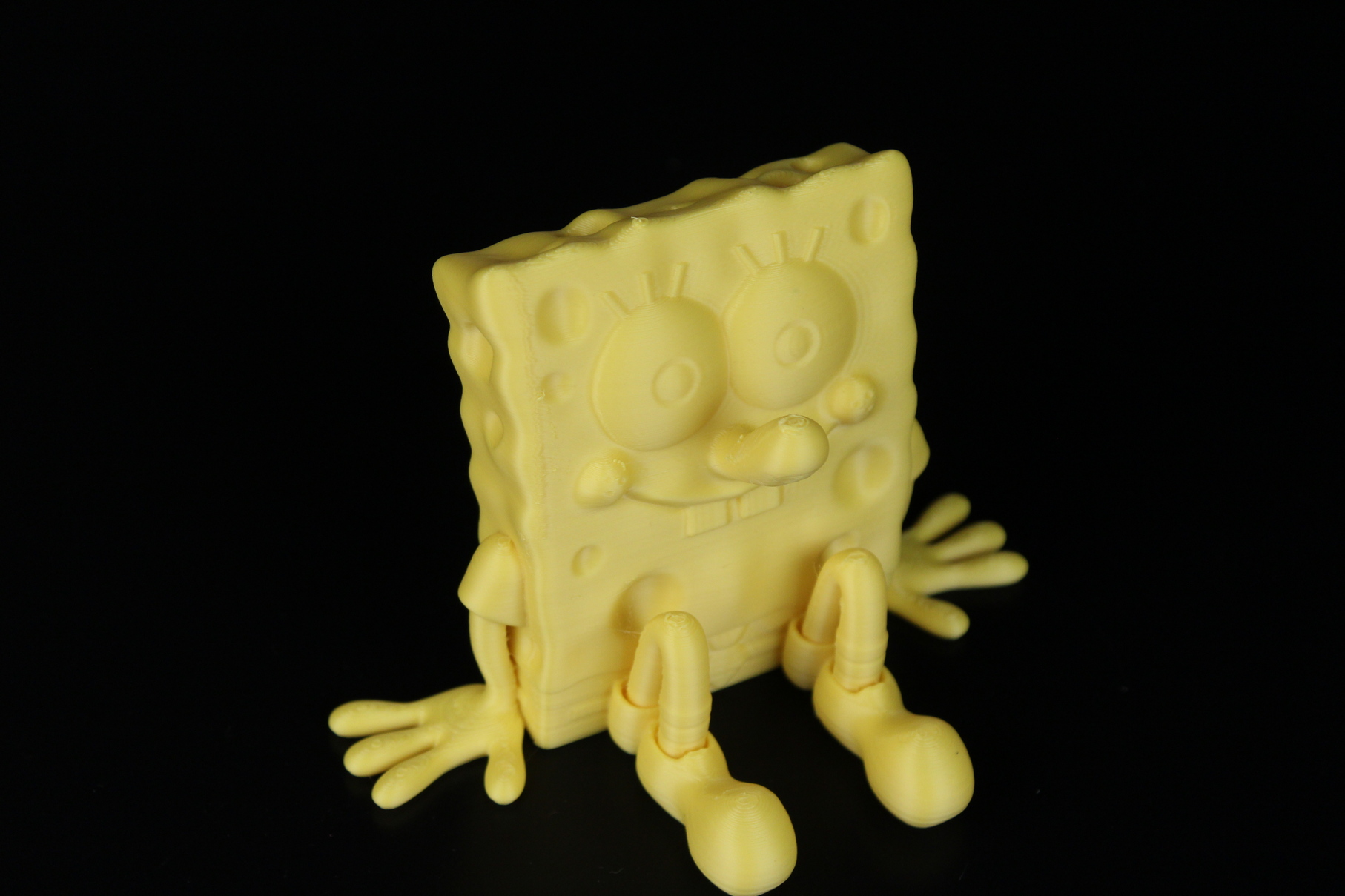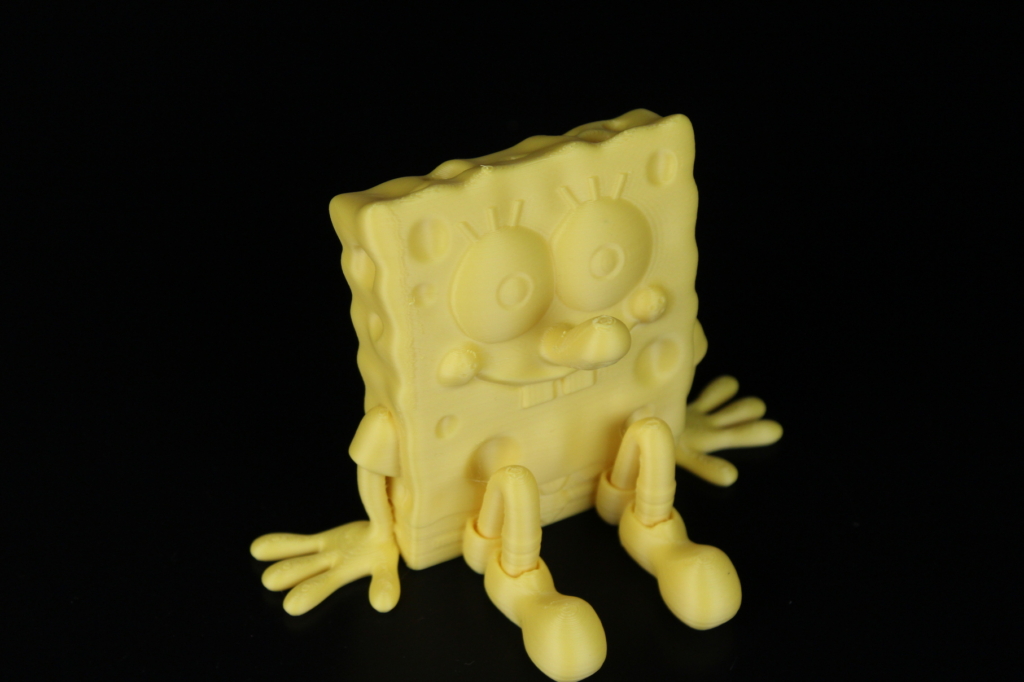 Material: Gembird Yellow PLA
Layer Height: 0.2mm
Nozzle Temperature: 215C
Bed Temperature: 60C
Print Speed: 100 mm/s
Torture Toaster
Bigtreetech sent me some Matte PLA to test, so I printed the Torture Toaster. The model came out well, but there are some issues with it. First, two of the overhang parts broke during printing (I blame the layer adhesion for this specific filament). Second, is the bad overhang portion on the right, where the part cooling fans didn't properly cool the layers and the filament started to droop.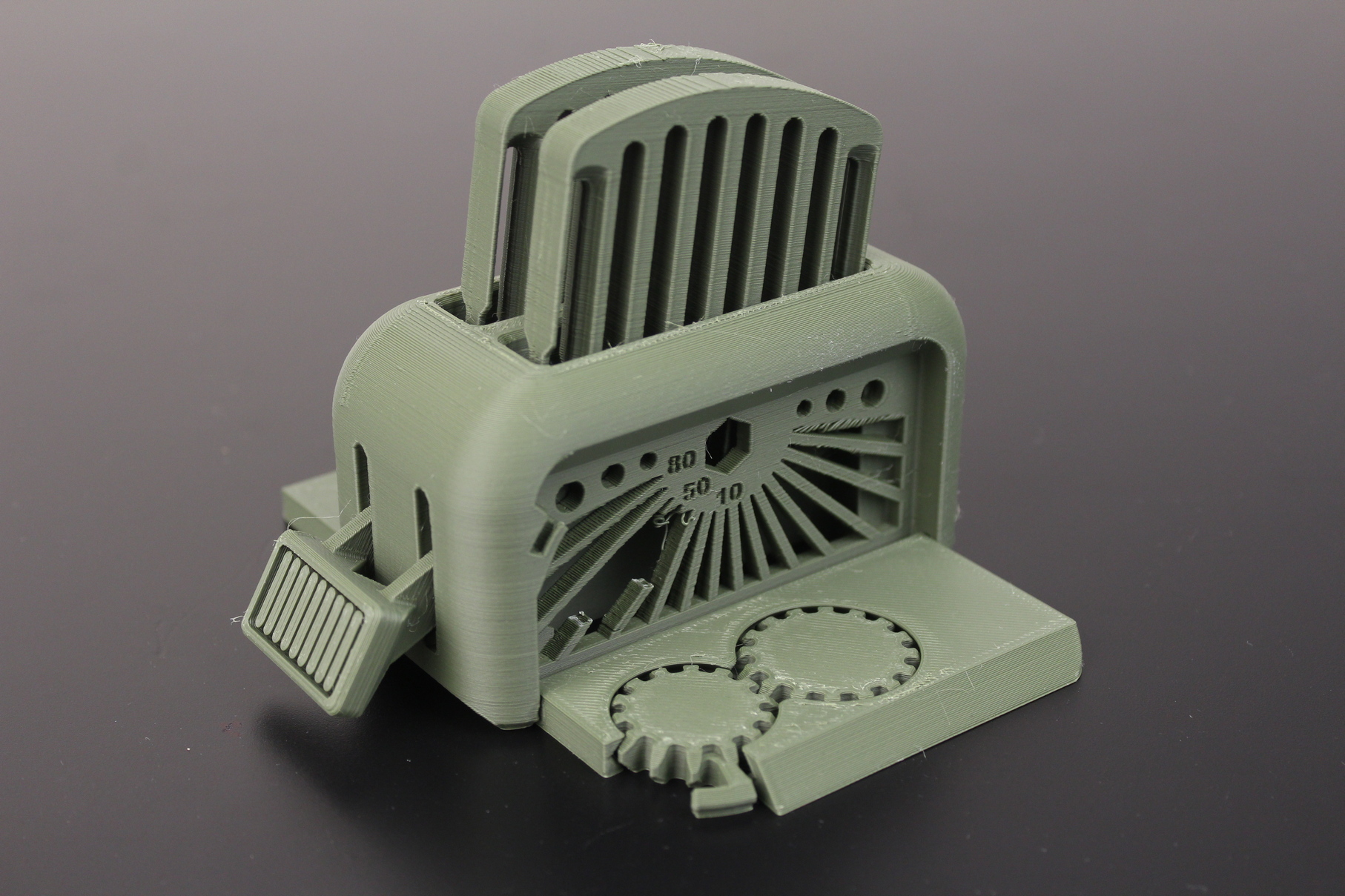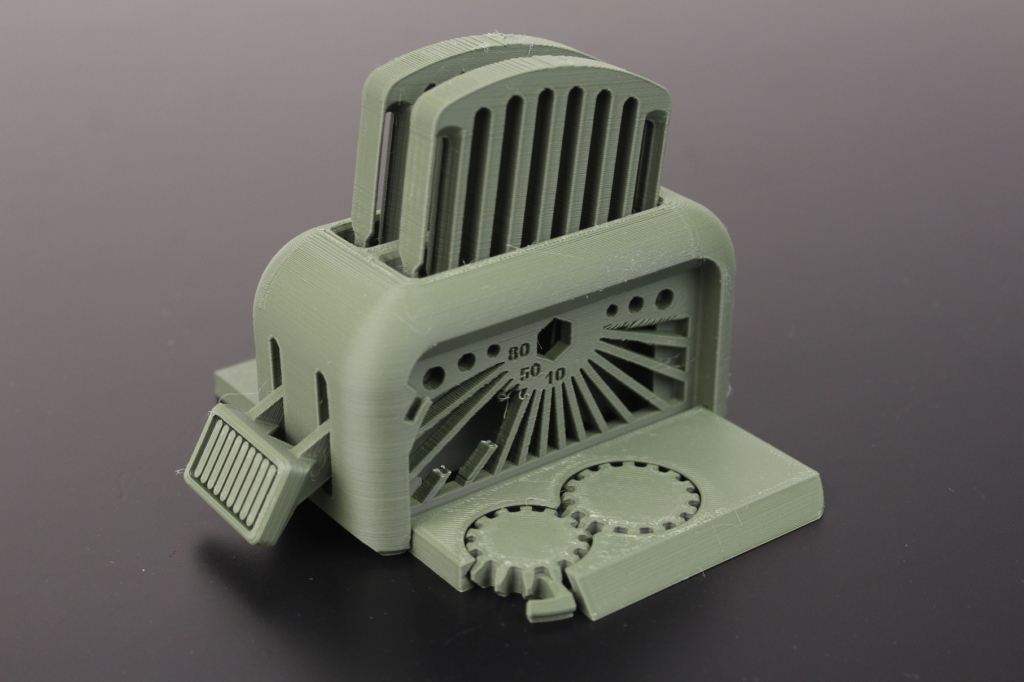 Material: BIQU Olive Green Matte PLA
Layer Height: 0.2mm
Nozzle Temperature: 215C
Bed Temperature: 60C
Print Speed: 70 mm/s
Su Laegildah
I had some Extrudr BioFusion filament for a while and thought it would be a good idea to also test the Flsun Super Racer print quality using some shiny filament. The model is flawless, with excellent detail and without any kind of print issue. It's hard to take proper pictures of this model because of the shiny nature of the filament, but you really can't ask more from an FDM 3D printer. Please note that this model was printed at ~40 mm/s which is close to the top recommended speed of this filament. If I were to print it faster, adhesion would suffer, and the shiny surface would have some imperfections.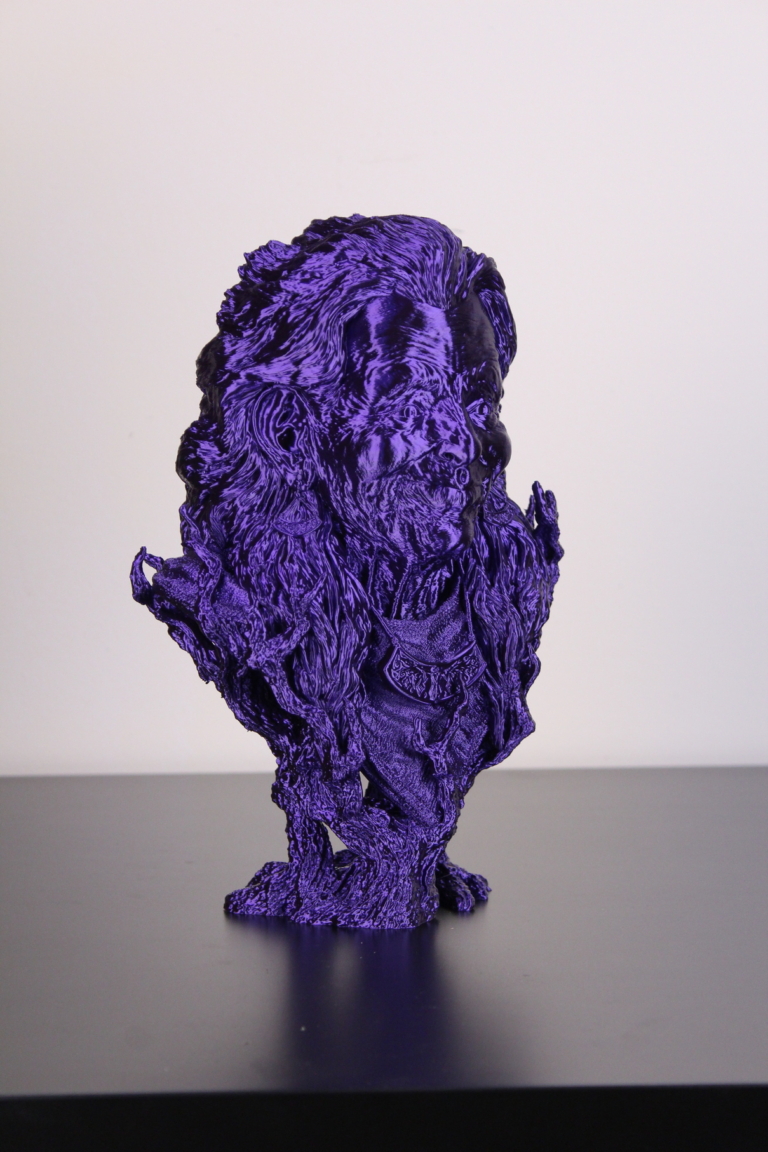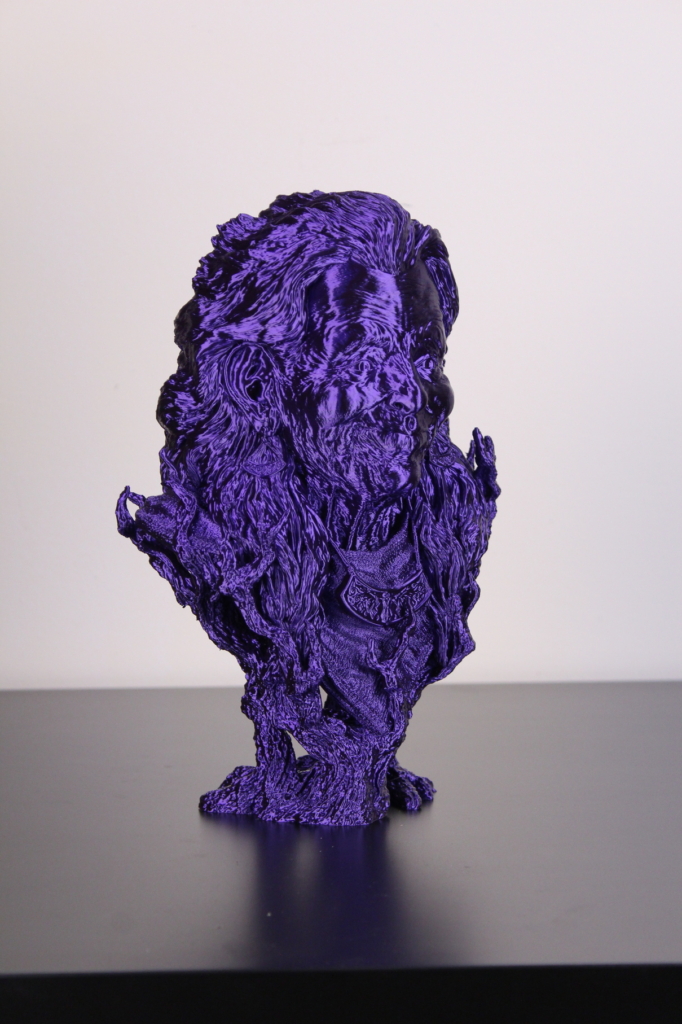 Material: Extrudr BioFusion Epic Purple
Layer Height: 0.15mm
Nozzle Temperature: 215C
Bed Temperature: 60C
Print Speed: 40 mm/s
Sisu the Dragon
I'm so happy with the print quality you can get from the Flsun Super Racer, and I probably printed too many models with PLA, but here's another example of the excellent print quality you can get. The print speed was a bit lower, at 80mm/s but I lowered it a bit to make sure that all the small details are printed correctly. If print speed is too high, cooling issues can occur.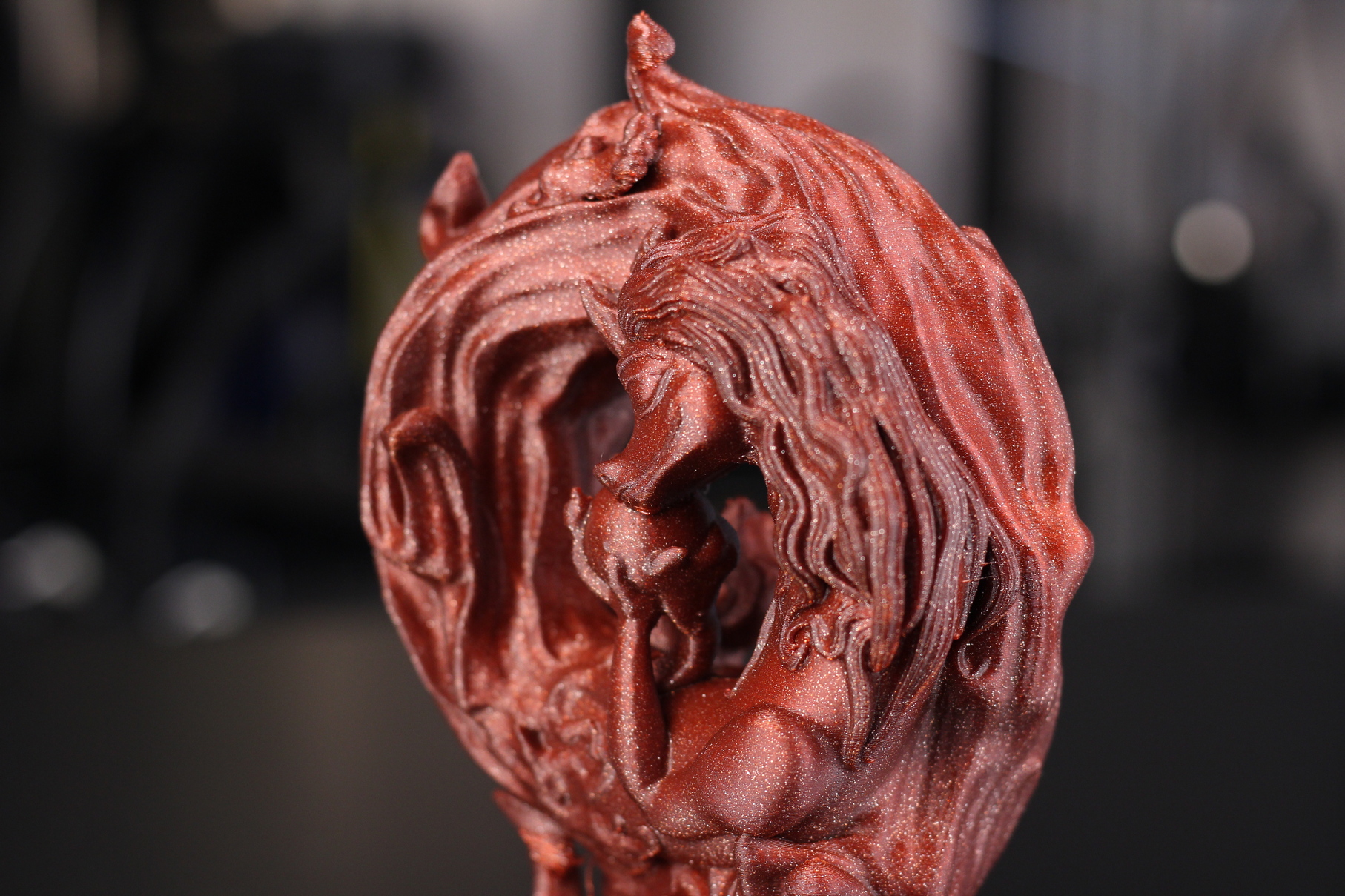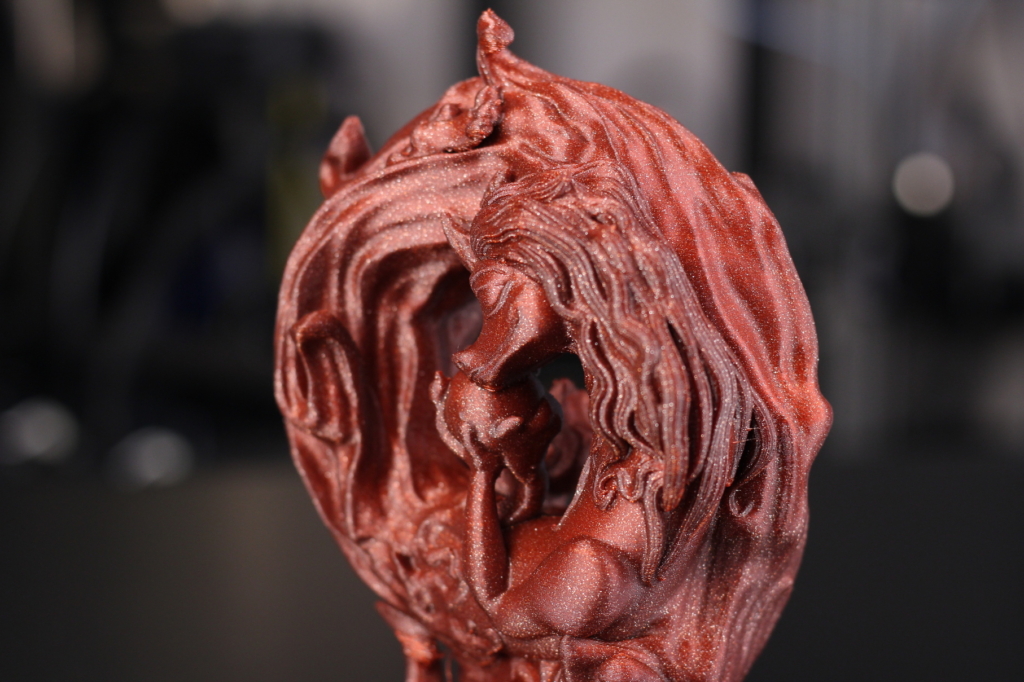 Material: FilamentOne Glint Red PLA
Layer Height: 0.15mm
Nozzle Temperature: 215C
Bed Temperature: 60C
Print Speed: 80 mm/s
Black Cat
I also did an ABS print just to test how fast I could push the Flsun SR. The Black Cat model from Eastman was printed at ~80mm/s with no enclosure. Even though the model completed successfully, there are two small delaminations on the external walls of the model which are caused by printing ABS without a completely enclosed machine. The printer was set in a position where drafts were not present, but if there's a big difference in environmental temperature compared to the model, these small cracks show up. You can also see some less-than-ideal overhangs caused by the increased printing speed.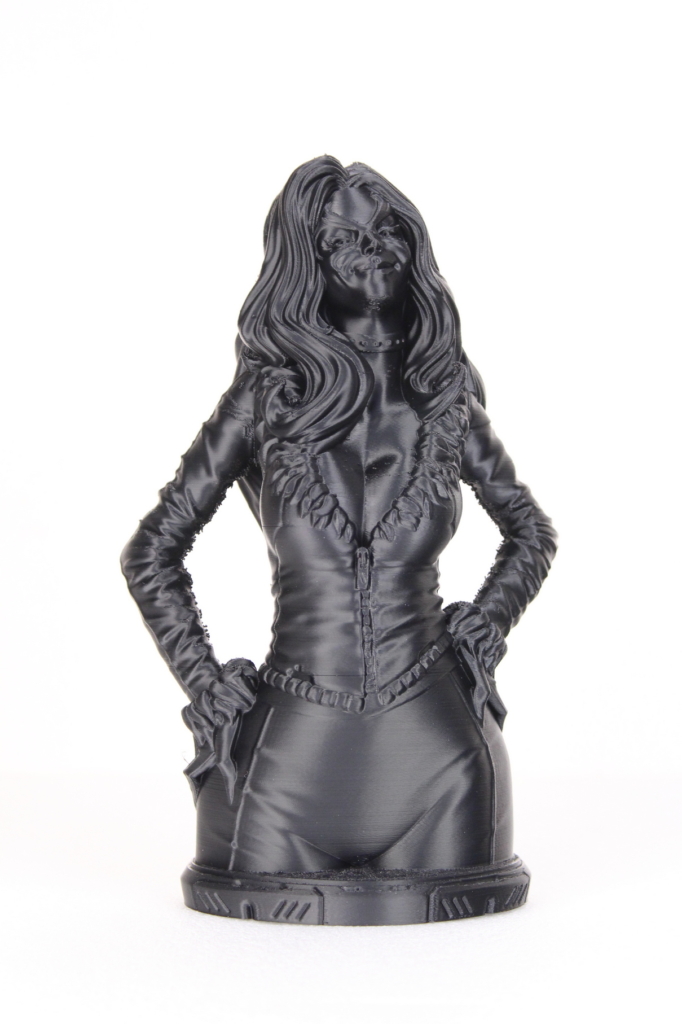 Material: Gembird Black ABS
Layer Height: 0.15mm
Nozzle Temperature: 235C
Bed Temperature: 105C
Print Speed: 80 mm/s
The Dogefather
The one and only, Elon Musk, also called "The Dogefather". Printed at a relatively low speed, but the print quality is excellent. The BioFusion filament works really well with the Flsun Super Racer, if the print speed is not too high.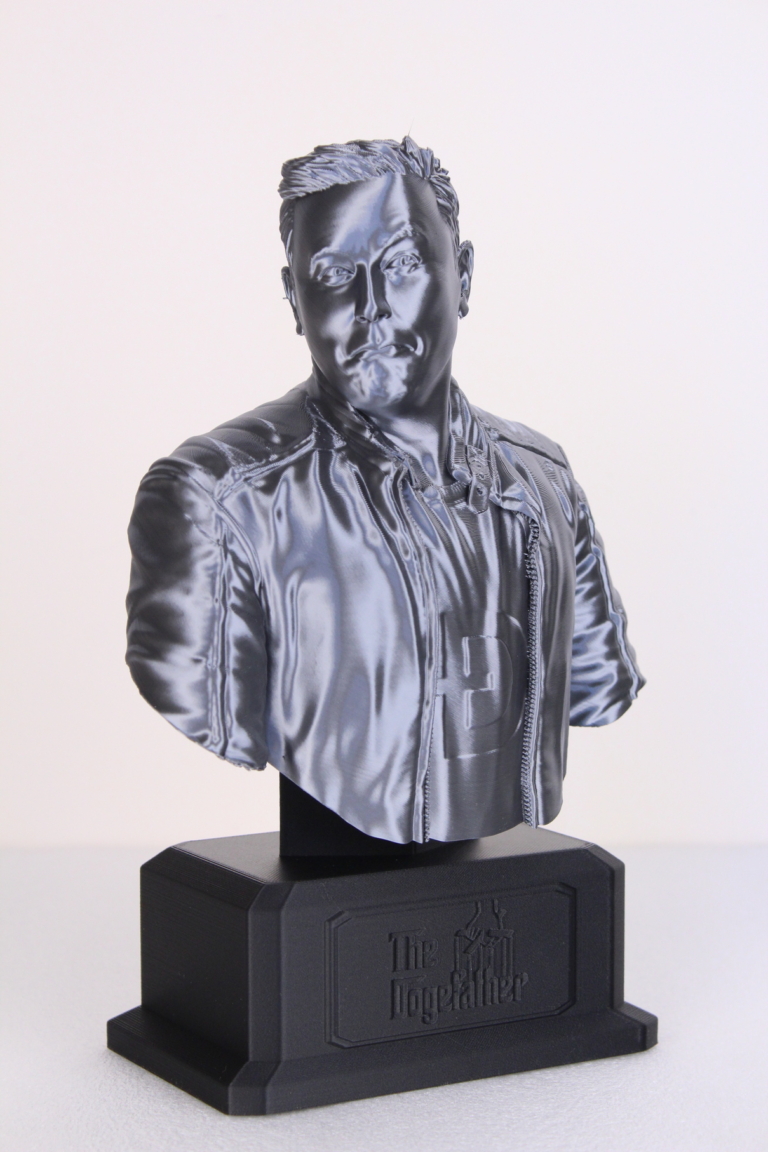 Material: Extrudr BioFusion Metallic Grey and Sunlu Carbon PLA
Layer Height: 0.15mm
Nozzle Temperature: 215C
Bed Temperature: 60C
Print Speed: 50 mm/s
Conclusions: Is the Flsun Super Racer worth it?
YES! If you are looking for a fast Delta 3D printer, then the Flsun Super Racer is an excellent option. It's able to produce impressive looking prints while also doing it fast. Most of the time, the print speed you can achieve with the Flsun SR is limited only by the material you choose to print with, and the part cooling fans which are a bit underpowered. But other than that, there's not much to complain about. To get this kind of quality and print speed for under 500$ is impressive and I can only congratulate Flsun for the achievement.
The Flsun Super Racer has a good list of features and hardware that works really well. Sure, it's not perfect, and some of the hardware used can be considered a small drawback for this printer (I'm talking about the heatblock and the PTFE lined heat break and the low power part cooling fans) but these can be upgraded later.
I can only imagine how the print speed can be improved after setting up Linear Advance or installing Klipper to further improve the print quality at higher speeds to eliminate ringing with the use of Imput Shaper. I will make sure to document the process when I get to do it. Besides that, if you upgrade the part cooling fans, I'm sure the print speed can be pushed even further.
Later Edit: Linear Advance is enabled in the firmware but the value is set to 0. A value of 0.20 works great as a starting point, but this might be different according to your filament type. The slicing profiles have been updated.
Where to buy the Flsun Super Racer?
Amazon
Flsun
Banggood
AliExpress
Geekbuying
I recommend checking out the Discount Codes page before purchasing. I regularly update the article with discount codes for various online shops, and you might find one for this particular model.
Klipper and other upgrades for FLSUN Super Racer
After some time with the FLSUN Super Racer, I found some improvement points for the printer and you can read more about my recommended upgrades in the FLSUN Super Racer Upgrades article. I also wrote a guide on How to Install Klipper on FLSUN Super Racer if that's what you're interested in.
The Flsun Super Racer was provided free of charge by Flsun for the purpose of this review. While the article includes affiliate links, all opinions are my own. Nobody reviewed the article before it was posted, following the Review Guidelines.