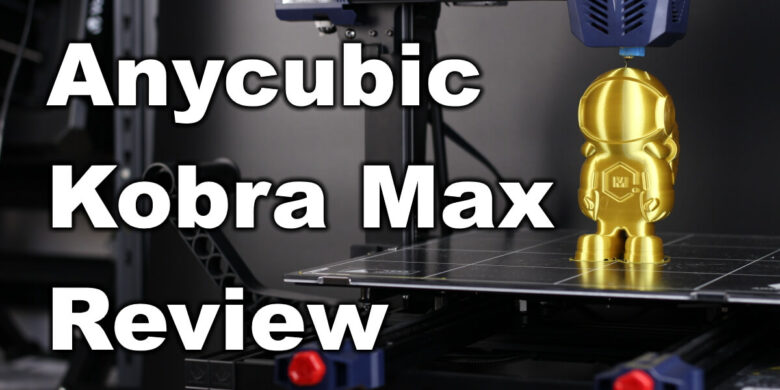 If you are looking for a large-format FDM 3D printer, then the Anycubic Kobra Max is probably the one you're looking for. It has a huge build volume, a decent list of features, and an attractive price point which makes it perfect for prop makers.
The Kobra Max is the biggest 3D printer in the Kobra line, and in this review, we will go over its features and see if it's worth buying.
Anycubic Kobra Max Shipping and Packaging
The Anycubic Kobra Max is shipped in a huge cardboard box with ample foam protection around it. All the axis are secured with plastic zip ties to keep them in place and avoid movement during shipping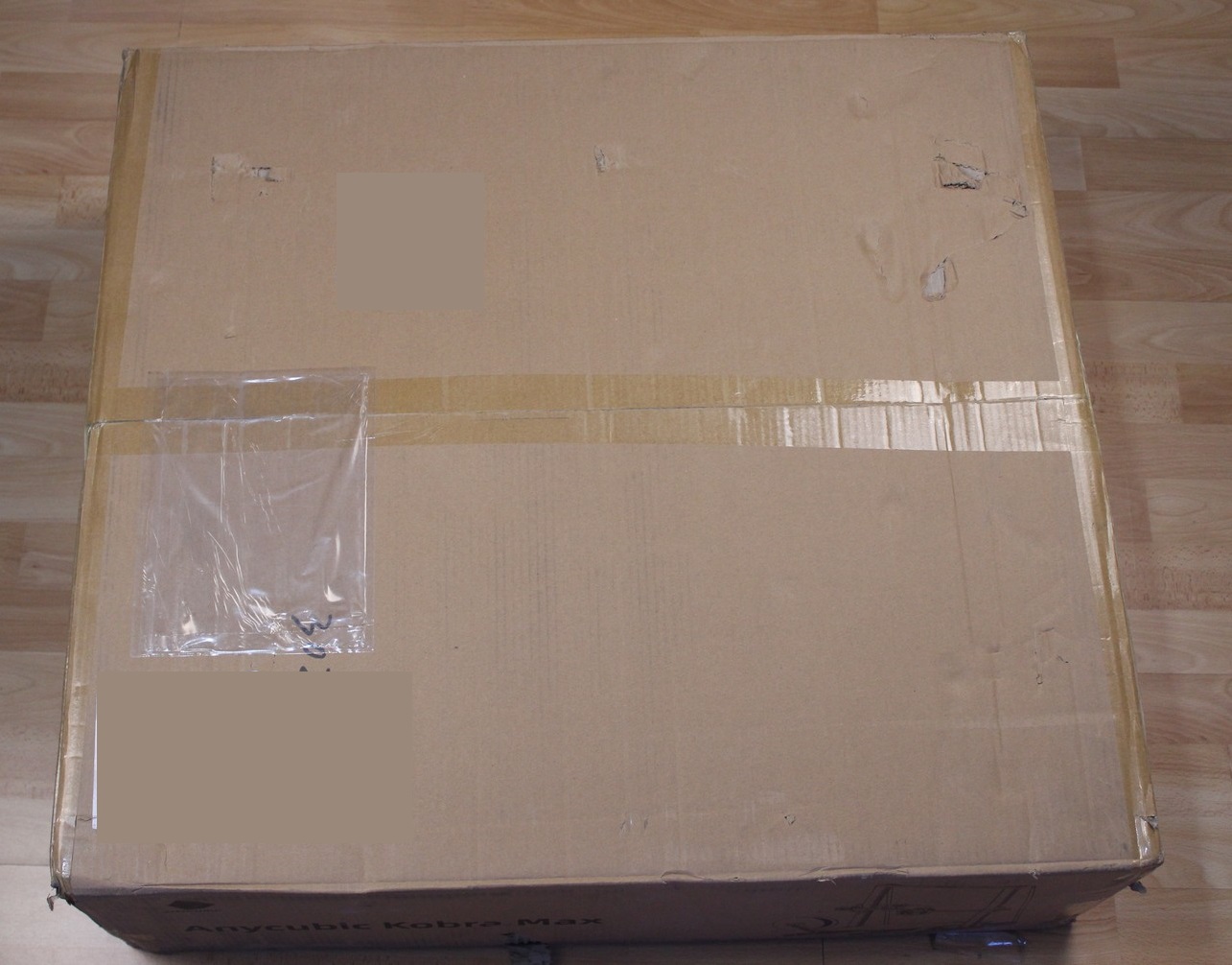 While the Anycubic Kobra Max comes partially assembled, putting it together doesn't take more than 30 minutes, and most of that time is spent ensuring that the frame is square. It's crucial to double-check this when installing the Z braces if you want good-quality prints.
Anycubic Kobra Max Design
If you've previously seen the Anycubic Vyper, then the Kobra Max will look somewhat familiar, but bigger. It can barely fit on the IKEA LACK coffee table, so make sure you have enough space for it.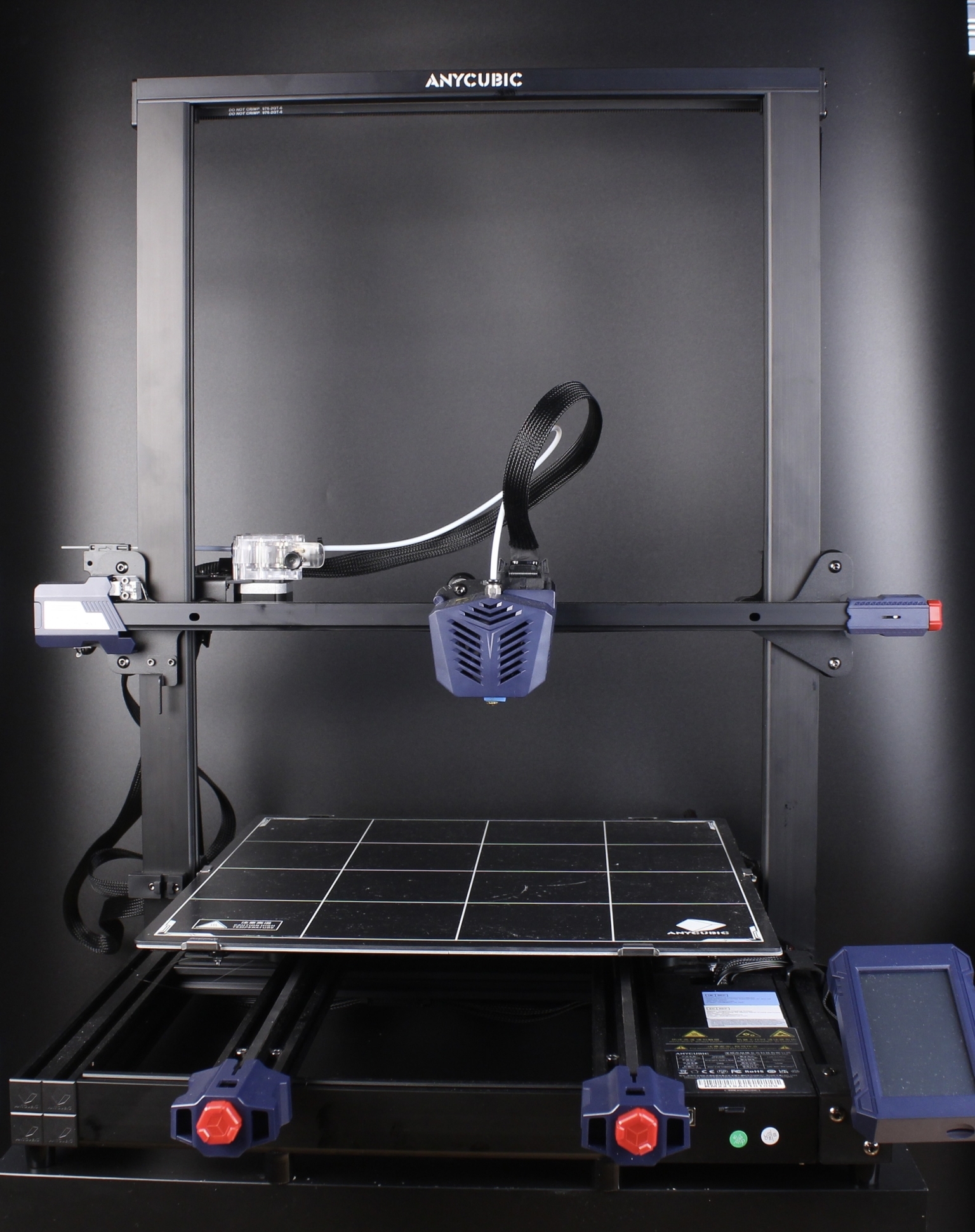 Anycubic Kobra Max Specs
| | |
| --- | --- |
| Leveling | Automatic, 25 points leveling |
| Panel area | 7.95 in² / 51.3 cm² |
| Filament run-out detection | Yes |
| Printing material | PLA / ABS / PETG & TPU |
| Nozzle size | ø 0.4 mm (replaceable) |
| Nozzle temperature | ≤ 500 °F / 260 °C |
| Hot bed temperature | ≤ 194 °F / 90 °C |
| Average print speed | 50mm/s |
| Control panel | 4.3 inch LCD touch screen |
| Z-axis | double threaded rod |
| Print size | 17.7 x 15.7 x 15.7 in. / 45 x 40 x 40 cm (HWD) |
| Printing volume | 19.02 gal. / 72.0 L |
| Machine dimensions | 72 x 71.5 x 66.5cm |
Huge 400x400x450 build volume
The "Max" should be a good hint about the build volume of the Anycubic Kobra Max. It's a whopping 400x400x450mm of printing space (or 72 liters) and it's currently my biggest printer to date when it comes to print volume.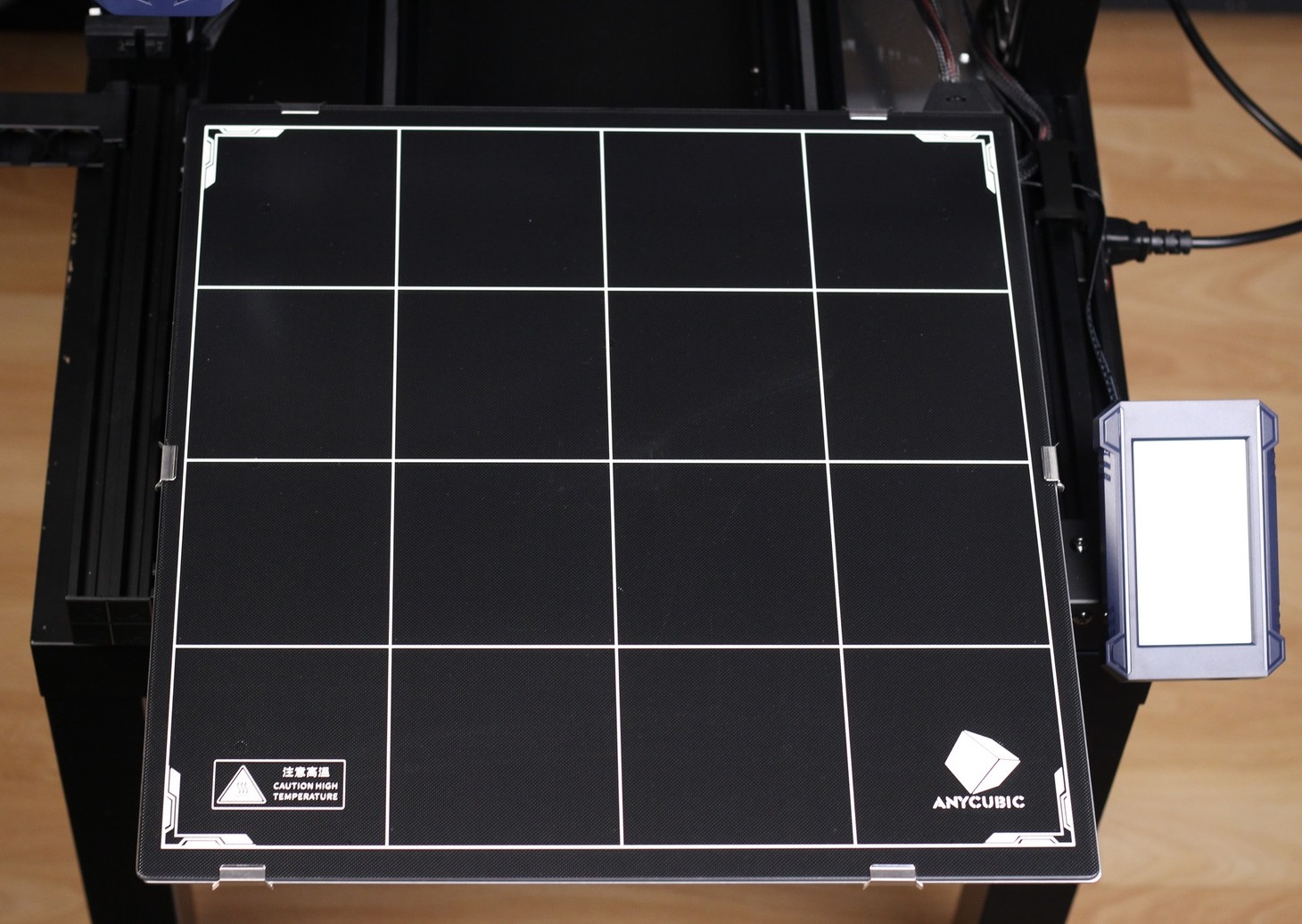 This gargantuan bed is made from aluminum and it's fixed in place, meaning that there are no leveling knobs in the corners for manual adjustment which makes the whole setup much easier to use out of the box, and if there's a need to adjust the bed, I am happy to report that the screws underneath have small springs which can be tightened to get that perfect level.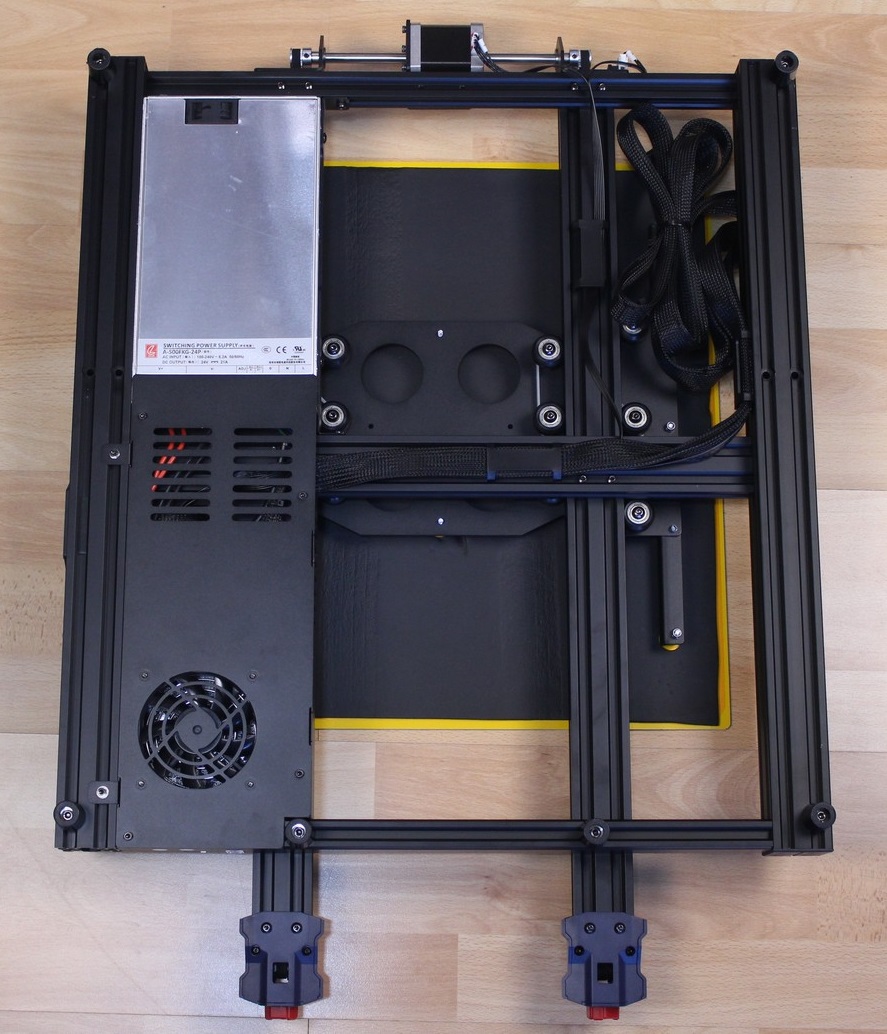 Covering this huge aluminum heated bed there's a glass sheet with an ultrabase coating on the top, acting as the print surface. Adhesion is excellent and I was able to print PLA models with no heating. Sometimes, the adhesion is so good, that I need to spend a bit of time when removing the models.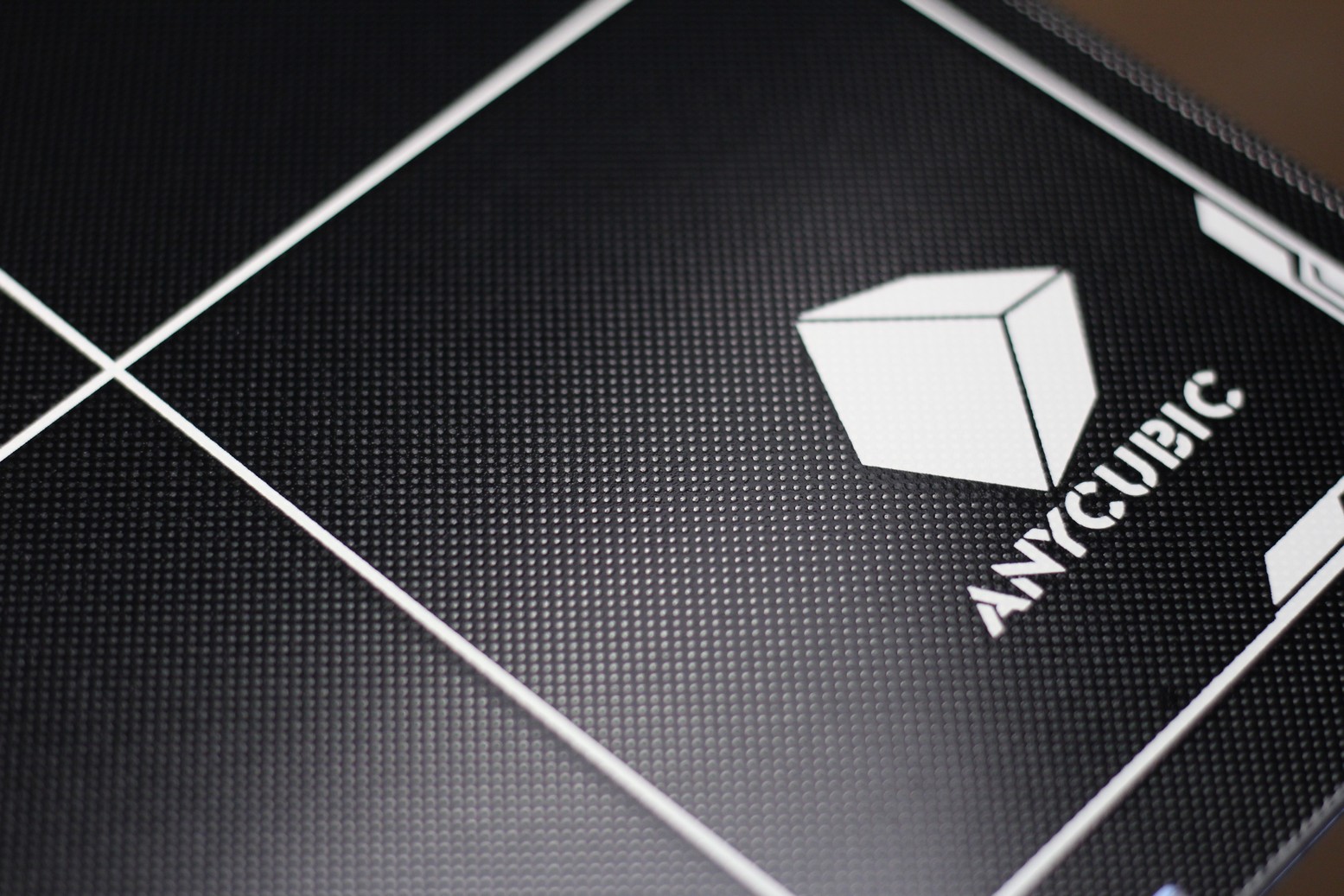 What needs to be mentioned about this print surface is in regards to the painted white lines on the top surface. When you are printing a large model, the lines can imprint on the model and that might be an issue. But you can easily just flip the glass print surface and print on the smooth side so I don't think it's an issue.
There's also the option of replacing the print surface with a PEI magnetic flex sheet. They are not available in stock right now, but if you really want one, you can send a message to Energetic store on AliExpress and ask for a custom size. I reviewed their double-sided PEI sheets and they work great.
There is a bed strain relief for the power cable of the heated bed, but it doesn't seem to be very useful in my opinion.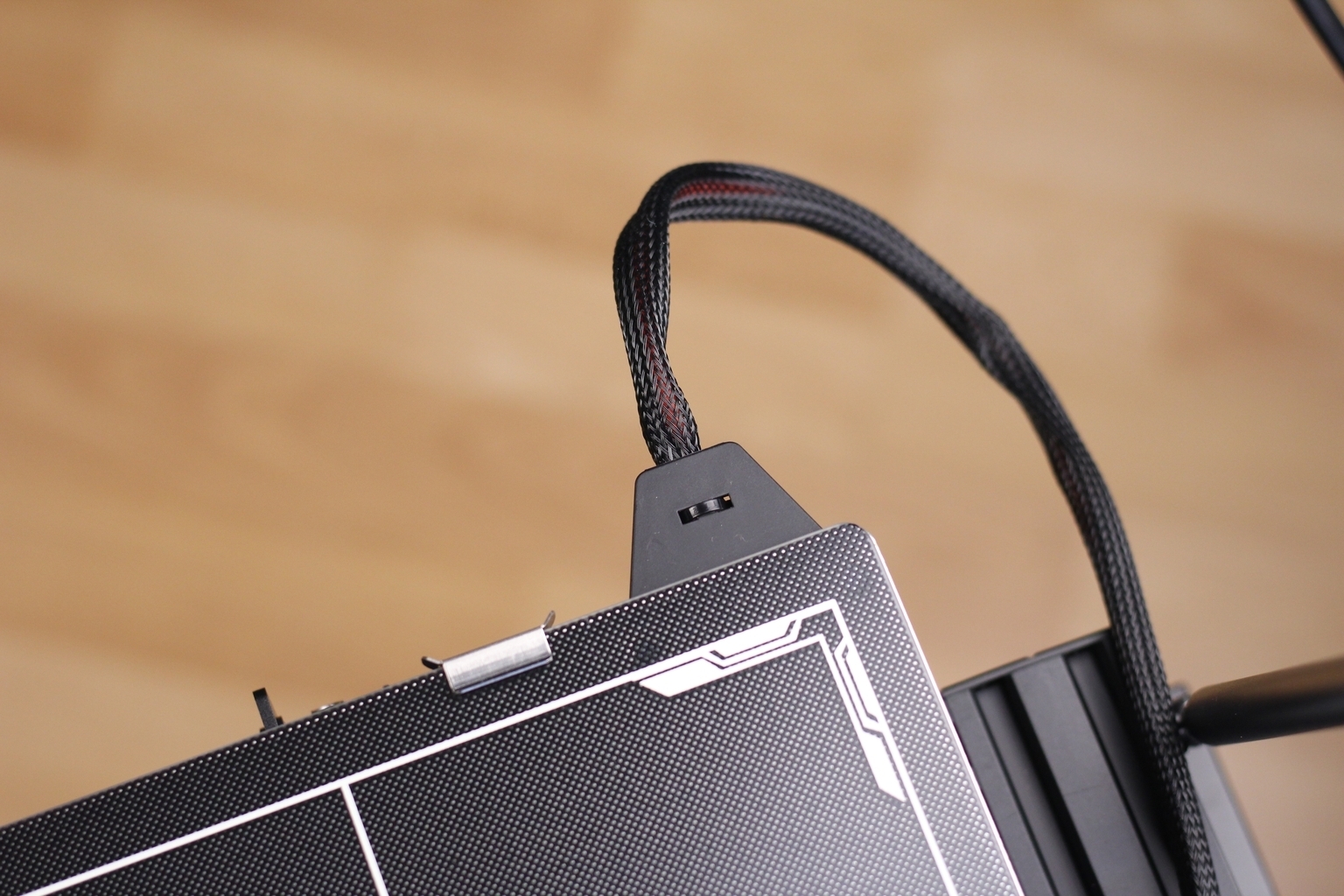 To ensure smooth movement during printing, Anycubic used two aluminum extrusions for the Y-axis to stabilize the bed. 12 v-slot POM wheels provide smooth motion, and it's worth noting that every wheel is attached with an eccentric nut, meaning that it's going to be easy to ensure even "tightness" against the aluminum extrusion.
A beefy stepper motor and dual belts for the Y-axis puts the bed in motion. I was expecting this motor to get quite hot during operation, but I'm happy to report that it's barely hot to the touch.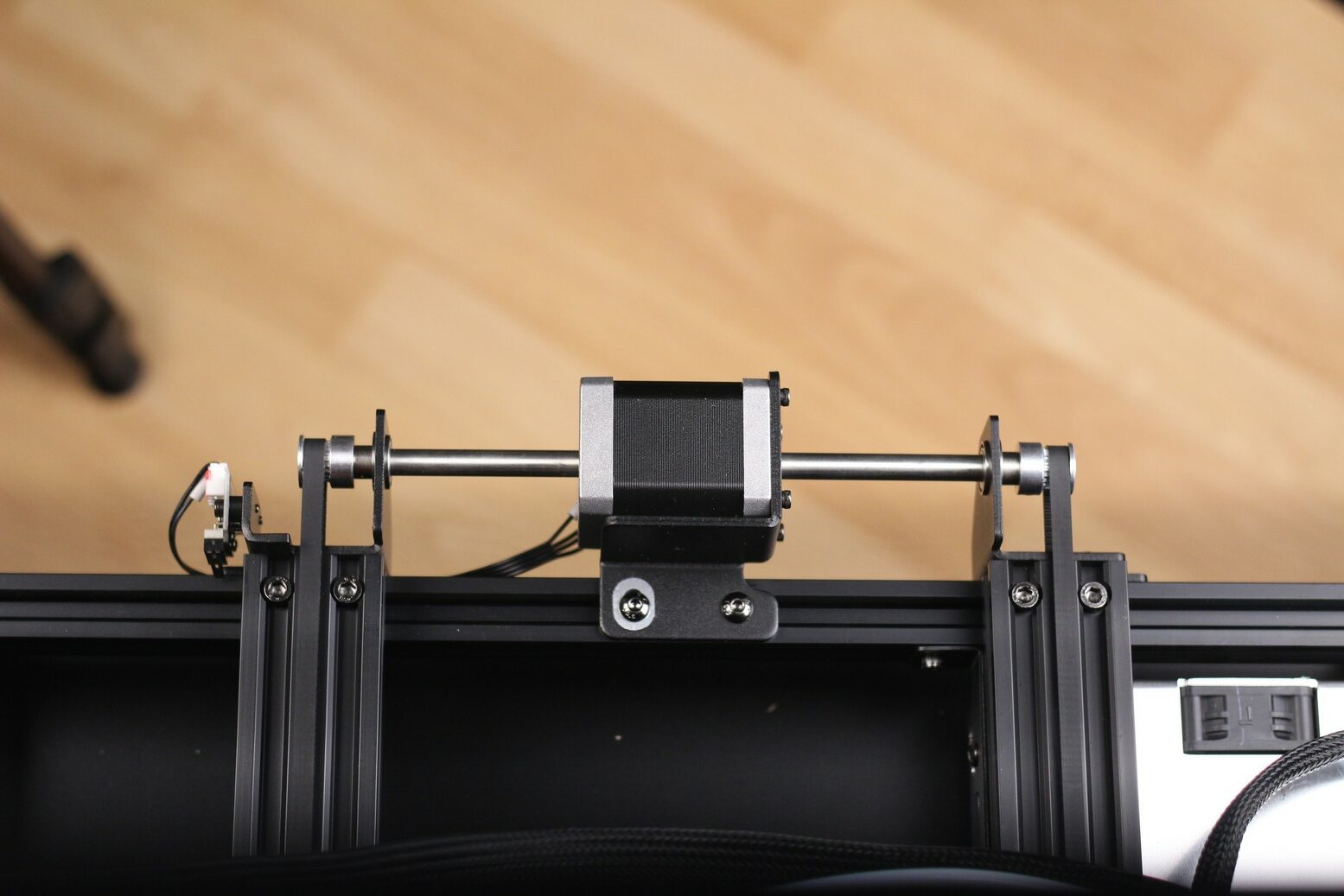 BMG dual-gear extruder clone
Just like with the Anycubic Vyper, the Kobra Max comes with a BMG extruder clone which works great. I am not sure why the extruder is flipped compared to the regular way of installing BMG extruders, but it works so I won't complain too much about this.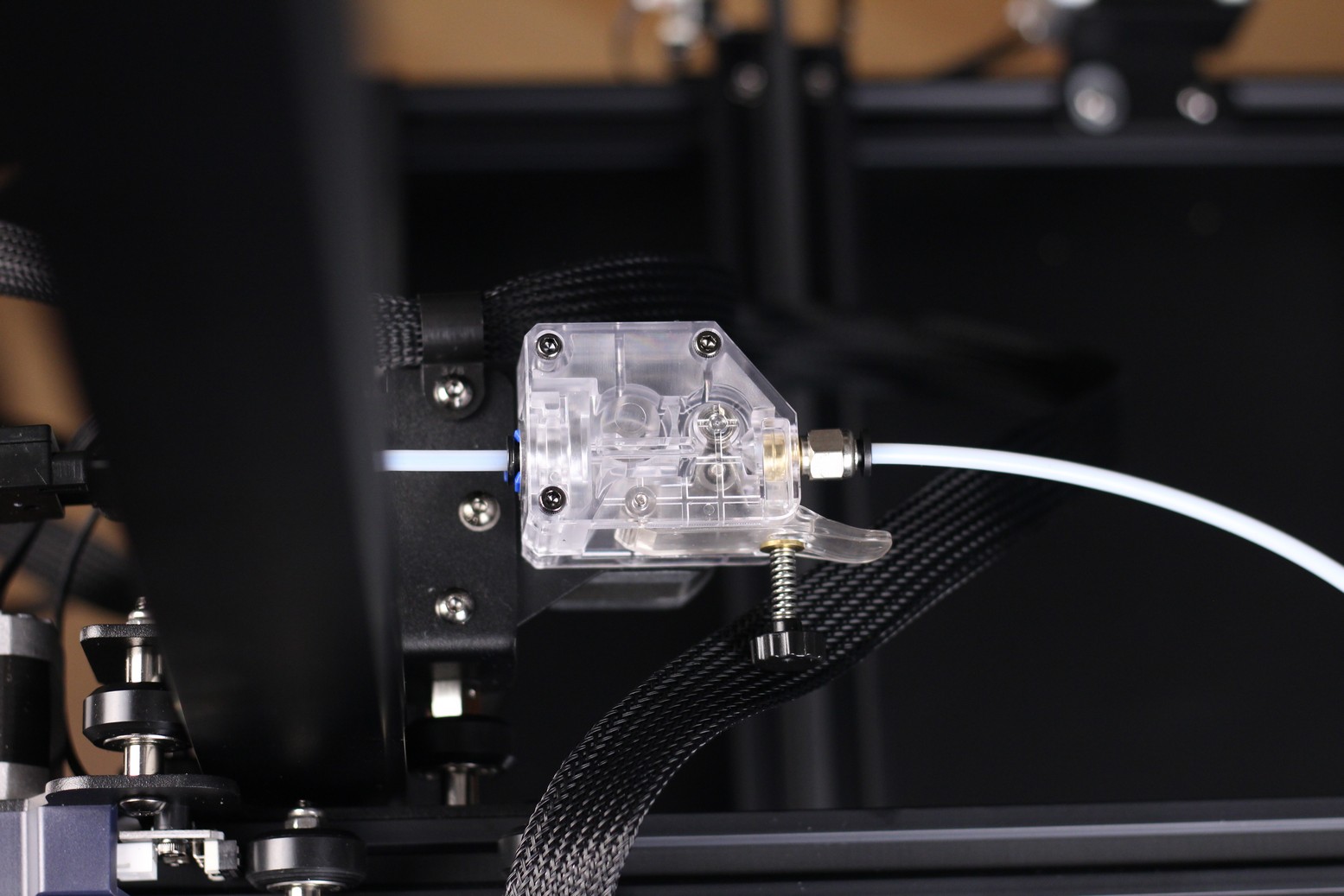 Having a geared extruder will provide a better grip on the filament, and the 3-to-1 gear ratio has a more accurate extrusion. The cuts on the BMG gears are not the highest quality, but I think they're good enough.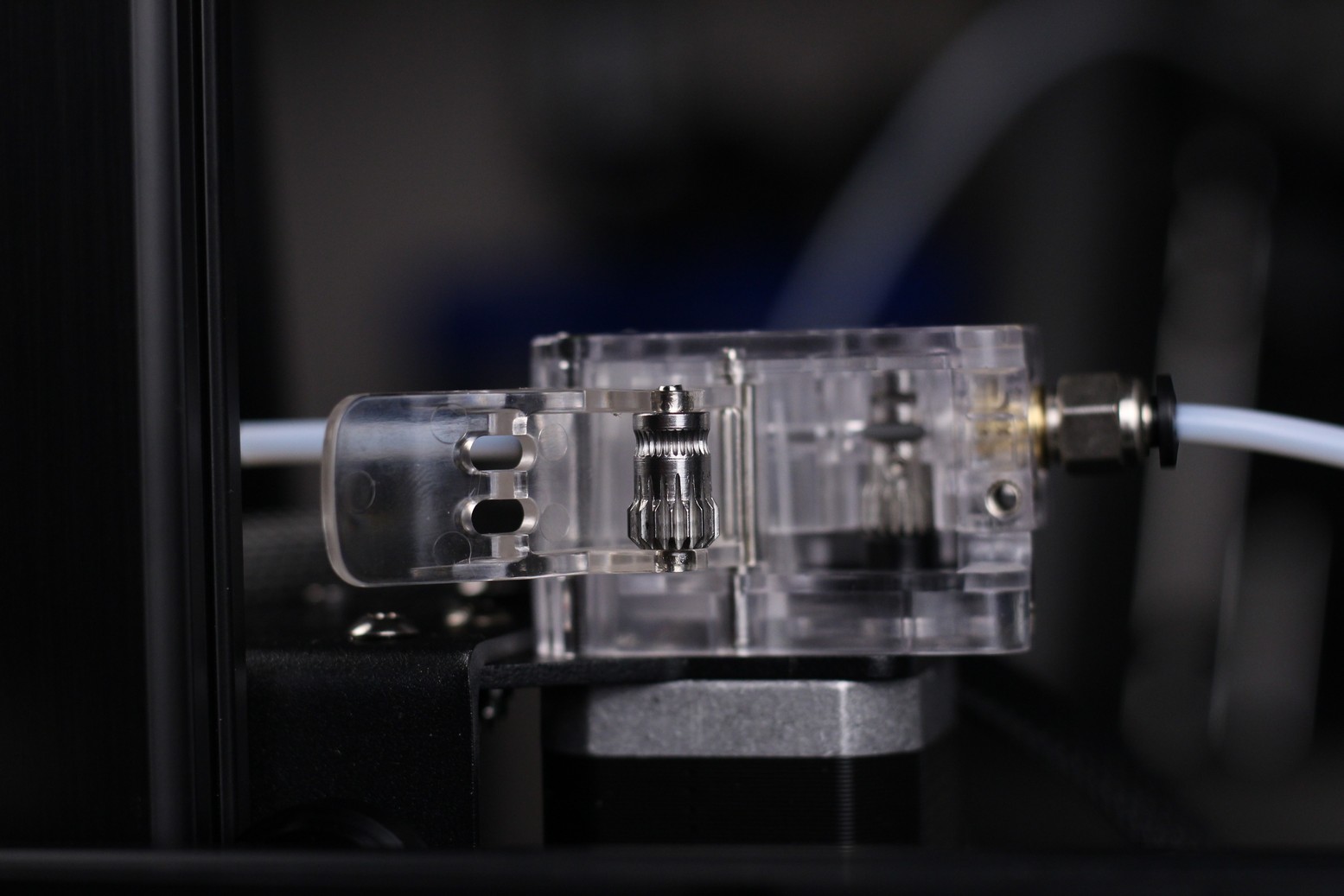 V6 Volcano Hotend clone with PTFE lined hotend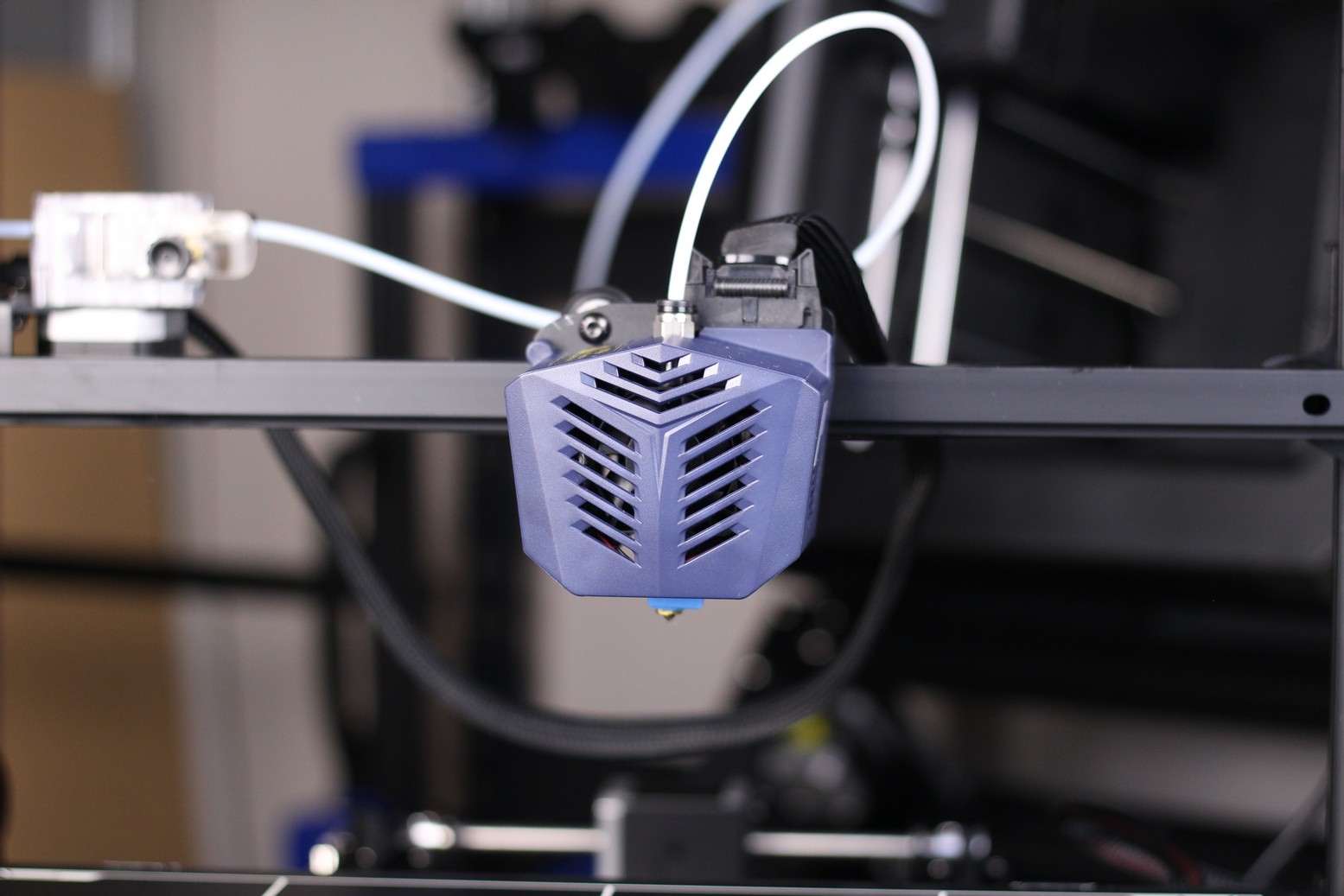 As you might expect, the Anycubic Kobra Max comes with a PTFE lined hotend in the form of a V6 clone with a Volcano heat block and nozzle. This setup works well, but I was expecting to see some kind of improvement compared to what we got with the Vyper last year.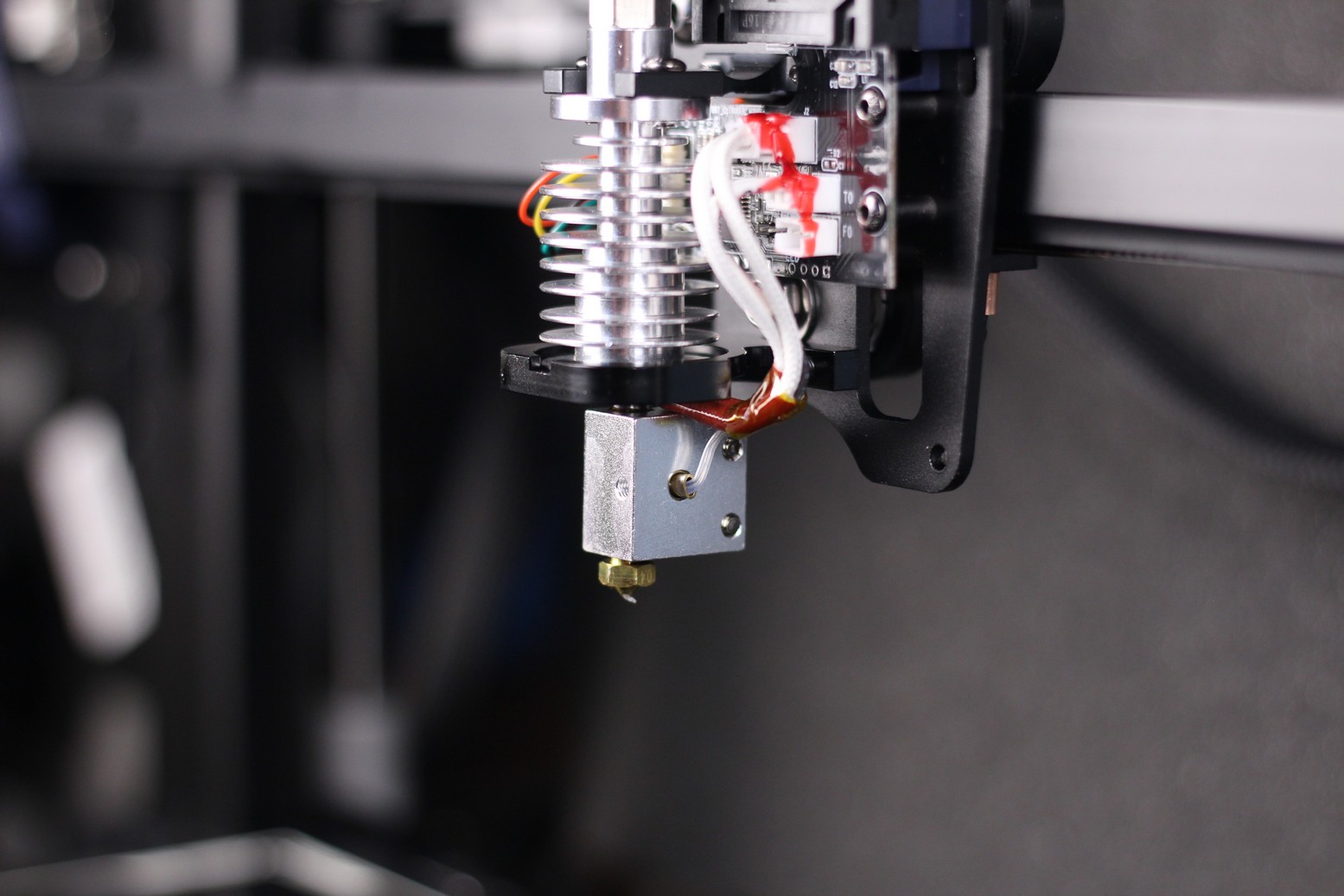 The Kobra Max comes with a Volcano 0.4 mm nozzle which is the standard hotend size delivered with most 3D printers. Considering the huge build volume of the printer, having a 0.6 mm nozzle as a stock option, or a spare in the box would have been better because this would increase print speed and even allow bigger layer heights.
Printing a full volume model with a 0.4 nozzle will be measured in weeks instead of days. So if you plan to get a Kobra Max, don't forget to order a few larger nozzles too. Check out my Ultimate 3D Printer Nozzle Comparison for more info.
Dual part cooling fans
Under the plastic cover, we have dual 4010 radial fans for part cooling, and a 4010 fan to blow air over the heatsink. These fans do a good job of cooling the printed model, and they're more than enough considering how big the print volume is.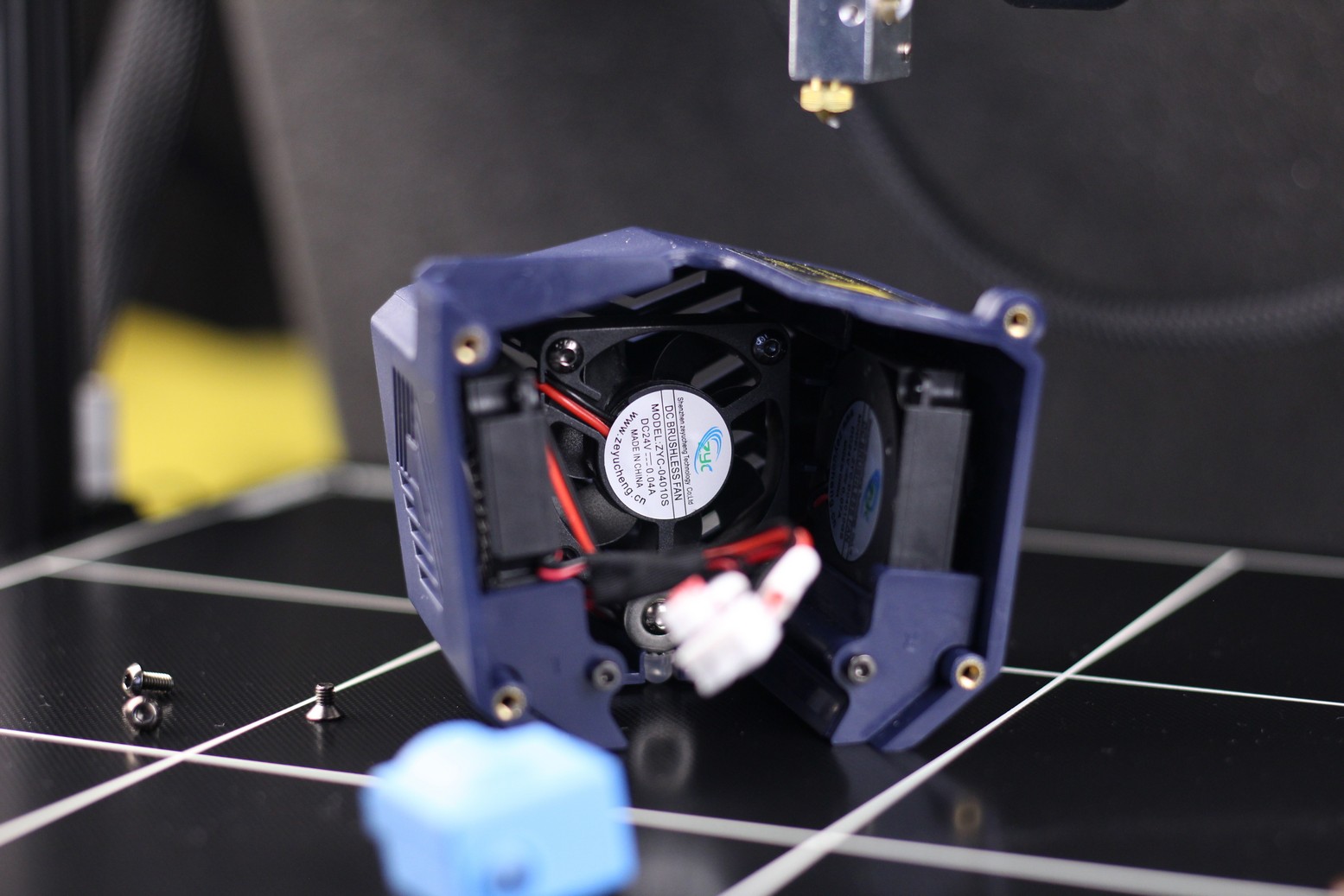 Beneath the 4010 fan for the hotend, there's also a small white LED which can be toggled on and off using the on-screen button, to provide a bit of light next to the hotend.
TriGorilla Pro A V1.0.4 32 bit board with silent stepper drivers
With the Anycubic Kobra Max, we get a TriGorilla Pro A V1.0.4 board which is made by Anycubic. It uses TMC2209 silent stepper drivers and comes with an HDSC HC32F460 Cortex-M4 chip, similar to the one included on the Kobra.
This board uses MicroSD even though it seems that there are traces and room for a full-size SD card. I started to hate these tiny SD cards because I always lose them. A USB connection or a full size SD card would have been better for such a big machine.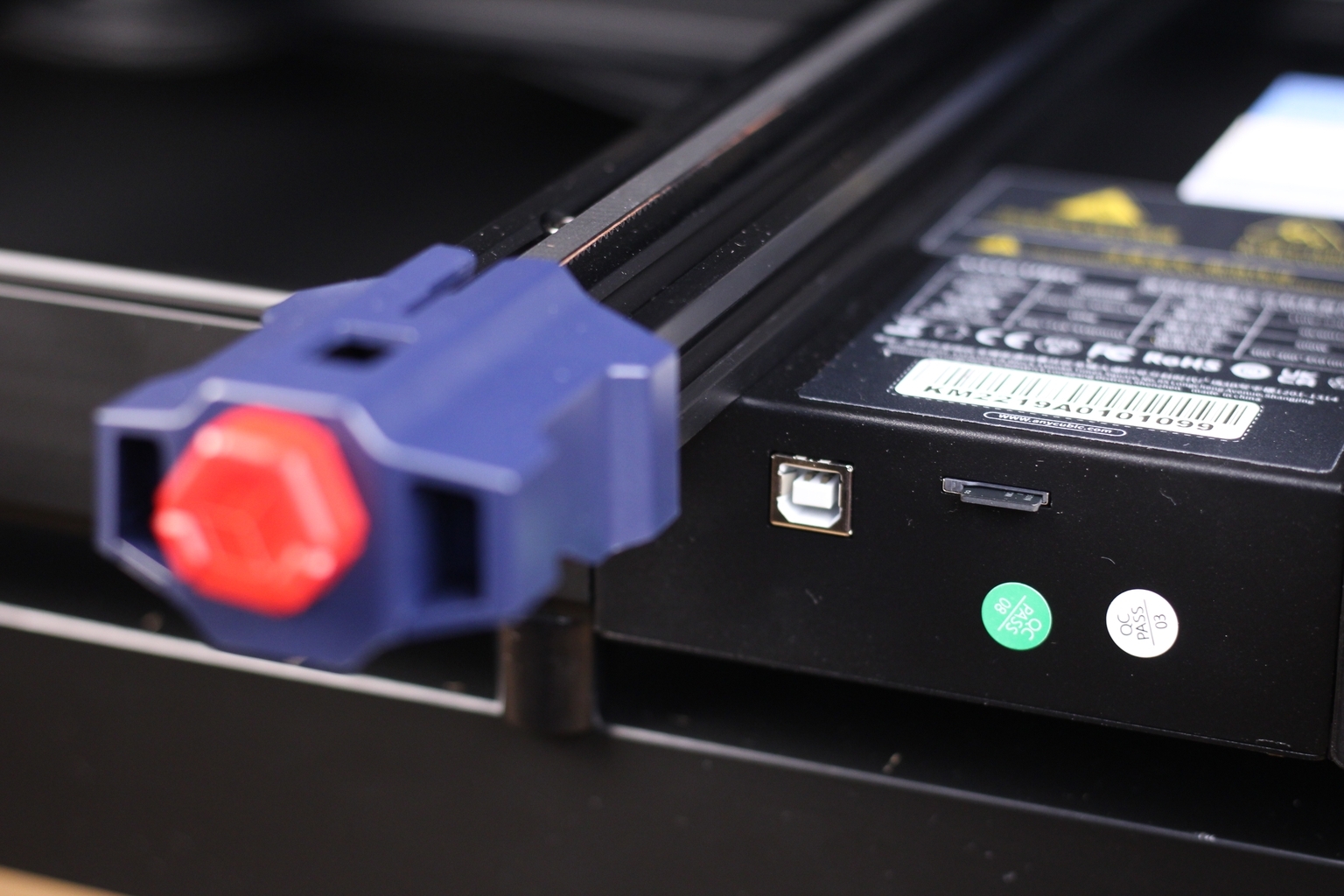 The heatbed is powered with a high-power WSK220N04 external MOSFET which can withstand up to 220A at 24V, which is nice to see.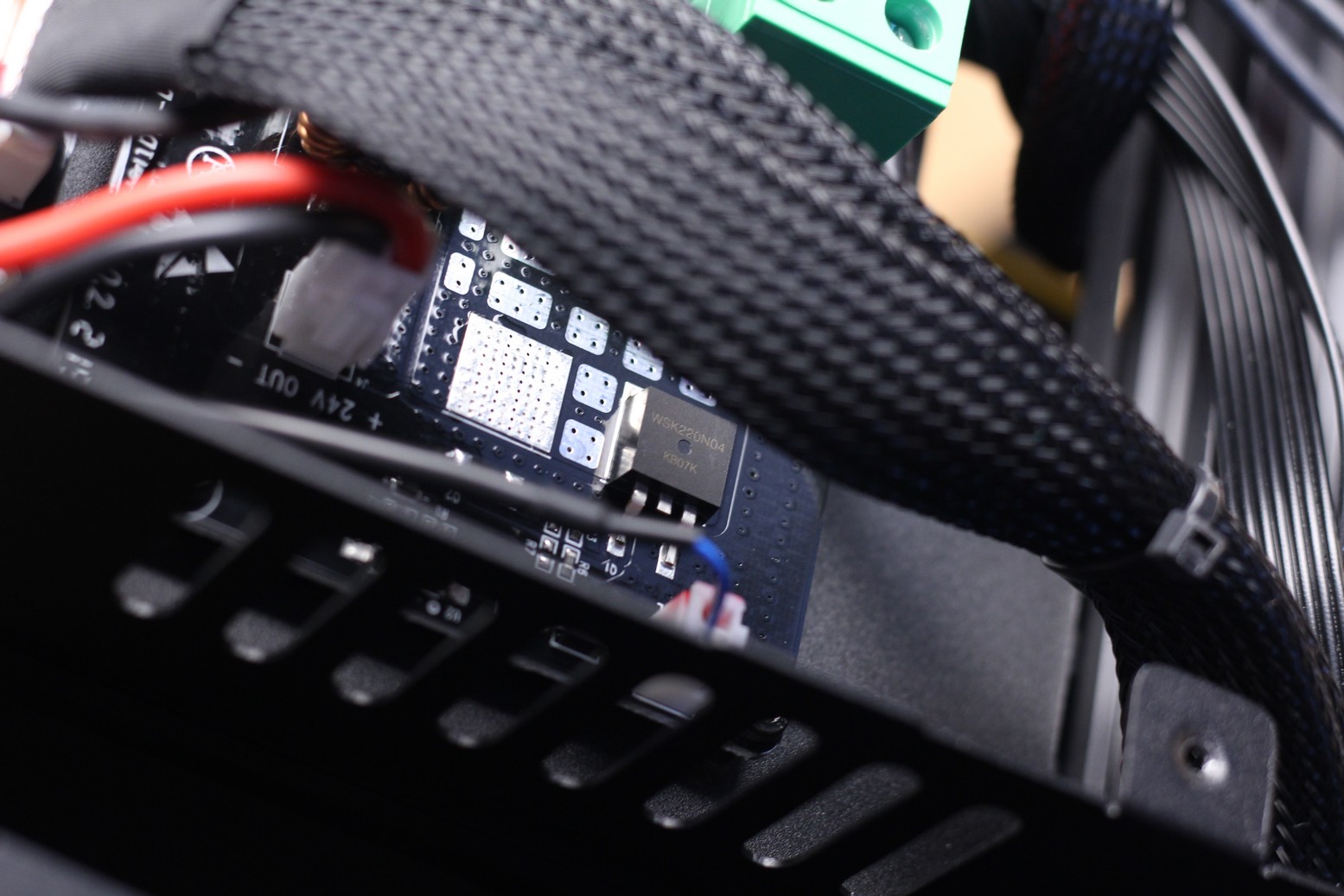 When checking out the board, I also noticed that all the wire ends are tinned. Even though Anicubic used silicone wires, they still decided to tin the ends instead of crimping them which can be a big safety issue, especially with the high power draw of the bed.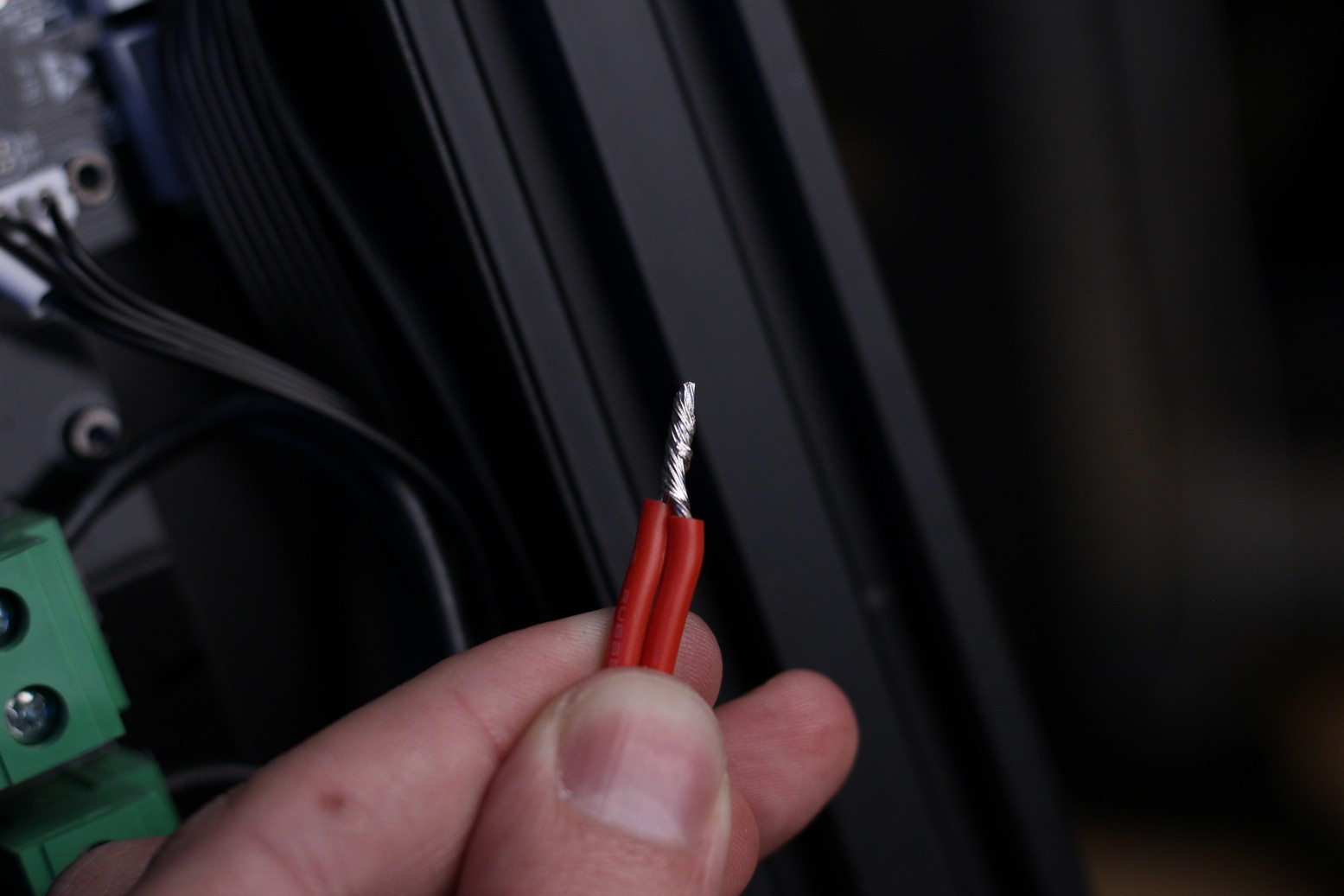 I've cut all the tinned ends and installed proper ferrules for added safety. If you get this printer I recommend doing the same because the tinned ends can get loose over time and can cause a fire.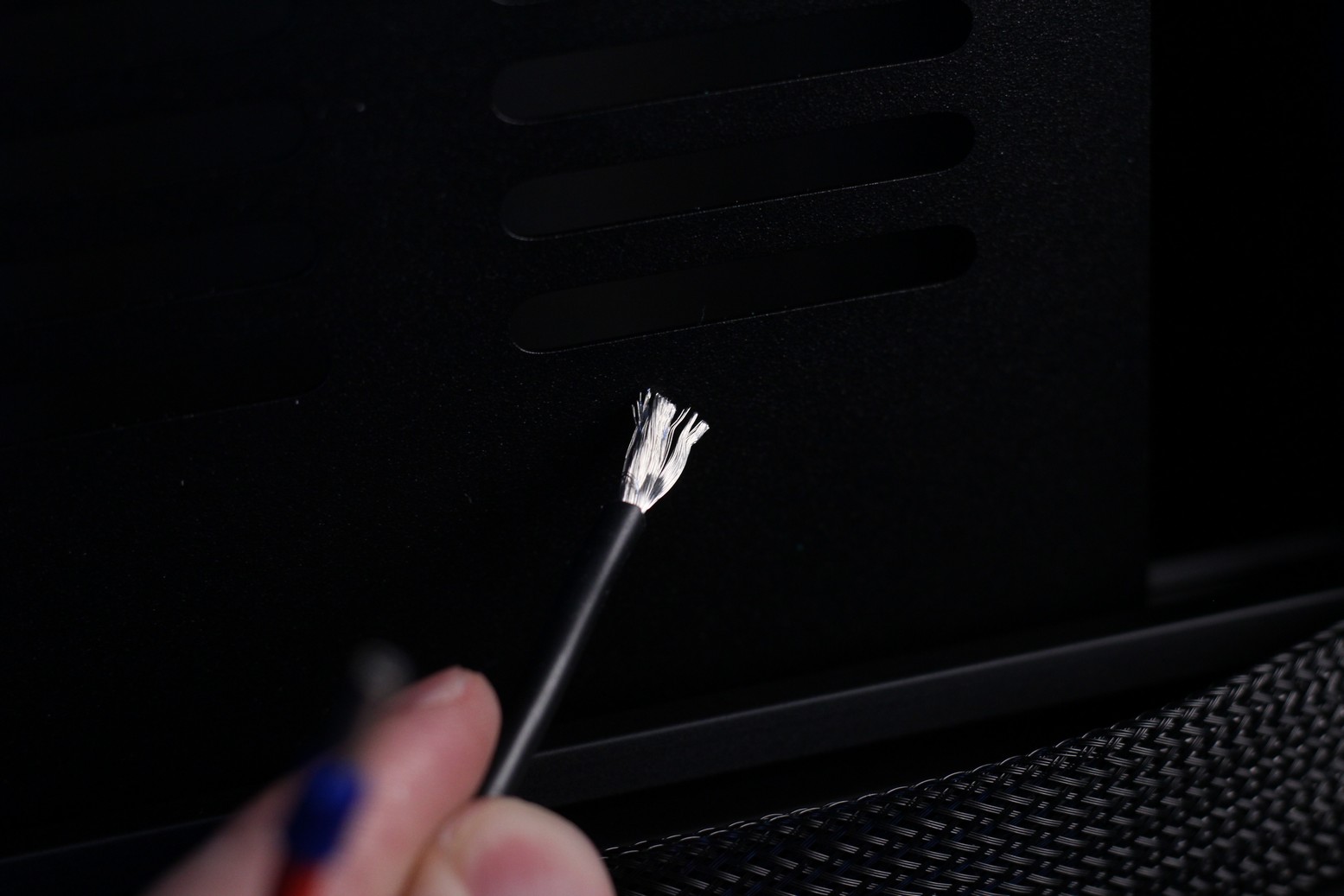 I really hope Anycubic will fix this issue in the future. Other companies are doing it so there's no excuse not to do the same.
Auto bed leveling
Just like the Anycubic Vyper, the Kobra Max comes with a strain gauge sensor which allows it to use the nozzle tip as the probe for bed leveling.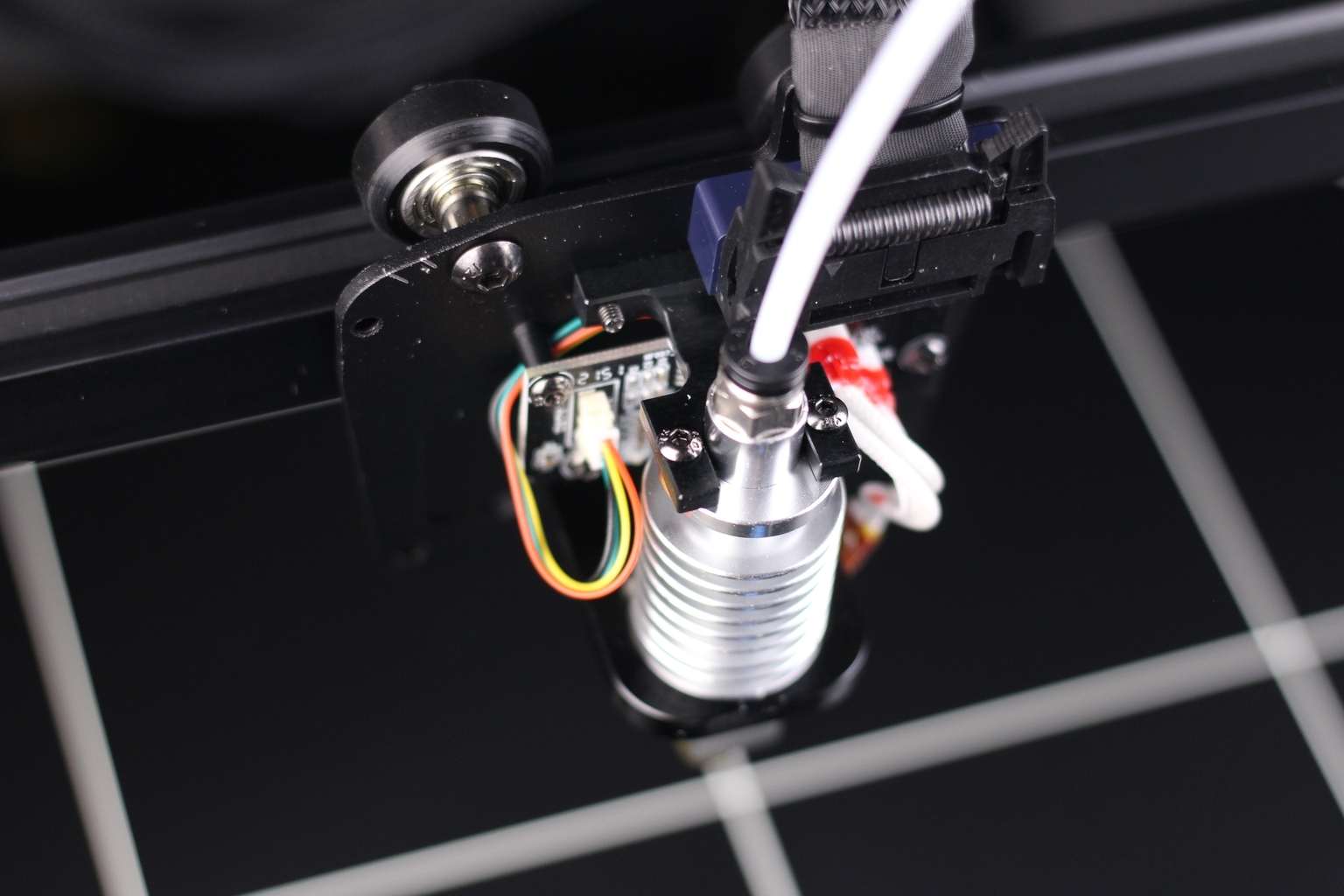 Before leveling, the printer automatically heats up to 120C for the hotend and 60C for the bed, and then asks you to touch the nozzle with a metal tool. This is done in order to melt any filament which is left on the nozzle, and also to ensure that the strain gauge sensor is working correctly.
Some Vyper printers had a few issues with the strain gauge not working every time, and ramming the nozzle in the bed, so it's nice to see that Anycubic thought about implementing a check before starting the probing process.
Dual Z-axis with anti-backlash nuts, Z sync belt and metal braces
As expected with such a large machine, the Anycubic Kobra Max comes with dual Z-axis which is synchronized using a belt. This belt is quite important in keeping both axes in sync and ensuring a consistent first layer.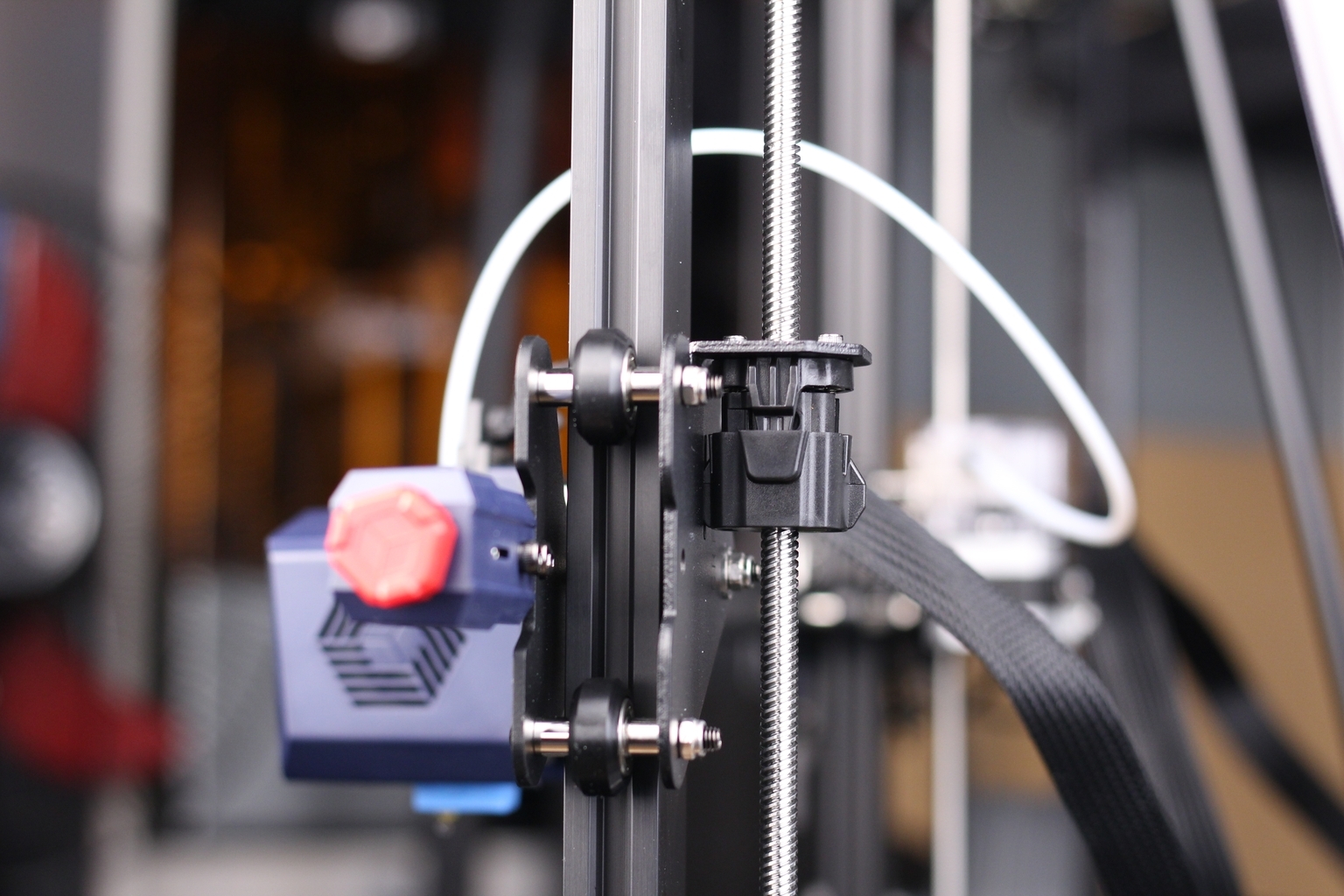 To make things even better, Anycubic also included a pair of anti-backlash nuts just like they did on the Vyper.
Belt tensioners
With the Kobra Max we get three belt tensioners. Yeah, you read that right! One of them is on the X-axis, and the Y-axis has a pair of belt tensioners, to allow both belts to be tensioned correctly.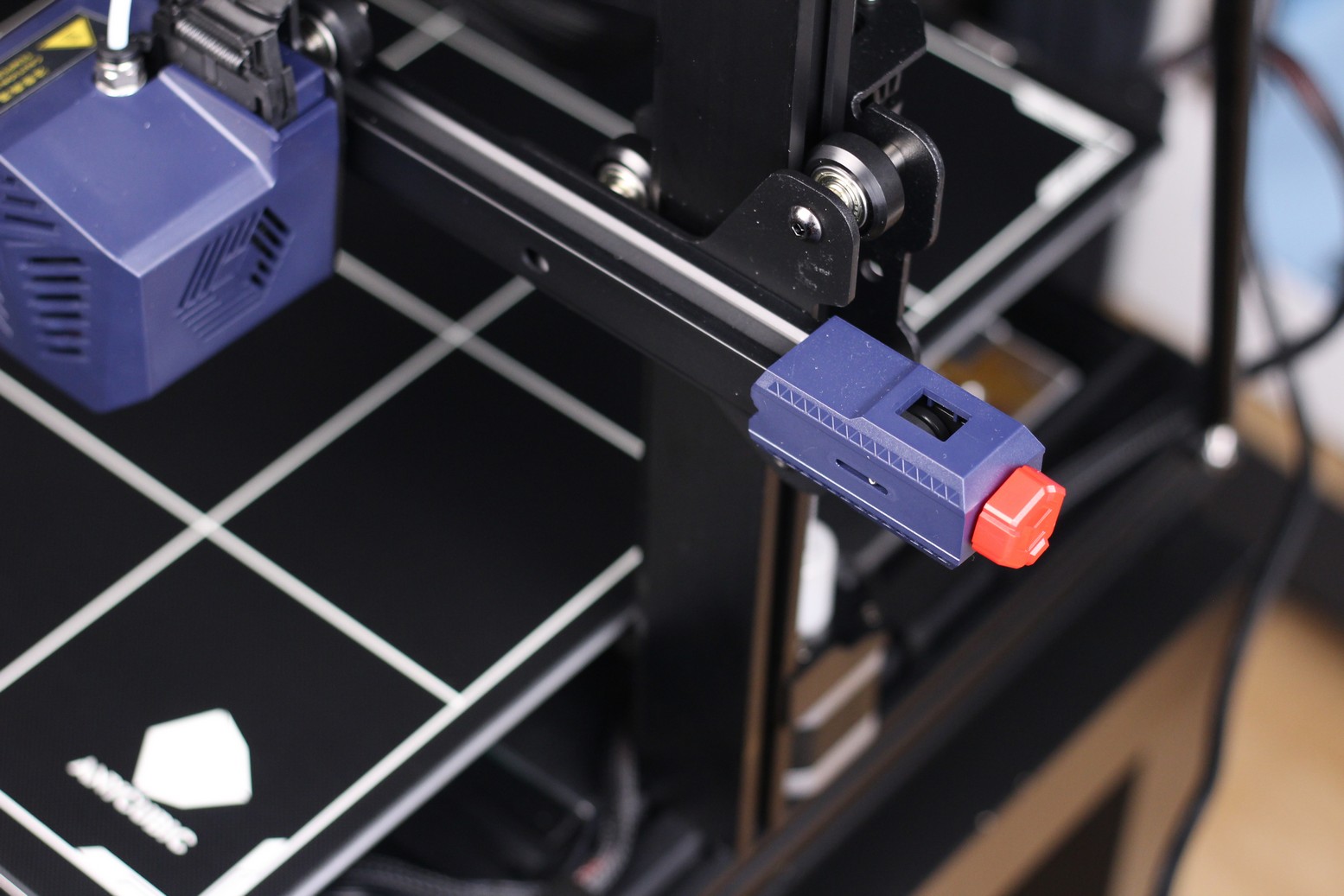 When doing this, ensure that you don't overtighten the belts, because you can introduce printing artifacts. Just make sure they have similar tension.
4.3-inch touchscreen
There's not much to say about the 4.3-inch touchscreen included with the Anycubic Kobra Max. It does its job, but I am not a fan of the white theme with tiny fonts. It also doesn't have a lot of functionality compared to something like the TFT35 from BIQU.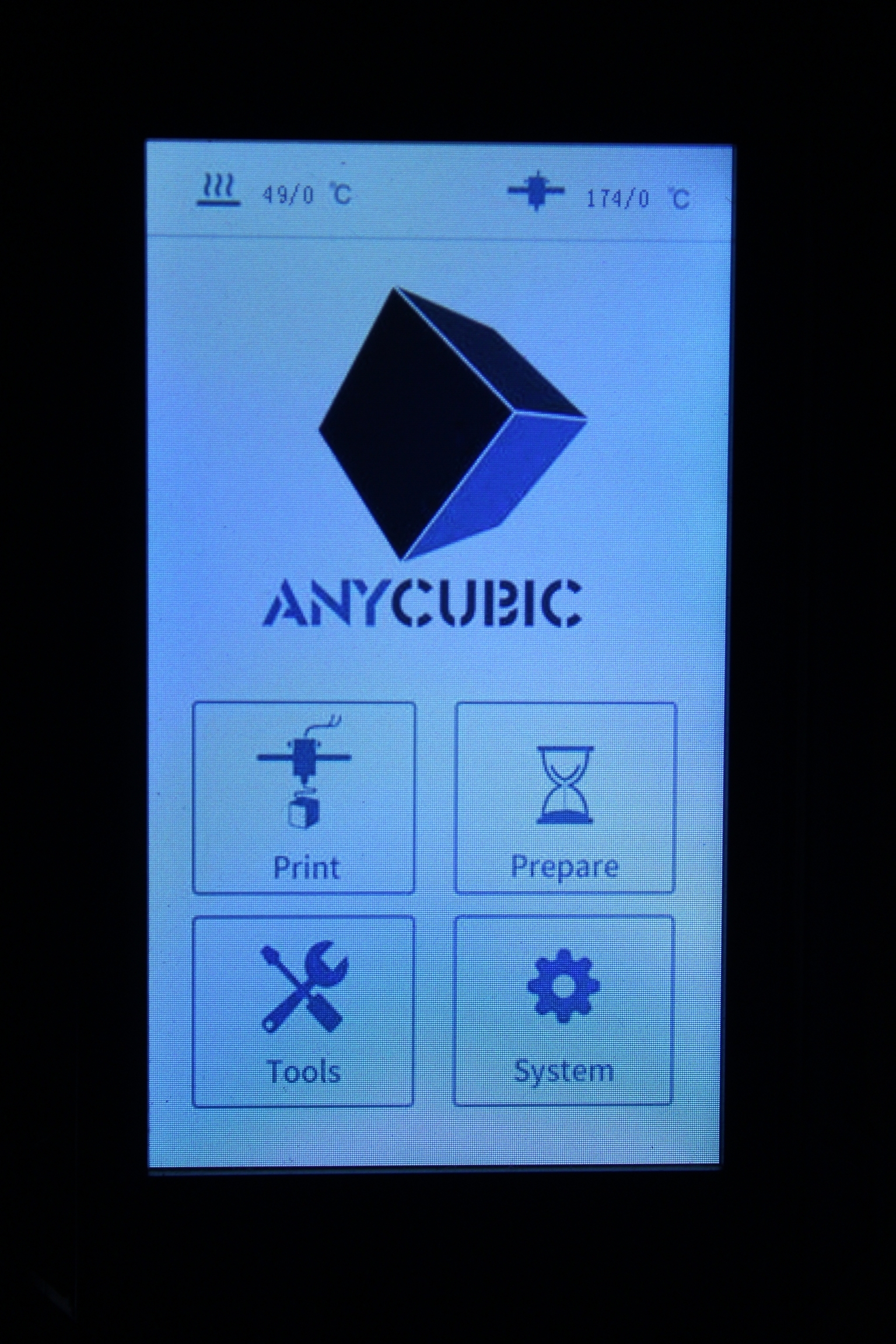 500W 24V power supply
The Anycubic Kobra Max is powered by an A-500FKG-24P power supply made by CZCL. It's not a Mean Well but it feels high quality and I like that the fan is not very loud.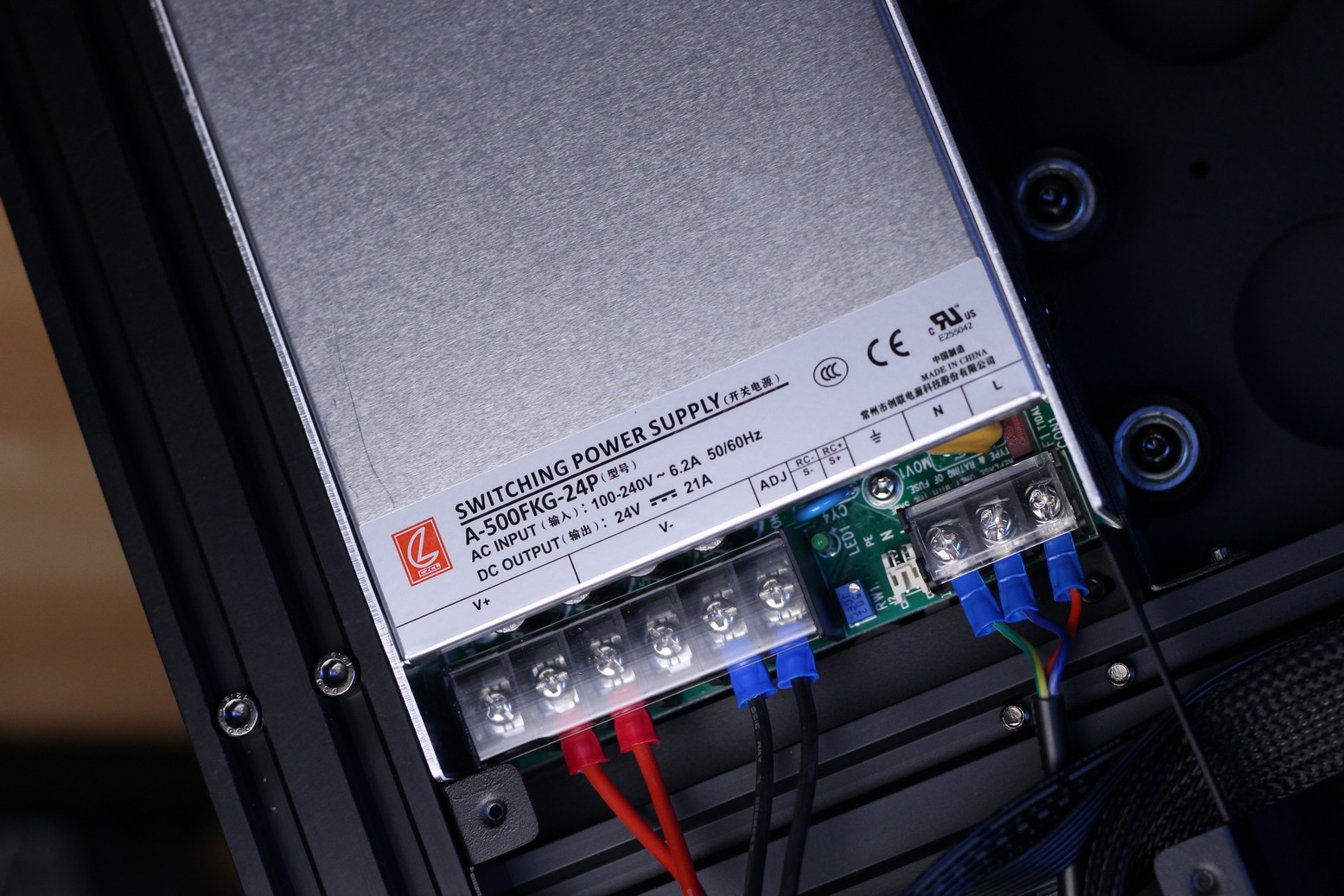 I'm not an expert when it comes to power supplies, but I hope this is a well-made unit because it's going to be under quite a bit of stress powering the huge heated bed.
Heating time and power consumption
I tested the heating time for both hotend and heat bed and here are the results:
Hotend
200C in 1 minute and 50 seconds
250C in 2 minute and 30 seconds
Heatbed
60C in 4 minutes and 10 seconds
95C in 14 minutes
The printer cannot reach 100C without triggering the thermal runaway function, probably because of how big the heated bed is and the thin insulation material underneath.
Power Draw.
Idle power draw is around 7W. When the hotend and heatbed are heating up, the Anycubic Kobra MAX draws around 450W. After it starts printing, the power draw stabilizes to around 160W.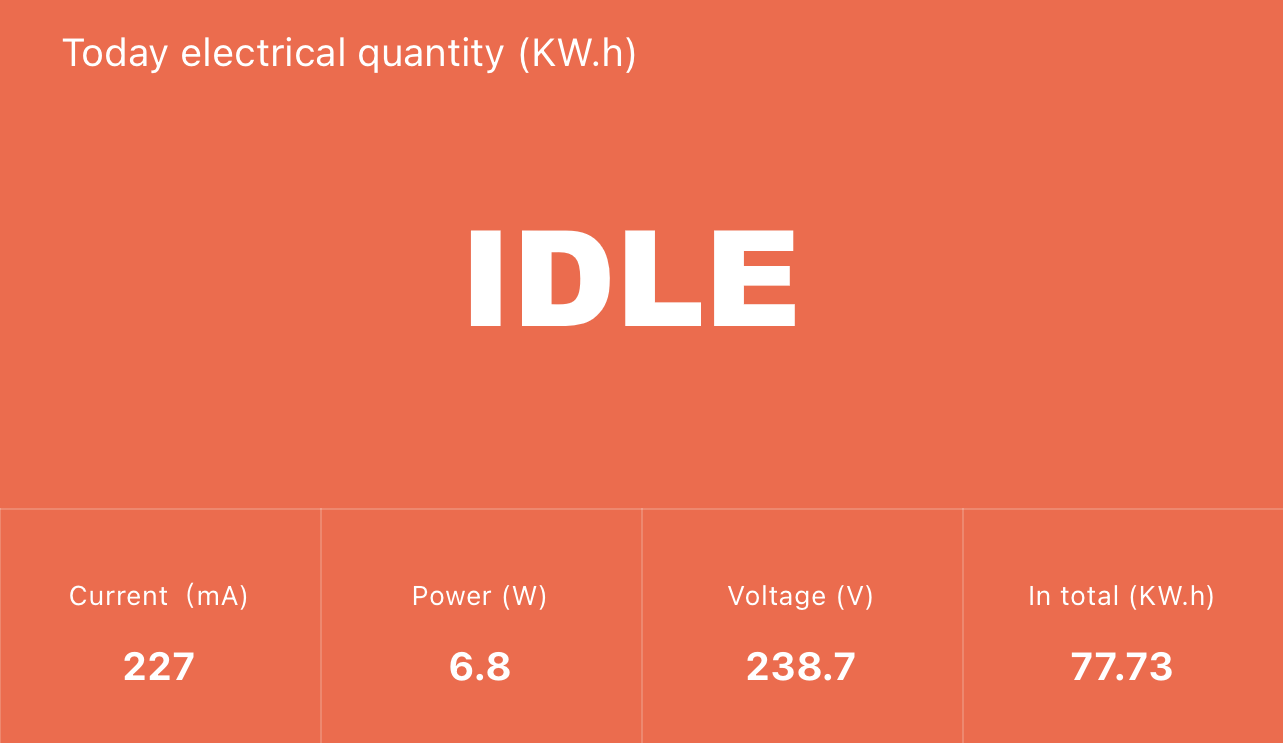 All these measurements were taken with a Blitzwolf smart power socket which indicates the power draw, and it can also be used for remotely powering on and off the printer.
Bed Temperature Uniformity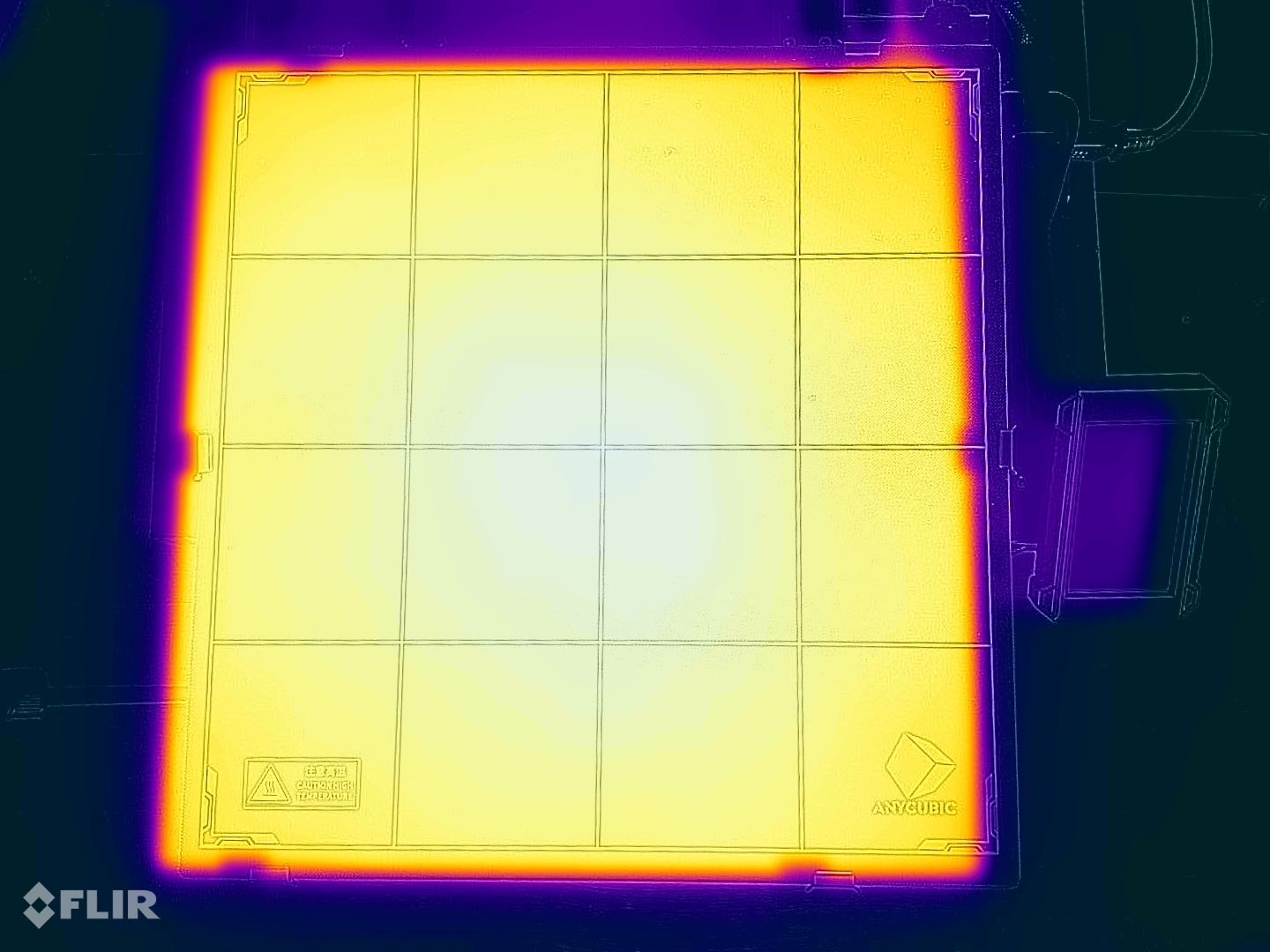 Anycubic Kobra Max Noise Levels
The Anycubic Kobra Max is quieter than I was expecting it to be. The power supply fan turns on from time to time and generates a bit of noise, but otherwise, I think the Max can be considered a silent printer.
The most significant noise generated by the Kobra Max is when doing quick travel moves and when the power supply fan turns on.
IdeaMaker and Prusa Slicer Profiles for Anycubic Kobra Max
During my time with the printer, I tuned IdeaMaker and Prusa Slicer profiles for the Anycubic Kobra Max using the tools available in the 3D Printer Calibration Guide using IdeaMaker article. These profiles are tuned for the stock printer and are available to my Patreon supporters.
As usual, the flow rate will still need to be calibrated, according to your filament.
Test prints on Anycubic Kobra Max
Owl test print
To test the printer's functionality after the assembly, I printed the pre-sliced model from the SD card. The print quality is acceptable, but stringing is an issue for the top section of the print. Also, using a brim for such a small model is cheating 😀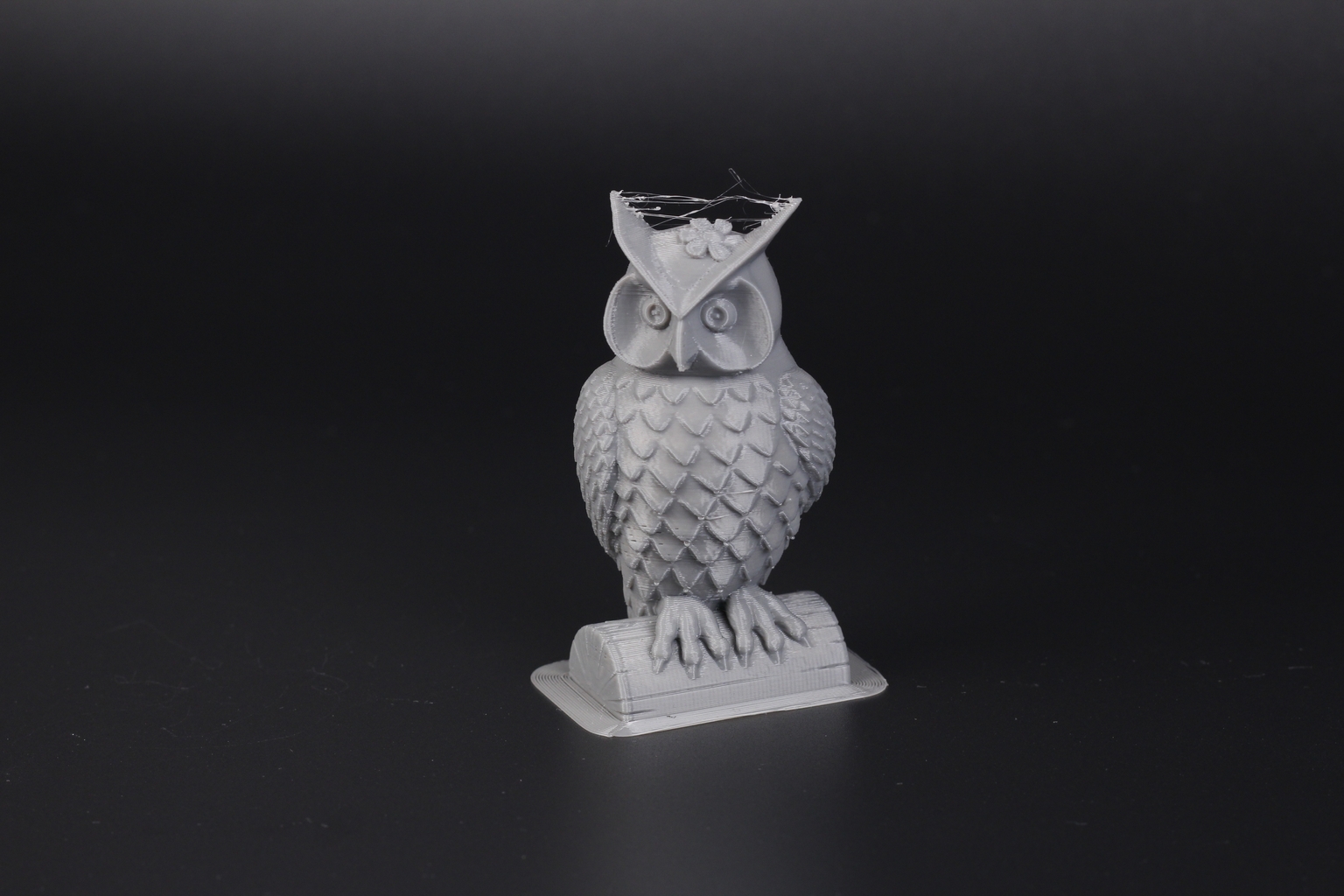 The Jungle Queen
I love this JUN boat because it's an excellent test model for any printer and slicer profile. It has tiny details and you really need a well-tuned profile for it. Fortunately, my edited Vyper profile seems to be working great and the results are pretty good.
The bridging settings needed some work, but otherwise a good result from the Kobra Max.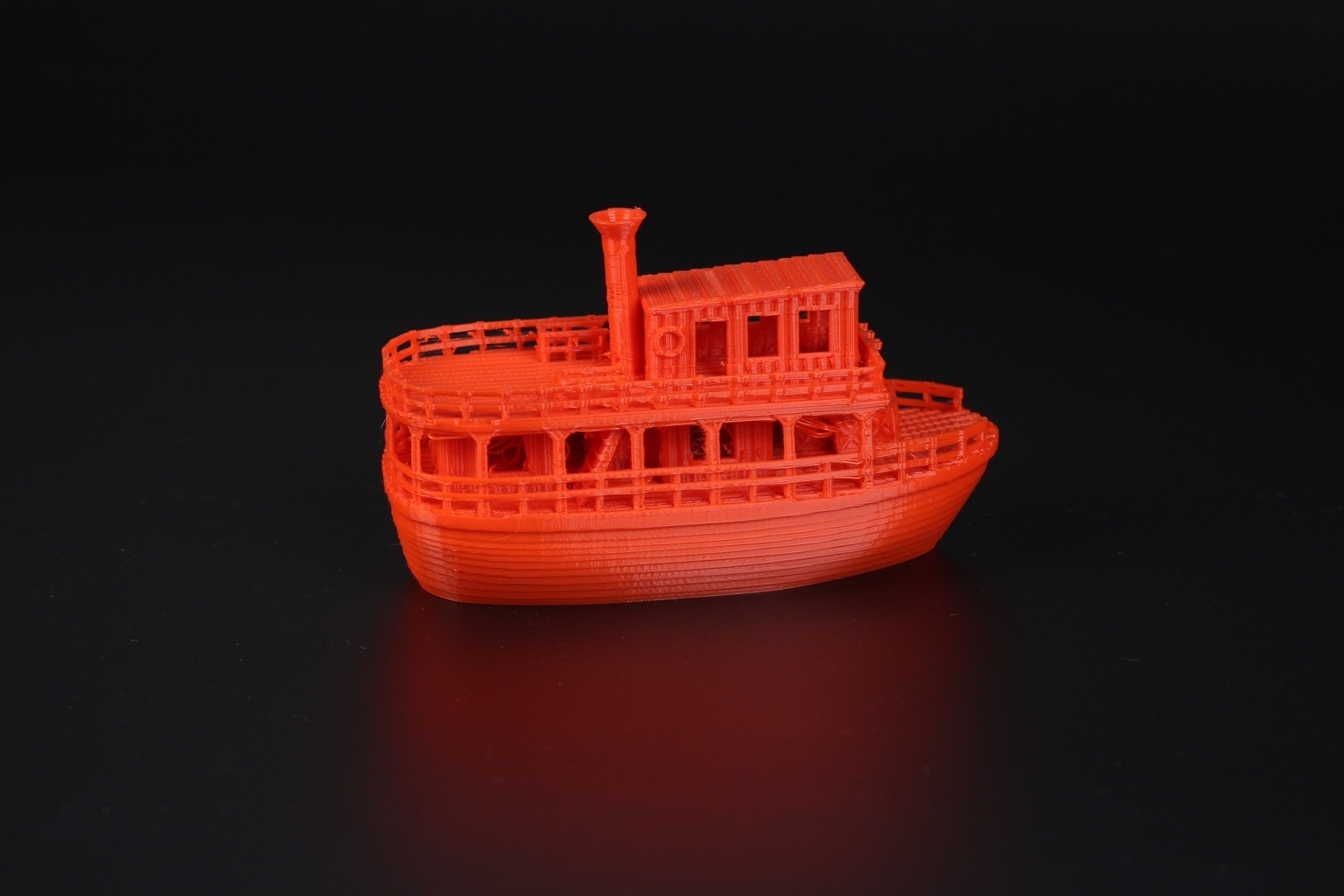 Material: Sunlu Red PLA
Layer Height: 0.2mm
Nozzle Temperature: 210C
Bed Temperature: 50C
Print Speed: 50 mm/s
200% calibration cube
As I do with every 3D printer I review, I printed this 200% calibration cube to check the surface finish and also the accuracy of the printer. It came out great, even though I forgot to disable supports. The corners could benefit from linear advance/pressure advance, but that's not enabled in the stock firmware.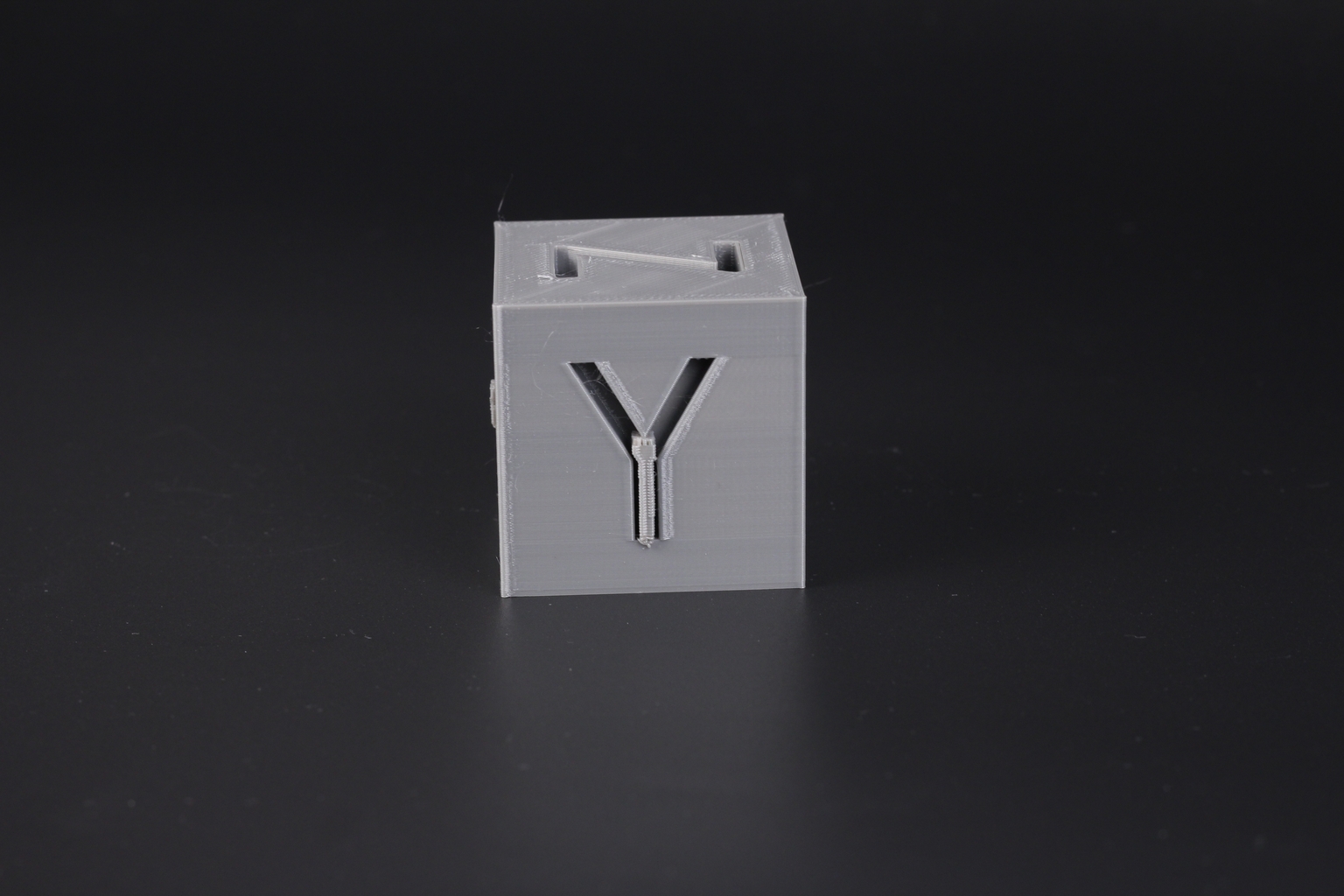 Material: Sunlu Grey PLA
Layer Height: 0.2mm
Nozzle Temperature: 205C
Bed Temperature: 50C
Print Speed: 50 mm/s
150% Phil-A-Ment
I also printed Phil-A-Ment on the Kobra Max, but this time it was scaled up to 150% and printed with a 0.6 nozzle. I also used some silk filament to see how the Kobra can handle this type of filament.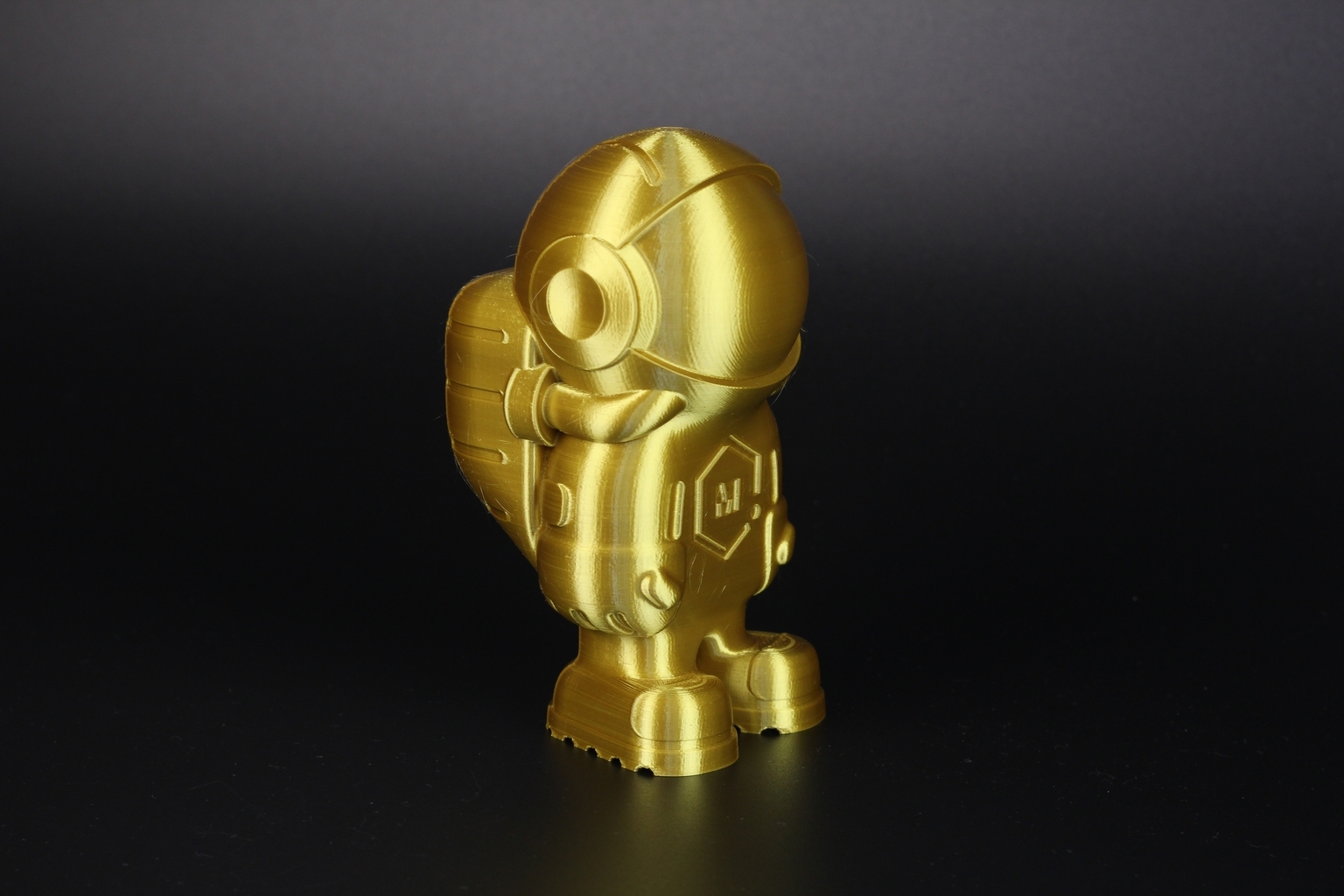 Material: Devil Design Silk Gold PLA
Layer Height: 0.2mm
Nozzle Temperature: 215C
Bed Temperature: 50C
Print Speed: 30 mm/s
Fast-Printing Modular Drawer System (Vase Mode)
I also started printing this modular drawer system from Printables, and I'm happy to say that it prints great on the Kobra Max and you can scale it without issues.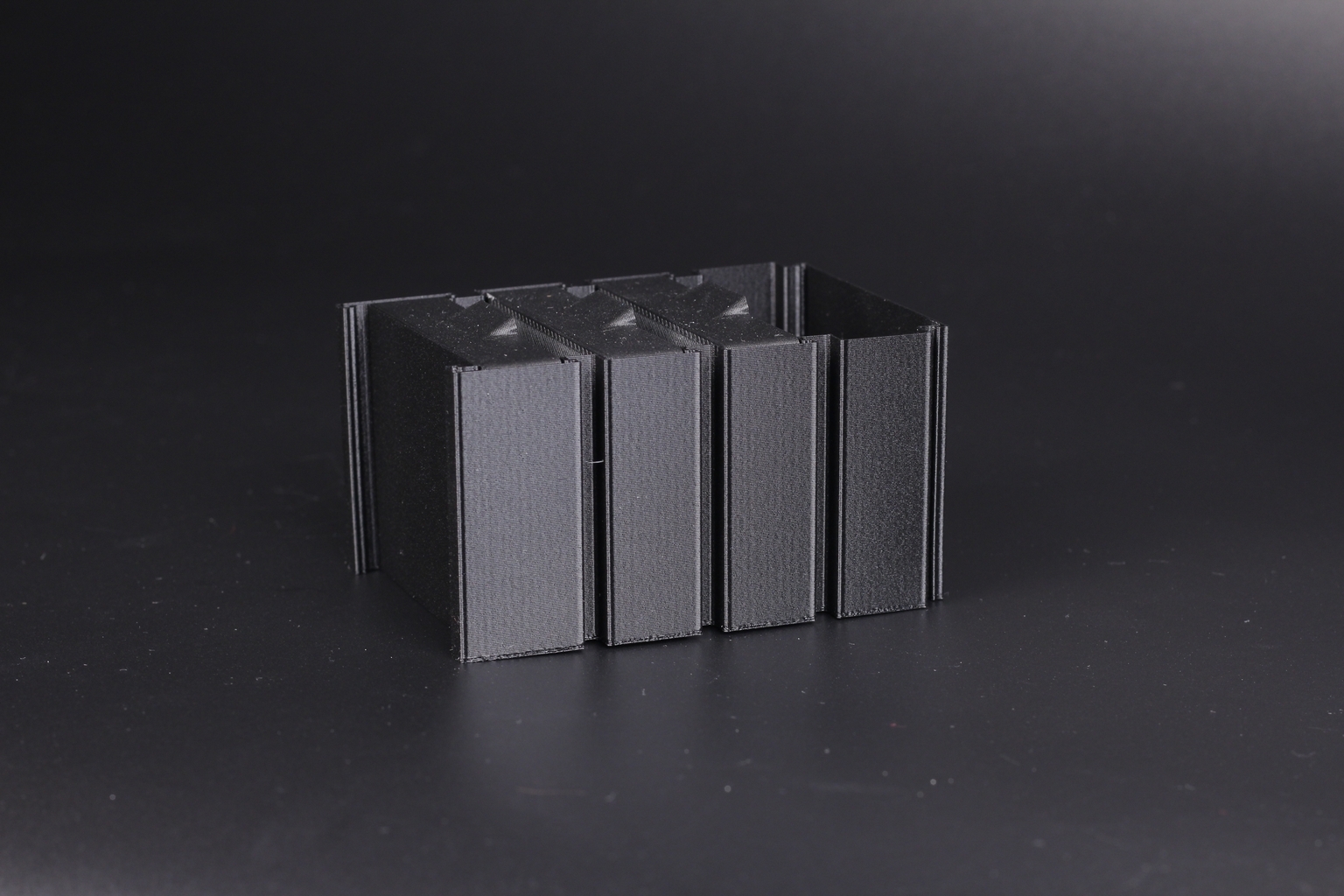 Material: PolyMaker CF PLA
Layer Height: 0.3 mm
Nozzle Temperature: 210C
Bed Temperature: 30C
Print Speed: 40 mm/s
Torture Toaster
Another stress test for any 3D printer out there is the Torture Toaster from Clockspring 3D. The Anycubic Kobra Max managed to finish it, but it was not a complete success. A portion of the model was knocked during printing and the "slices" can't be extended completely.
Other than that, the overhands printed fine, and I was able to move the 0.3 mm tolerance flag.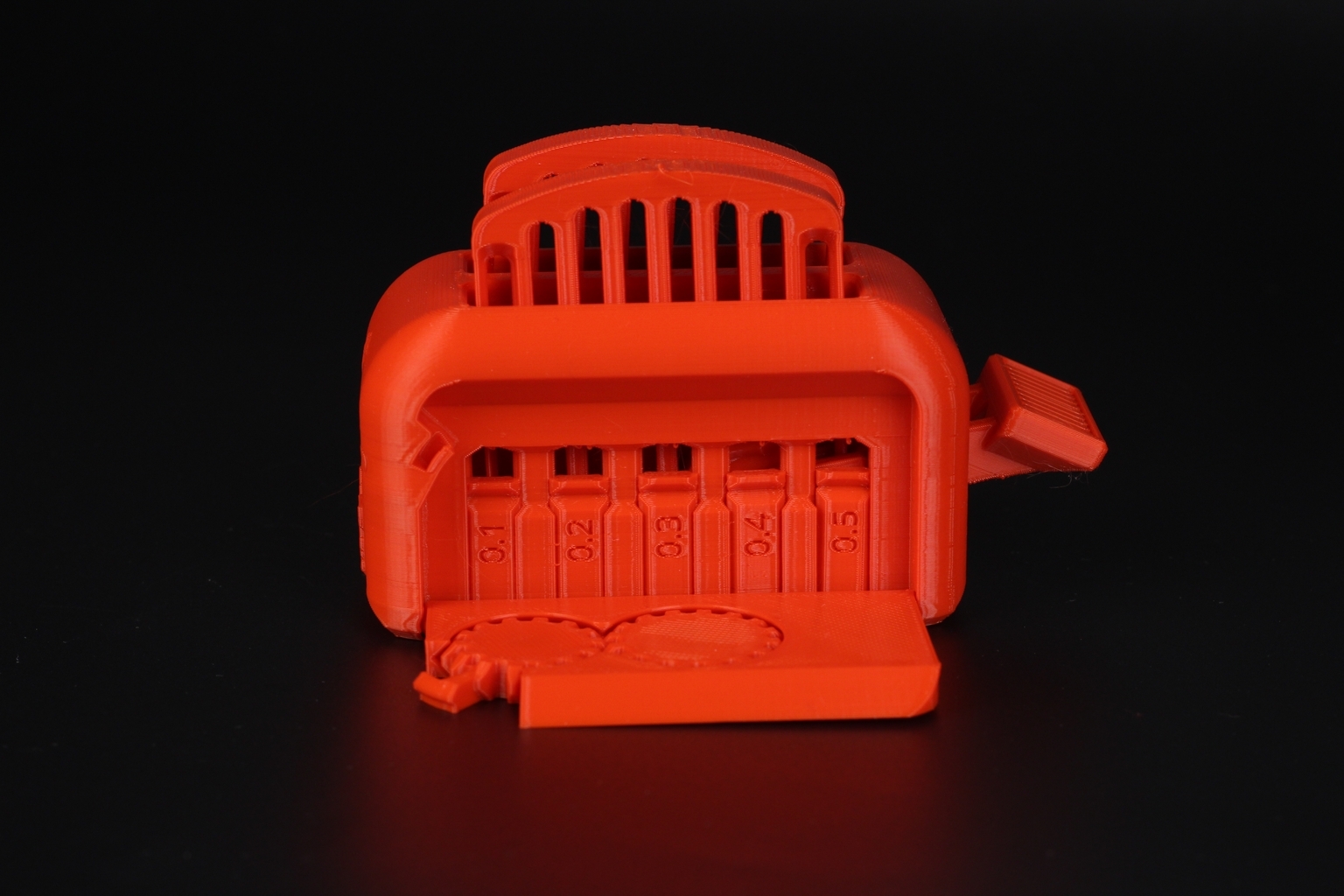 Material: Sunlu Red PLA
Layer Height: 0.2mm
Nozzle Temperature: 210C
Bed Temperature: 50C
Print Speed: 50 mm/s
Bender
After printing the models with a stock 0.4 nozzle, I thought I should install the 0.6 nozzle to speed up my prints a bit. Then I started this 2-day Bender print which came out really nice.
Unfortunately, the printer had a layer shift close to the end of the print as you can see in the images below. I am not sure why this happened, because everything seemed to be working fine. Either way, sometimes you win, and sometimes you don't.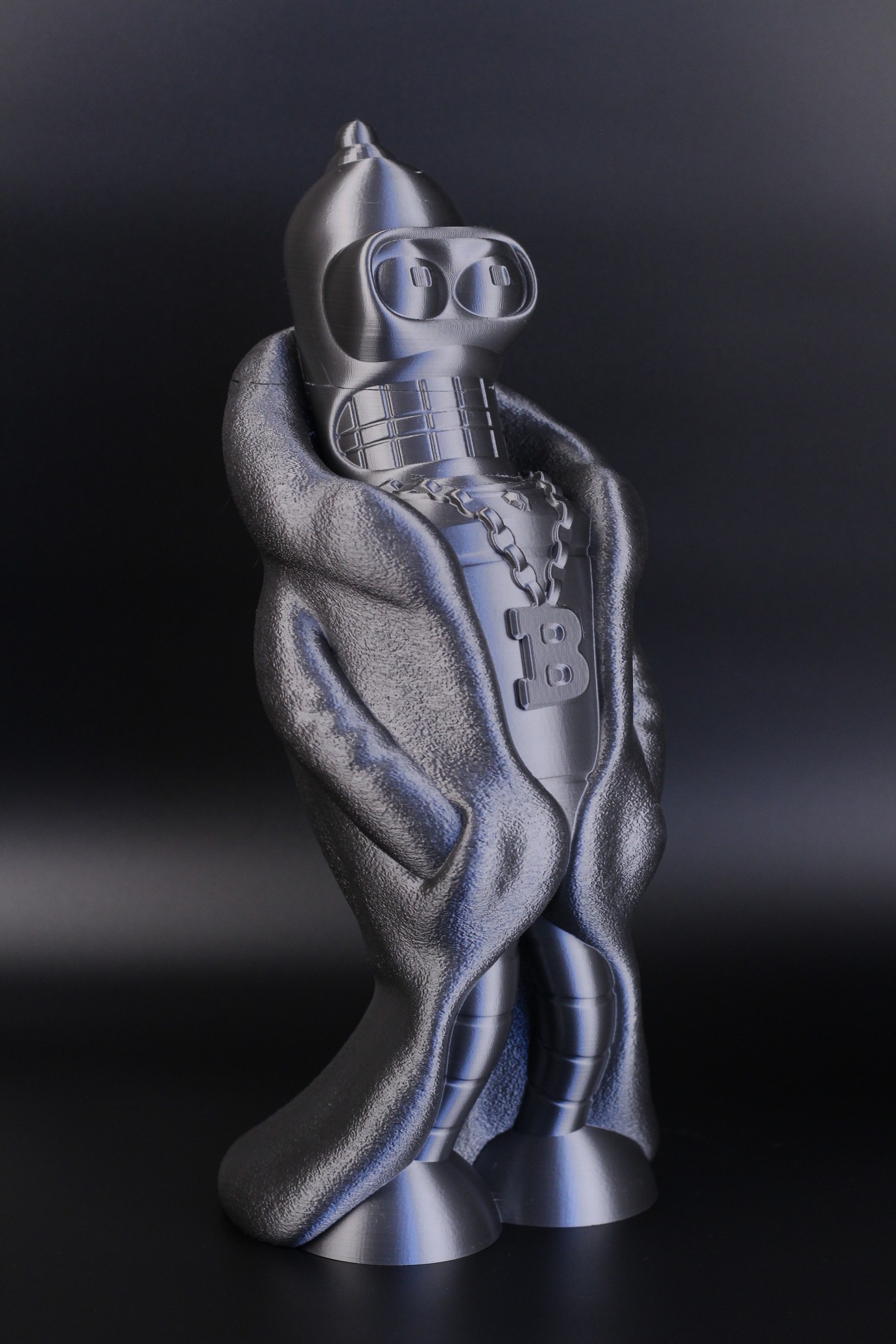 Anycubic Kobra
Of course, I needed to print the Anycubic Kobra model on the Anycubic Kobra Max printer. To speed things up, I did it using the 0.6 nozzle but it still took about 60 hours to complete. The end result looks ok and adhesion was great throughout the print.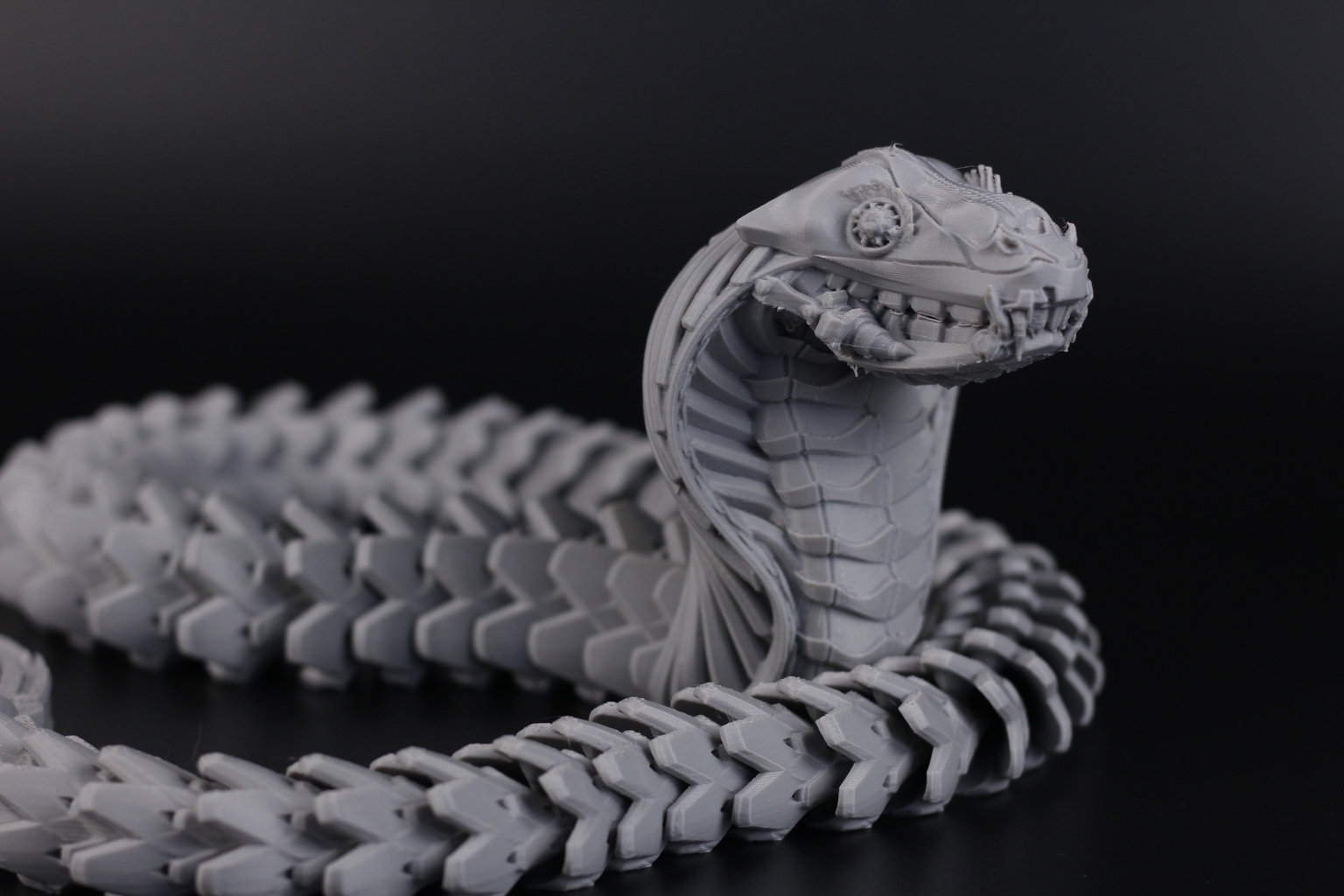 Material: Anycubic Grey PLA
Layer Height: 0.2mm
Nozzle Temperature: 205C
Bed Temperature: 40C
Print Speed: 50 mm/s
Twisted Ripple Vase
Finally, I printed the Twisted Ripple Vase in vase mode. I haven't printed a vase in a while and having the 0.6 nozzle already installed gave me the chance to do it. This print tool less than 10 hours and I love how it turned out.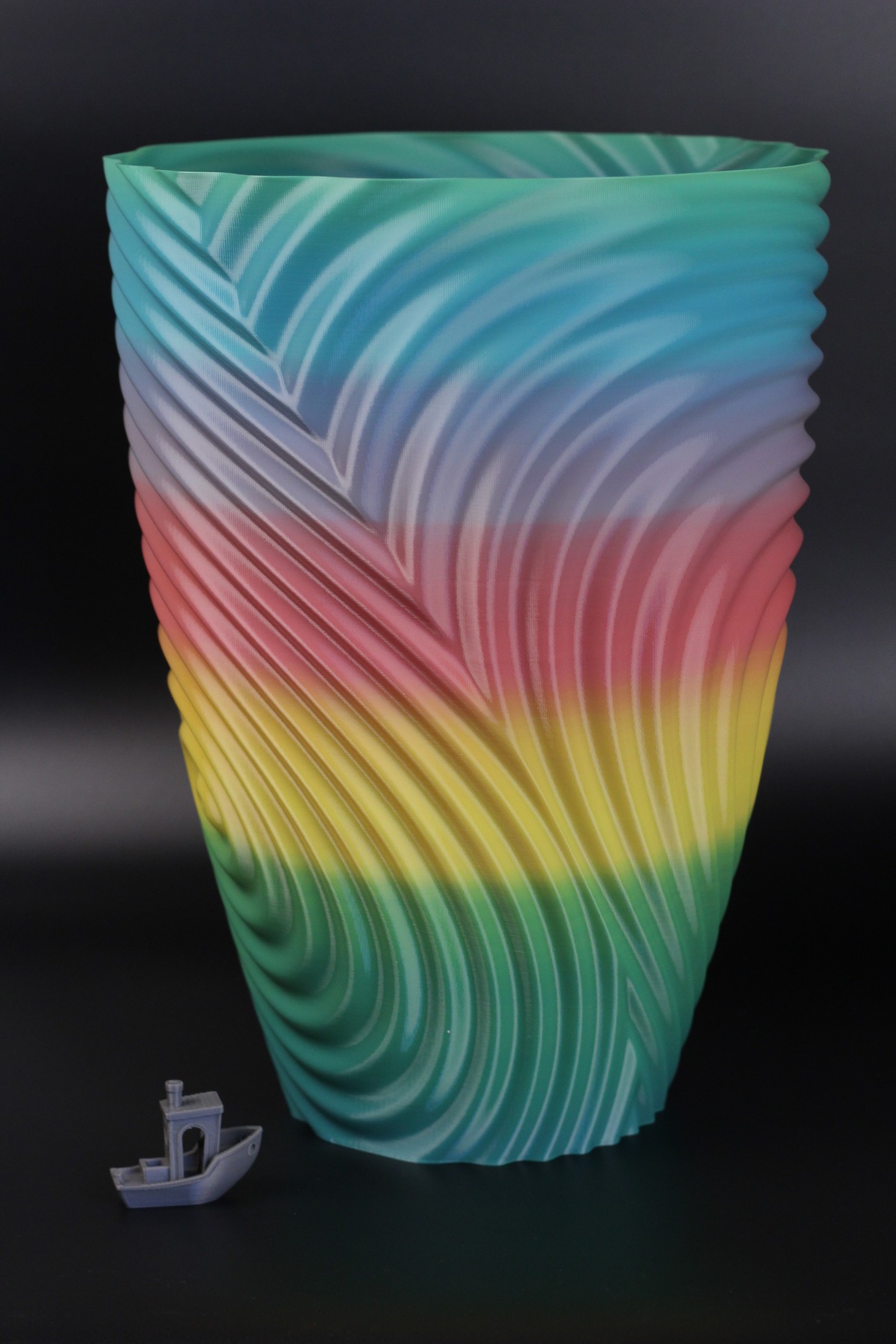 Material: Sunlu Rainbow PLA
Layer Height: 0.3mm
Nozzle Temperature: 210C
Bed Temperature: 40C
Print Speed: 30 mm/s
Conclusions: Is the Anycubic Kobra Max worth it?
I like the Anycubic Kobra Max, but I can't really say it's an amazing printer. Honestly, it's just an Anycubic Vyper, but with double the print volume. And that's fine if you're looking for something big, because the specs are good and the print quality is great.
If you are a prop maker, or your models need to be printer big, then getting the Kobra Max is a no-brainer. It's one of the cheapest printers out there and probably one of the best equipped when we compare print volume. Just don't forget to order some larger nozzles.
But if you plan to get a secondary printer and want to get the Kobra Max just because it's huge, I recommend taking some time to think about it better. This thing takes a lot of space, and it might be detrimental to the print speed if you print regular-sized models. It's not the faster machine out there, and it can't be considering how large and heavy that moving bed is.
Either way, do your own research before ordering and check out other reviews. The price of ~600 USD is fair for what you get, and I don't think you will be disappointed by this machine.
Anycubic Kobra Rating
The Anycubic Kobra Max is a great printer for people who are looking to print huge models. It has good print quality and performs as expected. But there's no reason to buy one if you don't plan to use the entire print volume constantly.
Where to buy the Anycubic Kobra Max?
The Anycubic Kobra Max was provided free of charge by Anycubic for the purpose of this review. While the article includes affiliate links, all opinions are my own. Nobody reviewed the article before it was posted, following the Review Guidelines.