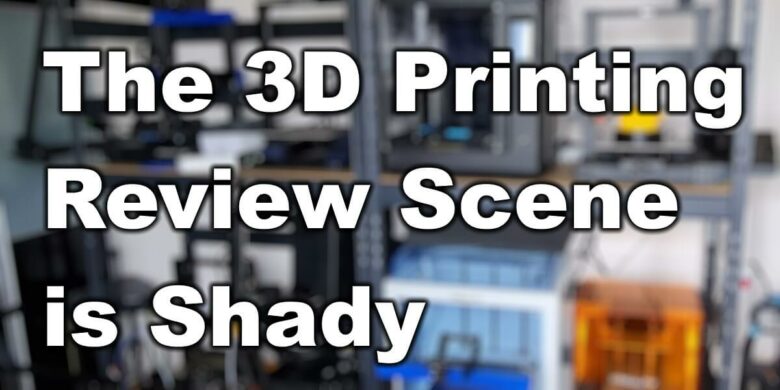 I must warn you right from the start, that this article might look like a rant, and it probably is. But I need to address this topic because sometimes I feel that trying to share accurate and truthful information about the products I review is getting harder. I want to see accurate and truthful information out there, instead of promotional marketing material.
Before I explain this in detail, please understand that this is my own opinion, and I stand by it. Feel free to share your own opinion in the comments section, but keep the discussion civilized.
Why do I say that?
First, I'll start by saying that I don't want to include every reviewer/influencer/content creator in this. But probably more than 50% of the websites and video creators out there are not completely transparent when using and reviewing a 3D printer or a related product. And I think that's a problem.
"Product Specs Reviews" based on Marketing material
This is the first type of review articles and videos which don't really offer more useful information compared to a regular product page, but they are optimized to show up in the first Google results as reviews. The sole purpose of these "reviews" are to convince the potential buyer that the item covered in that article is a good purchase after writing a few assumptions based on the images and details available.
What even worse is that websites like these rely on content stolen from other review websites or videos to enrich their articles without actually contributing with actual useful information that has been tested and verified. I know this because I find a lot of images and content from my website published on other sites without my permission. It's a constant battle that can't be won.
Here's a good example for this: The Sidewinder X2.
There are a few reviews out there which mention that the new Sidewinder is much improved compared to the old Sidewinder X1, with an all-metal hotend and an improved 700W heated bed. But that's not true
As you can see in my Sidewinder X2 Review, the heatbed seems to be just as bad as the previous version, and the hotend is still PTFE lined.
Paid Reviews without disclosure
The second shady practice is releasing paid reviews without actually disclosing this. Of course, these reviews are positive and show only the good sides of a product without covering the less ideal parts.
You might be wondering how I know this? Because I constantly get contacted by various marketing agencies, shopping websites and companies which ask me if I'm interested in doing a positive review, and how much I charge for this.
In a few cases I got a "doctored review" which was already written by the company based on my article format I use in my regular reviews. I was offered an important amount of money to publish it, but of course, that did not happen.
Here's one of the offers I got. There were offers with higher amounts ready to be cashed, which have been refused.

What's even more interesting, is that after receiving the same type of offer as others, it's easy to identify the other review sites or reviewers who accepted the offer, and don't even mention this in their article/video.
I also know that large 3D printing websites ask between 1000 to 3000 USD for posting a review, and most of the time, this is not disclosed. I can't mention the websites, but I know this from multiple companies which I talked with.
Sponsored reviews without other details
I also see this practice often. There are reviewers who mention that a specific company sponsored a particular review, but don't go into the sponsorship detail. Some reviewers consider that getting a review sample turns the content into a sponsored review. But others also get paid to review a product, besides getting the actual review sample.
I don't think getting a review sample can be considered a sponsorship because it's usually the best way for both the company and the reviewer to generate content about a product, and in some cases, the items are just loaned by the company.
But only mentioning that the article/video is sponsored, doesn't really give the user a proper understanding about how this sponsorship happened and what it means when it comes to the review results. I'm 100% sure that it's hard to be impartial when you get paid a sum of money to review a particular product.
Beta product reviews
In my opinion, reviewing beta products makes no sense because the purpose of a review is to test an actual product which is available to purchase by a regular person. There have been a lot of situations where a beta product was changed during production, and the product received by the buyer was different.
So, how fair is it to review a beta product for the consumer? The beta product might work well, and the reviewer could recommend it as a good purchase, but the buyer will receive a different product which might be worse.
I tested a bunch of beta products since I started the website, but I never published a review for them, or even an official opinion. Instead, I offered a detailed feedback list based on my experience, to the company who developed that products. Some took the feedback and actually implemented some of my recommendations, but some just ignored it completely.
Other companies even stopped sending me review units, because I refused to publish a review to a beta machine, even though I specifically mentioned that I don't review beta products. This is after previously discussing this and agreeing that it's a beta machine, and I will only provide feedback about it.
I also "missed out" on a lot of 3D printers because I didn't accept to write a review for a beta product, and when the retail product was available, the manufacturer wasn't interested in sending me the retail unit.
I considered writing articles about beta products, where I can go over the current status of the product, and maybe even gather some feedback which the manufacturer could use in the further development of the product, but I am not sure how much interest would be for something like this. Besides that, it also takes time from my already limited time I can dedicate to writing articles which are actually helpful for readers. I'm curious to know, what's your opinion about this?
What I expect as a consumer
In my reviews I always try to cover every question I might have about the product, if I were to look for a review online.
So here are some of my expectations for any kind of review I read:
Product source – if it was purchased or received as a review sample and the source
Review type – if the reviewer has been paid to review/talk about the product
Accurate information – details about the product and its components after actually using the product, and not from information available online or after reading/watching other reviews
Lately, it's actually quite hard to get all this from videos or reviews found online. Fortunately, there's still some people out there who do this right. One of my favorite YouTube reviewers is Lon Sideman who does a great job reviewing various products while also checking all of my review disclosure expectations.
My review policy
If you haven't read it already, here are my Review Guidelines I follow for any product that gets a review. I received multiple offers to skew my review guidelines and those were instantly rejected. Besides that, there are a lot of cases where some company contact me to review a particular product, but when I send the review guidelines, there's no other reply from them.
Current situation for 3DPrintBeginner
After sharing some experiences and my opinion, I can now tell you about the current situation for the 3DPrintBeginner website and what to expect in the future.
As you might know, this website is just a side project for me. I still have a day job, but the passion for 3D printing made be start this website to help others with my experience, and provide truthful and accurate information about all the items I test and review.
The website is funded by the generous donations from my Patreons, readers, and some affiliate links kickback which helps me get more hardware and consumables to dedicate more time to 3D printing. There's are some AD banners present on pages, which help pay for hosting a fast website. I don't like intrusive ads and I'm sure you don't like them too.
In the last two years, I had the chance to test and review various 3D printers and 3D printer related hardware from various companies. Some products were offered directly from the company, while some were offered by different online shops.
For all my published reviews, I strictly followed my review guidelines and every information I shared was based on my testing and experience I had with that specific product. I try to be as thorough as possible when writing a review, to give the buyer a good amount of information before he makes a purchase decision.
Even though I also use affiliate links, I never try to influence anyone by putting a product in a good light, and I think that can be seen in most of my reviews where I always cover both positive and negative. Besides that, every review includes a clear statement about the product source so the reader can easily understand my position.
Unfortunately, the amount of reviewed products will probably decrease in the future. First, because I'm a much smaller player in this 3D printing game, and I don't have the same public as the big guys in the 3D printing scene. And that's fine. I'm not looking to get famous.
The second reason would be that I don't plan to change how I write reviews about products, and I don't plan to break my review guidelines. Because of that, some 3D printer companies won't be sending review samples my way in the future. It's easier to send them to others who can always put them in a good light, and create more sales.
And trust me, I don't need yet another printer. Currently I have over 35 different printers at my disposal, which take up a lot of room and to be honest, are not even used that often. But I love testing new printers and offering accurate information which is helpful for others.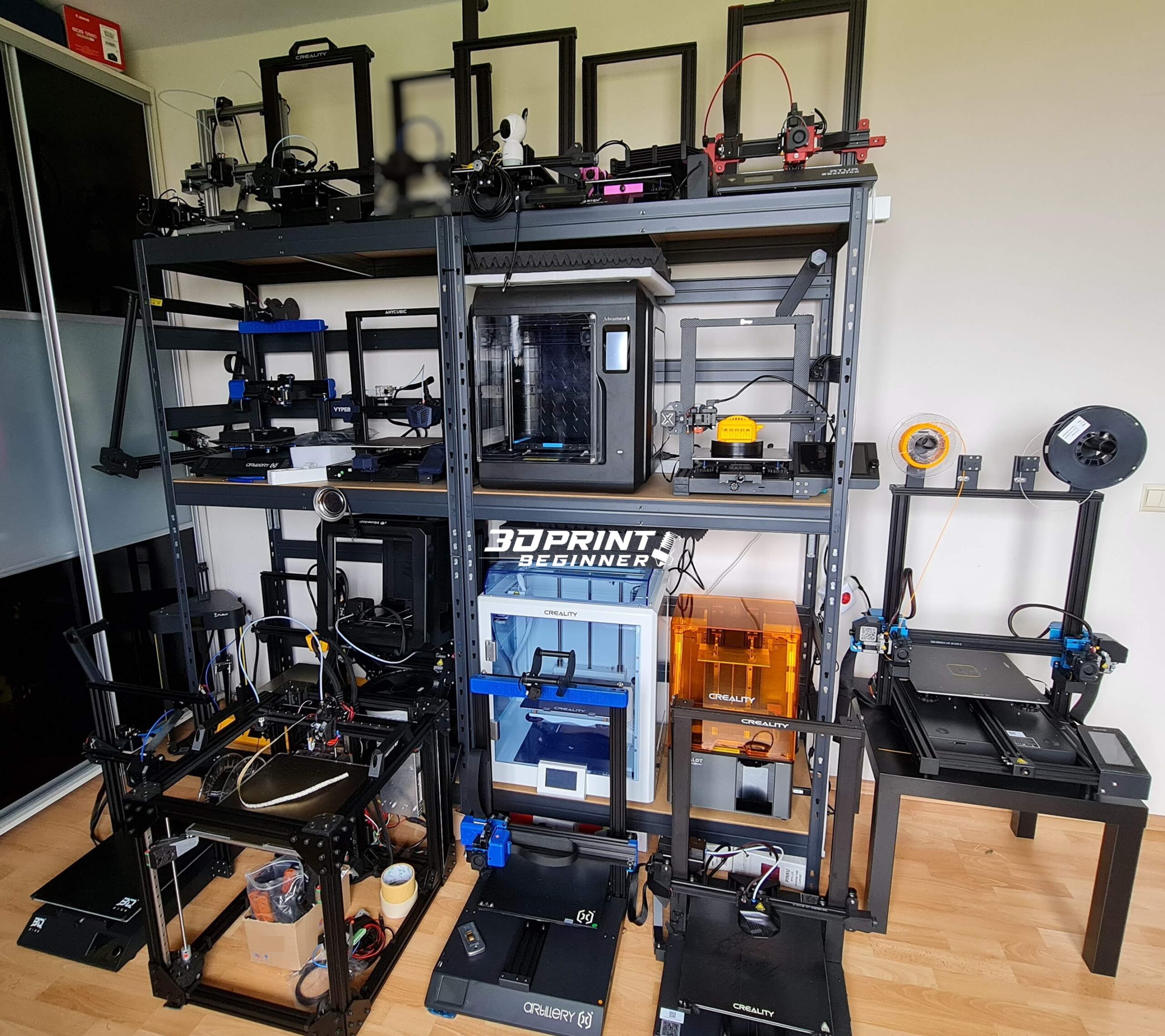 For example, I had a good relation with Banggood where they provided a lot of 3D printers for me to review, and they fully agreed to my review guidelines without asking for any kind of condition or promotion. I even get discount codes which I can share with my readers. This "partnership" also works well because I am always confident that the product I receive to review is similar to what the end user will get.
Wrapping up
I don't think I have any kind of influence about the current situation, but I can promise that I will do my best to try and make things better for the end user. And I hope others will do the same thing because we are currently flooded by waves of ads that always try to sell us something.
I am not writing reviews and guides for the companies selling the products, but instead I do it for the people who are interested in this hobby and I will not break my own values for profit. You have my word. That's why I appreciate any kind of support from your side because it allows me to continue what I do while being independent.
I would love to hear what is your opinion about the current review scene, and what you expect from the 3D Printing content you read/watch. That way, I can also improve myself and the content I create.