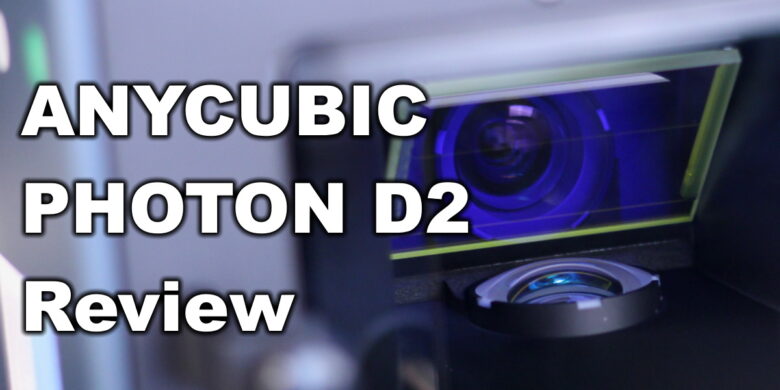 Most resin printers available right now use the MSLA technology for printing, but Anycubic just launched their new Anycubic Photon D2 printer which is a DLP resin 3D printer.
The Anycubic Photon D2 uses a projector instead of a UV light and a screen which allows it to be much more precise. Anycubic says that the Photon D2 is comparable to an 8K printer when it comes to print quality, so in this review, we'll see if that's true and if the Anycubic Photon D2 is worth buying.
Anycubic Photon D2 Shipping and Packaging
The Anycubic Photon D2 comes in a relatively compact cardboard box with foam protection inside, to ensure the printer is delivered in good condition. It's also lighter than I expected, but that's understandable considering that the components in this DLP printer are different compared to an MSLA printer that requires a bigger light module with bigger heatsinks.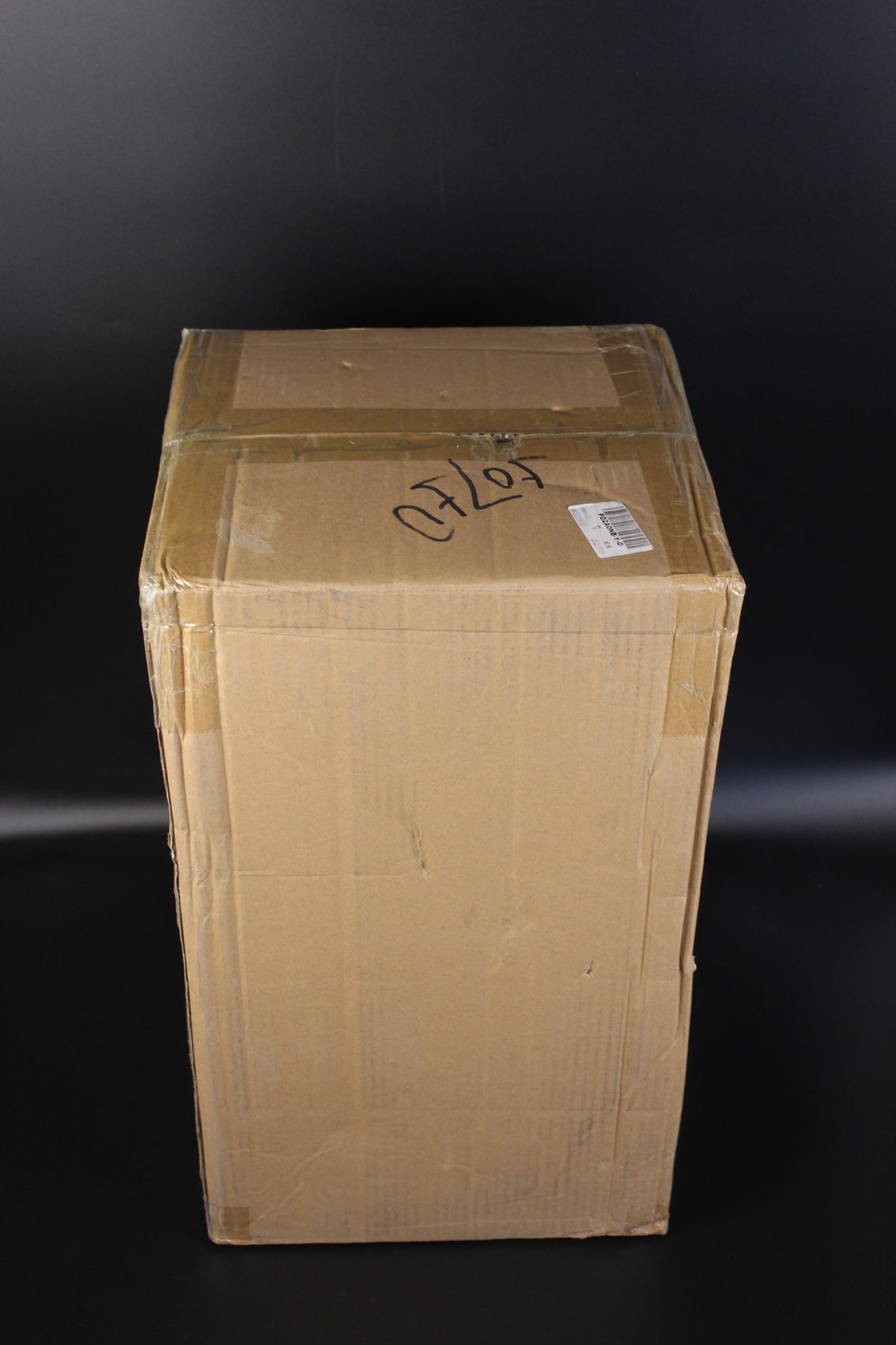 Anycubic Photon D2 Design
The Anycubic Photon D2 is not much different compared to any other resin 3D printers out there, as the main changes are in the lighting department and the way it works. So we get the same plastic cover and base with a touchscreen in the front.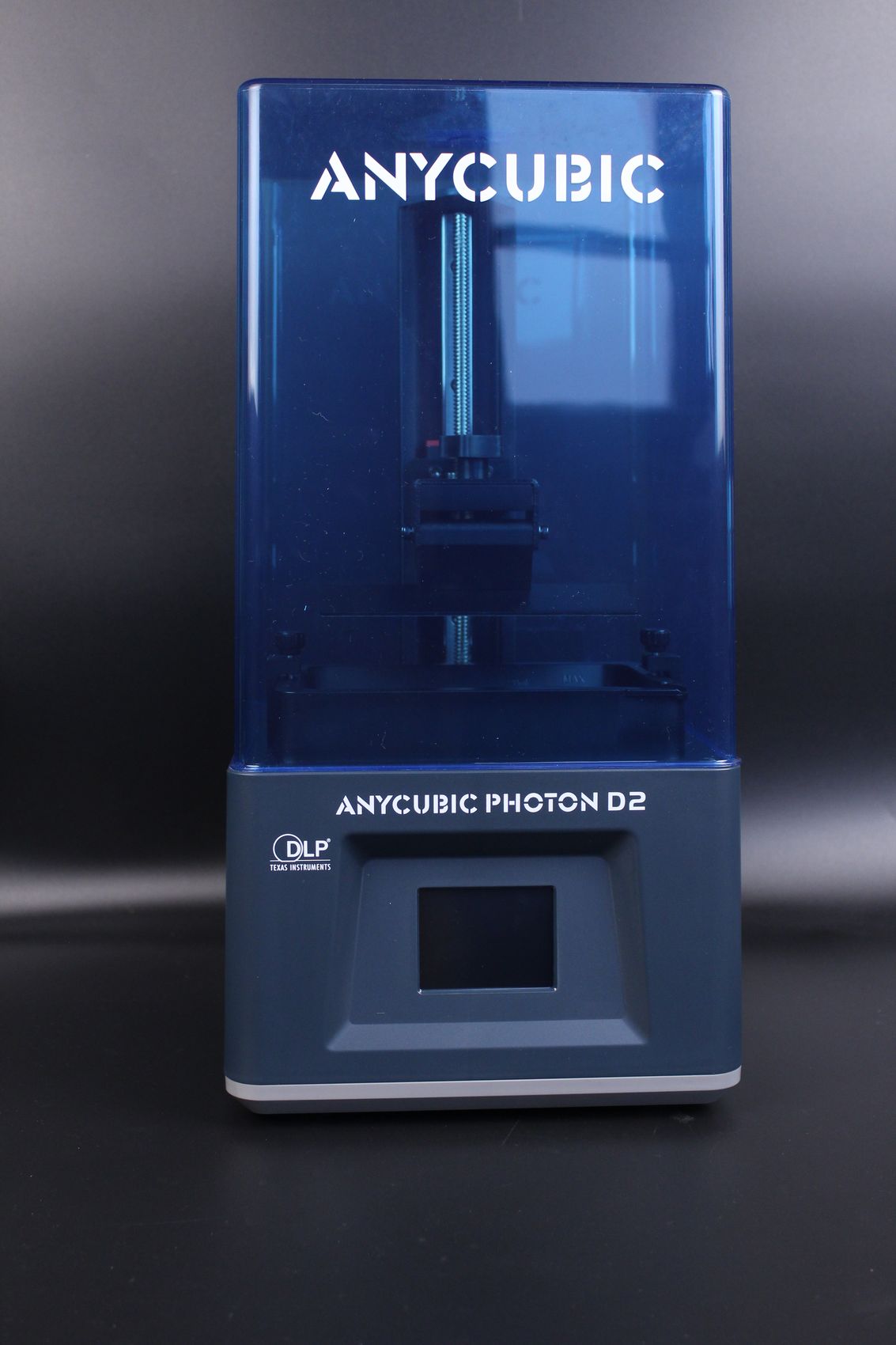 On the right side of the printer, we have the power-on button and the USB connector for the USB drive where the files are stored.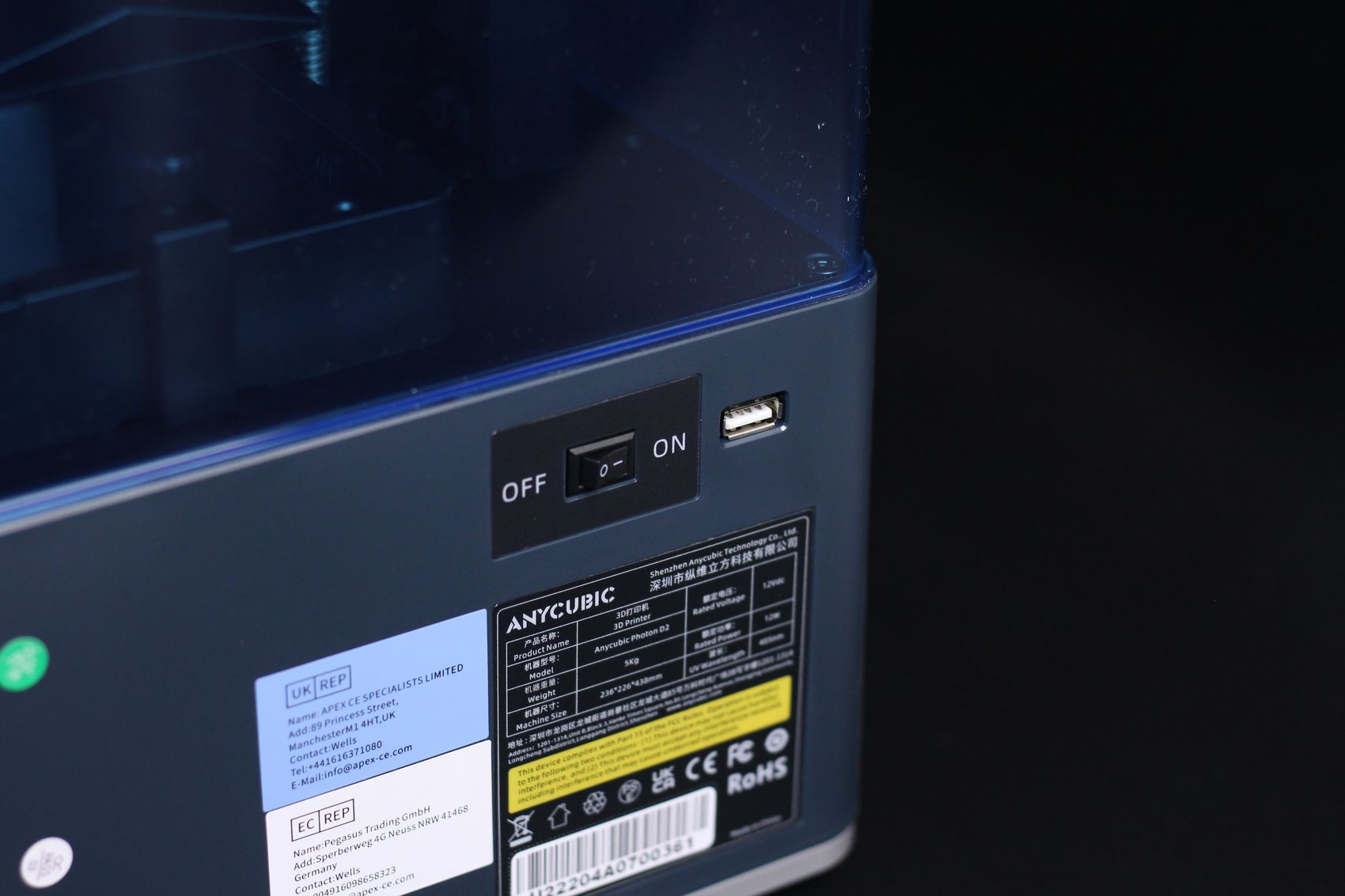 DLP vs Regular LCD
As you might know, a regular MSLA resin printer uses a screen somewhat similar to what you have on your mobile phone. UV light is turned on from the bottom which illuminates the screen to create the layer for printing and the screen masks the area which is not printed.
While this technology works, it is less accurate than DLP because small amounts of UV light can still bleed around the masked sections lowering the amount of details of the printed model.
DLP technology uses a projector which is much more accurate as the image of the model is directly projected on the screen eliminating the light bleed present in MSLA printers.
If you need a very good explanation about the DLP technology, Zack Freedman did an awesome job in this video:
Anycubic Photon D2 Specs
5.9-inch screen size with 2560×1440 resolution
You might be thinking that having a 2K resolution is detrimental for the D2, but we need to remember that it's a DLP printer. Even with a lower resolution, the amount of detail is significantly higher than a regular MSLA printer so don't stress about the resolution too much.
Compared to the old Anycubic Photon Ultra, the screen size increased from 4.6 inches to 5.9 inches while the resolution was bumped up from 1280×720 to 2560×1440. This increase allows the printer to have a much larger PPI for super-high detailed models.
DLP projector for higher quality prints
As previously mentioned, having a DLP projector allows the printer to achieve better details for the printed model, compared to a regular MSLA resin printer.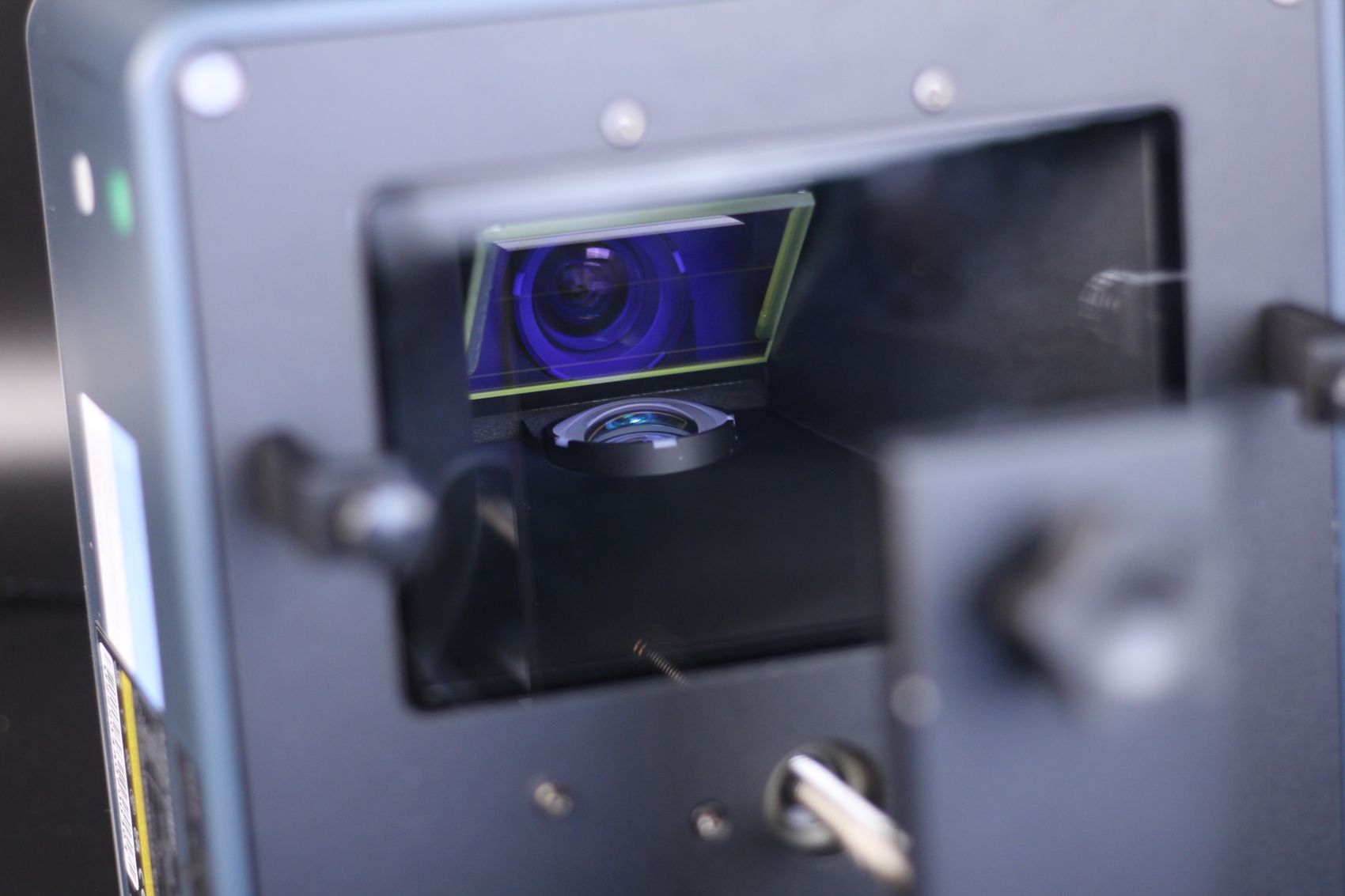 Another benefit of using a DLP projector in the Anycubic Photon D2 is the increased lifetime. A regular MSLA printer using a monochrome screen has a lifetime of about 2000 hours while the DLP projector can reach up to 20.000 hours of print time which is 10 times longer.
But wait! There's another benefit for DLP and that's an increase in printing speed. As the light is directly projected on the resin, it requires less time to cure a layer so print time will also be lower allowing you to print a larger number of models in the same time as a regular MSLA printer.
Or at least that's the theory, a in practice I wasn't able to see a print speed difference compared to other resin 3D printers I've tested. It's still a fast printer, but nothing significant compared to any other monochrome screen machine out there.
Plastic Vat
A plastic vat is used to contain the resin during printing. It's not very large, but it's good enough for holding about 250ml of resin when starting a print. There are handy marks on the back of the vat to show the resin levels.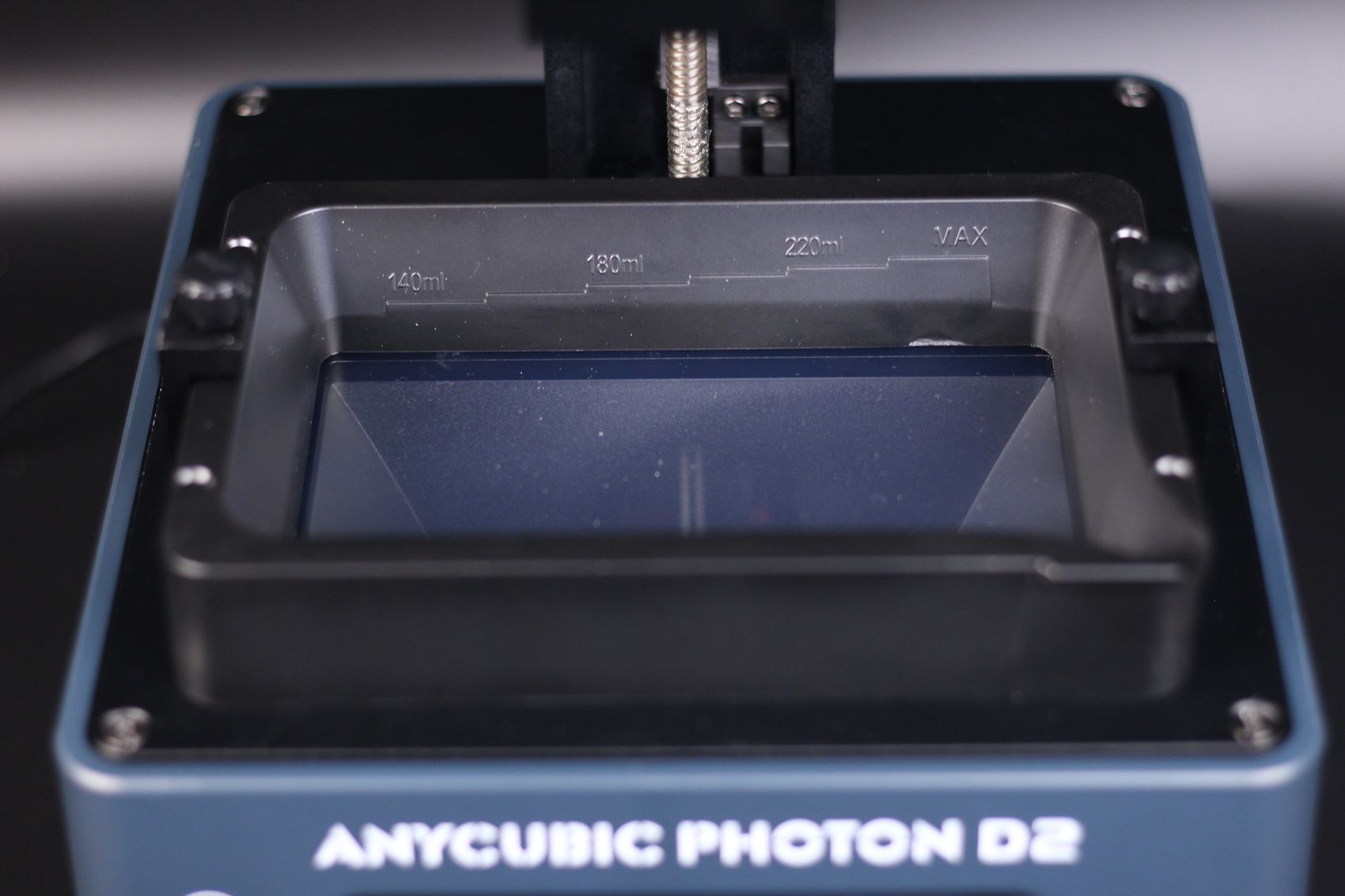 While made from plastic, I don't think there's a problem with the build quality as the resin vat is sturdy enough so I don't see any problems over time.
2.8-inch touchscreen
In the front of the machine, we have a 2.8-inch resistive color touchscreen with the regular options we find on the resin 3D printers. It works well and I can't really complain about it. Considering that it will mostly be used for starting a print, it's more than enough.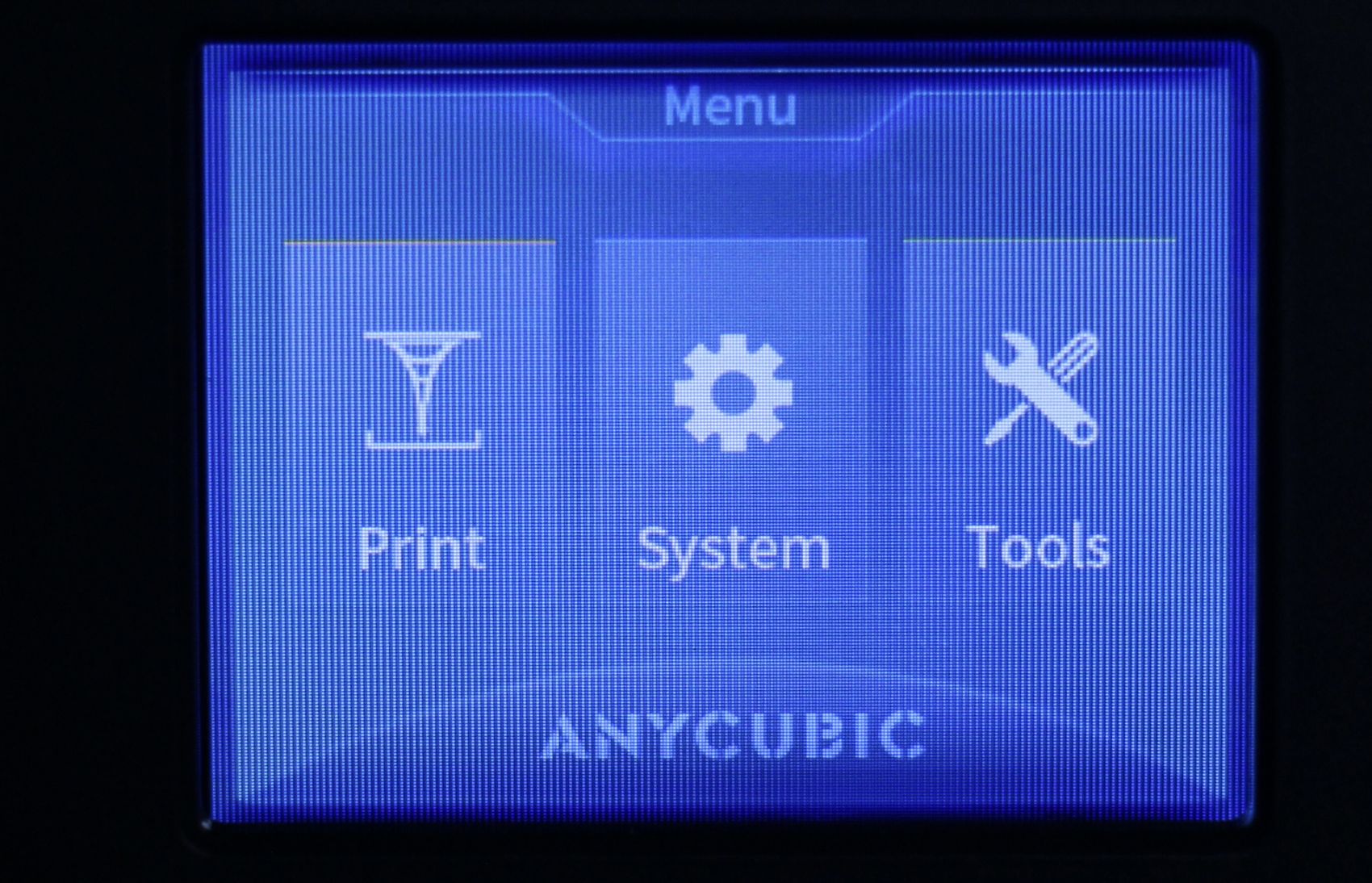 Aluminum build plate
The aluminum plate included with the Anycubic Photon D2 has a laser-etched texture to help with adhesion, and during my time with the printer, I didn't have any issues with it. Models adhere well to the plate while also being quite easy to remove when completed.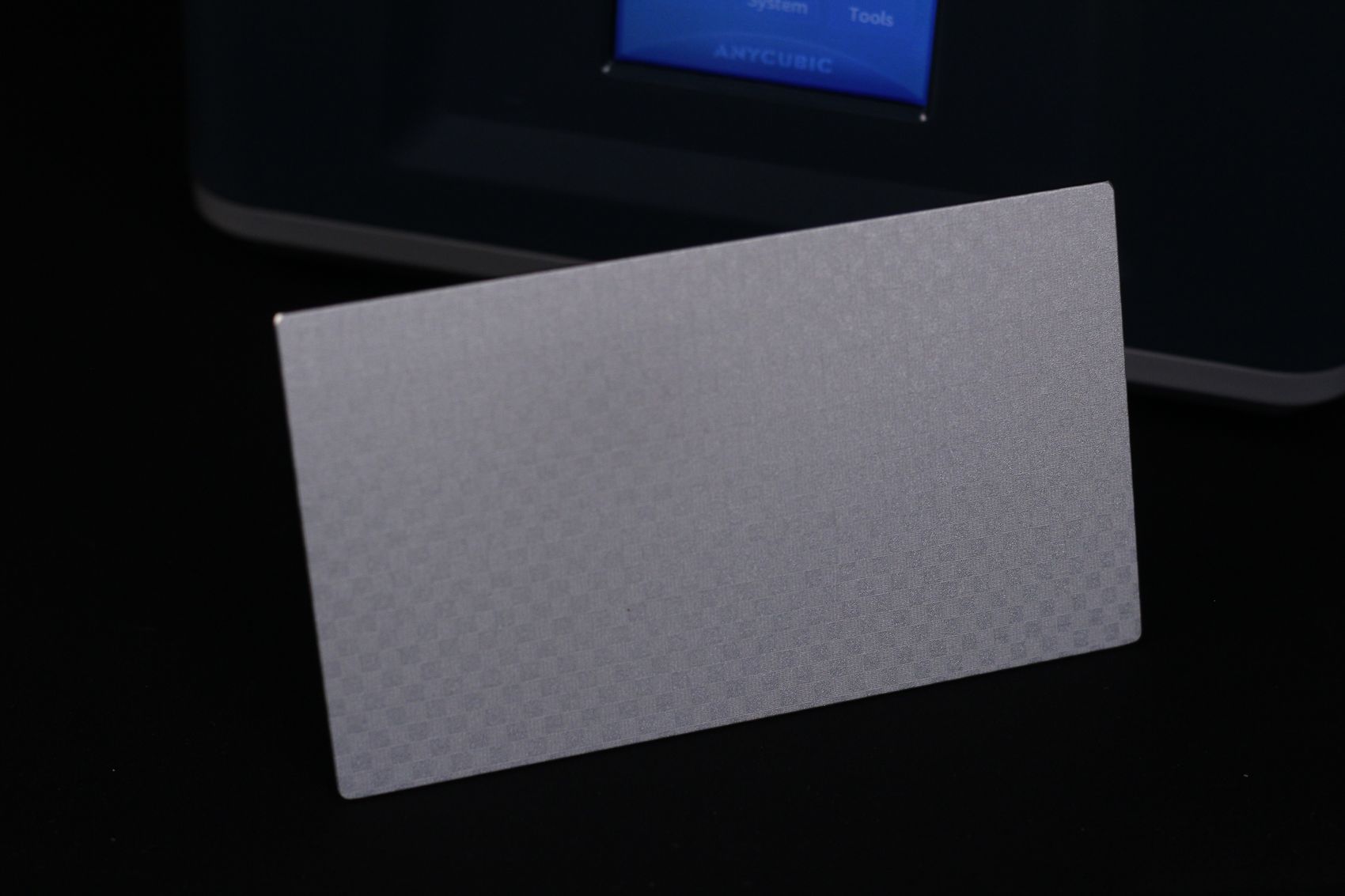 The only thing worth mentioning is the fact that you need to attach the bracket holding the build plate when unboxing, but that takes about a minute so I'm good with that.
Power Draw.
Idle power draw is around 4W. After it starts printing, and the layers are cured, the power draw is around 8W. This is just mind-blowing for me, considering how little power the machine uses. There might be some inconsistency in the measurements when the power draw is so low, but the printer is still very efficient.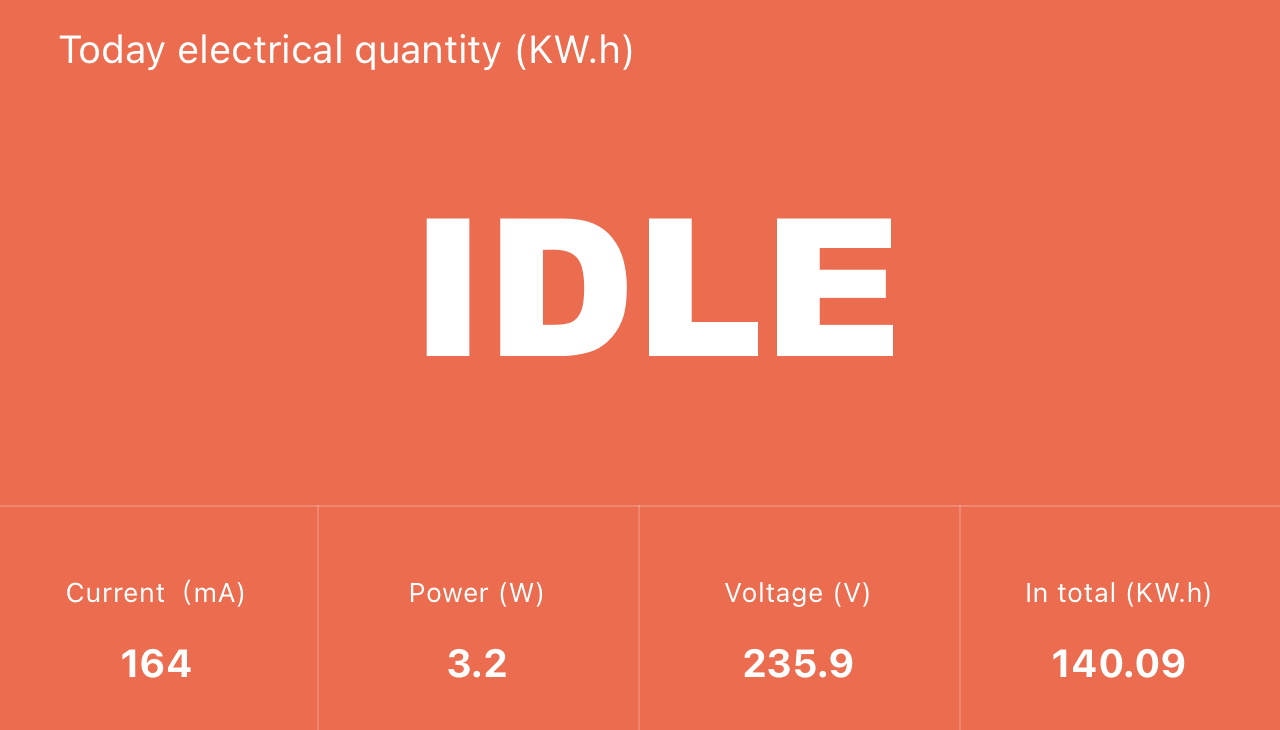 All these measurements were taken with a Blitzwolf smart power socket which indicates the power draw, and it can also be used for remotely powering on and off the printer.
Anycubic Photon D2 Noise Levels
When printing, the Anycubic Photon D2 is super quiet and it's probably the quietest resin 3D printer I have ever used. I took a video of it during printing, but it's hard to really show this in a video.
Either way, I love it and hope other manufacturers focus more on the noise levels of 3D printers.
Test prints on Anycubic Photon D2
Anycubic Test Model
The first model I've tried with the Anycubic Photon D2 is their test model included on the USB drive. The supports are not tuned well, so I haven't removed them, but I love the amount of details the printer is able to deliver. Every tiny detail in the model is clearly represented and I am very happy with how it turned out.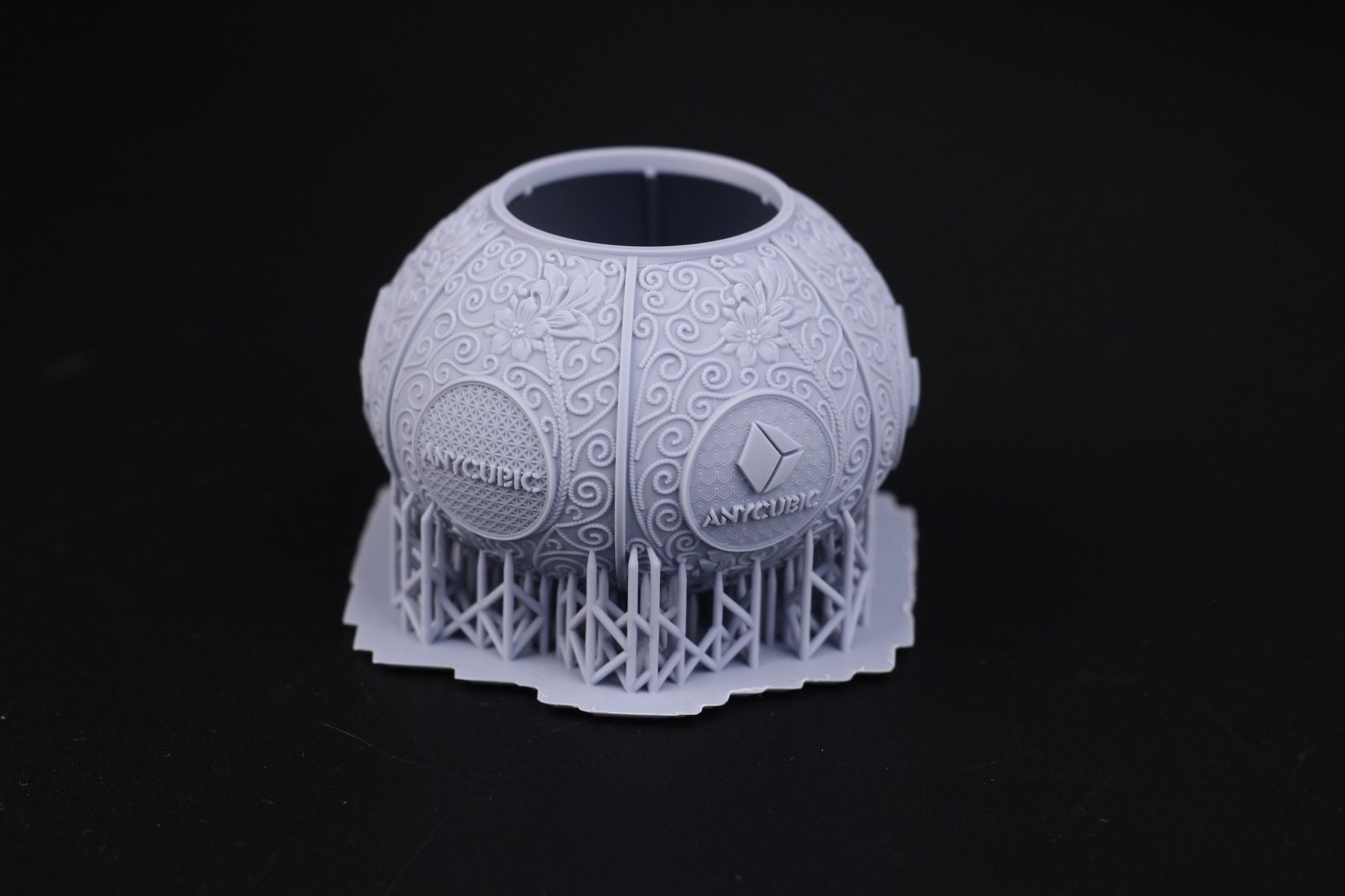 Mandalorian Bust
The second print done on the Anycubic Photon D2 is this awesome Mandalorian Bust from Fotis Mint. It was printed with a lower exposure time of 2 seconds which wasn't enough and the model lost a bit of support. Because of that, there are small Z banding problems on some parts of the model, but other than that, the print turned out great.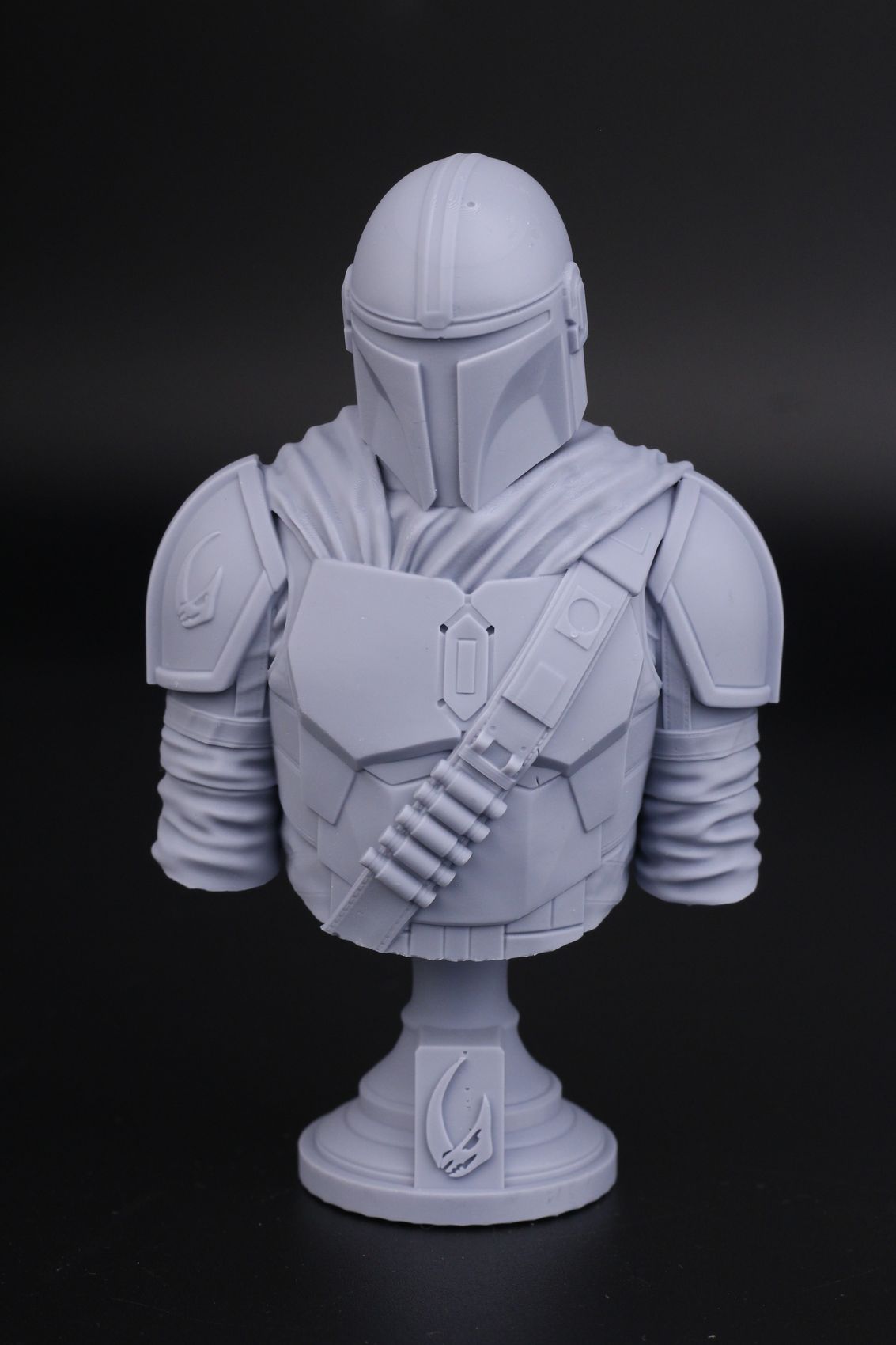 King of the Dead
An excellent test for the Anycubic Photon D2 is this King of the Dead model from Fotis Mint. There's a huge amount of detail modeled into this bust, and the Photon D2 managed to print it easily. Ther pictures really don't do justice to how clean this model looks in real live. Really happy with the results.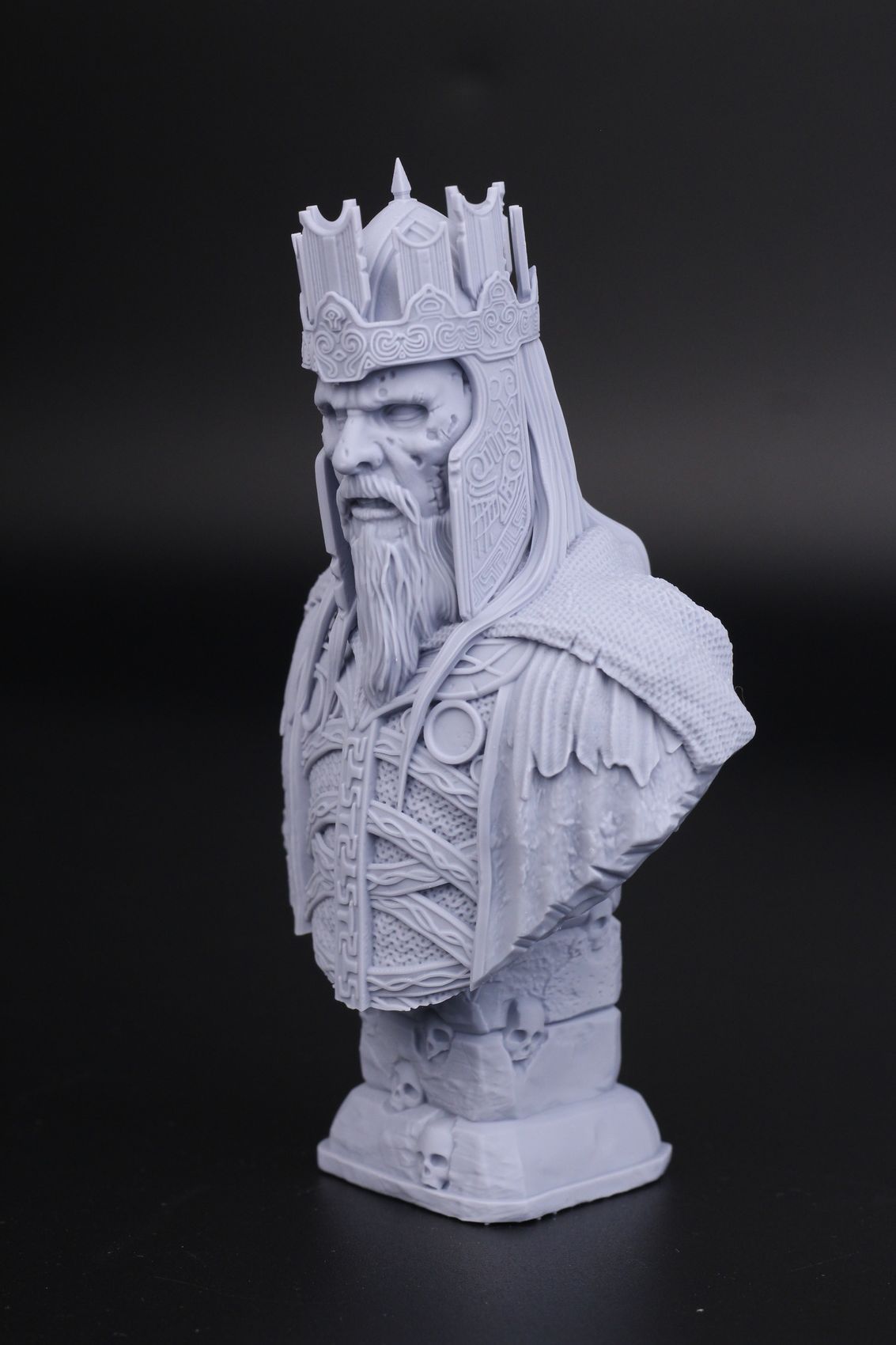 Gul'Dan Bust
I also print this Gul'Dan bust form Fotis Mint on most of my reviews as it is a good test for checking out the detail. I also print it often as I have friends who love World of Warcraft and always take my Gul'Dan busts away when they visit. So I need to keep printing them.
The details produced by the Photon D2 are excellent, and I can't really complain about anything in this case.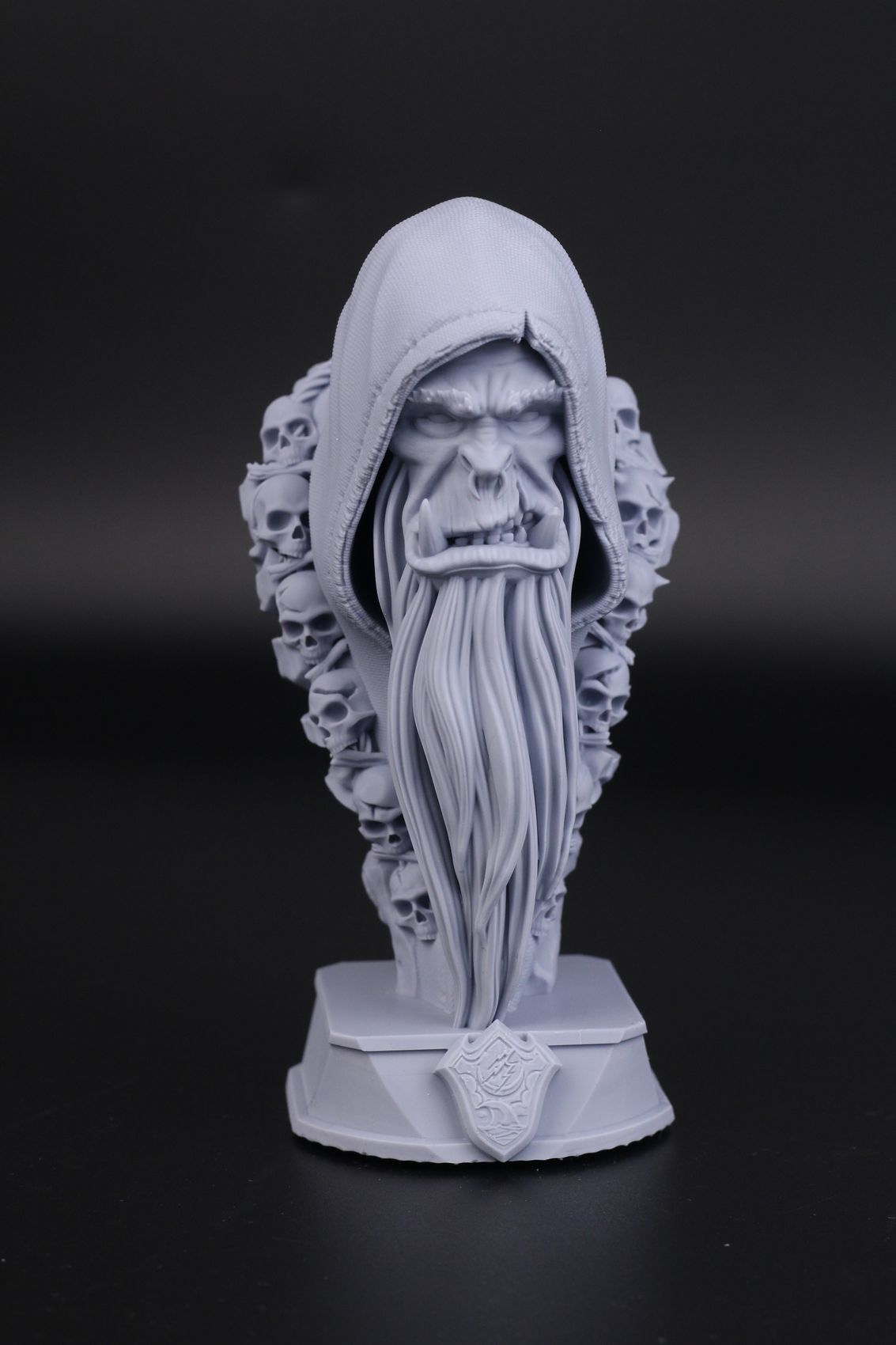 Ryuk
Finally, we have this Ryuk model from Fotis Mint which is also very well printed with ample amounts of detail. You can even see the tiny marking on his Death Note which is great. I really have a hard time finding any flaws in how this printer performs.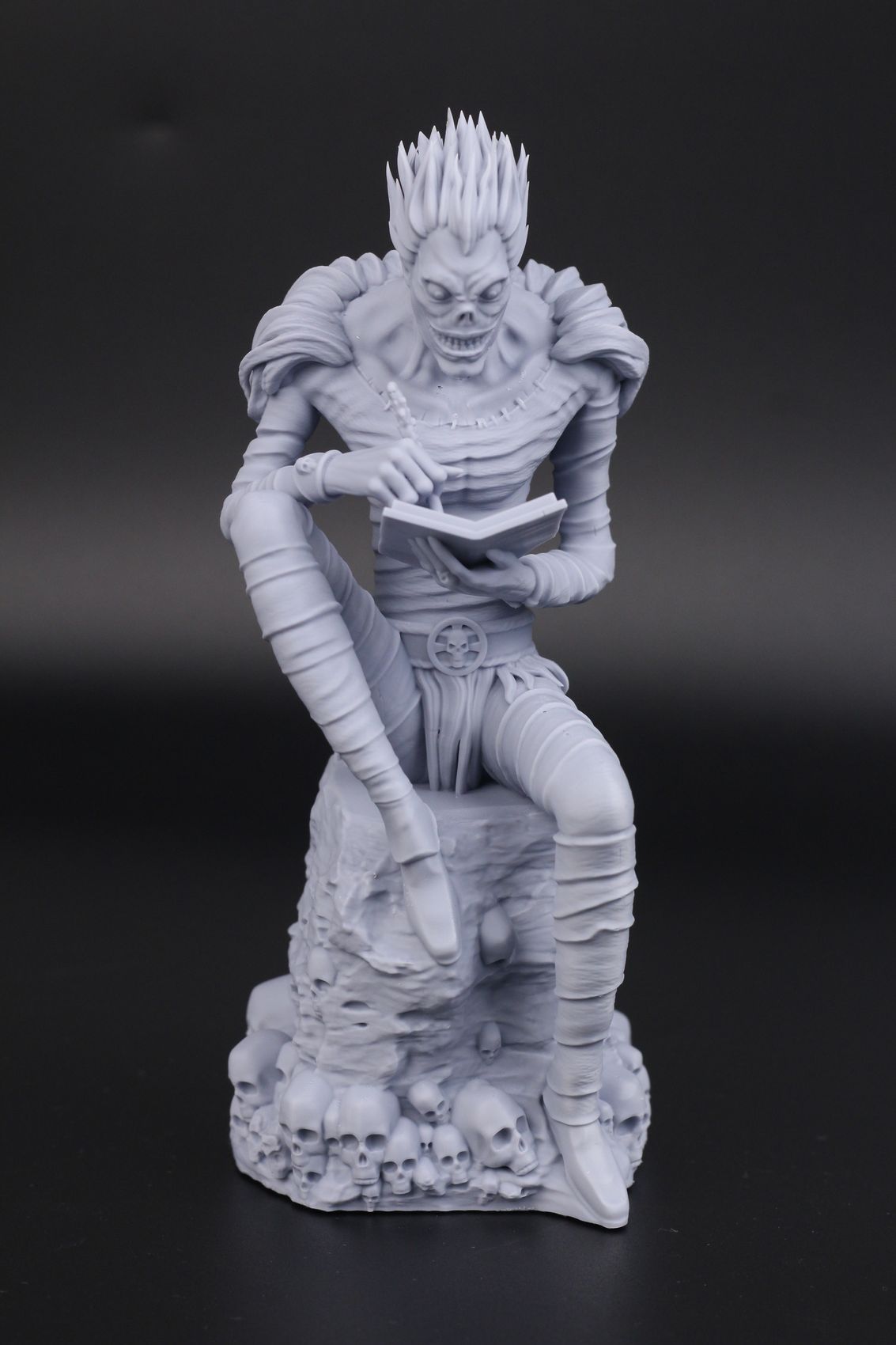 Conclusions: Is the Anycubic Photon D2 worth it?
If you are looking to get extremely detailed prints, then I have no problem recommending the Anycubic Photon D2. The DLP technology really is the future when it comes to resin 3D printing, and being able to purchase the D2 at a much lower price compared to other DLP printers is great.
Of course, this might not be the best printer for you if you are looking to print larger models, as the smaller printing volume of the Photon D2 can be limiting in some cases. Truth be told, when you print larger models, there's not much benefit from the extra sharpness you get with a DLP printer so don't worry too much. To the naked eye, even a 4K larger format 3D printer produces similar results when talking about larger models.
In the end, it all comes down to your needs and what you plan to print with your resin 3D printer. The Photon D2 performed excellently in my testing, so if you have a need for it and also have the budget for it, you won't be wrong buying it.
Considering that the Phrozen Sonic Mini 8K is sold for a similar price, I think it's totally worth it to buy the Photon D2 instead. But as usual, check out other reviews before making a purchase decision, to ensure you get other opinions.
Anycubic Photon D2 Rating
The Anycubic Photon D2 is one of the most silent and power-efficient resin 3D printers out there, while also printing with incredible detail. If you have the budget for it, I see no reason not to get one.
Where to buy the Anycubic Photon D2?
The Anycubic Photon D2 was provided free of charge by Anycubic for the purpose of this review. While the article includes affiliate links, all opinions are my own. Nobody reviewed the article before it was posted, following the Review Guidelines.