Sponsored
Official Sale for Creality K1 and K1 Max Speedy 3D Printers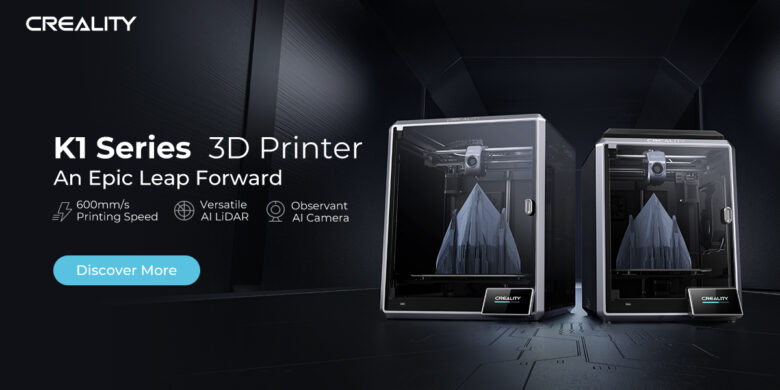 Creality, a global pioneer of 3D printers, unveils the K1 series FDM flagships, including K1 and K1 Max, packed with speed and technologies, on April 9, as it marks the 9th Anniversary themed "Reflect and Renew".
K1 comes with 600mm/s speed, hands-free leveling, and trustworthy print quality without breaking the bank. K1 Max further dials up the features, promising AI-assisted printing, and a 300x300x300mm larger build volume. Both machines are now trending high.
Speed is an aching need for FDM 3D printer users, especially when they have to print a larger model for days or even months. It can be tempting to crank up the speed of a regular 3D printer, but the quality often flops. Many printer makers including Creality are eager to pitch in, since the market has become glutted with slow printers.
The professional CoreXY machines serve to further Creality's goal of "evangelizing" 3D printing, making high-speed, high-quality printing more widely accessible to users of all levels.
So, the K1 series was born. No doubt, it is well poised in the current speed race, considering the $599 price for K1 and the $999 price for K1 Max.
Features of the Creality K1 and K1 Max
King of Speed
What really sets the K1 series apart is the thrilling max speed of 600mm/s, which is 12x faster than a regular 3D printer and even faster than the fastest (500mm/s) 3D printer on the market. The series adopts the widely-hailed CoreXY structure.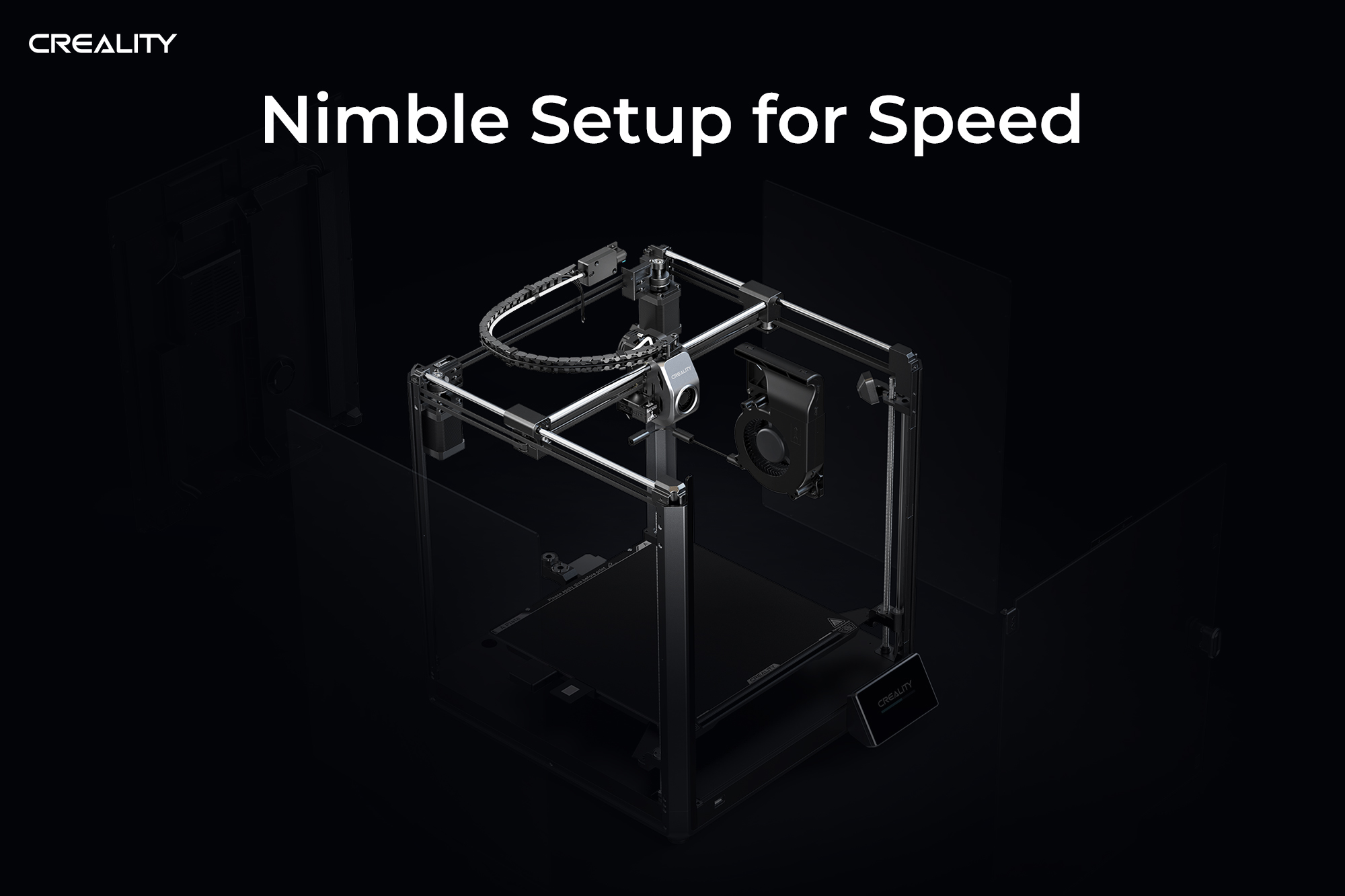 By this structure, the integrated XY gantry carries the busy printhead, while the Z together with the hefty heatbed is driven by a separate motor. Moreover, the printhead weighs only 190g, more agile than ever. Both printers can reach impressive maximum print speeds of up to 600mm/s in just 0.03s, at a maximum acceleration of up to 20000 mm/s, fitting neatly for speedy printing.
Printhead with 32mm³/s Max Flow
High flow is essential for faster printing which requires more filament to flow out the nozzle each second. The K1 series introduces a nifty gizmo for this purpose, a new ceramic heater encircling the hotend. It can heat the hotend up to 200℃ in just 40 seconds and melt various filaments instantly. This allows the molten filament to keep pace with the machines' fast printing speeds, achieving a flow rate of 32 ㎣/s. A dual-gear direct drive extruder and a titanium alloy heat break are also employed for better extrusion.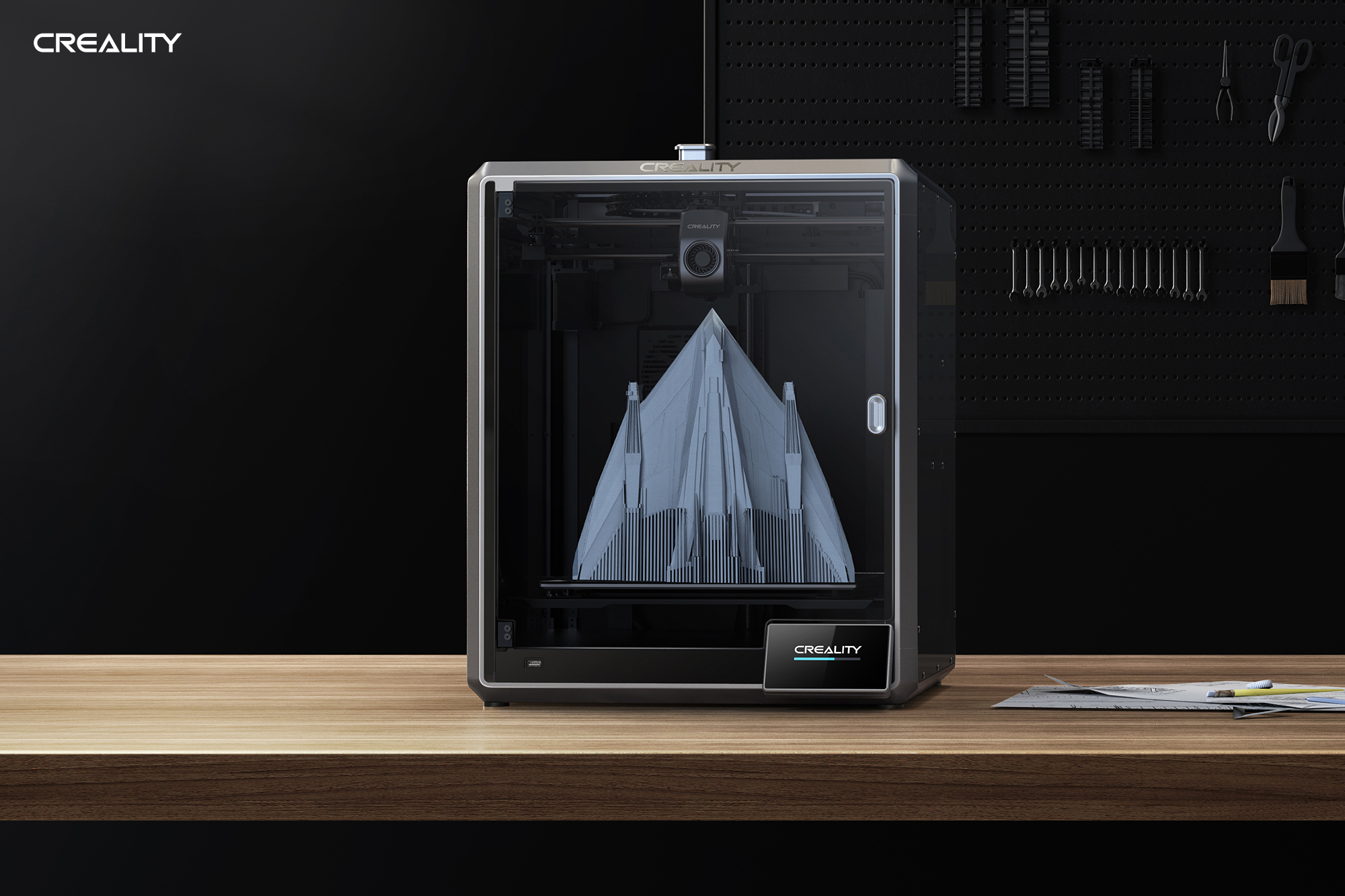 Enclosure & Cooling
It is apparent at a single glance that both K1 and K1 Max are fully enclosed, including the top side. With the enclosure blocking drafts and providing a stable ambient temperature, both printers are meant to print well with warp-happy materials like ABS, PC, and PA at a high temperature.
For better model cooling, Creality puts two fans in the series, one on the printhead, and another in the build chamber, so that the freshly printed model can be set instantly after leaving the nozzle. The stringing and warping are said to be so little that it enables support-free bridges and overhangs.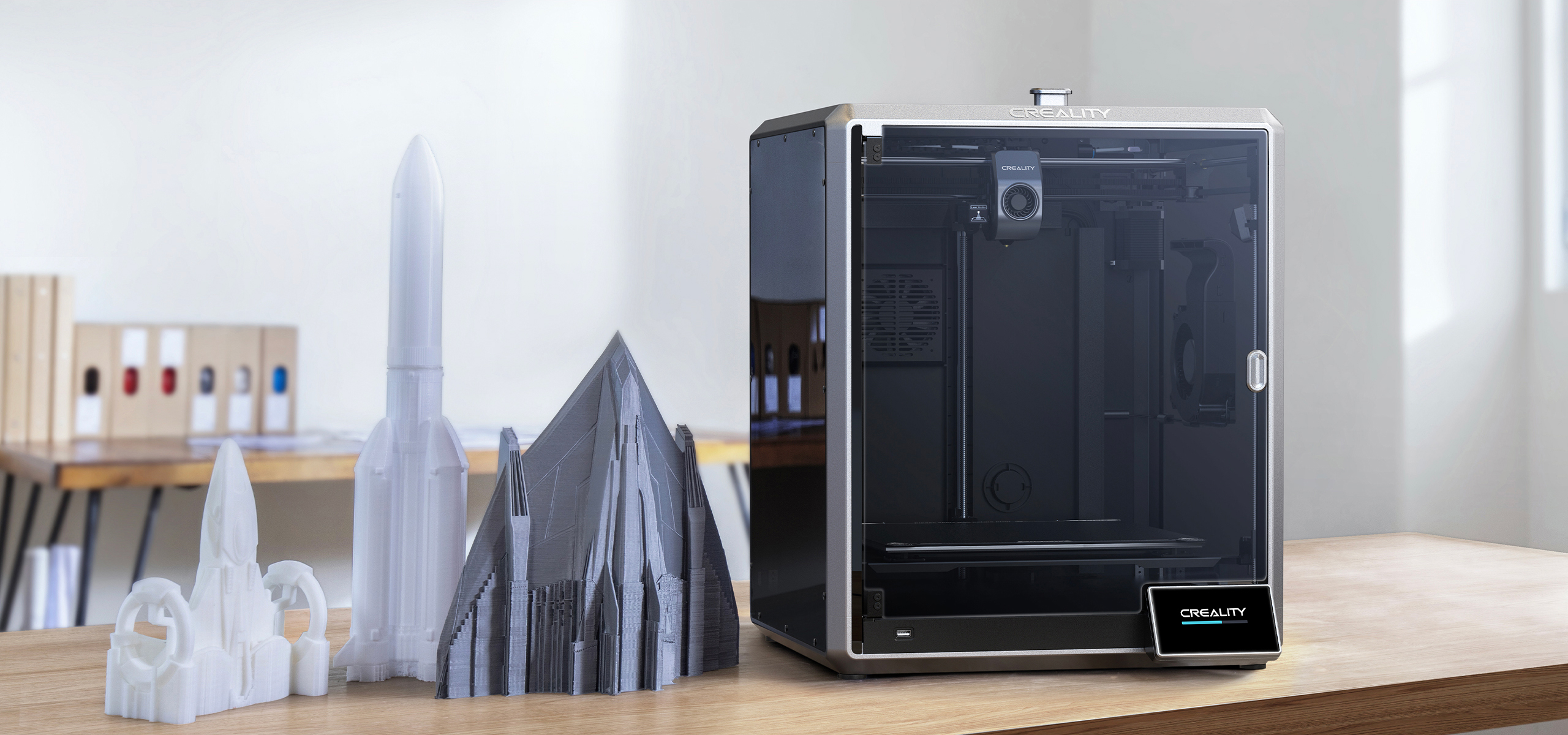 G-sensor Guarantees Quality
K1 series has a G-sensor in the printhead. The sensor measures the resonance frequency of the printer, and then adjusts the motion system to mitigate it, thus smoothing out the ringing or ghosting that usually occurs at high speed. It is also known as input shaping. Besides, it also has a sturdy frame and a precise Z-axis to ensure the model always gets great quality and a nice finish.
AI-assisted Carefree Printing (K1 Max)
Automation is another arena where 3D printer makers compete fiercely. Creality has made its own bid on this front. It adds the AI LiDAR and AI camera to K1 Max, though only optional to K1. The 1μm resolution LiDAR can map out the first layer on its own. It will pause printing and tell you immediately if something goes wrong. And K1 Max uses an AI camera to watch over spaghetti failure, foreign objects, debris, etc. They are cool functions indeed, but more evidence is required to prove the effect.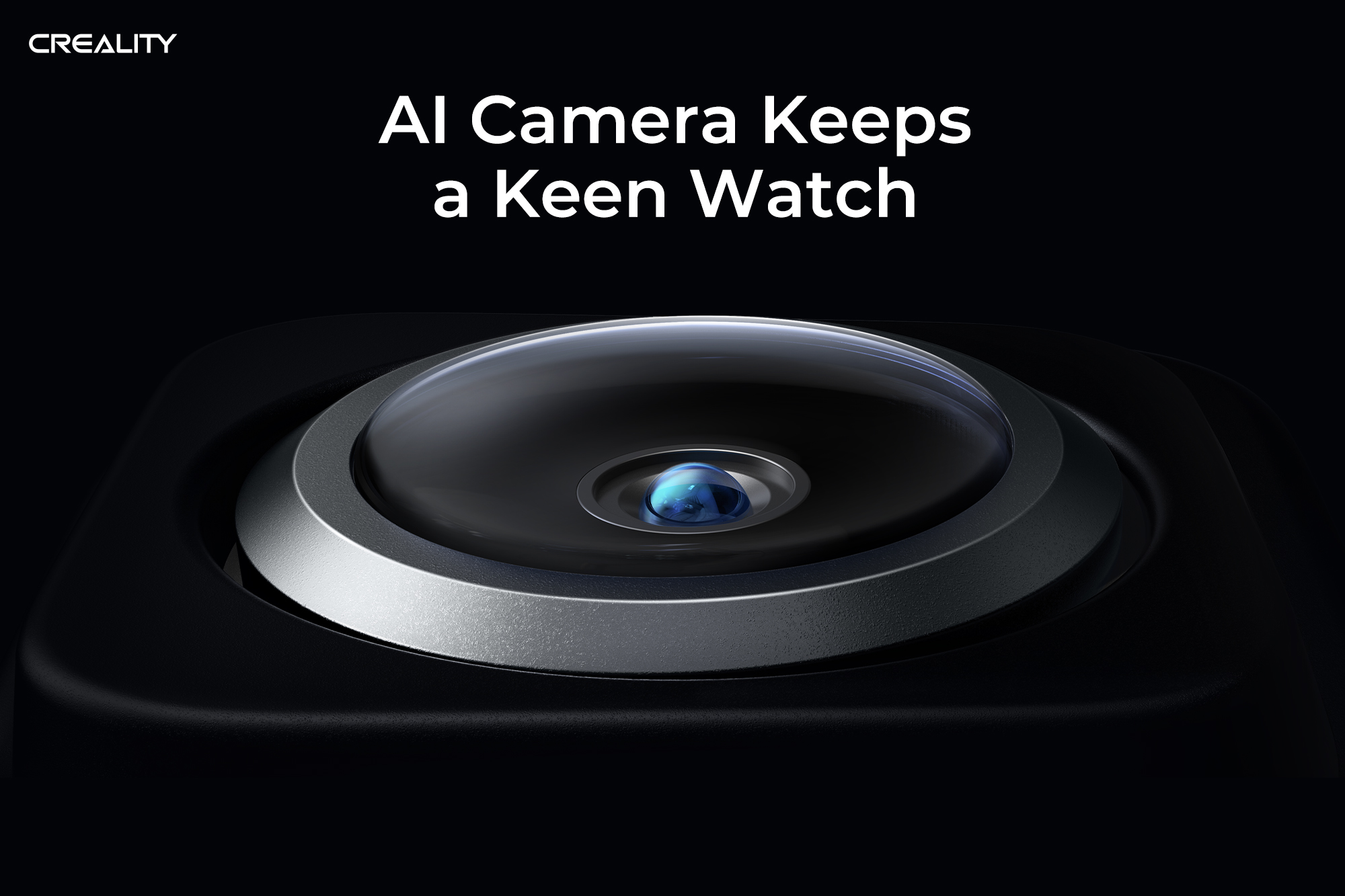 Print out of the Box
The K1 series is assembled and calibrated before shipment. It offers a boot-up quick guide and allows self-test with one tap. The strain sensors in the heatbed enable efficient multi-point auto leveling, while the AI LiDAR (optional for K1) scans the bed tilt at million points for more precise leveling. Both ways are hands-free and do not require any attention. Plus, a flexible build plate is adopted for quick print removal.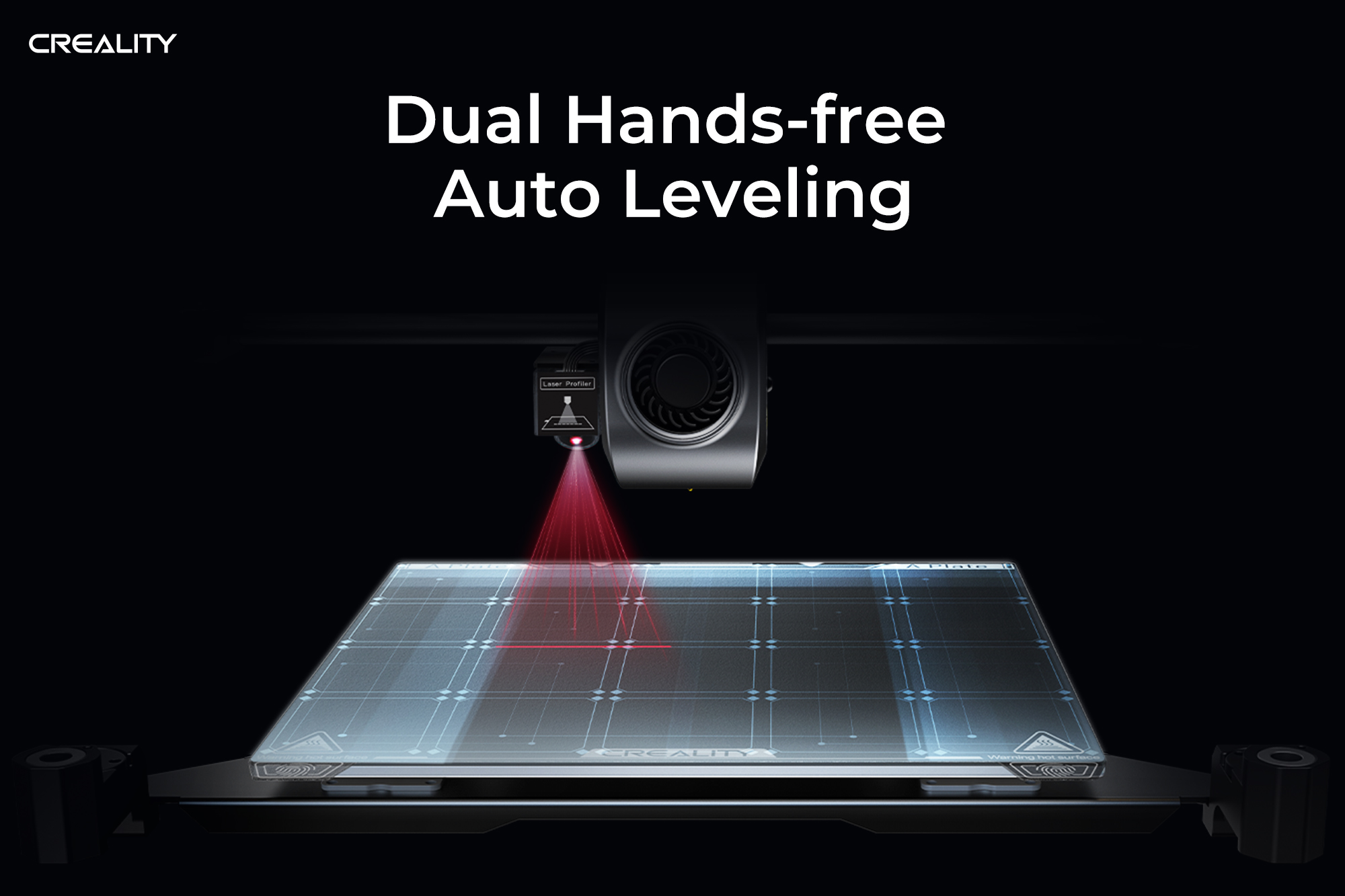 Print Farm Capability
Users may hook up many K1 or K1 Max to the same network via Ethernet (only for K1 Max) or WiFi, and then control and monitor them with a single PC installed with the latest Creality Print slicing software. Printer grouping is also allowed.
Price and Availability of K1 and K1 Max
The K1 series also features air purification, lighting, filament runout detection, and power loss recovery. Given the $599 price for K1 and the $999 price for K1 Max, the appeal is hard to ignore.
K1 is now available in the Creality official stores online:
US Store
UK Store
EU Store
DE Store
CA Store
AU Store
Also, K1 is available to purchase now through the global channel providers. Customers in North America,Asia and Europe are all able to purchase their K1 printer through dedicated stores. However, those who want to secure their K1 Max first can do so through a pre-sale at the end of May.

K1 Max Links:
US Store
UK Store
EU Store
CA Store
AU Store
DE Store
Specs Comparison for the K1 and K1 Max
Product


K1
K1 Max
Machine Specs
Name
K1
K1 Max
Product Dimensions
355*355*480mm
435*462*526mm
Package Dimensions
415*415*550mm
508*508*608mm
Net Weight
12.5kg
18kg
Rated Voltage
100-120V~, 200-240V~, 50/60Hz
100-240V~, 50/60Hz
Rated Power
350W
1000W
Display Screen
4.3″ Color Touch Screen
Printing Specs
Printing Technology
FDM
Build Volume
220×220×250mm
300×300×300mm
Layer Height
0.1-0.35mm
Supported Filaments
PLA, PETG, PET, TPU, PA, ABS, ASA, PC, PLA-CF, PA-CF, PET-CF
Speed
Typical Speed
300mm/s, 12000mm/s²
Max Speed
600mm/s
Max Acceleration
20000mm/s²
Printhead
Extruder
Dual-gear Direct Drive Extruder
Max Hotend Temp
300℃
Hotend Heating
Heating to 200℃ within 40s
Standard Nozzle Diameter
0.4mm
Optional Nozzle Diameter
0.6/0.8mm
Chamber
Type
Enclosed
XY Structure
CoreXY
Heatbed
Build Surface
Flexible Build Plate
Flexible Build Plate
Max Heatbed Temp
100℃
120℃
Heatbed Heating
Heating to 60℃ within 180s
Heating to 60℃ within 90s
Features
Filament Runout Sensor
Yes
Power Loss Recovery
Yes
File Transfer
WiFi, USB Drive
WiFi, Ethernet, USB Drive
Lighting Kit
Yes
Yes
Input Shaping
Yes
Leveling
Hands-free Auto Leveling
Dual Hands-free Auto Leveling
Air Purifier
/
Yes
Sleep Mode
Yes
Self-test
Yes
Error Notification
Yes
AI Camera
Real-time Monitoring
Optional
Yes
Time-lapse Filming
Failure Detection
Foreign Object Detection
AI LiDAR
Automatic Leveling
Optional
Yes
First Layer Inspection
Software
Printable File Format
G-code
Slicing Software
Creality Print; Compatible with Cura, Simplify3D, PrusaSlicer
Supported OS
Windows, MacOS
APP
Creality Cloud
Sponsored Article