Gadgets
Moving to Mac: MacBook Pro 14 Review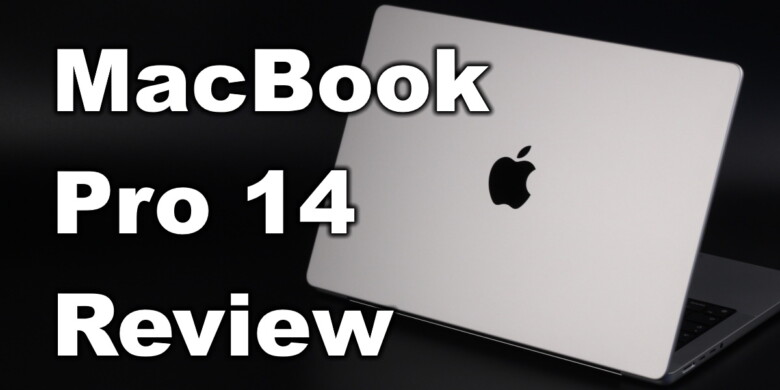 I started playing with 3D printers because I got bored one day, and I was sort of slacking at work. It was payday and I was thinking about what kind of new gadget should I get to keep myself busy, so I ordered an Anet A8 which started all this.
3D printing is fun, but I remember it being much more interesting when I didn't review and use sort of the same thing over and over again. I won't complain about "Ender 3 clones" in this article, but I will tell you that I'm planning to cover other types of gadgets on the website to keep myself entertained and also keep my interest in 3D printing active.
I want to do this because there are other pieces of interesting technology out there, and I would love to share some thoughts about various gadgets and electronics, besides 3D printers. And the thing which made me want to do it is the new MacBook Pro 14 I recently got, to upgrade from an old gaming computer.
Why a MacBook?
Well, for most of my life I used a regular PC, and I rarely used laptops. Mostly because they were upgradeable and hackable and I was able to tinker with them to keep myself busy. But that was back in the day. Now, I want something reliable and stable which allows me to use the computer as a tool, and not as a tinkering device.
Since Apple announced the M1 chip, I was pretty blown away by the performance you get from a tiny mobile CPU. Apple is able to deliver impressive performance while also keeping a compact form factor with a fanless design. Of course, I am talking about the MacBook Air M1 which is probably one of the best ultrabooks you can get right now, especially if you are not a PC gamer.
I used a MacBook Air M1 with 8GB of RAM and 250GB SSD for about 2 weeks as a daily machine and I could not feel any sluggishness compared to my Ryzen 5 rig. What's even more interesting is that I felt my workflow is more efficient with MacOS and around the same time, the new Mac Studios were launched.
This made me think about getting a better computer, and while the Studio was not available without waiting a few months, I decided to order the MacBook Pro 14 which was in stock.
My config
I didn't have the budget or the need for more performance, so I simply purchased the base MacBook Pro 14 unit, with the following specs:
8-Core CPU
14-Core GPU
16GB Unified Memory
512GB SSD Storage
16-core Neural Engine
14-inch Liquid Retina XDR display
Three Thunderbolt 4 ports, HDMI port, SDXC card slot, MagSafe 3 port
Magic Keyboard with Touch ID
Force Touch trackpad
67W USB-C Power Adapter
The MacBook Pro 14
I got the package the next day, and I was very excited to take the laptop out of the box and set it up. The whole process was really smooth and in less than 30 minutes, I was up and running.
Right from the start, the laptop design takes your eyes away and makes you fall in love with it. Or at least that's what happened to me. I love the old-school look of the new Macbook Pro which somewhat resembles the old Core-Duo Mac Pro.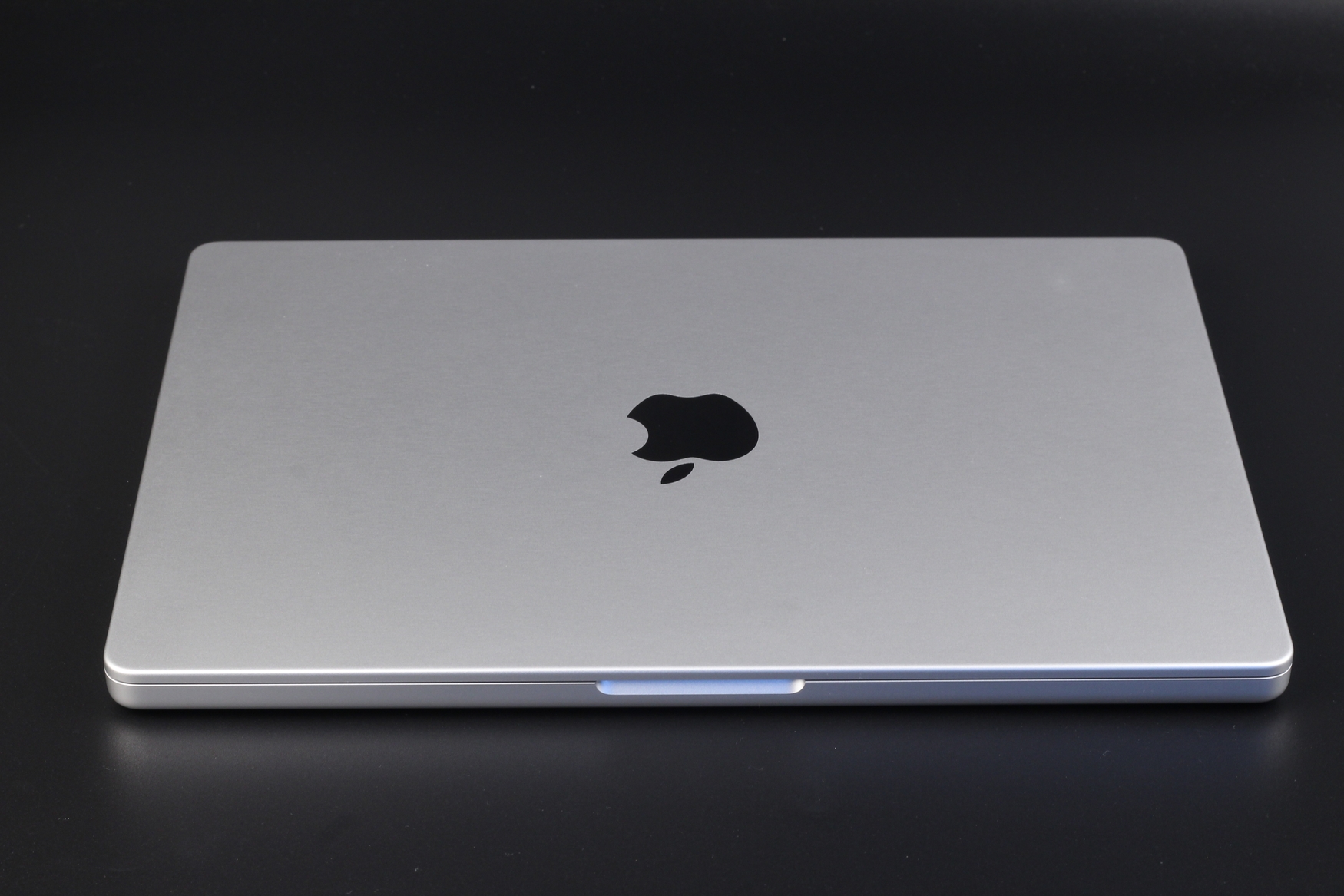 Even if most people say that it's a thick laptop (and they're somewhat right if you compare it with the Air) I think it's just the right size to hold a large battery while also giving you more ports, an excellent keyboard, efficient cooling, and great speakers.
On the left side of the machine, the new MagSafe 2 connector makes a return and provides up to 100W of power for charging the laptop. Next to it, we get two Thunderbolt 4 ports and a headphone jack while on the right side we get a single Thunderbolt 4 port and an HDMI 2.0 port.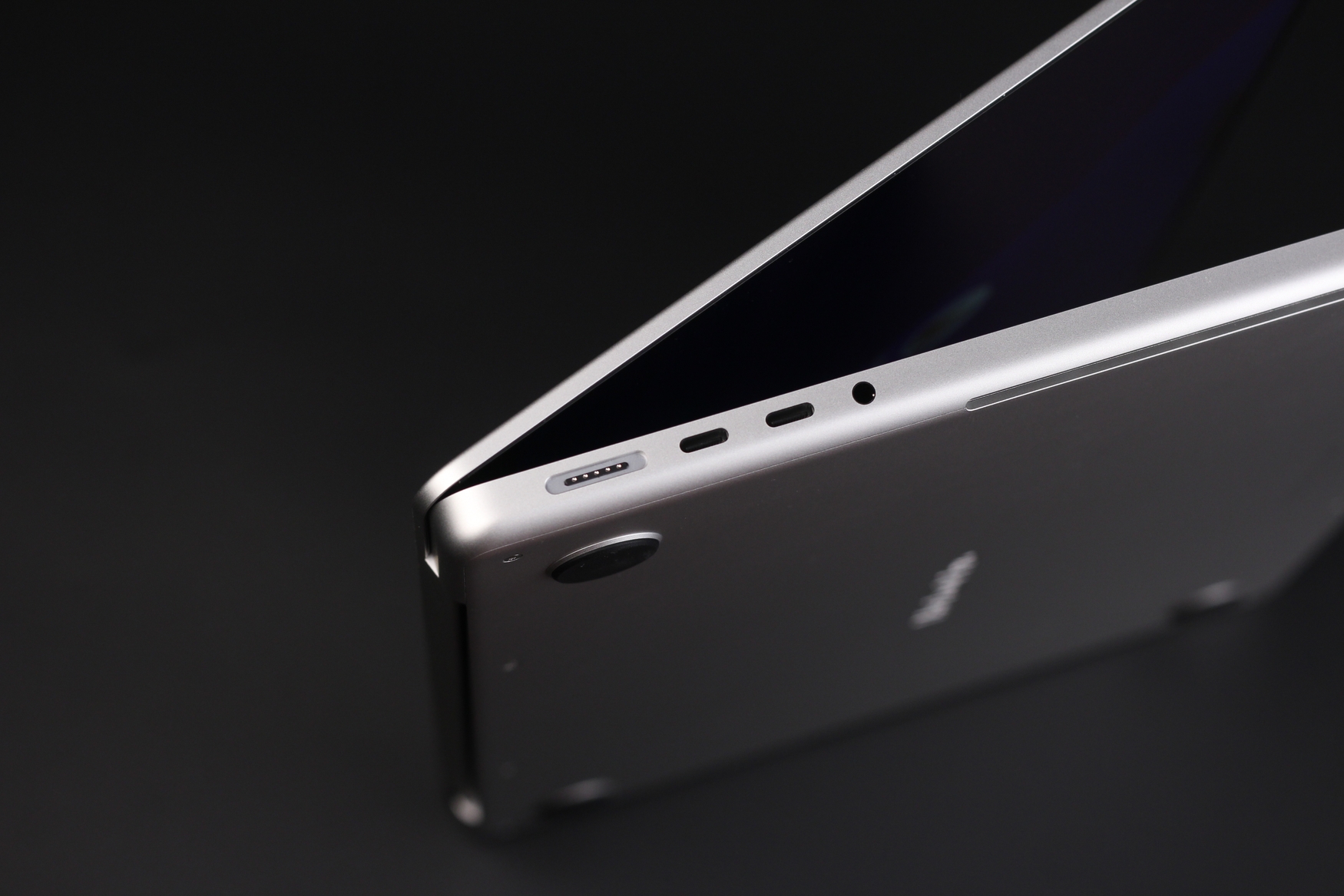 Underneath the screen, we get that new and improved keyboard present on the new MacBook Pro line. Gone is the horrible and fragile butterfly keyboard, which is replaced with a set of keys with much more key travel and an overall nicer feel.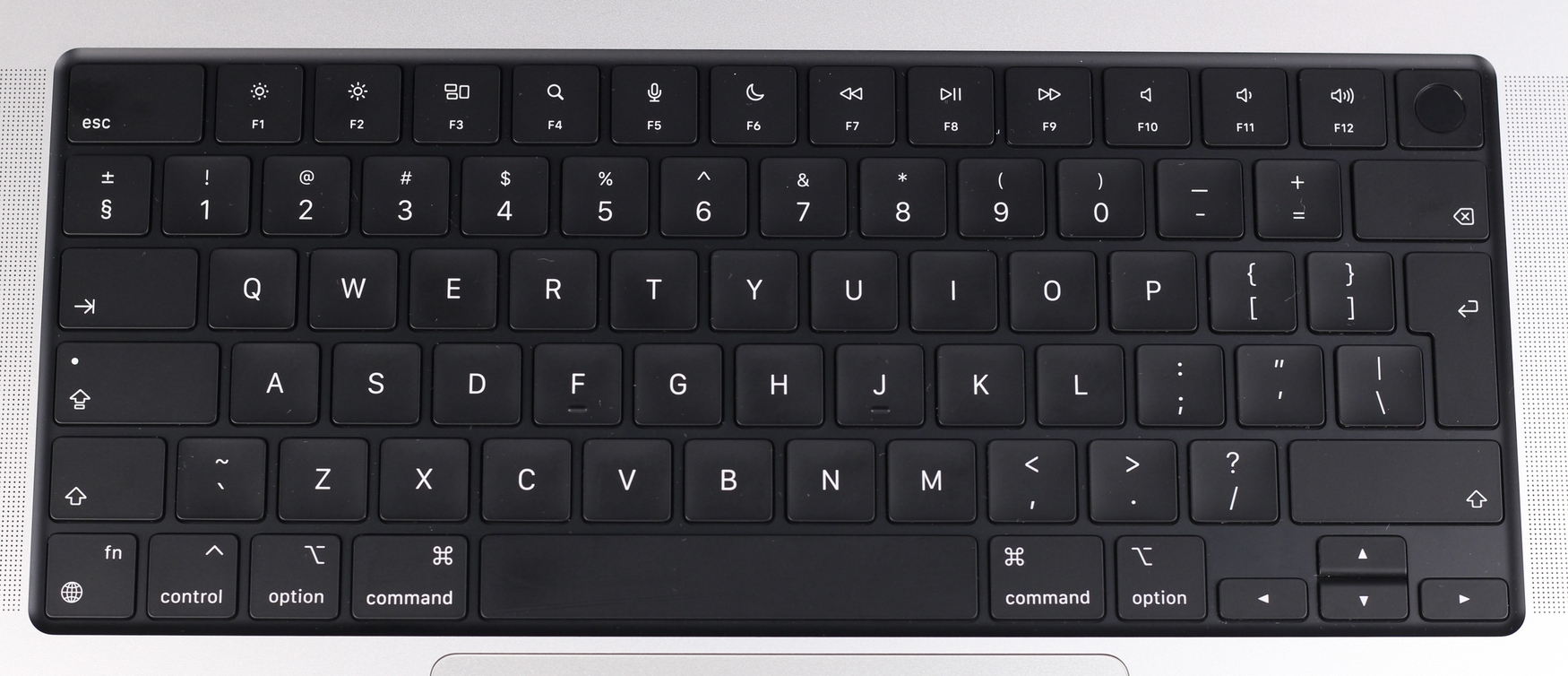 Talking about the screen, the 14.2-inch Liquid Retina XDR display is one of the star features of the new MacBook Pro 14. With a resolution of 3024×1964 and a brightness of up to 1600 nits, this can easily be the best screen in your house after purchasing this laptop. It has excellent color quality, it's nice and clear but it's also super smooth thanks to the ProMotion technology which allows the screen to refresh up to 120hz per second.
Keep in mind that most of the time, the screen brightness can be adjusted up to 500 nits, and the 1600 nits value is only reached when viewing HDR content. Some apps showed up which allow you to raise the brightness levels to the maximum value, but I am not sure how good this is for the display in the long run. Even at 500 nits, I think it's plenty bright.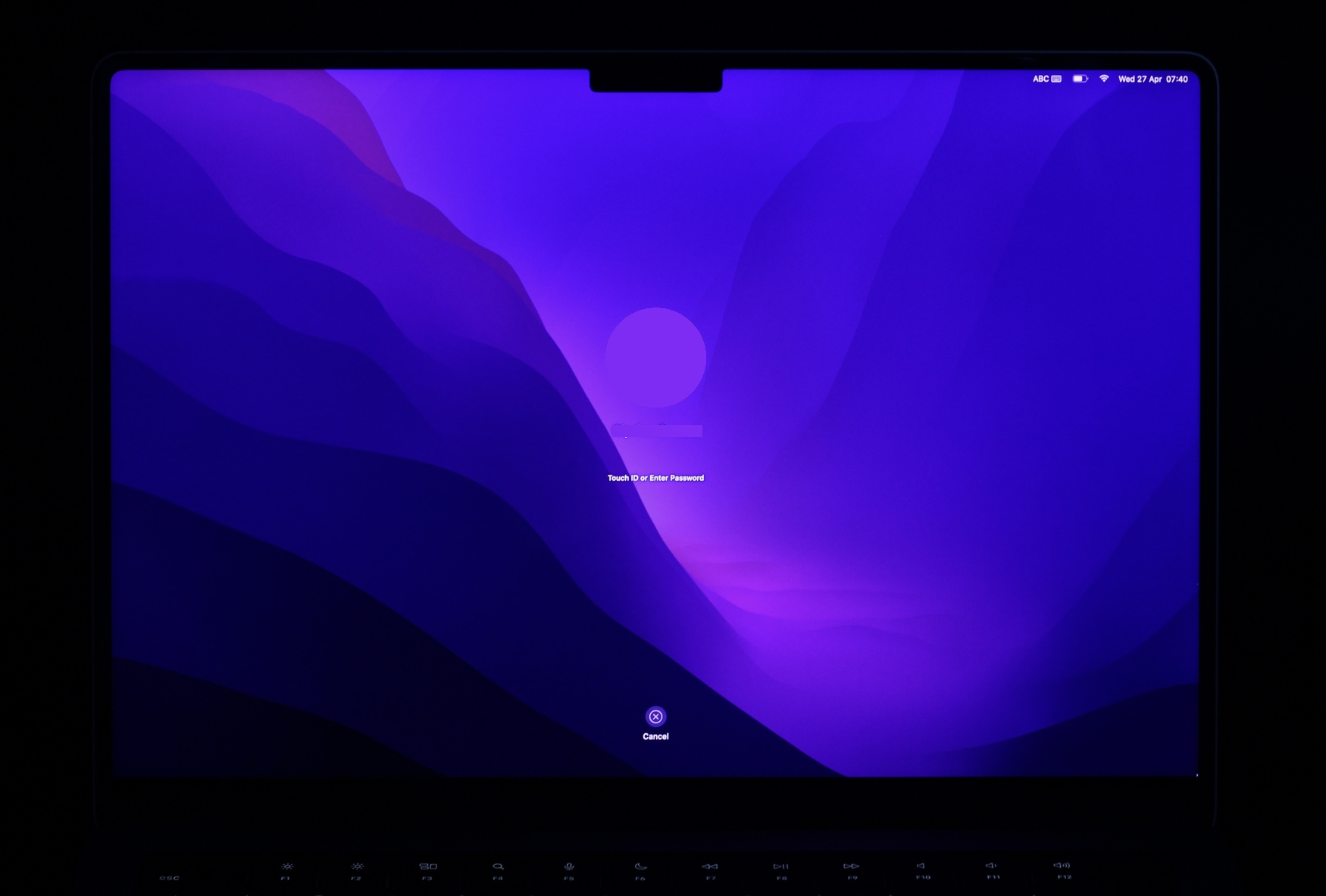 The only annoying thing is the hideous notch which resembles the one on the iPhone. I wouldn't complain about it if Apple would have included FaceID next to the 1080p webcam. Unfortunately, it isn't the case here, and it's probably a feature that will be included in a future generation as "another incredible feature from Apple".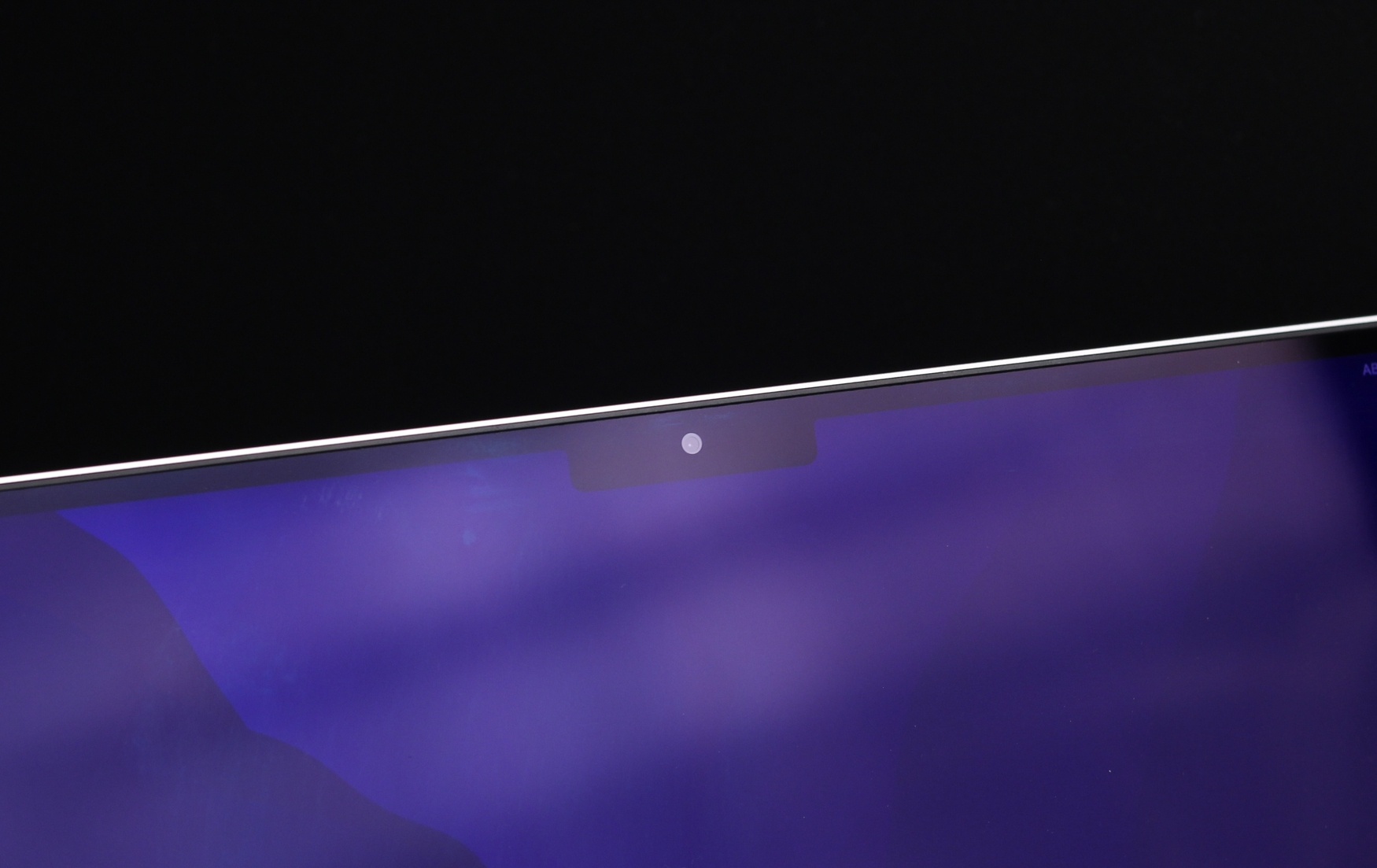 I need to also share a few words about the speakers on the MacBook Pro 14. They are incredible!…for a laptop. They can't compare with a set of dedicated speakers, or a good pair of headphones. But Apple is currently the king when it comes to speaker sound quality on a laptop, and other alternative laptops are not even close. They managed to fit a six-speaker sound system with a pair of force-canceling woofers with support for spatial audio and Dolby Atmos.
The old MagSafe charging connector has an LED light that changes color depending on the charging status. It has a nice braided cable which is really flexible, almost like a shoelace.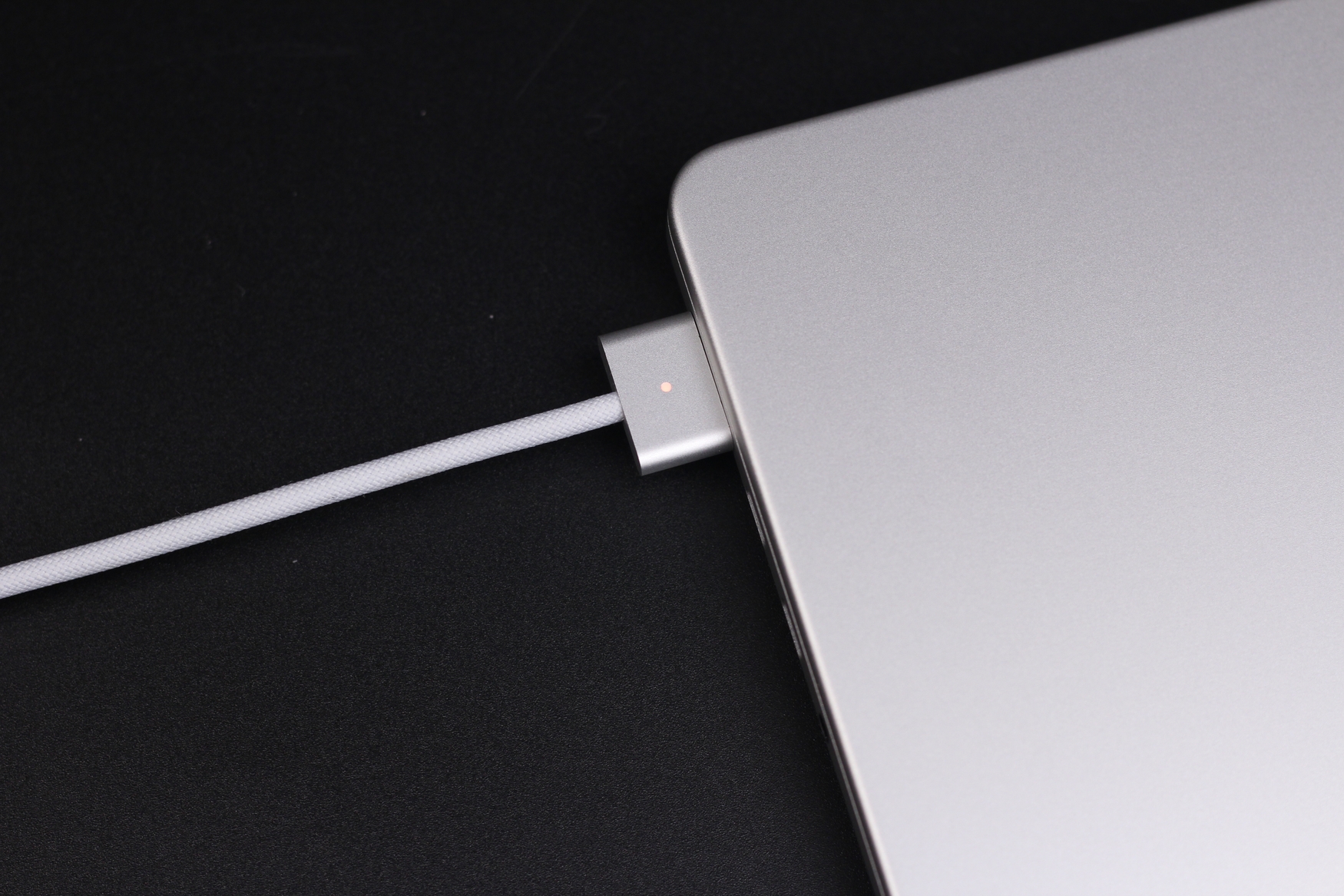 The other end of the MagSafe cable is terminated with a type-c connector that plugs into the white 60W power brick. It's not the faster charger out there, but it does the job. The 96W charger is included only with the 16-inch variant of the MacBook Pro.
The M1 Pro is quite powerful
If the new MacBook Pro 14 wouldn't have the M1 chip inside, I would probably still be a Windows Desktop user. But when I've seen how powerful and efficient the chip is, I was easily convinced to make the switch.
When it was first launched, most software was running with the Rosetta compatibility layer due to the lack of compatible apps with the CPU architecture. But nowadays, more than 70% of the apps I use are optimized for the M1 CPU and this is exactly where the performance and efficiency of this chip shines.
For example, the M1 Prusa Slicer build runs great. It's super smooth during use, and the files are sliced quickly. I sliced this 400mm Bender model with the regular 0.2 layer height, two walls, and 5 top/bottom layers in ~30 seconds.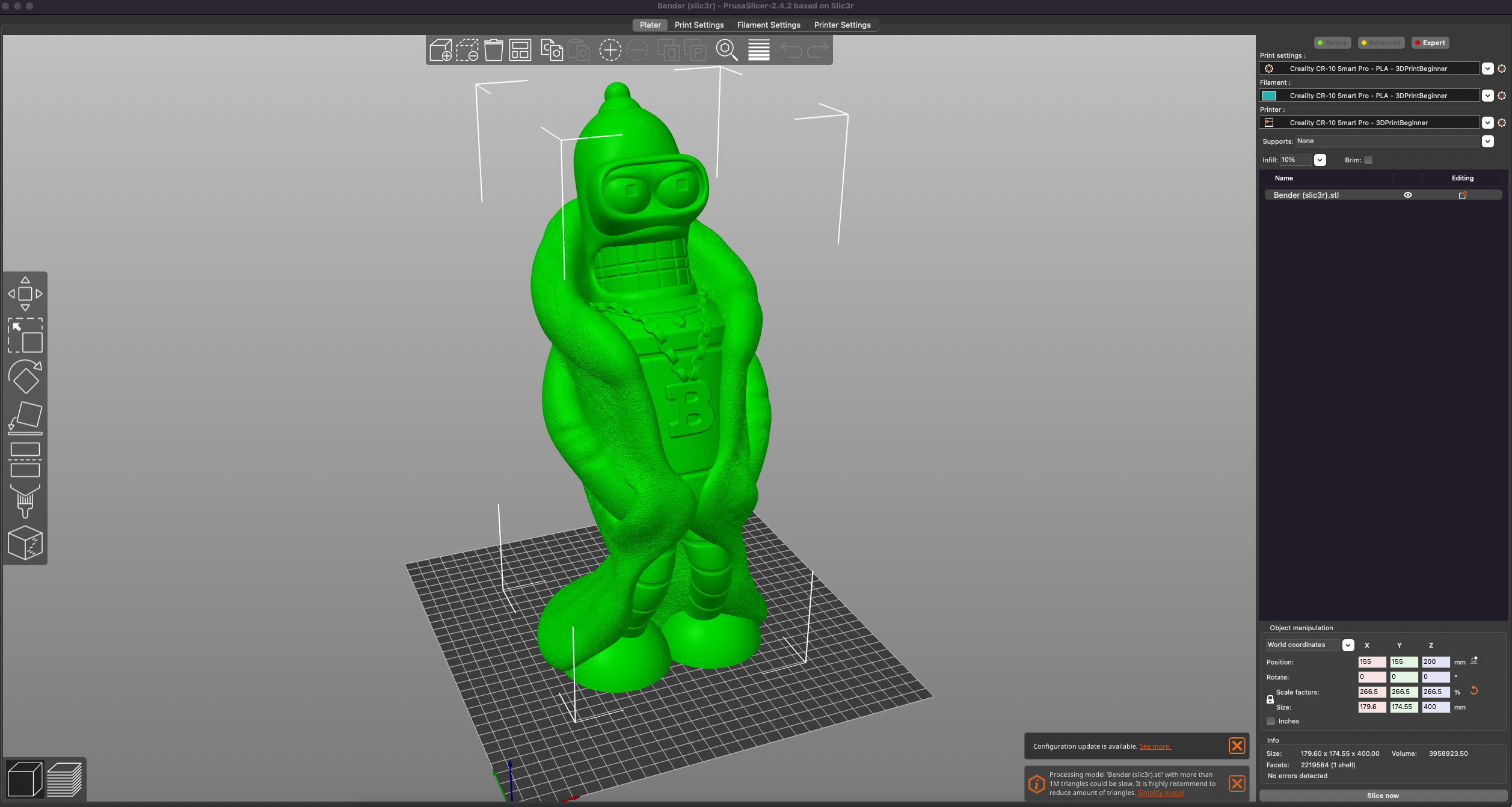 I am also using Lychee Slicer for my resin prints, and the slicing speed is much better than my old AMD Ryzen 5 3600 CPU. I can't do a comparison benchmark anymore because I gave that computer away, but a 2814 layer slice takes just 1 minute and 25 seconds.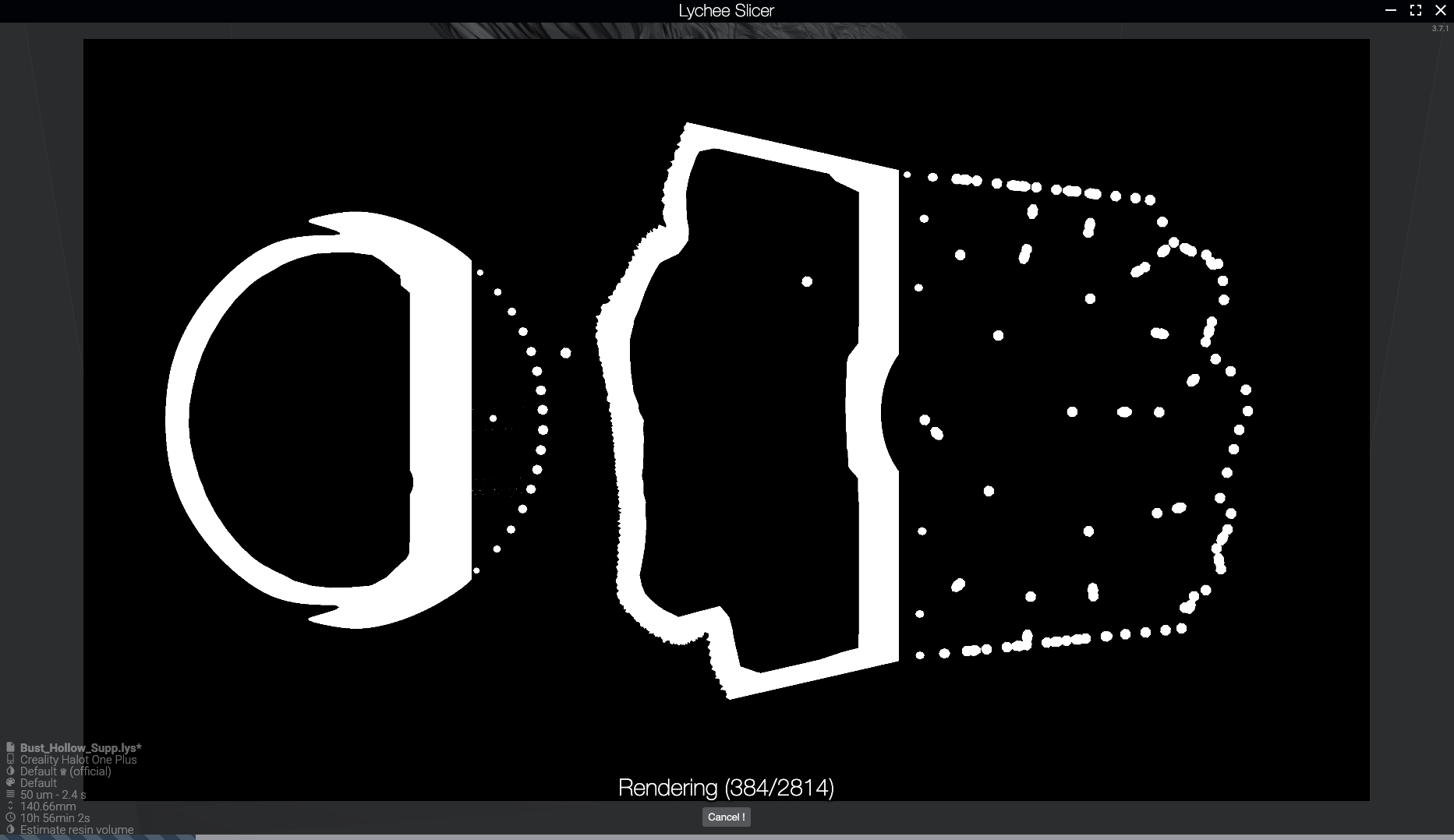 Unfortunately, IdeaMaker is not yet upgraded for M1 and its performance is not as good as on Windows, but it's still usable.
I also use the M1 Pro for video editing and conversion which is another point where this machine really shines. Because of all the hardware acceleration modules inside the M1, video rendering is super fast.
A 4K video render which took about 10 minutes on my Ryzen 5 3600 CPU takes only about 90 seconds on the MacBook Pro 14 with the M1 Pro. Really impressive for me.
Attractive Mac features that made me switch
With the launch of the iPhone 13, I also did the switch from being a long-time Android user. Mostly because I got tired of inconsistent performance over time, and apps being less optimized compared to their iOS counterparts. And one of the reasons I also moved to Mac is the good integration between the iPhone and the MacBook.
After purchasing the MacBook Pro 14, I was able to use some really cool Mac and iOS features that work really nicely in the Apple ecosystem.
My favorite is the Airdrop feature which is a seamless file sharing solution for Apple devices that is super fast and works great. This single feature makes my life easier every day because I often take pictures and videos when working on various articles and reviews. Being able to simply send the files to my laptop without messing with cables or file-sharing services is a game-changer for me.
The second favorite feature is the new OCR feature called Live Text included on newer versions of iOS and Mac OS that allows easy text selection directly from a picture. It's another quality-of-life feature that saves me time when needing to copy information from images.
Apple Photos is also a nice app for my Photo workflow. I simply connect the SD card from the camera, click a button to import all new images, then I can already start editing the images with the included options. It's probably not the "professional" way of doing it, but it works great for me and I'm happy with it.
Living the dongle life
The only annoying thing about the MacBook Pro 14 and the way I use it is the need for dongles and adapters for my peripherals. When I'm at my desk, I use the laptop just like a regular computer meaning that my mouse, keyboard, displays, speakers, and other peripherals need to be connected through adapters.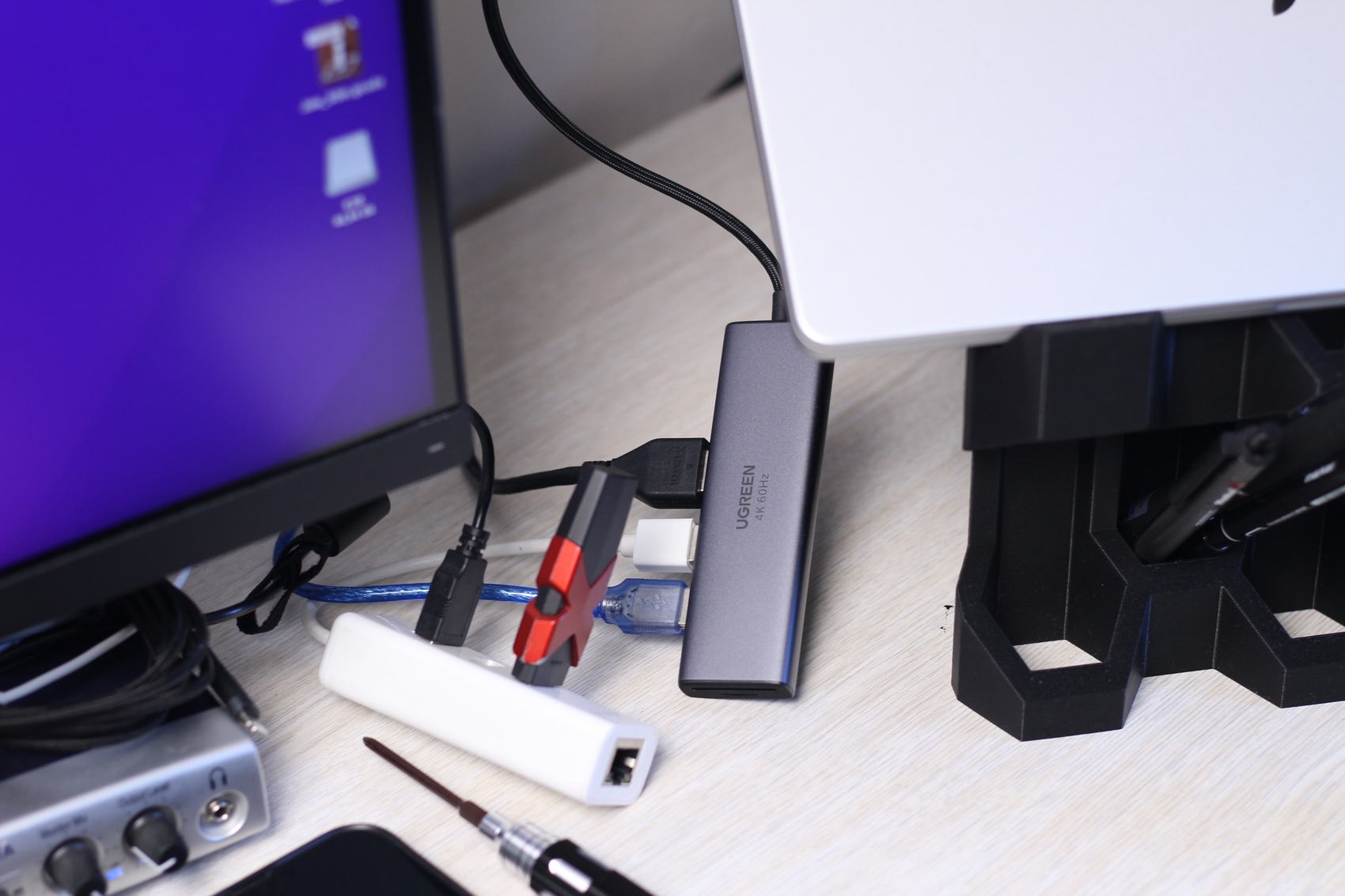 I purchased this UGREEN 6-in-1 PD adapter where I connected my 4K display, a Type-C charger, another USB Type-A splitter, and my speaker sound adapter. This allows me to connect a single cable and half the hardware is ready to go. I also have a secondary cable connecting my secondary monitor with a Type-C cable.
I am thinking about purchasing a real Thunderbolt docking station to have everything connected to it, and a single cable connected to my MacBook, but I can't justify spending so much money right now for one.
Either way, this was something I had in mind when I did the switch, and I recommend thinking about how you plan to use the computer and budget for the required dongles.
MacBook Pro 14 Power Consumption
When using M1 optimized apps and browsing the internet, the power usage moves between 8W and 10W which is impressive considering the adaptive refresh rate of the screen and the CPU horsepower.
But not every app is optimized, and most of the time, the power draw will be around 15W, when connected to power.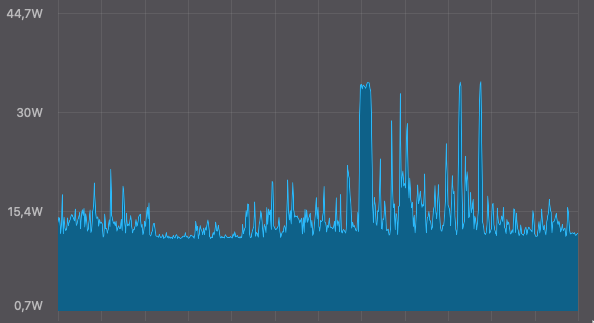 MacBook Pro 14 Noise Levels
I've used quite a few laptops and ultrabooks over time, and the MacBook Pro 14 is the quietest to date. The MacBook Air M1 is quieter because it's actually fanless, but it's also slower than the MacBook Pro 14.
Considering the amount of horsepower the MacBook Pro 14 has, it's quite impressive to barely hear the fans when CPU temperature goes over ~60C. Most of the time, the temperature sits around 50C and the fans are turned off.
Even when the cooling fans start ramping up to maximum speed, the noise levels are low and I can't complain about it. And this only happened once, during a benchmark. Under normal operation, the fans rarely spin up to around ~2300 RPM.
Seems that a laptop can be silent and powerful if you don't make it razor-thin. Who would have thought? /s
Should you buy the MacBook Pro 14?
The answer to this question greatly depends on the use case and what are you planning to buy it for.
If you're a casual user who doesn't have an actual use for the more powerful M1 CPU, there's no reason to spend almost twice the amount for the MacBook Pro 14. Instead, I would recommend purchasing the regular MacBook Air M1 which has longer battery life, it's lighter, and performs great. The Air M1 is one of the best ultrabooks you can get right now, which is still more than capable to handle some work.
If you do actual work on the computer, and you can actually benefit from all the media capabilities of the MacBook Pro 14, then it's a good option. The base model is about 2000$ which isn't cheap, but you get a premium laptop with excellent build quality, screen, speakers, and battery life.
As previously mentioned, this is the first MacBook Pro purchased with my own money which I am also using as a daily driver. And I'm not regretting my purchase. It's also the most expensive computer I've bought but my entire workflow improved and the money I spent actually saves me a bit of time every day I use it.
I just hope Apple doesn't launch the M2 with significant performance upgrades, because I probably won't resist the urge to upgrade.
Apple MacBook Pro 14 Rating
If you have a specific use for the MacBook Pro 14, it's an easy buy. But if you don't need the "Pro" features, get a MacBook Air which is cheaper and just as nice to use.
Where to buy the MacBook Pro 14?
The MacBook Pro 14 can be purchased from the following websites:
I recommend checking out the Discount Codes page before purchasing. I regularly update the article with discount codes for various online shops, and you might find one for this particular model.
The MacBook Pro 14 was purchased from my own funds. While the article includes affiliate links, all opinions are my own. Nobody reviewed the article before it was posted, following the Review Guidelines.