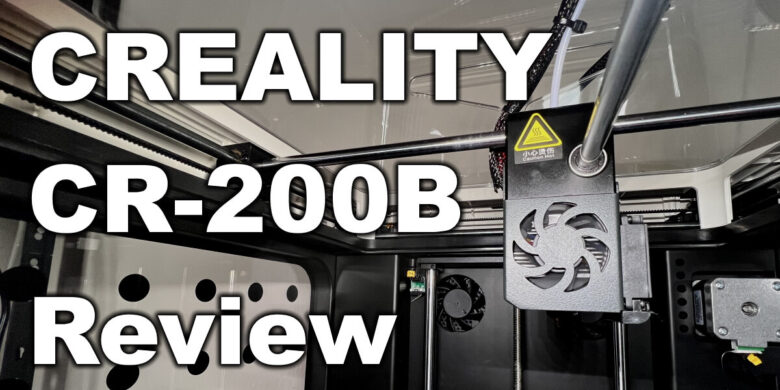 The Creality CR-200B caught my attention with its design. At first glance, it looks really clean because of it being enclosed. The price was also pretty attractive, so I thought I would give it a go to see how well it performs.
Creality CR-200B Shipping and Packaging
The Creality CR-200B comes in a huge carboard box with foam protection on the sides. It comes pre-assembled so after you remove it from the box, it's almost ready to go.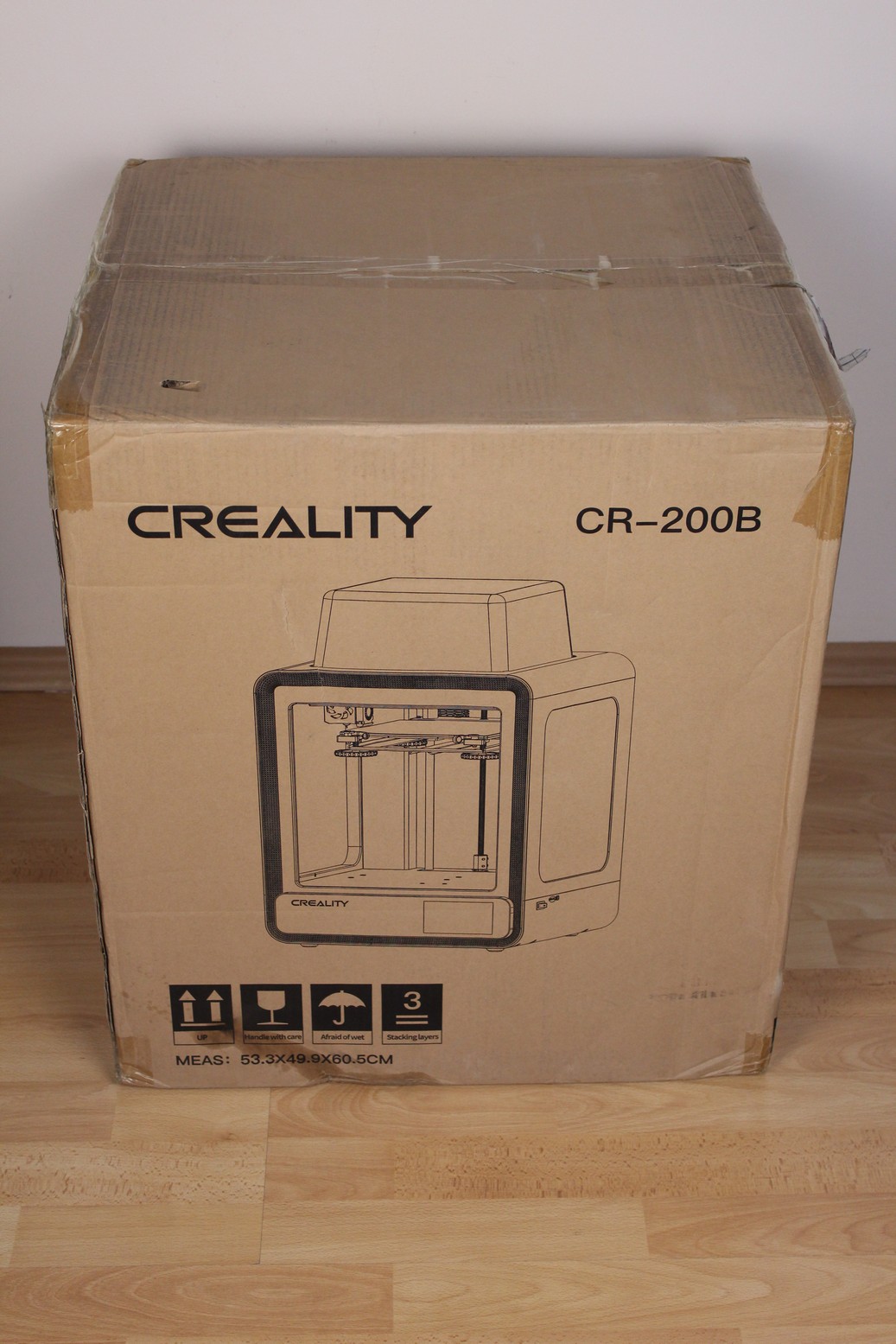 Creality CR-200B Design
The design of the Creality CR-200B is quite attractive, and can easily blend in a room without bringing too much attention to it. The front and the sides have transparent panels which allows you to easily monitor your prints.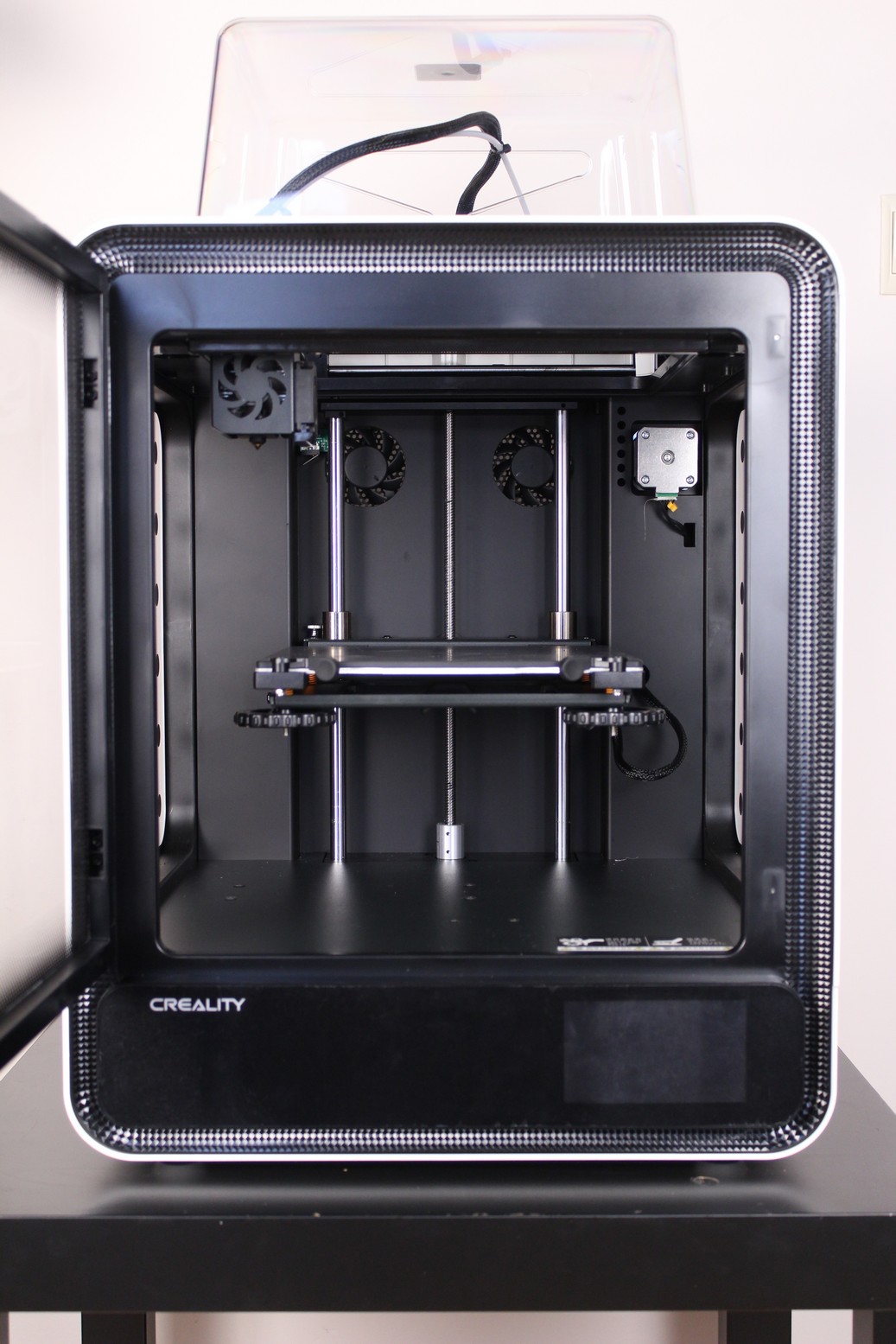 The whole enclosure is made from white plastic with black accents. The only design option I don't really like is the positioning of the spool behind the printer which makes it harder to change if you decide to put the printer on a shelf.
Creality CR-200B Specs
| | |
| --- | --- |
| Molding technology | FDM |
| Number of nozzles | 1 |
| Print size | 200x200x200mm |
| Machine dimension | 411x435x503mm |
| Package dimension | 533x499x605mm |
| Hotbed temperature | ≤100 °C |
| Nozzle temperature | ≤260 °C |
| Layer thickness | 0.1-0.4 mm |
| Supported filament | PLA/ABS |
| Printing precision | ±0.1 mm |
| Power supply | Input 115-235V, Output 24V |
| Diameter of nozzle | 0.4 mm |
Single gear extruder
The Creality CR-200B comes with a single gear extruder situated in the back of the machine. Underneath the extruder, there's also a filament runout sensor.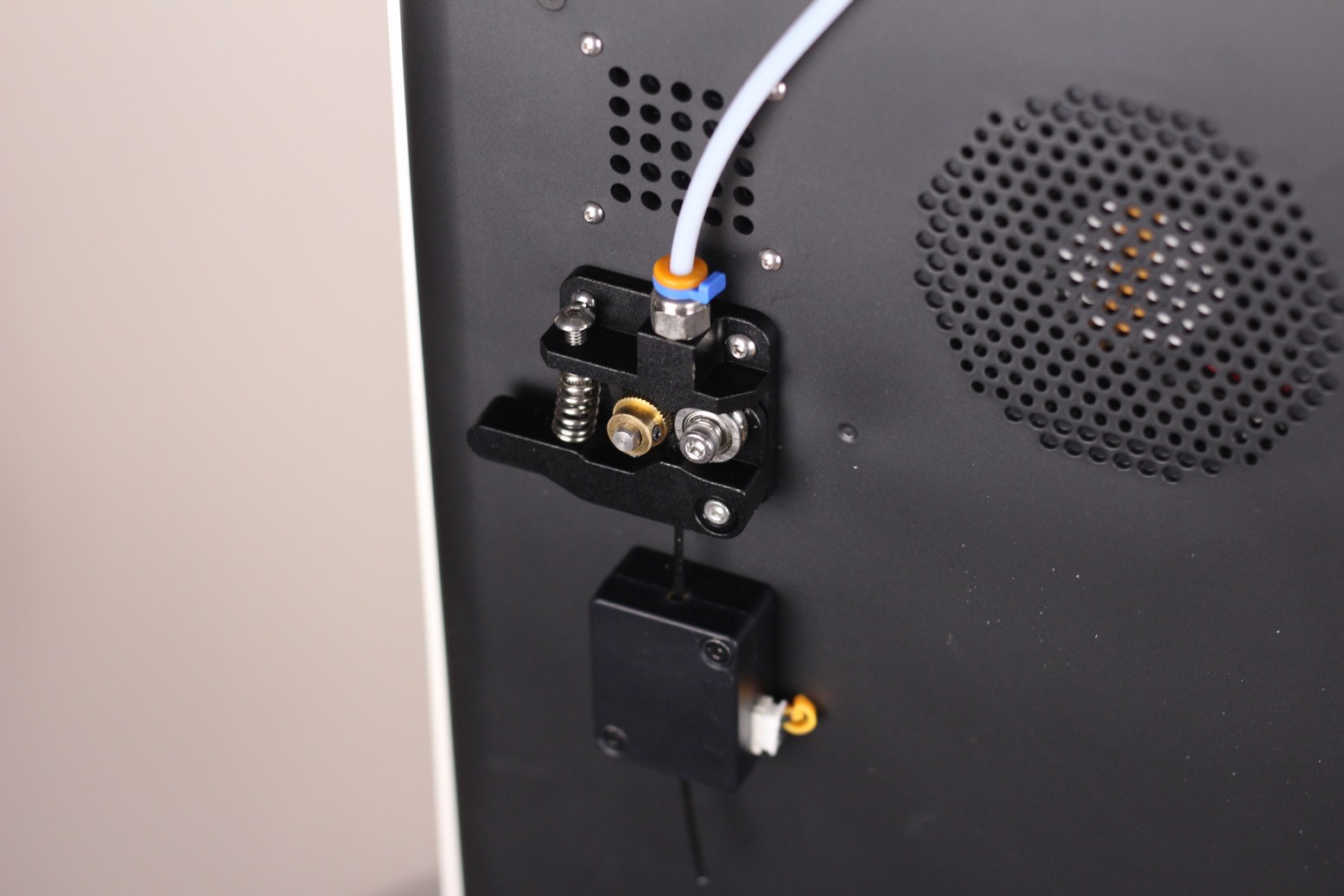 Unfortunately, this is not the greatest extruder out there, and I would have liked to see a dual-gear extruder. But Creality seems to include those only with higher priced printers.
The filament path is not the best with a fresh spool of filament because it causes some filament grinding on the filament runout sensor.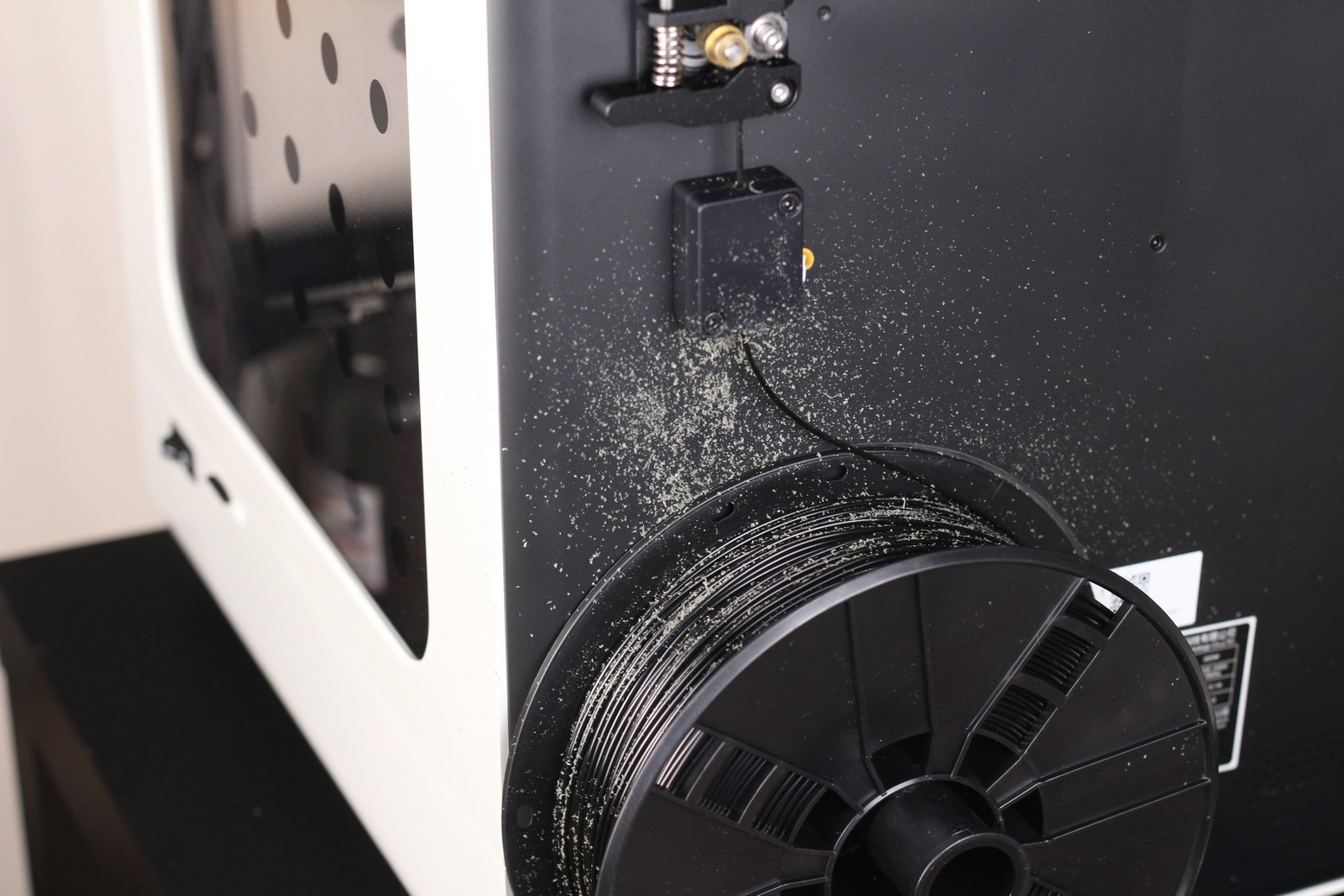 For some reason, there's also a fan blowing air over the extruder motor to keep it cool. This fan started to produce annoying vibrations and noise after the first 48 hours of printing so I need to either remove it or replace it with something better.
PTFE lined hotend
As with any enclosed 3D printer, I expect the hotend to be all-metal because the main reason why you would get an enclosed machine is to print higher temperature materials like ABS, PETG, Nylon or Polycarbonate.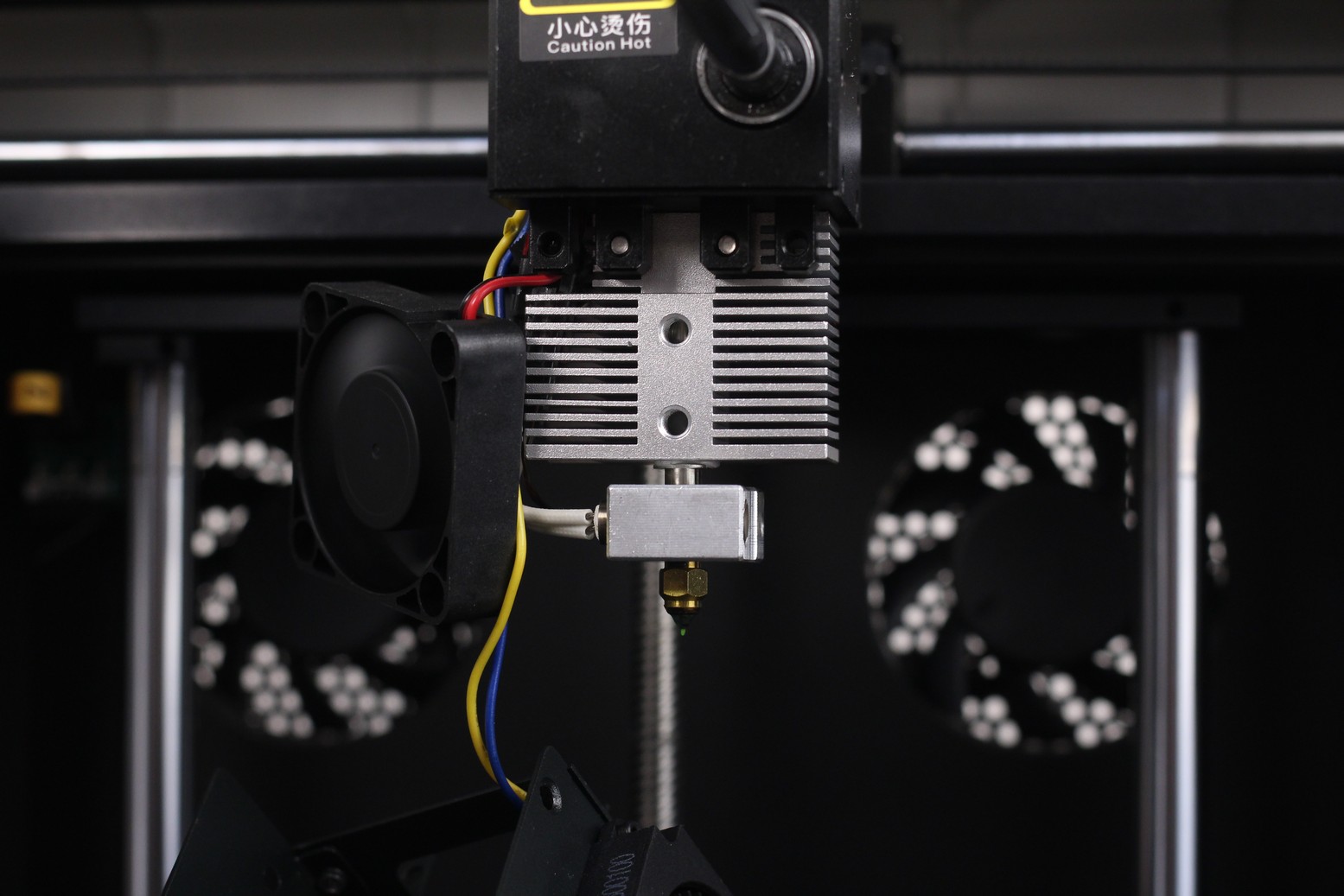 These materials require higher printing temperatures, so having a PTFE lined hotend is not the best choice. The PTFE tube doesn't last long if you print over 240C for longer periods of time and it will require more maintenance compared to an all-metal solution
Unfortunately, the CR-200B comes with a PTFE lined heat break, but it can be upgraded without too much work to a bi-metal variant.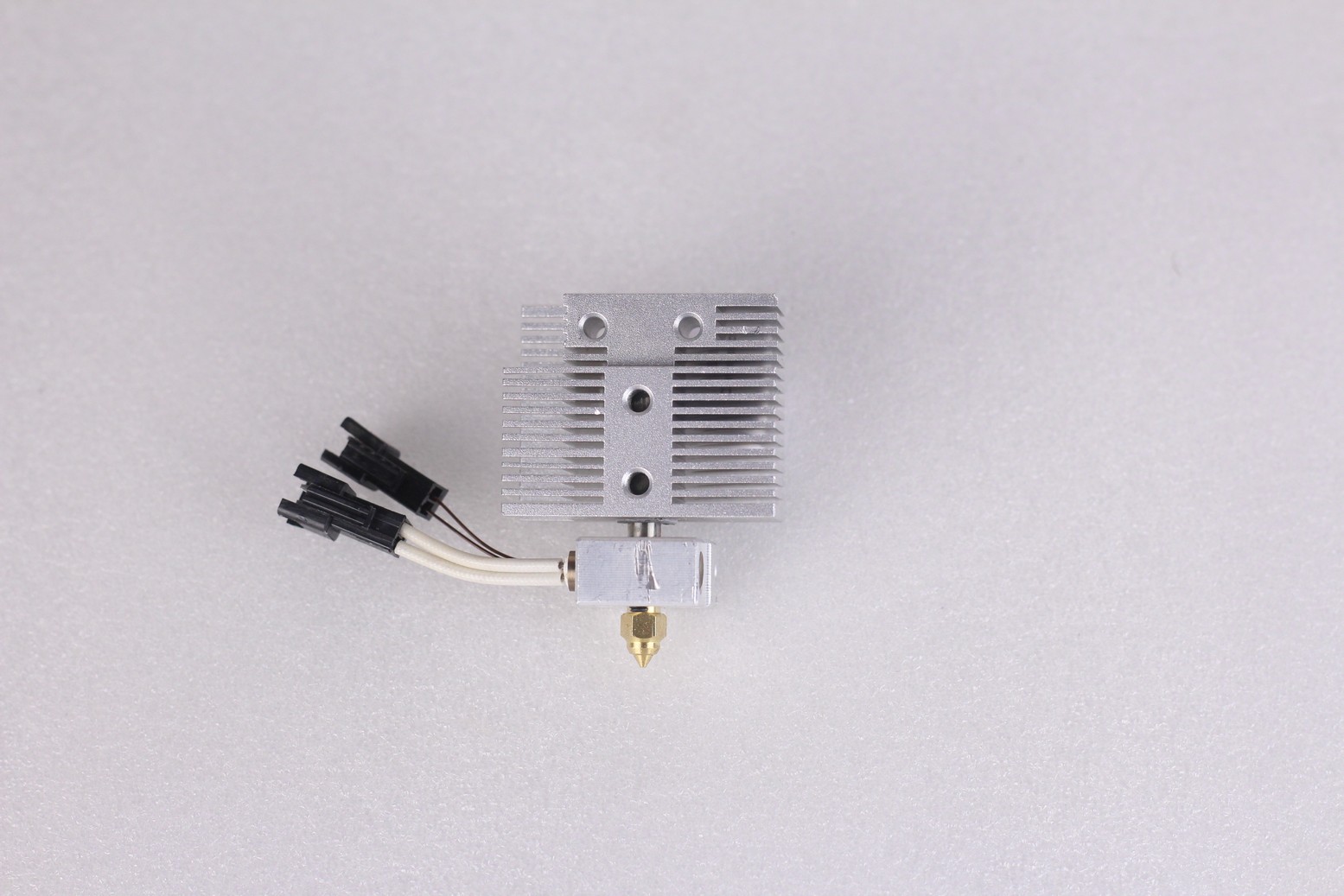 There is a PTFE tube inside the heat break which should prevent clogs but, on my unit, the tube was cut a bit too short. This caused a clog after the first few hours of printing. After cutting the tube to the right size, I didn't encounter any issues.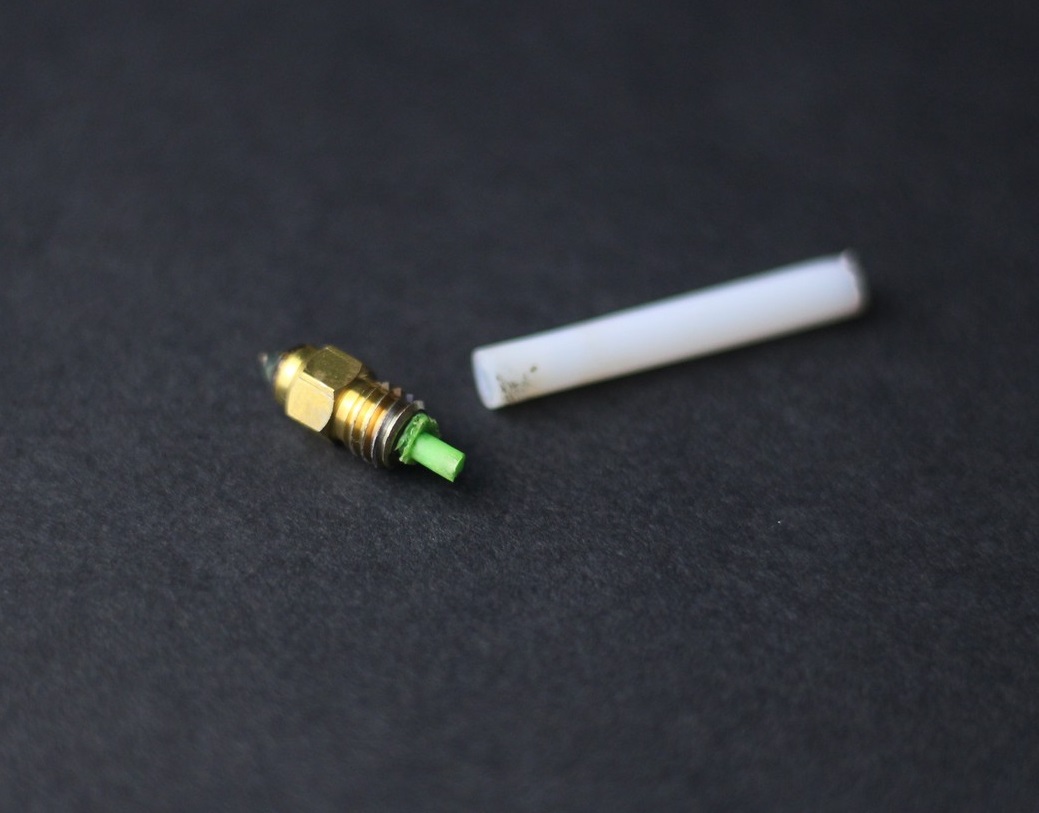 Cantilever bed with glass print surface
Creality used a cantilever bed design with the CR-200B which means that the bed moves on the Z axis with a single Z screw. This setup is stiffer than I was expecting, probably because of the smaller sized bed compared to the other machines I've tested.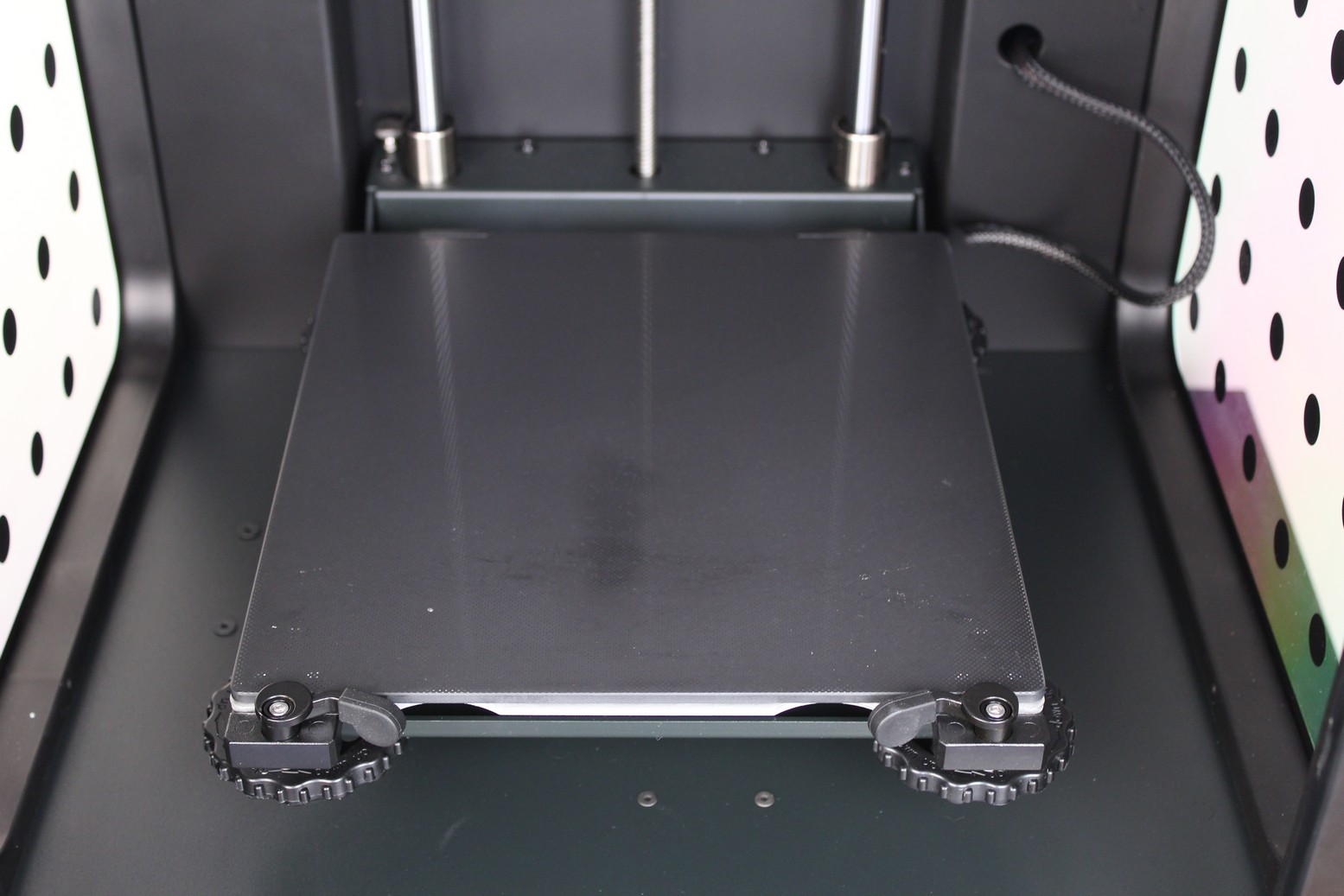 The aluminum heated bed has a glass print surface on top, with a textured finish we've seen with other 3D printers. Unfortunately, the textured surface doesn't help too much with adhesion, and you will need to use an adhesive to ensure print success. I couldn't print any kind of material without the help of some adhesion material.
There's also no heatbed insulation, which would have improved the thermal and electric efficiency of the printer.
200x200x200 build volume
When it comes to build volume, the Creality CR-200B doesn't stand out from the crowd with the small 200x200x200mm build volume.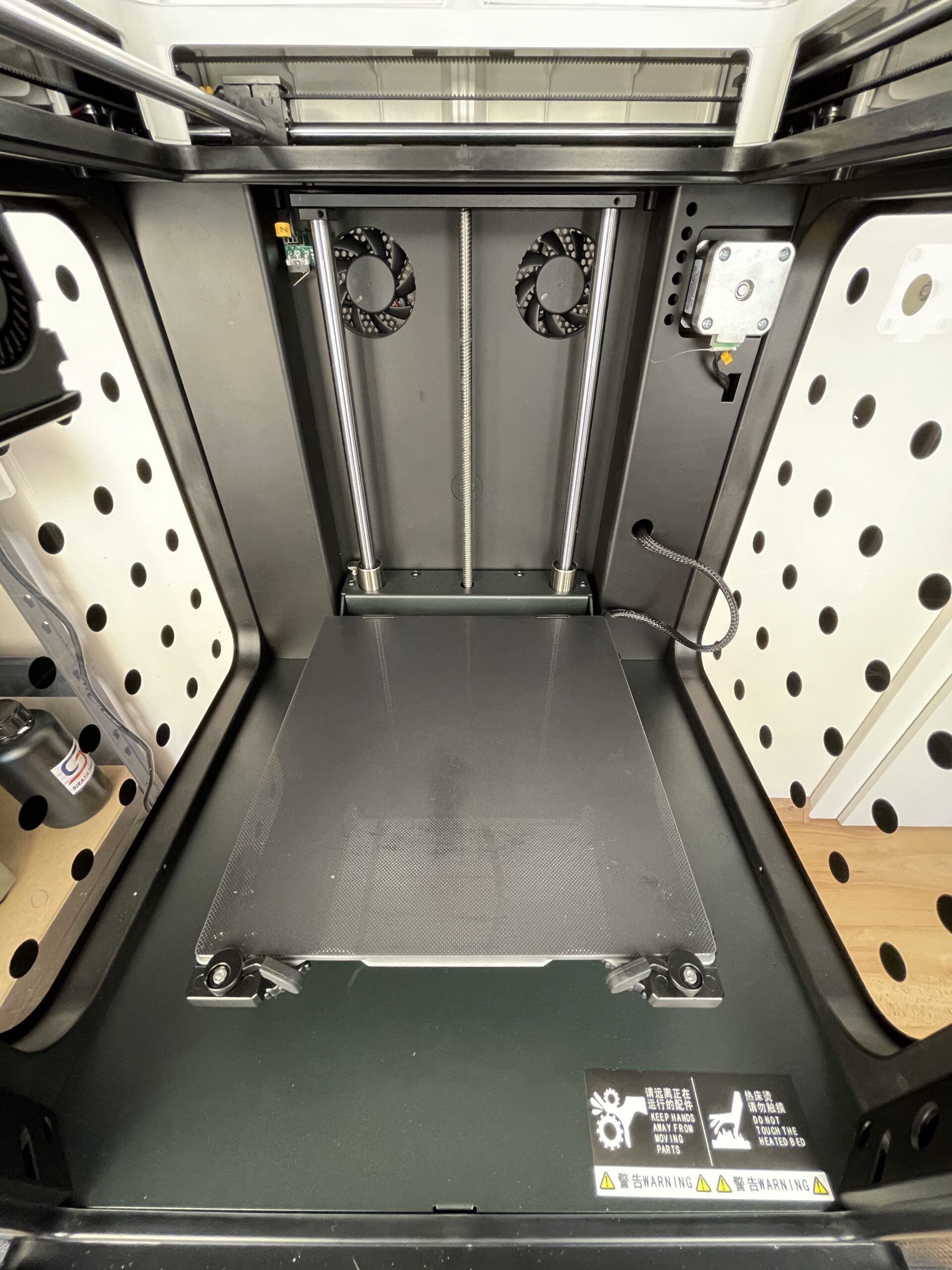 Most of the small-format FDM 3D printers come with a build volume of 220x200x250mm but I think the build volume is quite decent for a fully enclosed 3D printer.
Fully enclosed design
The enclosed design of the CR-200B is probably the most attractive feature. As previously mentioned, the enclosure helps when printing higher temperature materials because it traps the heat inside the printer and allows the printed layers to cool slower.
For example, when printing a model in ABS, it can easily start to curl and detach itself from the heatbed due to the material forces pulling the layers during cooling. When the printer is enclosed, the printed part has time to cool down slower and release those tensions over a longer period of time.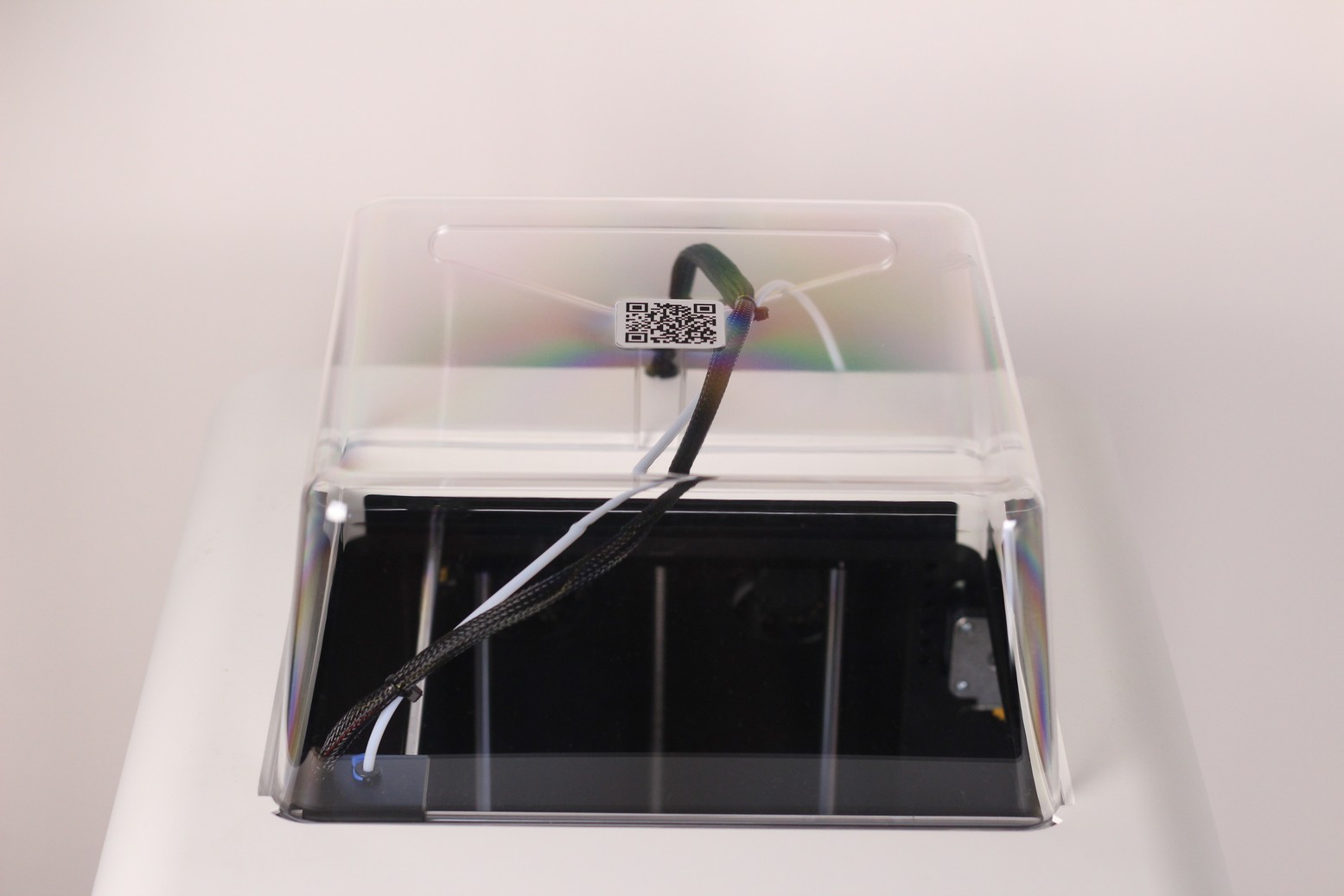 Besides that, having an enclosure can also help with trapping printing odors inside. ABS can be quite smelly during printing, and besides the smell it can also be a health hazard. Unfortunately, the CR-200B enclosure is not perfectly sealed. You will still detect some ABS smell during printing, so it's not really recommended to print ABS without a well-ventilated room.
When printing ABS with the bet set at 100C, the temperature inside the chamber reaches 53C.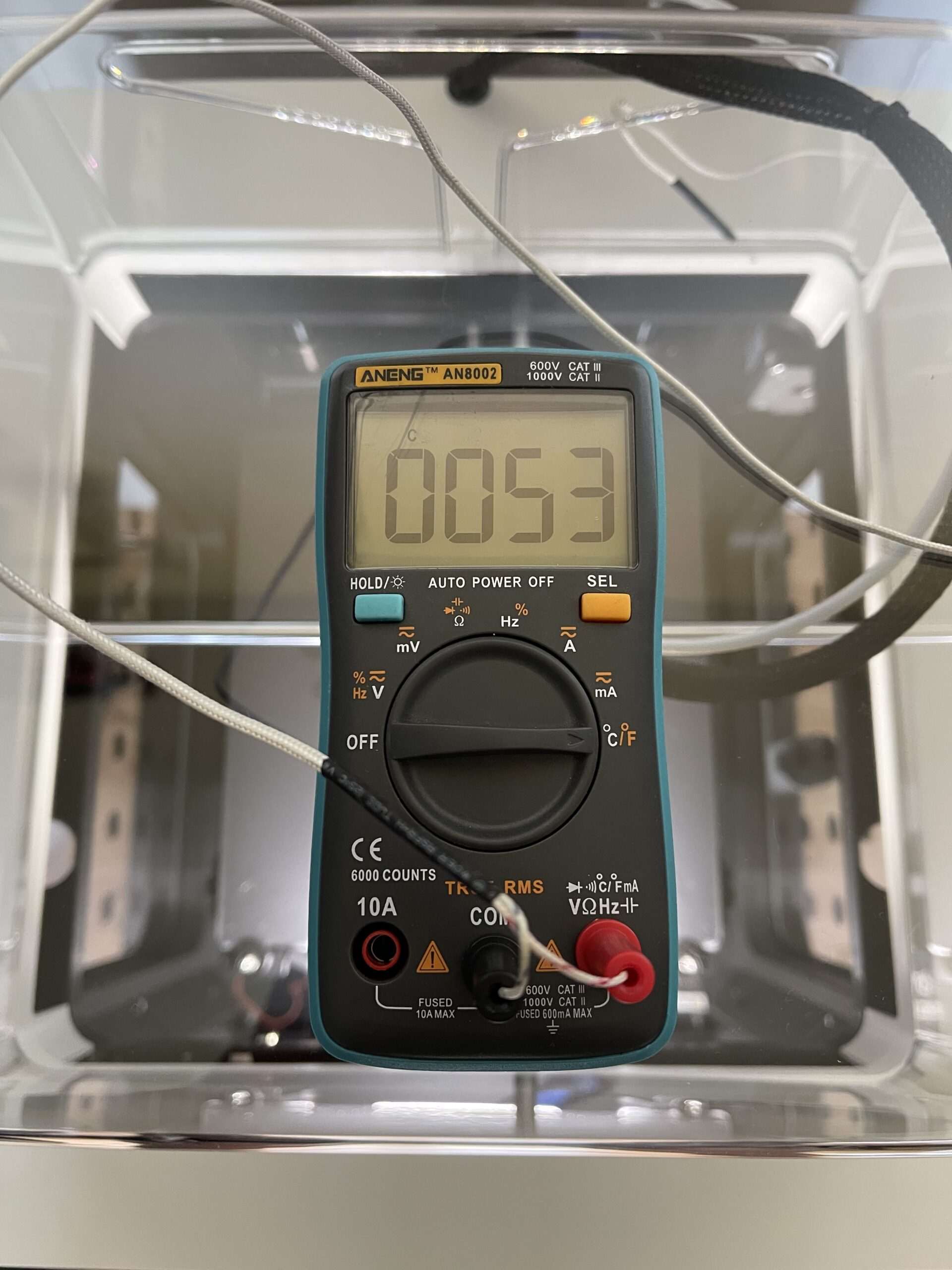 The enclosure works great for higher temperature materials, but it can cause issues when printing filaments like PLA and TPU which can benefit from good cooling. Fortunately, Creality thought of that and included a pair of fans in the back which can be turned on when printing these types of materials.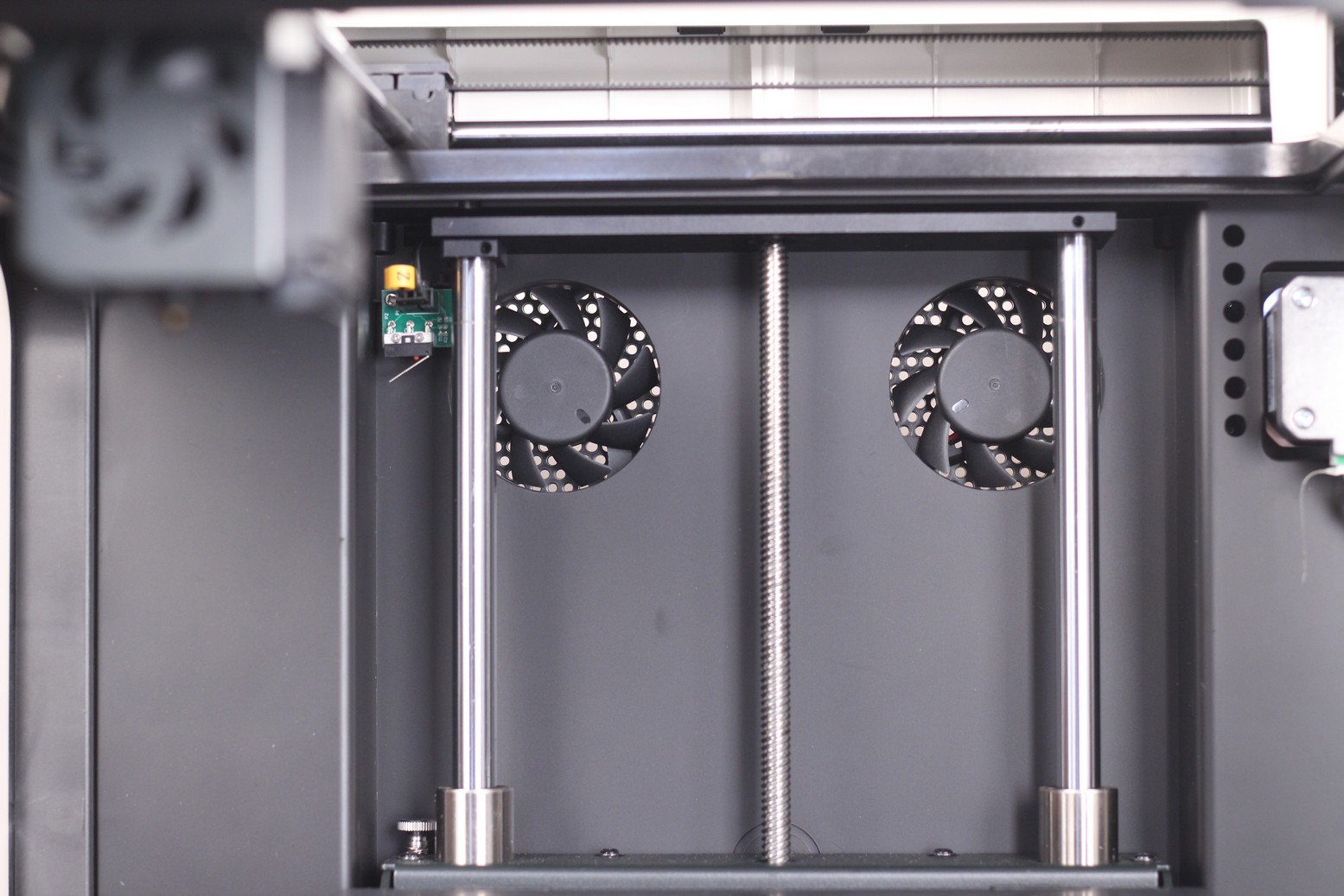 When hot air builds up inside the enclosure it can be expelled throughout the back using the fans, but you can also remove the top cover to help with this.
Creality V4.2.5 32-bit board
The board is a Creality V4.2.5 32-bit board which is found on other printers made by Creality. It has silent stepper drivers, but the fan noise is louder than the printers' movements.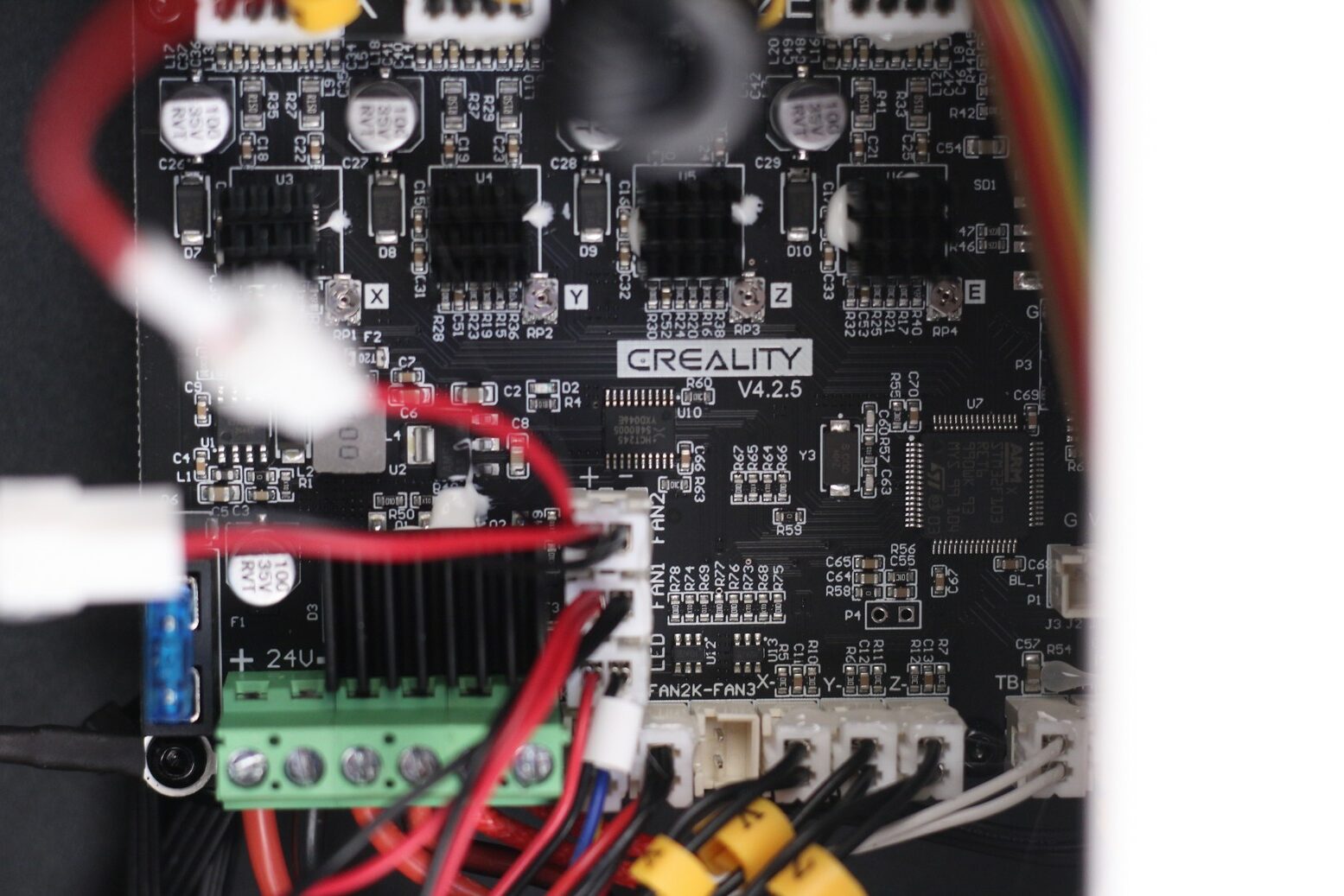 Mean Well 320W 24V Power Supply
As with most 3D printers from Creality, we get a name-brand Mean Well 320W 24V power supply which is one of the best you can get for a 3D printer. As usual with this model, the fan noise of the power supply is quite significant adding to the noise generated by the printer.
LED light illumination
Even though the CR-200B has transparent sides and cover, it can get pretty dark inside so Creality installed an LED strip inside the printer. It's not too powerful, but good enough so you can see the printed model inside the enclosure, and especially useful when dialing in the first layer.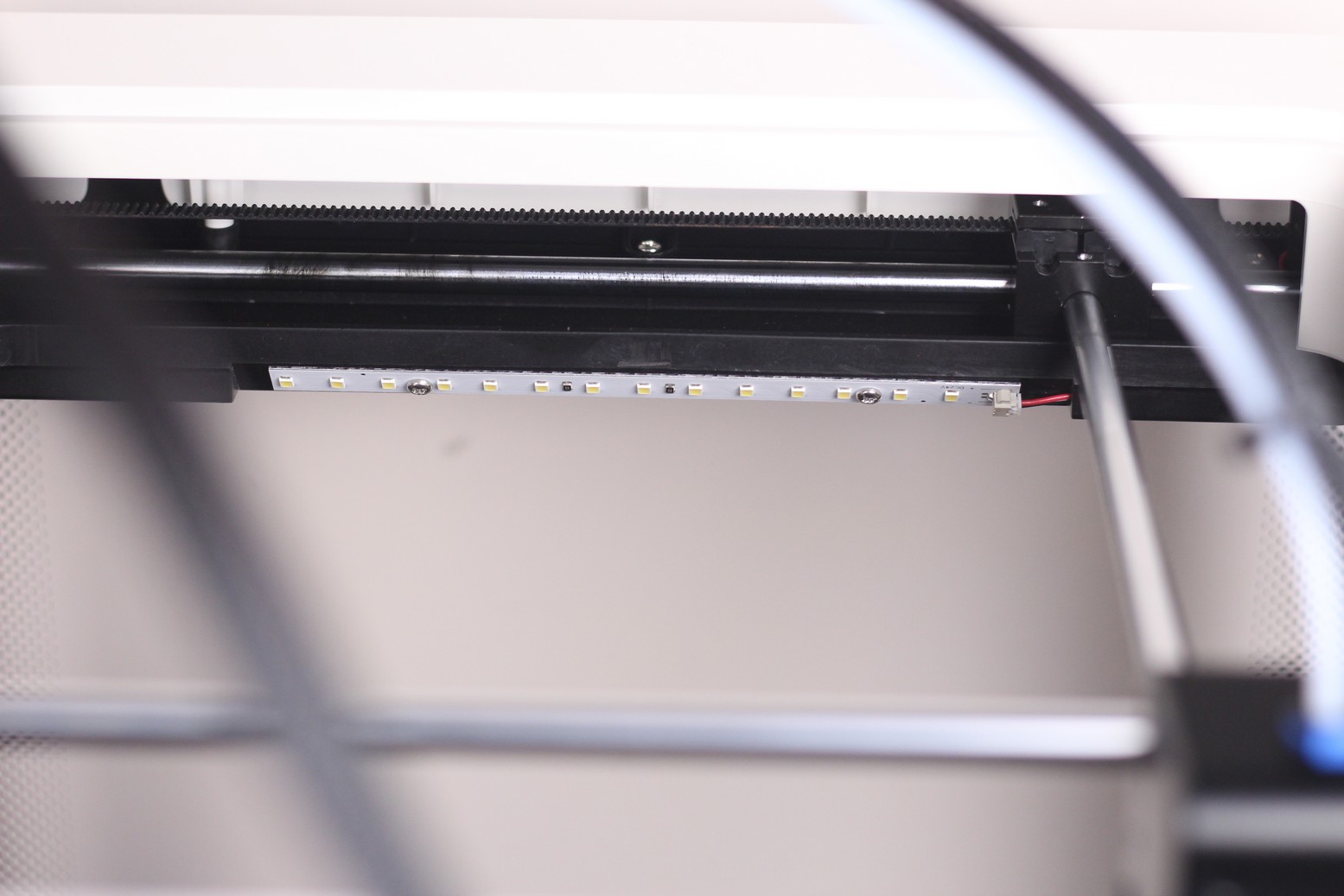 This LED light can be controlled using the on-screen touchscreen and it's a nice-to-have addition.
4.3-inch color touchscreen
The 4.3-inch color touchscreen doesn't have any special feature compared to other printers like the CR-5 Pro, Ender 5 Plus or Ender 6. Fortunately, this screen is compatible with Klipper (using Desuuu's build) which is nice if you ever plan to upgrade the firmware in the future.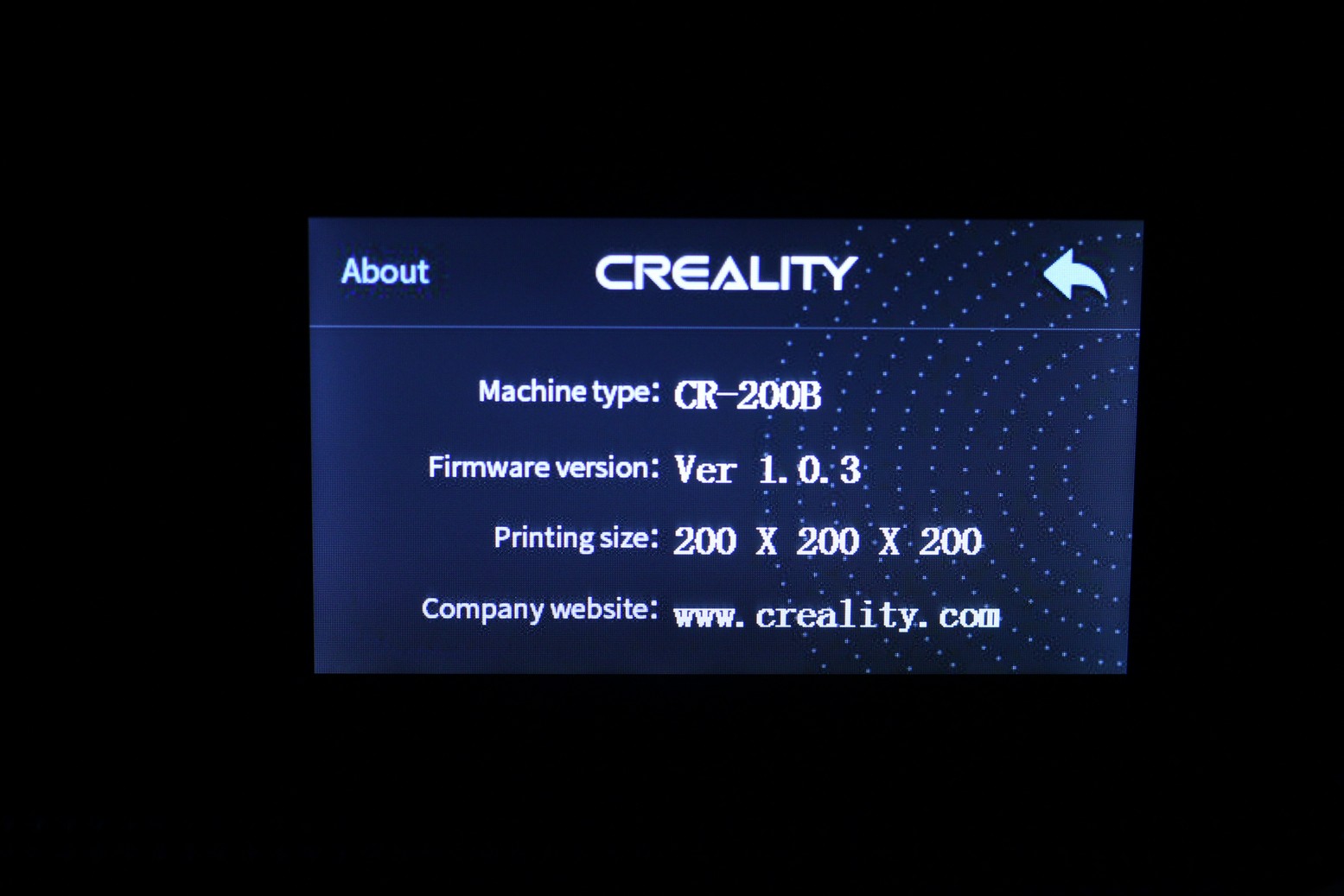 Heating time and power consumption
I tested the heating time for both hotend and heat bed and here are the results:
Hotend
200C in 1 minute and 25 seconds
250C in 2 minutes and 10 seconds
Heatbed
60C in 2 minutes and 15 seconds
100C in 7 minutes
Power Draw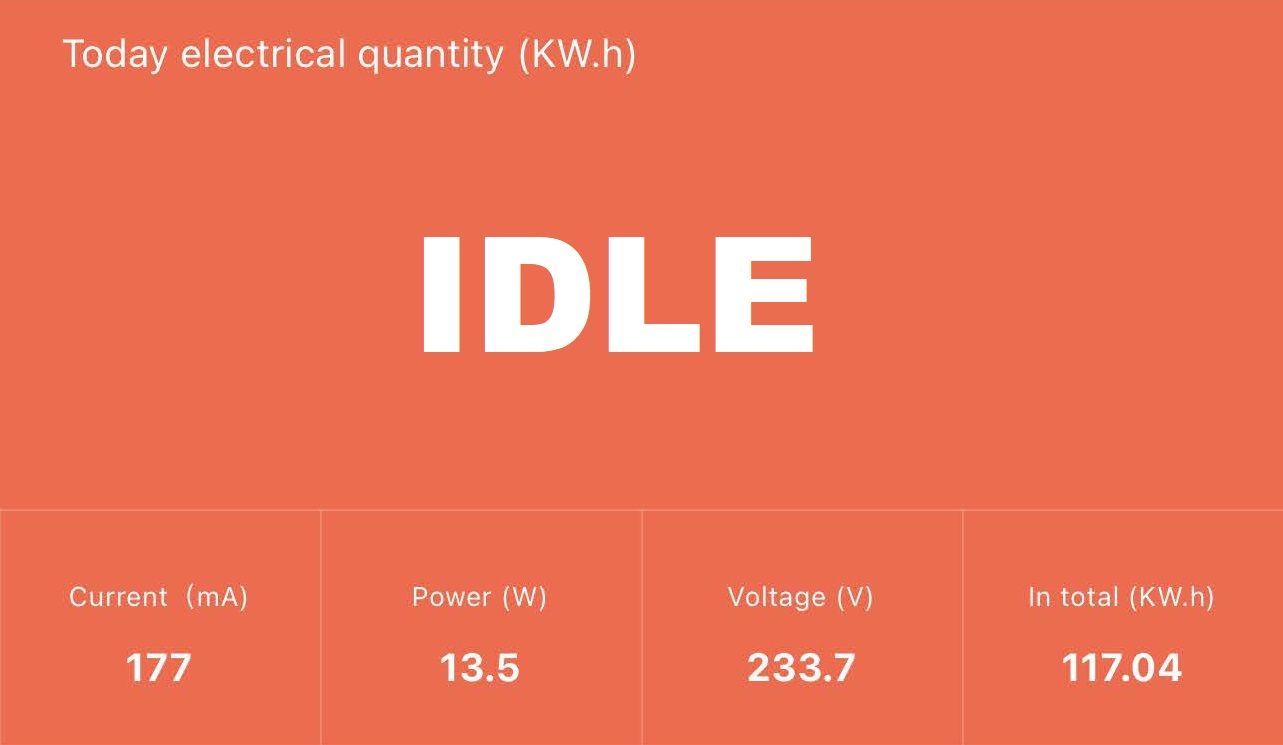 Idle power draw is around 14W. When the hotend and heatbed are heating up, the Creality CR-200B draws around 290W. After it starts printing, the power draw stabilizes to around 60W.
Bed Temperature Uniformity
I tested the temperature uniformity for the Creality CR-200B bed with the FLIR Camera installed on the CAT S62 Pro. The bed has been set to 60C and I waited 2 minutes after reaching that temperature for the temperature to stabilize.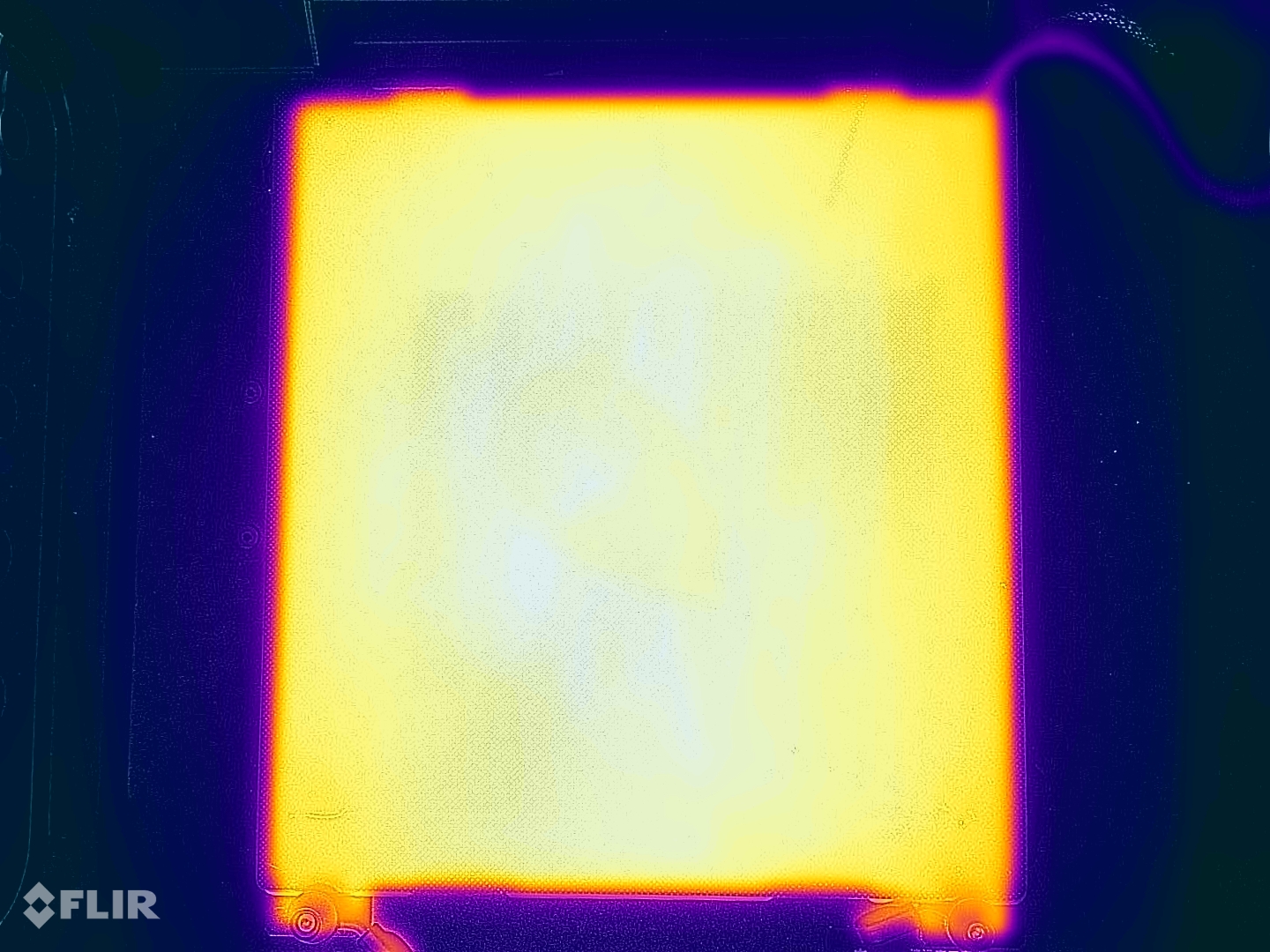 As you can see, the bed temperature uniformity is decent, with the center portion of the bed being a bit hotter than reported by the thermistor.
Creality CR-200B Noise Levels
The Creality CR-200B is mostly quiet during printing, with the fan noise being the most noticeable. In the video below you can hear the printer with the front door closed and the top cover installed.
IdeaMaker Profiles for Creality CR-200B
During my time with the printer, I also tuned four IdeaMaker profiles for the Creality CR-200B using the tools available in the 3D Printer Calibration Guide using IdeaMaker article. These profiles are tuned for the stock printer and worked well for me. Feel free to give them a go.
Creality CR-200B IdeaMaker Profile – PLA – 3DPrintBeginner
Creality CR-200B IdeaMaker Profile – PETG – 3DPrintBeginner
Creality CR-200B IdeaMaker Profile – ASA – 3DPrintBeginner
Creality CR-200B IdeaMaker Profile – ABS – 3DPrintBeginner
Test prints on Creality CR-200B
The first print I did with the CR-200B is a 3D Benchy which came out pretty well considering that the slicer was not perfectly tuned. There are some extrusion issues on some parts of the print mainly caused by the shorter PTFE tube I mentioned before.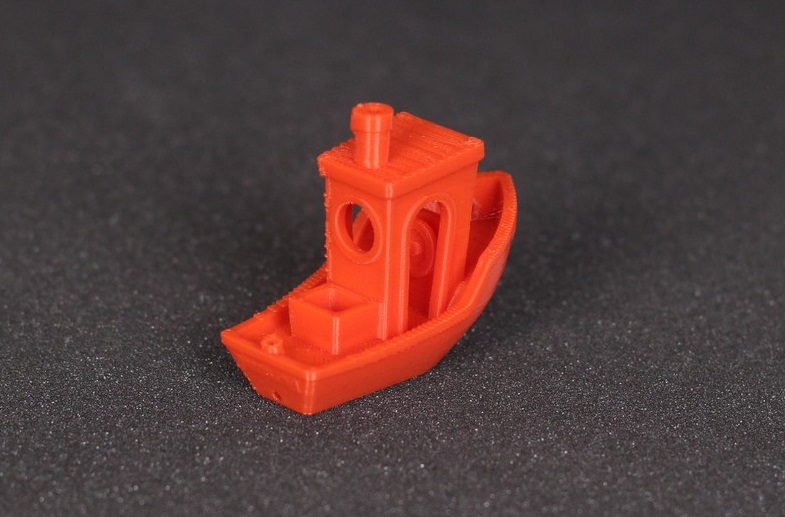 Material: Gembird Red PLA
Layer Height: 0.2mm
Nozzle Temperature: 215C
Bed Temperature: 60C
Print Speed: 60 mm/s
Calibration Cube 200%
With my recent Extrudr order, I received a small sample of red ASA. I printed this 200% calibration cube to test the print quality and accuracy. As you can see below, the material printed pretty well on the first try, even though you can see some Z layer lines but nothing significant.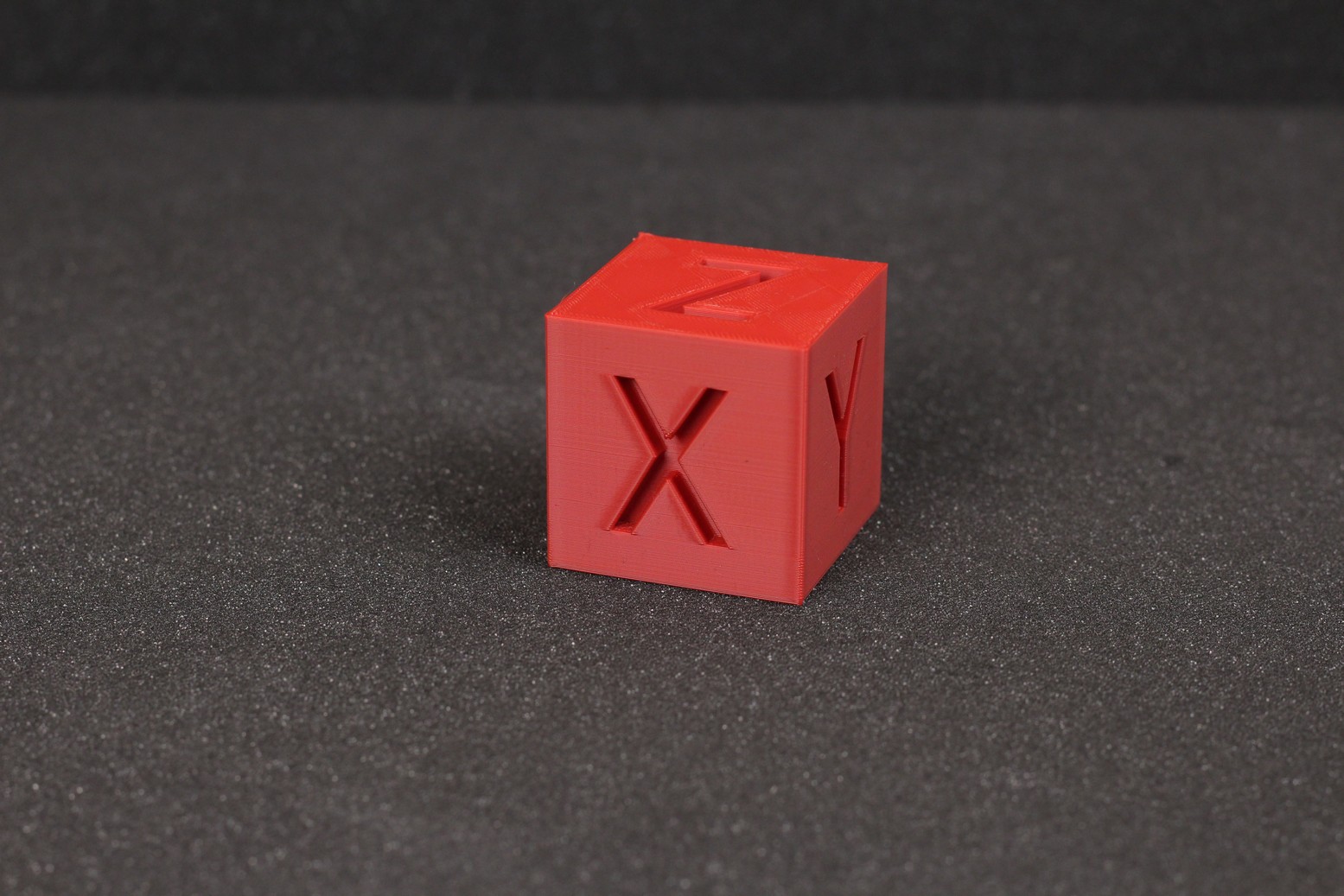 Material: Extrudr ROT ASA
Layer Height: 0.2mm
Nozzle Temperature: 230C
Bed Temperature: 100C
Print Speed: 50 mm/s
Bench
After fixing the PTFE tube issue, I started another print. This time, it's a bigger benchy with more detail and I'm happy to report that the CR-200B was able to print it successfully. Even the small features of the wheel inside the hull are printed well with minimum stringing present. But there was a small partial clog when reaching the top, and you can easily see the smoke pipe not being correctly printed.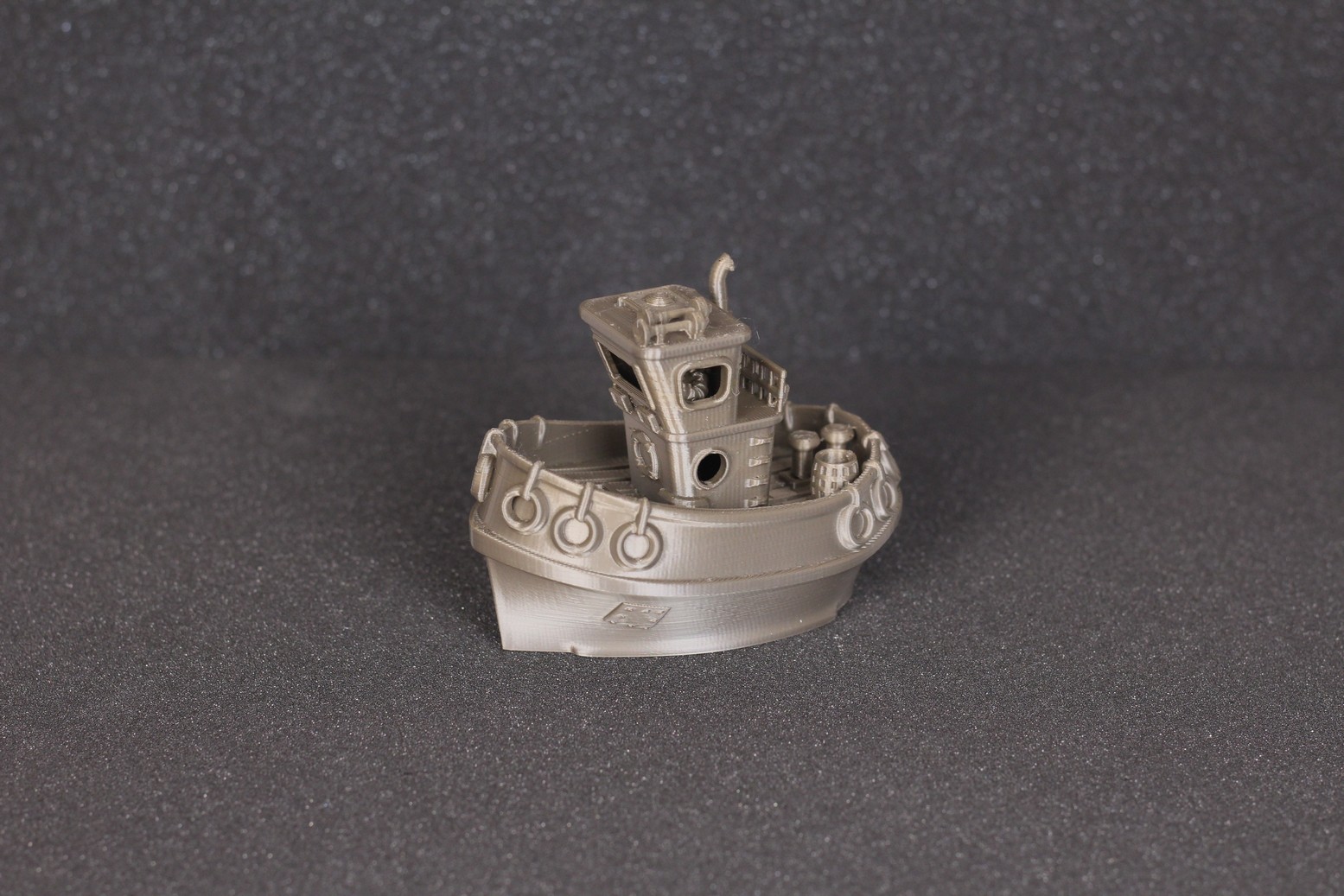 Material: Gembird "Gold" PLA
Layer Height: 0.15mm
Nozzle Temperature: 215C
Bed Temperature: 60C
Print Speed: 50 mm/s
Batman Bust
The CR-200B is an enclosed machine, so I thought it would be a good idea to print higher temperature materials as a test. I sliced the Batman Bust from Eastman and printed it in ABS. I had no issues with printing this model, with some glue stick added to the build plate. The overhangs could be a bit better, but no part cooling fan has been used with ABS so that's normal.
You can also see a bit of inconsistent extrusion on some parts of the model, but nothing significant. The long PTFE tube shows the lack of precision you get with a bowden setup.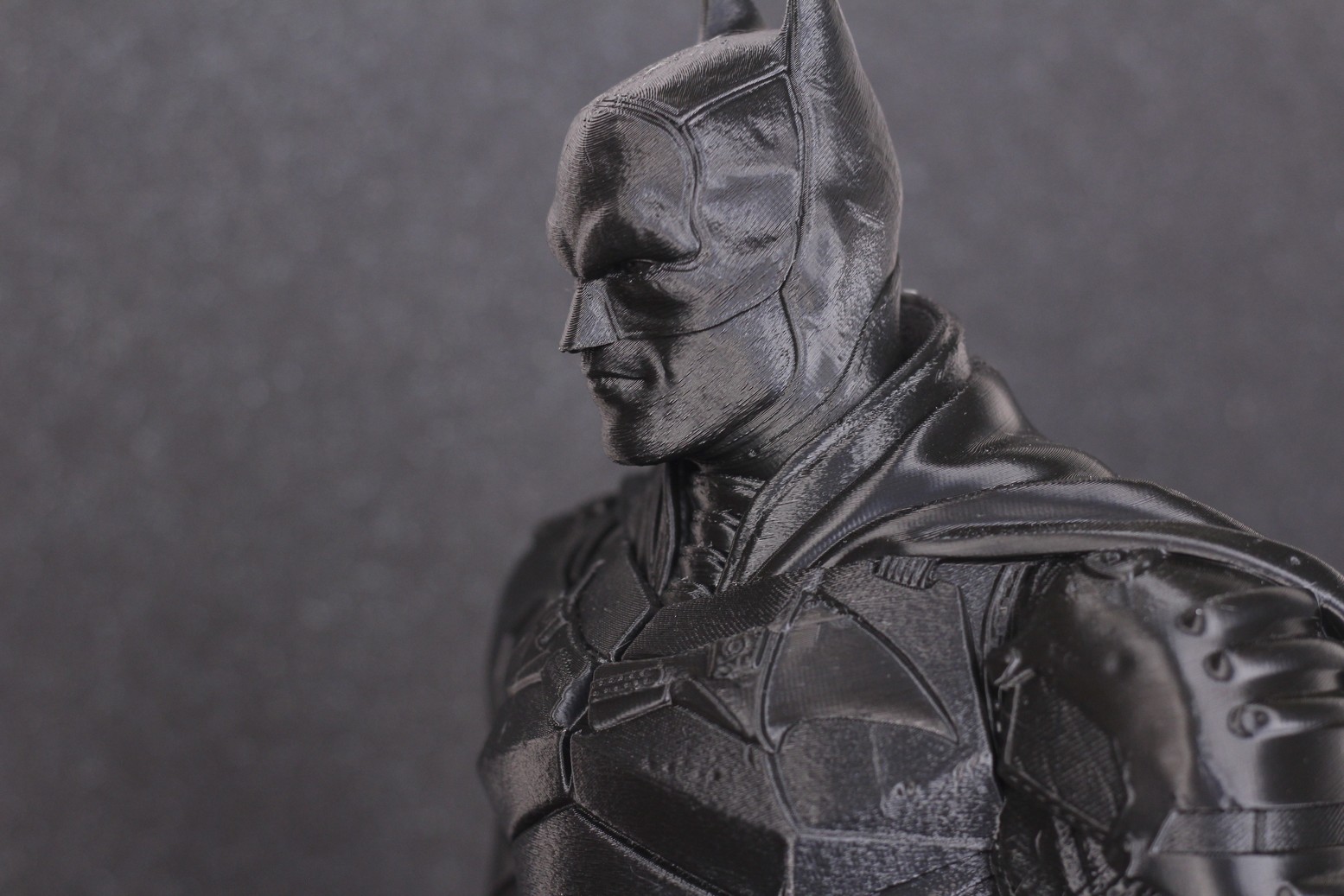 Material: Gembird Black ABS
Layer Height: 0.15mm
Nozzle Temperature: 235C
Bed Temperature: 100C
Print Speed: 50 mm/s
Torture Toaster
The Torture Toaster was also completed successfully, but the print quality is not the best. The extrusion was inconsistent which caused some visible layer lines, bad overhangs and I wasn't able to move any of the tolerance features. Fortunately, after fixing the PTFE tube issue, and the small clog, the print quality was much improved.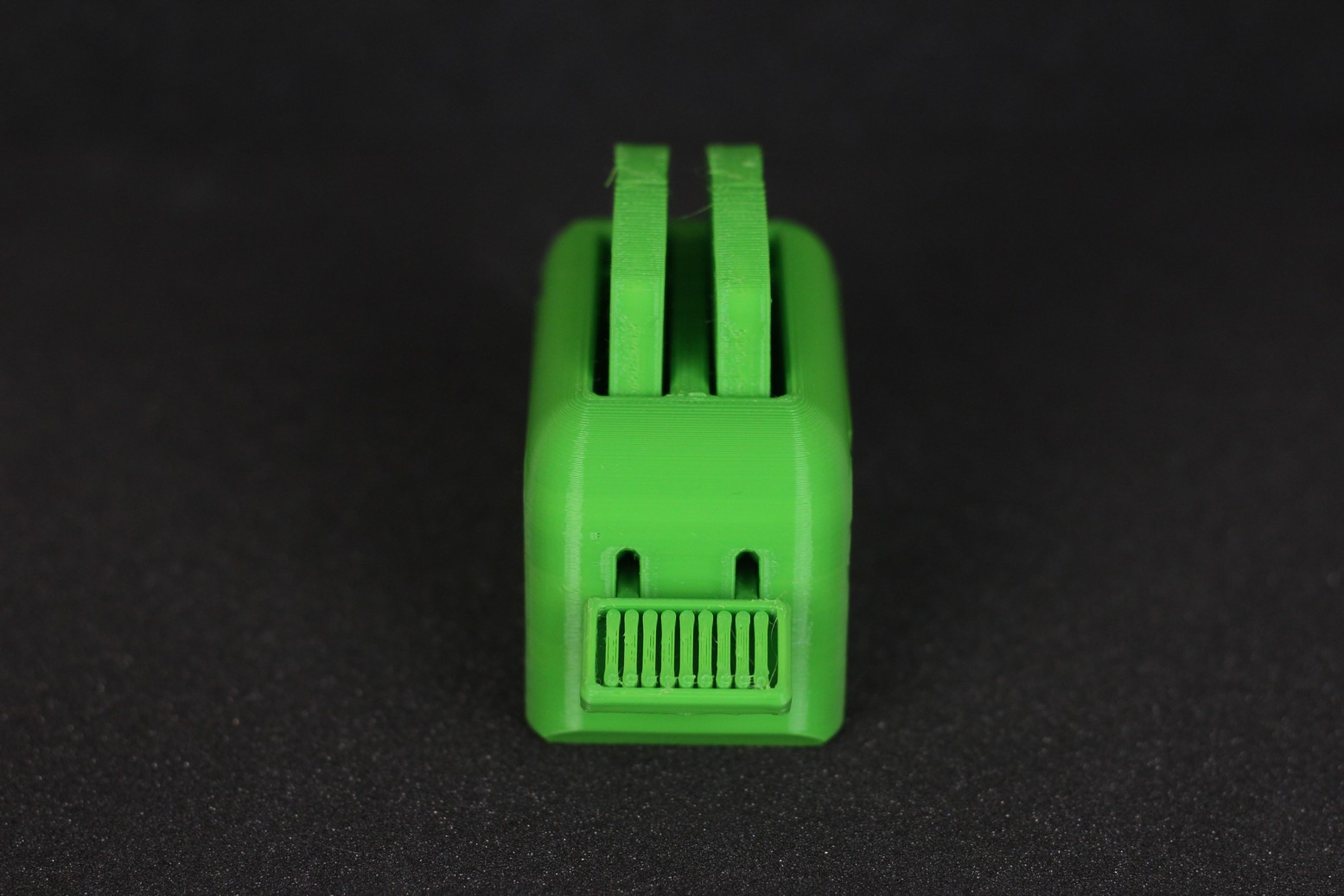 Material: Devil Design Green PETG
Layer Height: 0.2mm
Nozzle Temperature: 235C
Bed Temperature: 80C
Print Speed: 60 mm/s
Phil-A-Ment
The second PLA print came out much better with the retraction further dialed in. I wasn't able to print this model without adding a generous amount of glue stick, so take into consideration that adhesion is not what you would expect compared to other printers.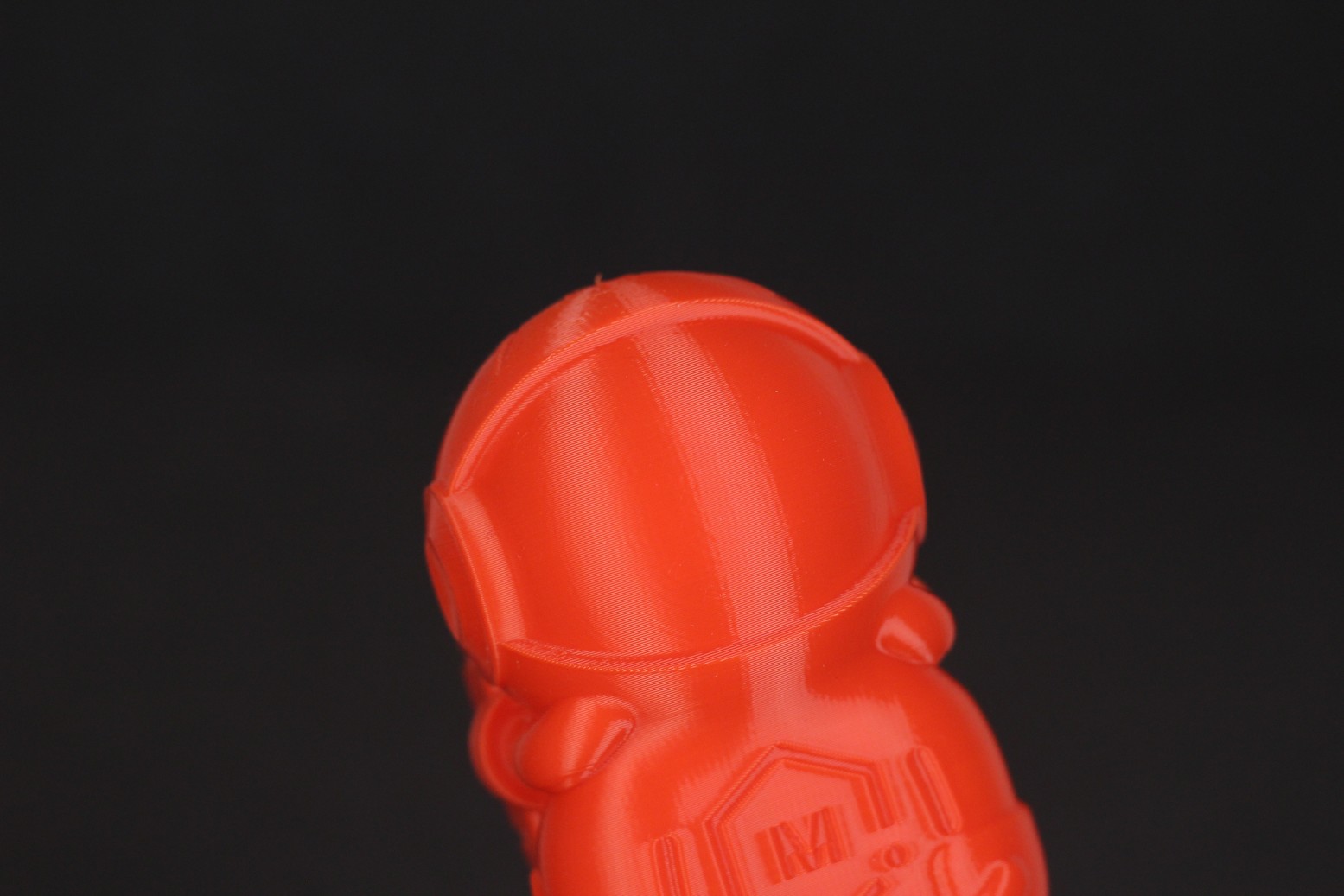 Material: Gembird Red PLA
Layer Height: 0.2mm
Nozzle Temperature: 215C
Bed Temperature: 60C
Print Speed: 50 mm/s
Conclusions: Is the Creality CR-200B worth it?
While the Creality CR-200B is not the best equipped printer out there, it compensates with the full enclosure. The print quality is decent, and it's able to handle high temperature filaments without any major issues. It would have been a much better experience if the PTFE tube inside the heat break would have been cut to size, but after fixing that issue, the printer performed well.
The lack of an all-metal heat break hinders the performance of the printer, but with a simple upgrade you can improve its performance and print higher temperature filaments without needing to spend a lot of time with maintenance.
If you are looking for a bigger volume, this printer might not be for you, but I don't have any problems recommending the Creality CR-200B to someone who is looking for a nice-looking, fully enclosed 3D printer that doesn't break the bank.
In my opinion, the price of ~350$ is ok for this machine, if you really need the enclosure and plan to print higher temperature materials. If you don't, then I recommend looking for other alternatives out there with better specs and better print quality.
Creality CR-200B Rating
Design
Specs
Noise Levels
Ease of use
Print Quality
Price
The Creality CR-200B can be a good purchase if you are looking for a compact enclosed 3D printer, capable of printing higher temperature materials without too much trouble. If you don't require an enclosure, then I recommend looking for other machines available for a similar price point with more features.
Where to buy the Creality CR-200B
The Creality CR-200B can be purchased from the following websites:
I recommend checking out the Discount Codes page before purchasing. I regularly update the article with discount codes for various online shops, and you might find one for this particular model.
The Creality CR-200B was provided free of charge by Creality for the purpose of this review. While the article includes affiliate links, all opinions are my own. Nobody reviewed the article before it was posted, following the Review Guidelines.