Reviews
Best OctoPrint Plugins – My Top Picks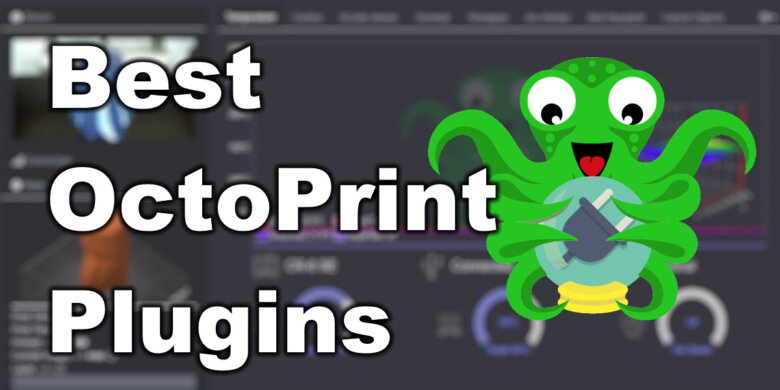 OctoPrint is a great tool which can improve your 3D printing experience. In this article I cover the best OctoPrint Plugins you can install to add more functionality to your OctoPrint server.
If you don't already know about OctoPrint, then I recommend you read my OctoPrint article to learn how to install OctoPrint on Raspberry Pi and see how can OctoPrint improve your 3D printing experience.
Octolapse
If you've seen those awesome 3D printing time-lapse videos, they were probably done with Octolapse.
Octolapse is an OctoPrint plugin which allows you do generate excellent time-lapse videos of your prints with ease.
After configuring Octolapse for your printer, your webcam takes snapshots after each layer and when it's finished, you get a time-lapse video to share and enjoy.
Bed Level Visualizer
If you have an auto bed leveling sensor on your machine, then Bed Level Visualizer should be one of the first plugins you install on your Octolapse server.
With the Bed Level Vizualizer plugin, you get a visual representation of your bed after it's probed. This way, you can easily see where your bed has irregularities.
Print Time Genius
Print time is one of the biggest hurdles when it comes to 3D printing. Everybody want their print to finish as soon as possible so they can enjoy their creation. But what happens when the slicer tells you that your print will take 10 hours only to come back after that time and watch your printer still doing it's job?
Enter Print Time Genius plugin for OctoPrint. This plugin will monitor your 3D prints and learn how much time it takes for the machine to finish its task.
After a few prints, the print times will be more accurate, and you will be able to know precisely how long a print will take before starting it.
It's one of the first plugins I install on any OctoPrint instance I setup, even though IdeaMaker is pretty reliable when it comes to print time estimates.
Themeify
The stock OctoPrint interface is nice, but there's no way to enable dark mode. And for a lot of people (including myself) dark more is life.
You can enable dark mode in OctoPrint with the help of the Themeify plugin. But besides bringing OctoPrint to the dark side, you will also be able to customize the whole interface.
For example, I am running an ultrawide monitor and I've always felt that there's a lot of unused screen estate with OctoPrint. With the Themeify plugin you will be able to edit the CSS values and span the interface on the whole screen. Here are the values I use for my setup:
Autoselect
If you're like me, you probably have a lot of g-code files on your OctoPrint instance and it's not always fun to scroll trough them until you find the file you just uploaded.
The Autoselect plugin will automatically open the newly uploaded file making things a lot easier.
Telegram
The Telegram plugin is one of my favorite plugins when it comes to monitoring prints with OctoPrint.
After configuring the Telegram plugin, you will be able to "chat" with your printer with a series of commands. You could "ask" it to send you the current status of the print including a screenshot from the webcam, or notify you when a print is finished. really helpful!
The best part of this plugin is that you don't need to open any ports in your router firewall making it a much safer option for remote monitoring. If Telegram isn't your thing, then you can try similar plugins like Octoslack or OctoPrint Discord Remote.
PrusaSlicer Thumbnails
If you are a PrusaSlicer user, then PrusaSlicer Thumbnails is a must have. This plugin will show a thumbnail of your model.
Remember that you will need to edit PrusaSlicer's configuration according to the plugin documentation to enable the Thumbnail generation for other printers. By default, it's only enabled for the Prusa Mini.
RaiseCloud
If you're an Ideamaker user like me, then the Raise3D OctoPrint plugin should be installed on your OctoPrint server. This makes it easy to directly send your g-code files right from the slicer.
Besides that, you will also be able to remotely control and monitor your printer using the RaiseCloud app without the need of opening firewall ports on your router.
Another useful plugin I install on any OctoPrint server is Navbar temp. With this plugin, you get a nice real-time bar which shows the temperature of your Pi's CPU, hotend and heatbed.
In my case, I'm running OctoPrint on an Intel NUC so that's why the SoC temperature is not shown.
If you installed Navbar temp, then you probably want to have your temps pinned to your screen. This task is handled by the Floating NavBar for OctoPrint.
This plugin will lock the navbar on top of your OctoPrint page making it accessible wherever you might need it.
Simple Emergency Stop
It's always good to have a "STOP' button when using OctoPrint. Maybe you clicked the wrong button, or started the wrong print, the Simple Emergency Stop plugin will do it's job and stop everythig.
After installing the plugin you get a button ready to be used when needed, easily accessible in the navbar.
To save time when I start a new print, I like to set my hotend and heatbed temperature just before I start slicing a model. That way, I don't lose time waiting for the tools to heat up when I start a print.
While you could set the temperature for each tool according to your needs, by installing the Preheat button plugin you will be able to easily preheat the printer in advance with the values pulled from the g-code file.
Webcamsb
Another useful OctoPrint plugin is the Webcamsb plugin. After installing this plugin, you will get a webcam thumbnail on the sidebar.
Resource Monitor
Sidebar Macros
With the Sidebar Macros plugin you will be able to setup a list of macros on the OctoPrint sidebar which can perform various actions.
For example, instead of having to go in the terminal and enter the G29 command, you could setup a macro for Bed Leveling which will be available on a single click. Really helpful.
File Manager
I always install this plugin on my OctoPrint server with the hopes of properly managing and organizing my g-code files. unfortunately, I always forget about it and after a while I end up with a bunch of files in a single place.
If you are more organized, then make sure you check the File Manager plugin which will allow proper file management right from the browser.
BLTouch
If you have a BLTouch probe installed on your 3D printer, then I recommend you install the BLTouch plugin for OctoPrint.
With this plugin you get a few buttons which allow you to control the BLTouch probe on your printer, perform a self-test and also release the alarm if something happens.
Cancelobject
How often have you filled your build platebwith models only for one to fail mid print and destroying all of your other models which were printing just fine?
With the Cancelobject plugin, you can selectively cancel printing any model from your print bed. This will instruct the printer to go over the failed model and continue printing the rest. It's a really useful plugin which will save you a lot of wasted filament.
HeaterTimeout
Heater Timeout is one of the safety plugins I recommend installing on your OctoPrint instance. I always preheat my hotend and heatbed before starting to slice a model and often times it takes more than a couple of minutes to prepare the model.
This plugin will monitor your printer and stop your heaters after a set timeframe. This way, you will save a bit of money on your electricity bill while also making your machine safer.
Tab Order
With the Tab Order plugin you will be able to customise the order of your OctoPrint tabs This way, you can have your most used tabs right one after the other and the rarely used tabs at the end.
It's a pretty nice plugin when you are looking to personalise your OctoPrint interface.
The Spagetti Detective
This is not a plugin I use often, but it might be helpful for others. With the Spagetti Detective, you can monitor your prints and with the help of artifficial intelligence, you can get notifications on your phone if something happens and you need to stop the print.
Sometimes, the plugin will report false positives but it's better to get yet another notification on your phone instead of coming back to your printer only to find a pile of wasted filament spagetti.
Autoscroll
With the Autoscroll plugin for OctoPrint you can make your life a bit better by having an "Autoscroll" button on your Terminal tab. When activated, the console text will be scrolled automatically helping you see the newest verbose messages from your printer. Just another quality-of-life plugin for OctoPrint.
Extra Distance
If you find the default OctoPrint movement controls a bit limiting, then Extra Distance plugin for OctoPrint will be great for you.
As the name suggests, it will add a few extra controls for moving your 3D printer axis. You won't find this plugin in the repository, but it can be installed via URL.
UI Customizer
For even more UI customization, check out the UI Customizer plugin. There are a lot of settings which can be tuned like turning on responsive layout and also have a floating webcam on you homepage.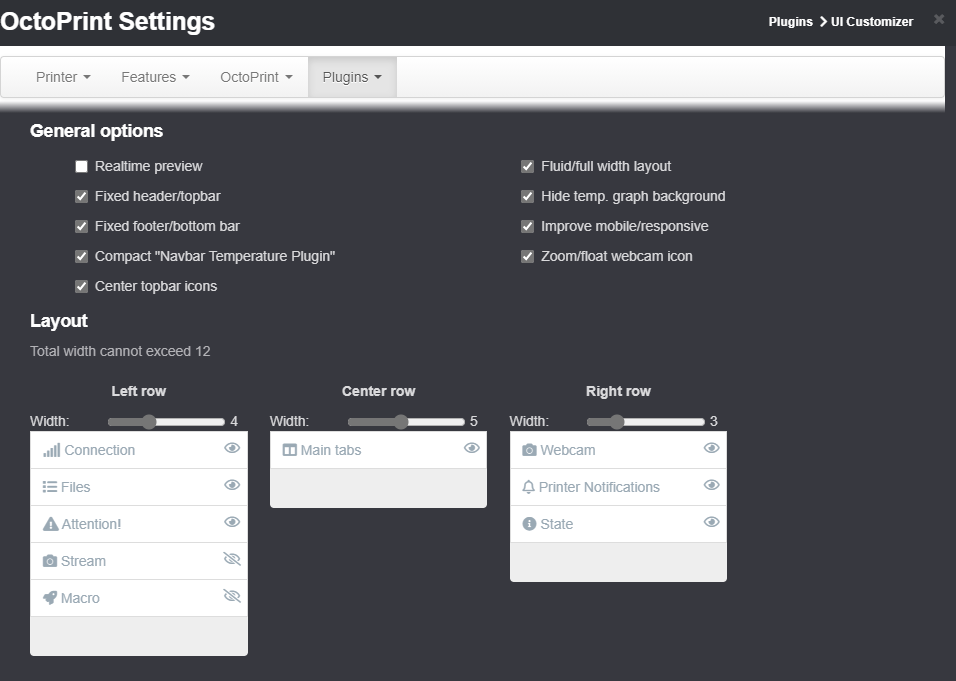 Firmware Updater
If you often flash your 3D printer's firmware, then make sure you install the Firmware Updater plugin for OctoPrint.
This will allow you to flash most of the 3D printer boards without needing to connect your computer to the printer. It's a bit hard to setup, but after you finish configuring it, your flashing process will be much smoother.
Arc Welder
With the Arc Welder plugin for Octoprint you can eliminate printer stutter and compress the G-code that gets sent to the printer.
Instead of sending small movements in rapid succession, Arc Welder replaces the linear G0/G1 moves with G2/G3 arc moves making the G-code size much smaller.
The compression amount for each file is around 50% so I strongly recommend using it. It works best if you are using more recent versions of Marlin because since 2.0.6, arc support has been greatly improved.
Wrapping up
Hopefully, this OctoPrint plugin list has been helpful to you. If you have other cool plugins which you use, then feel free to leave a comment below.
There's also an OctoPrint channel on the 3DPrintBeginner Discord Server, so feel free to join and be part of the discussions.