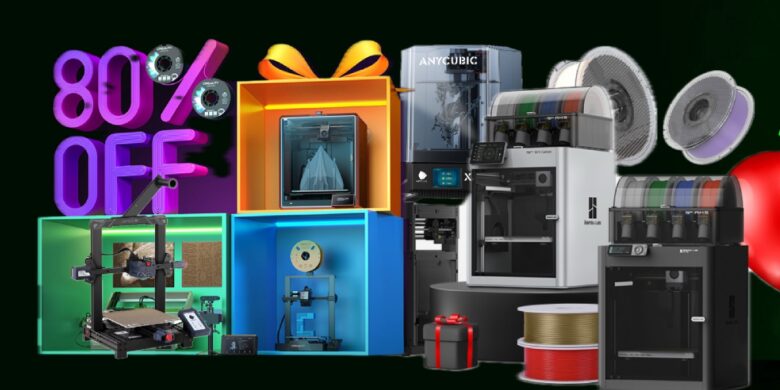 This year, the 3D printer offers for Black Friday are very attractive, as the competition is heated.
In the links below, you can find a few of the most attractive 3D printer deals I found online.
Anycubic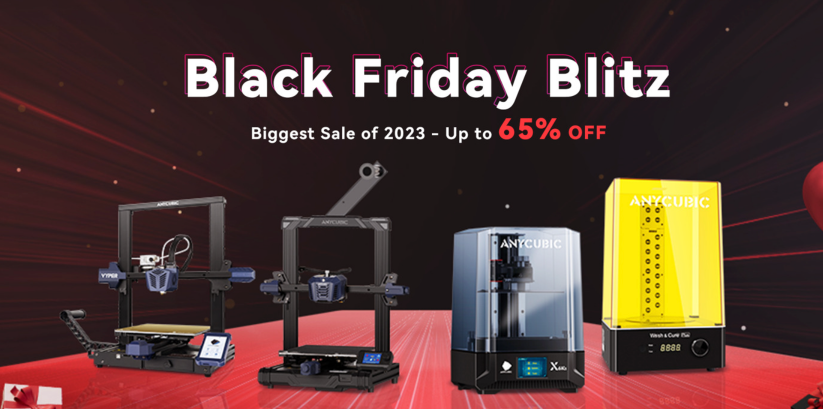 Unfortunately, I did not have the chance to review a lot of Anycubic products this year, but they have launched a few updates to the Kobra line making the printers faster. Below, you can see the promotions I found for Black Friday for Anycubic
Kobra 2 Max for $449 with coupon code BFCM30
Kobra 2 Pro+1 kg PLA for $259 with coupon code BFCM20
Photon Mono 2 for $139 with code BFCM10
Kobra 2 Neo for $149 with coupon code BFCM10
Wash & Cure Max for $279 with coupon code BFCM20
Wash & Cure 3 for $79 with coupon code BFCM10
Anycubic Kobra 2 – 189$ with coupon code BFCM20
Kobra Max – $379 with coupon code BFCM30
Kobra Plus – $259 with coupon code BFCM20
Wash&Cure Plus – $169 with coupon code BFCM10
Photon Mono M5S – $419 with coupon code BFCM30
Photon M3 Max – $759 with code BFCM30
Photon Mono X 6Ks – $249 with coupon code BFCM20
What stands out is the Anycubic Kobra 2 for 189$ which from what I've seen online is pretty popular.
Of course, the Wash & Cure Plus is a must-have for everyone with a resin printer, so I strongly recommend getting one if you don't already have such a post-processing system.
If you are looking for other products from Anycubic that are on sale, I recommend checking this link. You can also use the following discount codes, to add an extra discount:
$30 off $400+ sitewide with code BFCM30
$20 off $200+ sitewide with code BFCM20
$10 off $70+ sitewide with code BFCM10
$5 off $50+ sitewide with code BFCM5
$3 off $30+ sitewide with code BFCM3
Bambu Lab

By now, Bambu Lab printers have become very popular, and during the Black Friday sale (17 Nov – 27 Nov), you can buy them for a very attractive price.
Bambu Lab X1 Carbon Combo – 1299$
Bambu Lab X1 Carbon (without AMS) – 1099$
Bambu Lab P1S Combo – 849$
Bambu Lab P1S – 599$
Bambu Lab P1P – 539$
I have reviewed the Bambu Lab X1 Carbon Combo and it's one of the best printers you can get at the moment. For ~1300$, the combo version is very attractive for the flagship printer in their lineup.
If you don't need the fancy LIDAR functionality or an AMS but still want similar print quality, the P1S for 599$ is an amazing value for what you get.
Besides this, the early buyers also get two spools of filament included with their printer purchase and a 6-month Filament Membership.
For the filament, this is the Black Friday Offer:
30% OFF 4+ Rolls, 40% OFF 8+ Rolls on PLA Basic, PLA Matte, PETG Basic, ABS
20% OFF 4+ Rolls, 30% OFF 8+ Rolls on all other filaments! (Excluding Refill Bundle, CMYK Bundle)

The entire list of Black Friday sale items for Bambu Lab is available here.
Creality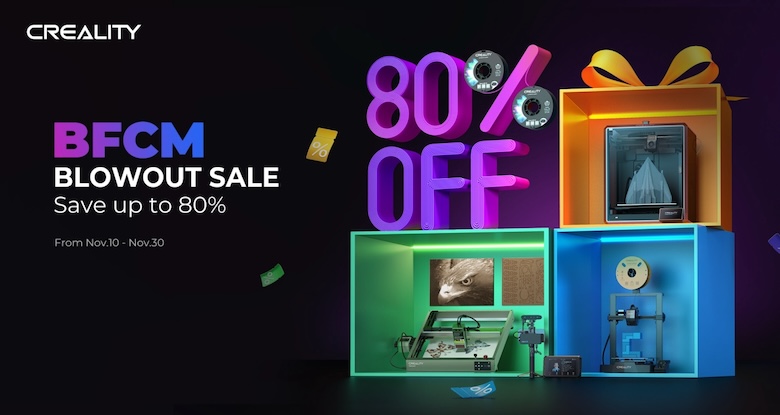 Creality has a Black Friday sale period between 10 Nov – 30 Nov during which they have a a lo of their products for sale, including the popular K1 series.
Creality K1 – 389$ with code BFCM10
Creality K1 Max – 699$ with code WV59JULN
Creality Ender 3 V2 – 169$
Creality Ender 3 V3 SE – 164$ with code ZWZGRSCP
Creality Ender 2 Pro – 99$
Creality Ender 5 S1 – 335$
Creality CR-10 Smart Pro – 379$
Creality Ender 3 S1 Pro – 269$
While the K1 series had a rocky start, there have been some improvements since then, and a price of 389$ for the K1 seems like an attractive deal for a completely enclosed printer.
The K1 Max at under 700$ is a good value if you need the extra space. I have been testing it for the last few months and it seems to work as expected, even though at maximum speeds, the print quality is not perfect. Just expect some tinkering from time to time, to get the best out of the K1 line.
The Ender 3 V3 SE for 164$ is also a great deal for someone looking to get a cheap printer.
There are a lot more printers for sale, so I recommend checking Creality's Black Friday Deals page.
You can also use the following discount codes, to add an extra discount:
| | |
| --- | --- |
| Order over $199, save $5 | BFCM5 |
| Order over $399, save $10 | BFCM10 |
| Order over $599, save $15 | BFCM15 |
| Order over $899, save $20 | BFCM20 |
| Order over $1299, save $30 | BFCM30 |
QIDI

I have recently reviewed the QIDI X-MAX 3 and I found it to be a pretty compelling offering for a large-format 3D printer. If you are looking to get a QIDI 3D printer, the ones below are currently discounted.
QIDI X-MAX 3 – 899$ + extra 5% discount after newsletter subscription
QIDI X-PLUS 3 – 589$ + extra 5% discount after newsletter subscription
QIDI X-SMART 3 – 299$ + extra 5% discount after newsletter subscription
Additional discounts with the following codes, or 5% if you subscribe to their newsletter.


ELEGOO

ELEGOO also has a great selection of items with a Black Friday discount, and I shared most of them in the links below.
ELEGOO PLA Filament – 23.38$
ELEGOO PLA+ Filament – 23.38$
ELEGOO Saturn 2 Resin 3D Printer – 299.99$
ELEGOO Mars 3 Pro MSLA Resin 3D Printer – 177.99$
ELEGOO Mars 3 MSLA Resin 3D Printer – 119.99$
ELEGOO Mercury XS Bundle with Separate Washing Station & Curing Station – 174.99$
ELEGOO Mercury X Bundle with Separate Washing Station & Curing Station – 149.79$
ELEGOO Saturn 3 Ultra MSLA 12K Resin 3D Printer – 474.99$
ELEGOO Saturn 3 MSLA 12K Resin 3D Printer – 379.99$
ELEGOO Mars 4 Ultra 9K Resin 3D Printer – 284.99$
ELEGOO Mars 4 MSLA 9K Resin 3D Printer – 237.5$
ELEGOO Mars 4 MAX MSLA 6K Resin 3D Printer – 284.99$
ELEGOO Mars 4 DLP Resin 3D Printer – 349.99$
ELEGOO Mercury Plus V2 Separate Washing Station & Curing Station -$ 94.99
ELEGOO Standard 3D Printer Resin – 17.99$
ELEGOO Water Washable 3D Printer Resin – 24.99$
ELEGOO ABS-Like 3D Printer Resin – 23.99$
ELEGOO Mars Mate Air Purifier – 129.99$
ELEGOO PHECDA 10W Laser Engraver & Cutter (Basic) – 249.97$
ELEGOO PHECDA 10W Laser Engraver & Cutter (Package 2) – 399.99$
ELEGOO PHECDA 20W Laser Engraver & Cutter (Basic) – 449.99$
ELEGOO PHECDA 20W Laser Engraver & Cutter (Package 1) – 529.99$
ELEGOO Neptune 3 Pro 3D Printer – 199.49$
LaserPecker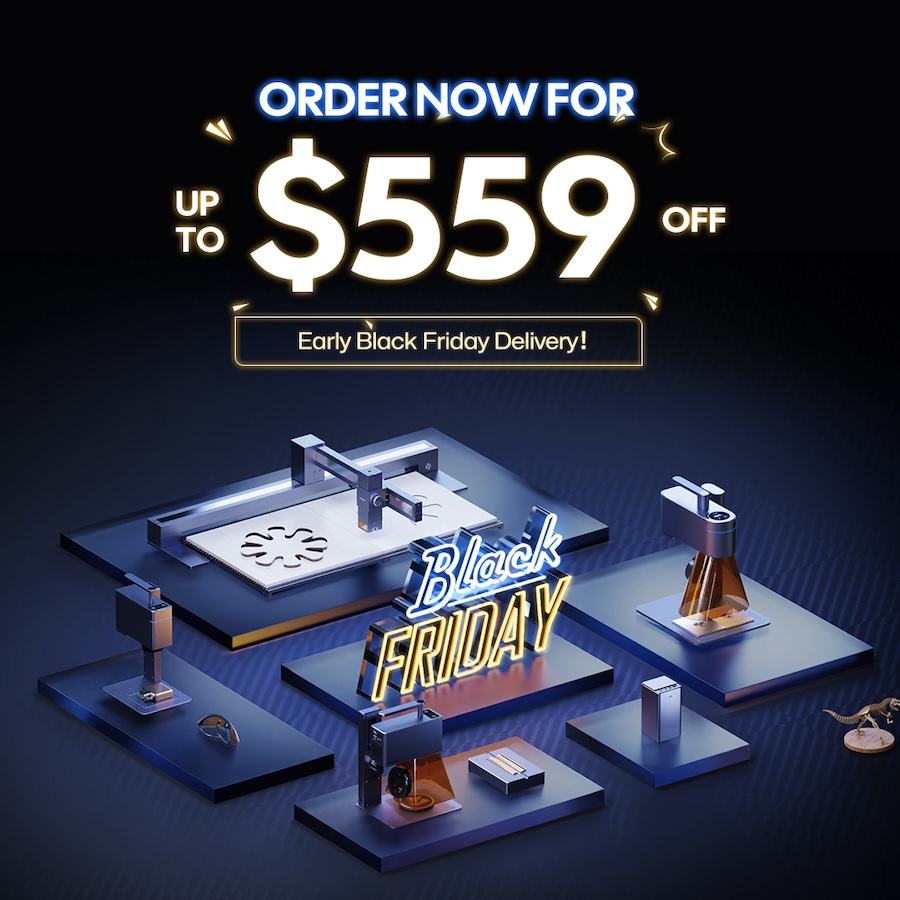 I am currently reviewing the LaserPecker LP4 which has been working great, so I also looked to see if there are other Black Friday promotions, and I found some listed below:
LaserPecker LP4 – 1559$ / same price on Amazon
LaserPecker 2 Pro – 749$
LaserPacker LP3 – 1169$
There is also an exclusive coupon code JB50 available at LaserPecker Official Website to get $50 OFF
UniFormation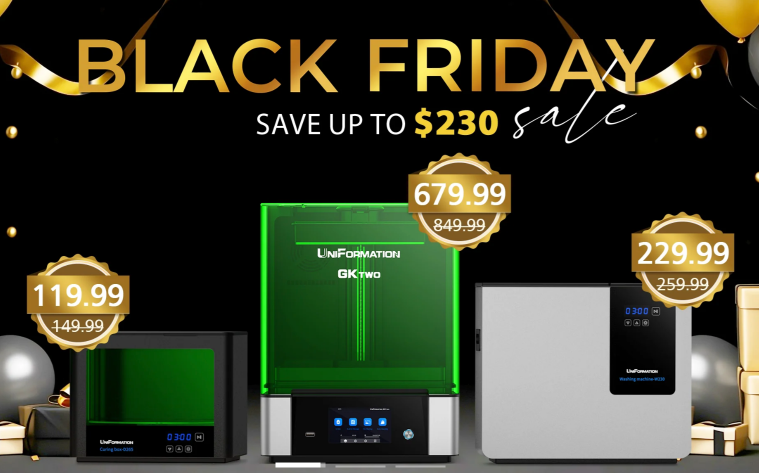 I have previously reviewed the UniFormation GKTwo kit and it is a very good package when it comes to getting a resin 3D printer that has everything you need for smooth printing. And they also have it available for a discount now, during Black Friday
UniFormation GKtwo – 710$ with code GK140
UniFormation GKtwo on Amazon – 680 USD with the product listing discount
UniFormation GKtwo Kit (with Ultrasonic Cleaner and Curing Station) – 1030 USD with code GK140
Revopoint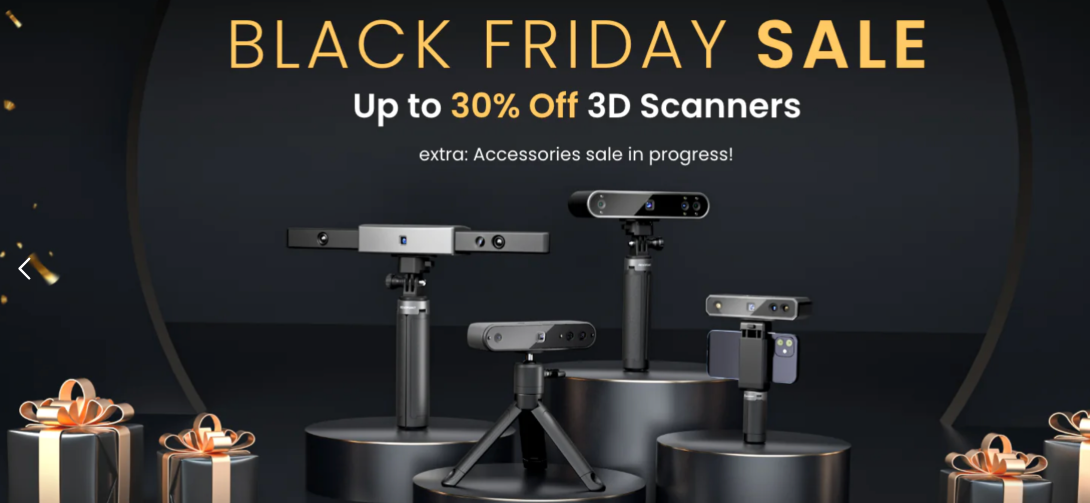 If you are into 3D printing, you probably heard about Revopoint and their 3D scanners. Below, you can find some of their Black Friday deals:
Discounts: Up to 30% on 3D scanners
More than that, all the accessories also have unexpected deals: (Discounts are displayed after adding to cart)
Over $200 – $20
Over $500 – $70
Geekbuying

Geekbuing also has some discounts for printer available in local warehouses. I have listed some of them below: