Sponsored
Creality Black Friday Deals – up to 85% off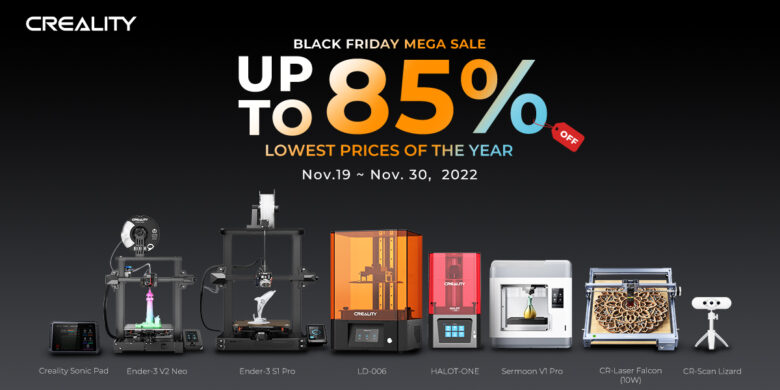 Heads up! Creality's ever-reliable Ender series and resin printers are taking their biggest price cuts of the year even before Black Friday officially starts.
In the world of 3D printing, Creality is a name you simply can't ignore. Whether you are looking for your first 3D printer, stocking up your inventory, or preparing inspirational gifts for your loved ones, Creality has got the best-suited model for you at an affordable price. From November 19 to November 30, Creality Black Friday Mega Sale offers up to 85% off our best-selling 3D printers, accessories, and materials. Scroll on for sweet deals and get ready!
Ender-5 S1 – The pinnacle of the ever-popular Ender series
Looking for your first 3D printer? Heard of the Ender series but don't know which model to buy? Try our latest flagship Ender-5 S1. Featuring up to 250mm/s printing speed and 300°C high temperature, the Ender-5 S1 is a versatile and durable FDM printer unlocking creativities for 3D printing enthusiasts and small to medium-sized businesses. It's got all the upgrades a desktop-grade 3D printer can have: CR Touch auto-leveling, filament runout sensor, secure aviation connector, etc.
Purchasing an Ender-5 S1 now, you will enjoy a 10% discount. What's more, buying a Creality product and joining our Facebook Group is the fastest way to get access to one of the world's largest 3D printing communities. Along with the support from more than 120,000 3D printing lovers and professionals, you will get a 2% cashback for posting your new device in the group.
$503.10 at Creality Official Store – Save $55.90
Ender-2 Pro – Great 3D printer under $100
So far as we can tell, $99 is the lowest price a 100% new Creality 3D printer could be. Coming in 90% pre-assembled, Ender-2 Pro is one of the best budget 3D printers that can unleash limitless DIY possibilities. Weighting only 4.65kg with a well-designed handle, it is a 3D printer you can take everywhere. The $99 price point is only for the first 100 units sold daily during the sale period, so put this deal on your list to stay ahead of the curve.
$99 at Creality Official Store (Limited Offer) – Save $70
Ender-3 Series – Ever-green series in the Hall of Fame
The original Ender-3 is what made Creality's name in 3D printing. The series has now been extended into a fleet of new models to fulfill the needs of not only DIY lovers, but also 3D printing beginners. The Ender-3 S1 Pro featuring Creality's self-developed "Sprite" direct extruder supports 300°C high-temp printing, and carries CR Touch automatic leveling and a user-friendly color touch screen. Adding a CV-LaserModule, your 3D printer will be turned into a laser engraver, making your craver dream come true. If you prefer Bowden extruders, the Ender-3 Neo series are also available for you at up to 20% discount.
Ender-3 S1 Pro 3D Printer Upgrade Combo – Up to 20% off
Ender-3 Neo Series – Up to 20% off
CR-10 Smart Series – Make 3D printing smart and easy
For 3D printing professionals, CR-10 Smart and CR-10 Smart Pro can be the premium options. As the name "smart" suggests, CR-10 Smart series is intelligent and powerful. What's more, the 300×300×400 mm build volume is large enough for you to embark on more exciting projects. By visiting Creality Official Store, you can get up to 30% discount for these two workhorses.
CR-10 Smart series – Up to 30% off
Resin 3D printers: LD-006, HALOT series
Want to own your favorite action figure with every detail shown on it? No need to buy it online; you can print it yourself. Creality resin printers including the LD-006 and the HALOT series fall into incredibly low prices during the Black Friday sale season, and it is the best time to grab one resin printer you've had your eye on. The LD-006 features a 4K 8.9-inch screen and only costs $99 for the first 100 purchasers daily during the sales period. The award-winning HALOT ONE, HALOT-ONE PRO, HALOT-ONE PLUS, and HALOT-LITE are also having up to 50% off discounts.
LD-006 – $99 at Creality Official Store (Limited Offer)
Fully enclosed printers: Sermoon V1 series, CR-5 Pro series
For those looking for an out-of-the-box 3D printing experience, Creality's fully enclosed Sermoon V1 series and CR-5 Pro series are offering up to 40% off, making them perfect gifts for your young ones. For 3D printing professionals, the CR-5 Pro series can print in ABS really well, significantly boosting your work efficiency and helping you fix small items at home.
At Creality Europe Store, users who buy Sermoon V1 or Sermoon V1 Pro will enjoy a 40% discount with a 3D printing pen as complementary.
Sermoon V1 Series – Up to 40% off
Creality Black Friday Mega sale also covers a wide range of accessories and materials including Sonic Pad, CR-Laser Falcon Engraver, CR-Scan Lizard 3D Scanner, etc. Apart from various discounts, up to 5% cashback is also available during the sales period. For more information about products at discounts, please visit Creality Official Store.