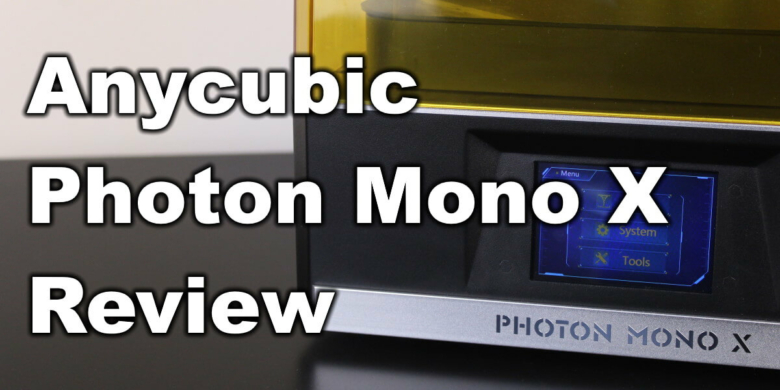 The print quality you get from a resin printer is excellent, but I always thought the resin 3D printers are too small. When larger format resin 3D printers like the Anycubic Photon Mono X were announced I knew I need to get one.
While the Mono X was not my first option (I was planning to get the ELEGOO Saturn) I thought I would give it a go. Here's my experience with it.
Anycubic Photon Mono X Shipping and Packaging
The Anycubic Photon Mono X was delivered in a much bigger box than I was expecting. It has ample protection on all sides, with carboard and plastic corners to protect it during shipping.
If you don't want to spend 15 minutes unboxing the box (like I did) I recommend you open the box from the bottom. It's much easier.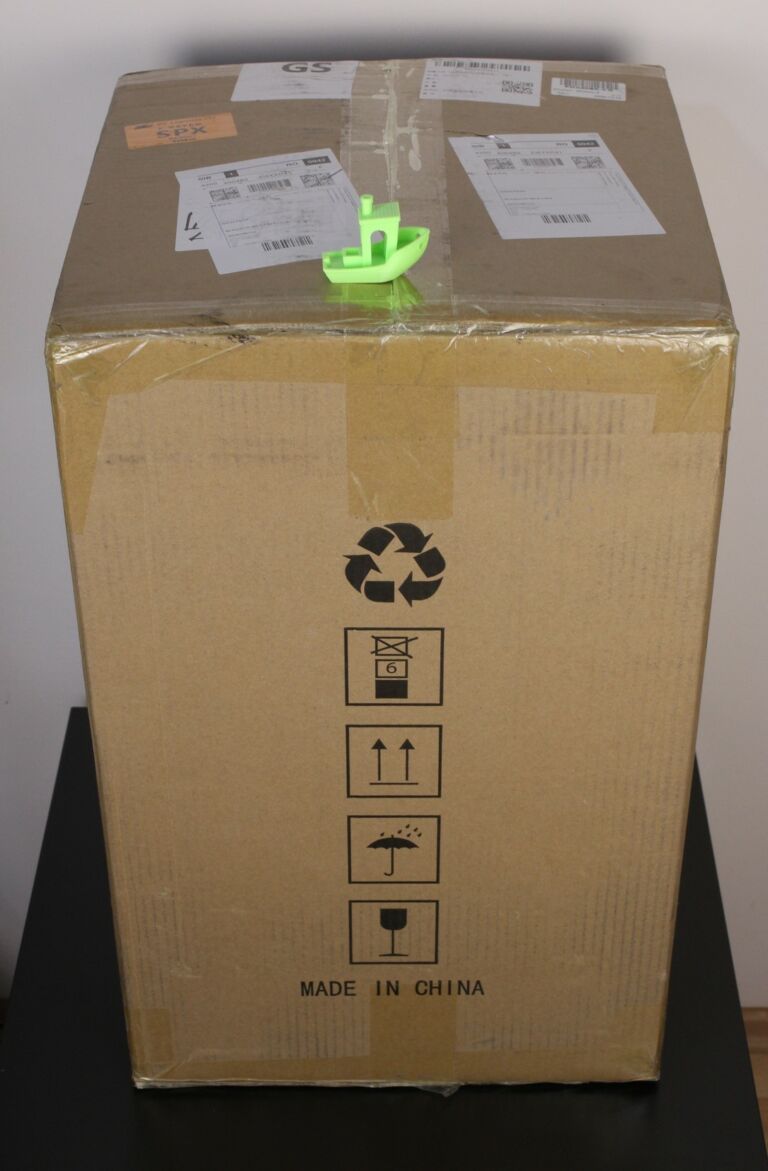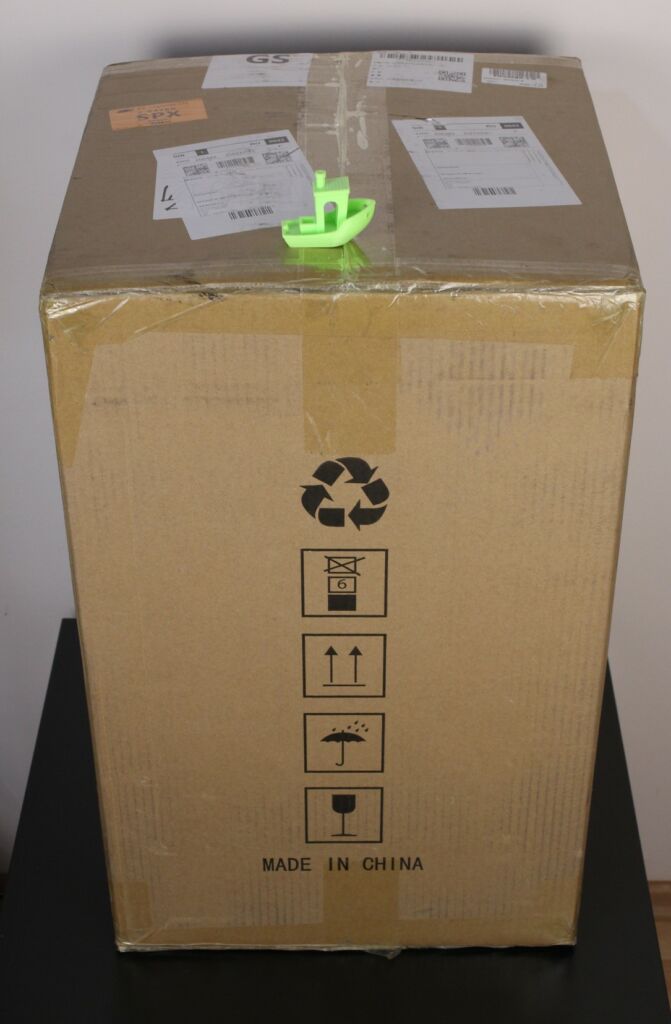 With the Anycubic Photon Mono X, you get the following accessories:
Hex wrenches
Metalic spatula
3 pairs of gloves
3 resin filters
Wi-Fi antenna
Resin vat
Aluminum build plate
Power adapter
Quick start guide
No USB drive is included with the printer, so you will need to supply your own.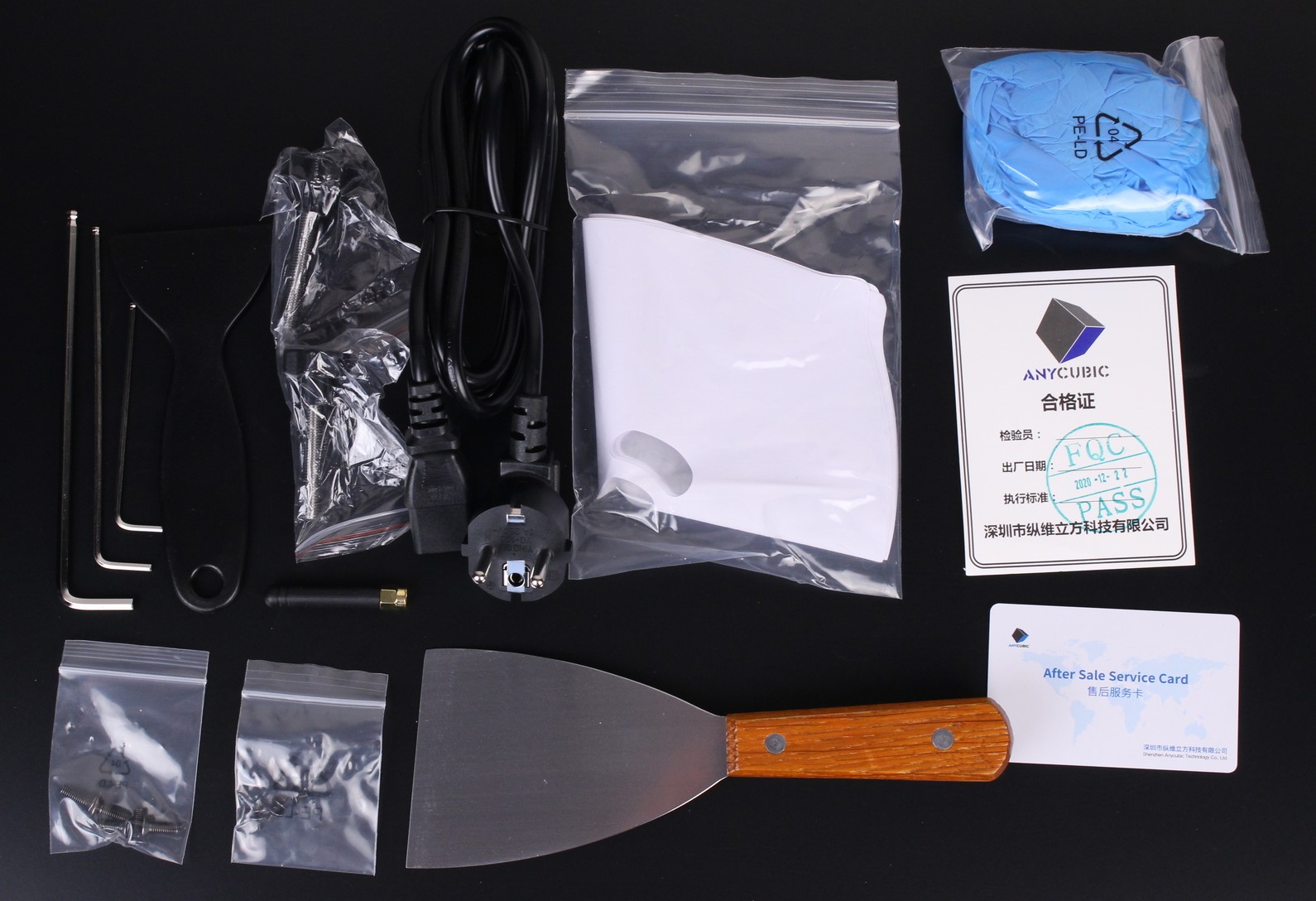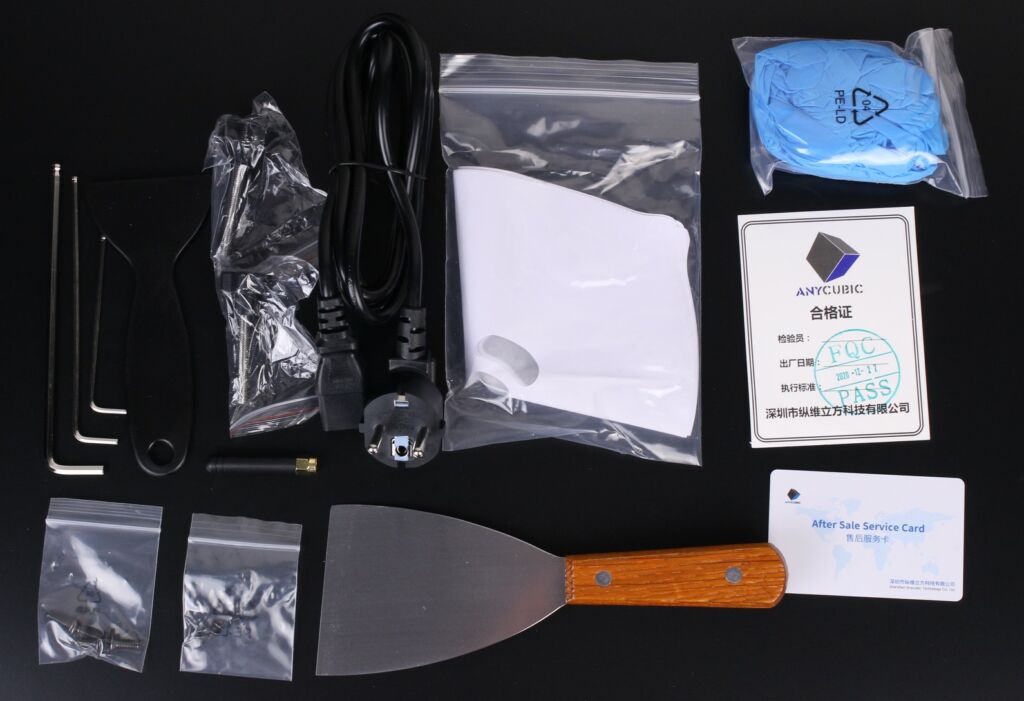 Anycubic Photon Mono X Design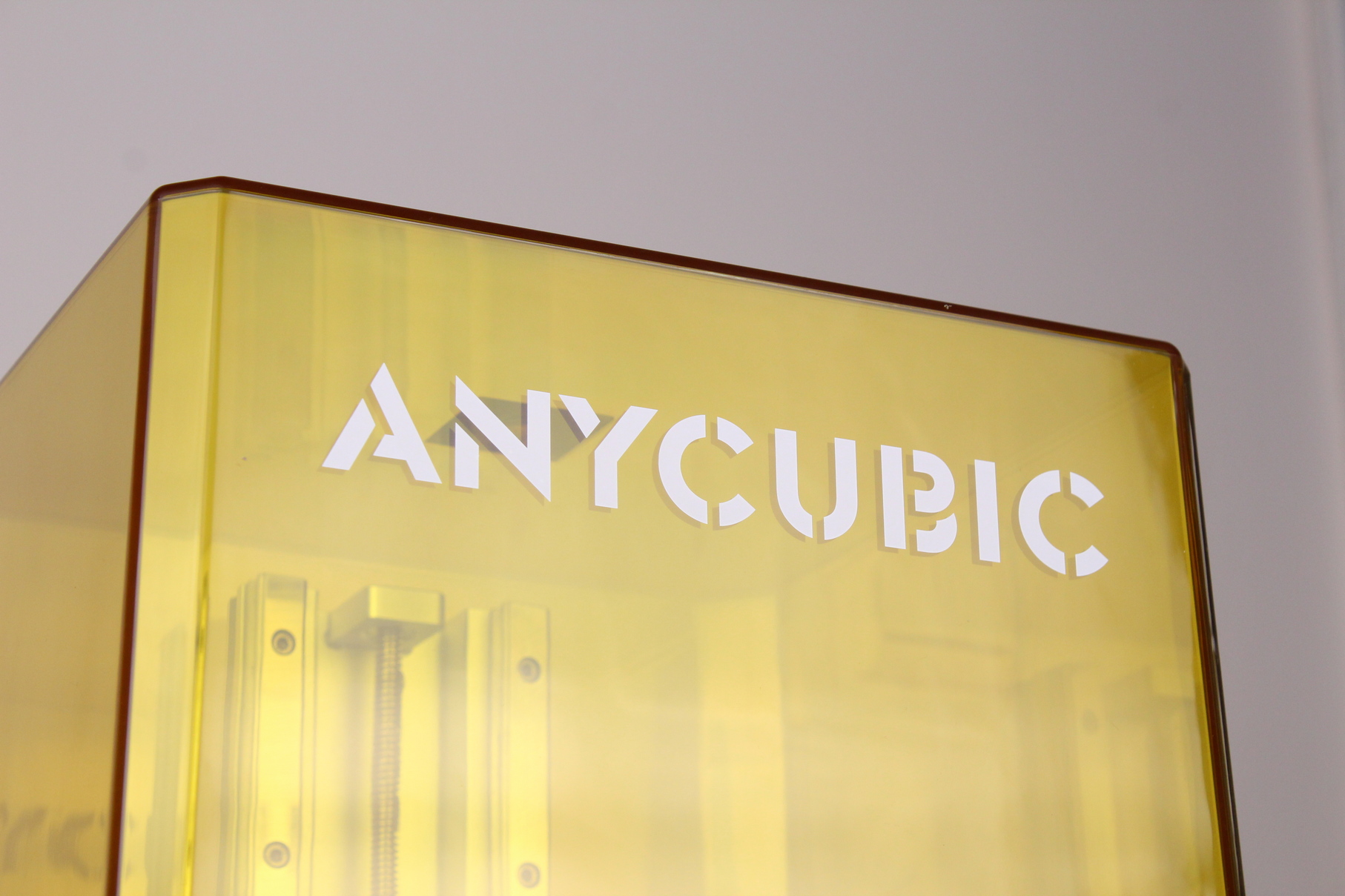 The Anycubic Photon Mono X is composed from two sections. The metallic base and the top transparent plastic cover which is made from a single piece injection-molded plastic. Some early units had issues with the cover where cracks were developing on some of the corners but mine seems to be fine after around three weeks of testing.
I would have liked to see a small rubber gasket around the bottom of the cover, to help trap the resin smell inside the print chamber, but this is not present. The resin smell is not that high, but it's clearly noticeable when printing so I recommend using it in a well-ventilated room.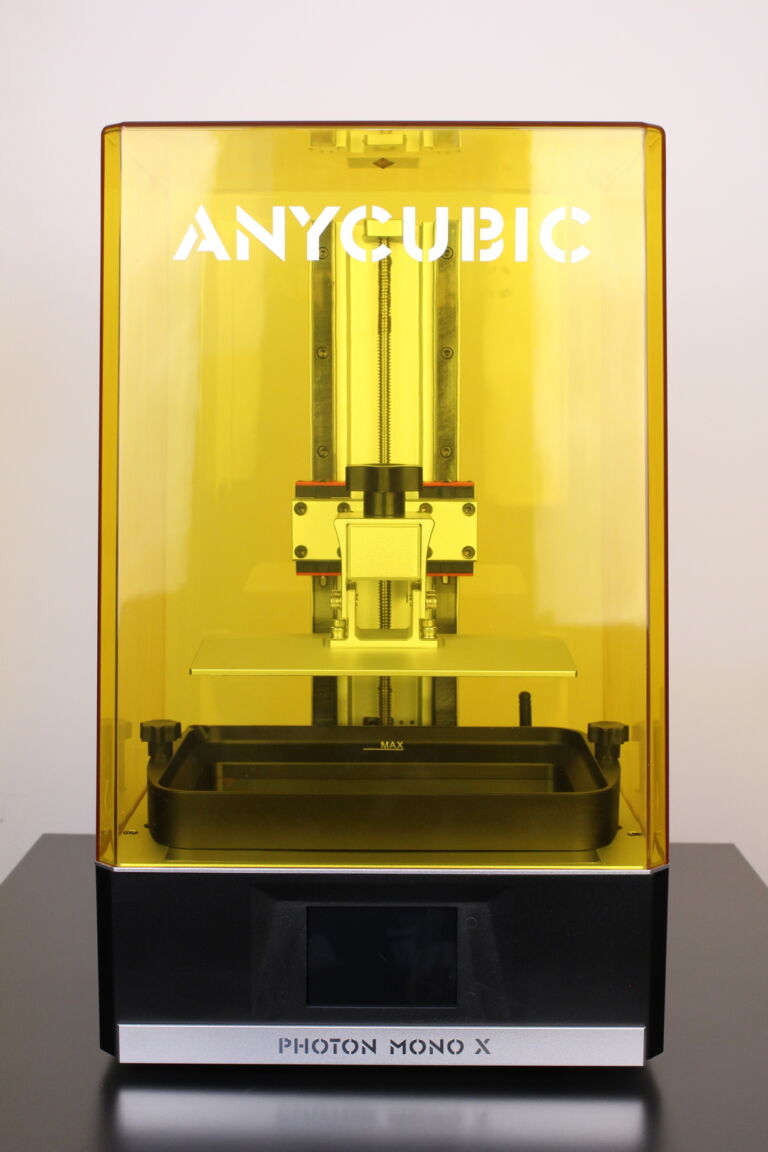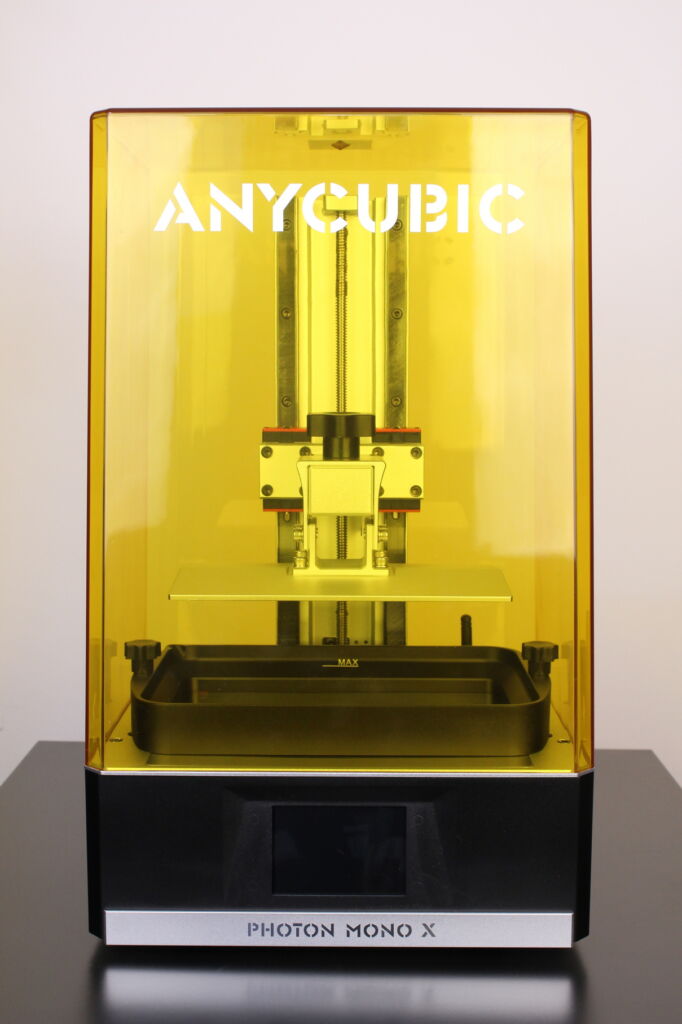 It's much bigger than I was expecting, and quite heavy compared to a regular-size resin 3D printer.
On the front side, you have a color touchscreen which is nice and responsive, with the regular Anycubic interface.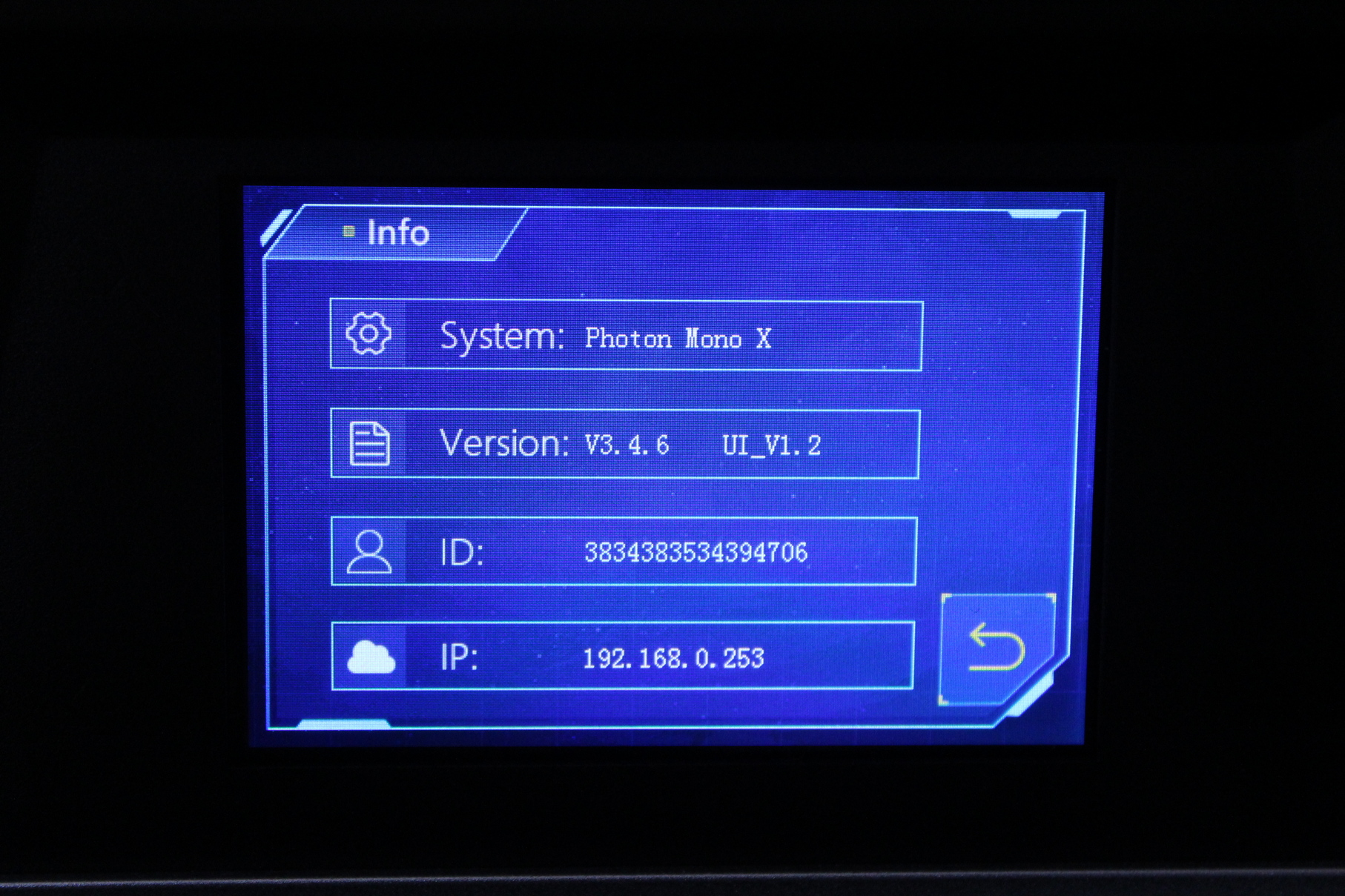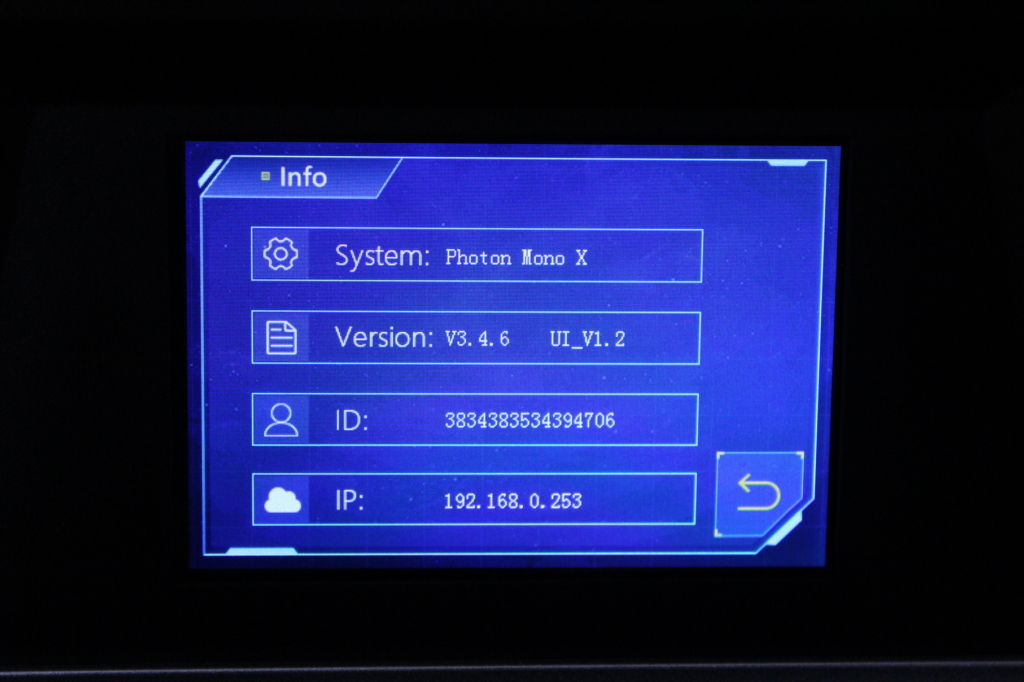 On the left side, there's an USB connector, the power switch and the power socket. I like that the power switch is located on one of the sides because other printers choose to put it in the back, which can be cumbersome.
On the back of the machine, there's ventilation cutouts for two 80mm fans, with a filter mesh and these fans are set to pull air inside the housing.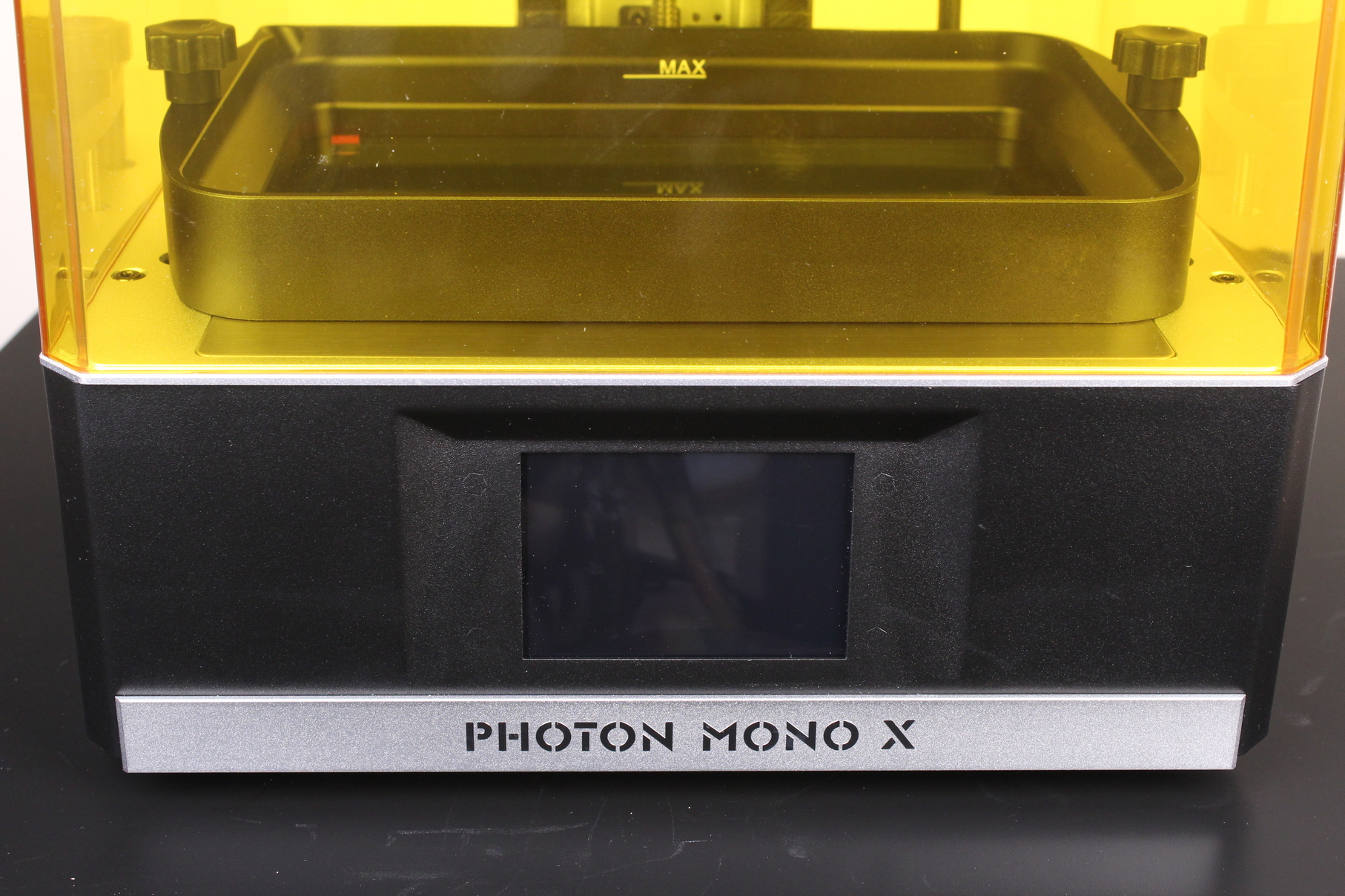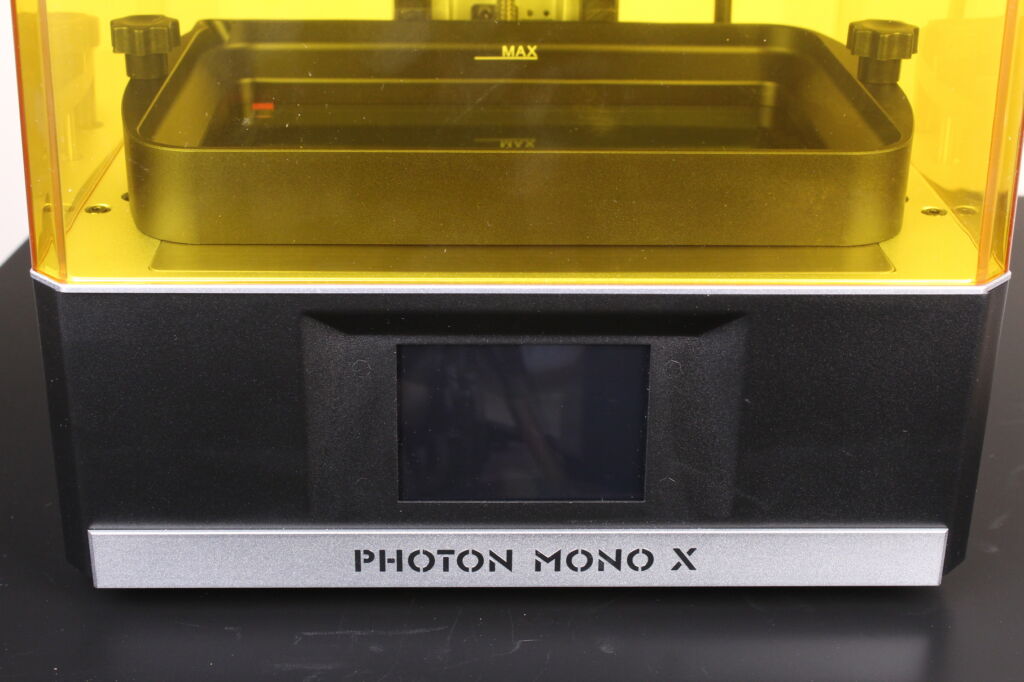 Anycubic Photon Mono X Specs
| | |
| --- | --- |
| Technical Specifications | |
| System | ANYCUBIC Photon Mono X |
| Operation | 3.5 inch Touch Screen |
| Software | ANYCUBIC Photon workshop |
| Connectivity | USB |
| Technology | LCD-based SLA |
| Light-source | Resin wavelength (405nm) |
| XY Res. | 0.050mm 3840*2400(4K) |
| Z Axis Res. | 0.01mm |
| Layer Res. | 0.01-0.15mm |
| Printing Speed | MAX 60mm/h |
| Rated Power | 120W |
| Printer Size | 270mm(L)*290mm(W)*475mm(H) |
| Build Volume | 192mm(L)*120mm(W)*245mm(H) |
| Material | 405nm UV Resin |
| Net Weight | ~10.75kg |
Dual linear rails
On any resin printer, accuracy is extremely important, so having a pair of linear rails for the Z axis is a welcome addition to the Anycubic Mono X. Having two linear rails helps stabilize the build plate on all three axes much better than a single rail would.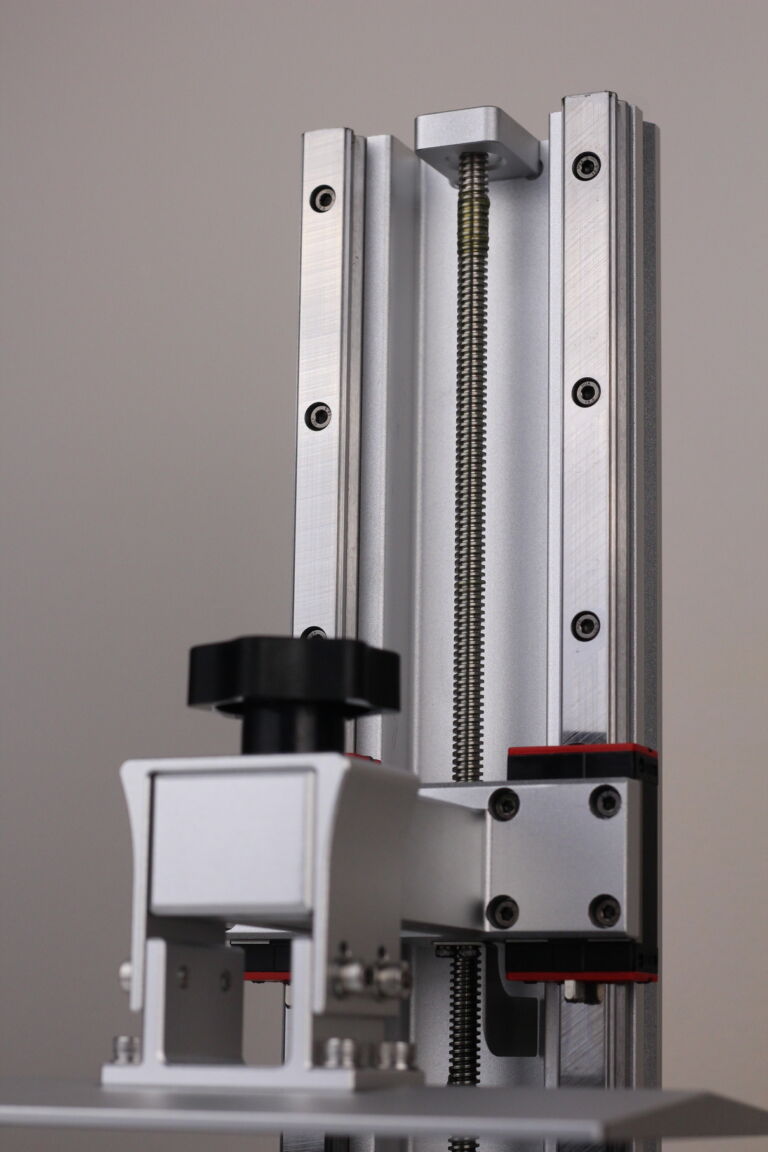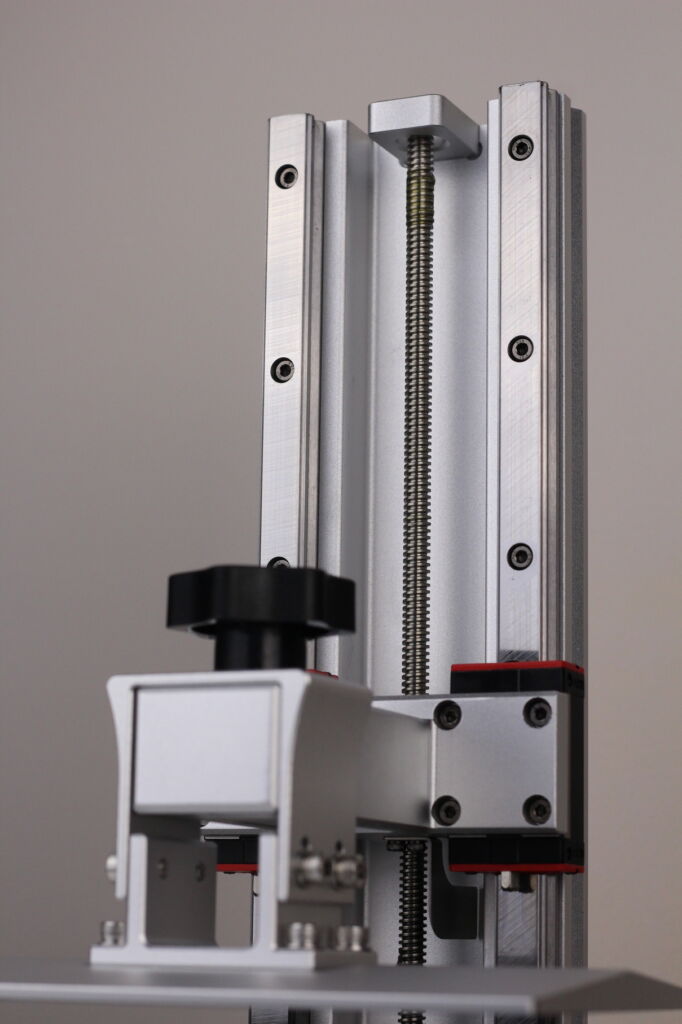 There is no backlash present, and this helps a lot with getting consistent print quality.
8.9-inch 4K Monochrome Screen
The 8.9-inch 4K monochrome screen is the main star on the Anycubic Photon Mono X spec list. This is because it's one of the largest screens available on large format resin printers for regular consumers.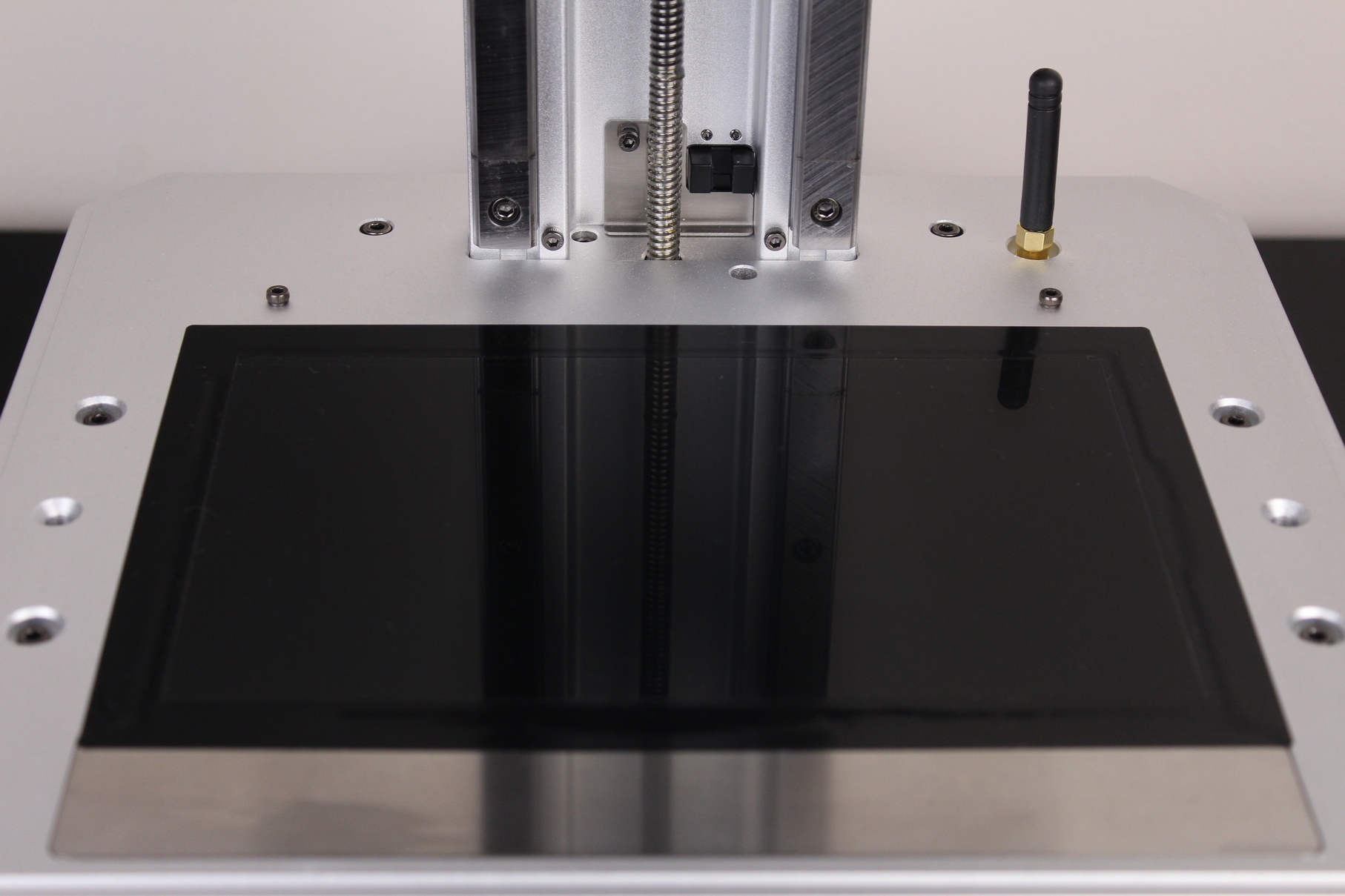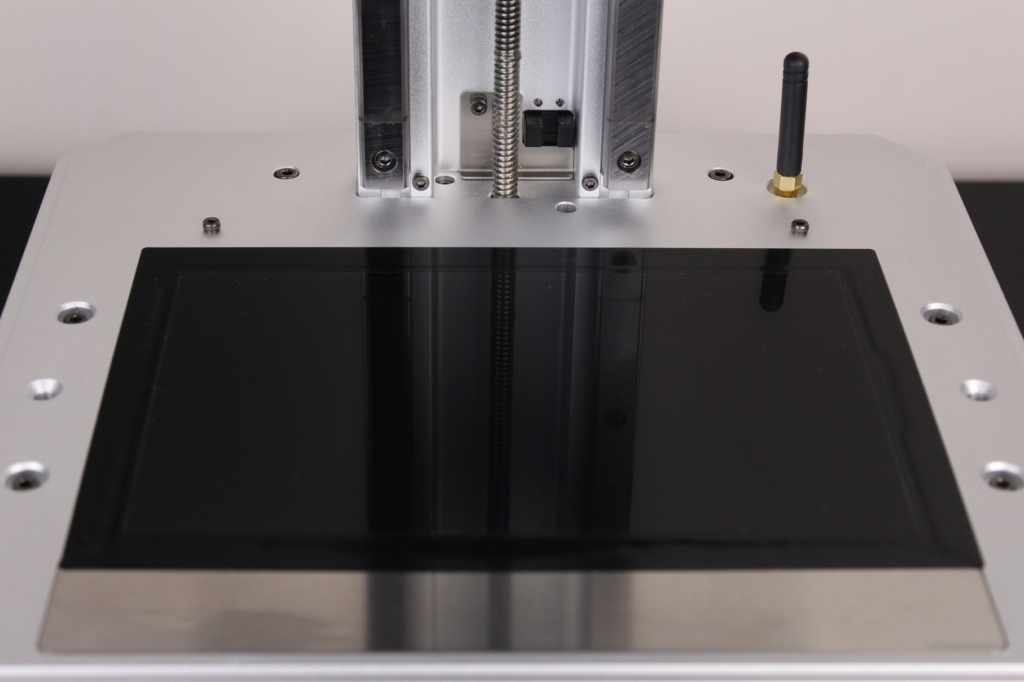 As you might know, having a monochrome screen boosts the print speed of the printer from around 8 seconds / layer (on old screens) to around 2 seconds but the Mono X can print with 1.5 seconds with ease. Besides that, the lifetime expectancy of the screen is prolonged from ~500 hours to around 2000 hours which is great considering that a replacement screen is on the expensive side.
I recommend getting a screen protector and installing it as soon as possible. If the FEP gets damaged and you leak resin over the screen, it's going to be an expensive replacement.
192x120x245mm build volume
The total build volume of the Anycubic Photon Mono X is 192x120x245mm. Compared to a regular FDM 3D printer, this is a bit limited, but when you compare the Mono X with a regular size resin 3D printer, you can print much bigger models.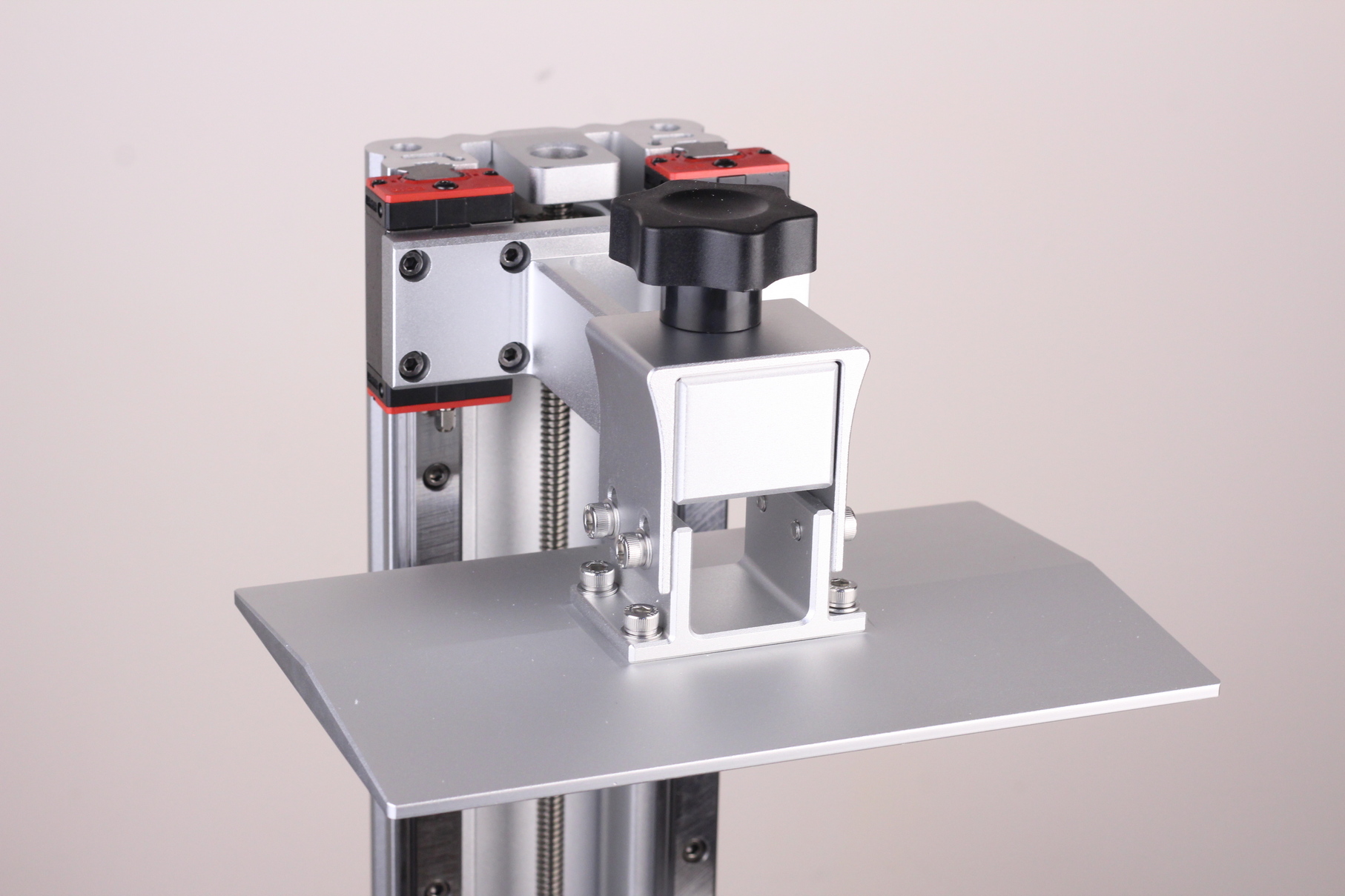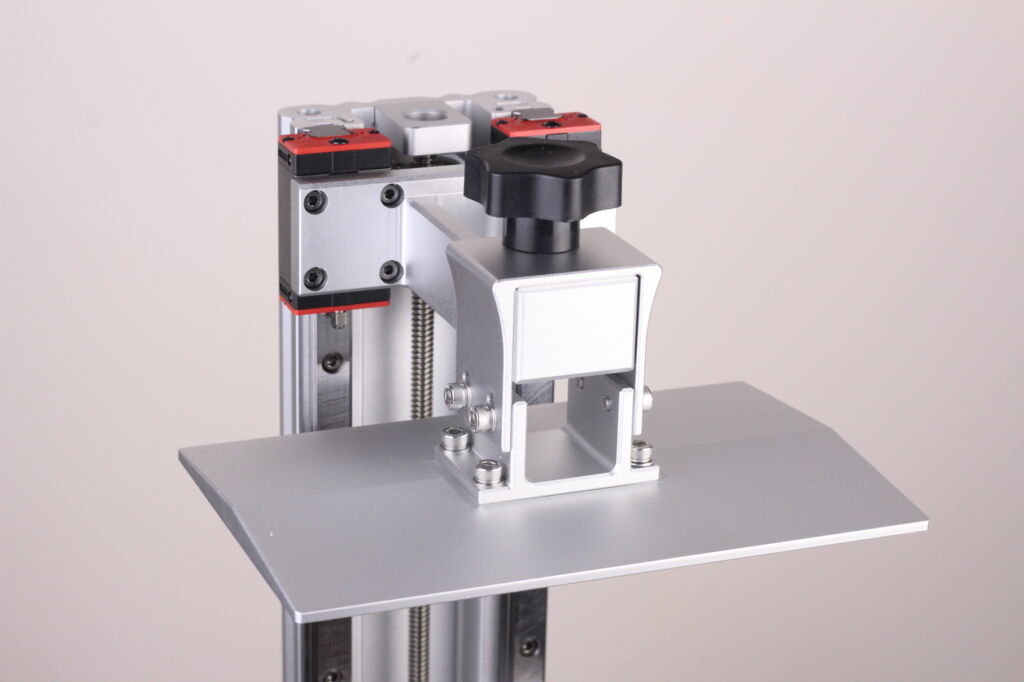 I'm happy to report that my unit had a really flat build plate with no deviations or bends, like some people reported online. Prints stuck well and with a correctly exposed first few layers (30 seconds for the first 6 layers), removing the resin models were also not too hard to remove.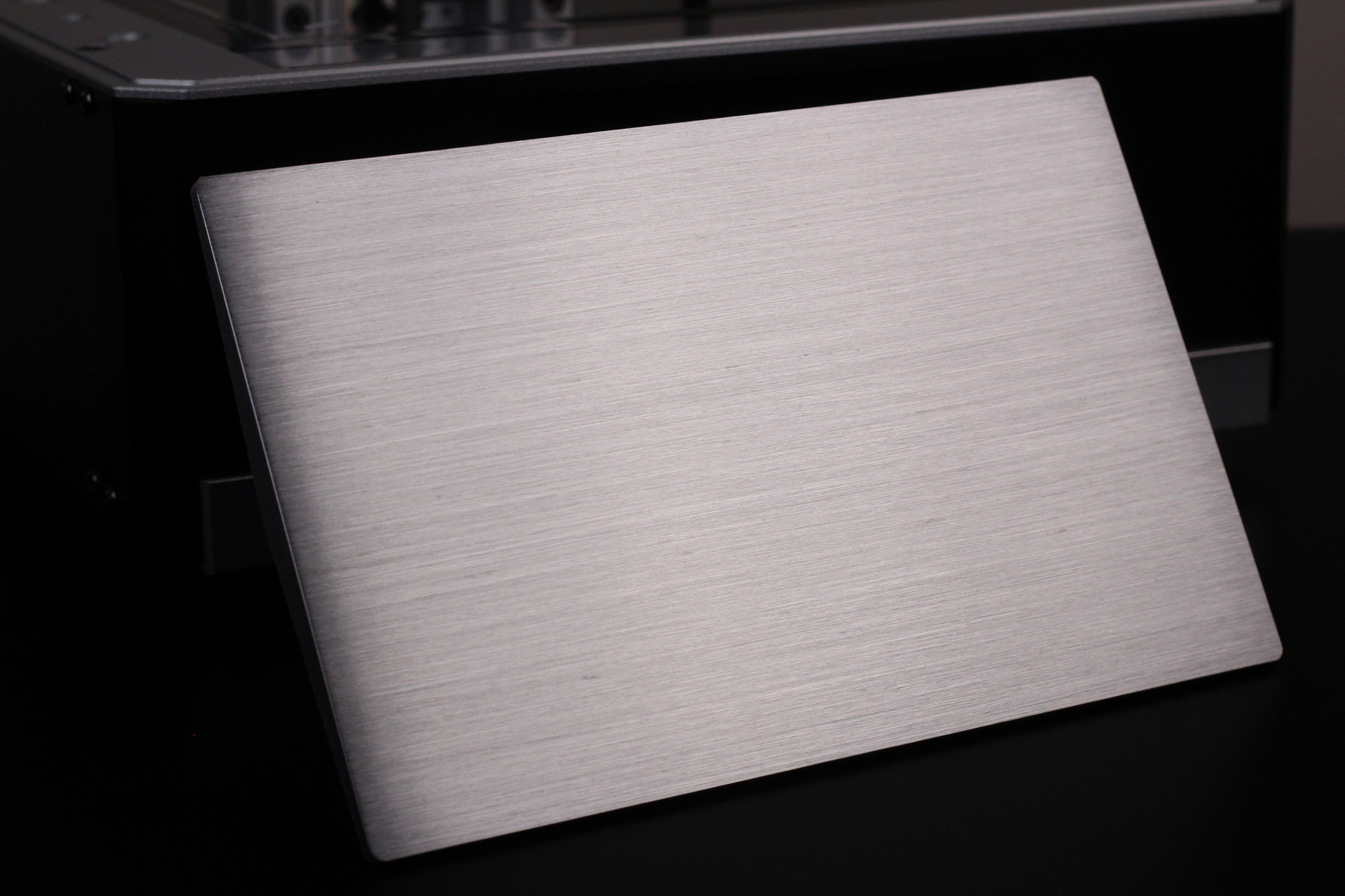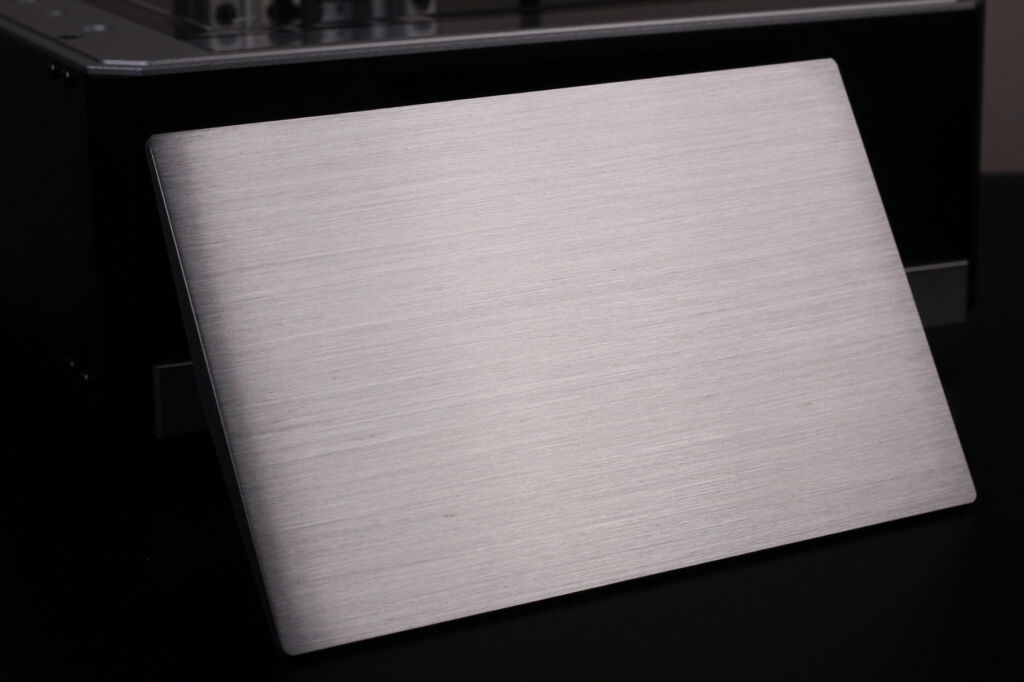 While this works quite well, I will surely upgrade the build plate with a removable magnetic spring steel sheet which will make removing models a lot easier.
Matrix UV Light
The Matrix UV light source is quite powerful, and Anycubic recommends setting the power to ~80% for matte resin, and ~50% for transparent resin.
I'm not sure why this is the recommended setting, but my guess is for prolonging the LED life and to keep the LEDs from overheating.
Bad airflow design
What I don't really like about the Anycubic Photon X is the fan noise. There are four 8015 mm fans which produce a bit more noise than I was expecting. It's much noisier compared to the Phrozen Sonic Mini or Creality LD-002R.
The back side fans are set to pull cold air inside the electronics section, while the bottom fans are set to expel hot air. In my opinion, this is not the most fortunate airflow design and I think they should be inverted.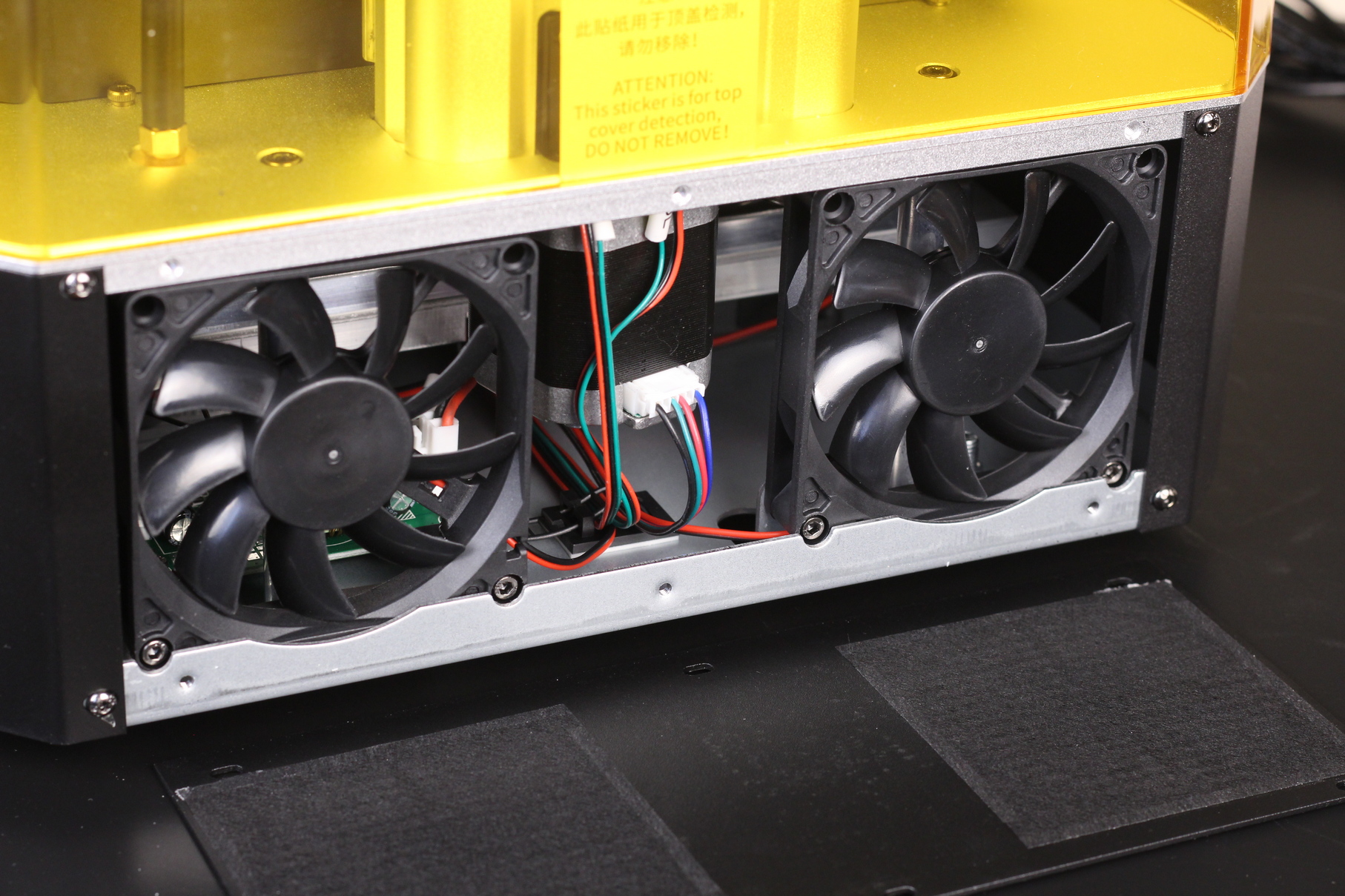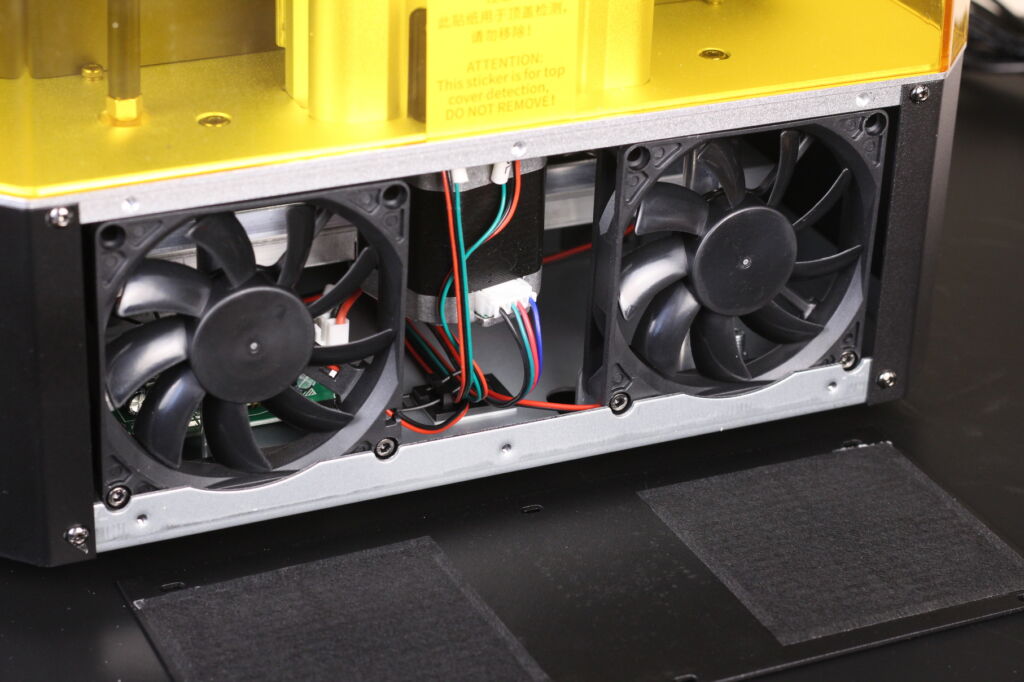 The bottom fans should pull cold air from outside the enclosure and blow it over the LED heatsink while the side fans should expel the hot air through the back of the machine. This way, you always get cool air over the heatsink probably lowering the temperature and allowing for less fan noise without overheating.
In the future I will probably do some modifications to the airflow of the Mono X, with more silent fans, but this will be covered in another article.
Fast print speed
As previously mentioned, the print speed of the Anycubic Photon Mono X is one of the fastest you can get right now in the world of resin printers. Depending on the layer height and resin type, you can print models in around 2 seconds / layer.
During my testing, I used 100% power which allowed for fast prints with ~1.5-1.8 seconds / layer at 50 microns. A well-tuned printing profile should allow for up to 60mm/h which is impressive.
Aluminum resin vat
The resin vat is made from anodized aluminum, and it has a printed marking for the max resin volume. It can take about 500ml of resin.
On the top left corner, there's also a small lip that should help with pouring the resin out of the vat, but in real life it doesn't really work as intended, so take the necessary precautions when you change resins.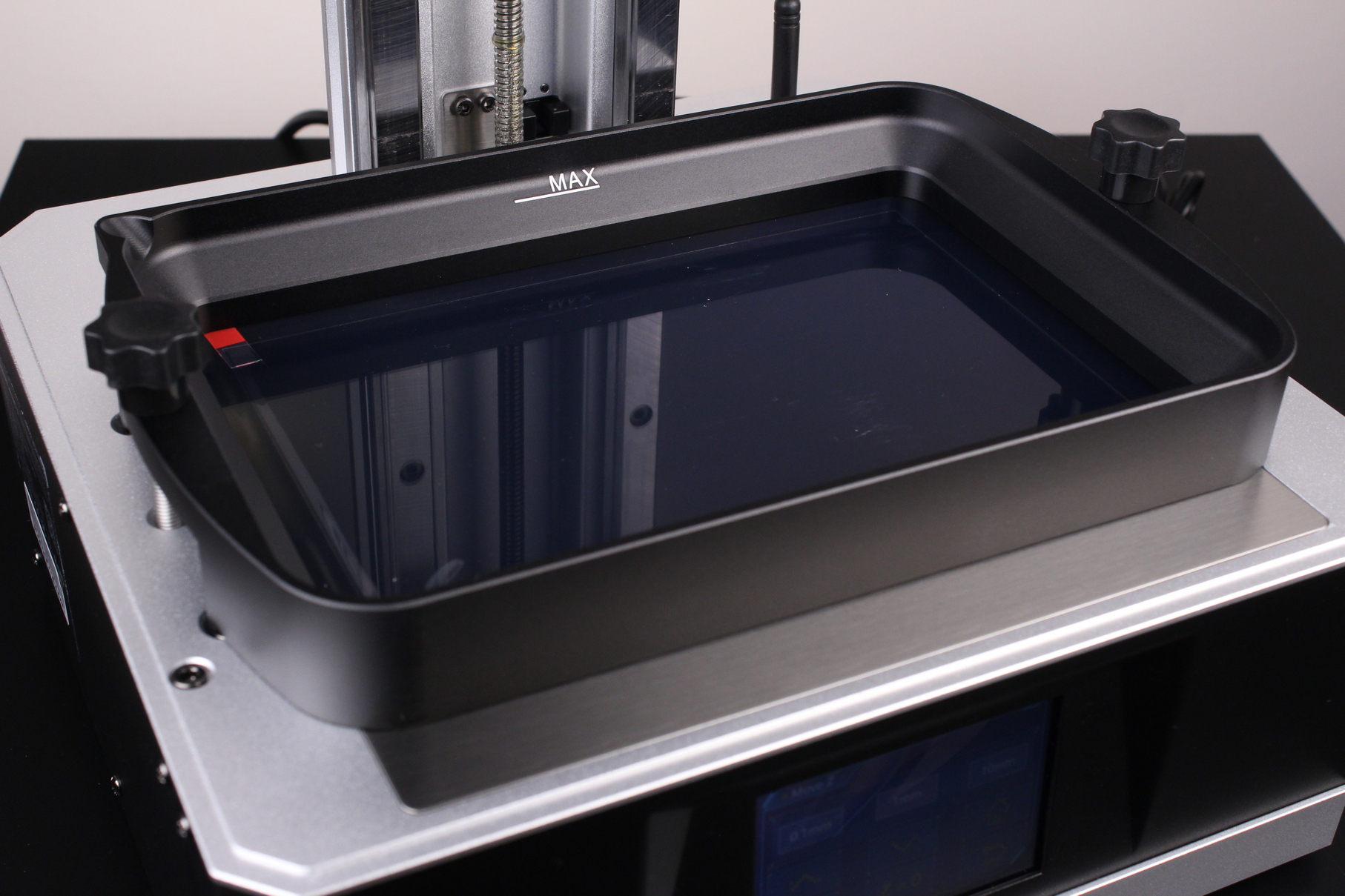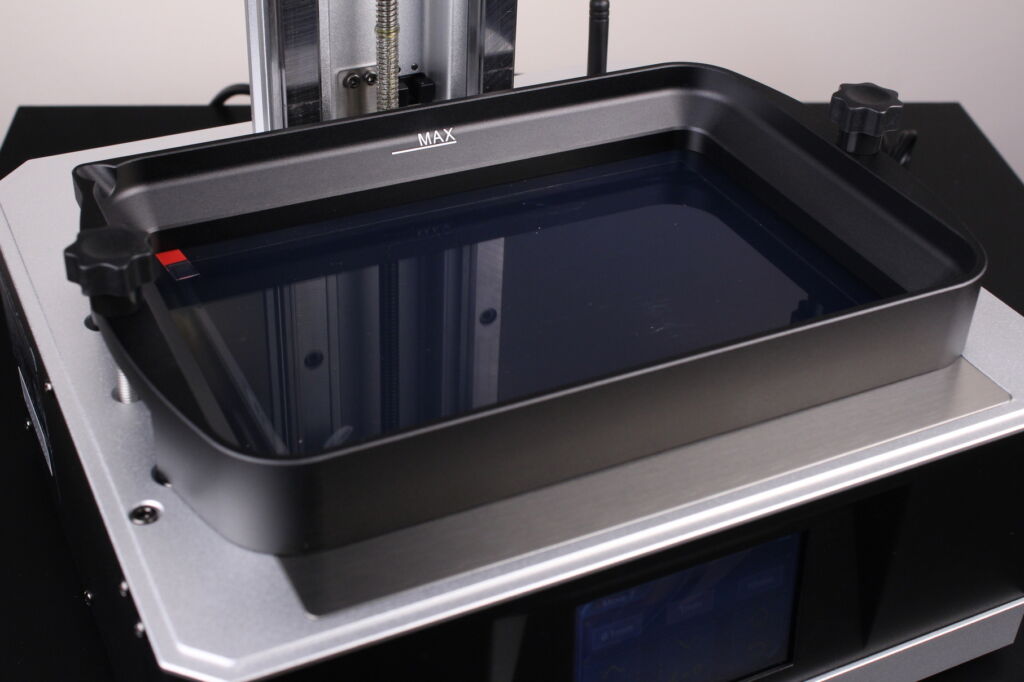 The FEP sheet can be easily replaced after removing the 14 screws underneath the vat. I was hoping to get at least a spare FEP sheet to have that at hand when needing to replace it, but there's no spares included with the Photon Mono X. I recommend you order a few spare sheets in advance to have them ready when the time comes.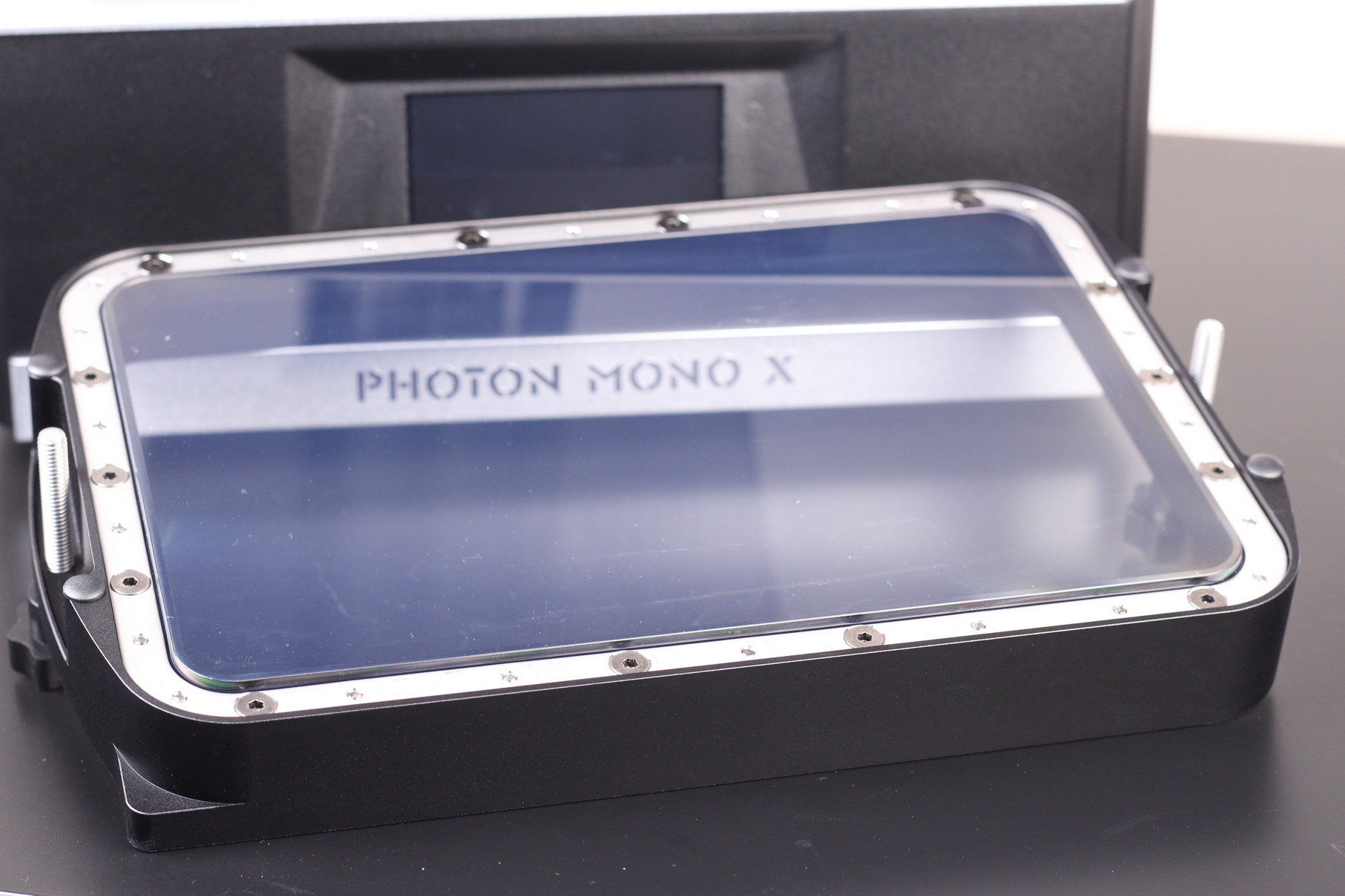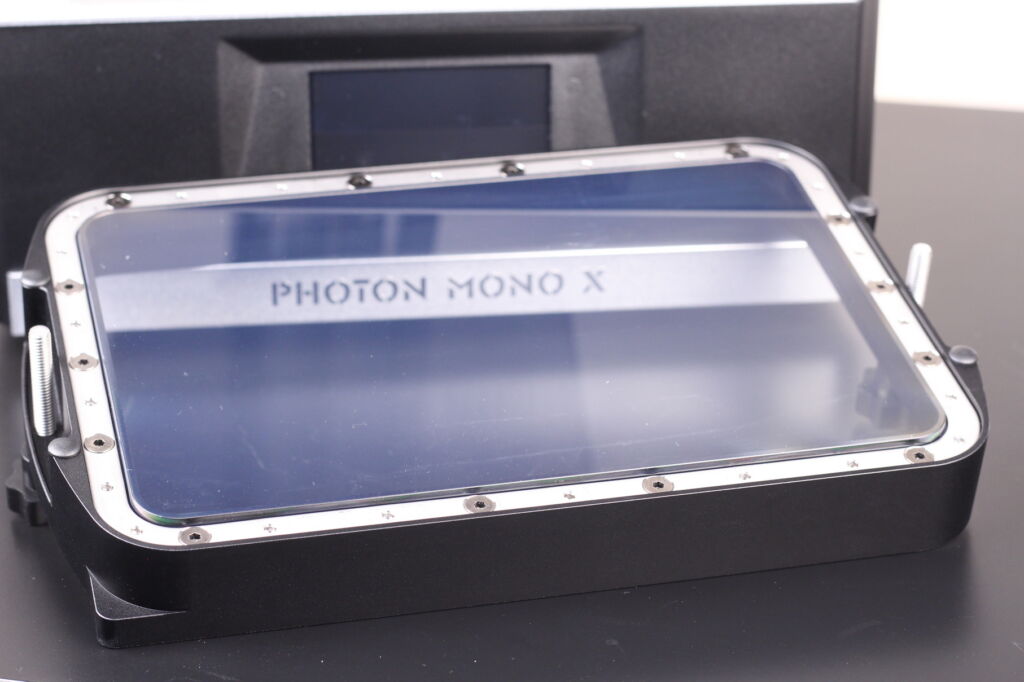 Wi-Fi capabilities with the Anycubic Remote Control App
In the right side, behind the vat, you can see there's a small antenna. This is the Wi-Fi antenna used for connecting the printer to your network.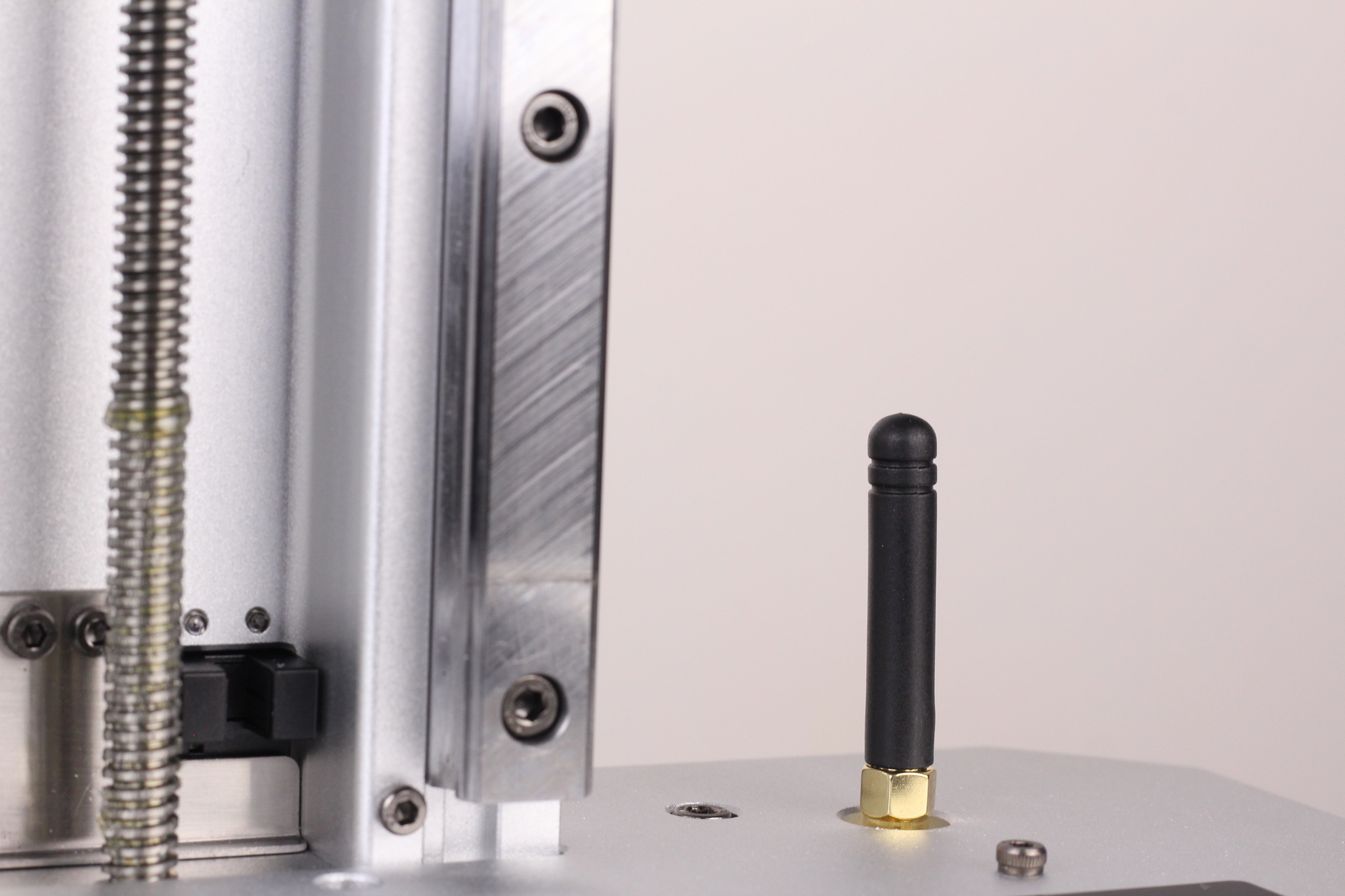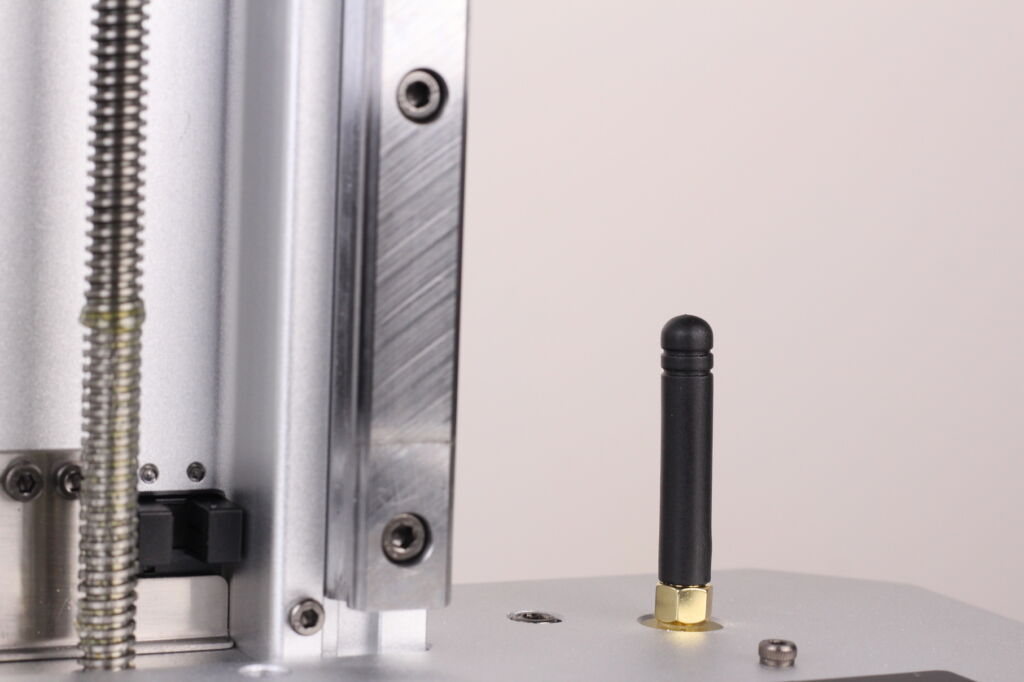 After you connect the printer to Wi-Fi, you will be able to monitor the Mono X remotely, with the Anycubic Remote Control App on your smartphone.
Unfortunately, the Wi-Fi capabilities are quite limited and I'm sure a lot of people would have liked to be able to wirelessly transfer models to the printer and start jobs remotely, but this is currently not possible.
How to connect the Mono X to Wi-Fi?
There's no option to manually connect to Wi-Fi from the screen interface. Instead, you need to do the following:
Create a .txt document called WIFI.txt

2. Edit the file with your Wi-Fi name and password, as shown below

3. Copy the WIFI.txt file to a USB drive and "print" the file
4. Check the IP under System-> Info
Anycubic Smartphone App
As previously mentioned, the Anycubic Photon Mono X has Wi-Fi capabilities which allow you to remotely monitor your resin prints.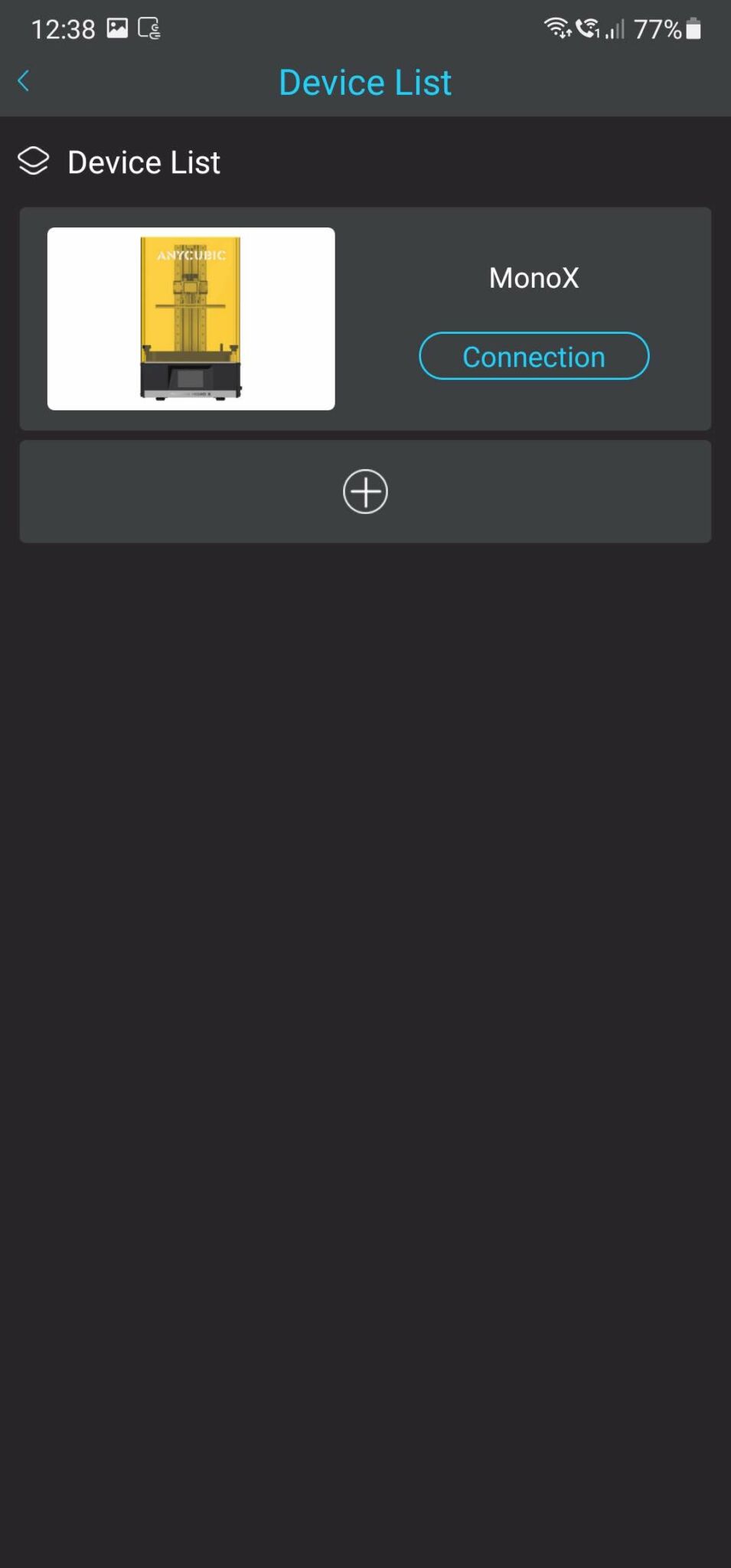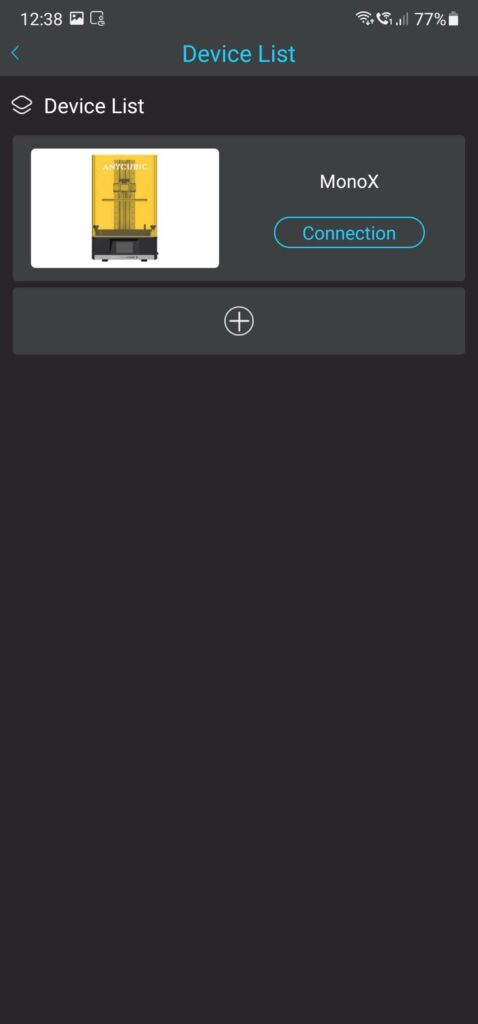 Unfortunately, the Wi-Fi capabilities don't allow wireless transfer of the files to your printer which is a bummer. As a workaround, you could purchase a Wi-Fi USB Drive, but I haven't tested one yet, to confirm that this works.
Slicer alternatives
The Anycubic Photon Mono X can be used with the Anycubic Workshop slicer which is the recommended solution from Anycubic.
Fortunately, Chitubox and Lychee Slicer also have support for the Mono X and I strongly recommend using one of these slicers because they offer more functionality.
All my prints were sliced with Lychee Slicer which is currently my favorite slicer for resin printing. There's a paid version of this slicer which offers more functionality, but I was quite happy with the free version.
The included profile is tuned well, and I made just a few alterations.
Power consumption
Idle power draw is around 8W. When the printer has the LEDs on to cure the resin layers, power consumption is about 75W.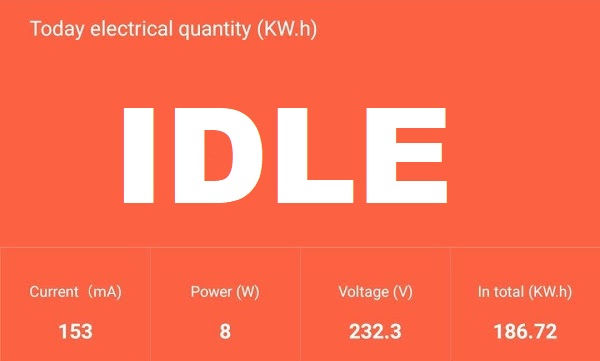 All these measurements were taken with a Blitzwolf smart power socket which indicates the power draw, and it can also be used for remotely powering on and off the printer.
Anycubic Photon Mono X Noise Levels
To better evaluate the noise levels of the Anycubic Photon Mono X, I took this video which should help you understand how noisy it is, but it is not an accurate way of measuring noise levels.
As previously mentioned, the cooling fans are a bit noisy, but I can't say they are annoying. You could use the machine in an office without issue, but I would not recommend this because of the resin smell.
Print Settings for Anycubic Photon Mono X
If you are looking for best Anycubic Photon Mono X print settings, then I recommend checking out the Mono X Resin Spreadsheet where there are a lot of print settings made specifically for the Mono X.
Test prints on Anycubic Photon Mono X
High-Gryphkin
This was the first printed model on the Anycubic Photon Mono X. I started with something small just to make sure everything is working well.
I sliced the model with Lychee slicer and started printing. As you can see, print quality is great and you can get quite a bit of detail from the 4K screen even for miniatures.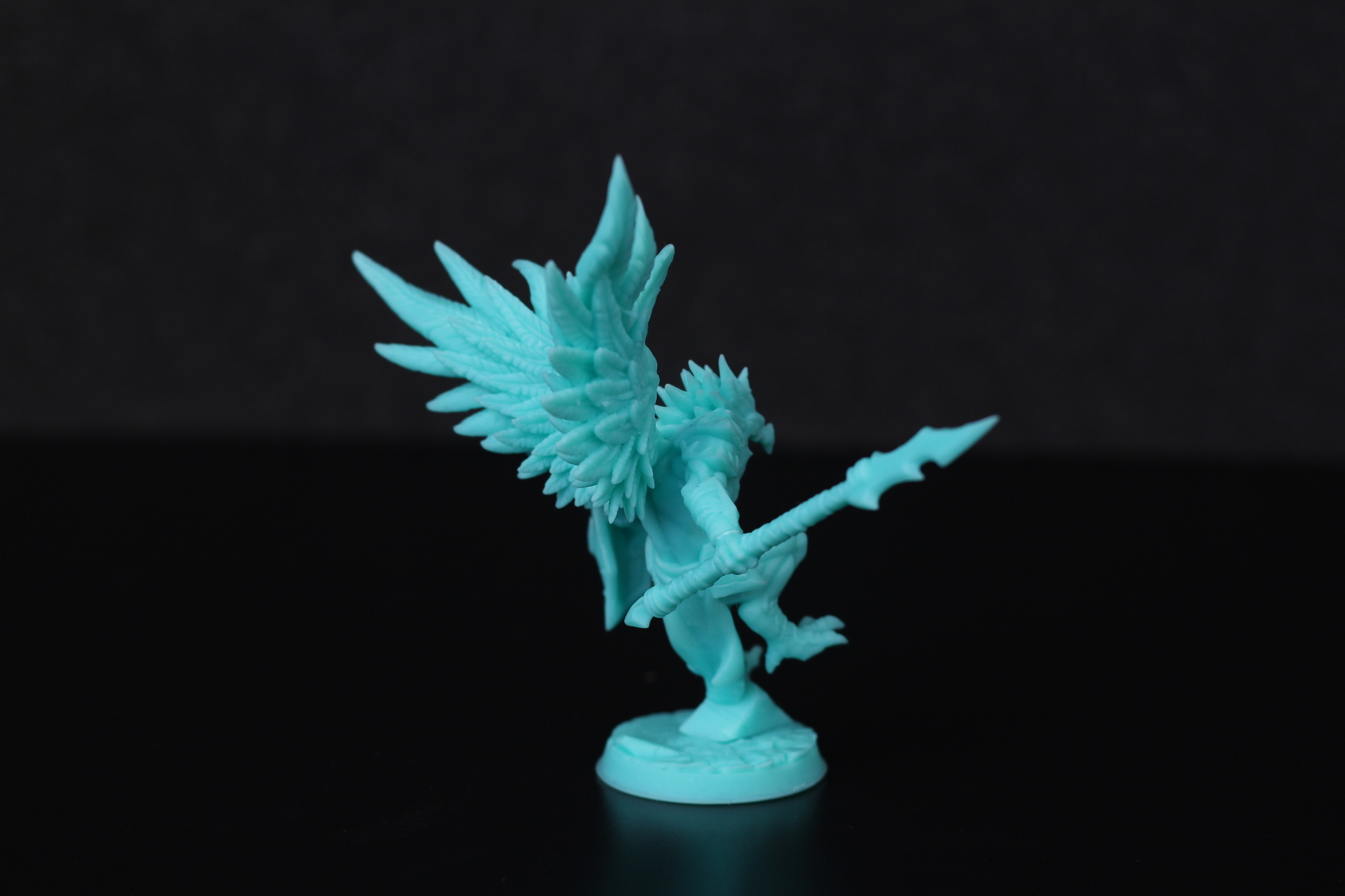 Pinky
Next, I had the "Pinky and the Brain" model from Inspyre3D's patreon which was waiting to be printed for a few weeks. I filled the vat with some white resin from Anycubic and started the print.
This model was printed without hollowing it, and it came out great. But for some reason, there is a section behind the head which wasn't printed. I checked the sliced model and it seems that there was an issue during slicing which caused it. Not really a printer issue.
Brain
Brain was printed with the same settings and resin, but this time I hollowed the model to save some resin. I was able to hide the holes behind the model where you wouldn't see them when assembled.
The same great print quality, but as you can see for both models, I over cured them, and this make the models turn brown-ish on some parts. My mistake. I cured them for ~5 minutes each in the Phrozen Cure V2.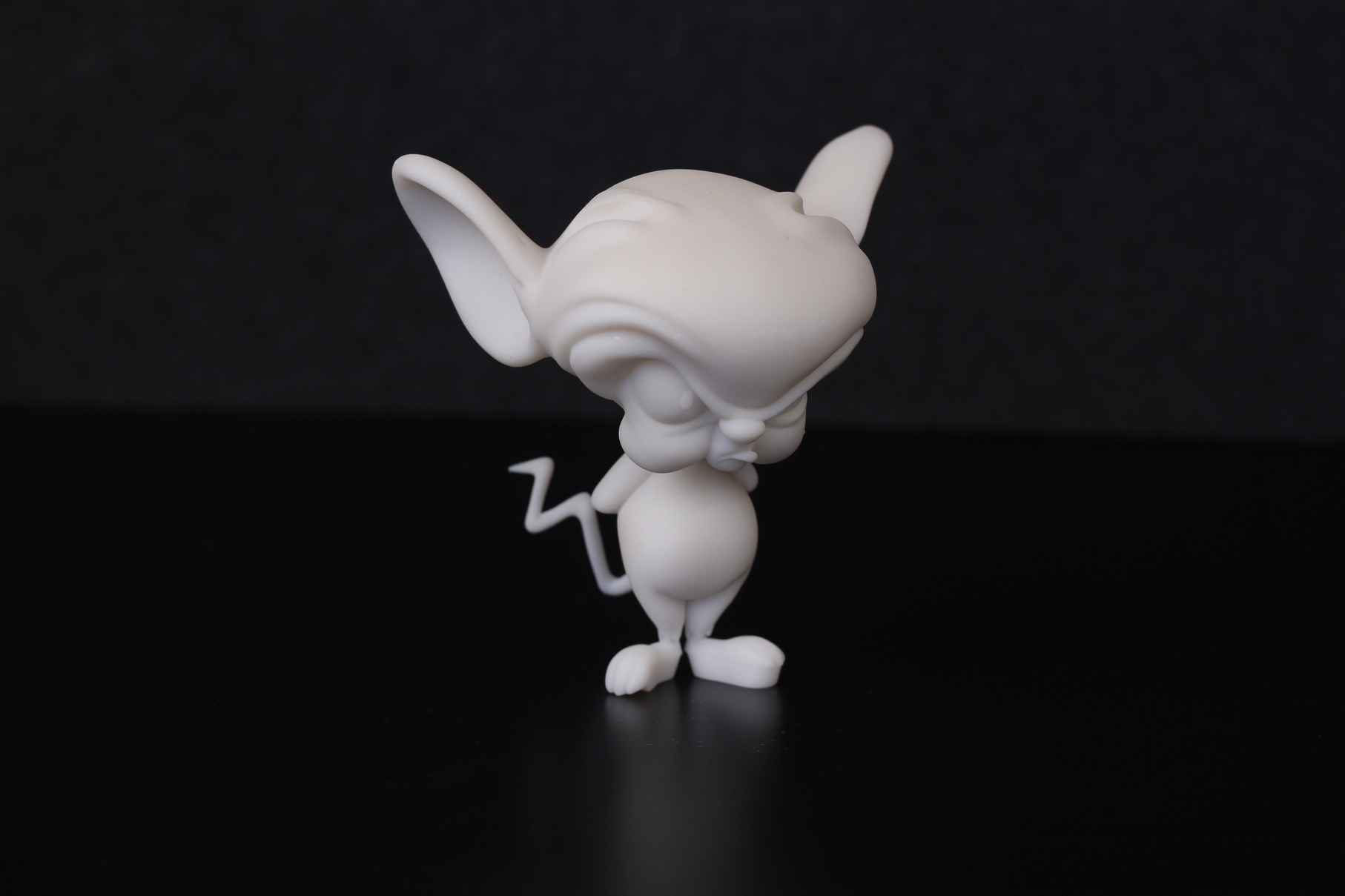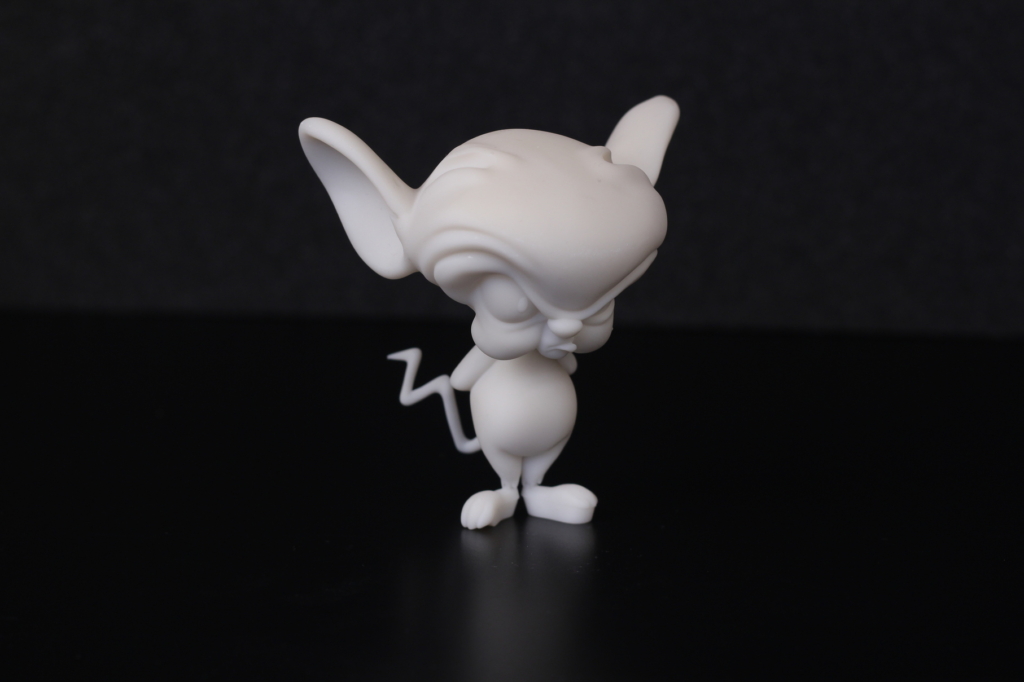 Barbarian Chieftain
Finally, with the leftover resin I had in the vat, I printed the Barbarian chieftain at 200%. It came out great, with lots of detail, but because of the resin color it's hard to take some good photos of it.
Even though I cured this for ~3 minutes, the model took some of that brown burnt look so it might be a "feature" of this white Anycubic Basic resin.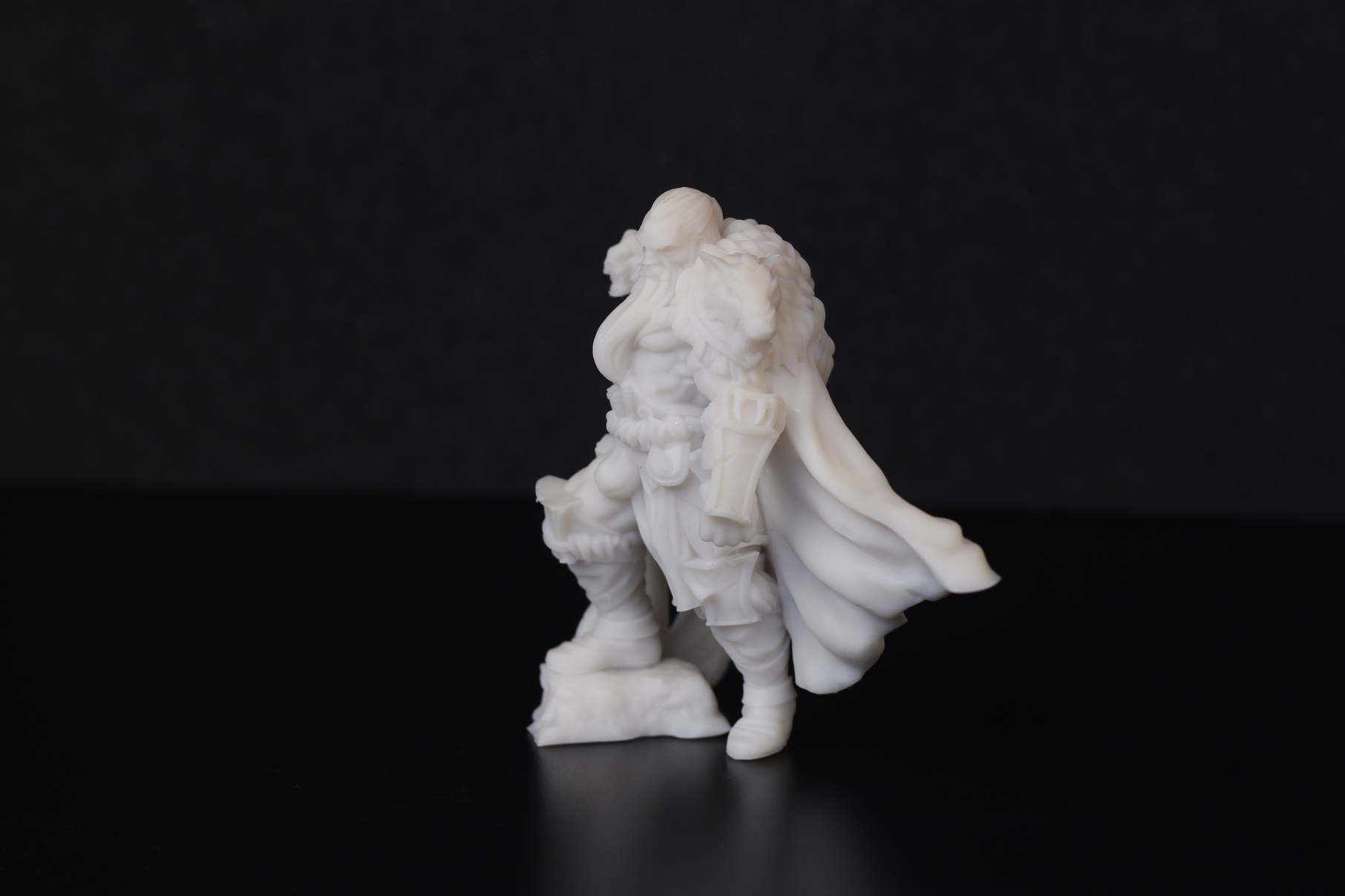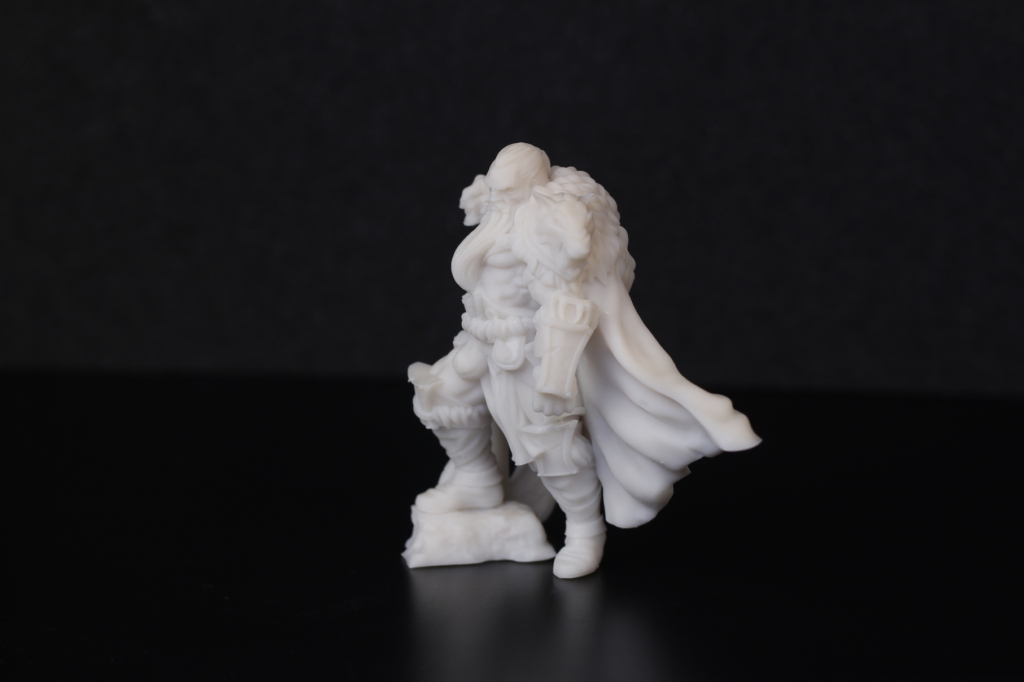 Conclusions: Is the Anycubic Photon Mono X worth it?
If you are looking for a large format resin 3D printer, then the Anycubic Photon Mono X is a great machine. It's not the cheapest printer available with this build volume, but considering the lack of stocks for other alternatives, the price is fair.
I haven't tested other large format resin printers yet, but the Mono X performed admirably during my time with it, and I am sure others will be quite happy with it. I still need to do a bit more testing with other resins and models and I will update this review, but the results are good enough out of the box to form an opinion.
The build quality is good, and the print quality is excellent so I can recommend the Anycubic Photon Mono X without reservations. If you models are properly sliced, then the Mono X will probably print them without any issues. It's also one of the fastest printers currently available on the market allowing you to speed up your production.
Before purchasing one, I strongly recommend checking out the Anycubic Photon Mono X Facebook Group for experiences from other users. I haven't encountered any issues during my time with the printer, but it's always good to know what to expect and what other users think about it.
Anycubic Photon Mono X Rating
Design
Specs
Noise Levels
Ease of use
Print Quality
Price
If you are looking for a large format resin 3D printer, then the Anycubic Photon Mono X is a great machine. The build quality is good, and the print quality is excellent so I can recommend the Anycubic Photon Mono X without reservations
Where to buy the Anycubic Photon Mono X?
The Anycubic Photon Mono X can be purchased from the following websites:
Anycubic
AliExpress
Amazon
Banggood
Geekbuying
I recommend checking out the Discount Codes page before purchasing. I regularly update the article with discount codes for various online shops, and you might find one for this particular model.
The Anycubic Photon Mono X was provided free of charge by Banggood for the purpose of this review. While the article includes affiliate links, all opinions are my own. Nobody reviewed the article before it was posted, following the Review Guidelines.