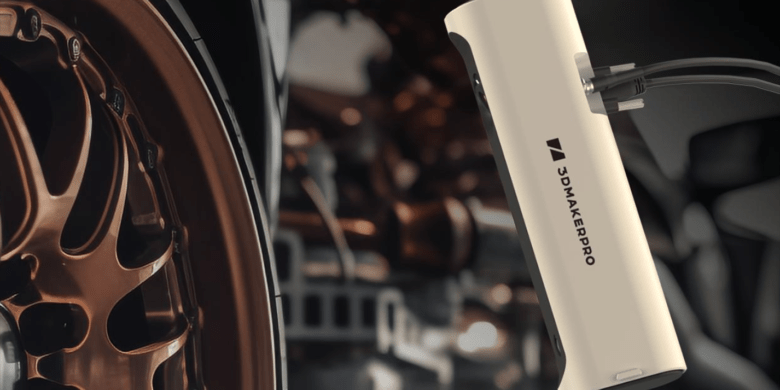 The Lynx 3D Scanner is an affordable 3D scanner with user-friendly software that offers high accuracy when scanning large objects that need to be converted into a 3D model.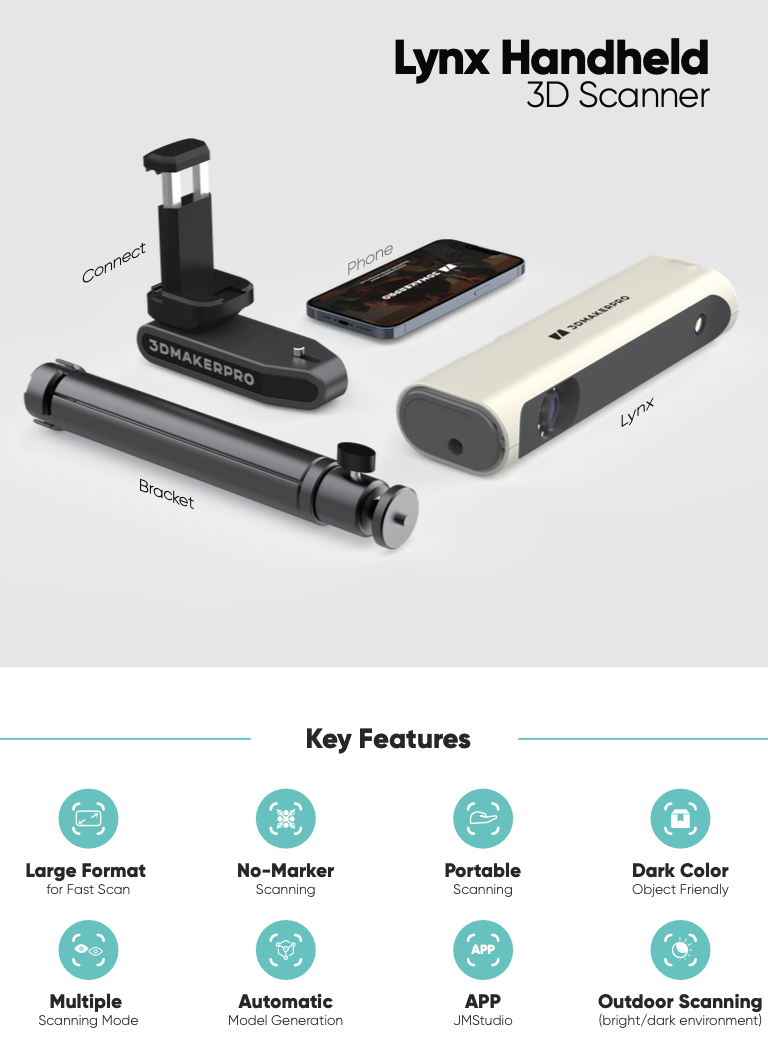 3DMAKERPRO Lynx 3D Scanner Specs
| | |
| --- | --- |
| Accuracy: | 0.1mm |
| Frame rate: | 10fps |
| Work Distance: | 400-900mm |
| Single Capture Range: | 400x250mm |
| Dimensions: | 290X120X55mm |
| Resolution: | 0.3mm |
| Tracking Mode: | Visual Tracking |
| Ideal Object Size: | Large |
| Light Source: | NIR |
| Weight | 1000g |
| Output Format: | OBJ/STL/PLY |
| Compatible OS | Windows 10/11, Mac OS 12/13 |
| Compatible Mobile OS | Android 11, iOS16 |
Capture Larger Objects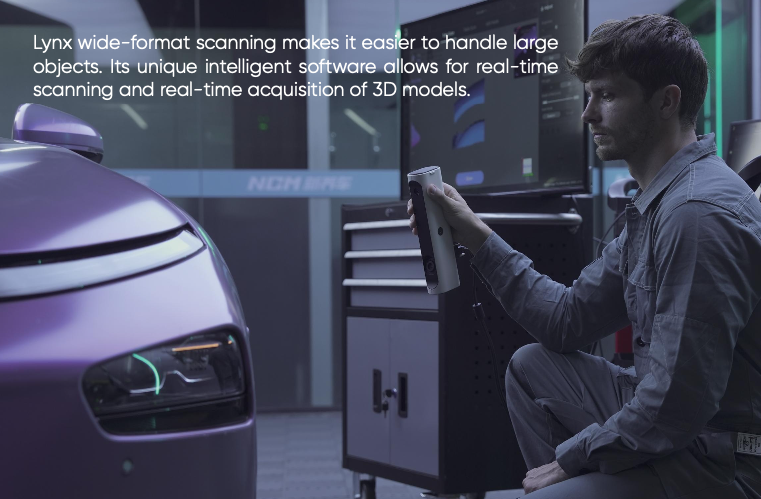 With the Lynx 3D Scanner, you can scan objects up to 5000 x 5000 x 5000 mm in size. This means that the Lynx 3D scanner is ideal for scanning a human, car parts, or even an entire car. It also has a 10 FPS scanning speed which allows you to quickly complete your scanning project with ease.
0.10mm Resolution for Detailed Capture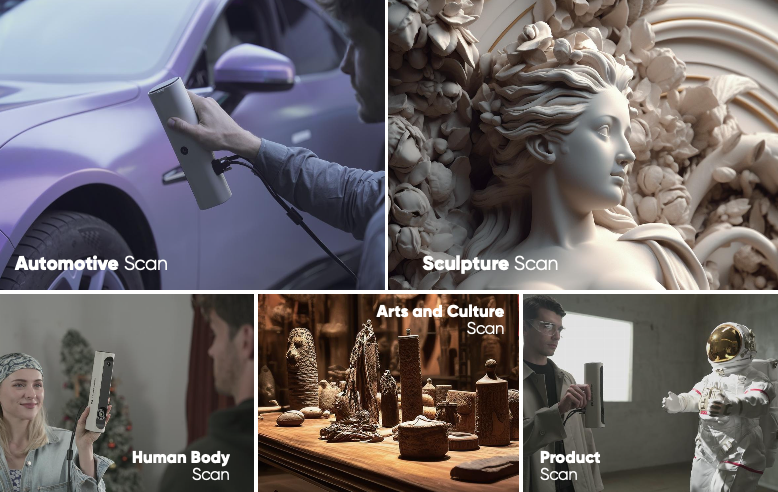 Boasting an accuracy of 0.1 mm and a resolution of 0.3 mm, the Lynx 3D Scanner will provide detailed scans that fit your application. It supports a wide range of applications, from Automotive and Sculpture scans to Human Body or other product scans.
Professional Software System
The Lynx Handheld 3D Scanner can be used in conjunction with the JM Studio for Mobile app to ensure the scanner can be used outside, in a portable fashion. It supports both Android and iOS apps, and it's part of the 3DMAKERPRO lightweight scanning Plan. But if you want to use the phone attached to the scanner, you will require an attachment accessory.
JM Studio is 3DMAKERPRO's exclusive software used on the computer (MAC OS and Windows compatible) used for a high-definition preview of the scanned models, 3D texture mapping, and 3D model generation.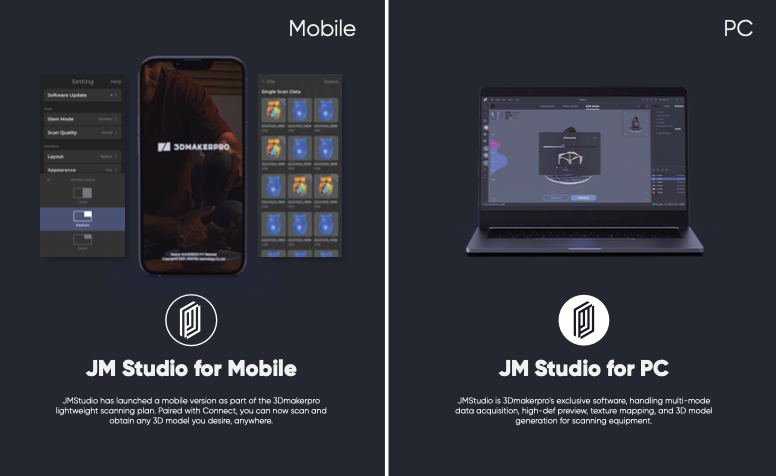 The interface is "rookie-friendly" and detailed guides are provided to the user for ease of use. 3DMAKERPRO also promises frequent updates to ensure a smooth scanning and operation experience.
No markers needed
Featuring AI visual tracking, the Lynx 3D scanner identifies your target features completely, without requiring any markers for accurate scanning.
NIR Light Source
Another special feature of the Lynx 3D Scanner is the NIR Light Source which has excellent light compatibility and should provide better scanning results.
Multiple Scanning Modes
You can use the Lynx 3D Scanner in Turntable Mode, Handheld Mode, and Turntable + Handheld Mode providing great versatility for different scanning methods to ensure good results.
Where to buy the 3DMAKERPRO Lynx 3D Scanner?
You can purchase the Lynx 3D Scanner from 3DMAKERPRO website.
There are three different packages available: Standard, Premium, and Luxury.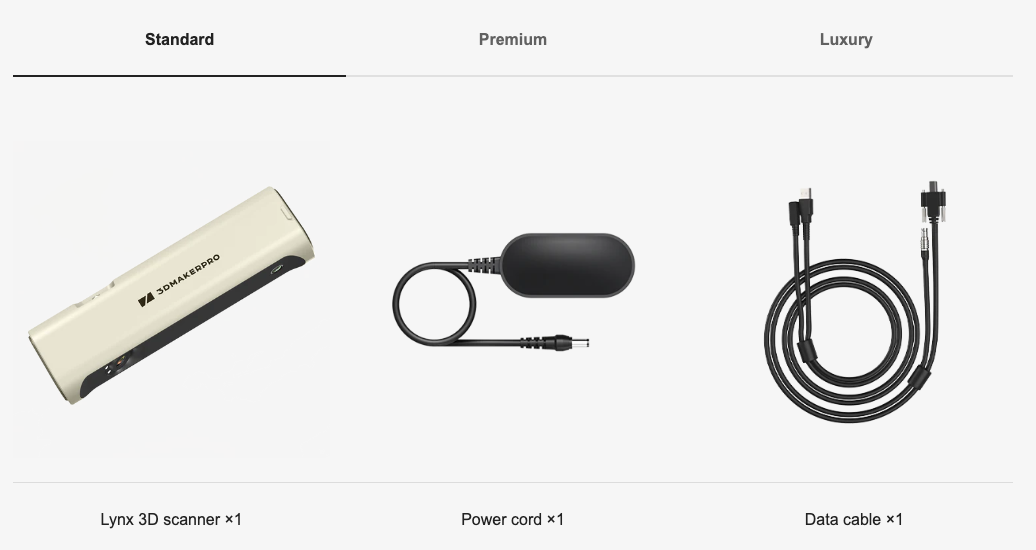 The Standard version is most suitable for people that don't require a Tripod or Turntable kit. The Premium and Luxury variants offer you more accessories to be ready for any 3D scanning task
About 3DMAKERPRO
3DMAKERPRO specializes in 3D scanning devices, aiming to bring professional and consumer-friendly 3D scanners to consumers so that everyone can create their own 3D world. It is an overseas brand of Shenzhen Jimuyida Technology Co., Ltd., officially founded in 2015, which is also a renowned 3D service provider.
The team is comprised of more than 100 R&D members and has independently developed industry-leading software algorithms, such as the multi-spectral projection system, visual tracking and no-marking registration algorithm, and the automatic model processing algorithm. The software R&D system has been certified as CMMI level 3, while the quality system has been certified by ISO9001.
Website and Store
Facebook
Twitter
Sponsored Article