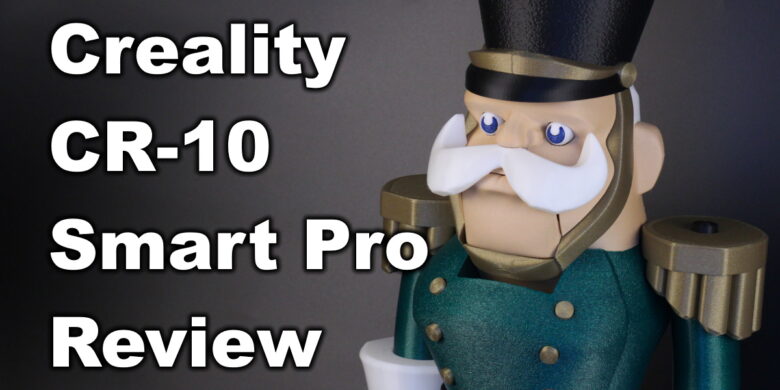 Today, we are going to check out the Creality CR-10 Smart Pro, which is the upgraded version of the CR-10 Smart, and this one is quite good. You might have seen my CR-10 Smart review, where I wasn't really happy with the state of the printer, and it was hard to recommend.
It comes with a bunch of upgrades like a direct drive extruder capable of up to 300C, PEI flex plate, and a few other attractive features that make this printer an interesting offering. But all these upgrades come at a cost, so in this review, we'll see if the Creality CR-10 Smart Pro is actually worth the asking price.
Creality CR-10 Smart Pro Shipping and Packaging
The Creality CR-10 Smart Pro comes in a box similar to the CR-10 Smart. It's made from cardboard and it has a lot of foam padding inside to keep the printer safe during shipping.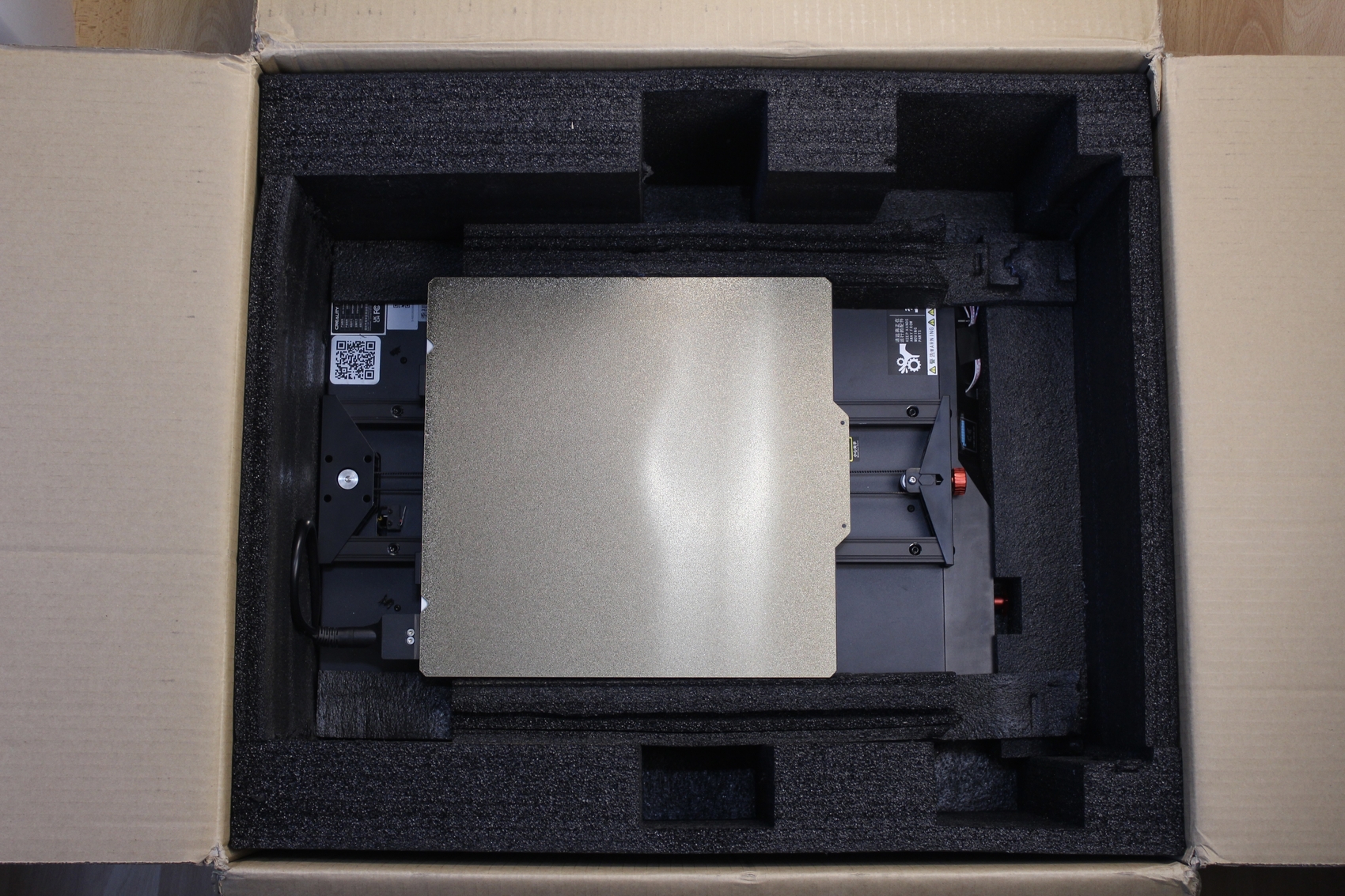 Creality CR-10 Smart Pro Design
The CR-10 Smart Pro looks quite similar to the old CR-10 Smart, and there aren't a lot of significant changes compared to it. The main visual changes include a top LED bar, the direct drive extruder, and the PEI magnetic sheet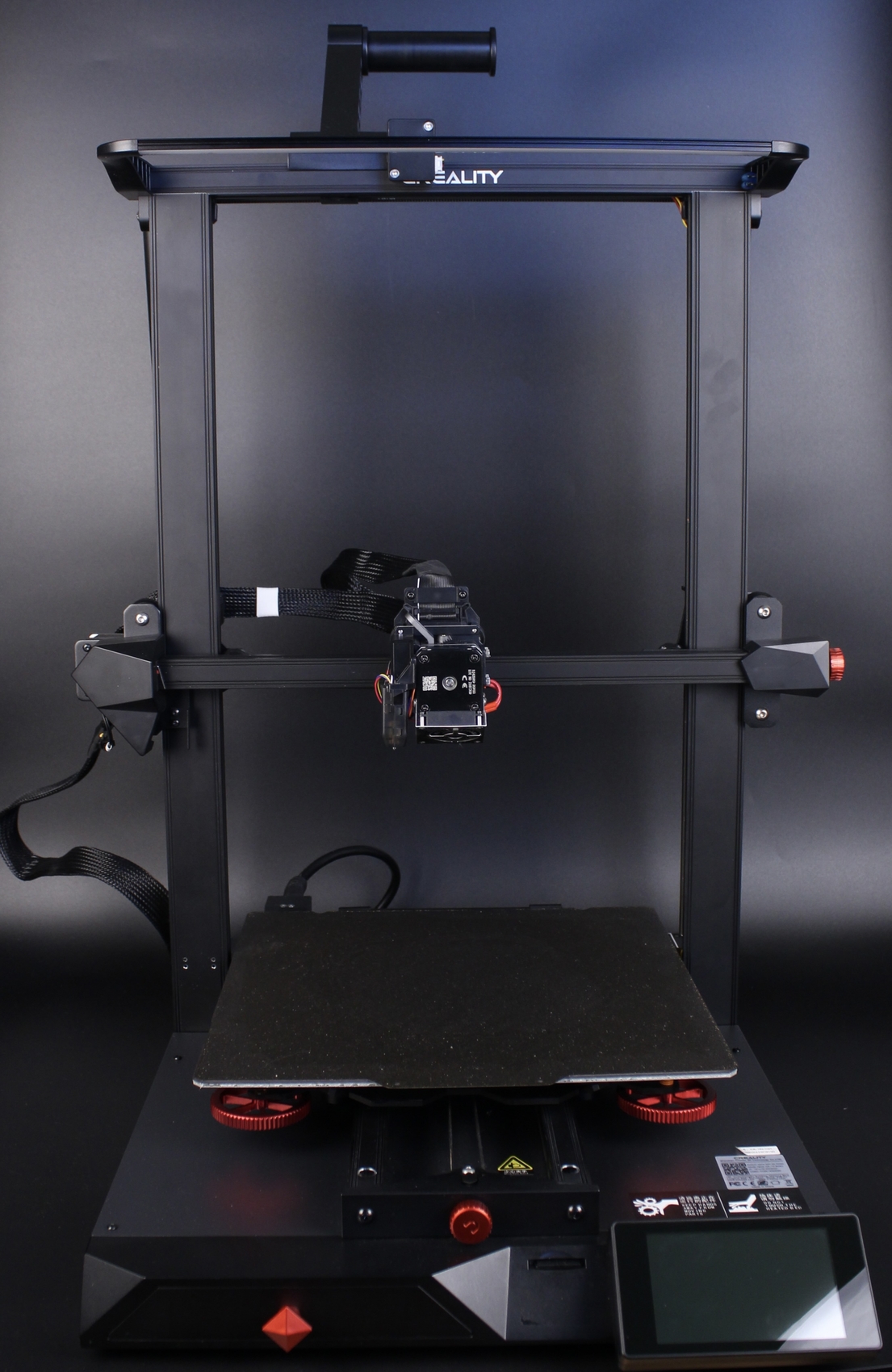 Creality CR-10 Smart Pro Specs
| | |
| --- | --- |
| Brand Name | Creality |
| CE Certification | Yes |
| Model Number | CR-10 Smart PRO |
| Origin | CN(Origin) |
| Bed Temp | 110C |
| Slice Thickness | 0.1-0.4mm |
| Maximum Printing Speed | 180mm/s |
| Nozzle Diameter | Standard 0.4mm(can be changed to 0.3/0.2/0.5/0.6/0.8/1.0mm) |
| Auto-Leveling | Yes |
| Maximum Print Size | 300*300*400mm |
| Filament Diameter | 1.75mm |
| Certification | CE |
| Printing Speed | 80mm/s |
| Language | 9 Languages |
| Fliament | PLA,TPU, Copper, Wood, Carbon Fiber, Gradient |
| Slice Software | Cura / Prusa Slicer / IdeaMaker |
| Power Supply | 350W |
| Precision | +-0.01 |
| Operating System | WindowXP/7/8/10/MAC/Linux |
| File Format | Creality Slicer/Cura/Prusa Slicer/Simplify3D |
| Molding Technology | FDM |
| Maximum Working Speed | 200mm/s |
| Voltage | 110-220V |
| Network Connection | Support Wi-Fi/Bluetooth/RJ45 Remote Control via Creality Cloud App |
| Display | 4.3inch HD Full View Angle Screen |
| Extruder | "Sprite" full-metal dual-gear direct extruder |
| Modeling Technology | FDM |
| Automatic Bed Leveling | CR Touch Leveling |
| Build Surface | Spring steel PEI magnetic build plate |
| Extrusion Force | 80N |
| Mainboard | STM32/TMC2208 |
300x300x400mm Print Volume
With a big print volume of 300X300X400mm, the CR-10 Smart should be able to accommodate most of the prints out there with ease. Considering the Ender 3 S1 Pro which was recently launched, the CR-10 Smart Pro can be compared with it, as it has most of its features but with a larger build volume
Dual Z-axis
The CR-10 Smart Pro comes with dual z-axis leadscrews that raise the X gantry from both sides, which is especially important for any printer of this size. There are dual stepper motors, but the lead screws are also linked with a belt to keep them in sync and ensure a smooth movement.
Brass leadscrew nuts are used that seem to work just fine, but I would have liked to see POM nuts as they require less maintenance and you don't need to grease the leadscrews.
Sprite Pro Direct Drive Extruder
Just like the Ender 3 S1 Pro, the CR-10 Smart Pro comes with the excellent Sprite Pro extruder which is all-metal and has a hotend capable of printing up to 300C.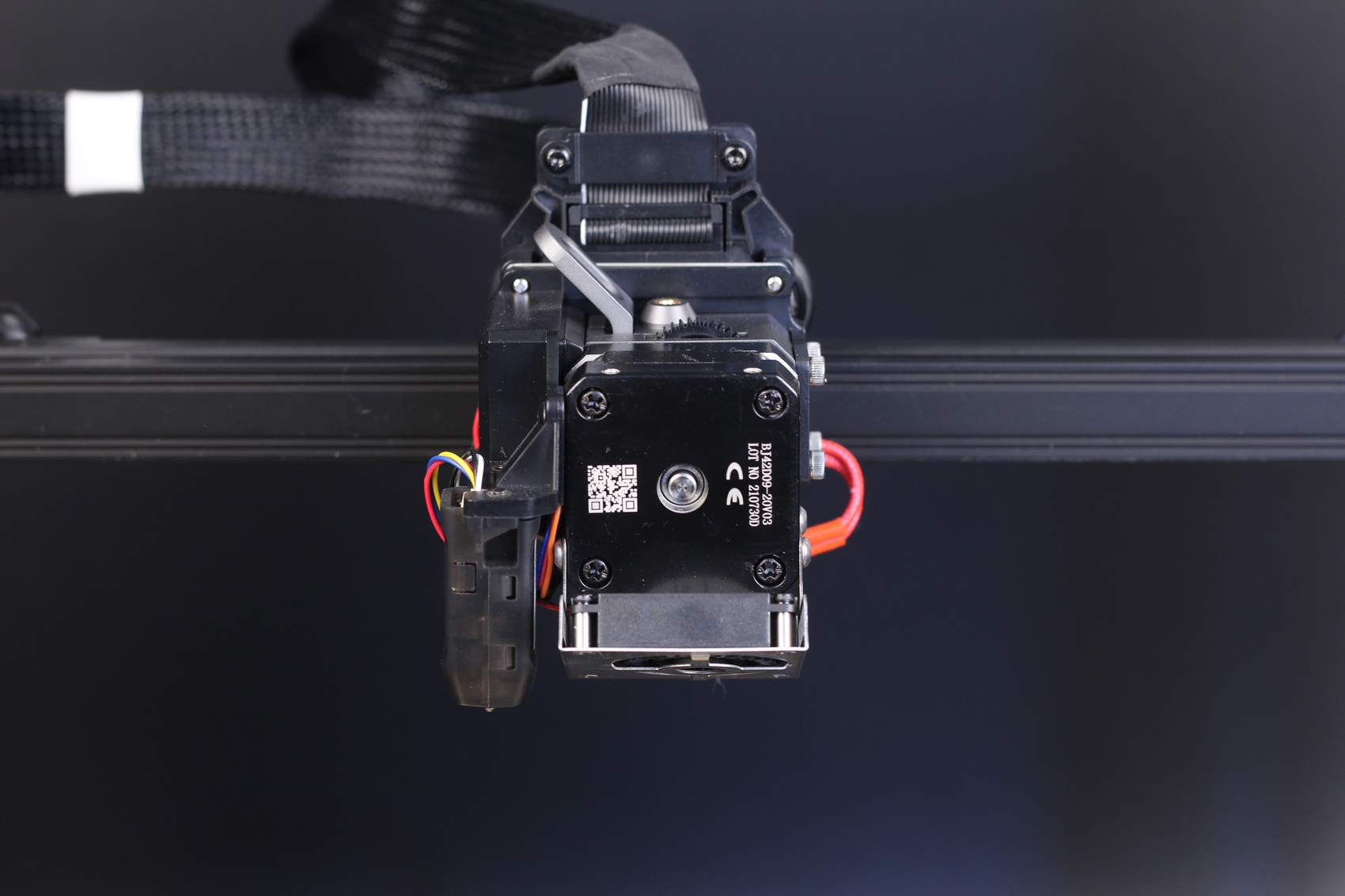 I reviewed the Sprite Pro extruder in a different article, so make sure you check it out if you are looking for more information about it.
What's new for the CR-10 Smart Pro is the inclusion of a strain relief bracket for the ribbon cable.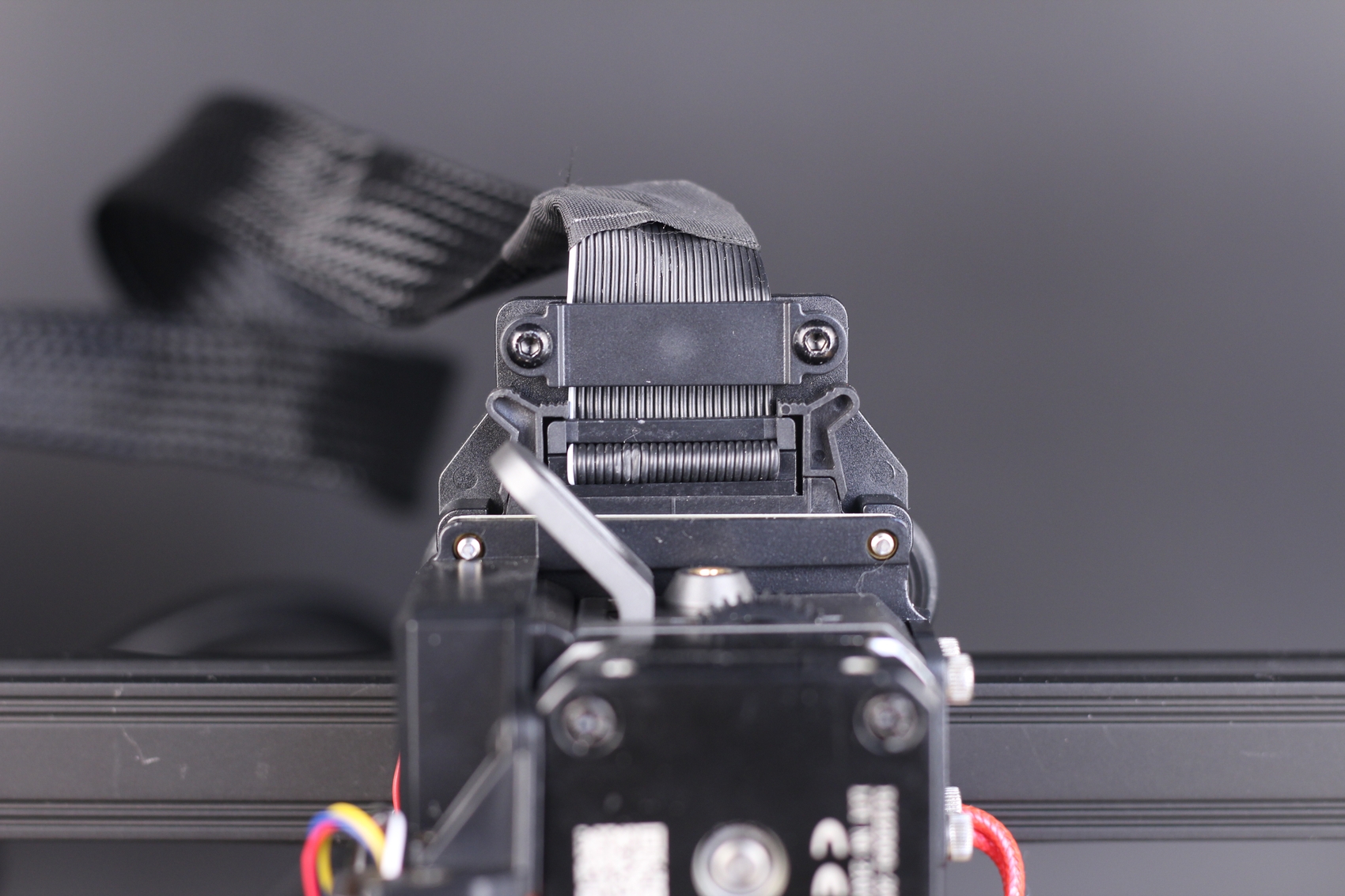 Overall, the extruder performs great and I had no issues with it over the review period. It works as intended.
CR-Touch for Auto Bed Leveling
While the CR-10 Smart used a strain gauge sensor, the CR-10 Smart Pro ditched it for a CR-Touch sensor which is similar to a BL-Touch. It performed really well during use and I can't really complain about it.
Spool holder with bearings
I noticed that the "Pro" line from Creality comes with spool holders which have a bearing inside making the movement smoother. But I can't really say it's something I really like as a fresh spool of filament can easily get tangled during printing.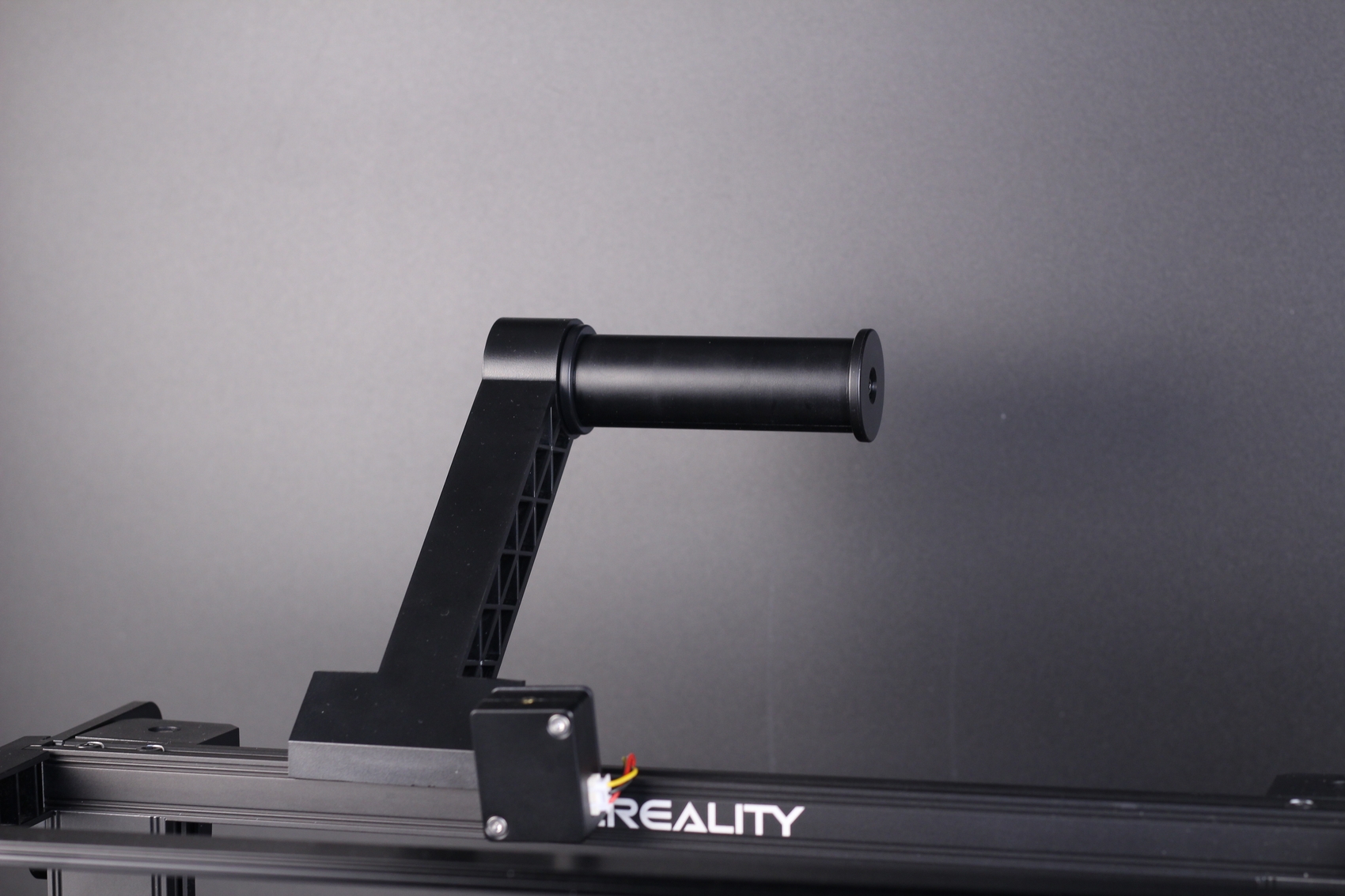 32-bit board with silent stepper drivers
The Creality CR-10 Smart Pro comes with a CR-FDM-v2.5.S1 32-bit board and four silent stepper drivers. This means that there is no G34 support for automatic Z-axis tramming but it's fine. The CPU is an ARM STM32F103, but knowing Creality, I expect this to be fluid and other machines might come with a different version. This is most important when upgrading the firmware.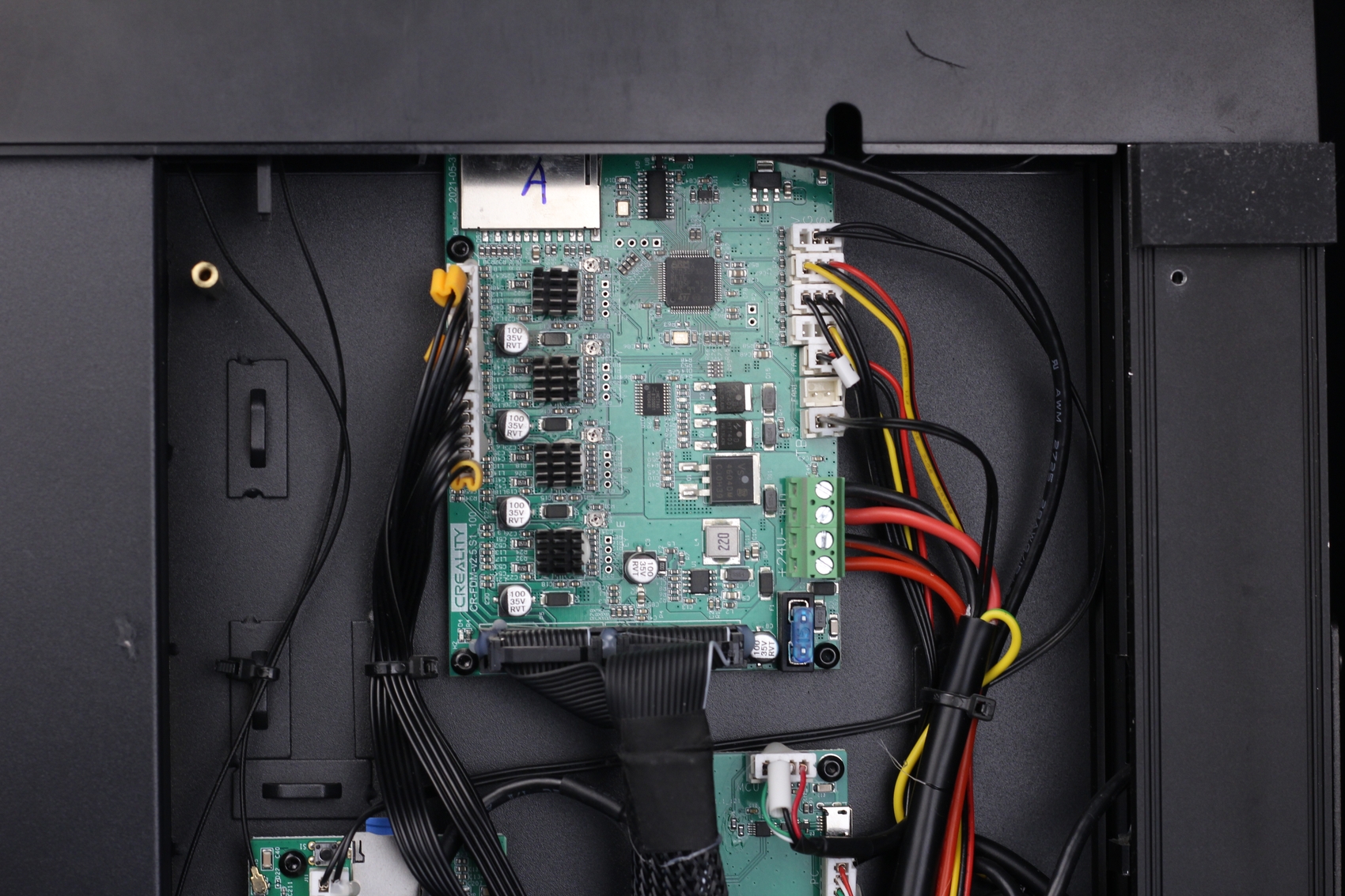 It's also worth noting that tinned wires are still used. These wires can get loose over time and cause a short circuit, but at least there wasn't a lot of solder on them for my unit. It would be best to have proper ferules installed instead of this, as they are safer.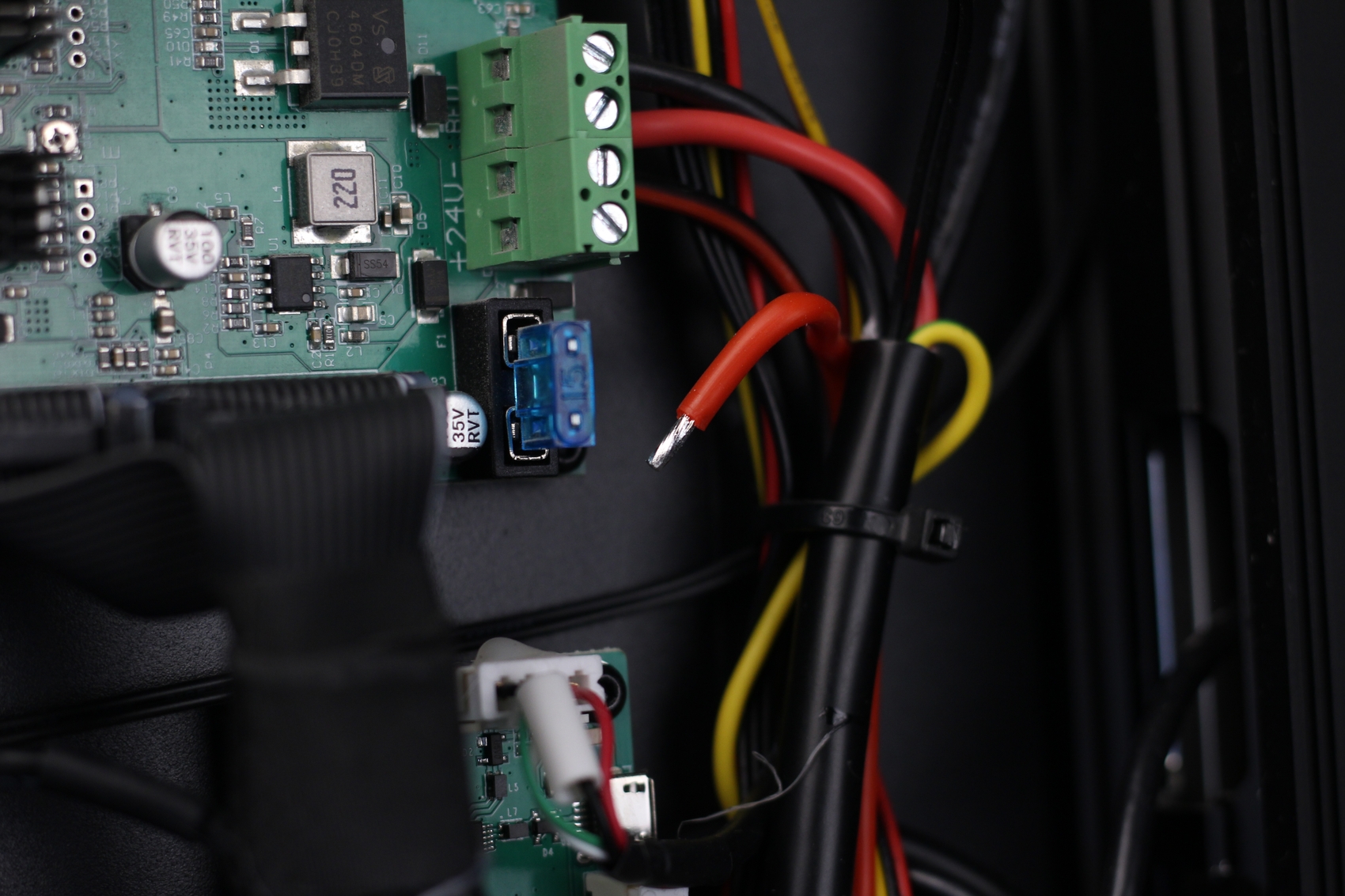 The board connectors are terminated on the side of the machine, where a Type-C port, a USB A port, and an RJ-45 network port are available. You can connect with a computer to the machine via the Type-C port, while the USB A port is reserved for the included webcam. The RJ-45 port is also handy if you have a LAN cable nearby and want to use that instead of Wi-Fi.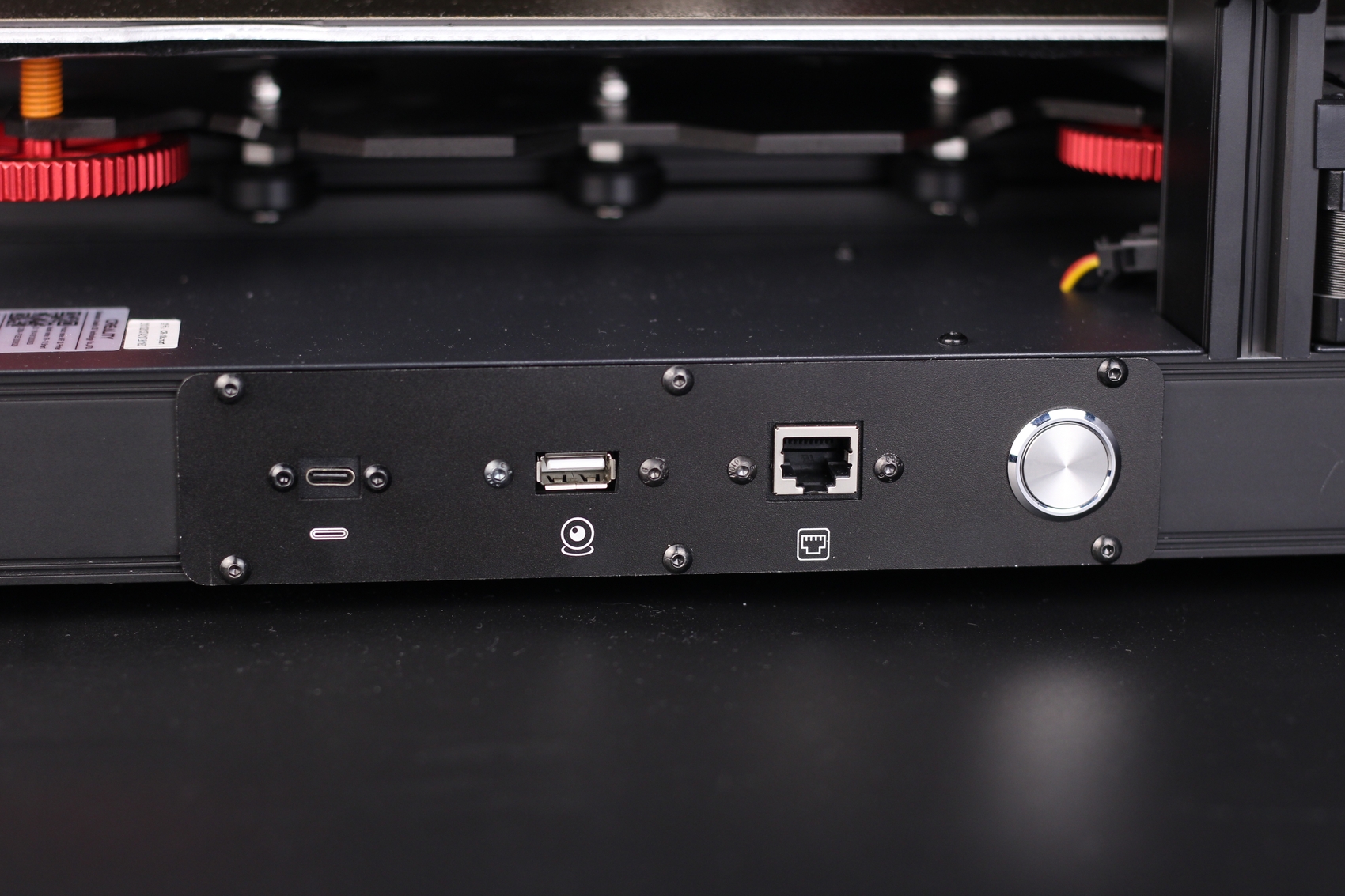 Inside the electronics chamber, we can also see the integrated Creality Box which is the unit that gives the CR-10 Smart Pro the "smart" features. Next to it, we also get the power relay which allows you to turn the printer on and off using G-Code or the options available on the screen.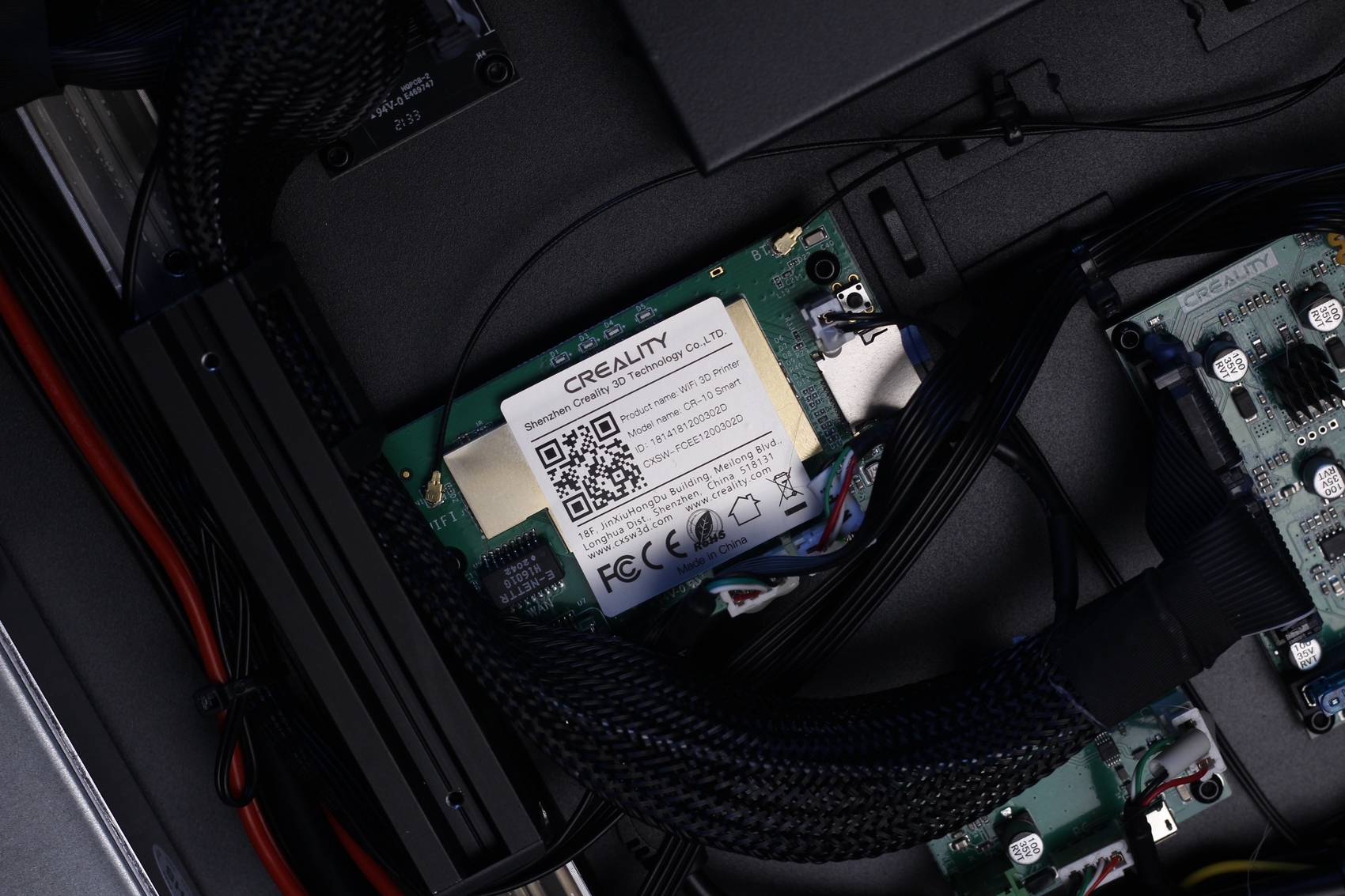 Magnetic PEI Sheet printing surface
The CR-10 Smart Pro comes with a magnetic PEI sheet that improves print adhesion while also making the removal of a print much easier, especially when printing a large model.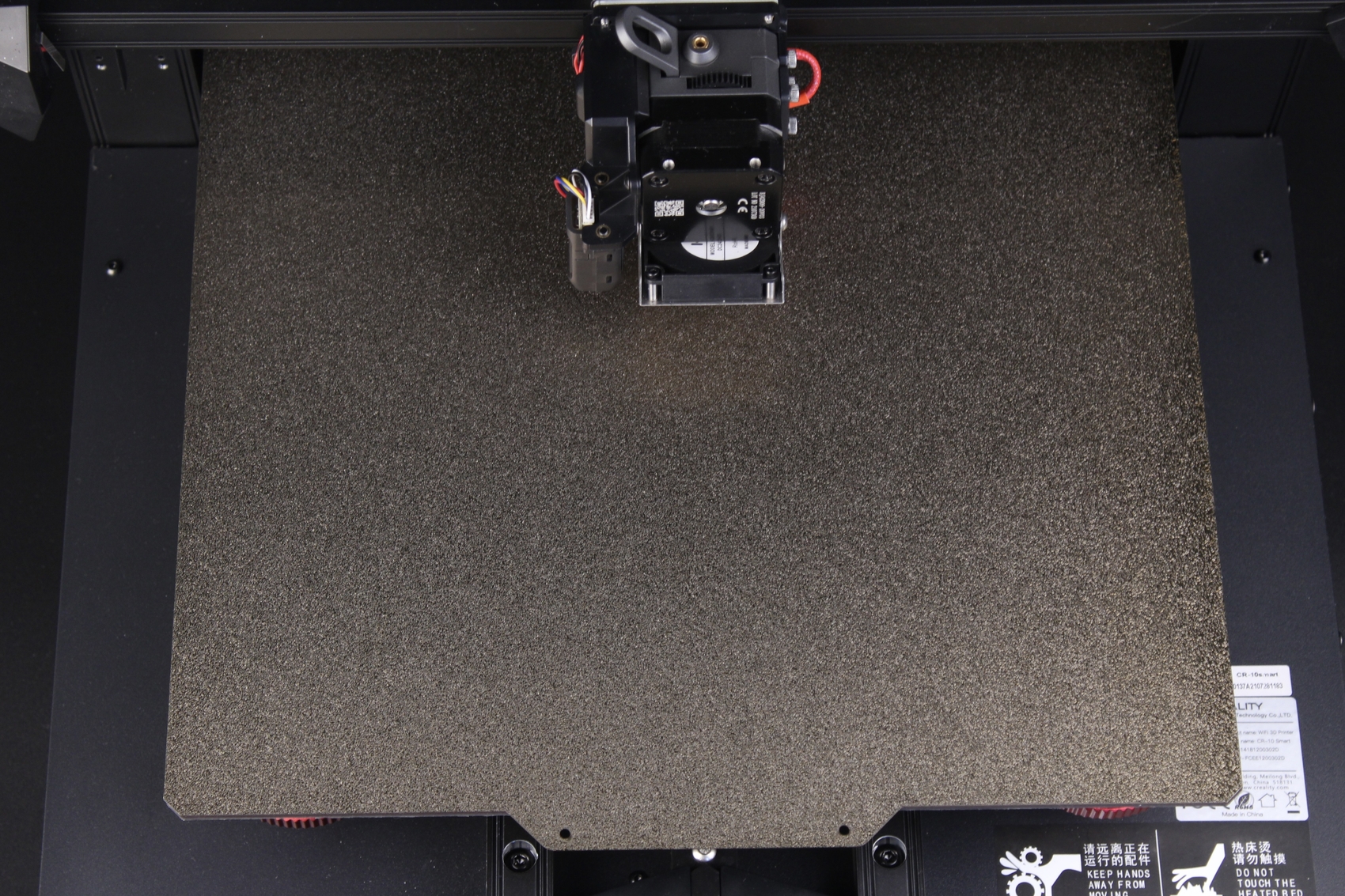 For some reason, Creality decided to also convert the bed from a fixed version to one where you can still adjust the bed leveling using four independent knobs. I think this was done because the QC was sometimes spotty with the regular CR-10 Smart and some people weren't able to properly tram the bed.
I would have liked for them to actually solve that problem, instead of doing this workaround. They also added aluminum knobs for the bed, which are heavier than the plastic ones and add unnecessary weight to an already heavy bed.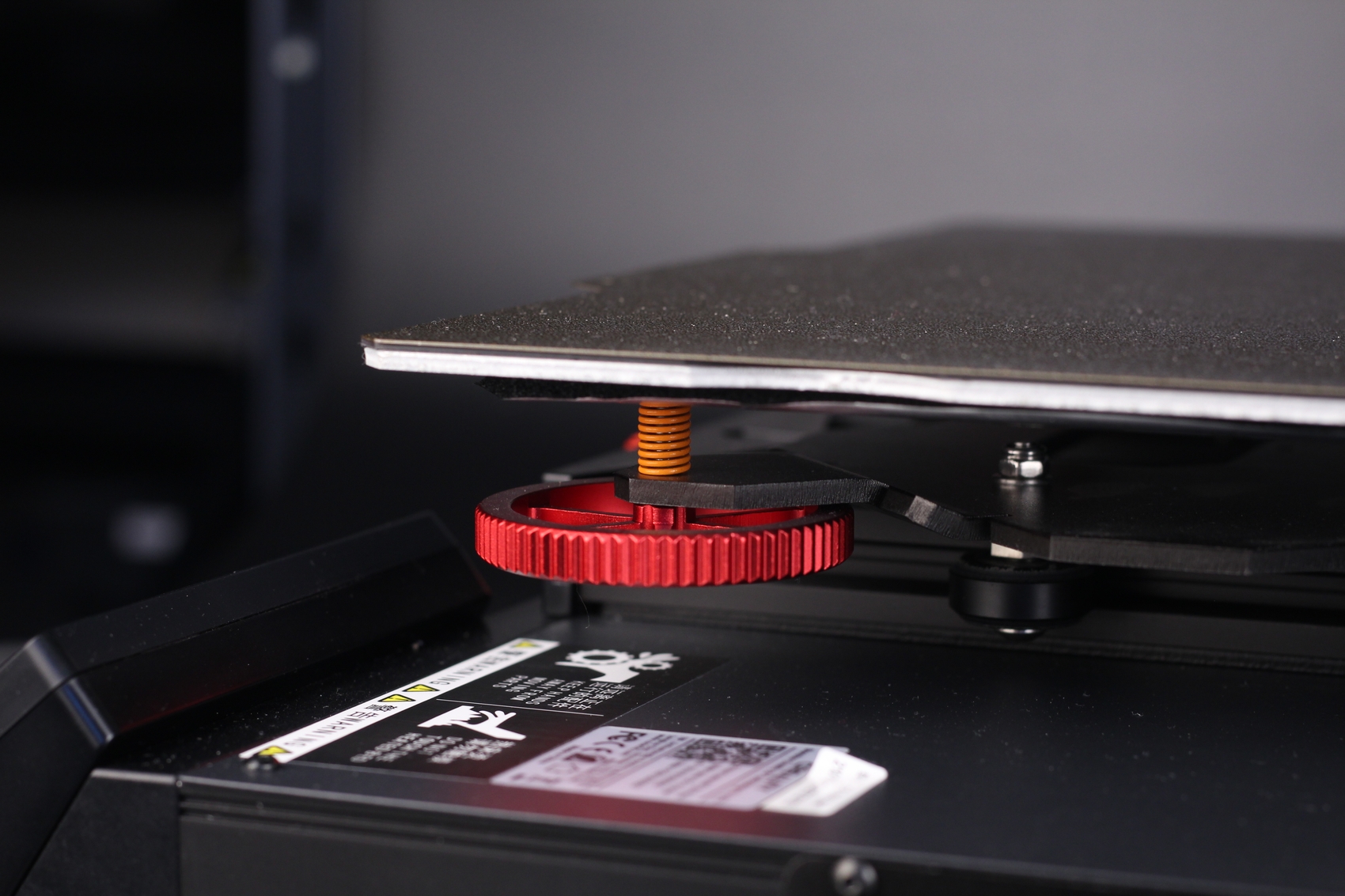 4.3-inch HD touchscreen
The 4.3-inch touchscreen is the same as the one on the CR-10 Smart. It is quite responsive, and easy to use. Fortunately, the software has been upgraded significantly and it now works without any issues which is great to see.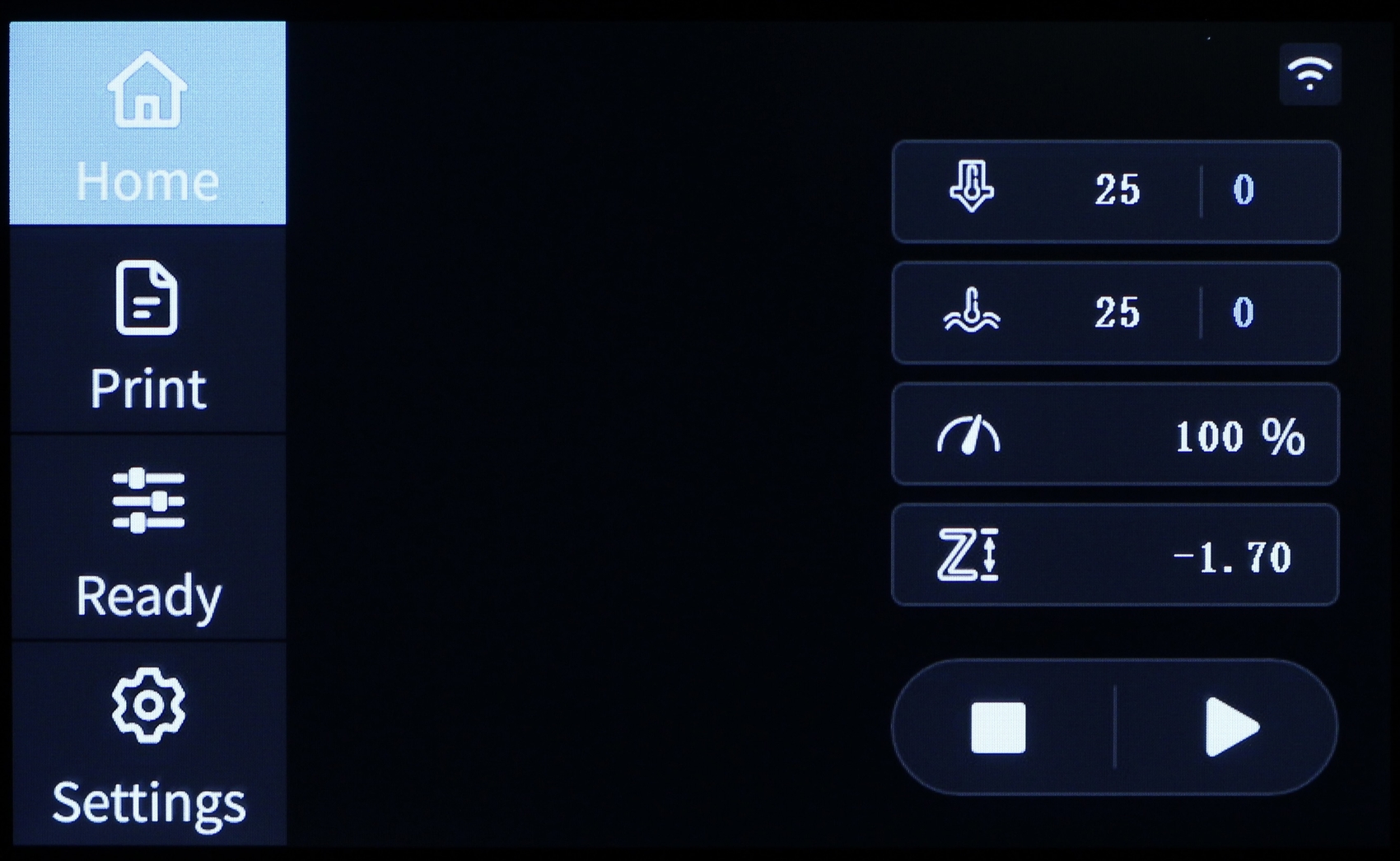 Some of the menu options like the hotend and heatbed adjustments are a bit harder to reach, but I can't complain too much about it. It's also nice to see that we get PID and acceleration controls, and even a button to control the LED light.
LED light
Talking about the LED light, it's much more useful than I was thinking. Having this addon to the printer allows you to do timelapse videos if you're into that, without actually needing extra lights. It's also useful when checking on the first layer, or when you work with the printer.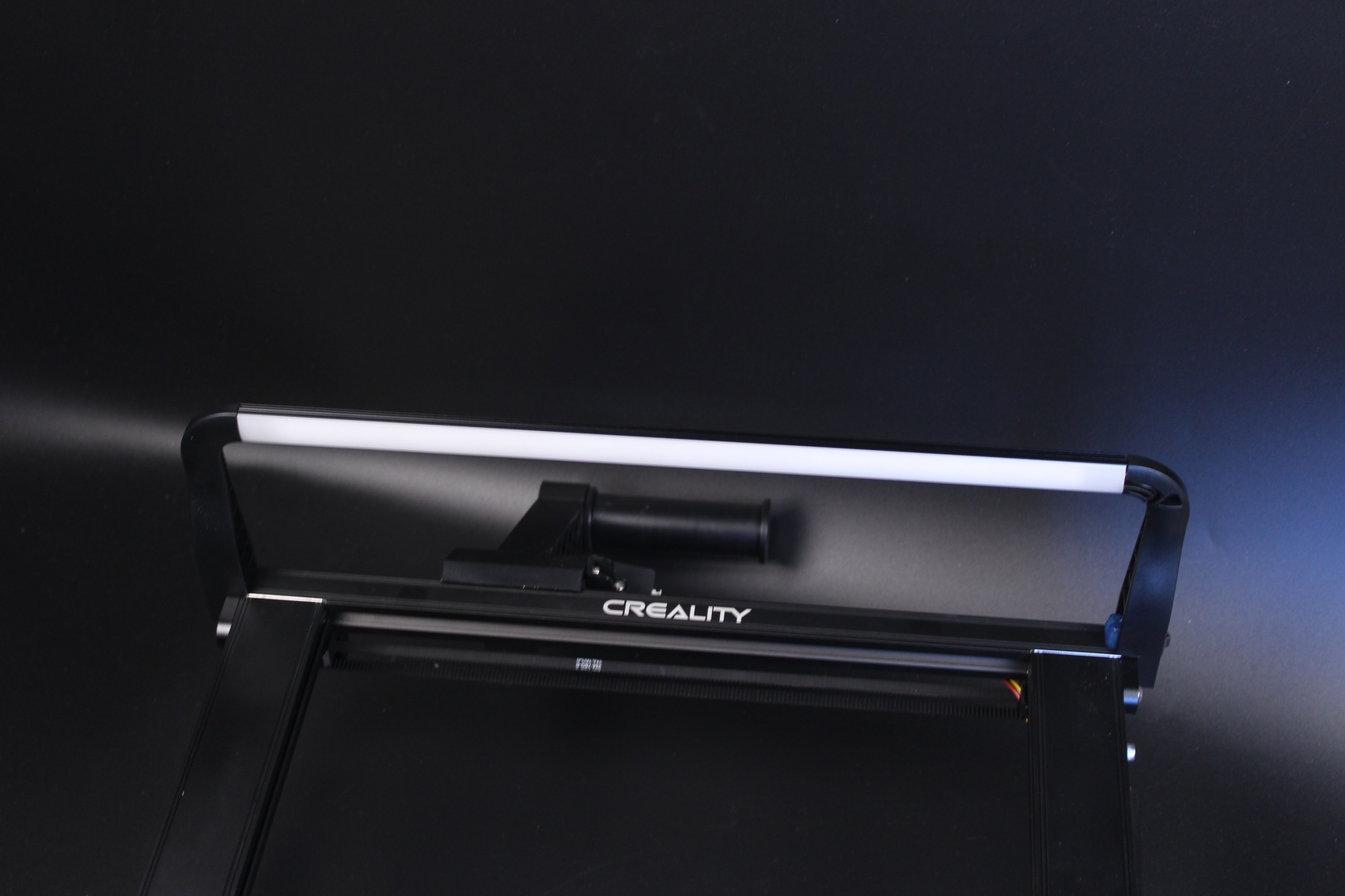 On the right side, there's an on-off switch, and you can also control the state of the LED from G-Code. For example, you can tell the printer to turn off the LED light after it completes a print, which can be handy.
This is how the printer looks like with the LED light on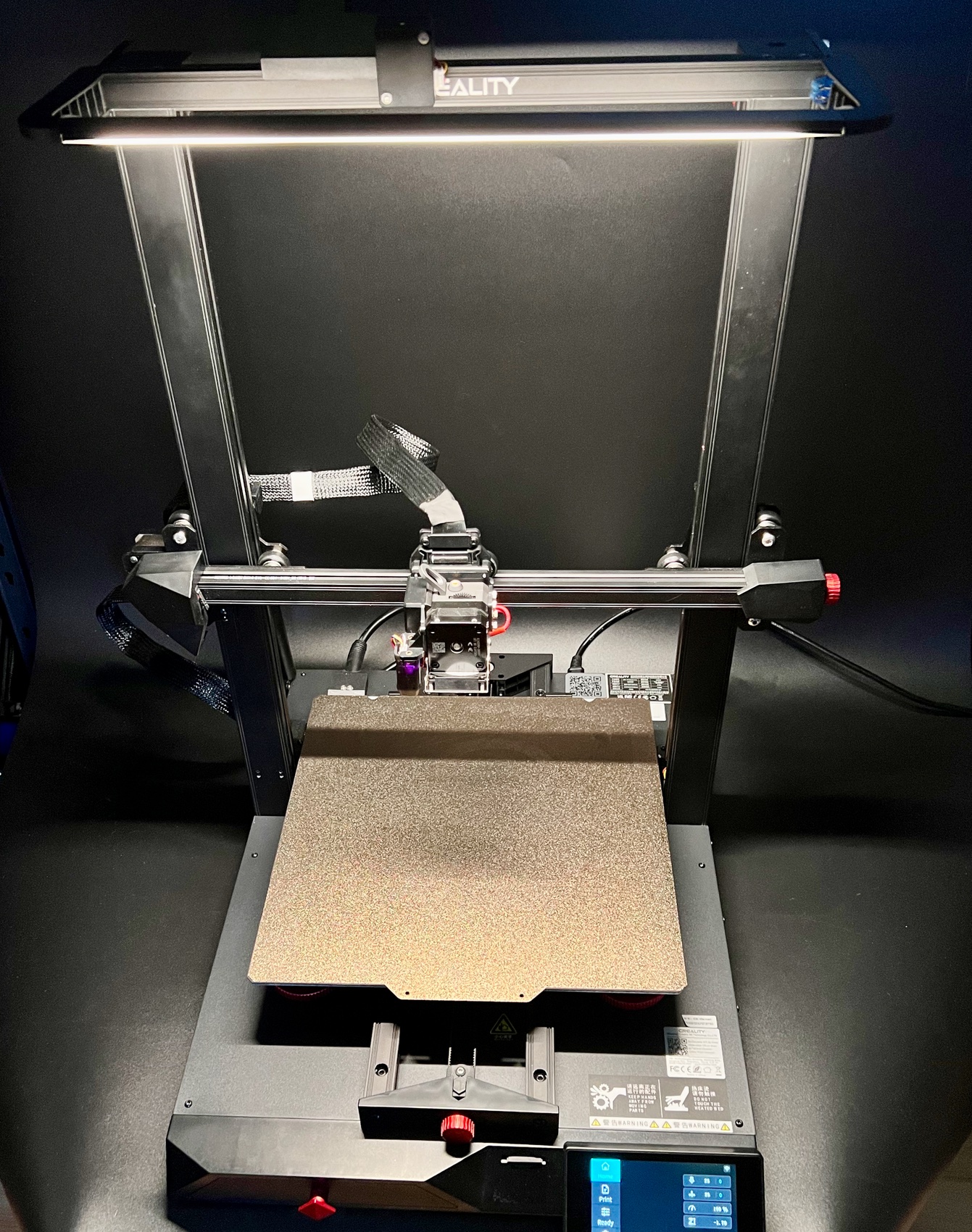 Integrated Belt Tensioners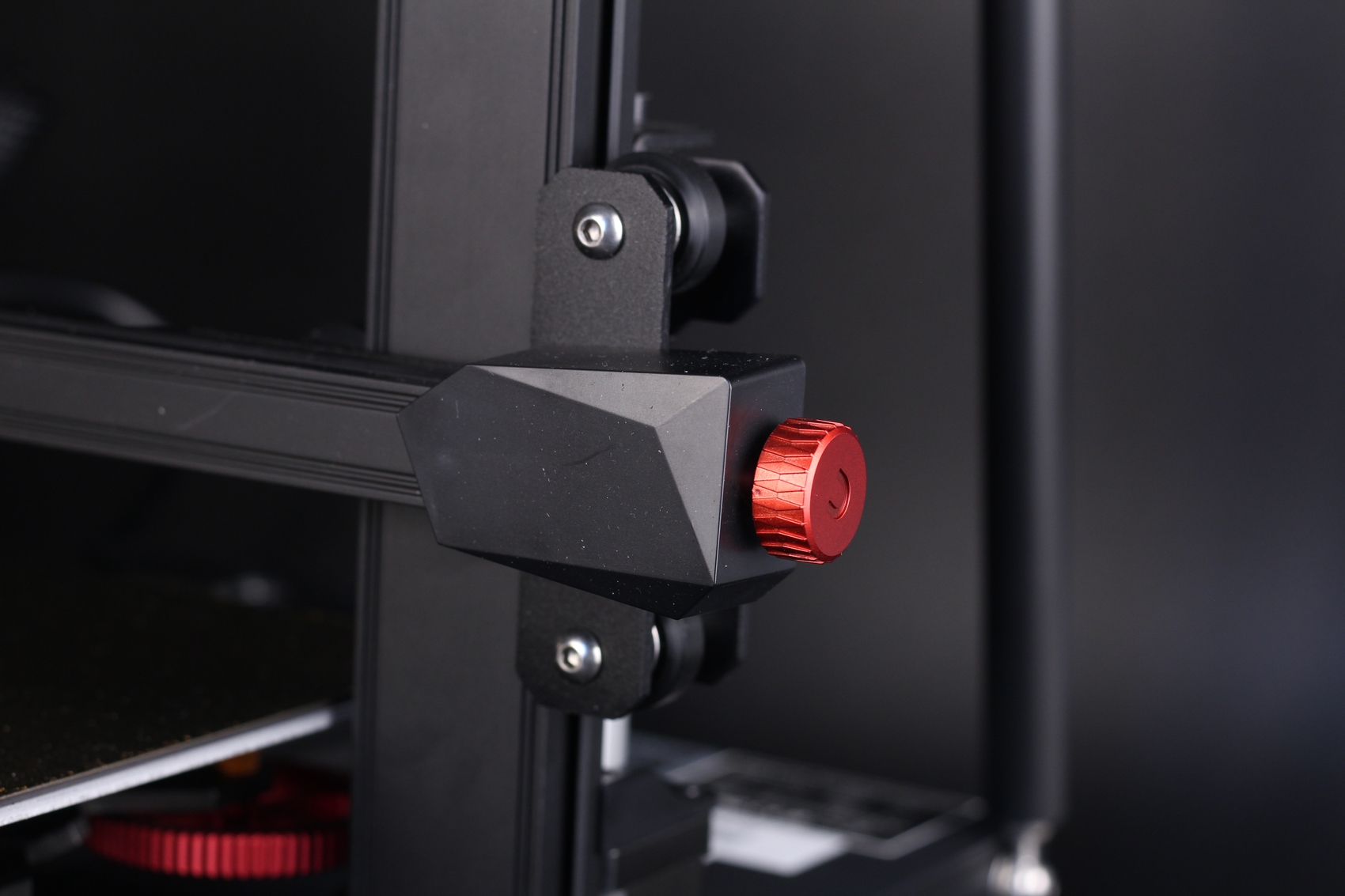 350W 24V Creality Branded Power Supply
The CR-10 Smart Pro comes with a Creality branded 350W 24V power supply. I was expecting this to be a bit more powerful, as most of the larger format 3D printers out there come with a 500W unit.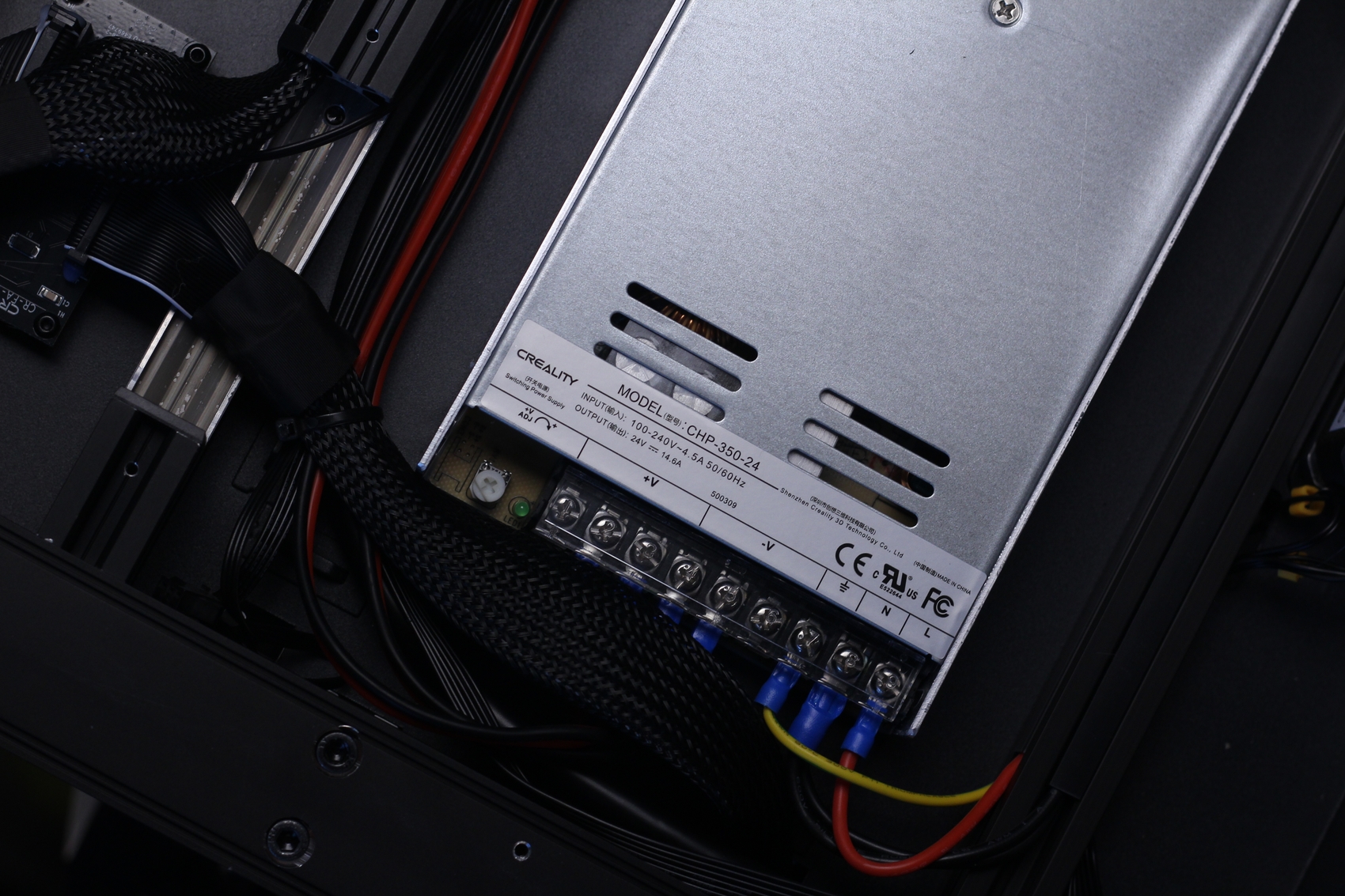 This power supply is still ok, but it's probably one of the reasons why the heatbed takes a longer time to get hot. Besides that, expect the power supply fan to run constantly, and generate a bit of extra noise.
It's also the thing I expect to fail the soonest, as there isn't a lot of reserve power for it and it will be constantly under stress.
Webcam accessory and Creality Cloud connectivity
As with the CR-10 Smart, and other printers from Creality, the CR-10 Smart Pro has an integrated Creality Box inside the machine that's already connected and ready to go. This allows you to connect the machine to Creality Cloud and start prints directly from your phone.
This is what you can expect from the Creality Cloud functionality for the CR-10 Smart. You can control the temperature, movement, fan speed, and of course, you can select a model and start printing.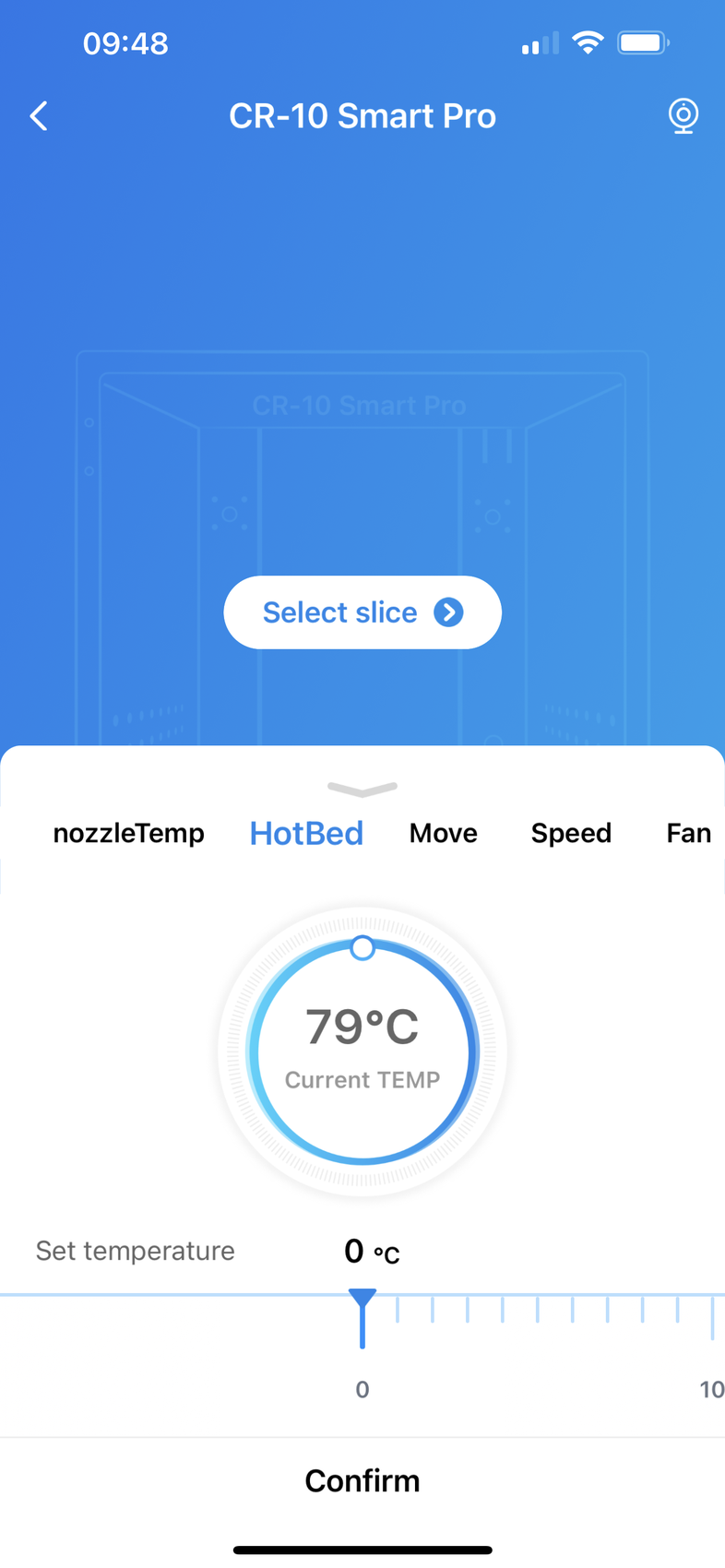 In the package, you also get a Creality webcam accessory that can be connected to the printer, and you will be able to monitor prints directly in the Creality Cloud app. While this is nice to see, the implementation is not that good.
The webcam needs to be placed next to the printer as it comes with a pretty bad tripod and doesn't have any way of attaching the printer to the machine. I would have liked to see it already integrated and connected to the machine to make it actually useful.
Talking about useful, the webcam video quality is also not great. There are a lot of compression artifacts, and without good lighting, it won't be very useful. At most, you can use it for monitoring the print and checking if there's a failure or not.
In the image on the left, you can see what can be expected from the webcam quality when used only with the top LED light, during the day in a relatively bright room. The second image is with a secondary light in the front of the printer.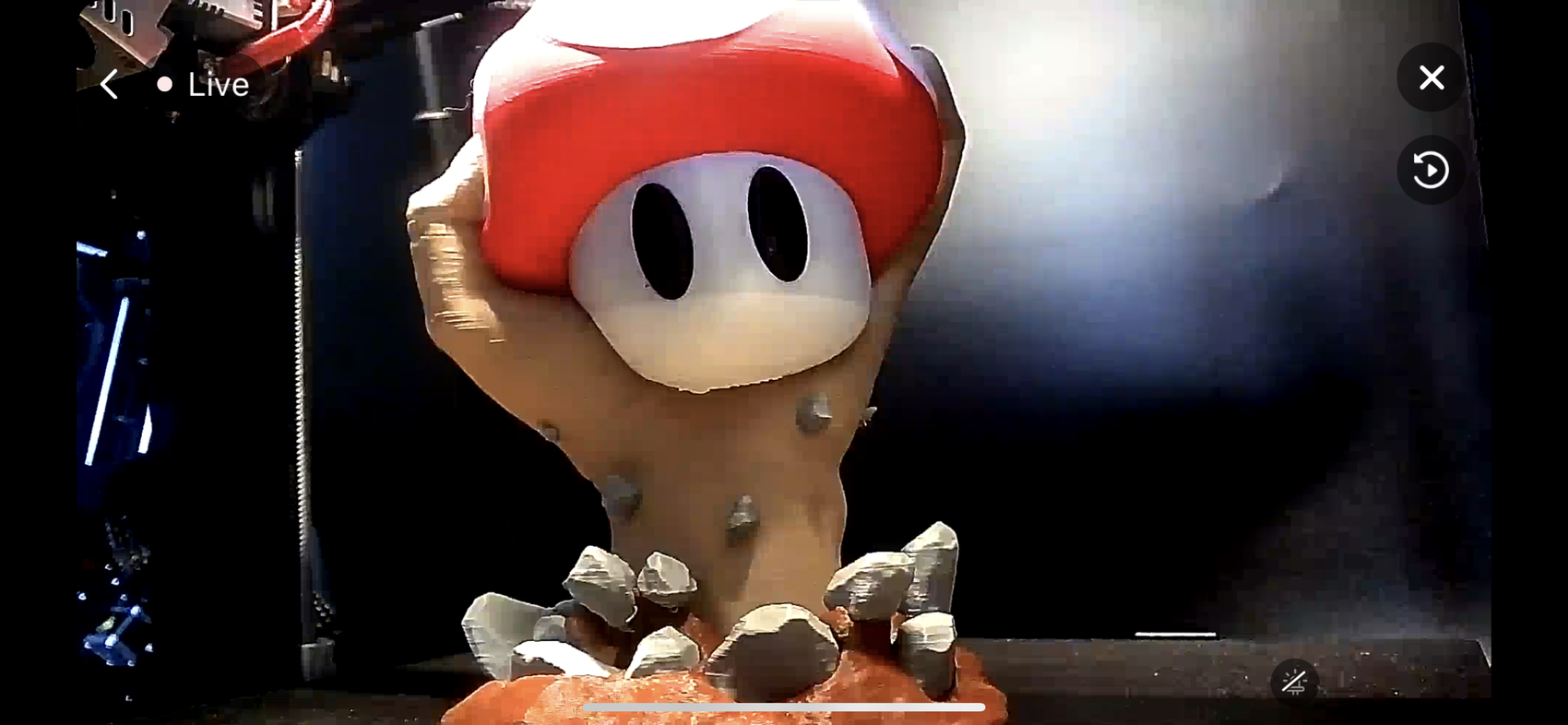 Unfortunately, Creality still hasn't fixed the Creality Cloud situation where a lot of stolen models are uploaded to the platform and for that reason, I won't be covering any of the slicing functionality.
Heating time and power consumption
Hotend
200C in 50 seconds
250C in 1 minute and 5 seconds
300C in 1 minute and 25 seconds
Heatbed
60C in 2 minutes and 30 seconds
100C in 9 minutes and 20 seconds
Power Draw.
The idle power draw is around 18W with the LED light ON. When the hotend and heatbed are heating up, the Creality CR-10 Smart Pro draws around 330W. After it starts printing, the power draw stabilizes to around 75W.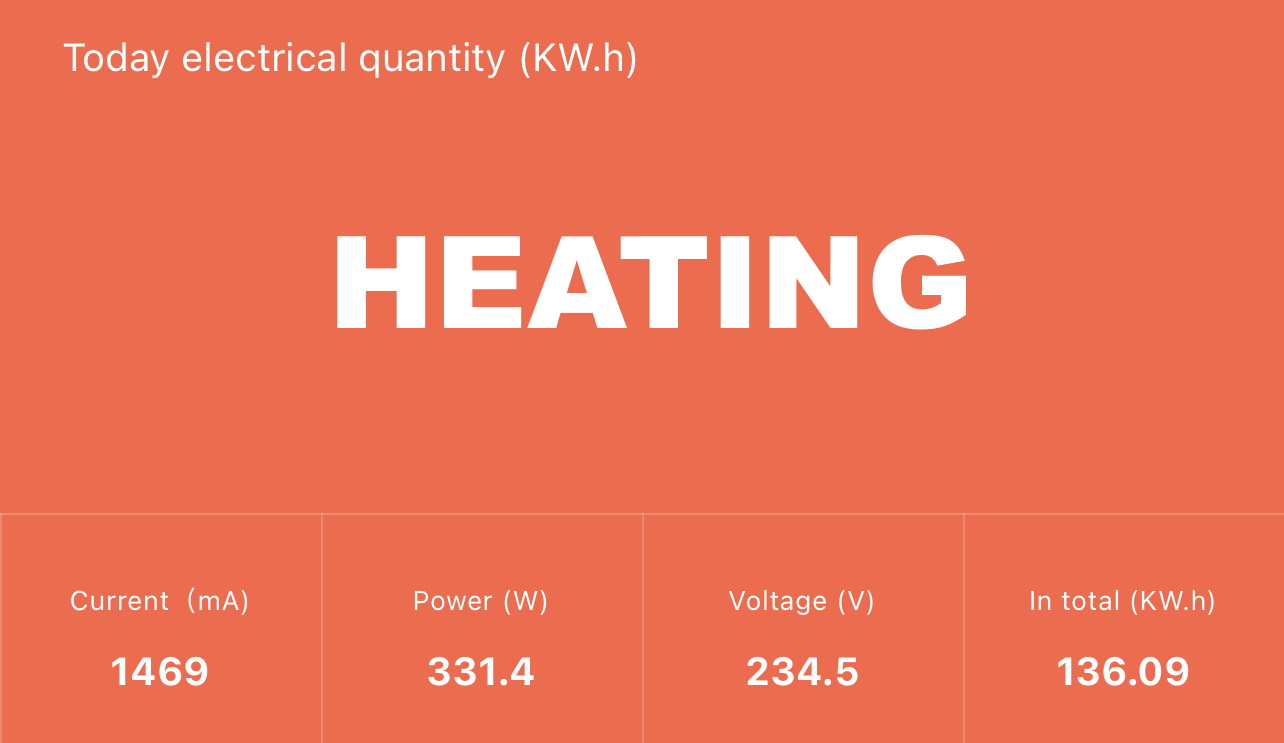 All these measurements were taken with a Blitzwolf smart power socket which indicates the power draw, and it can also be used for remotely powering on and off the printer.
Bed Temperature Uniformity
I tested the temperature uniformity for the Creality CR-10 Smart Pro bed with the FLIR Camera installed on the CAT S62 Pro. The bed has been set to 60C and I waited 2 minutes for the temperature to stabilize.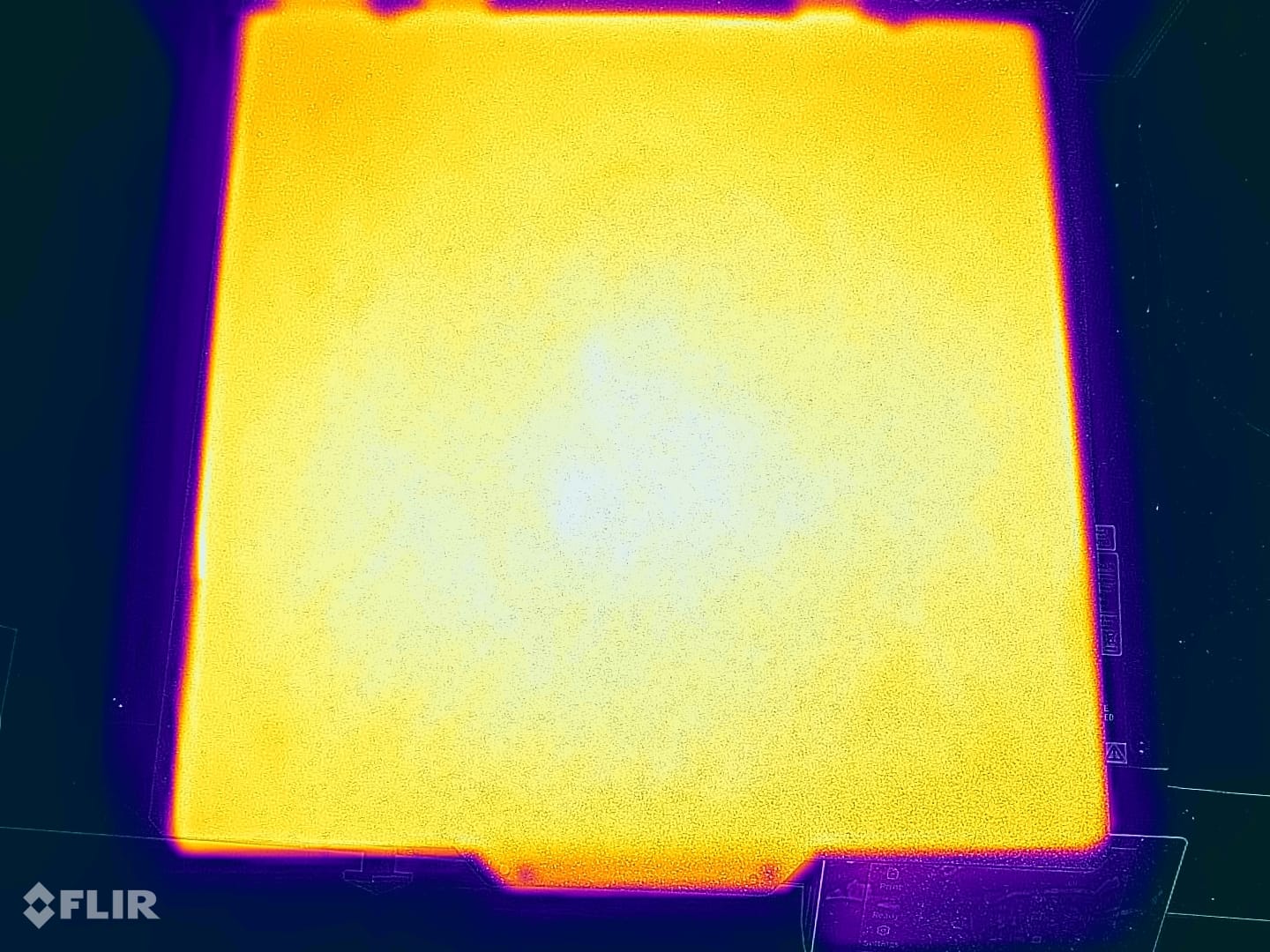 The thermal uniformity is acceptable, but the corners of the bed have a ~5C difference. This is not a huge issue, but not as good as other machines out there and it can become a problem with very large PETG/ABS models.
Creality CR-10 Smart Pro Noise Levels
The Creality CR-10 Smart Pro generates some fan noise during operation as the power supply fan is constantly running. The part cooling fan and the extruder fan are also noticeable and contribute to the noise levels of the printer.
Prusa Slicer profiles for Creality CR-10 Smart Pro
During my time with the printer, I tuned a few Prusa Slicer profiles for the CR-10 Smart Pro. These profiles are tuned for the stock printer and are available to my Patreon supporters.
As usual, the flow rate will still need to be calibrated, according to your filament.
Test prints on Creality CR-10 Smart Pro
As you know, in most of my reviews I do various prints to test the functionality of the machine. This time, after the experience with the Ender 3 S1 Pro, I knew that the printer would perform similarly, so I wanted to give it an actual run for its money.
So I grabbed this awesome Nutcracker model from Thingiverse, scaled it up to 250%, and embarked on a 10-day printing journey where I printed various PLA filaments and used a lot of the available print surface.
After 10 days of printing, I managed to print all the parts of this model without a single failure which is impressive. I know it's only PLA, but a lot can go wrong especially when having large pieces that took over 48 hours to print.
I printed Carbon Fiber PLA, Wood PLA, and Silk Black PLA from Sunlu, White PLA from Creality, and a mix of Glint PLA from FilamentOne. Everything fit correctly, and the finish is incredibly good.
The model is almost 1 meter tall and weighs just over 3KG. Most of the parts were printed at 0.2 mm but there are some tiny parts that were printed at 0.16mm to give them a bit more detail.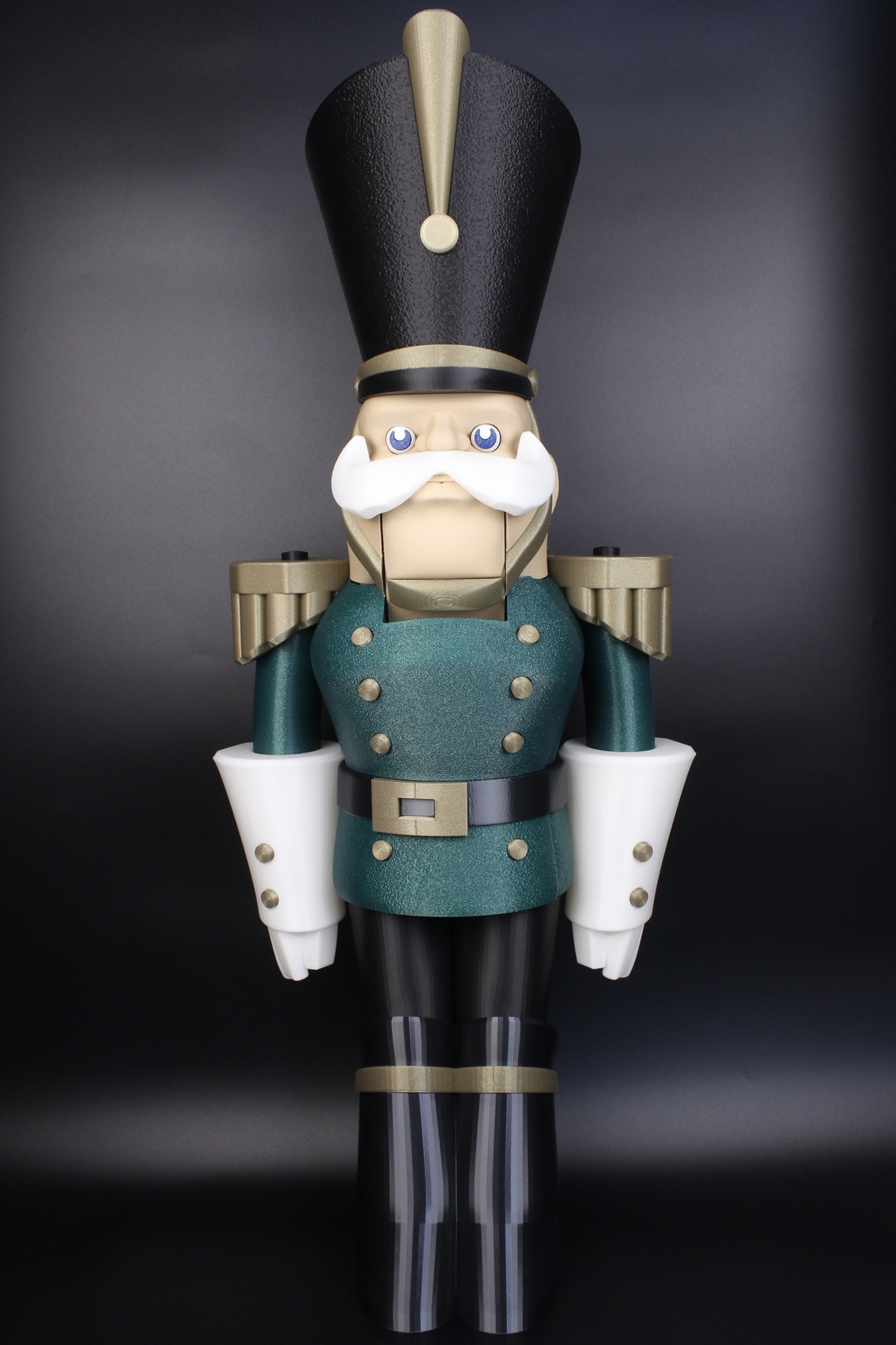 Conclusions: Is the Creality CR-10 Smart Pro worth it?
The CR-10 Smart Pro is the printer the first Smart should have been. It's nice that Creality upgraded that printer and made it better but I really hope that in the future they will spend more time with their products and instead of releasing multiple versions of the same machine they will stick with one and perfect it.
With that said, the CR-10 Smart Pro performed really well during my review period and It delivered excellent results. I didn't have any failure and I couldn't find anything wrong with it after more than 10 days of printing.
Still, I don't think it's worth the asking price of ~800USD. I know that it has a lot of useful upgrades like the PEI flex plate, the excellent Sprite Pro Extruder, and an LED light but when you compare it with other printers that have similar build volume, it's hard to justify its price.
I would be more comfortable with recommending this printer during a sale if the price gets under 700USD. But if you feel like the price is right for it, then I can't say you would go wrong with it, as it's one of the best printers out there with a 300x300x400 build volume.
Creality CR-10 Smart Pro Rating
Creality managed to add significant upgrades to the CR-10 Smart Pro and made it a compelling 3D printer. But all these upgrades come with a high price tag which might be hard to justify.
Where to buy the Creality CR-10 Smart Pro?
The Creality CR-10 Smart Pro was provided free of charge by Creality for the purpose of this review. While the article includes affiliate links, all opinions are my own. Nobody reviewed the article before it was posted, following the Review Guidelines.