Gadgets
BLUETTI AC180 Portable Power Station Review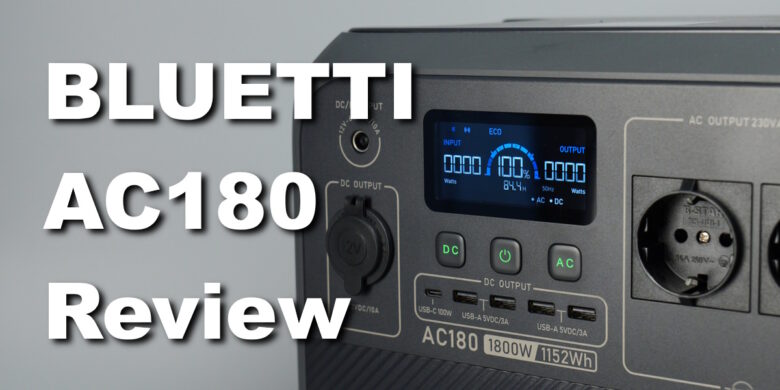 I previously reviewed the BLUETTI EB70S unit which is a very nice power station to have at hand for when you need portable power. Today, I am reviewing the BLUETTI AC180 Portable Power Station which is beefier, has a lot more power available, and also has some interesting use cases which I find useful.
This unit is also compatible with the PV200 solar panel allowing you to use this off-grid without too much trouble. So let's see if the AC180 from BLUETTI is worth it.
BLUETTI AC180 Packaging
As usual, the BLUETTI AC180 comes double-boxed, with a thicker external box and a secondary box inside it. It is well packed with good protection so I don't expect any shipping damage if you order one and the courier is less than friendly with it.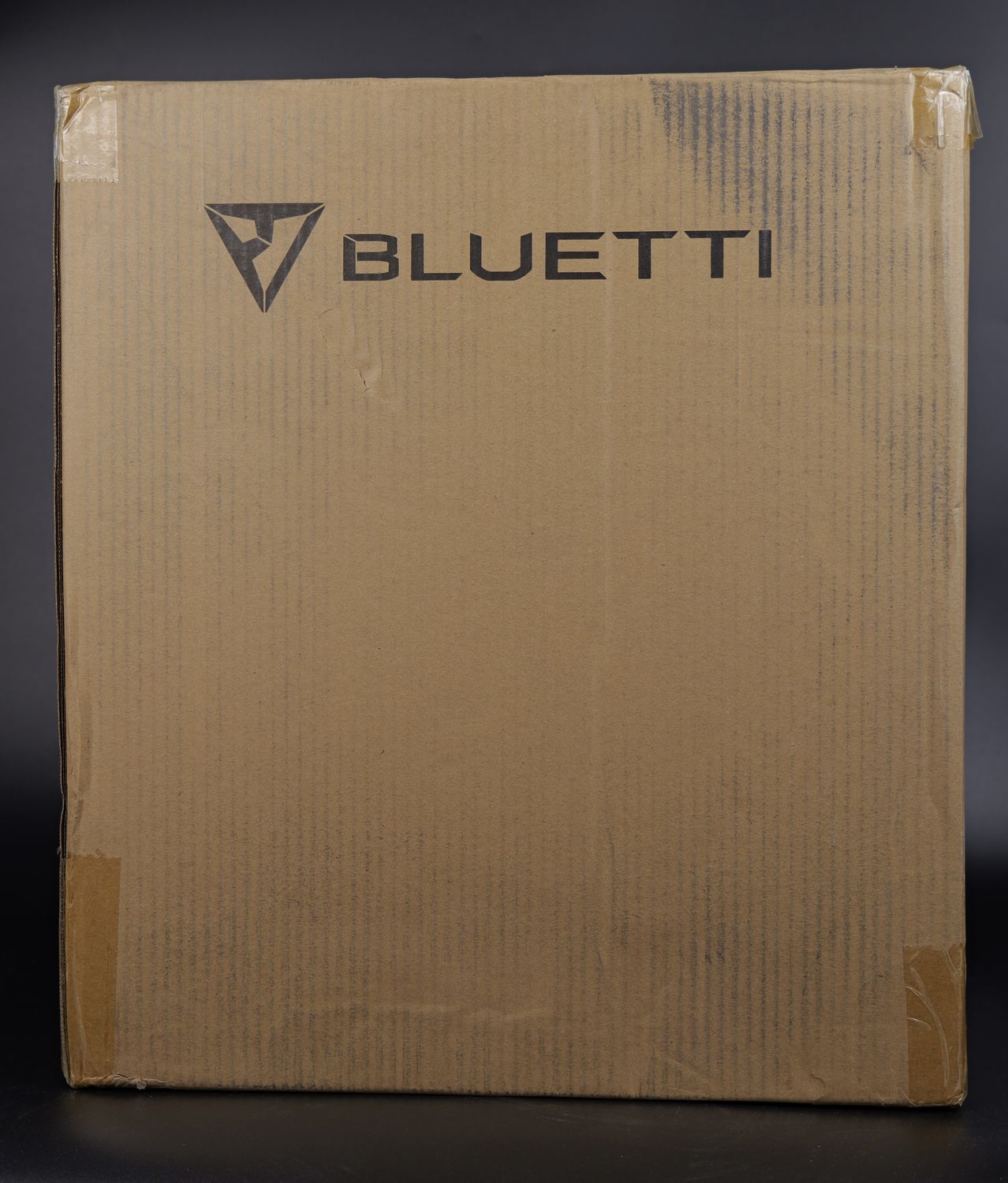 Inside the box, you get the AC180 power station and a few cables to charge the unit. The first one is a regular power cable which is great, as you don't need to rely on a power brick charger like for the EB70s.
The second cable is used for connecting a solar panel and the third one is used to charge the power station using your car's lighter.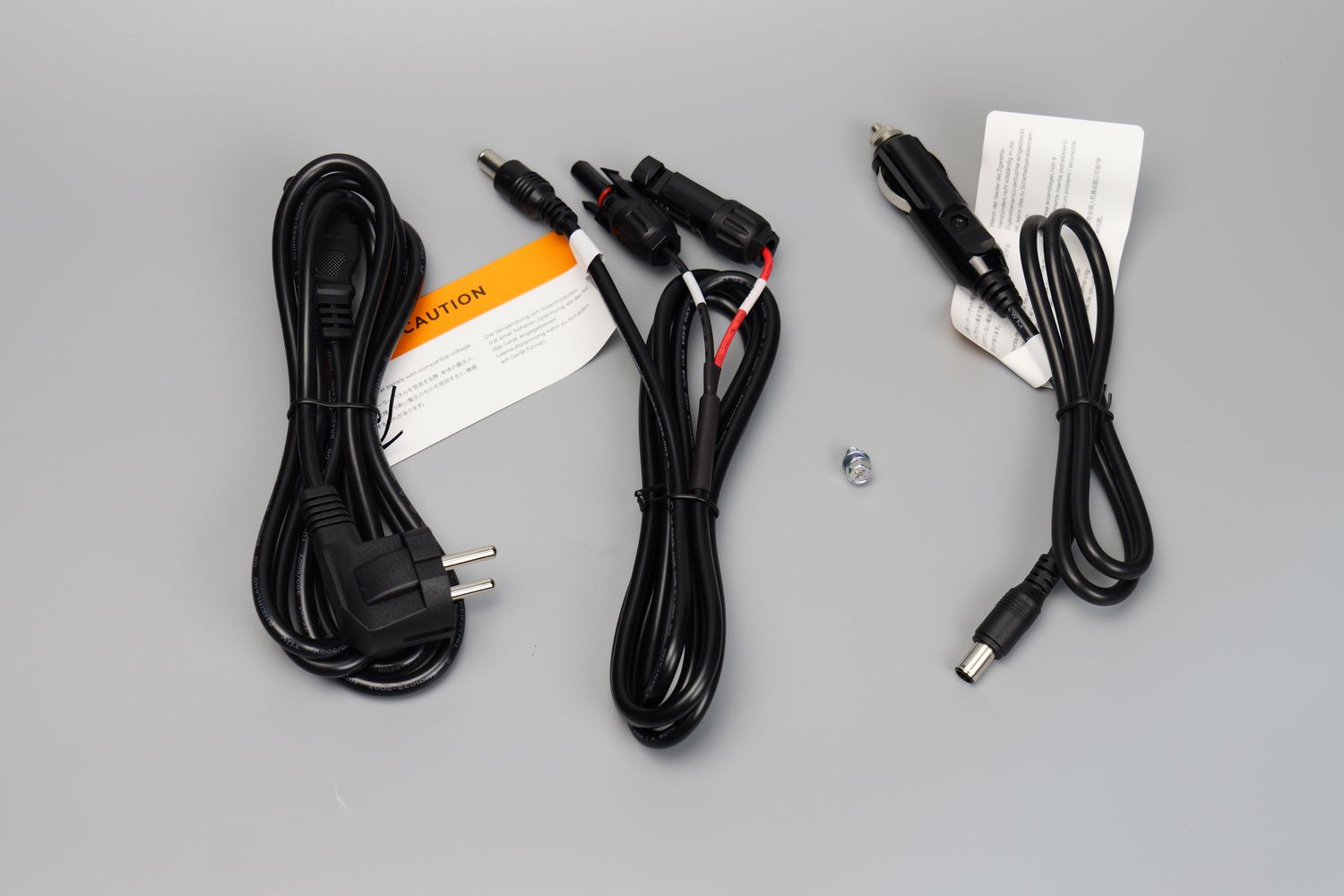 There's also a screw included which is used for grounding the unit.
BLUETTI AC180 Specs
| | |
| --- | --- |
| BATTERY INFO | |
| Capacity: | 1152Wh (36Ah) |
| Type: | LiFePO₄ (Lithium Iron Phosphate) |
| Life Cycles: | 3,500+ Cycles to 80% Original Capacity |
| Shelf-life: | Recharge to 80% Every 3-6 Months |
| Management System: | MPPT Controller, BMS, etc. |
| OUTPUT | |
| AC Outlet: | 4×120V/15A, 1800W in Total |
| Inverter Type: | Pure Sine Wave |
| Surge Power: | 2,700W |
| USB-C Port: | 1 × 100W Max. |
| USB-A1: | 5VDC/3A 15W in total (2*USB Ports) |
| USB-A2: | 5VDC/3A 15W in total (2*USB Ports) |
| 12V DC Outlet: | 1 × 12V/10A (Car outlet, regulated.) |
| Wireless Charging Pad: | 1 × 15W Max. |
| INPUT | |
| AC Input: | 1,440W Max. |
| Solar Input: | 500W Max., VOC 12-60VDC, 10A |
| Car Input: | 12/24V from Cigarette Lighter Port |
| Max Input: | 1,440W |
| AC Charging Cable: | 1.3-1.8 Hours (1,440W Turbo Charging) |
| Solar Panel (s) : | 2.8-3.3 Hours (500W Max.) |
| GENERAL | |
| Pass-through Charging: | Yes |
| Weight: | About 35.27 lbs / 16kg |
| Dimensions (LxWxD): | 13.39" x9.72" x12.48" / 340mm x247mm x317mm |
| Operating Temperature: | 0°C~40°C (30°C~40°C: @1500W Max.) |
| Storage Temperature: | -4°F~104°F (86°F~104°F: @1500W Max.) |
| Certifications: | UL Standard, CEC, DOE, FCC, CA Prop 65 |
| Warranty: | 5 years |
| Accessories: | AC Charging Cable |
| Car Charging Cable | Solar Charging Cable |
BLUETTI AC180 Design
The AC180 looks pretty good even though the plastic looks slighty cheap. There are two handles on the top to help you carry the unit, and they are a welcome addition considering the weight. On the sides, you get two fans, one of them pulling air inside the unit, and the second one pulling the air outside for a good airflow to keep the components cool.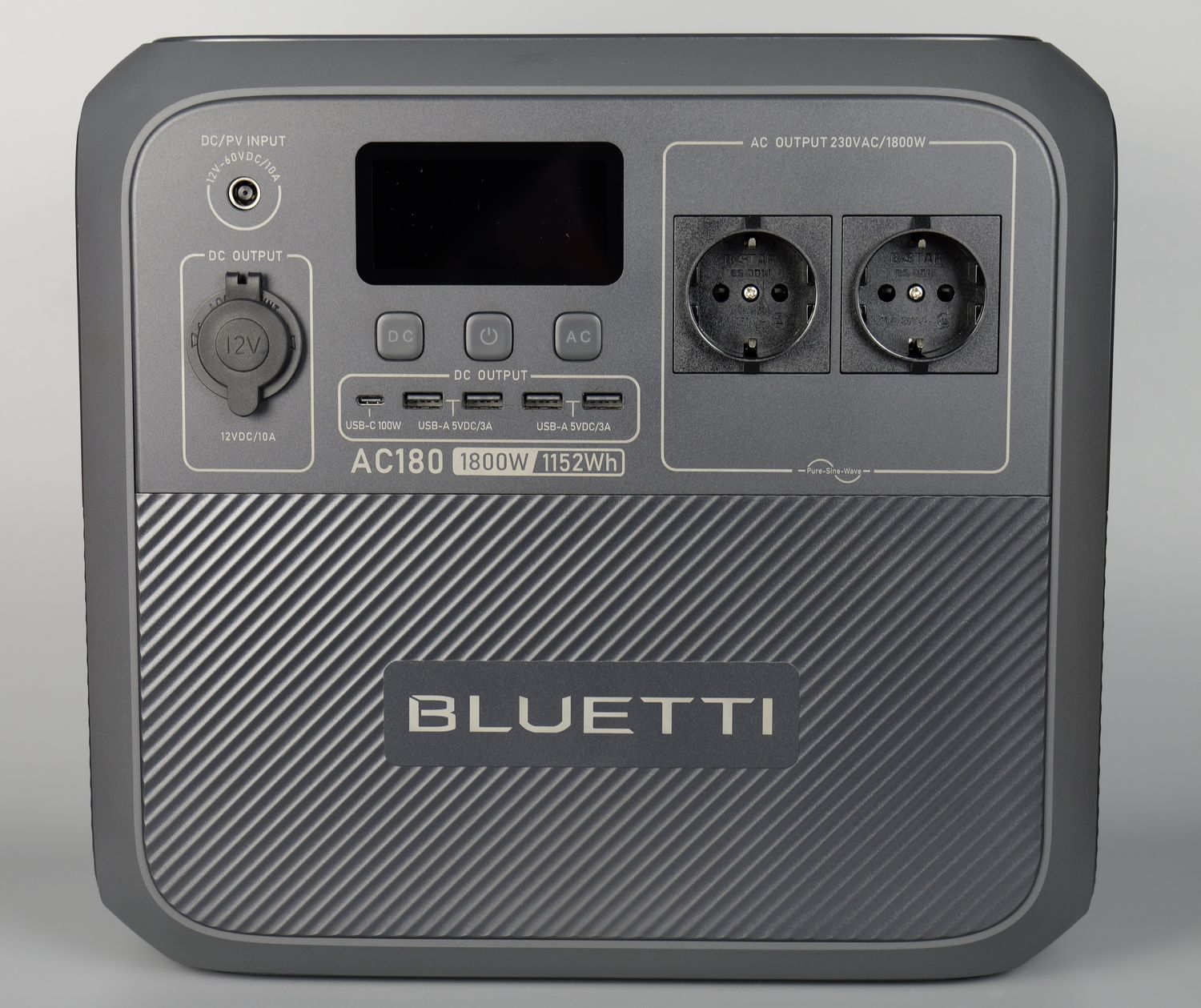 The OLED display on the front is also very helpful in showing you the Input and Output power, the status of the battery charge and the time it takes for the unit to charge to 100%.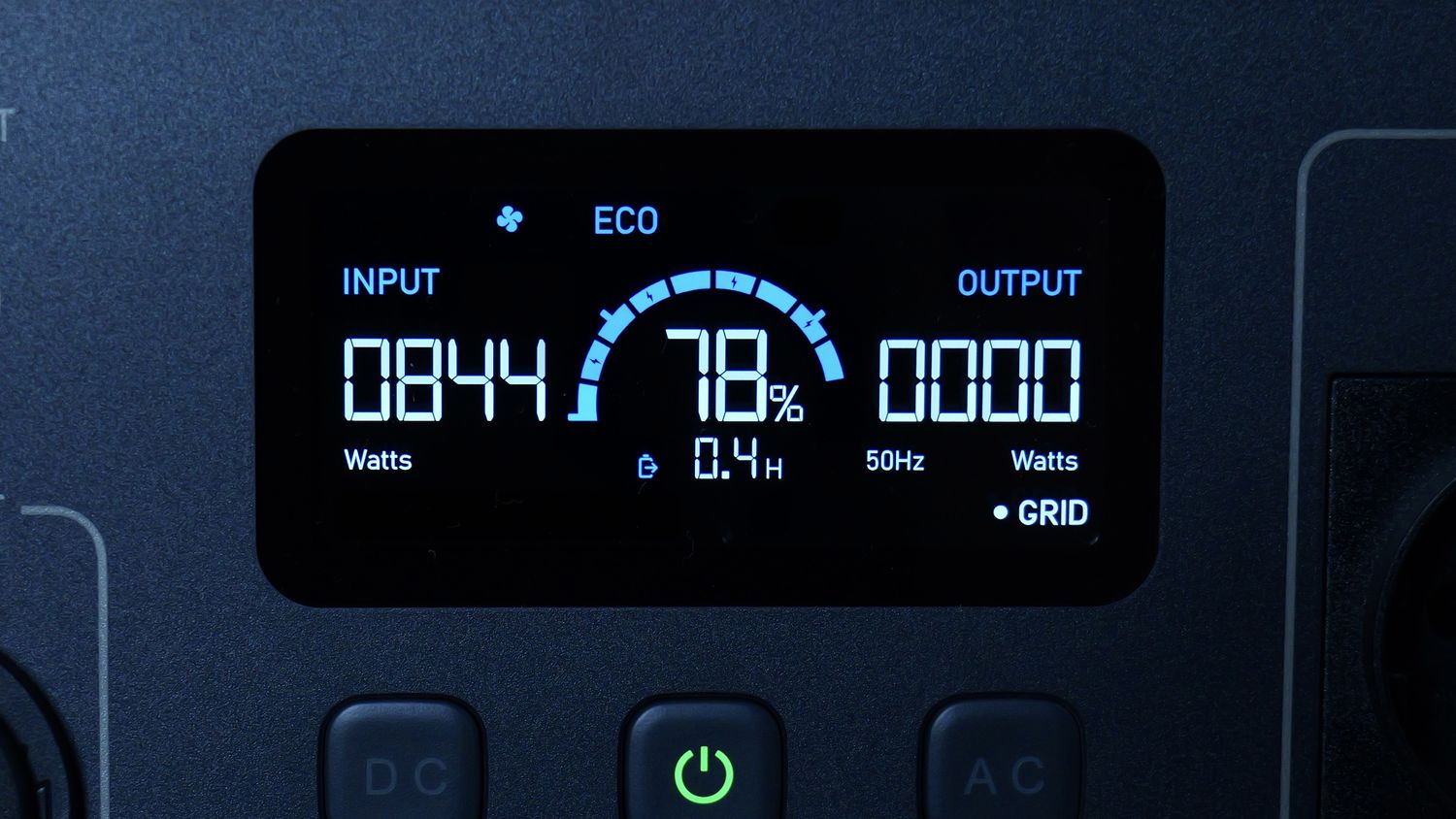 Power Ports
In the front of the unit, we get a DC/PV Input barrel connector which is used to connect the power station to a solar panel. Beneath it, there's a 12V Car Lighter DC Output port which can deliver up to 10A of power.
Next, we get a single UPC Type-C connector with up to 100W of power and four USB-A ports that can deliver 5V and up to 3A of power. I would have appreciated having at least two USB Type-C connectors as it's one of the more common options for most devices nowadays.
On the right side of the unit, you get two 230V/7,8A Shucko power sockets that are also Pure Sine Wave.
You can pull significant power from these sockets which is helpful for appliances that take a lot of power.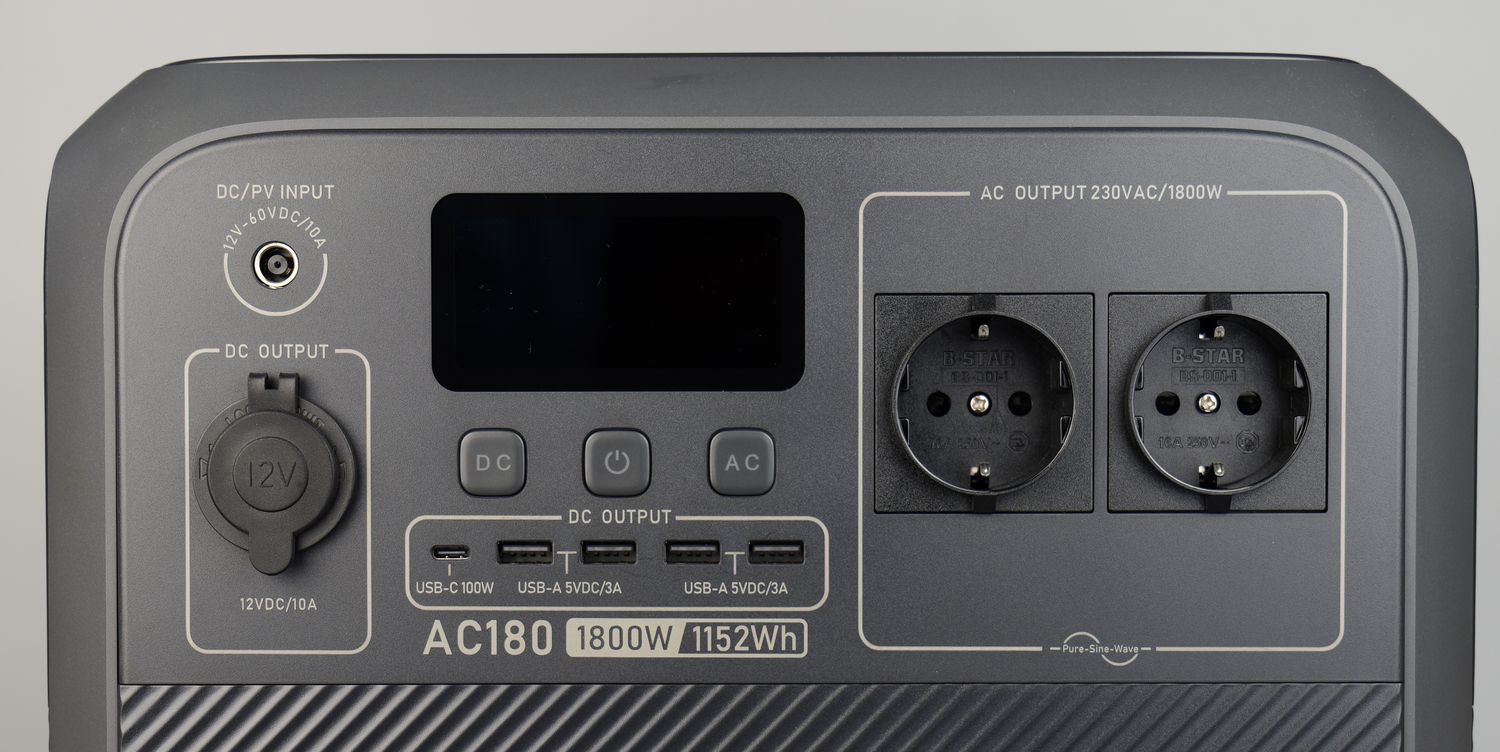 What I don't like too much is the fact that you always need to turn on the DC or AC power when you want to charge or power something. I would expect the unit to have a smart switch that automatically turns on the power for the USB ports when I connect a laptop or a phone to charge. I know that it's done to save power, but it would be handy to have an option if you decide you want this feature.
On the right side of the unit, you also have a C14 power cable connector to charge the unit, a circuit protector, and the grounding location for the screw I was referring to at the beginning of this article.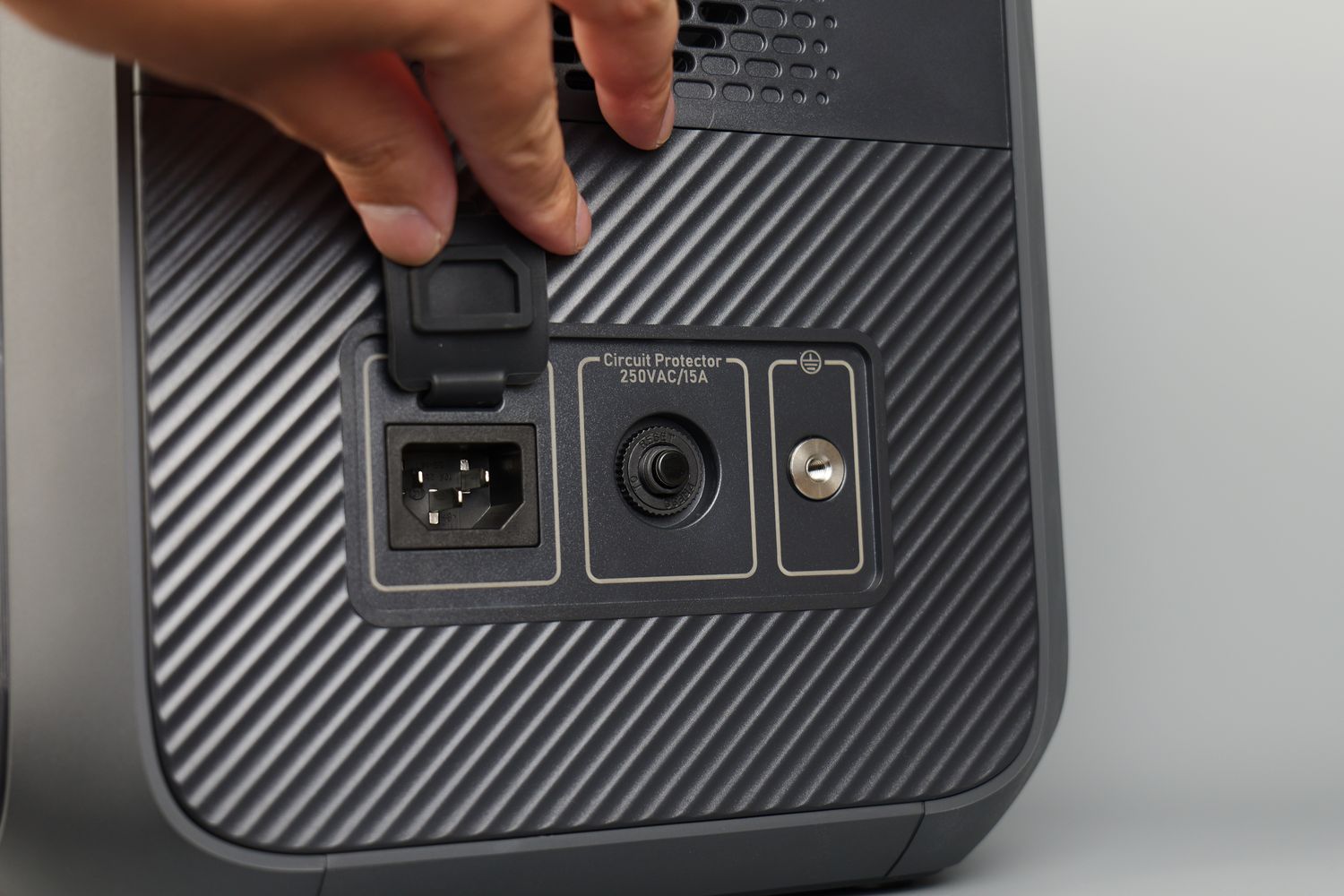 There's even a 15 W charger on the top of the unit which is capable of an output of up to 15W but I am unable to use it with my iPhone due to the design. In the case of my iPhone 13, the cameras hold the back of the phone too high over the charger and it makes it very inefficient. Other types of phones with a flat back might work better.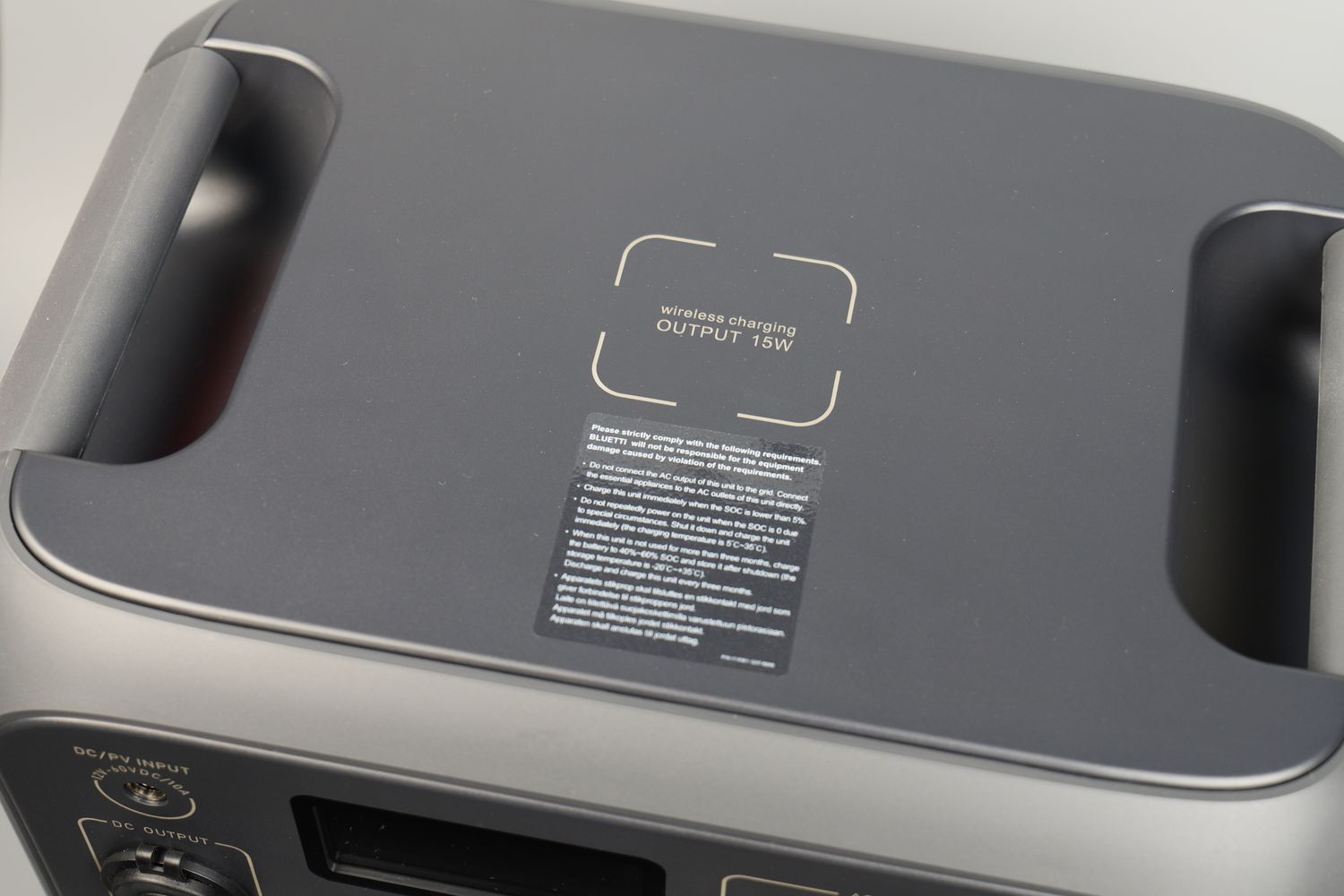 Up to 1440W Fast Charging
BLUETTI is telling us that the AC180 can be charged with up to 1440W which should take about 45 minutes to get the printer from flat to 80%. I have tested this claim and it is true, but after the unit reaches the 80% mark, it slows down and it will charge at about 1000W and gradually lower the power until 100%.
I believe that a fast charging feature like this one is quite useful, especially if you plan to go to a location where you need power, but you forgot to charge the unit before departure.
LiFePO4 Battery Cells with 5 Years Warranty
The AC180 power station comes with LiFePO4 battery cells which are supposed to last for over 3500+ charges which is nice to see. I am unable to test this claim, but considering that the unit comes with a 5-year warranty, there's no need for concern in my opinion.
The unit should be able to last for a long time if not used daily.
Smart App Control
The BLUETTI app is also pretty handy when it comes to getting information about the power station. It connects via Bluetooth in seconds and it is available for both IOS and Android.
On the home screen, you get a nice representation of the charge status of the battery, and how the power goes in the power station, and out of the power station, depending on what you have connected to it. I noticed that the power draw is not very accurate at very low power draws (under 10W) but if you pull more power, the info is correct.
There are two switches for the DC and AC power selections to turn on specific inputs on the power station, and in the settings menu, you can control the Charging Mode where you can choose from Standard, Silent, and Turbo.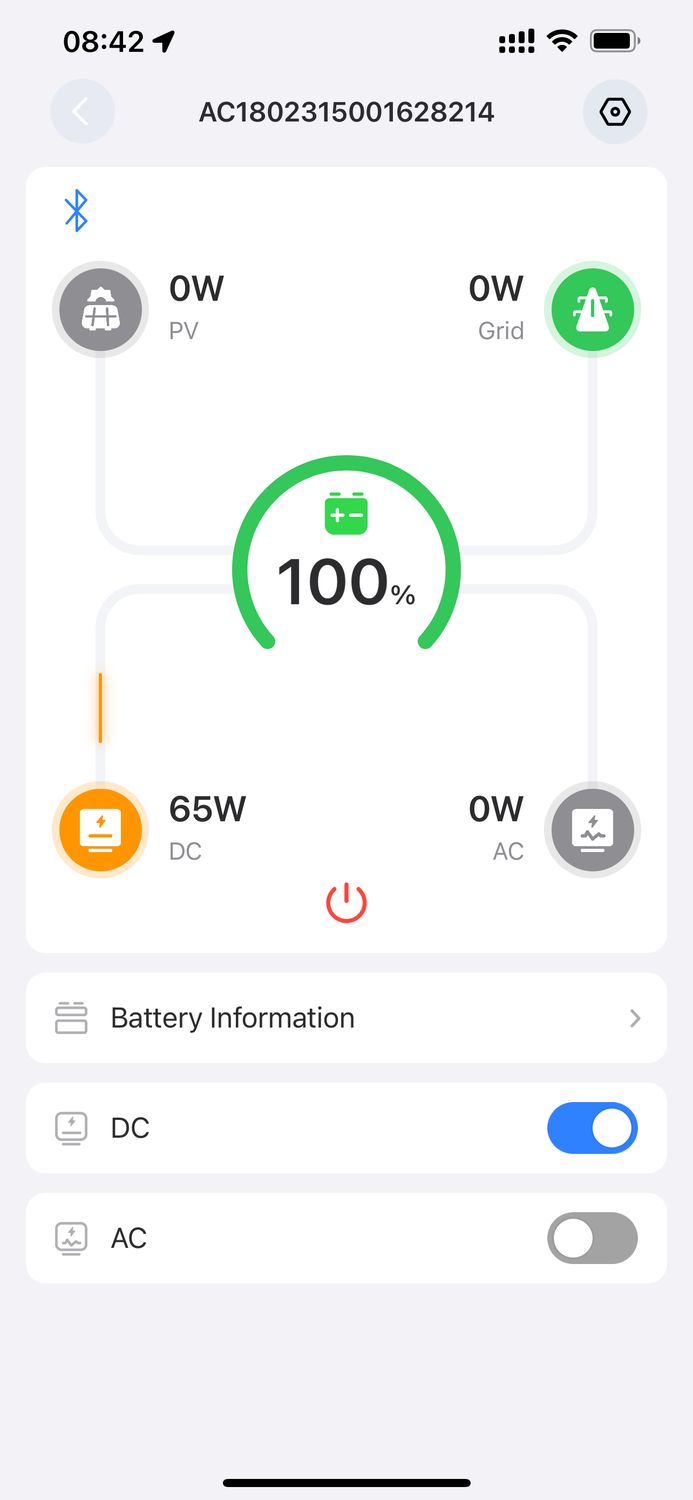 UPS function
Another very useful feature is the possibility of using the BLUETTI AC180 as a UPS power backup unit. This means that you can use the power station always connected to the wall power, and connect other appliances to it so that in case of a power failure, the backup power will kick in.
I plan to use the AC180 for my home server which should work for about 24 hours more in case the power fails. I may also use it for situations when I'm doing multi-day 3D printing where I don't want the model to fail in case of a short power failure.
With over 1100Wh of power, it should be possible to power a regular 3D printer for 8-10 hours, depending on the power draw.
When testing this function, I got this small issue where the cooling fan turns on and off during use which can be annoying sometimes. The problem was reported on the BLUETTI forum and it seems like a new firmware update will come very soon to solve the issue.
Wrapping up
I am not an expert when it comes to power stations, but I think the AC180 is a good option if you need something that provides a lot of power and versatility, and you don't mind the extra weight. It has a decent combo of power connectors (even though an extra Type-C connector would have been great) and the fast charging feature is excellent when you need to leave home but you forgot to charge the unit beforehand.
During my testing, the AC180 worked fine and I didn't find any situations where the unit didn't work as expected. The price seems a bit high, but considering the rated lifetime of the batteries, it doesn't feel like a bad deal.
Where to buy?
The BLUETTI AC180 can be purchased from the following stores:
Amazon
BLUETTI Store – 3% discount with code 3DPB
The AC180 was provided free of charge by BLUETTI for the purpose of this review. While the article includes affiliate links, all opinions are my own. Nobody reviewed the article before it was posted, following the Review Guidelines.