Gadgets
Off-Grid 3D Printing with BLUETTI EB70S and PV200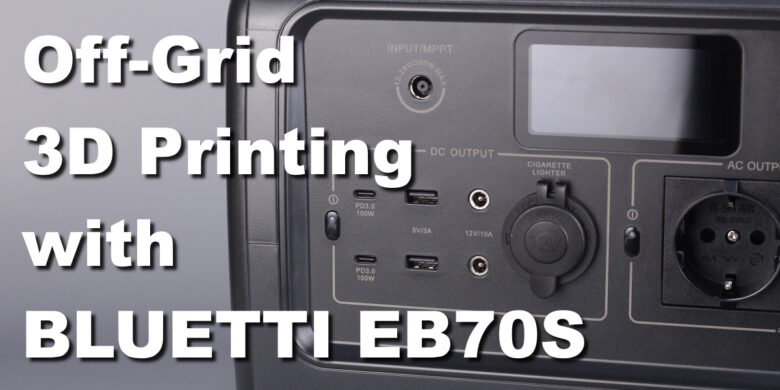 BLUETTI got in touch with me to offer a portable power station to test. While I am mostly focusing on 3D Printing topics on the website, I thought it would be nice to give this one a go and see if it's possible to 3D print off-grid.
In this article, we will check out the BLUETTI EB70S portable power station and test it to see if it can be used for 3D printing, besides the regular portable power this provides. I also got the PV200 portable solar panel which can recharge the batteries.
BLUETTI EB70S Packaging
The BLUETTI EB70S comes packed in double boxes. The first layer is a thicker cardboard box to protect the power station, while inside it you get the box shown in the pictures below. The EB70S comes protected with foam around it, and a small box that includes the power charger and the wires needed to connect the power station to various sockets.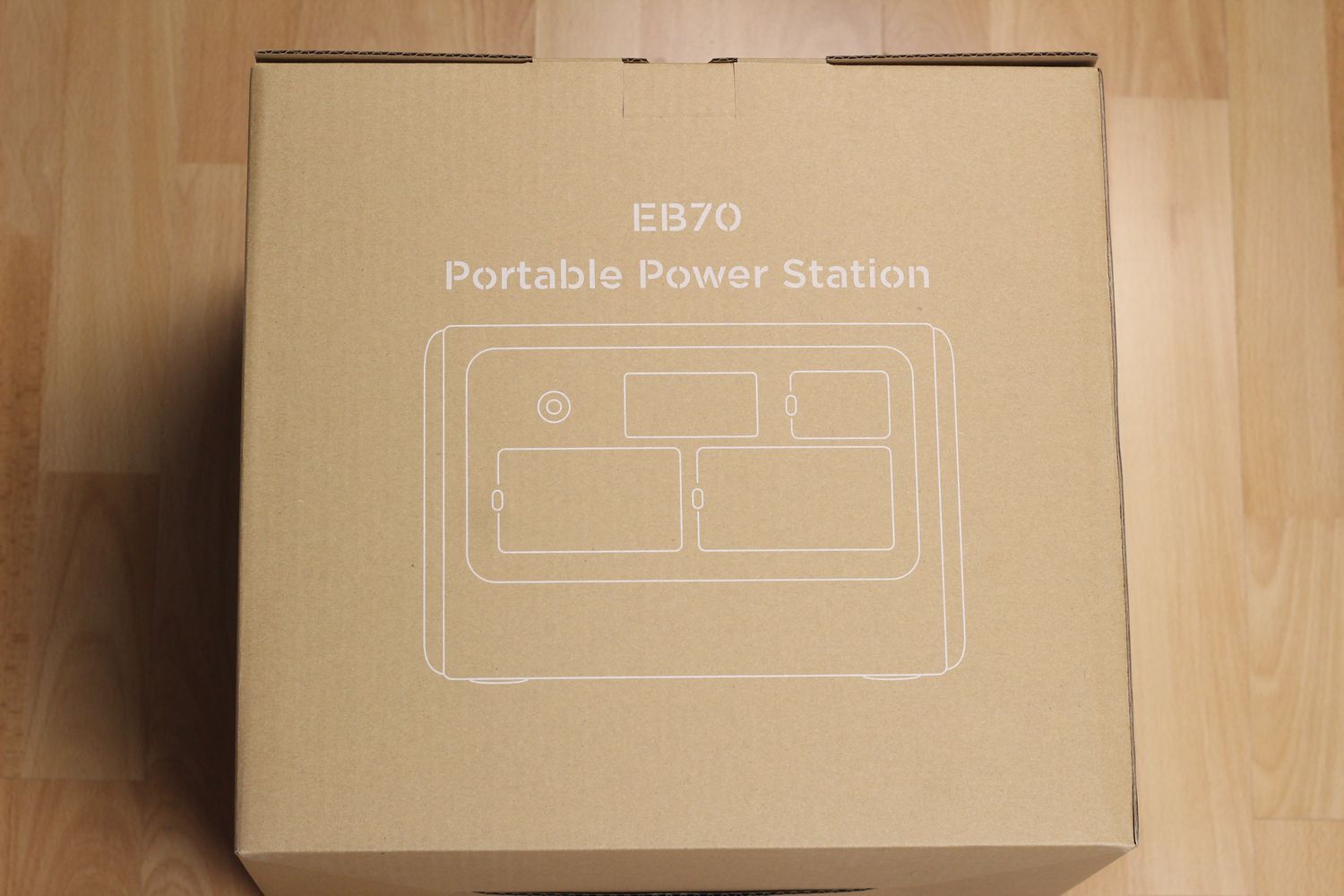 The body of the EB70S from BLUETTI is made from plastic, and while in the pictures it looks a bit cheap, in real life this is not as noticeable.
On the front side of the power station, you have access to the power input port which is used to connect the power brick or the solar panel to charge the unit. Next to it, you get a color indicator screen (which we will cover a bit later) and a light.
I can see this light being useful if you ever go camping and you need some kind of light to illuminate the location around the unit, but don't expect it to be super bright. It's not much better than a regular flashlight you would already pack on a trip like this.
On the lower part of the front side, you get a pair of USB Type-C connectors which are capable of delivering up to 100W of power. On these connectors, you can fast charge any smartphone, tablet or laptop at the maximum charge speed your device is capable of and I really like this.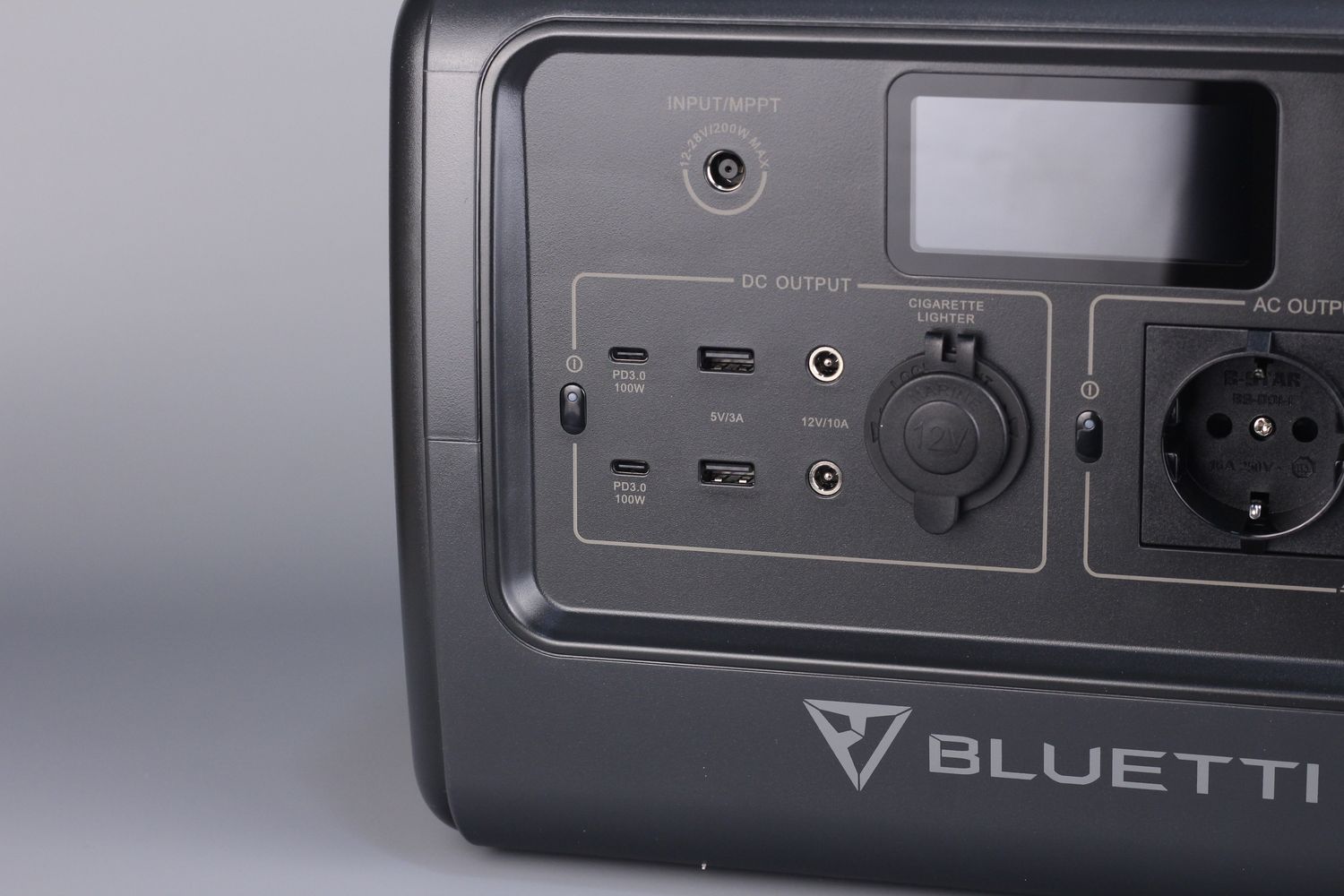 Next to them, you get a pair of USB Type-A ports which are limited to 5V and 3A. They do not have fast charging capabilities but they are enough to provide up to 15W of power for less demanding devices. You also get a 12V cigarette lighter which can be quite useful in various situations. The power for this plug is limited to 10A
Finally, you get two full-size Schuko power connectors for AC output (220-240V) which can provide up to 1000W total.
The sides of the BLUETTI EB70S have two fans that turn on when the unit is being charged using the included power adapter or when the solar panel charges with over 100W. The fans are a bit noisy, and can easily be noticed when this happens.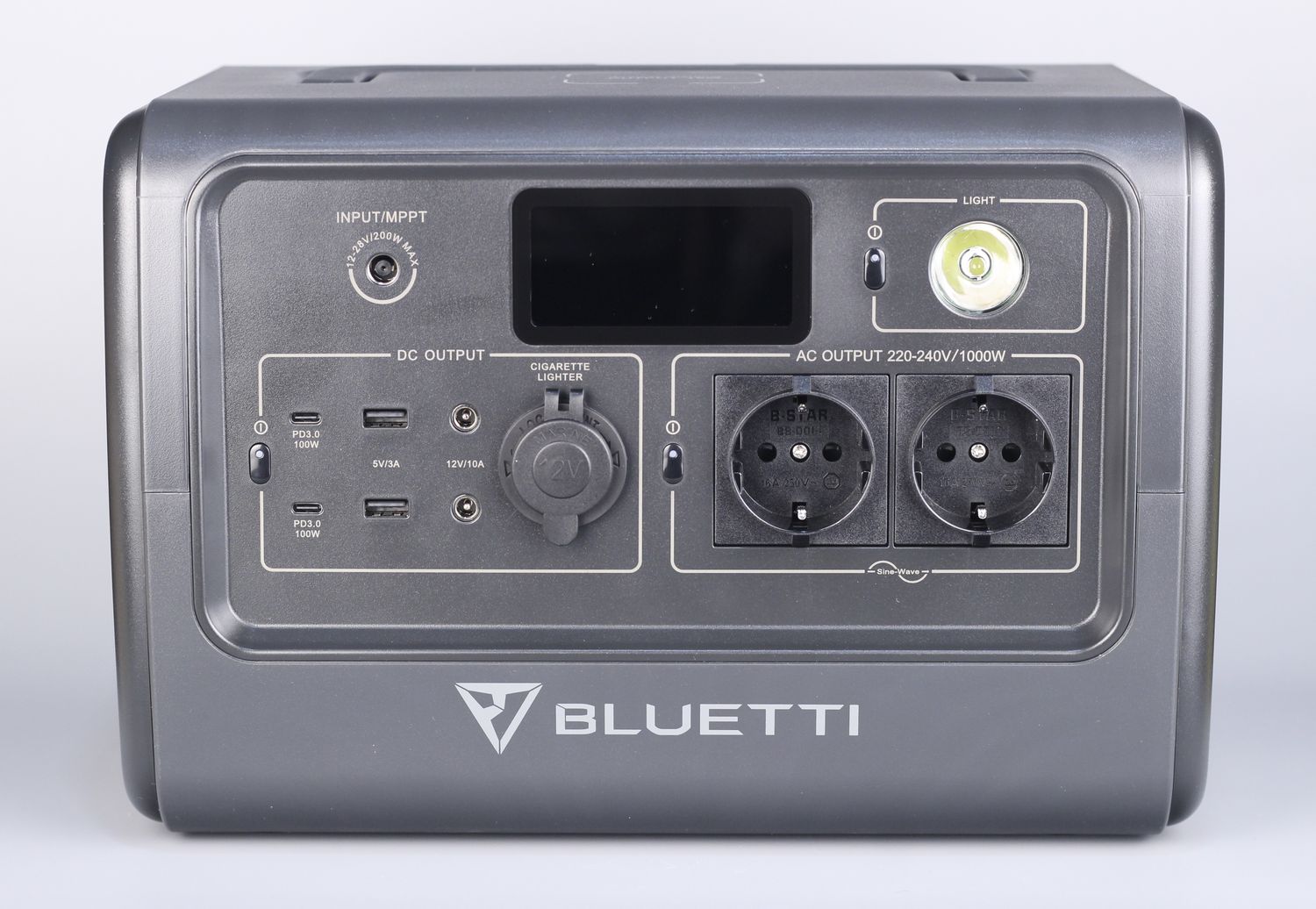 BLUETTI EB70S Specs
| | |
| --- | --- |
| BATTERY INFO | |
| Capacity: | 716Wh (22.4V, 32Ah) |
| Type: | LiFePO4 (Lithium Iron Phosphate) |
| Life Cycles: | 2,500+ Cycles to 80% of Original Capacity |
| Shelf-life: | Recharge to 80% Every 3-6 Months |
| Management System: | MPPT Controller, BMS, etc. |
| OUTPUT | |
| AC Outlets: | 4 x 120V/20A AC Outlets, 800W In Total |
| Inverter Type: | Pure Sine Wave |
| Surge Power: | 1,400W |
| USB-C Port: | 2 x 100W Max. |
| USB-A Port: | 2 x 5V/3A |
| 12V DC Outlets: | 1 x 12V/10A (Car Outlet) 2 x 12V/10A (DC5521) |
| Wireless Charging Pad: | 1 x 15W Max. |
| INPUT | |
| AC Adapter Input: | 200W Max. |
| Solar Input: | 200W Max., VOC 12-28V, 8A |
| Car Input: | 12/24V from Cigarette Lighter Port |
| RECHARGE TIME | |
| AC Adapter (200W): | ≈4-4.5 Hours |
| Solar (200W): | ≈4-4.5 Hours (With prime sunshine, ideal orientation and low temperature) |
| 12V/24V Car Outlet (100W/200W): | ≈7.5 or 4.0 Hours |
| 240V Split Phase Bonding: | No |
| Scalability: | No |
| Pass-through Charging: | Yes |
| Weight: | 21.4lb (9.7 kg) |
| Dimensions (LxWxD): | 12.6 x 8.5 x 8.7 in (32 x 21.6 x 22.1cm) |
| Operating Temperature: | -4-104℉ (-20-40℃) |
| Storage Temperature: | 14-113℉ (-10-45℃) |
| Certifications: | CEC, DOE, FCC, QC3.0, CA Prop 65 |
| Warranty: | 24 Months |
On the top of the unit, there's also a wireless charging solution that can be used to charge your mobile phone up to 15W. Honestly, I don't think that having such an option is very useful, as this type of charging method is not efficient and I would rather plug in my phone in one of the Type-C connectors in the front for faster charging. But it can be an option if those are already occupied.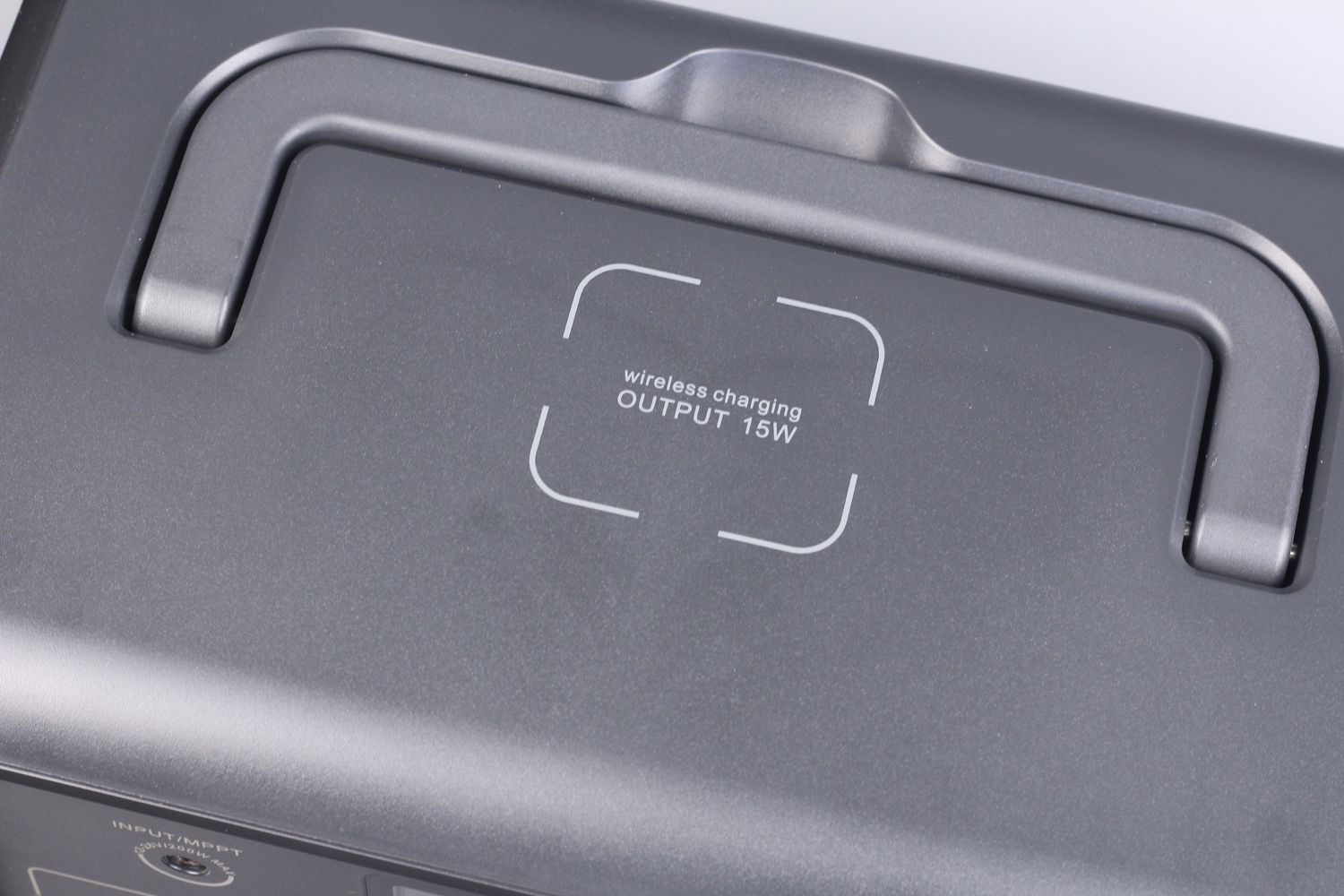 Of course, there's also a carrying handle which is very useful to transport the relatively heavy power unit.
The power charger is quite large, and it has a fan to keep the unit cool. That wouldn't be a big problem if the fan would only turn on based on the temperature, but unfortunately, the fan runs constantly when powered on generating noise and consuming power for no reason.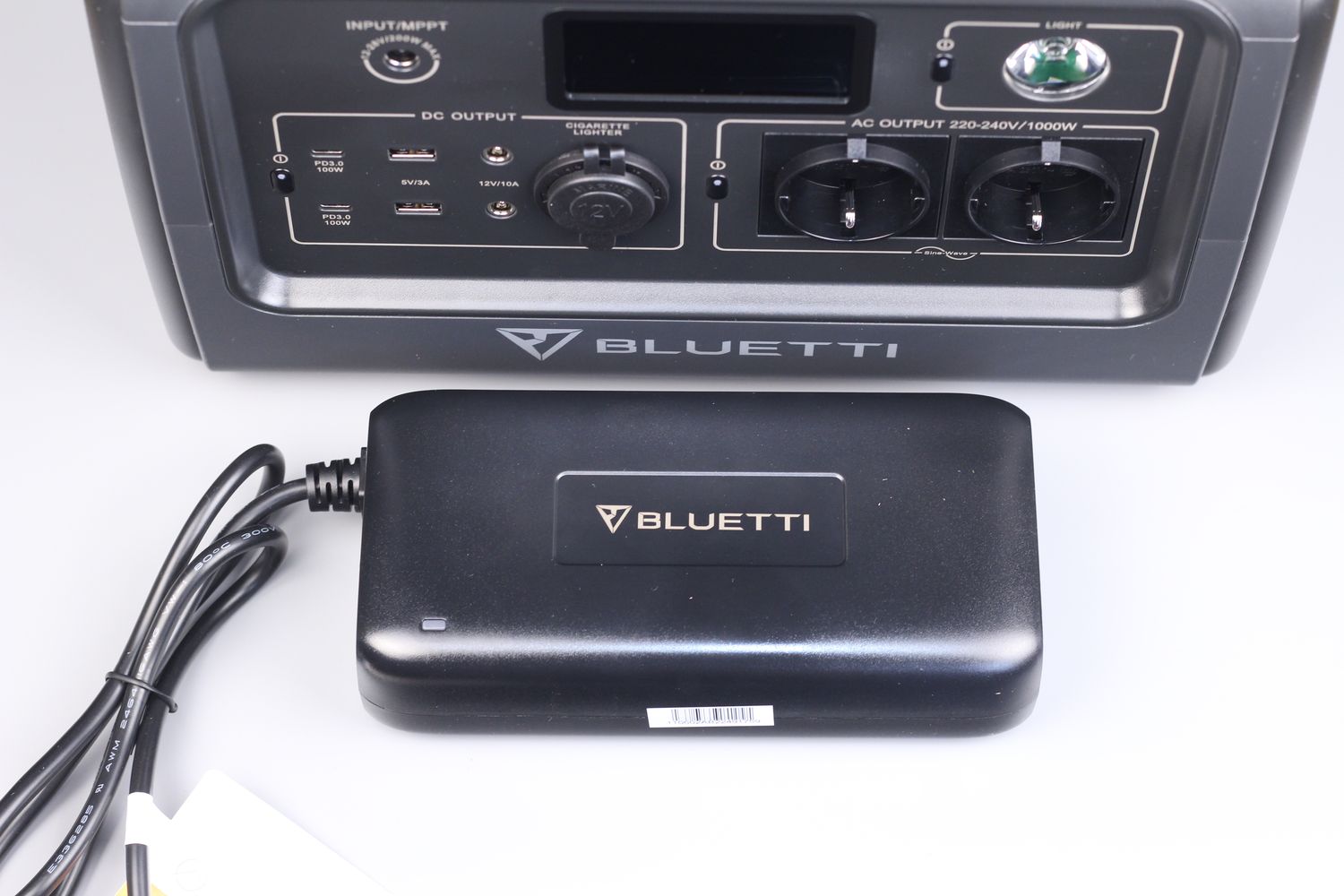 PV200 Solar Panel Specs
| | |
| --- | --- |
| Power: | 200W |
| Lamination: | ETFE (Ethylene tetrafluoroethylene) |
| Cell Type: | Monocrystalline Silicon |
| Cell Efficiency: | Up to 23.4% |
| Voltage at Max Power(Vmp): | 20.5V |
| Current at Max Power(Imp): | 9.7A |
| Open Circuit Voltage(OCV): | 26.1V |
| Short Circuit Current(Isc): | 10.3A |
| Connector: | Standard MC4 Connector |
| Weight: | 16.1lbs (7.3kg) |
| Dimensions (Unfolded): | 23.2 × 89.2in (59 × 226.5cm) |
| Dimensions (Folded) : | 23.2 × 24.8inch (59 × 60cm) |
| Operating Temperature: | 14-149℉ (-10-65℃) |
| Best Working Temperature: | 77℉ (25℃) |
| Cable Length: | 118in (3m) |
| Certifications: | FCC, CE, ROHS |
| Warranty: | 12 Months |
As mentioned, BLUETTI also included the PV200 Solar Panel with this unit, and I think this is a really nice option to charge the power unit.
The solar panel is split into four square units, and it's capable of charging up to 200W. When not in use, the solar panel collapses into a single square to make it easier to transport or store.
On the back side of the PV200, you have a pocket where the long charging cables are safely packed when not in use.
There are also three collapsible stands that have three adjustment positions depending on the angle you want to give to the solar panel. As you know, to get the maximum charge output of a solar panel, it should be facing directly to the sun, so having this option is quite useful.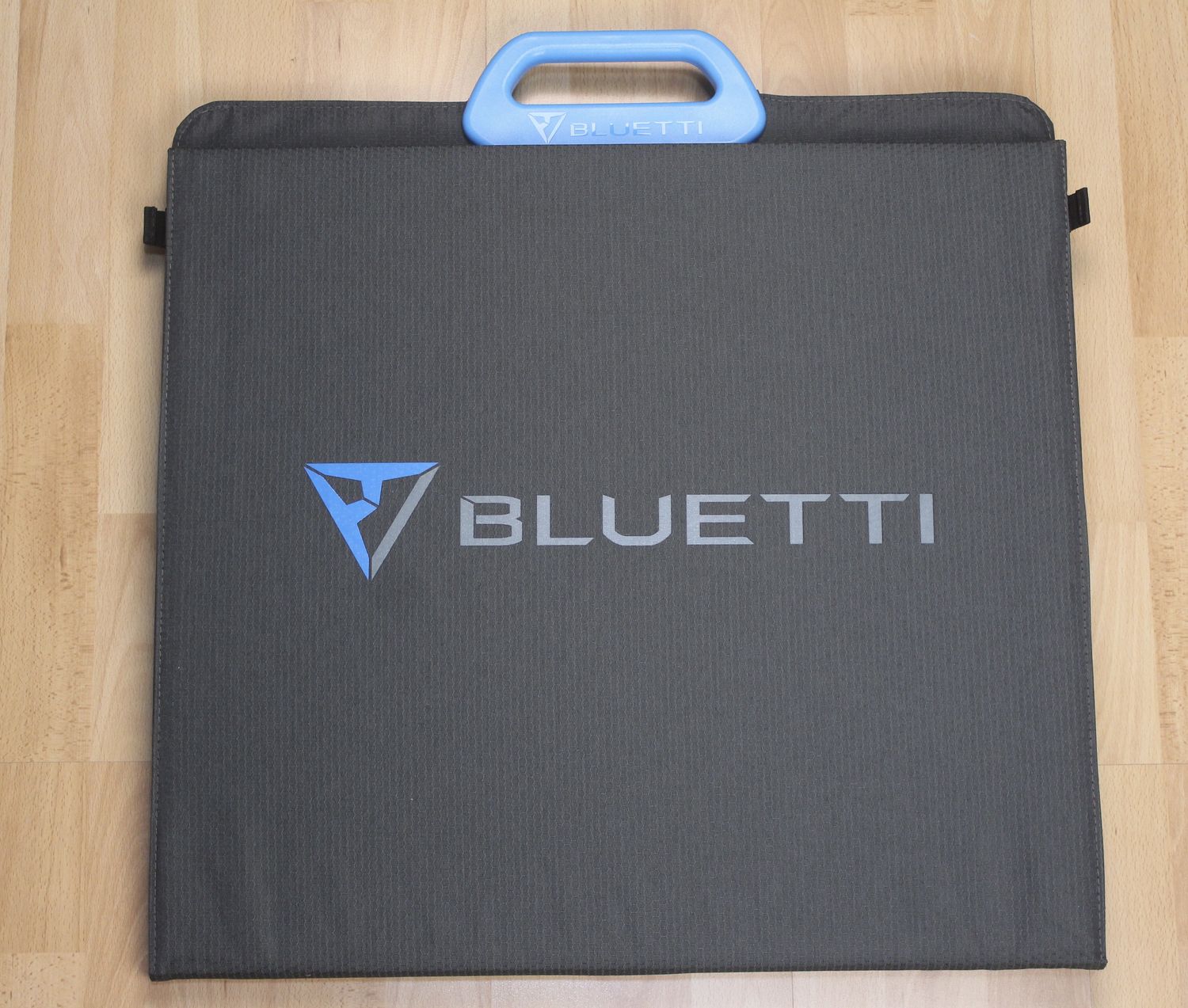 3D Printing with Solar Power
Now that we checked all the specs and capabilities of the EB70S Power Station and the PV200 Solar Panel, we can test what we first wanted to see if it's possible. And that's 3D printing using solar power.
For this test, I set the PV200 panel on my balcony on a sunny day and connected it to the power station.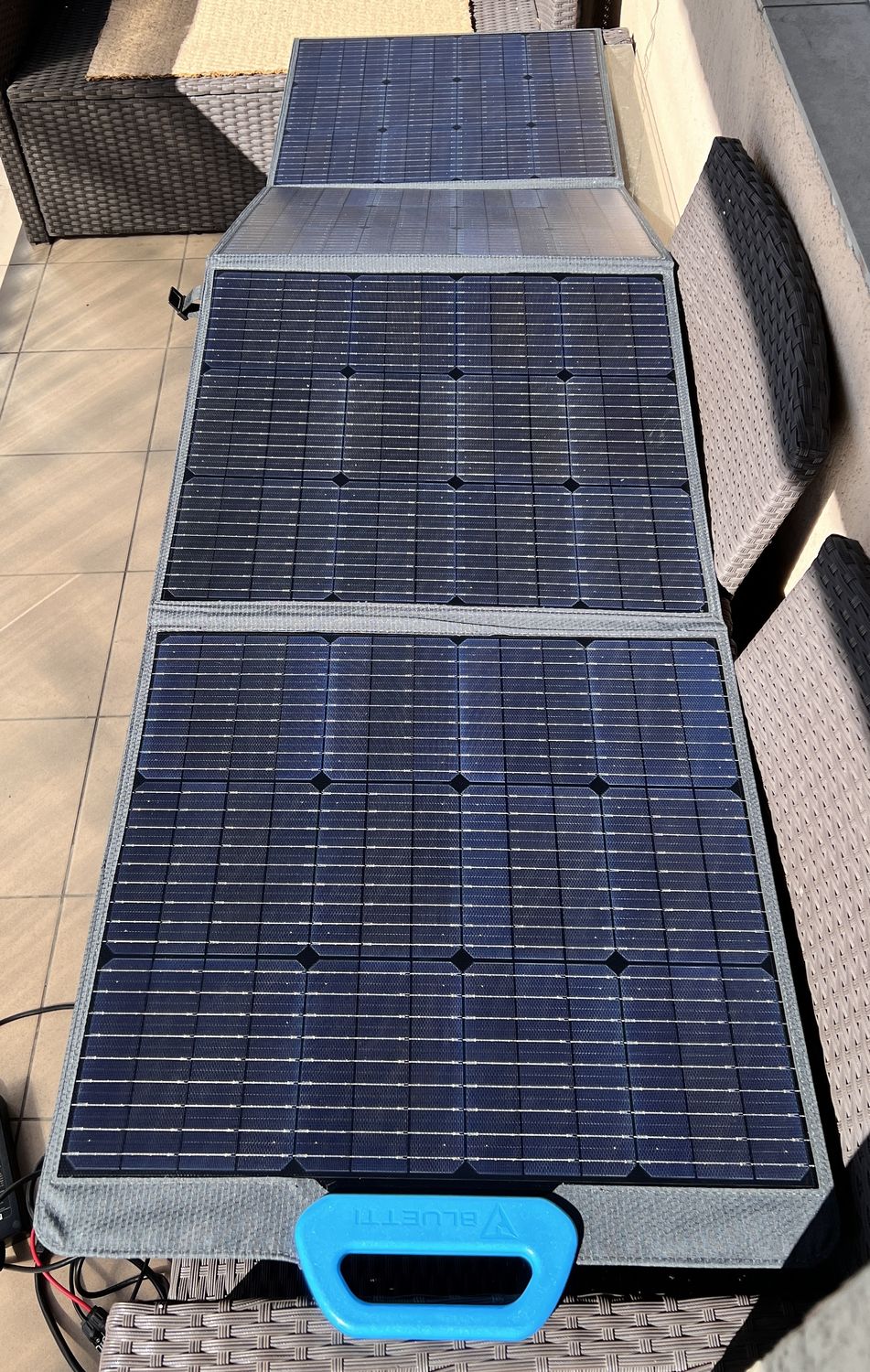 The panel wasn't facing the sun directly, but it was still a pretty good positioning which allowed the power station to draw around 110W for charging.
The printer I used for the test was the Prusa Mini Clone I reviewed a while ago with a print of a 3D Benchy.
As you can see in the video, the printer takes about half of the power we are feeding into the power station at around ~65W meaning that we are able to print using the Prusa Mini while also charing the power station.
The highest power draw is during heating, but that initial spike in power consumption is not very high. If the printer you plan to use has good heatbed insulation, then the results should be comparable and most of the time, you should be able to print with larger printers without actually using the power from the power station.
Of course, it's best to first charge the power station to full before starting a print to ensure the power is enough for a long print. You might also say that this is a useless test, and not a lot of people do this, but I think it's a fun thing to do if you really want to take 3D printing with you in a location where you don't have mains power available.
Wrapping up
I think this was a fun experiment to test the BLUETTI EB70S and the PV200 solar panel and also use 3D printing at the same time.
After using this setup for a few weeks, I think the power station is quite handy to have in case you need portable power when going outdoors, and charging the power station using the PV200 solar panel works even better than expected.
The only annoying thing for me is the noise generated by the fans used to keep the power station cool, and I would have liked to see the fans having some sort of control based on the thermals of the battery to ensure they work only when required. Other than that, I can't really complain about the EB70S and I think it's also priced at an affordable price if you're looking for a portable power station. The PV200 Solar panel is a bit more expensive but it provides up to 200W of charging power and if you need that, then it works great with the EB70S.
Where to buy?
The BLUETTI EB70S can be purchased from the following stores:
The BLUETTI EB70S and the PV200 solar panel were provided free of charge by BLUETTI for the purpose of this article. While the article includes affiliate links, all opinions are my own. Nobody reviewed the article before it was posted, following the Review Guidelines.