Sponsored
Creality Unveils Ender-3 V3 KE: The Smart Entry-Level 3D Printer for Everyone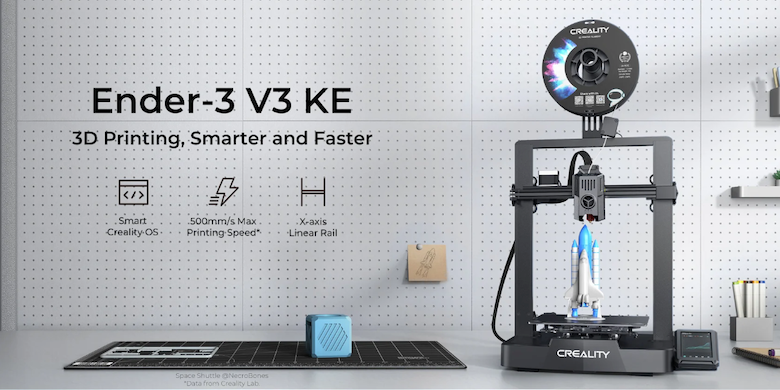 Smart, speedy, and versatile, the Ender-3 V3 KE is your new gateway to 3D printing.  
Shenzhen, September 25 – Creality, a pioneer in the 3D printing industry, proudly announces the latest addition to its renowned Ender-3 series, the Ender-3 V3 KE. Building upon the legacy of the Ender-3 series, this new release comes with extensive upgrades and a touch of intelligence, making it a great choice for both beginners and hobbyists. 
Ender-3 V3 KE: A classic series evolved
The Ender-3 series by Creality has been a classic in the 3D printing market, boasting the largest user base of any 3D printer series. The company, always attentive to user feedback, has taken this iconic series to the next level by infusing it with smart features that simplify the 3D printing experience, equally for newcomers and enthusiasts.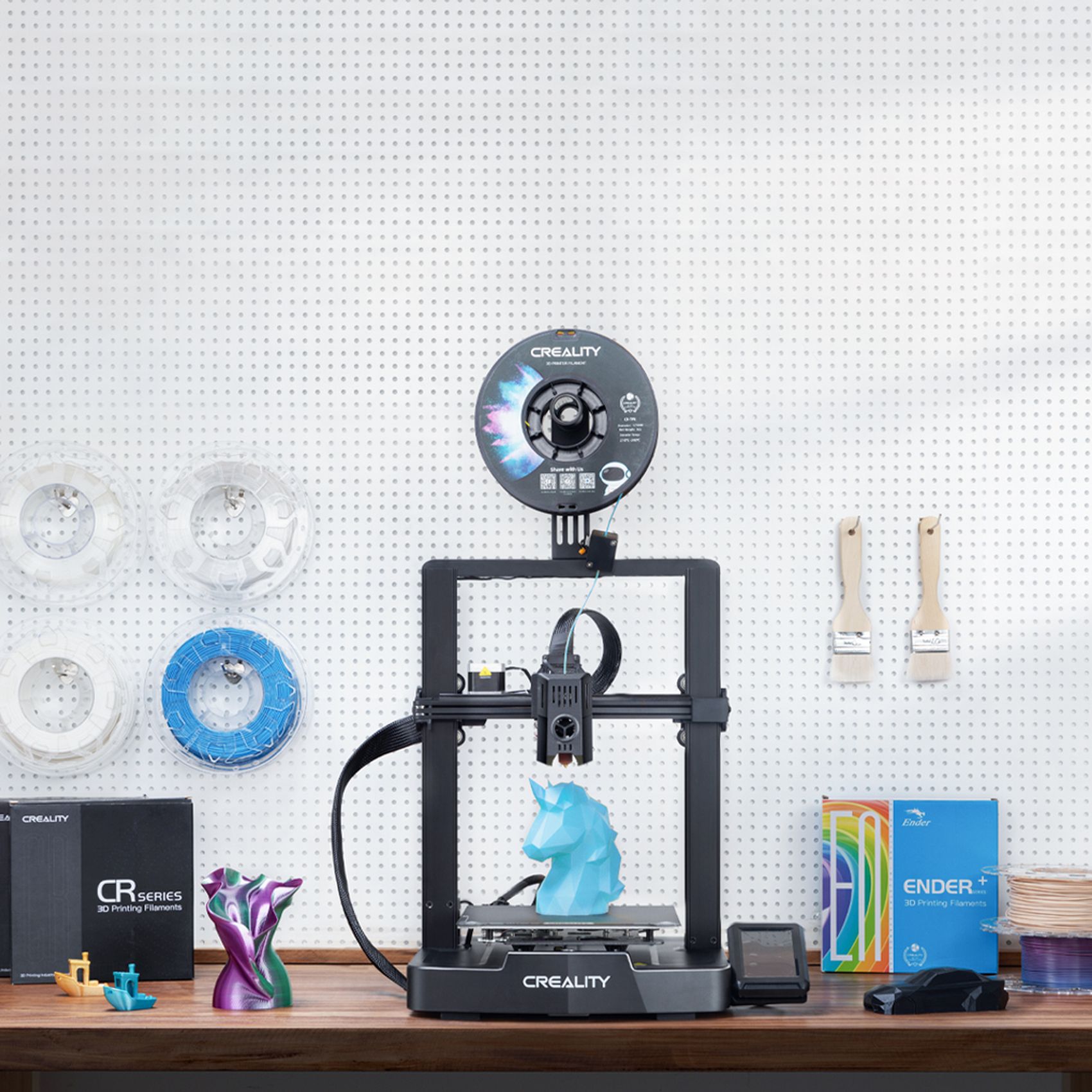 Smarter than ever
The Ender-3 V3 KE is a testament to how DIY 3D printers can become smarter than ever before. At its core is the introduction of Creality OS, a smart operating system that takes 3D printing to the next level. With one-touch intelligent self-checks and automatic bed leveling, it eliminates the hassles of traditional printing.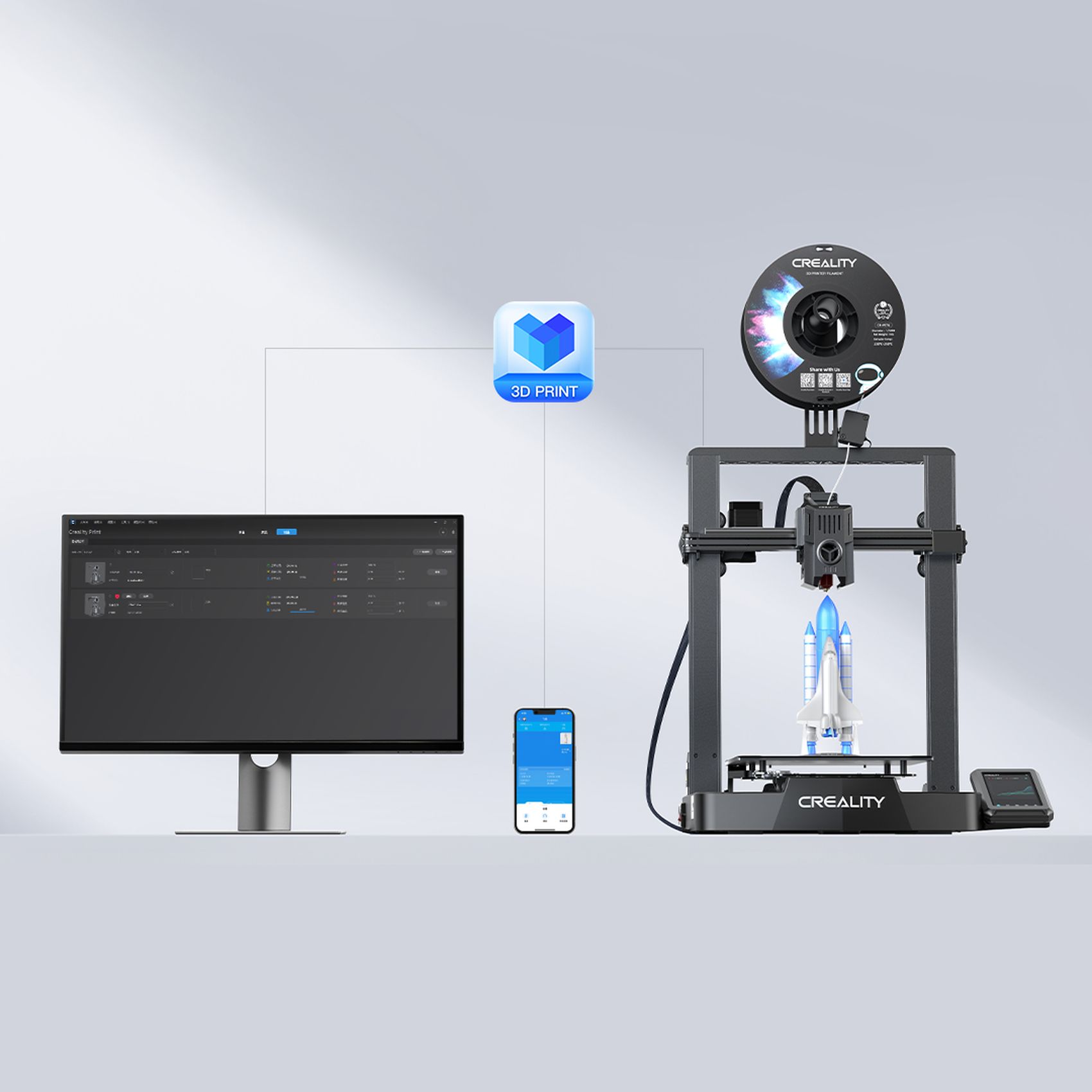 Moreover, the printer seamlessly integrates with Creality Print and the Creality Cloud app, enabling remote printing and monitoring, adding a new dimension of convenience. The printer's brand-new UI (user interface) enhances usability with global navigation buttons, real-time model previews, and dynamic displays that provide an intuitive and vivid user experience. Smart algorithms are introduced for input shaping and flow optimization to eliminate ripples and corner bulges, delivering exceptional model detailing.
Fast and precise
The Ender-3 V3 KE is designed to shift your 3D printing experience into a higher gear. It boasts a top printing speed of 500mm/s and acceleration of 5000mm/s², significantly improving efficiency – a benchy can be printed in just 15 minutes and 8 seconds.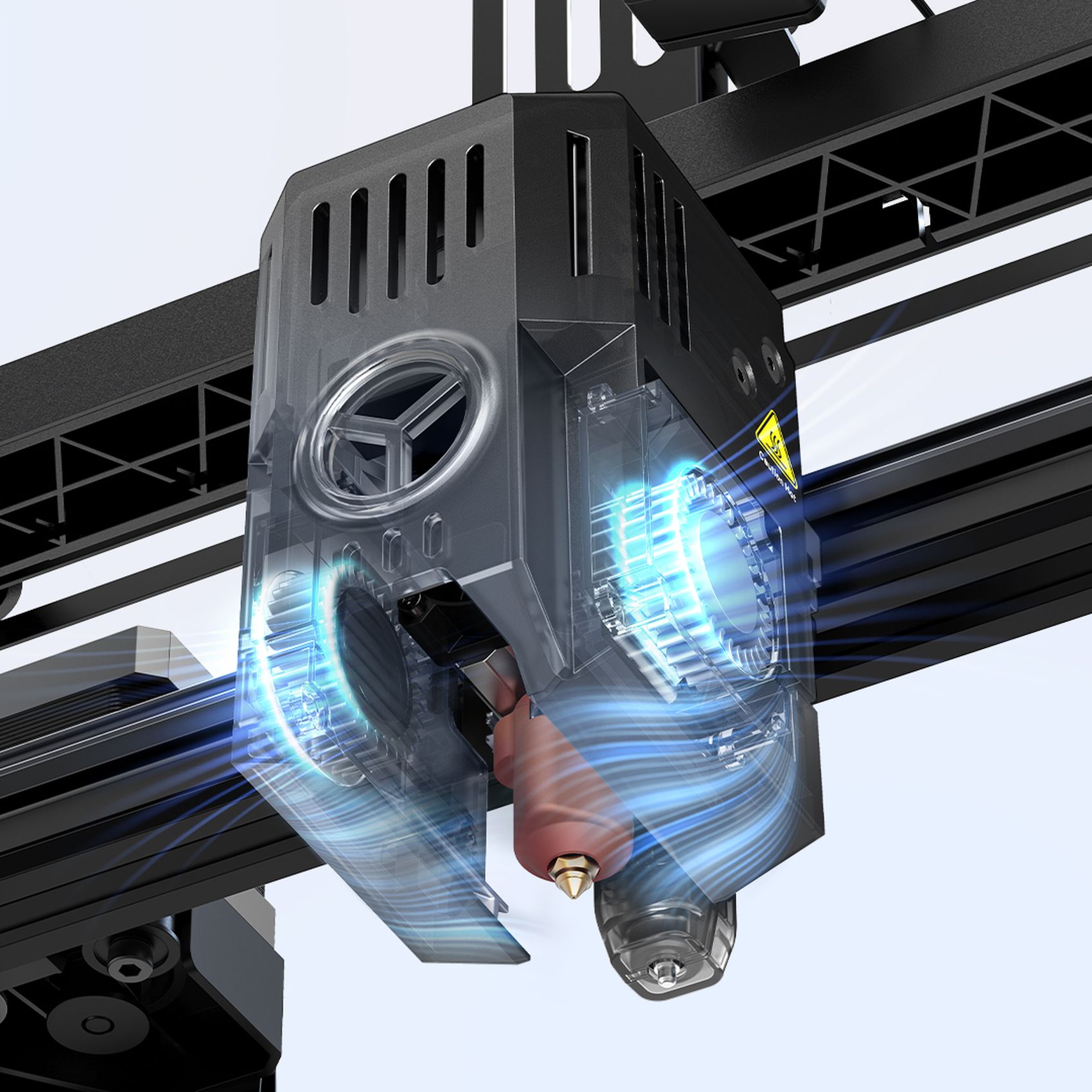 Meanwhile, the X-axis employing precision ball linear guides and the Y-axis with dual linear shafts ensure each move is accurate, steady, and frictionless, with high-strength bearing steel supporting wear resistance and longevity. An upgraded hot end featuring a 60W ceramic heating element and a copper-titanium alloy nozzle ensures smooth flow and high compatibility for materials. With dual cooling fans on each side of the print head, even cooling and rapid model formation is ensured, resulting in significantly improved print quality.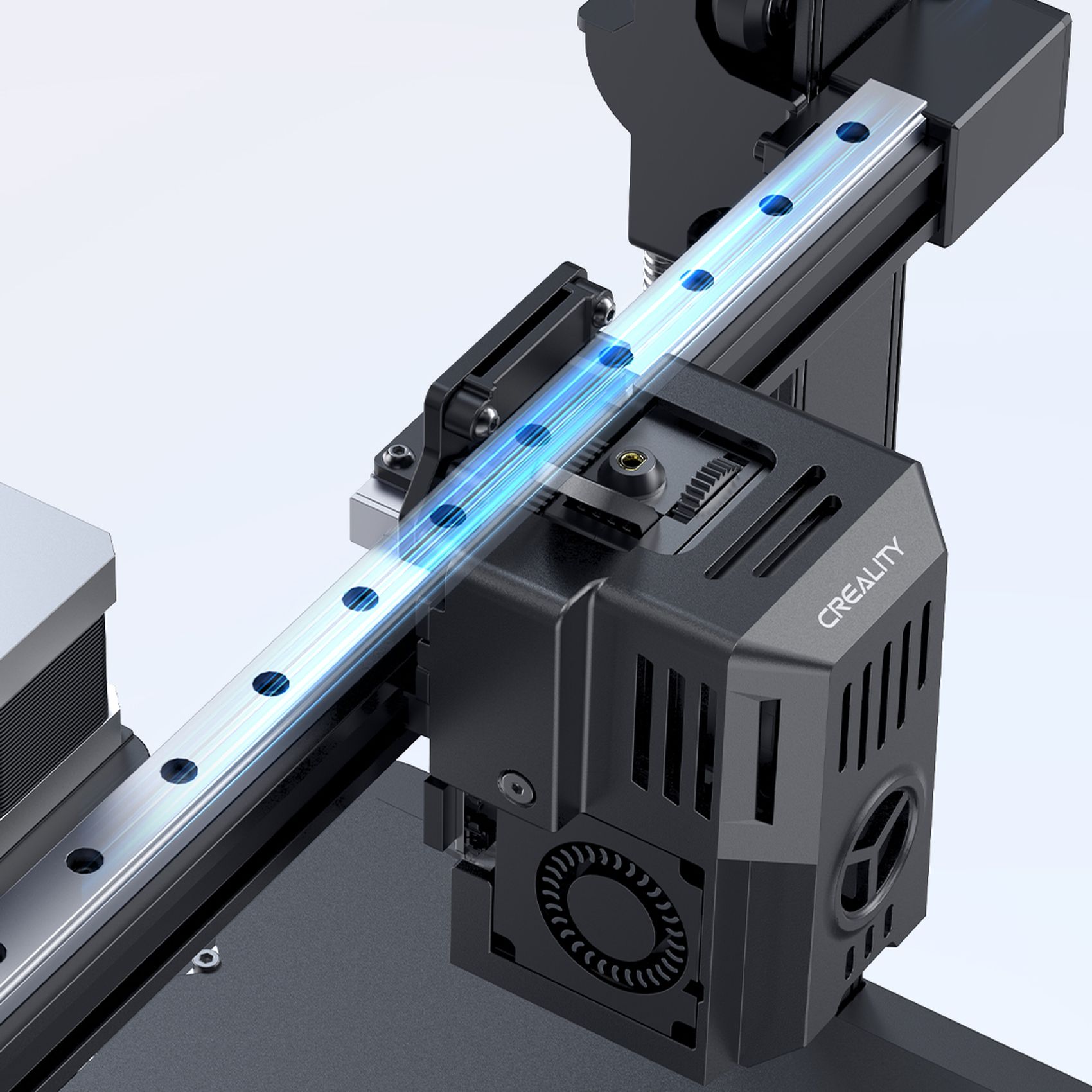 Light but versatile
The Ender-3 V3 KE offers a perfect balance of compactness and versatility. While occupying less space and weighing less, it boasts rich functions, giving full rein to creative desires. While printing faster and better with Creality Hyper PLA which offers smooth feeding and fast cooling, the printer is compatible with a wide range of filaments, including PLA, PETG, ABS, TPU (95A), and ASA, allowing you to print a variety of daily items, parts, or products. With three convenient ways of printing – via USB drive, data-secure LAN printing with WiFi, and cloud printing with WiFi, getting started with the Ender-3 V3 KE is a breeze.
Optional accessories for enhanced functionality
Users can take their 3D printing experience to the next level with a range of optional add-ons for the Ender-3 V3 KE. These include an AI laser radar, AI camera, vibration compensation sensor kit, and Hyper PLA, making the printer even more versatile. The optional AI Camera supports failure detection, real-time monitoring, and time-lapse filming, while the vibration compensation sensor accurately tests and automatically adjusts the presets for input shaping. Other notable details that users will surely appreciate include OTA firmware updates, print alerts on phone/PC, free models on Creality Cloud, and slicing presets in Creality Print.
Price and Availability
The Ender-3 V3 KE is set to revolutionize the 3D printing experience, making it more accessible, intelligent, and powerful. Priced at USD 279, this printer is now open for pre-order through Creality Store.
Creality Ender 3 V3 KE Technical Specifications
| | | | |
| --- | --- | --- | --- |
| Printing Technology | FDM | File Transfer | USB drive, LAN, Creality Cloud APP |
| Build Volume | 220*220*240mm | Extruder | Upgraded "Sprite" direct drive extrusion |
| Product Dimensions | 433*366*490mm | Leveling Mode | Hands-free auto leveling |
| Package Dimensions | 502*409*280mm | Display Screen | 4.3-inch clolor touch screen |
| Net Weight | 7.8kg | Mainboard | 32-bit silent mainboard |
| Gross Weight | 9.9kg | Printable File Format | G-code |
| Typical Printing Speed | 300mm/s | Power Loss Recovery | Yes |
| Max. Printing Speed | 500mm/s (Test with Hyper PLA) | Filament Runout Sensor | Yes |
| Max. Acceleration | 8000mm/s² | Vibration Compensation Sensor | Optional |
| Printing Accuracy | ±0.1mm | Creality AI Camera | Optional |
| Layer Height | 0.1-0.35mm | Rated Voltage | 350W |
| Filament Diameter | 1.75mm | Rated Power | 100-120V~, 200-240V~, 50/60Hz |
| Nozzle Diameter | 0.4mm (default) | Slicing Software | Creality Print, Cura, Simplify3D |
| Nozzle Temperature | ≤300℃ | Formats for Slicing | STL, OBJ, 3MF, AMF |
| Heatbed Temperature | ≤100℃ | Supported Filaments | PLA, PETG, ABS, TPU(95A), ASA |
| Build Surface | PEI flexible build plate | UI Languages | English, Español, Deutsche, Français, Pусский, Português, Italiano, Türk, 日本語, 中文 |
Product link
Official Website
Official Store