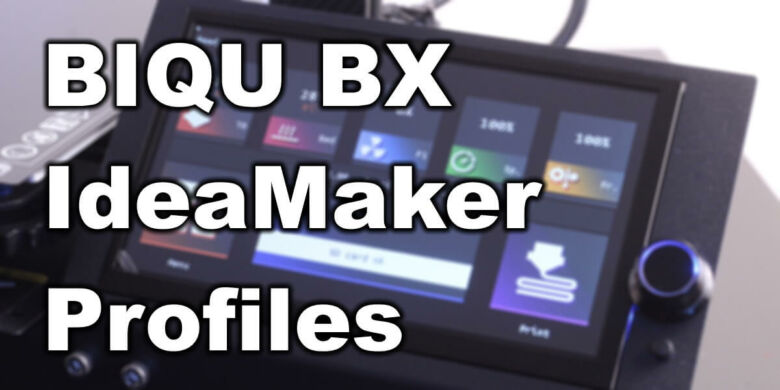 The following BIQU BX IdeaMaker Profiles have been fine tuned for printing in PLA, PETG and TPU, during my review period. You can check the BIQU BX Review for more print samples to better judge the print quality.
Download BIQU BX IdeaMaker Profiles: PLA, PETG, TPU
With the runed BIQU BX IdeaMaker profiles, you should be able to get comparable print results. It's important to tune the flow rate for the filament brand you are using. The value set in the profile should work well, but it's always a good idea to double check it.
All the profiles are tuned to work on the stock setup of the BIQU BX, with no modifications.
BIQU BX PLA IdeaMaker Profile
This Lord of Darkness bust was printed with Silk Copper filament. The model was scaled close to the printer's full build volume, and it's a good test for overhang performance and retraction. The same quality is expected from printing regular PLA filaments. You might need to adjust the nozzle temperature, according to your filament. Speed can also be pushed a bit higher.
Download the PLA profile below:
BIQU BX IdeaMaker Profile – PLA – 3DPrintBeginner
BIQU BX PETG IdeaMaker Profile
The Bathtub Boat was printed in PETG and it's a good benchmark because it has a lot of small features which need an accurately calibrated machine to be printed properly. With the BIQU BX, you can also increase the fan speed a bit to improve the print quality of the overhangs but don't go over 60%.
Download the PETG profile below:
BIQU BX IdeaMaker Profile – PETG – 3DPrintBeginner
BIQU BX TPU IdeaMaker Profile
This 3D Benchy was printed with Fiberlogy Fiberflex 40D which is quite flexible and hard to print. I was able to print it at 25mm/s, but for regular TPU you could push the speed up to ~40-50mm/s, depending on the hardness.
Download the TPU profile below:
BIQU BX IdeaMaker Profile – TPU – 3DPrintBeginner